The 10 Best Resorts in the Catskills, NY 2023. The Catskill Mountains are a mountain range in the southern part of the state of New York.
This area is known for its breathtaking natural beauty, and many 19th-century landscape painters found their subject matter in sites like Kaaterskill Falls and Sunset Rock.
Since the 1800s, tourists have been flocking to this region to spend their summers at one of the area's many resorts, making it a favorite weekend destination for New York City residents.
In the Catskills, you'll discover a multitude of possibilities from which to pick, ranging from luxurious resorts to quaint smaller residences
The following are some of the most well regarded and are ideal for your upcoming vacation.
10 Best Resorts in the Catskills, NY 2023
1. Mohonk Mountain House – New Paltz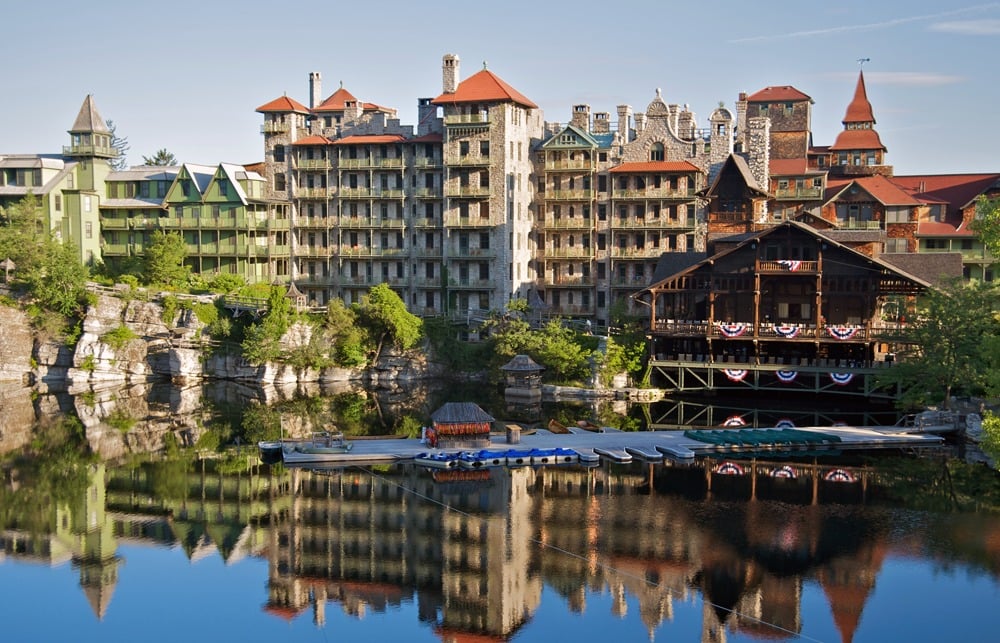 The Mohonk Mountain House is an all-inclusive resort that has the appearance of a Victorian castle. It is located on a cliff at the edge of Lake Mohonk and is surrounded by nature.
This resort is considered to be one of the most opulent in Upstate New York. It was constructed in the middle of the 19th century and is now recognized as a National Historic Landmark.
It offers luxurious accommodations in the form of rooms, suites, and cottages. The cottages are equipped with kitchens and include historical design with diverse features such as fireplaces and balconies with breathtaking views.
Each cottage also has its own unique character and characteristics. In addition, a broad variety of sports may be performed here, such as rock climbing, ice skating, and hiking.
Guests have the option of dining either outdoors or in the main dining room, where they can choose from a cuisine that focuses on the local richness of the Hudson Valley.
Key Amenities:
All-inclusive pricing with farm-to-table dining and activities
Rooms, suites and cottages in National Historic Landmark
Award-winning spa with treatments, yoga and meditation
2. Emerson Resort and Spa – Mount Tremper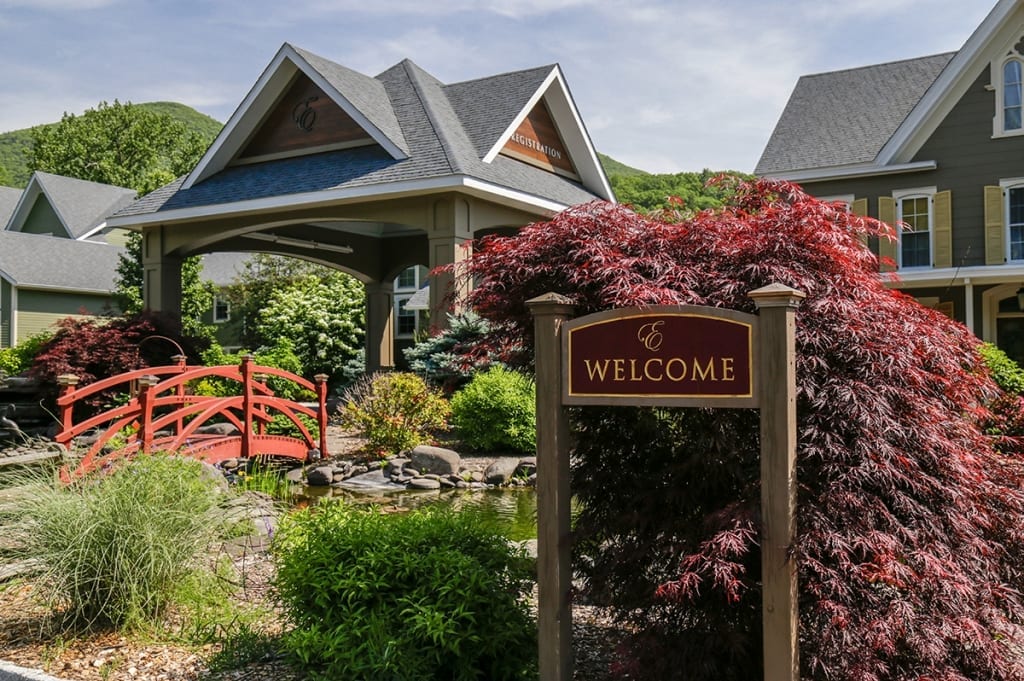 The Emerson has been a fan favorite for a very long time. It is especially well-liked by families, since it offers a wide variety of activities, both on the premises and in the surrounding area.
Some examples of these activities include skiing and snowshoeing in the winter and tubing and fishing in the hot months.
In addition, it is a well-known spa resort that provides calming treatments such as massages and body wraps, and it also has a pool where guests can laze about and soak up some rays.
The farm-to-table cuisine served at the on-site restaurant is popular not just with tourists but also with the locals.
Rooms are available in both the traditional inn and the Adirondack-style lodge. The rooms of the inn are decorated in a lavish manner and include amenities such as gas fireplaces and jacuzzi baths.
Key Amenities:
Family-friendly with tubing, fishing, skiing and snowshoeing
Contemporary inn or Adirondack style lodge
On-site spa with pool
3. Shandanken Inn – Shandaken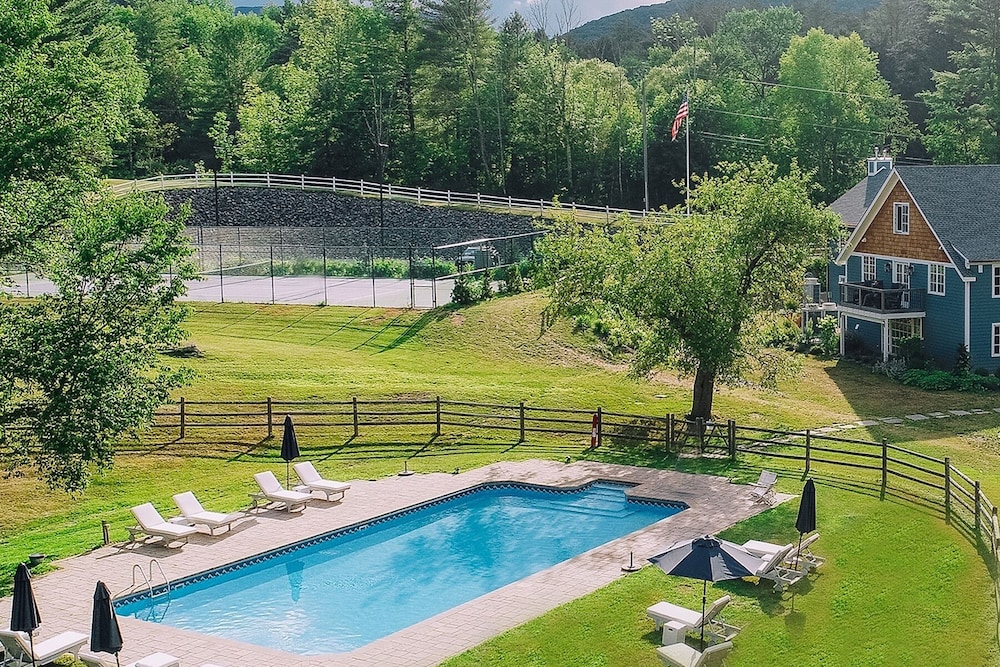 The Shandanken, which was formerly a well-known golf clubhouse built in the 1920s and now rests on twelve acres of land along Esopus Creek, is an isolated property that offers a peaceful and stress-free environment.
The main room features both a bar and a fireplace that burns wood, and the décor is a combination of traditional and rustic elegance.
In addition to that, there is a swimming pool, a tennis court, a workout facility with Peloton cycles, and an outdoor fire pit.
Both residents and hotel guests frequent the Clubhouse Restaurant, where they may take advantage of the complementary, extensive breakfast offered throughout their stay.
Because there are so many farms in the region, each dish features fresh food, including vegetables, fruits, and other components.
Key Amenities:
Outdoor fire pit, pool, tennis court and fitness center
Complimentary breakfast at the Clubhouse Restaurant
Main lodge with bar and wood-burning fireplace
4. Hotel Mountain Brook – Tannersville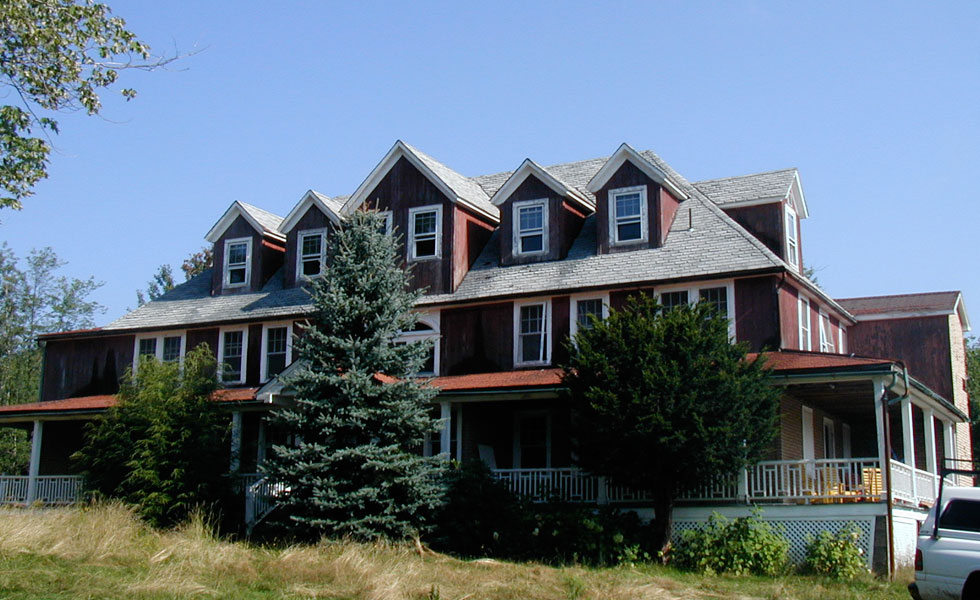 The Hotel Mountain Brook is a lodge in the style of the Adirondacks that was initially constructed in the 1940s and had a thorough renovation in 2008.
Despite this, the hotel retains a great deal of the period's beauty. The housing options include luxury suites, cottages, and cabins, and they look out over the Catskill Mountains and are only four miles away from Kaaterskill Falls and the ski slopes at Hunter Mountain.
Details from the time period, such as fireplaces, were kept, but up-to-date conveniences, such as flat-screen televisions with DVD players and bathrooms with Jacuzzi tubs, were installed.
Some of them provide mountain vistas from their individual balconies or communal patios. In the dining area, guests may enjoy a breakfast of gourmet fare, and the hotel also features a pleasant bar and a library.
In addition, there are several alluring common areas for guests to enjoy, such as the wraparound porch that overlooks the mountains.
Key Amenities:
Renovated Adirondacks-style lodge with wraparound porch
Luxury suites, cottages and cabins with Catskill Mountain views
Free gourmet breakfast
5. Foxfire Mountain House – Mount Tremper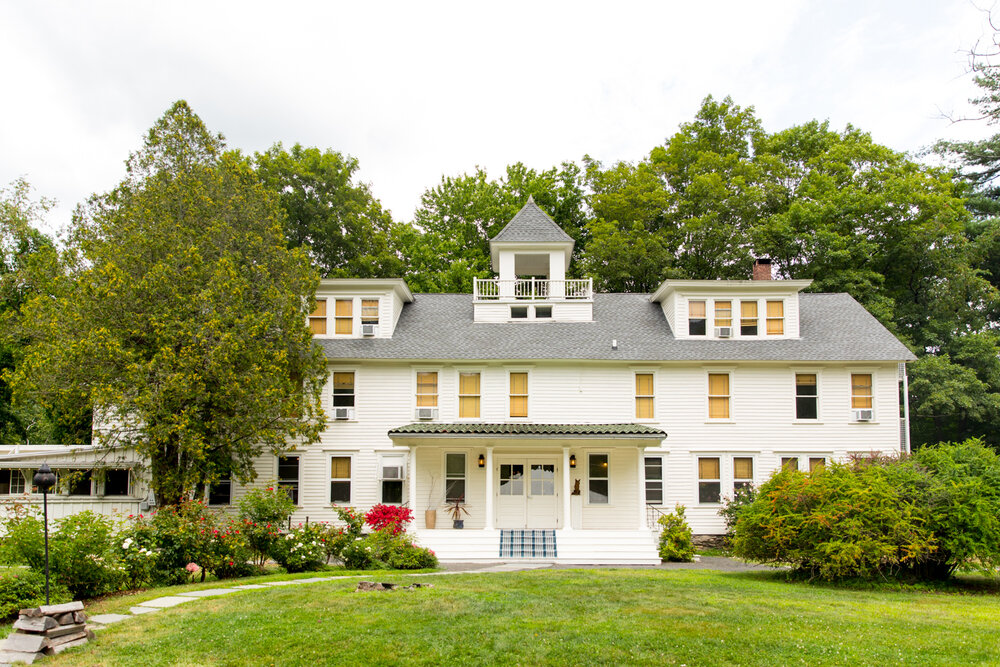 The Foxfire Mountain House was constructed in 1914 and initially opened its doors as an inn as well as a boarding house.
After almost a century had passed, Eliza Clark and Tim Trojian bought the property and painstakingly renovated it, such that the interior now resembles something from a fantasy story.
It is situated on ten acres of private ground, and there are hammocks strewn all over the property, making it an ideal place to relax in the afternoon.
There is a bocce ball court and a fire pit for evening bonfires in addition to the former pool, which has been transformed into a pond and is now home to frogs and lily pads.
There is a restaurant and bar on the premises, and the restaurant includes a stone fireplace and exposed timbers.
The rooms either have private bathrooms or access to common restrooms. In addition, there is a cottage that sleeps three people and is equipped with a kitchen, fireplace, living room, dining room, and a flat-screen television.
Key Amenities:
10 acres of private land with outdoor pavilion
Rooms with private bathrooms and private cottage
On-site restaurant and bar with stone fireplace
6. The Herwood Inn – Woodstock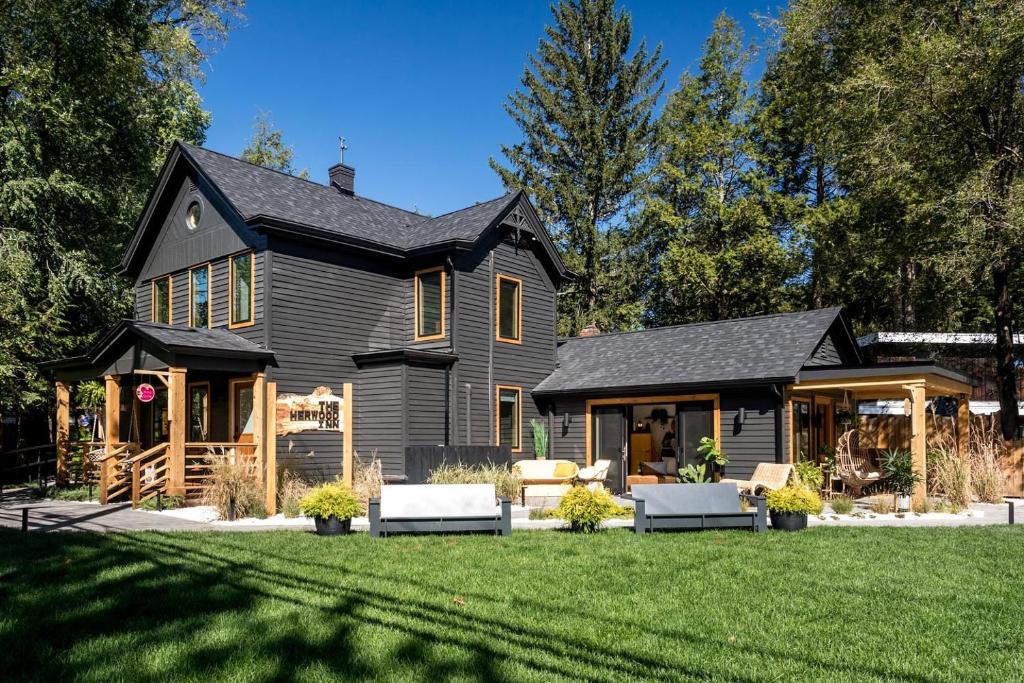 The eco-friendly Herwood Inn is filled with the bohemian attitude that the town of Woodstock is known for.
The rooms at this rock 'n roll-themed boutique hotel are named after great female singers such as Stevie Nicks, Joni Mitchell, Aretha Franklin, and Carole King.
All of the rooms are outfitted with contemporary conveniences and New Age-inspired furnishings, such as crystals, dream catchers, and macramé.
They also have record players and vinyl, deluxe linens and mattresses, and kitchenettes equipped with a compact refrigerator, a dishwasher, and an electric stove.
Outside on the property, there is a covered dining area, a communal patio, a hot tub made of cedar, and a fireplace.
Key Amenities:
Rock 'n roll themed named after famous female singers
Shared patio, cedar hot tub and fireplace
Eco-friendly and sustainable décor
7. Eastwind Hotel – Windham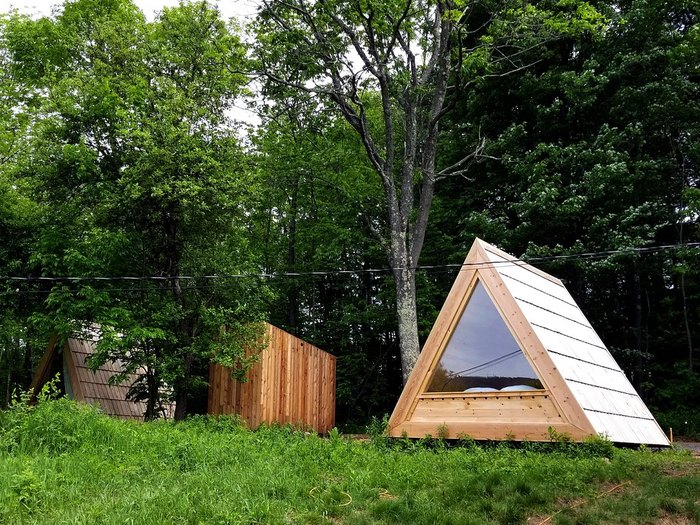 This historic hunting and fishing lodge in the Hudson Valley was recently renovated into a charming boutique hotel to serve as a unique retreat for anyone looking to get away from the hustle and bustle of the city.
When you enter the Eastwind Hotel and hear the sound of the fire crackling in the fireplace that is located adjacent to the lobby bar, you are immediately transported to a state of contentment.
Guests have the option of spending the night in one of the A-frame cabins, which are outfitted with Frette linens and Faribault wool blankets, or in a sleek guestroom, which features a number of beautifully chosen elements throughout.
On Saturday evenings, upon request, the salon serves meals in the format of a family meal, and on the weekends, breakfasts are given in the form of a buffet.
There are also loaner bikes available for anyone who would like to travel on two wheels.
Key Amenities:
A-Frame cabins or minimalist suites
Bar and lounge on-site
Wood barrel saunas and free bikes
8. The Graham and Co – Phoenicia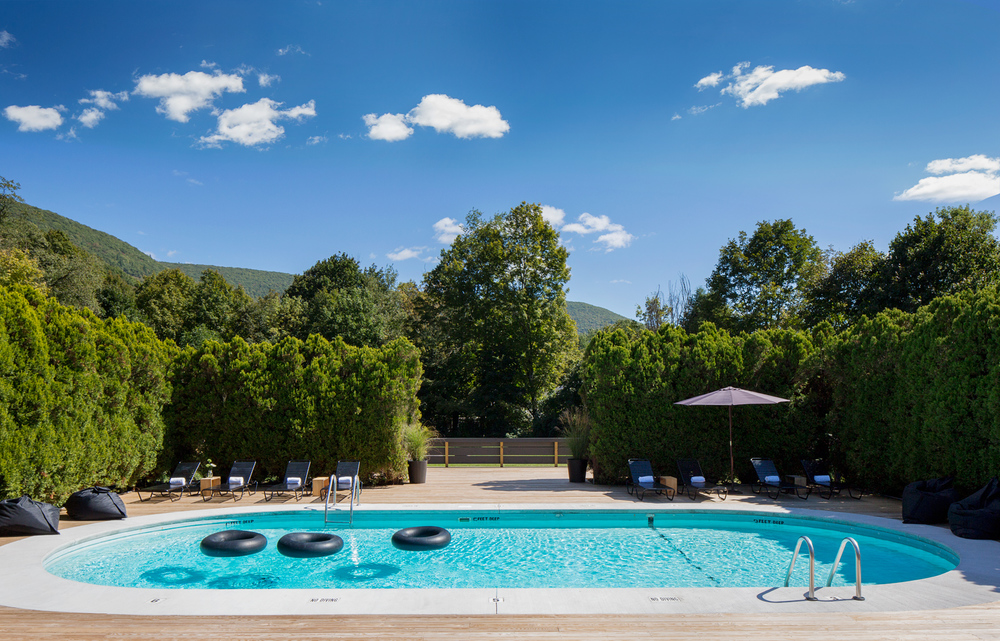 The Graham & Co. is located in Phoenicia just a couple of streets from Main Street, but it seems like it's in the middle of nowhere since it's on a three-acre site that's surrounded by nature.
It's a great place to get away from it all because to the remarkable features that are located on the property. There is a huge swimming pool that is located outside, as well as movie nights on the grass and roaring bonfires.
You won't be charged for using the loaner bikes, and you'll also be greeted with a drink as you check in.
The rooms are uncomplicated and available in a range of sizes, but they are all outfitted with large bean bags and Tivoli radios that are compatible with iPods.
There is also a two-bedroom house that was repurposed out of a storage space and has a mood that is somewhere between the Catskills and Scandinavia.
Key Amenities:
Outdoor swimming pool and movie nights on lawn
Free bikes and breakfast on weekends
Unpretentious rooms and two-bedroom repurposed bungalow
9. Scribner's Catskill Lodge – Hunter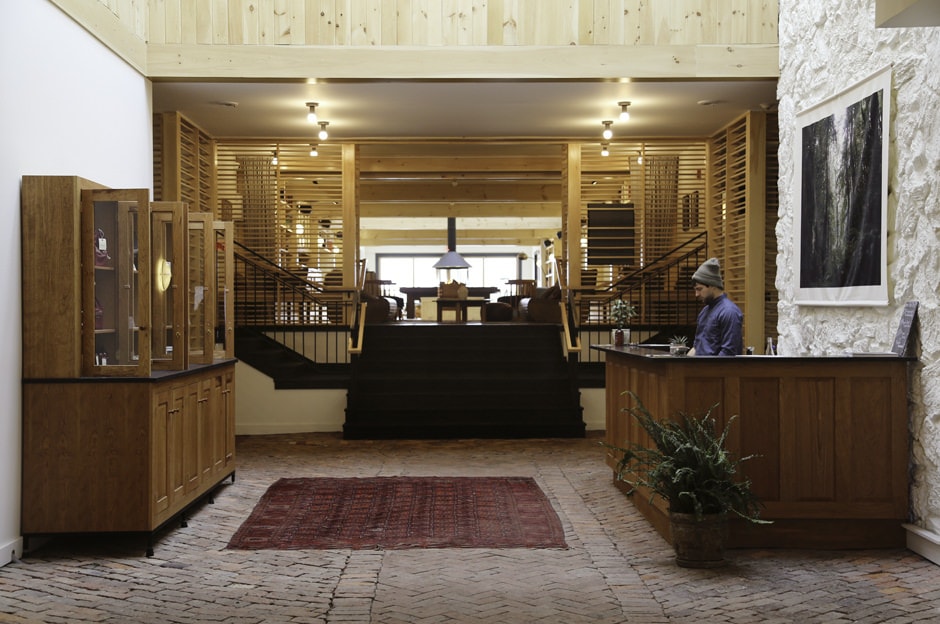 Since 1966, Scribner's Catskill Lodge has provided guests with an ideal hideaway in the Catskills. In 2015, the lodge had a stunning renovation, which earned it membership in the Design Hotels group.
Despite these changes, the lodge was able to maintain the region's history, personality, and allure.
The lounge/library is the hub of the space, and it has a chic Scandinavian vibe, a wood-burning effect stove, a massive skylight, and comfy seating with faux-fur throws.
In addition, there is a pool table, which may be found with other amenities such as book shelves and board games.
In addition to flat-screen televisions and wireless internet access, the rooms have maple flooring and custom-designed furniture. There are several that offer patios, fireplaces, and views of the mountains.
It is an excellent base for hiking, as it is only eight miles away from the forest trails in Catskill Park, and it is also a great base for skiing in the winter, as the Hunter Mountain ski resort is only one mile away.
Key Amenities:
Lounge and library with a Scandinavian feel
Garden, pool and pup visitor program
Rooms with maple floors and custom furnishings
10. Hasbrouck House – Stone Ridge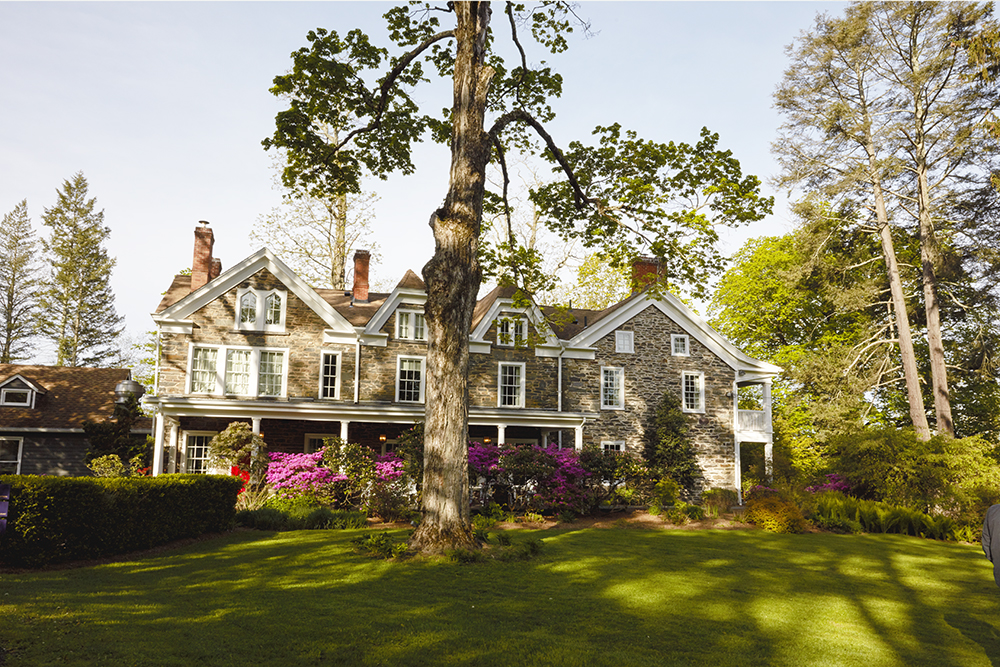 Hasbrouck House is a picture-perfect country mansion located on superbly maintained grounds, and it has a charming hotel in the manner of a bed and breakfast that was built within an 18th-century Dutch Colonial Mansion.
The main house, the stable house, and the carriage house are the three ancient buildings that contain the guest accommodations, which include rooms, lofts, and suites.
Those who want additional room can also stay in a cottage that is part of a private residence and has three bedrooms.
The Club Room is a warm and inviting gathering place that features a pool table and a roaring fireplace; this is the perfect place to have a glass of wine or a mug of hot chocolate while you watch the game.
Patios and gardens are available throughout the summer months for anyone who like to relax in the open air.
In addition, there is a swimming pool that dates back to the 1920s, a large grass with plenty of space for hosting barbecues, a private lake, and hiking paths.
Key Amenities:
B&B style hotel with historic main house, stable house and carriage house
Club room with billiards table and fireplace
Historic 1920s swimming pool, lawn, patios and gardens
10 Best Resorts in the Catskills, NY 2023 –Newshub360.net
Related Post
Credit : www.Newshub360.net