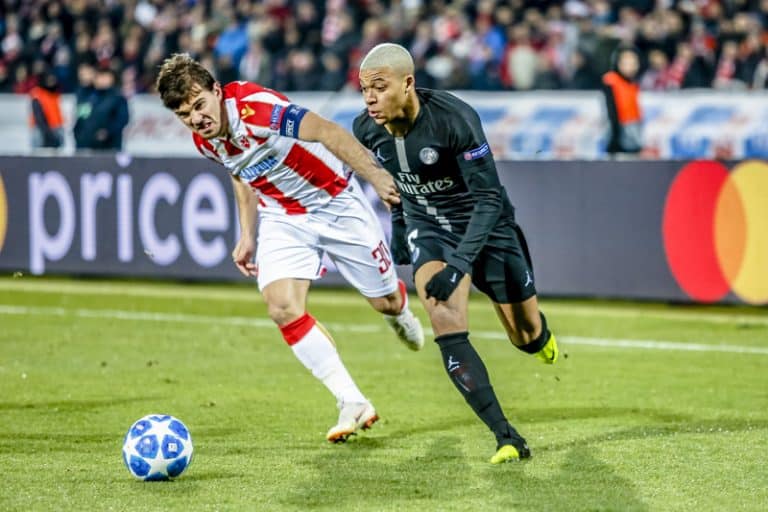 Top 10 Fastest Footballers in the world 2023: Football requires a great deal of physical energy on the field, which has provided us with plenty of views of our favorite players putting in long hours in the gym and on the training field, honing their footwork and enhancing their ability to go past their opponents.
Modern football has evolved into a very fast-paced game, with teams that are quick to press and counter-attack. As a result, players with scorching speed and acceleration to leap forward have become an inextricable component of the game.
A number of players have dazzled crowds with their amazing speed, both with and without the ball, over the course of the years. As a result, they have improved their ability to defeat opponents in one-on-one confrontations.
Today, take a look at the Top 10 Fastest Footballers in the world 2023
10. Leroy Sane – 35.08 kmph
Out all the many attributes that Leroy Sane possesses, his ability to outpace his opponent and his exceptional dribbling are the two that stand out the most. His performance has elevated him to a key player of both Schalke 04 and Manchester City. While he was out for the season after sustaining an ACL injury in the last Community Shield, his new team Bayern Munich can expect him to contribute to their already lightning-fast attack.
Bayern's options in the press will undoubtedly be bolstered as a result of Sane's arrival. He has demonstrated in the Premier League and before in the Bundesliga that he is capable of reaching top speeds of 35 kmph on a constant basis.
9. Kyle Walker – 35.24 kmph
Kyle Walker of Manchester City surpasses over his former teammate to claim the ninth spot on our ranking of the world's fastest footballers. In the past, the City defender has reached high speeds of 35 kmph, and his lung-busting dashes have been a key component of the team's possession play under Pep Guardiola.
Kyle Walker has been a driving force on the right side for the Cityzens when he has played, making runs up and down the length of the pitch. He has also shown himself to be a very capable ball-playing wing-back on occasions while storming forward.
8. Karim Bellarabi – 35.38 kmph
Karim Bellarabi of Bayer Leverkusen is ranked eighth in the world. On the field, the 30-year-old is another example of today's German wingers, who are quick and capable of hitting their straps when on the move.
Bellarabi's quickness, paired with his intelligent interplaying abilities, has been a crucial factor in Leverkusen's recent success. He has excelled while playing deeper in midfield or even as a wing-back, pulling the ball out of tight positions with his pace and understanding of other players despite predominantly playing as a winger for the duration of his career.
7. Pierre-Emerick Aubameyang – 35.55 kmph
During his time at Borussia Dortmund and now at Arsenal, Aubameyang has developed into one of the best strikers in the European league. The Gabonese international has shown remarkable consistency in front of goal, as well as lethal talent in the box.
It is one of Aubameyang's most dependable characteristics that he is able to beat his marker to the ball. That he has this kind of ability is remarkable, especially for a striker of his caliber. Despite this, he has made excellent use of his speed, scoring numerous goals for both his club and his national team.
6. Inaki Williams – 35.62 kmph
Inaki Williams is the fastest footballer from LaLiga on our list, and his statistics speak for themselves when it comes to his ability. A top speed of 35.62 kmph is certain to aid you in your pursuit of your opponent and speaks volumes about his endurance and confidence.
The Spaniard is also an excellent dribbler, and he is equally adept at playing with and without the ball. Having replaced Aritz Aduriz as the most significant player in Athletic Bilbao's overall scheme of things, he has emerged as the most important player in the team. Since then, he has emerged as the main focus of the team's gameplay. He is one of the Fastest Footballers in the world 2023.
5. Erling Haaland – 36.04 kmph
Erling Haaland, the wonderkid of Borussia Dortmund, has adapted to professional football like a duck to water, and he has made his way into our list of the world's top five fastest football players. Haaland has scored 44 goals in 40 games this season, which is second only to Robert Lewandowski's total of 45.
His prolific goal-scoring ability, along with his massive physique, may lead some to believe that the Norwegian is a beast in the penalty box. Haaland, on the other hand, has proven himself to be an athletic striker, frequently clocking speeds of 33-35 kmph and reaching a high speed of 36.04 kmph during the 2020/21 season.
4. Kylian Mbappe – 36.08 kmph
Kylian Mbappe, the wonderkid of Paris Saint-Germain, has already been praised for his lightning-quick footwork on the flanks. The winger has demonstrated a consistent ability to run at breakneck rates, which have become a distinguishing feature of his game.
A nuisance for defenders, he has proven himself to be, and when combined with his dribbling ability, he is certain to make a difference and cause more headaches for defenses around Europe. Mbappe is one of the Fastest Footballers in the world 2023.
3. Adama Traore – 36.25 kmph
Adama Traore is the epitome of what it means to be a physical beast. The Wolves winger possesses a commanding physical presence, complete with muscles and power. The Premier League has deemed him a troublesome commodity as a result of his driving runs.
When it comes to one-on-one encounters in the Premier League, he is often regarded as the most difficult player to beat in the league. That his physical prowess, long strides, and acceleration are evident is a tribute to that.
2. Achraf Hakimi – 36.48 kmph
When it comes to sprinters, Achraf Hakimi is a name that isn't frequently mentioned. The Moroccan, on the other hand, has always played at a faster tempo and possesses all of the qualities of a modern full-back.
The Moroccan international is a superb addition to Inter's squad, and he will be particularly useful in Antonio Conte's low-block, counter-attacking system, which he will learn under the Italian coach.
This season, Hakimi reached a high speed of over 36.5 kmph, demonstrating that he is among the fastest athletes in the world and can be a difficult proposition to outrun while competing against other athletes.
1. Alphonso Davies – 36.51 kmph
Alphonso Davies has been the standout performer this season. When it comes to running up and down the left wing for Bayern, the Canadian has seldom made a mistake in what has been a blistering first season.
Davies has demonstrated that he is capable of being played farther up the pitch if necessary as a result of this characteristic. Davies, or "The Roadrunner" as Thomas Muller affectionately refers to him, is quickly emerging as a prototypical wing-back in the modern era of football. A lightning-fast shift and a burst of scorching speed on the track. These characteristics, combined with his boldness when dribbling, make Davies an even more scary threat for the opponent.
His top-gear sprints have elevated him to the status of a household commodity in football today, and at the age of 19, he literally has the world at his feet.
Top 10 Fastest Footballers in the world 2023- Newshub360.net
CHECK THIS OUT:
♦  Top 10 Highest Paid Footballers in South Africa And Their Salaries
♦  Top 10 Highest Paid Footballers at Mamelodi Sundowns 2023
♦  Top 10 Highest-Paid Footballers at Kaizer Chiefs [ Billiat is 2nd ]
♦   Top 10 Highest Paid Footballers at Orlando Pirates 2023
♦  Top 10 Richest Football Clubs in South Africa [ Kaizer Chiefs is 2nd]
Credit : www.Newshub360.net