The 13 Lake House Rentals in North Carolina 2023: There are times when there is nothing more soothing than living on the lake, and the cities in North Carolina are fantastic places to experience this lifestyle!
There are a number of beautiful lakes in the state, and many of them have residences on the water that are available for rent.
This allows residents to enjoy true relaxation without making a significant long-term commitment. Here are some of the finest lake home rentals in North Carolina to consider booking for your next trip with a focus on the water.
13 Lake House Rentals in North Carolina 2023
1. Southern Breeze Lakefront House – Sherrills Ford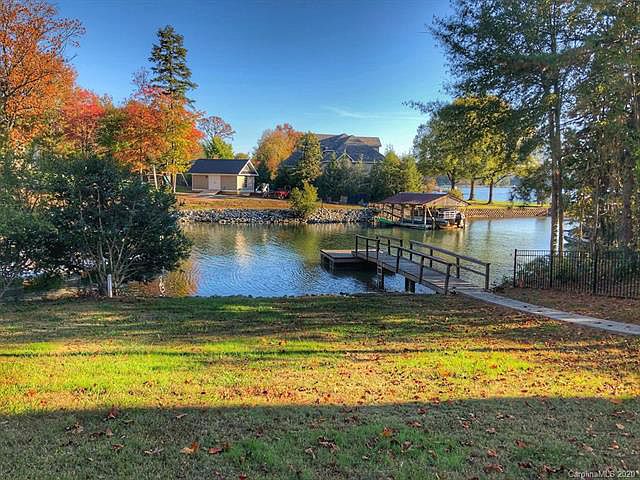 This lakeside property, which has five bedrooms and has received a lot of positive feedback on Airbnb, can accommodate large parties of up to 12 people at a time.
It was completed in 2016 and features 3.5 bathrooms in addition to being pet-friendly. In addition to having well-appointed internal and outdoor areas, you will also enjoy a backyard that is enclosed and leads to the lake.
Paddleboarding, swimming, and fishing off the dock are all wonderful activities that can be enjoyed here. The house is equipped with a kitchen, as well as cable TV, Wi-Fi, and an internal fireplace.
Parking is free. While you relax and take in the scenery of the lake, you may take advantage of the neighborhood's friendly atmosphere and stunning views.
2. Lakefront Home with Private Beach and Lake Norman Views – Mooresville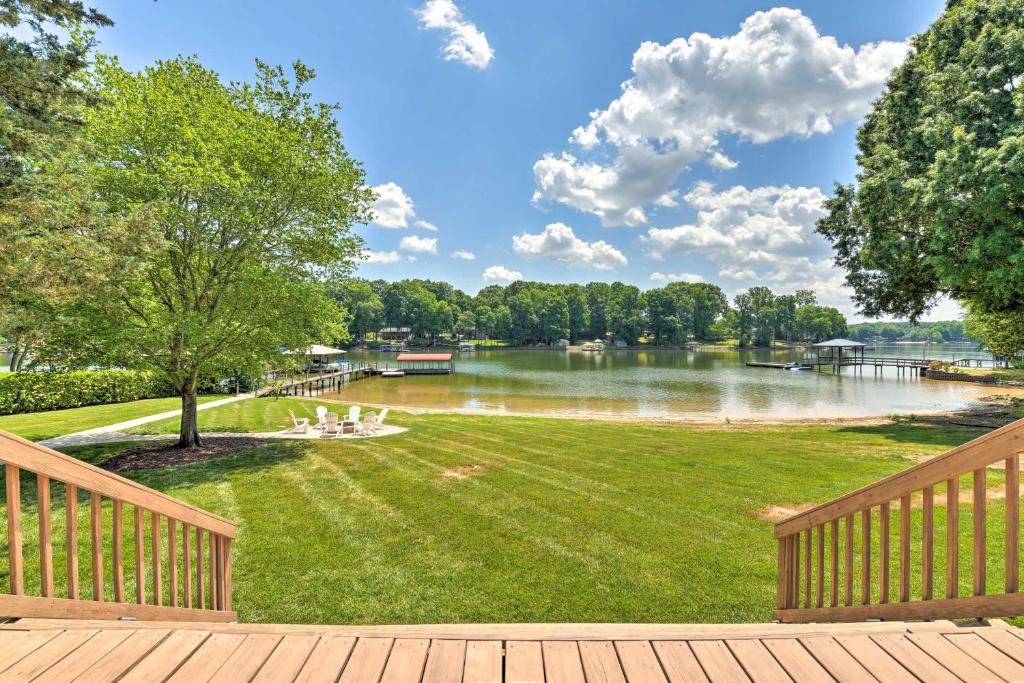 This mansion is 2,000 square feet, with nine beds, and is available as a rental through VRBO. It is definitely worth looking into. It is located on Lake Norman and features three bedrooms and two baths.
In addition to the private beach, terrace, sunroom, and outdoor fireplace that this location provides, the private dock provides views that extend eight miles into the distance.
The kitchen has just recently been rebuilt with new appliances and counter tops, and it is fine for children and dogs to stay here.
Your stay will be more enjoyable because to the home's location on more than an acre of property. It's a wonderful spot to be in if you're looking for a coastal or waterfront location in North Carolina!
3. Lakefront Loft – Lexington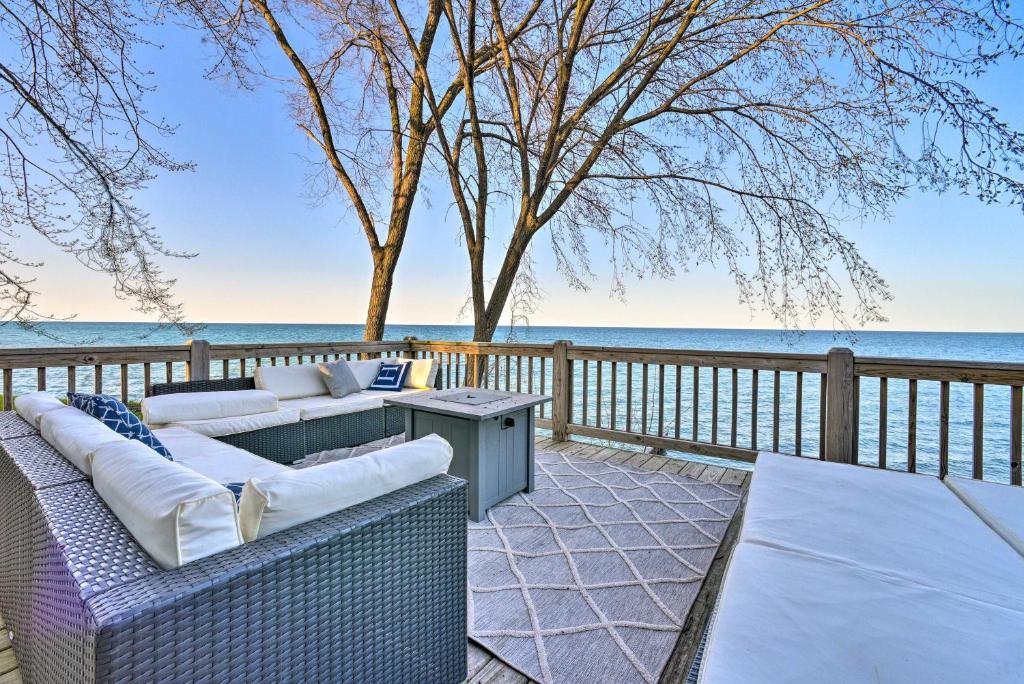 Book a stay at this apartment, which has received many positive reviews, and take advantage of the breathtaking views of the lake. Being close to Uptown Lexington, with all of its quaint restaurants, vineyards, and breweries, will be a huge plus for you.
The parking spot is located off the driveway, while the renting space is located above the host's garage. Guests staying at this property have access to a private pier and can dock their boats at the pier for a daily fee of $5.
Bring your fishing rod with you to the pier since it is a fantastic location for fishing and there is no requirement to have a license.
Because it is a studio apartment and the common room features one bed that is a queen size, this choice is suitable for a maximum of two guests.
4. Lakeside Pagoda – Nebo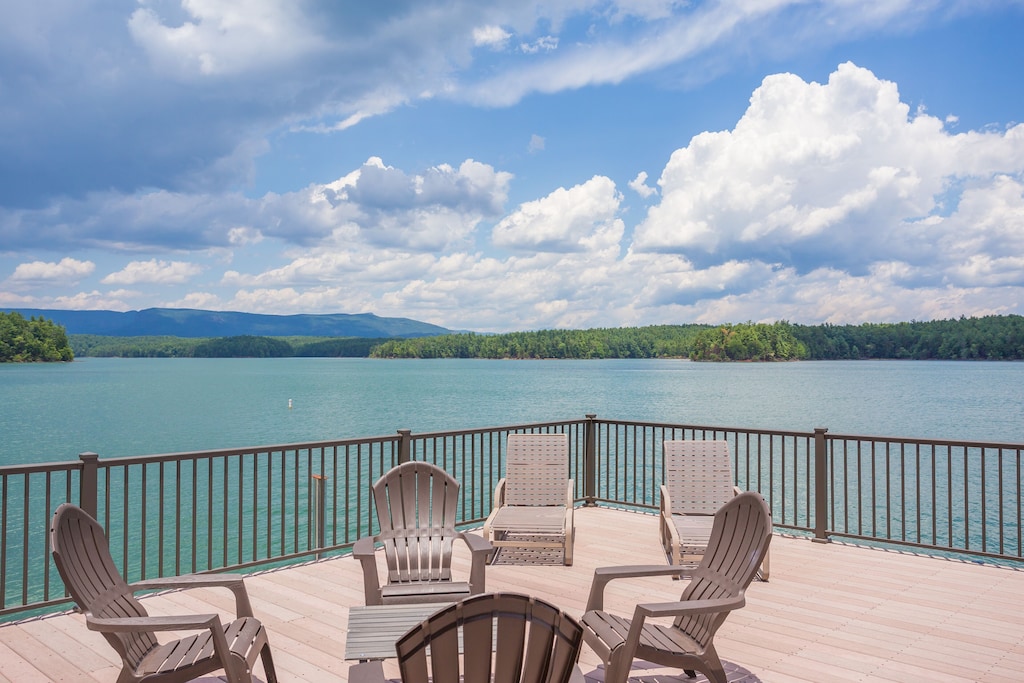 This property has a total living space of 2,319 square feet, eight bedrooms, and is located within easy walking distance of a private dock that has space for a boat.
This property on Lake James is a Zen-inspired retreat that offers a ton of facilities and is a place where you can rest and get away from it all.
On the bottom level, in addition to the total of two bedrooms and 2.5 bathrooms, there is a kitchen that is completely stocked with appliances, a foosball table, and a wet bar.
Because there are floating toys and life jackets available during the summer, a fireplace and local ski slopes are available during the winter, and possibilities for boating and mountain biking are available during the spring and fall seasons, this location is a great spot to visit at any time of the year.
5. A Small Piece of Heaven on the Lake – Richfield
The High Rock Lake may be seen from the window of this spacious guest suite, which provides accommodations for up to three visitors. Both the sunrises and the sunsets that can be seen here are works of art.
Your stay at this Airbnb property grants you access to a back yard, back patio, and fire pit in the backyard. Boat and jet ski rentals are available nearby.
Both a king-size bed and a couch bed may be found in this space to accommodate guests. Breakfast, a private office, free parking, and wireless internet access are also part of the package of included facilities.
6. Lake-View Cabin with Hot Tub and Canoe – Topton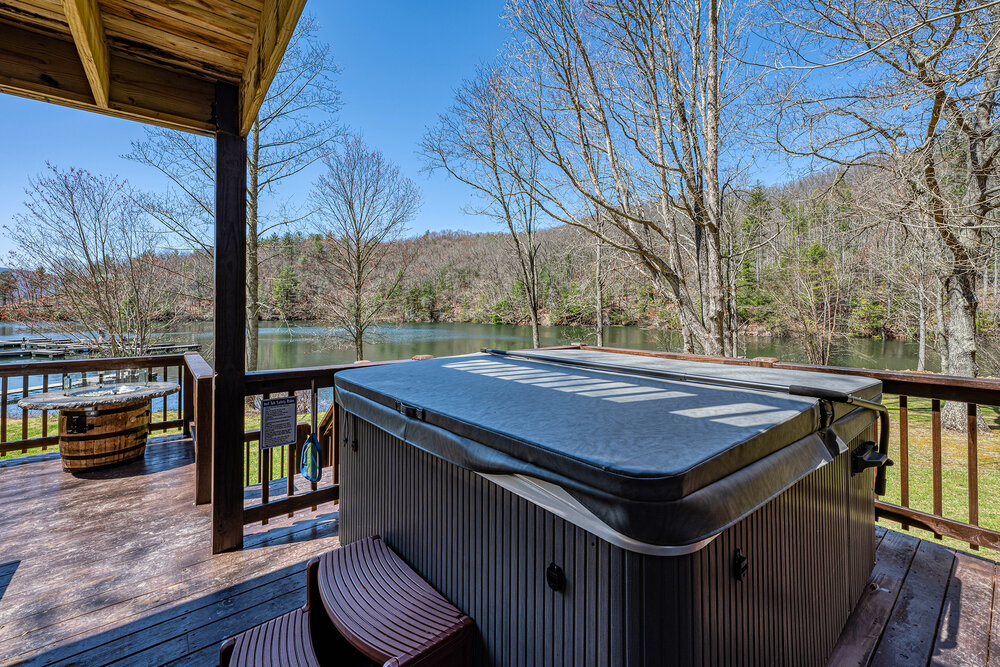 This Airbnb cottage is romantic, secluded, and offers a view of the lake; it can accommodate a maximum of four guests at a time. In addition to that, there is a fire pit inside as well as outside, a hot tub, and a charcoal barbecue.
You are welcome to prepare your own meals in the kitchen, which is conveniently located close to both the neighborhood cafe and the marina.
The sleeping accommodations at the cabin include of a king-sized bed, as well as two couches, and the property stands on an acre of ground. In general, it's a great small spot near Nantahala Lake for getting away for the weekend.
7. Pebby's Lake, Lake Waccamaw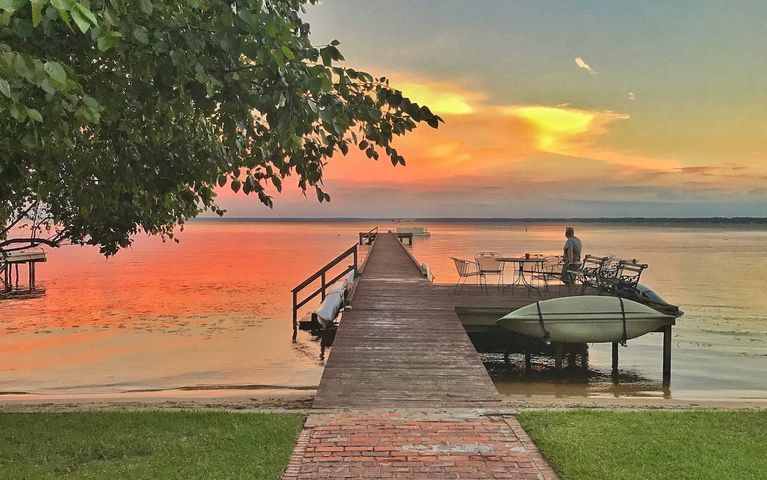 This lakefront home provides space for up to eight people, three bedrooms, and one bathroom, and is perfect for a relaxing getaway near the water. There is a veranda that has rocking chairs and a direct view of the lake, making it an ideal spot for viewing the sunrise and the sunset over the water.
You'll be within less than two miles of a grocery store and a few eateries, and Lake Waccamaw State Park is within less than ten miles of this location.
Guests choose to stay here because it has immediate access to the lake as well as a private pier where they are able to swim, sunbathe, and kayak.
If you want to unwind and spend some quality time with your family, this is an excellent location to do both of those things.
This has been the vacation home of the host family for many years, and now they are delighted to welcome others to experience its enchantment through Airbnb rentals.
8. Cozy Lake Cottage – New London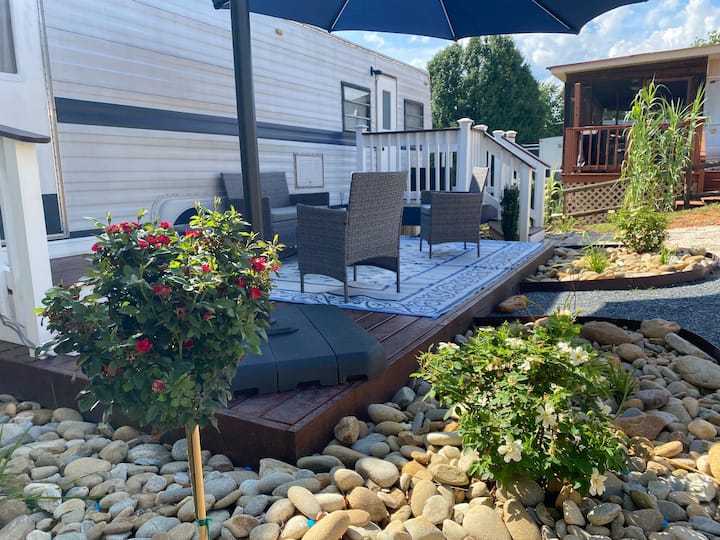 Another choice is this little house, which has breathtaking vistas of the nearby lake and is ideal for short getaways and holidays. With its four bedrooms and two bathrooms, this vacation rental home on Airbnb can accommodate a maximum of six guests.
The residence is located around one hour away from both Charlotte and Greensboro. The residence features a kitchen that is completely stocked, as well as conveniences for cooking and dining outside, in addition to two kayaks and one paddleboard.
You may rent pontoon boats nearby, go fishing right off the pier, go hiking or biking in the Uwharrie National Forest, and more.
There is a strict no-pets policy in place. Golfing, visiting museums, and even the Lowe's Motor Speedway are just some of the activities that can be done within half an hour of the property. Other nearby attractions include the North Carolina Zoo in Asheboro.
9. Four-Bedroom Lakehouse – Lake Toxaway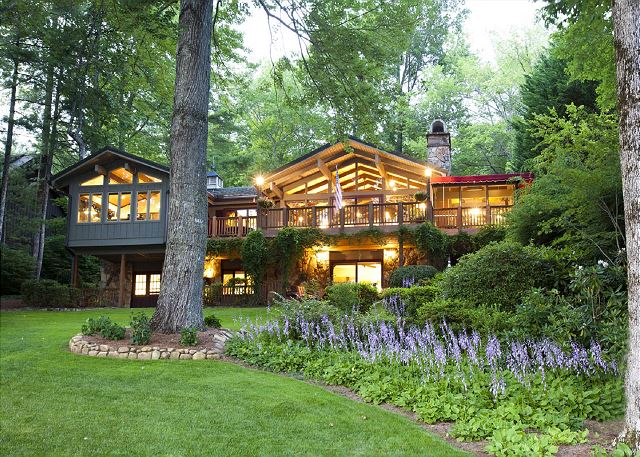 This lake house in North Carolina has a total living space of 2,960 square feet and is equipped with four bedrooms and four bathrooms.
It is perfect for parties of up to eight people, and it is located on Lake Toxaway. Additionally, Gorges State Park is only a three-minute drive away.
Inside, guests will find a wide variety of conveniences, such as washing machines, a gourmet kitchen, a number of different television viewing options, and a private dock with space for swimming, boating, and fishing.
Due to its proximity to US-64, this location makes it simple to explore nearby attractions or go shopping.
10. Cozy Cottage at the Lake – Elizabethtown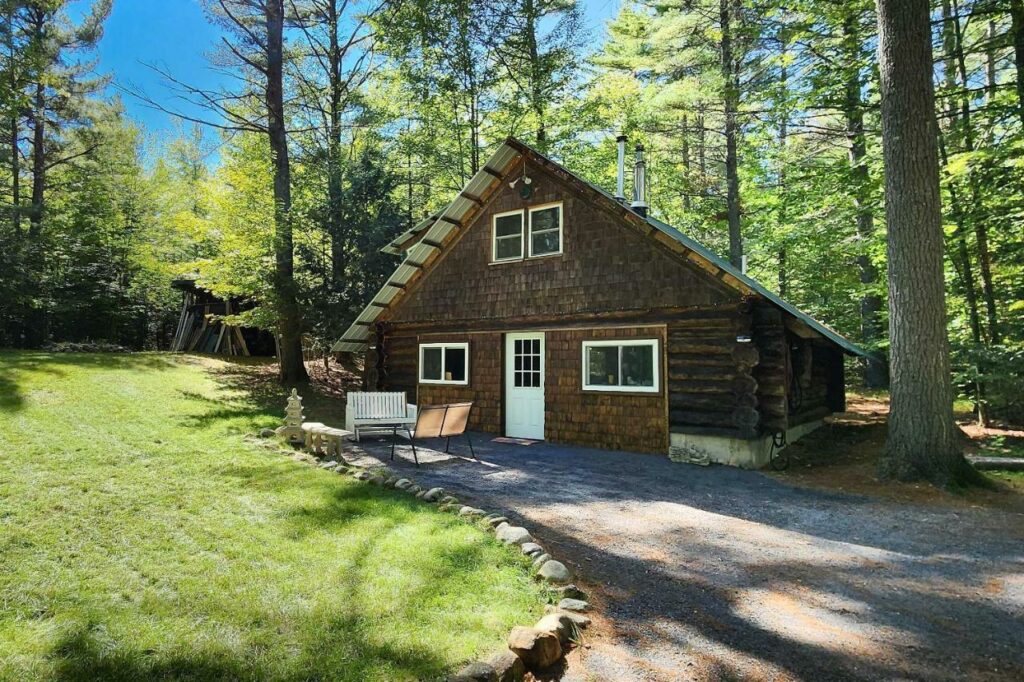 When you're in the Elizabethtown region of North Carolina, you should definitely stay at this lake cottage that can accommodate up to six people.
It contains three bedrooms and one bathroom, and under normal conditions (i.e., situations that do not include COVID-19), it has a pier and water access from the street. The marina is available for use by those who are in possession of a boat or jet skis.
The sleeping accommodations consist of one bedroom with a queen-size bed, two bedrooms with double beds, and a sofa bed in the living area.
In addition, there is a kitchen, free parking, laundry machines, wireless internet access, and a television in the room.
11. Cabin with Private Loft on Nantahala Lake – Topton
This quaint Appalachian cottage has a total area of 1,040 square feet and has received excellent ratings on VRBO. It contains two bedrooms, each with their own bathroom, giving it a total capacity of six people.
You will have direct access to the water and a private dock where you may launch your own watercraft, such as a boat, canoe, or kayak. Fishing, swimming, and boating are all activities that are best enjoyed at this location.
In addition, there is a handcrafted outdoor fire pit, handcrafted furniture and décor that creates a warm and inviting atmosphere, and satellite internet provided by HughesNet.
The huge screened-in porch and the views of Lake Nantahala are two of the amenities that our guests like most throughout their stay. This location is family-friendly, and there are washing machines available right on the premises.
12. Lakefront Cottage – Lake Lure
This lake location is another VRBO property that you should take into consideration for your lake holiday. It has space for up to seven guests.
It is located on Lake Lure and the Snug Harbor Cove, and it possesses three bedrooms and two baths. The vacation home is a contemporary boathouse that sits on two floors and offers breathtaking vistas of the lake.
Meanwhile, the decks and platforms of the boathouse are excellent places for scuba diving and sunbathing.
When you stay here, you'll have access to a wide variety of amenities and activities, such as fishing, boating, hiking, and shopping.
13. Lake Nantahala Mountain House – Topton
This mountain cottage on the shore of Lake Nantahala may accommodate as many as six people for overnight stays. It is located in a serene gated neighborhood and boasts high elevation lake views, in addition to having three bedrooms and two and a half bathrooms.
The cottage is completely isolated, as it is located on the edge of a national forest. It is a rural location that welcomes dogs and provides the opportunity to disconnect.
The screened porch, the proximity to a public access boat dock, and the availability of boat rentals at a marina close by are all advantages of staying at this location.
You won't be able to use the internet or have cellular service if you stay at this Airbnb; nevertheless, there is a landline and cable TV in the home for your use. This will provide you with a more private and serene environment.
13 Lake House Rentals in North Carolina 2023 – Newshub360.net
Related Post

Credit : www.Newshub360.net