Top 10 Rarest Cursed Images 2023: Those who are conversant with the culture of the internet are aware that the phrase "cursed image" refers to something that is considerably less sinister than the connotations that the term "cursed image" may evoke, such as spellbooks and ancient prophecies.
At its most fundamental level, a cursed image is a photograph that, through a variety of different means, causes unease in the viewer. It's possible that the snapshot depicts anything macabre or horrifying.
Another possibility is that it is simply peculiar, illogical, or of poor quality. The feelings that are evoked in a person as a result of viewing a cursed image are more important than the actual images that are displayed.
You are about to see some of the weirdest and most bizarre photographs of cursed things that have ever been uploaded on the internet.
The cursed photos thread on Reddit was where all of these were obtained from. Read if you have the guts to!
Top 10 Rarest Cursed Images 2023
1. Screengrab from "Warning from Space" (1956)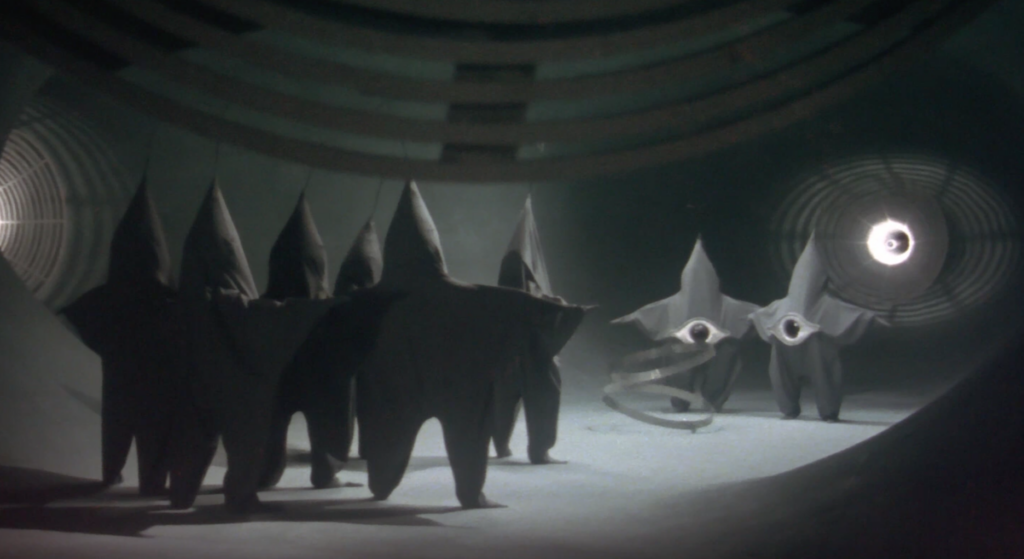 Original Source: "Warning from Space"
Doctored?: Most likely not
Country of Origin: Japan
This image was taken from the Japanese science fiction film "Warning from Space," which was released in 1956.
The film tells the story of aliens that resemble starfish and travel to Earth to warn mankind about a planet that has veered off course.
Koji Shima, who is well-known both as an actor and as a filmmaker, helmed the movie. The reviewers are almost unanimous in their disapproval of "Warning from Space," citing its plodding pace and incoherent plot as the primary reasons.
The film was awarded four out of a possible five stars by a single reviewer, who praised it for its contribution to the science fiction genre as a whole.
Did you know that the first Japanese science fiction film to be made in color was "Warning from Space"?
---
2. Robot Child with Humans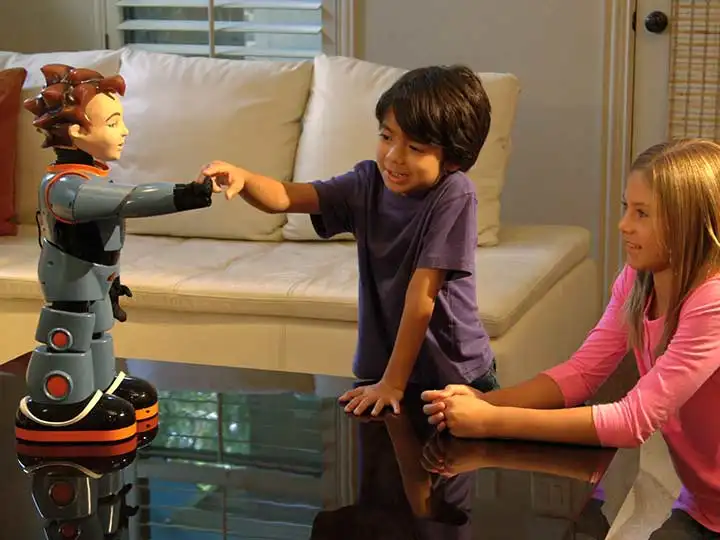 Original Source: Unknown
Doctored?: Possibly
Country of Origin: Unknown
The fact that this image can be located on a number of different websites does not change the fact that it is considered "rare."
The robot in question is almost certainly a toy or a statue, according to all indications. Having said that, it is included in a number of discussions on Reddit in addition to a Creepypasta that was authored by an unknown user of the Wiki.
The narrative explains how the narrator's family was put in danger by an adopted sentient robot by the name of ANTRAN.
The original photograph's coloration lends it the appearance of having been captured in the 1970s; nevertheless, there are also variations of the picture that are in black and white.
Have you any idea?
Cursed photos are related to and comparable to the online trend known as creepypastas. Creepypastas are an example of another internet trend that capitalizes on uncomfortable sentiments but uses stories rather than images. Creepypastas was the origin of a number of urban legends, including "Slenderman."
---
3. Crowd of people wearing baby masks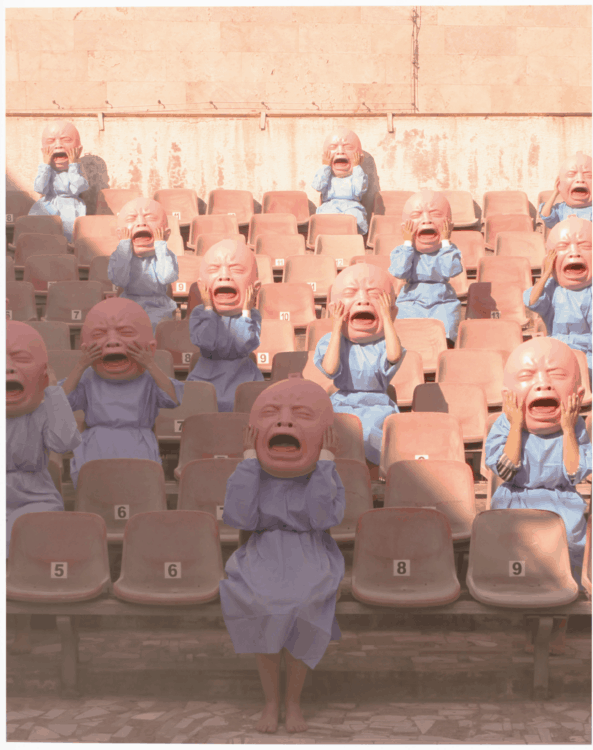 Original Source: "Double Blind"
Doctored?: Most likely not
Country of Origin: America
This so-called "cursed image" is featured on the cover of the third issue of "Double Blind," a publication that investigates the consumption of psychoactive substances as well as their development.
The focus of their third issue focuses squarely on the ingestion of psychedelic substances as a means of overcoming adversity and fostering a sense of community.
The fact that all of the characters on the cover art are depicted wearing identical clothes and face masks conveys a sense of collective suffering.
Although some people might find this image unsettling when taken out of its context, it does a great job of demonstrating the suffering that is explored in the magazine.
Have you any idea?
The cursed image meme was initially posted on a Tumblr blog in the year 2015.
---
4. Turnbull Canyon Black Cloaked Group
Original Source: Unknown
Doctored?: Unclear
Country of Origin: America
A well-known destination for hikers in the state of California, Turnbull Canyon has a troubled history. Despite the fact that the origin of this particular photograph has not been identified, a number of websites assert that it depicts possible members of a cult engaging in some sort of sinister ceremony.
According to some tales, these people dressed in black robes would frequently come into the canyon, where they would dance madly and shout.
Regardless of whether or not this is an accurate portrayal of a peculiar cult or whether or not it is a doctored photograph meant to frighten the spectator, it has certainly earned its spot as a cursed image.
Have you any idea?
The first "cursed image" is a photograph that depicts an elderly guy gazing vacantly into the lens of a camera while being encircled by tomato plants.
---
5. Dolphin Human Hybrid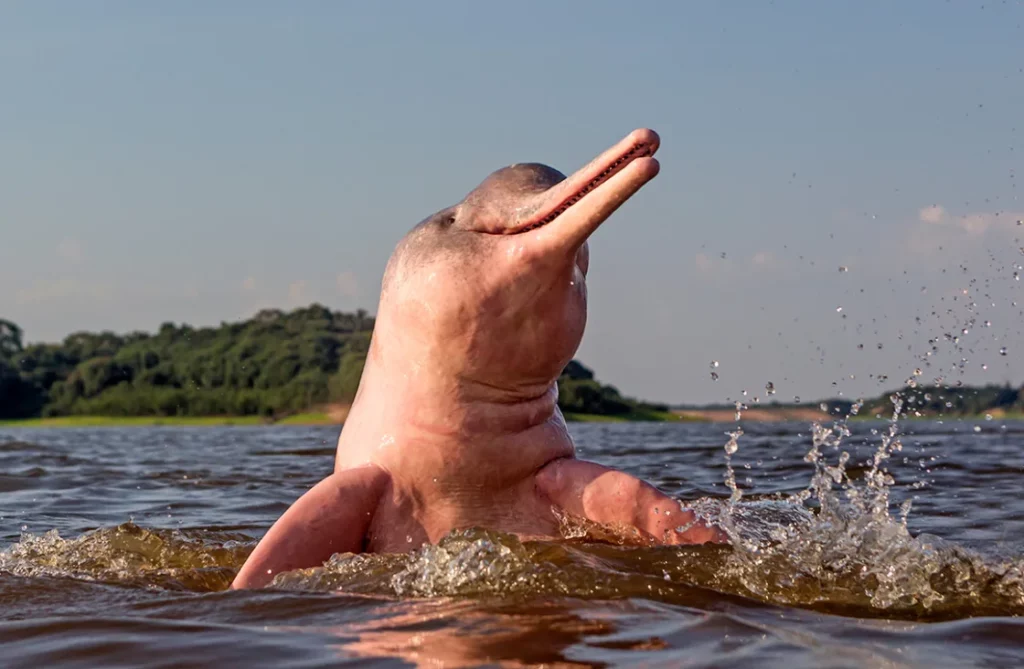 Original Source: Reddit
Doctored?: Most likely not
Country of Origin: Unknown
This unique image does not appear to have a clear source or artist associated with it, although it does occur in multiple posts on Reddit.
The fact that it is considered "cursed" shouldn't come as much of a surprise to anyone. The hyperrealism of the humanoid dolphin is undoubtedly frightening, as is the fact that one does not know for certain whether the girl that the humanoid dolphin is embracing is genuine or only an illusion created by the sculpture.
There isn't a whole lot more that can be stated about this photo, other than the fact that humans and dolphins should probably keep a safe distance from one another.
Did you know that Sigmund Freud's theory of the uncanny valley predates the current trend of cursed images by several generations? This theory defines the phenomenon of feeling uneasy when something that seems normal seems odd in some way.
When dealing with things that almost look human, the uncanny valley manifests itself in a particularly pronounced way.
---
6. Katharina Detzel with doll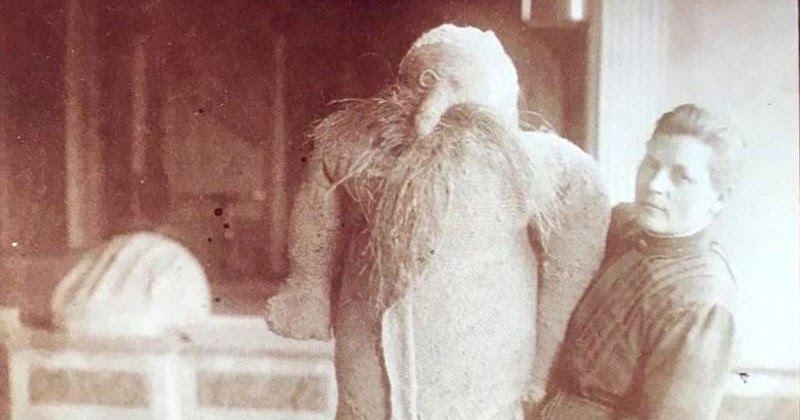 Original Source: Photograph by Manfred Zentsch
Doctored?: Most likely not
Country of Origin: Germany
Even if the majority of images associated with curses are simply humorous memes or jokes based on ordinary things, some of them actually have terrible or horrifying origins.
Katharina Detzel, a patient at a mental institution, is the subject of this photograph. At the beginning of the twentieth century, Detzel was labeled an "enemy of the state" due to the fact that she committed acts of sabotage against the railway and abortion clinics.
For the purpose of silencing her, the authorities committed her to a mental hospital. She was not one to give up, so she made multiple efforts to flee the hospital and frequently protested the cruel treatment of patients there.
During her time in the hospital, she used the time to make a doll out of hessian and straw in order to distract herself from her feelings of isolation.
As a result, it is impossible to know what happened to Detzel in the end because she was in the hospital when the Nazis took control of Germany and began murdering people who were considered mentally ill.
Did you know that Katharina Detzel has also written a play on the challenges she faced while she was being treated in a psychiatric hospital?
---
7. Solus, the star of calamity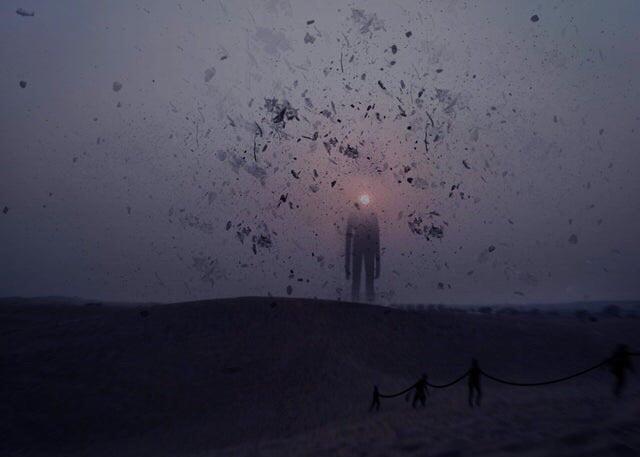 Original Source: Instagram
Doctored?: Yes
Country of Origin: Unknown
This image is a contribution to two posts on Reddit known as "Imaginary Behemoths" and "Boss Fight," which invite users to create artwork of monsters and other figures who appear to be formidable opponents.
The artist refined the profile of a massive humanoid lurking in the shadows behind the moon. A rapid search on Google also lends credence to the theory that the specks on the picture represent a flock of birds.
Even while other works of art in this thread also include frightening monsters, this particular painting has been given the moniker of a cursed image because of its gloomy color palette, sense of foreboding, and overall spooky atmosphere.
In a noteworthy action, the moderators erased this post, which means you won't find it very often on websites.
Have you any idea?
There are many different types of images that have been cursed. While some Instagram users write about unsuccessful interior design endeavors or disheartening food endeavors, others post content that is considerably more unsettling.
---
8. Angry Video Game Nerd Woody Woodpecker Costume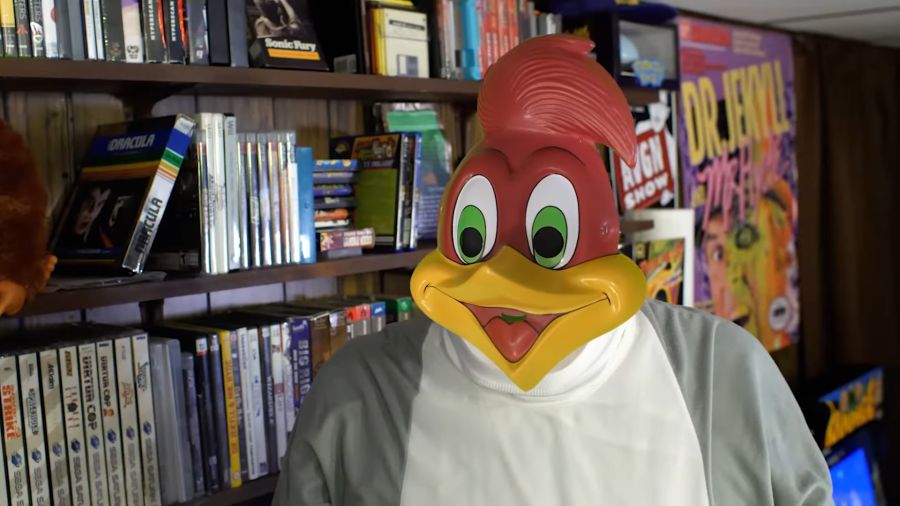 Original Source: "Angry Video Game Nerd" Web Series
Doctored?: Most likely not
Country of Origin: America
This image was taken from the YouTube series "Angry Video Game Nerd," in which an "angry nerd" critiques subpar video games from the industry's history.
One of his persistent foes is a man who dresses up as Bugs Bunny and challenges him to a fight because the nerd has been making fun of the video game he's playing.
In later episodes, the geek draws parallels between a subpar version of the Woody Woodpecker game and the Bugs Bunny game.
The nerd pulls off his mask to show that he's been wearing a Woody Woodpecker mask all along. Bugs then make another appearance.
Have you any idea?
It was originally going to be called "Angry Nintendo Nerd," but the title had to be altered because it was infringing on someone's copyright.
---
9. Clown/Sonic by a car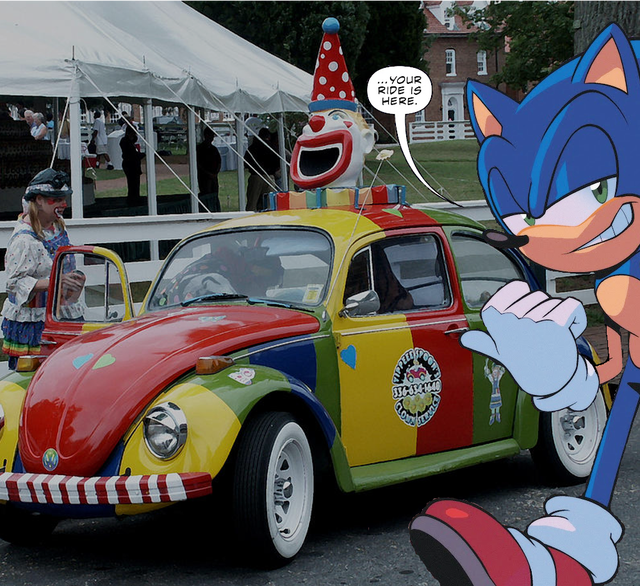 Original Source: Reddit
Doctored?: Most likely not
Country of Origin: Unknown
This lonely clown/Sonic the Hedgehog seen through a car window belongs in a list of photographs that do not have context because not much is known about either of them.
Due to the potential of clowns in general to be spooky and hilarious at the same time, they are frequently featured in collections of images associated with curses.
In this particular instance, the picture is most likely a "cursed image" due to the fact that it is peculiar rather than obviously unsettling or disturbing.
It provokes thought from the audience, prompting questions such as, "Why would someone wear a costume of Sonic the Hedgehog and a clown mask?"
Have you any idea?
Curators of cursed photos often amass their collections of revolting pictures because they take amusement in the bizarre qualities of the photographs themselves.
---
10. Baby Tree and Stork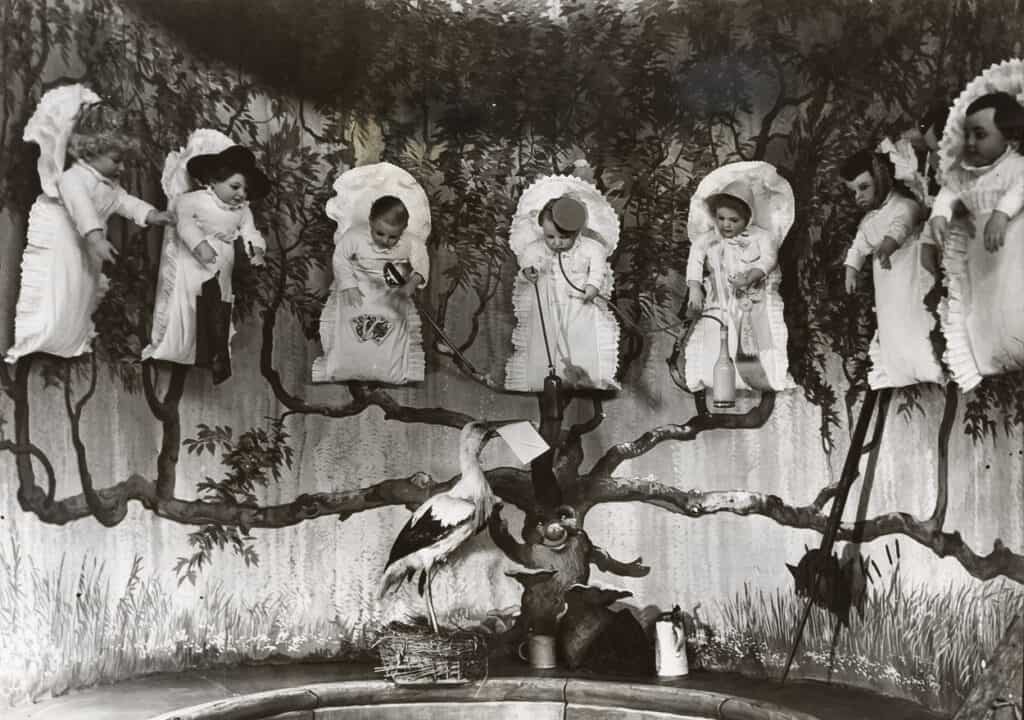 Original Source: Unknown
Doctored?: Most likely not
Due to the obscurity surrounding this photograph, it holds the distinction of being the most rarely seen cursed image on our list.
It shows a sculpture of a stork ready to deliver babies to baby dolls that are perched on tree branches.
There is a claim that it dates back to 1930, although this fact has not been independently verified. Since there are also a few websites written in Russian that contain this image, it is possible that it originated in Russia; however, this is also unconfirmed.
The story that the stork brings infants originates from a number of different places, but it most likely originated from an ancient Greek myth about a woman who is converted into a bird and carries her child. In this myth, the woman carries her child.
Did you know that Hans Christian Andersen penned a story called "The Storks"? In the story, the birds are described as delivering infants to various households, which contributed to the spread of the myth throughout Europe.
Top 10 Rarest Cursed Images 2023 – Newshub360.net
Related Post

Credit: www.Newshub360.net