The 13 Harry Potter-Themed Airbnbs for Every Fan's Dream Vacation: It's safe to say that these Harry Potter Airbnbs go above and beyond when it came to attention to detail, featuring enchanted chambers, Hogwarts houses' distinguishing colours, and settings straight out of Diagon Alley.
These spectacular and immersive Airbnb's, which cater to Harry Potter fans worldwide, guarantee to bring a little bit of enchantment to your travels whether you're in North America, Europe, or Asia.
These Airbnb's include everything from Hogwarts-themed residences to some of the sites where the renowned films were filmed.
You should take more time to explore these areas in addition to the rooms themselves. Everything from Butter Beer to your house robes to the letter you've been waiting for from Hogwarts is hidden away. Harry, Ron, and Hermione are the only things still missing.
13 Harry Potter-Themed Airbnb's for Every Fan's Dream Vacation 2023
1. Harry Potter Fan School Dorm with Breakfast – Salem, Massachusetts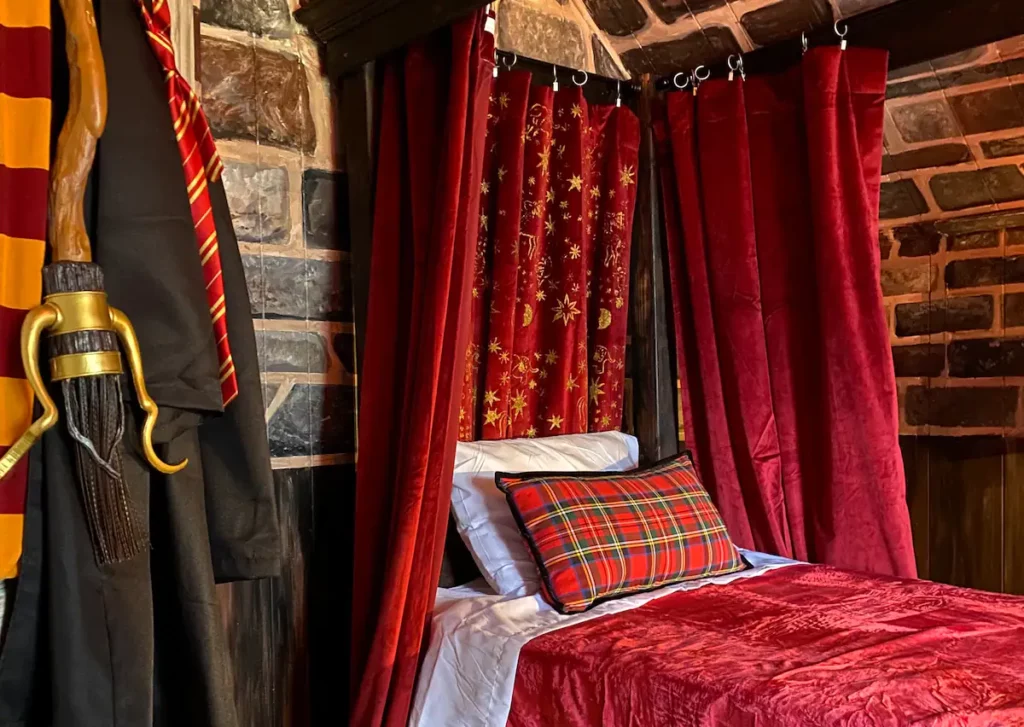 When you first awaken at this incredibly fantastic Harry Potter Airbnb, you'll feel as though you just got your Hogwarts letter. It is located in Salem, Massachusetts, and is known as the Fan School Dorm.
It has many genuine elements. To begin with, you must know the password in order to enter this area. Next, decide who will sleep in Harry's bed and who will sleep in Ron's bed.
Fans of Harry Potter who want to explore the neighbourhood will love this one-bedroom Airbnb that sleeps two people.
A hostess who worked in the toy and game industries for many years designed this amazing experience. There are countless props throughout that help to bring the Harry Potter motif to life.
Access to a communal bathroom and coffee and tea from the coffee bar are available in addition to the bedroom.
2. The Common Room – Victoria, BC, Canada
Possibly the most well-known Harry Potter-themed Airbnb is The Common Room. This one-bedroom residence, which is located in Victoria, British Columbia, has been entirely converted to resemble the Gryffindor Common Room at Hogwarts.
You won't ever feel out of place when staying at this Airbnb thanks to the exposed brick walls and opulent-looking amenities.
Although there is space for four people, this apartment is also an excellent choice for couples because it has a queen bed and a couch bed.
It is furnished with everything you could possibly need during your stay, including a full kitchen with a dishwasher, stove, microwave and basic cooking supplies, in addition to the stunning design.
You can observe Muggles below from the wonderful bay window, and there is also a TV and chess set to keep you occupied while you stay here. Obviously, when you're not honing your magic skills for classes.
3. Magical Harry Potter-Inspired Flat Near Edinburgh Castle – Edinburgh, Scotland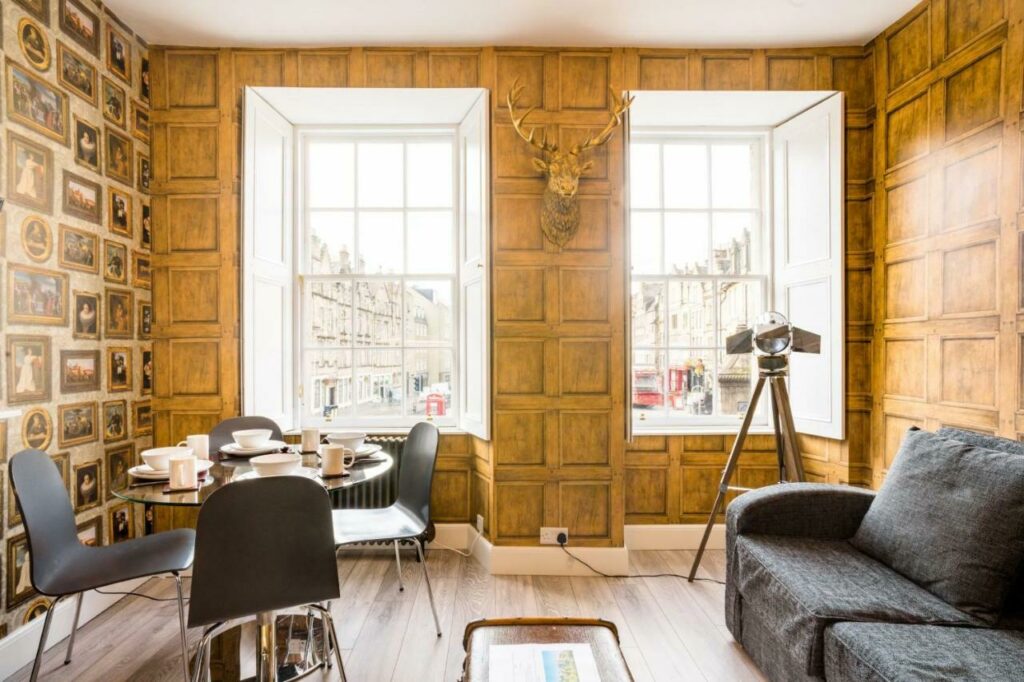 From the outside, West Bow might appear to be very unremarkable, but once you've found this Scottish retreat, you'll find yourself transported into the magical world of Harry Potter.
This magnificent location, which is adjacent to Edinburgh Castle, is stunning from the inside out. It's compact and cosy, has one bedroom, and sleeps up to four people, making it the perfect choice for Harry Potter-obsessed families planning to spend a few days exploring Scotland.
This Airbnb, often referred to as the Wizarding Residence, is located on The West Bow, which served as J. K. Rowling's primary source of inspiration for Diagon Alley.
The walls of this Airbnb are covered in old portrait wallpaper, there is a large stag chandelier, and some luggage that seems like it may have fallen off the Hogwarts Express.
A complete kitchen with a dishwasher, washer, and everything you need to prepare a nice meal is also available.
4. De Vere House in Lavenham, England's Sudbury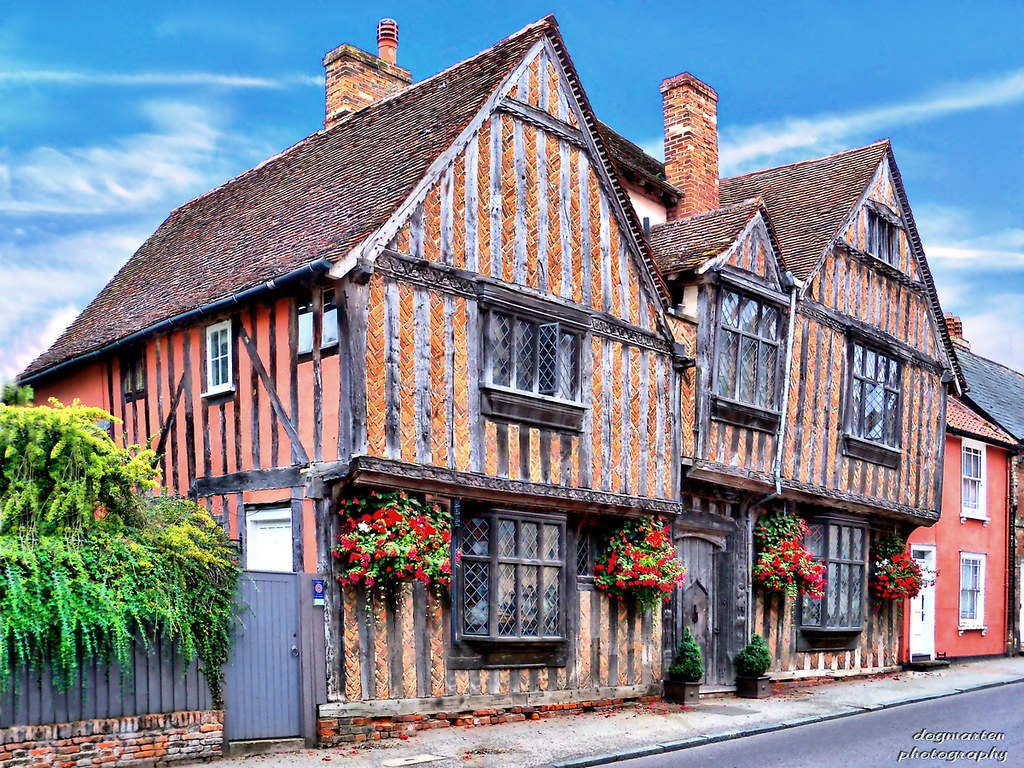 Before you ever enter the front entrance, the De Vere House in Lavenham, England, appears to blend in seamlessly with the rest of the Harry Potter universe.
This charmingly genuine home is rustic and charismatic, with touches of Harry Potter charm everywhere. This former bed and breakfast is located in one of Britain's most beautiful mediaeval villages, which you may recognise from the Harry Potter movie as Godric's Hollow.
The mansion is located in the heart of the charming village and has numerous themed components and a truly fascinating history.
Every room in this establishment has a four-poster bed, an en suite bathroom, a TV, Wi-Fi, a personal guest sitting area with a fireplace and a courtyard garden.
During your stay, you are also entitled to a complimentary English breakfast that is served in the dining area with a theme.
5. The Wizard's Cottage – Marshalstown, Wexford, Ireland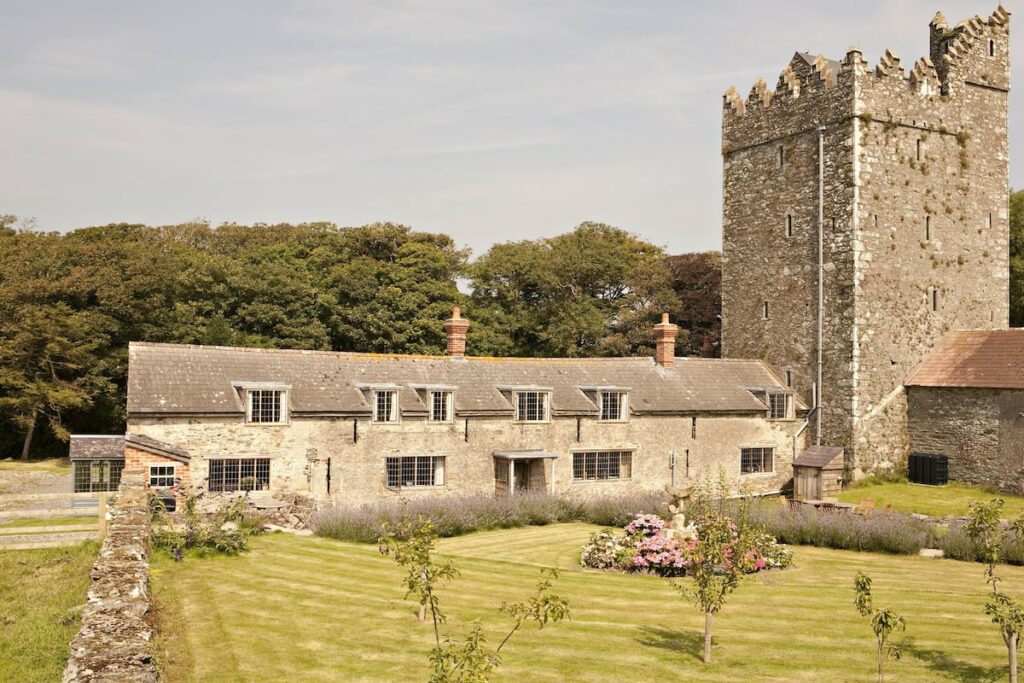 Every morning you wake up at The Wizard's Cottage, you'll feel like you're leading a genuine wizard's lifestyle thanks to the four poster bed and striking chandelier.
When you first arrive at this two-bedroom home in Colmar, France, you'll want to spend some time peeking into each room and seeing the distinctive items that bring the Harry Potter fantasy to life.
The cottage is located on the second floor of a home and has two bedrooms and one bathroom. The inside of what appears to be a typical building from the outside offers a portal into the wizarding world complete with boilers, old books, pumpkins and mandrakes.
You'll undoubtedly have a memorable stay here, with gloomy design, conventional wall coverings, and small details that will make all of your Harry Potter fantasies come true.
6. Spellcast Cottage – Colmar, France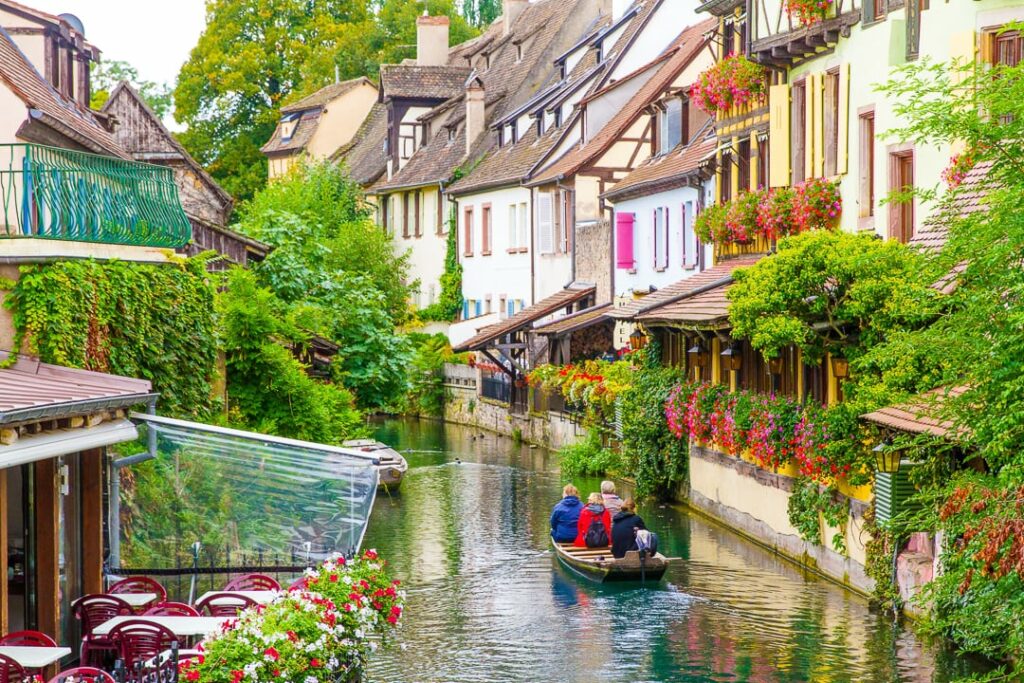 There is more to Spellcast Cottage than meets the eye. With lots to explore and hidden secrets in each room, this enchanting cottage in Wexford, Ireland, is an excellent way to escape into the world of Harry Potter.
Furthermore, the secret room, which you should spend some time looking for, is still unaccounted for. Even if it appears amazing in the images, there is more to be seen in person.
This one-bedroom cottage is ideal for a group of friends wishing to fully immerse themselves in the wizarding realm because it provides space for four visitors and four separate beds.
Staying here includes access to a private backyard, an under-the-stairs sleeping arrangement, a bathroom with toiletries and a kitchen with tea and coffee in addition to the dormitory-style bedroom.
7. Harry Potter Fan's Dream – Chickamauga, Georgia, USA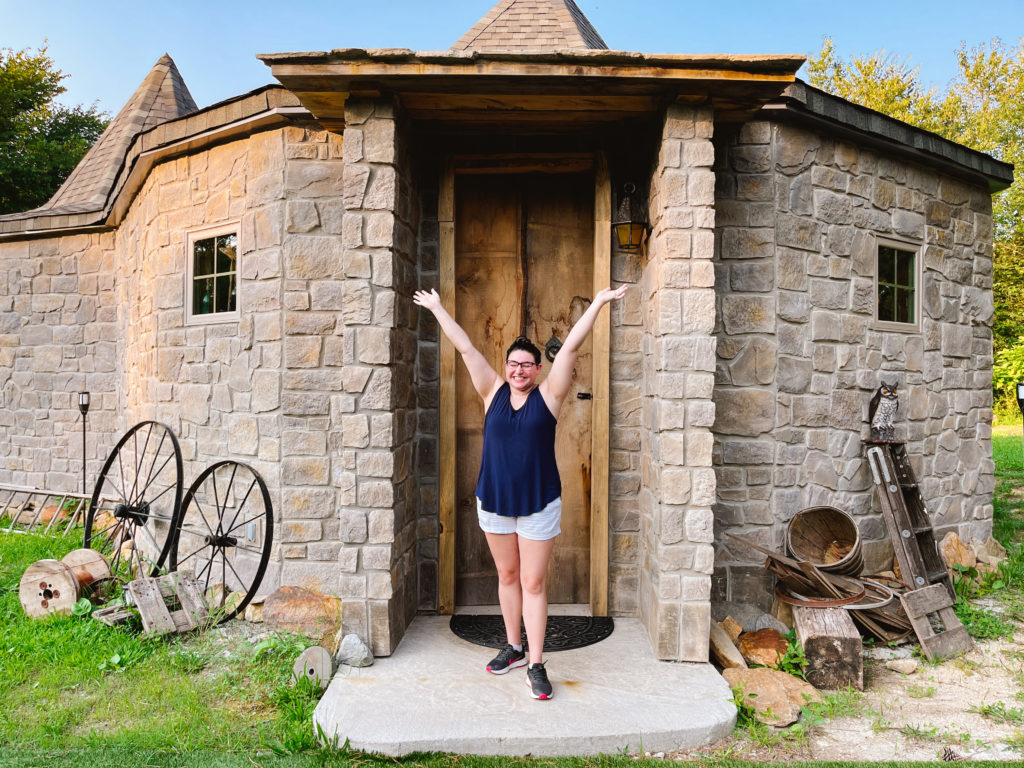 This magical haven is hidden from Muggles' prying eyes near Chickamauga, Georgia, and has received more than 300 good evaluations. Due to its countless turns and charm-filled Harry Potter-inspired twists, what it lacks in room more than makes up for in magic.
Four people can stay in this fan's Airbnb's fantasy bedroom. A queen-size sofa bed that folds out in the living room and kitchen area joins the bedroom. Even more, the room has twin beds set up in a Hogwarts-style dorm dormitory, along with a restroom at the opposite end.
This Airbnb has some really fascinating features, including magical artefacts, games to play, books to read, and movies to watch.
Tell the host which Hogwarts house you are a member of when you make the reservation; they believe this is a crucial information for your stay.
8. Wizards Way, Heated Pool, Spa & Theater – Four Corners, Florida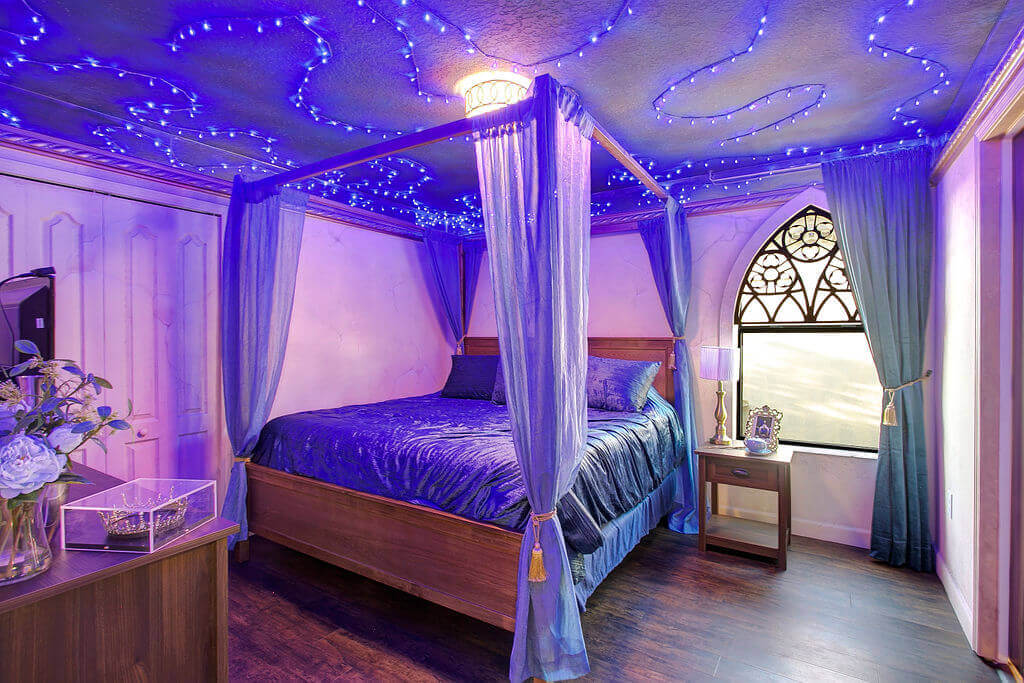 If you're travelling to Florida and want to stay a few days in an Airbnb with a Harry Potter theme, Wizards Way is your escape heaven. With eight bedrooms and capacity for up to 16 guests, this enormous home is perfect for larger families to join together and discover the magic together.
With bedrooms decorated in a variety of colours with Harry Potter themes and a themed kitchen and living room filled with fan favourite artefacts, this themed Airbnb doesn't hold back when it comes to sticking to what it knows.
Even the less elaborately decorated areas of the house, such the dining room with its castle-themed candles, are given magical enchantment by this amazing location.
This home features special effects, hand-carved beds, ambient sounds, and personalised mood lighting. It functions as both an immersive experience and a luxurious vacation rental.
The Champion's Gate Resort grounds, which include a water park with a lazy river and a water slide, a gym, a theatre room, and a game room, are accessible in addition to the private pool.
9. Wizards Hollow: Treehouses of Serenity – Woodfin, North Carolina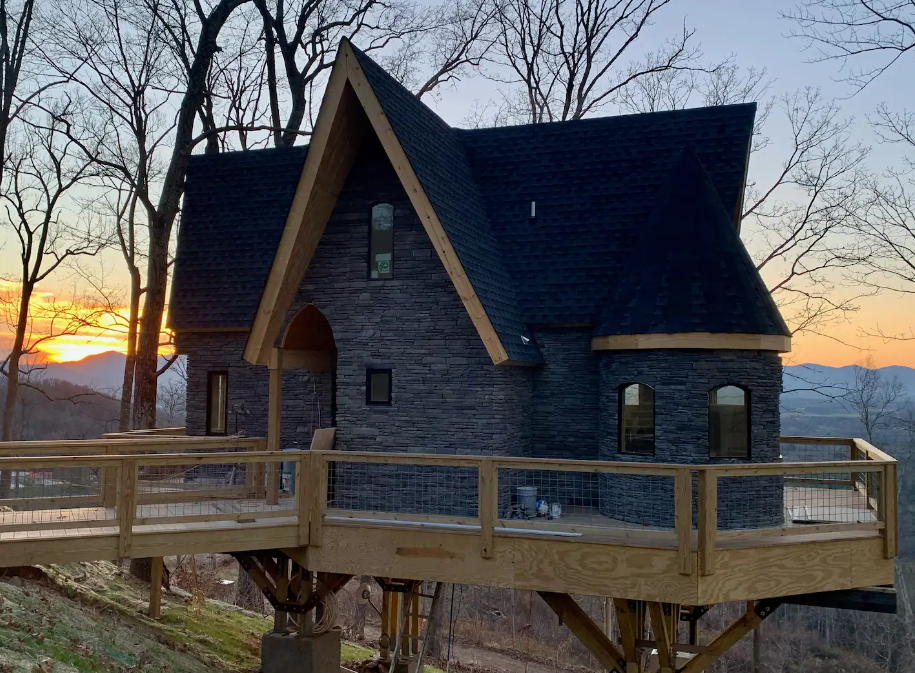 If you want to stay at Treehouses of Serenity for a few nights, you'll need to act quickly because Harry Potter enthusiasts who want to experience some wizarding activity quickly fill up this Airbnb.
It is a distinctive treehouse with a theme throughout that mixes together elements of the Hogwarts universe in a gothic treehouse placed near Woodfin, North Carolina.
There are five treehouses in the neighbourhood, but "Wizards Hollow" is one of a kind. The nearly 600 square feet of magical space in the castle is home to everything from an invisible cloak to a sorting hat.
The treehouse features one bedroom and a loft with a second bed that is accessed by a spiral staircase. A living area with a comfortable sofa, a smart TV, and a variety of games is also available for you and your family to enjoy.
10. Wizarding Home 10 Miles to Harry Potter Universal Orlando – Kissimmee, Florida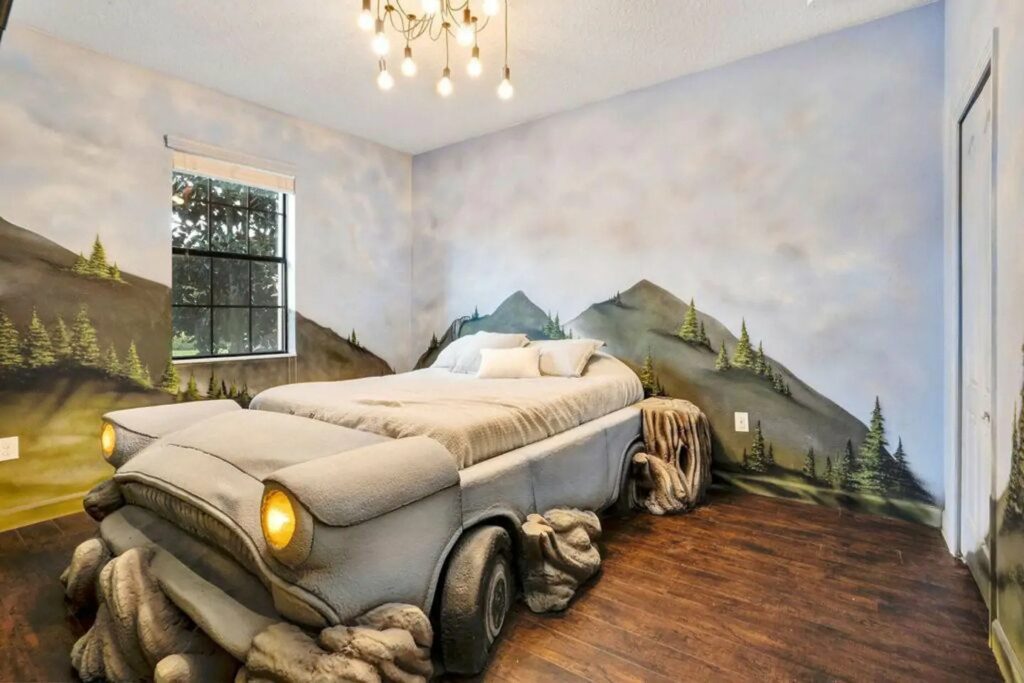 When you've had your fill of the theme parks for the day, this five-bedroom Wizarding Home is only a short distance from Universal Studios, which means you're not far from living out your own Hogwarts dream at your Airbnb huge enough to accommodate up to 10 guests, it has a dining area, a fully furnished kitchen, a swimming pool, and a terrace with a grill.
The common room has a huge screen TV and Nintendo Switch for an immersive experience. You'll be lost in thought as you move from room to room attempting to absorb everything before trying to determine which magnificent bedroom you want to call your home.
It's the ideal site to begin your vacation activities because it's close to all of Orlando's amusement parks and attractions and is situated in a calm residential area.
11. Harry Potter Themed Room with Hogwarts Letter – Fredericton, NB, Canada
One thing sets apart this Harry Potter-themed room in Fredericton, New Brunswick: it includes a letter from Hogwarts that is uniquely yours.
Therefore, after you've signed in, you have the opportunity to start your magical schooling years, even if you had given up on getting it years before. It is a large room that is intended for a single traveller or a couple who are huge Harry Potter fans.
It also has a reasonable price and all the bells and whistles. The bathroom, kitchen, living room, dining room, front and back yards, as well as the bedroom, are all accessible to guests as part of their stay.
There is plenty of space to spread out in the single-story home. Make yourself comfy in front of the TV with your favourite Harry Potter movie , or search the cabinets for a variety of themed memorabilia.
12. Draiocht (Magic) House – Boyle, County Roscommon, Ireland
You can maintain your devotion throughout your stay at this magnificent Harry Potter-themed home in Boyle, County Roscommon, Ireland because it effectively utilises all the different house colours.
This four-bedroom house can accommodate up to seven people, and it is decorated with bright yellow walls, dark green sofas, Harry Potter signs, and numerous carpets and posters.
You can see Platform 9 and 3/4 at the bottom of the stairs or declare your devotion to Gryffindor right before you go to bed in this land where attention to detail is important.
Less than a five-minute stroll will get you to Boyle Abbey and King House, as well as shops, restaurants, and pubs in this ancient town. You'll never run out of things to do there, both inside and outside the premises.
13. Harry Potter House – Davenport, Florida
For a memorable break, reserve a room at the Harry Potter House in Florida. Each of the four rooms, which each represent a Hogwarts House, has a fireplace, TV, personalised house robes, and amusing furnishings.
Harry Potter lovers may also take advantage of the luxury Regal Palms Resort's convenient access to Universal Studios and amenities including a pool, lazy river, water slide, BBQ grills, playgrounds, and an on-site restaurant.
Visit Harry's storage space under the stairs, enter the kitchen and dining room with a Leaky Cauldron motif, or go up close to the famed sorting hat and golden Tri-Wizard Tournament egg on exhibit.
13 Harry Potter-Themed Airbnbs for Every Fan's Dream Vacation 2023 – Newshub360.net
Related Post

Credit: www.Newshub360.net