The 11 Resorts in Roatan, Honduras 2023: Roatan ought to be at the very top of your destination shortlist if you have fantasies of spending some time in a tropical setting.
In spite of the fact that it is still relatively obscure, an increasing number of tourists are finding its unspoiled beaches, warm waters with turquoise hues, and genuine Caribbean allure.
The island is one of the finest locations on earth for scuba divers and snorkelers, since it is encircled by the second biggest coral reef in the world, making it one of the best places on earth for scuba divers and snorkelers to witness thousands of marine species, drop-offs, canyons, and the largest diversity of coral and sponges in the Caribbean.
If you want to take a break from the water, there are plenty of things to do on land, such as getting up close and personal with capuchin monkeys and macaws in Gumbalinda Park or participating in high-adrenaline sports like zip-lining through the jungle.
11 Resorts in Roatan Honduras 2023
1. Mayan Princess Beach And Dive Resort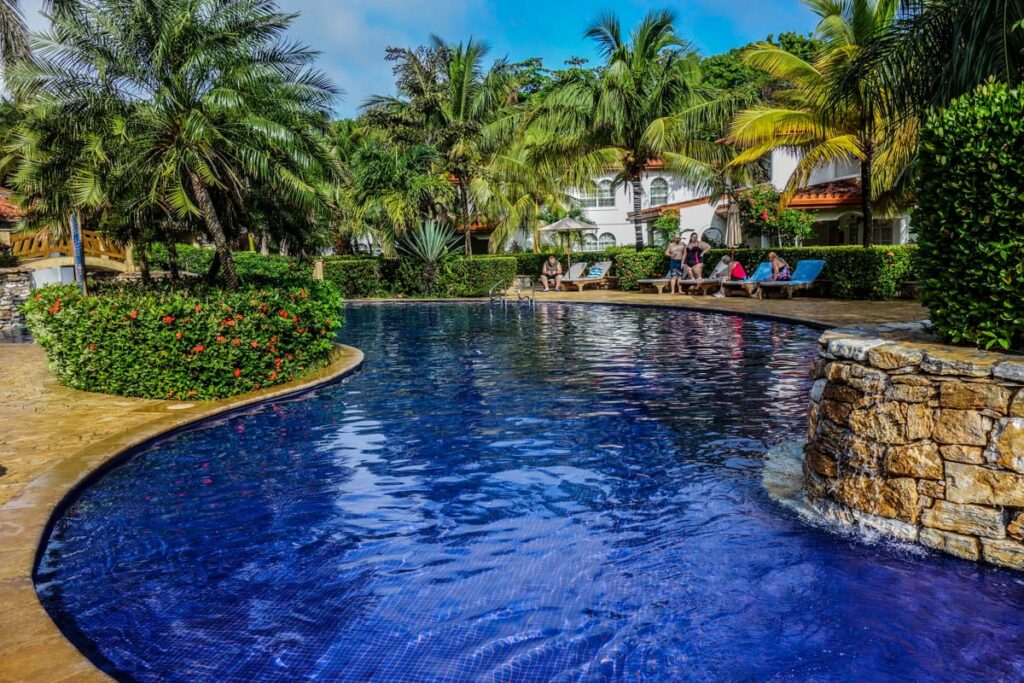 The Mayan Princess Beach and Dive Resort is located on a beachfront that is surrounded with coconut palms and also features lush tropical foliage, smooth white beaches, and turquoise seas.
All of these amenities are just outside the door of your beautiful Spanish-style villa at the resort. Each villa is well decorated and features a flat-screen television, a furnished patio, and a kitchen that is completely stocked with appliances.
When you're not basking in the rays of the sun on the beach or discovering the wondrous world that lies beneath the waves, you can relax in the expansive lagoon pool complete with outdoor bars or indulge in treatments at the spa, which has services such as facials and massages.
The Pirates Kids' Club is geared at children ages 4 to 12, and it provides activities like as snorkeling, kayaking, pool time, cooking courses, and a competition to preserve recycling reefs.
In addition, there are a number of restaurants serving gourmet cuisine, as well as live music and cultural performances for guests to enjoy.
Key Amenities:
Luxe Spanish-style villas
Furnished terraces and fully equipped kitchens
Kids' club with snorkeling, cooking classes and more
Cultural shows and live entertainment
2. Barefoot Cay Resort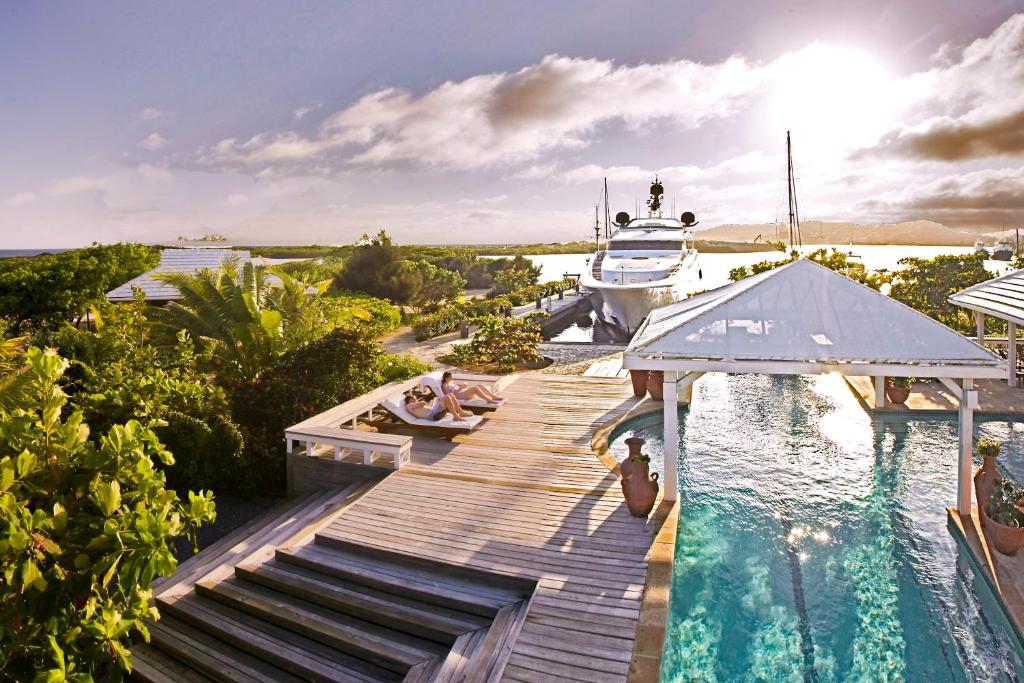 The Barefoot Cay Resort is a privately owned four-acre cay that serves as the centerpiece of one of Roatan's most highly regarded resorts and has been honored with a number of prestigious tourist awards.
Its location on the south side of Roatan makes it possible to get away from the craziness of the contemporary world and enjoy the ultimate getaway that this place has to offer.
The guests arrive at the resort by boat and stay in isolated one-bedroom bungalows and two-bedroom villas with big living rooms, upscale furniture, and wooden louvered doors that display the shimmering Caribbean seas and soft sea air outside.
In a moment's notice, day or night, the walk-on pontoon boats traverse the distance of 75 feet that separates the cay and the shore property, enabling guests to leave the cay and go exploring whenever it is most convenient for them to do so.
Barefoot Divers at this resort is a PADI 5-star Instructor Development Center that also features a dive shop, shopping center, and a variety of diving courses for divers of all experience levels.
You may also take use of the spa, which offers a wide range of services, including facials, massages, reflexology, and delicious body washes.
Key Amenities:
A top-rated resort in Roatan
Situated on privately owned 4-acre cay
Secluded bungalows and spacious villas
On-site PADI 5-star Dive Center
3. Infinity Bay Spa and Beach Resort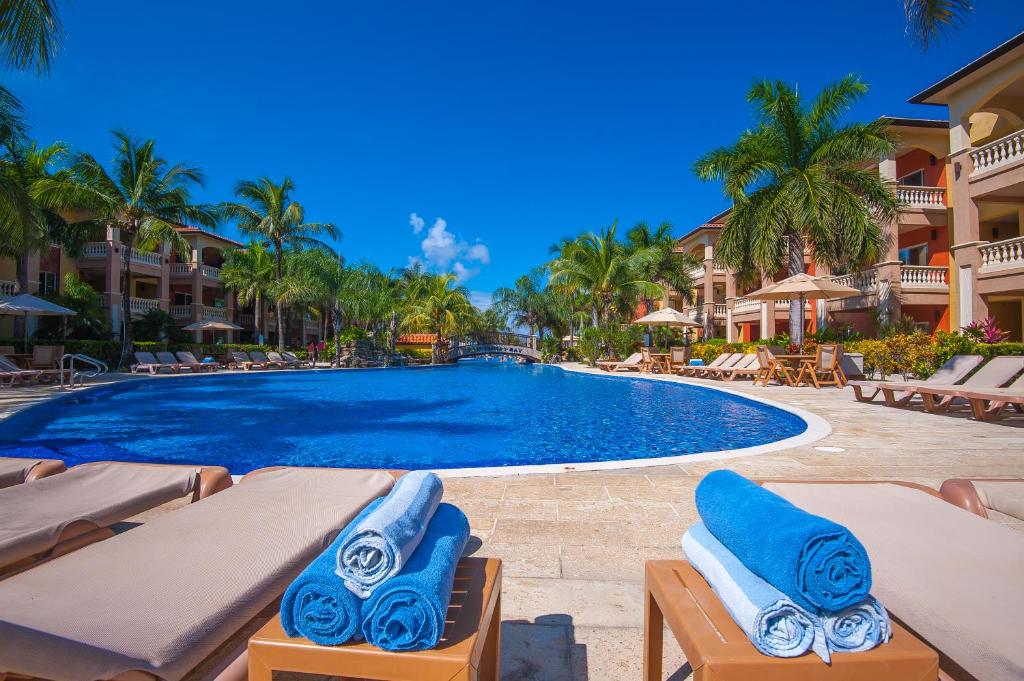 The Infinity Bay Spa and Beach Resort is a magnificent environmentally friendly hotel with the right combination of elegant rooms, exquisite restaurants, and a fantastic waterfront position that offers access to onsite diving only feet from your door.
The resort can be found on West Bay Beach. Several buildings with three stories each surround a long swimming pool with a tropical garden as the backdrop.
If you choose a magnificent apartment, you will be able to take advantage of its roomy interior, which comes complete with a kitchen, as well as a balcony that looks out over the water.
You can choose to relax on the white sand beach that stretches for a third of a mile or by the freshwater pool that features waterfalls and an infinity edge.
You are welcome to use the free canoeing and kayaking equipment, as well as the health club and spa with their complete complement of services.
Key Amenities:
Eco-friendly waterfront property
Diving steps from your door and narrow lap pool
Upscale apartments with kitchens and balconies
Complimentary kayaking and canoeing equipment
Resorts in Roatan Honduras
4. Splash Inn Dive Resort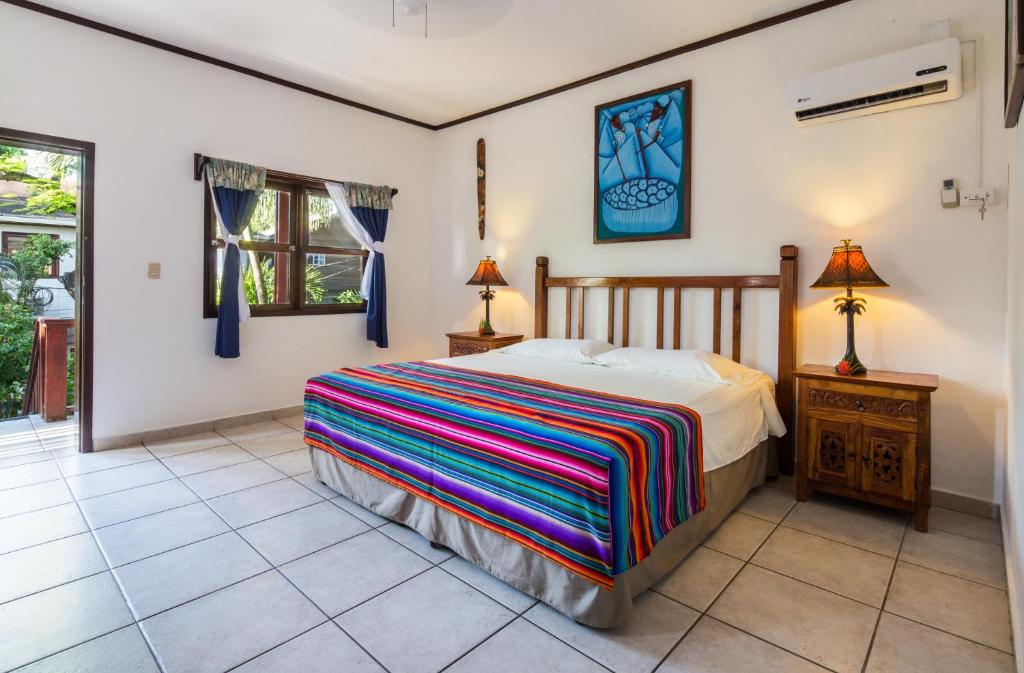 The Splash Inn Dive Resort is a cozy boutique hotel that can be found in the center of West End, a picturesque community that is located atop the clear blue seas of Half Moon Bay.
You won't find any skyscrapers or never-ending duty-free shops here; instead, you'll discover a lot of cute little cafés, restaurants, diving shops, and stores selling art that's created in the area.
Roatan is regarded as one of the world's best places to go scuba diving, making it one of the most popular tourist destinations in Central America.
The resort provides opportunities for shark diving, scuba diving, and snorkeling boat cruises. Other activities like as fishing, kayaking, paddleboarding, glass bottom boat trips, and horseback riding may all be arranged by reception upon request.
The terrace bar and grill features a wonderful happy hour with drinks priced at two for the price of one, during which guests may sip cocktails while admiring a breathtaking sunset.
Key Amenities:
Intimate boutique hotel in quaint village
Snorkeling boat tours, scuba diving and shark diving offered
Open-air terrace bar and grill for 2-for-1 happy hour
5. Anthony's Key Resort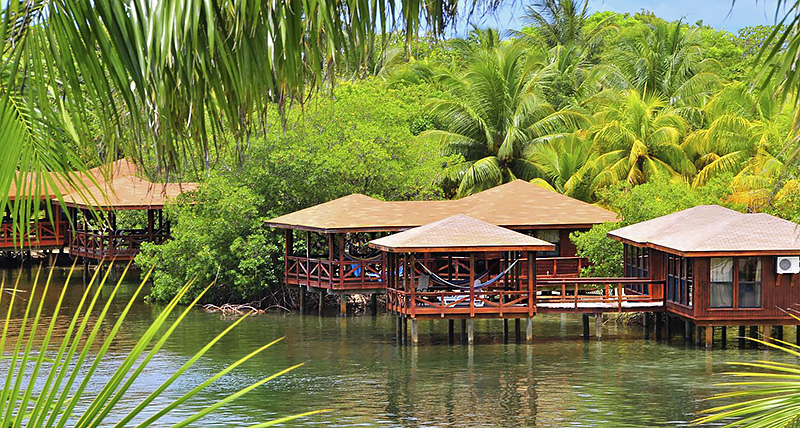 Anthony's Key Resort, which is known for being one of the greatest diving resorts on Roatan, features tropical villas that are nestled away in the hills of the main island and all provide breathtaking views.
In addition to diving, visitors have the opportunity to participate in activities like as snorkeling, kayaking, and Roatan's one and only dolphin encounter program.
This program features a range of activities such as feeding sessions and training sessions for the dolphins.
You may also receive your certification to dive, go on a field trip to an island, see programs about marine life, and enjoy picnics on the beach. Because there are no phones or televisions at this location, it will be easier for you to disconnect from your typical routine.
As a result, you will have more time to spend being treated at the spa or lounging on a hammock while looking out over the Caribbean.
Key Amenities:
One of Roatan's best dive resorts
Tropical waterfront bungalows
Only dolphin encounter program on Roatan
Phone and TVs blissfully absent
6. Kimpton Grand Roatan Resort and Spa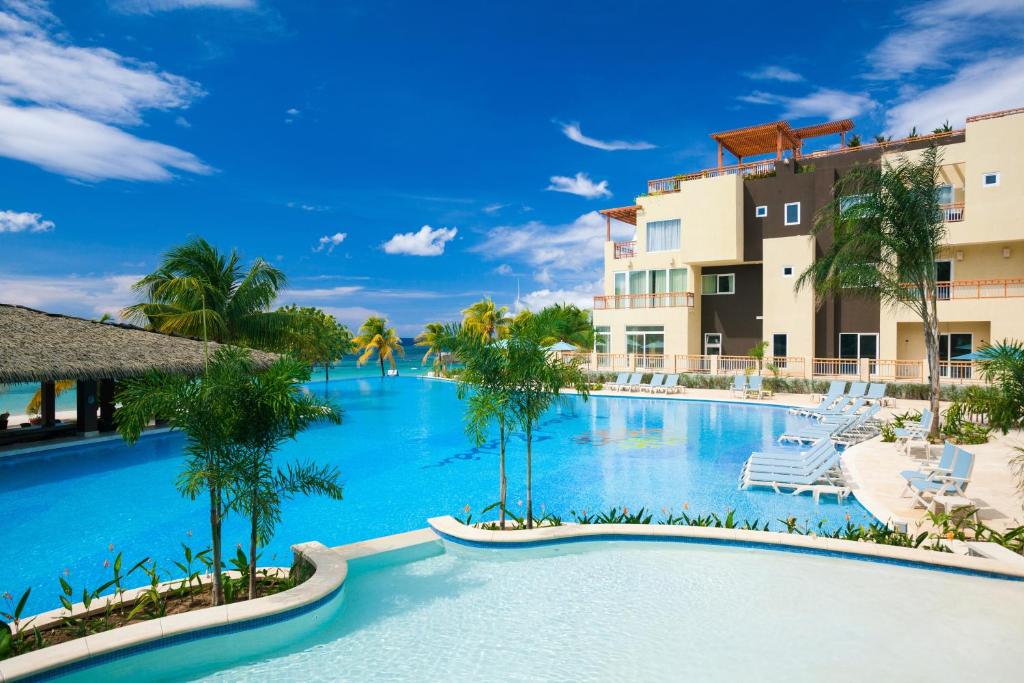 The Kimpton Grand Roatan is going to be one of the most opulent resorts on the island, and it's going to start welcoming guests in the summer of 2023.
The resort takes things to a whole new level with its elegant design and high degree of refinement, as well as its ideal location between the idyll of the Caribbean waves and the haven of the forest.
This stunning refuge has spacious and contemporary apartments with unrivaled views, as well as direct access to the world's second-largest barrier reef via a shallow-water lagoon.
You will have access to a wonderfully designed living room with colors reminiscent of the islands, a kitchen that is completely furnished, a flat-screen TV, and more.
You can even enjoy a horseback ride down the coast after having dinner by candlelight at the Iron coast Grill, which is a great option for a romantic getaway.
You could even choose to go on a trip for two to the adjacent Pigeon Cay, which will last the whole day. Services provided by the full-service spa The traditional practices of the Pesh people, who are indigenous to the island, are incorporated into the Kao Kamasa Spa.
Other attractions include a large pool designed in the form of an infinity edge, a poolside palapa that has dining and a swim-up bar, as well as a beach club that serves cocktails.
Key Amenities:
One of island's most lux resorts
Wade-in access to world's second-largest barrier reef
Spa treatments with indigenous-inspired techniques
Beach club with cocktail service
Resorts in Roatan Honduras
7. Seagrape Plantation Resort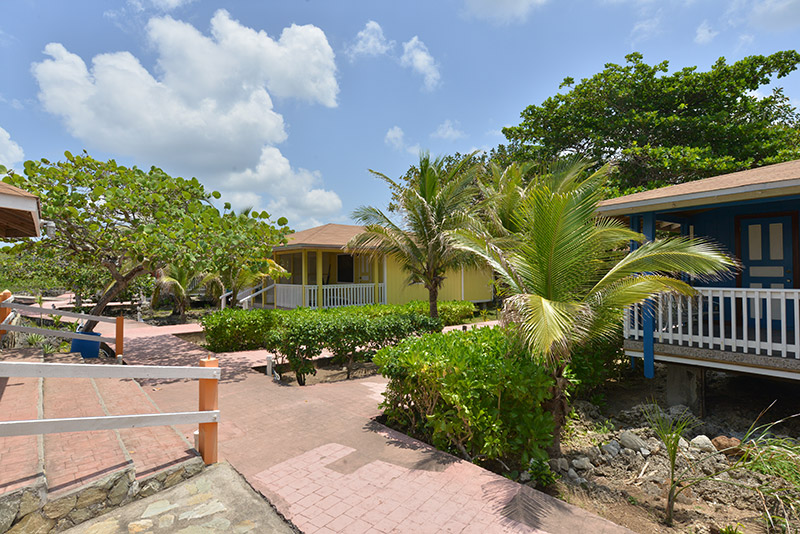 The Caribbean bungalows of the Seagrape Plantation Resort in West End are famous for their breathtaking vistas of the ocean and the resort's famously stunning sunsets.
This peaceful and cozy resort provides guests with a quiet and isolated experience off the main route, while at the same time being only a short walk away from a variety of pubs and restaurants.
The main building of the resort features both standard rooms and more luxurious accommodations known as bungalows.
All of them have convenient access to the beachside freshwater swimming pool, where you can relax while taking in the breathtaking views of the Caribbean. This welcoming luxury resort also has a diving shop on-site for guests' convenience.
Key Amenities:
Stunning views and sunsets from Caribbean bungalows
Off the beaten path in popular West End
Beachfront freshwater pool and on-site dive shop
8. Pristine Bay Resort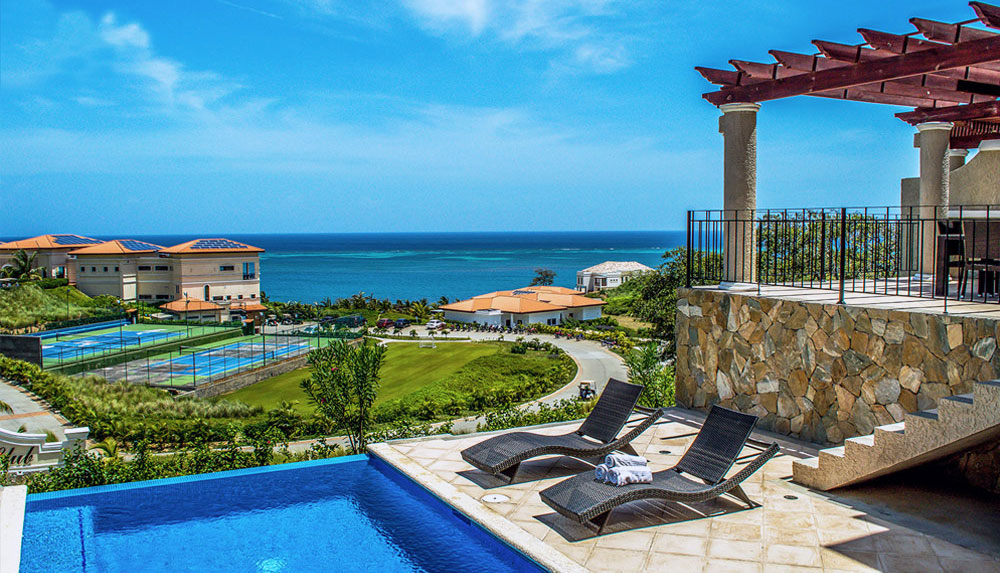 The 18-hole championship course at Pristine Bay Resort, also known as The Black Pearl, is the property's focal point and was created by Pete Dye, a golfer and architect who is known all over the world.
It is a vast beachfront resort that is surrounded by the only golf resort on Roatan. It offers private villas that range from one to four bedrooms and provide a degree of luxury and comfort that was not previously available anyplace else on the island.
Each one is spectacular and boasts a variety of desirable amenities, including fully-equipped kitchens, laundry rooms, living and dining rooms, as well as private pools and patios.
You have the option of having a view of the ocean, a golf course, or both. In addition to a selection of pubs, its eating establishments include breathtaking panoramas and cuisines from across the world.
The wide pools, which resemble lagoons, are perfect for swimming; other activities include diving, paddleboarding, tennis, and of course, golf. Black Pearl Divers & Aquatic Center, which is located immediately on site, offers scuba diving as an activity for guests.
Key Amenities:
Pete Dye-designed championship golf course
Casual luxury in villas with kitchens, private pools
Dive and aquatic center on-site
9. Bananarama Dive & Beach Resort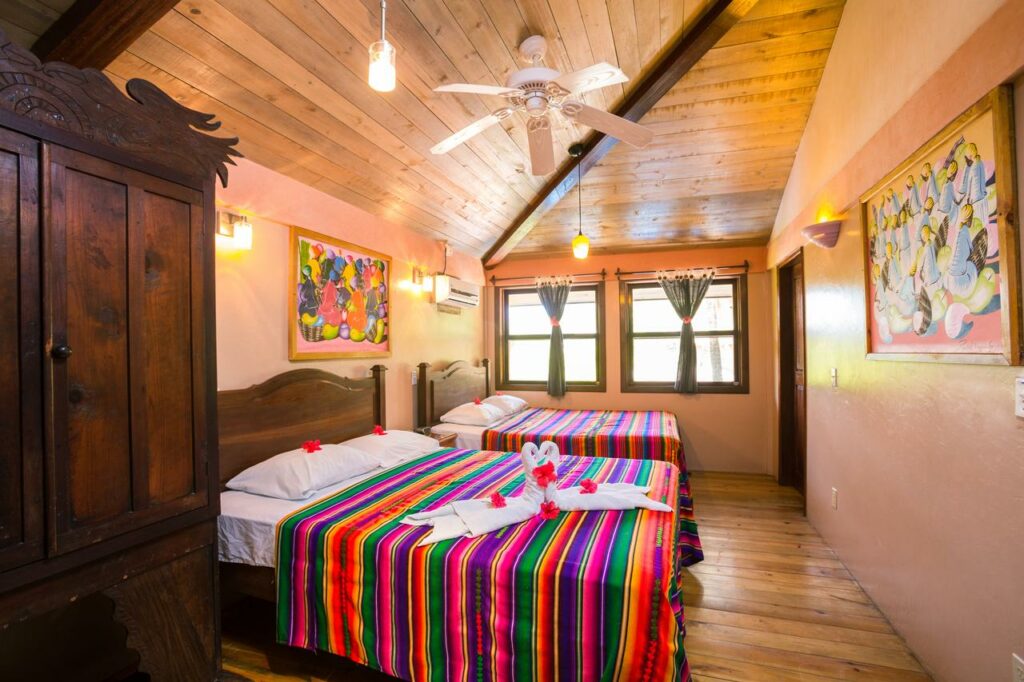 The Bananarama Dive & Beach Resort is located in close proximity to the dazzling seas of the Caribbean, and is encircled on all sides by verdant gardens and meandering sand pathways.
You'll find plenty of options for filling your days, whether you want to be active or relax, including snorkeling right off the beach, daily dives, and a variety of activities such as fishing charters, sunset catamaran tours, horseback riding, and zip-lining, in addition to simply lounging on the soft sands and taking in the scene.
Whether you want to be active or relax, you'll find plenty of options for filling your days. The PADI 5-Star Bananarama Dive Center can be found within the resort and provides guests with a selection of exciting excursions as well as one-of-a-kind diving experiences.
In the event that scuba diving isn't your thing, you may also rent kayaks and snorkeling gear here.After an exhausting day of gaming, wind down with a meal and some live entertainment at one of three restaurants: the Thirsty Turtle, the brick oven Pizzarama, or the Vintage Pearl Restaurant.
There is a wide variety of alternatives available for lodging, ranging from contemporary condominiums to seaside cabanas and beachfront villas with two stories.
Key Amenities:
PADI 5-star Dive Center inside resort
Arrange activities like fishing charters, horseback rides and zip-lining
Live entertainment at beachfront bar
Resorts in Roatan Honduras
10. Fantasy Island Beach Resort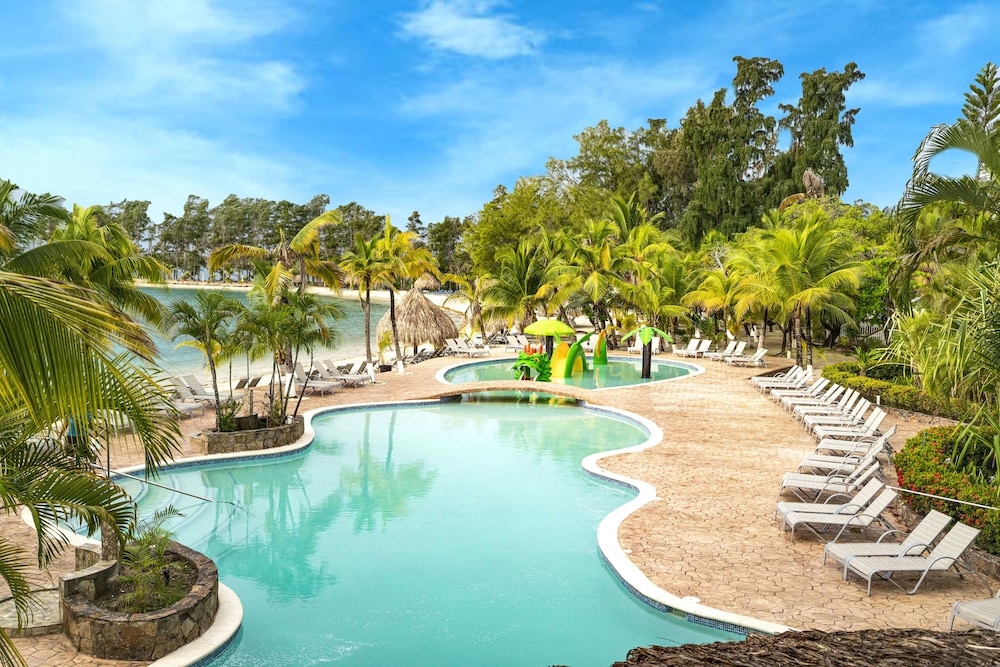 An especially enchanted stay may be had at the Fantasy Island Beach Resort, which is located on a private island that spans 21 acres and is located just off the coast of Roatan's southernmost tip.
This small, all-inclusive resort includes three stunning, powder-white sand beaches that lie at the edge of serene cerulean waters. The resort also provides a variety of interesting activities, like diving, for guests to enjoy during their stay.
The Fantasy Island Dive Centre provides seasoned guidance to students of all experience levels, making it possible for them to take pleasure in navigating the expansive barrier reef.
There are also a variety of well-liked excursions that may be experienced, such as the opportunity to travel to Coxen Hole, West End, and West Bay Beach aboard a glass-bottom boat.
You may also travel to Punta Gorda and Jonesville by powerboat for a leisurely excursion. Canopy tours, sunset cruises, snorkeling excursions, diving with sharks, and horseback riding are some of the other activities that may be arranged.
Dine at one of two international buffet restaurants that feature regional specialties, and then stop by the swim-up bar for some beverages afterward.
The rooms are large, bright, and open, and the balconies give breathtaking views of the surrounding landscape.
Key Amenities:
All-inclusive sanctuary with three beaches
Dive center for all skill levels
Popular glass-bottom boat excursions
International buffet dining features local delicacies
11. Paradise Hotels and Resorts
A piece of paradise in the Caribbean can be found at Paradise Hotels & Resorts, which looks out over West Bay Beach, which is known for its velvety sands and welcoming turquoise seas.
Luxurious facilities and contemporary conveniences can be found in each of the tastefully appointed rooms and suites, as well as in the quaint bungalow-style villas that are situated by the lake.
Take leisurely strolls in the cool shadow of the verdant gardens and marvel at the breathtaking sunsets that are cast over the ocean.
Expert diving instructors are available at the Dive Shop, and snorkeling and diving are both possible just outside your door, on the beach.
After you've relaxed at the sports bar or beach bar with a refreshing beverage, head to IL Pomodoro for some authentic Italian cuisine and seafood prepared fresh daily.
In the evenings, take some time to relax and enjoy live music as well as nightly fire and Garifuna displays.
Key Amenities:
Villas in the shape of bungalows overlook the beach
Professional guidance available at the dive shop
A beach bar in addition to a sports bar
11 Resorts in Roatan, Honduras 2023 – Newshub360.net
Related Post
Credit : www.Newshub360.net