Best Coffee Shops in The U.S. 2023: Coffee has become more than simply a pick-me-up in the morning for many people in the United States; it's a way of life.
When it comes to keeping all of those New Year's resolutions, you're going to need a lot of caffeine to keep you motivated throughout the year, so be sure to get a cup or two of your favorite caffeinated beverage before the new year begins!
Some of these spots for coffee have earned a reputation for maintaining an uncomplicated atmosphere by offering a carefully selected menu and an impressive variety of roasted beans.
Others capitalize on the growing popularity of specialty coffee and latte design by combining conventional brewing techniques with a broad variety of singular tastes, scents, and components, in addition to beans sourced from all over the world.
The final list has been compiled after careful consideration of a wide range of factors, including environmental friendliness, the range of coffees offered, the ambiance, and the quality as a whole.
23 Best Coffee Shops in The U.S. 2023
1. Panther coffee – Miami,florida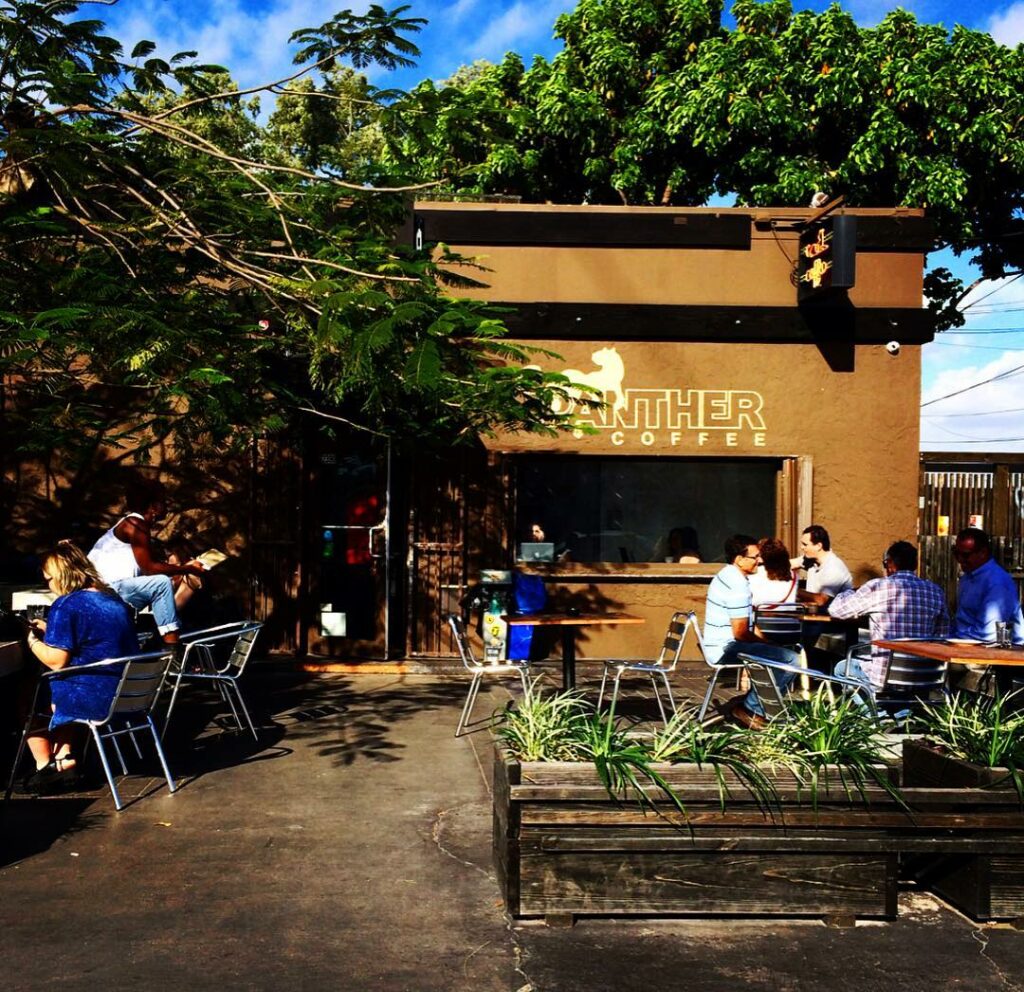 Every time you stop in for a cup of joe at one of Florida's greatest coffee shops, Panther Coffee, which specializes in roasting coffee in small batches, you'll find a wide variety of different beverages to choose from.
Leticia and Joel Pollock, the founders of Panther Coffee, first met each other at a coffee convention in Minneapolis. After getting acquainted, they finally opened Panther Coffee.
It does its roasting in two sites, Wynwood and Little Haiti, and at both of those places, you can discover the rare antique Probat Perfekt roasters that date back to the 1920s.
Panther Coffee mostly provides coffee from a single origin, but they also handcraft other coffee mixes.
This ensures that you will have the opportunity to try unique varieties of coffee that are unavailable in any other part of the world.
2. Camber Coffee – Bellingham, Washington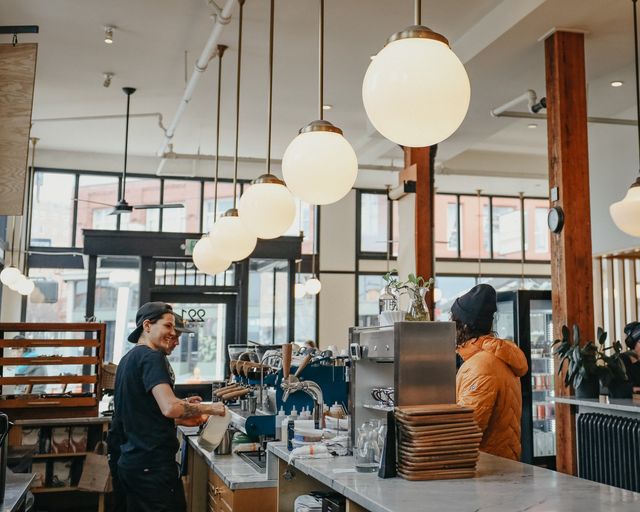 Camber Coffee is well-liked not just for its coffee, but also for the delicious pastries that it sells.
This gorgeous coffee shop places a strong emphasis on attention to detail, and as a result, the menu features a number of unique and interesting items, such as oat milk flavored with graham crackers and a bittersweet chocolate sauce created with reishi mushroom.
A spot where you will almost certainly want to set up camp and get comfortable for a few hours, you will also discover an unlimited assortment of wonderful goodies, such as eggnog scones and peppermint chocolate shortbreads, amongst other options.
Camber's entire mission consists of developing beverages "in quest for a sweet taste, complexity, and balance," which is a phrase that aptly describes each and every one of their roasts.
Do you not know where to begin? The Camber Collection is a compilation of five of the most outstanding.
3. Publik Coffee – Salt Lake City, Utah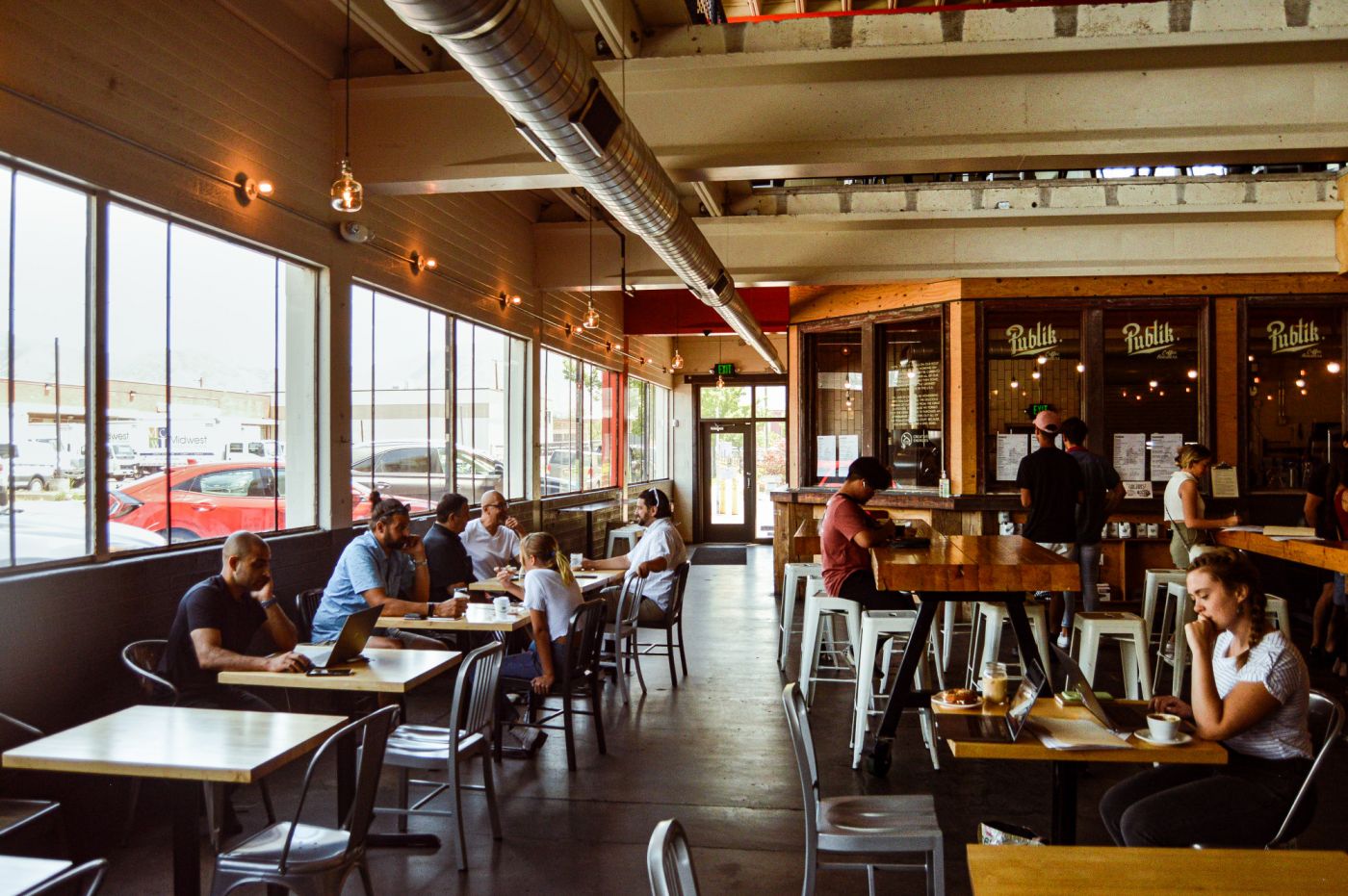 There are now three locations of Publik Coffee located in and around Salt Lake City, Utah.
This specialty coffee roaster, known for its commitment to reducing waste while maintaining a strong emphasis on flavor, saw rapid expansion following the announcement of the opening of its flagship store.
The coffee sold here originates from all over the world, with selections ranging from the earthy and deep flavors of Guatemala to the fruity and sweet tastes of the Democratic Republic of the Congo and Ethiopia, respectively.
You want all of the excitement without any of the caffeine, do you?
Try some of the Marmalade Decaf Coffee for the creamiest, orange-tasting, and sweetest cup of coffee you've ever had.
Publik is a company that prioritizes the health of the environment before financial gain, which is why its roastery runs entirely on solar energy.
Best Coffee Shops in The U.S. 2023
4. Day Glow – Chicago, Illinois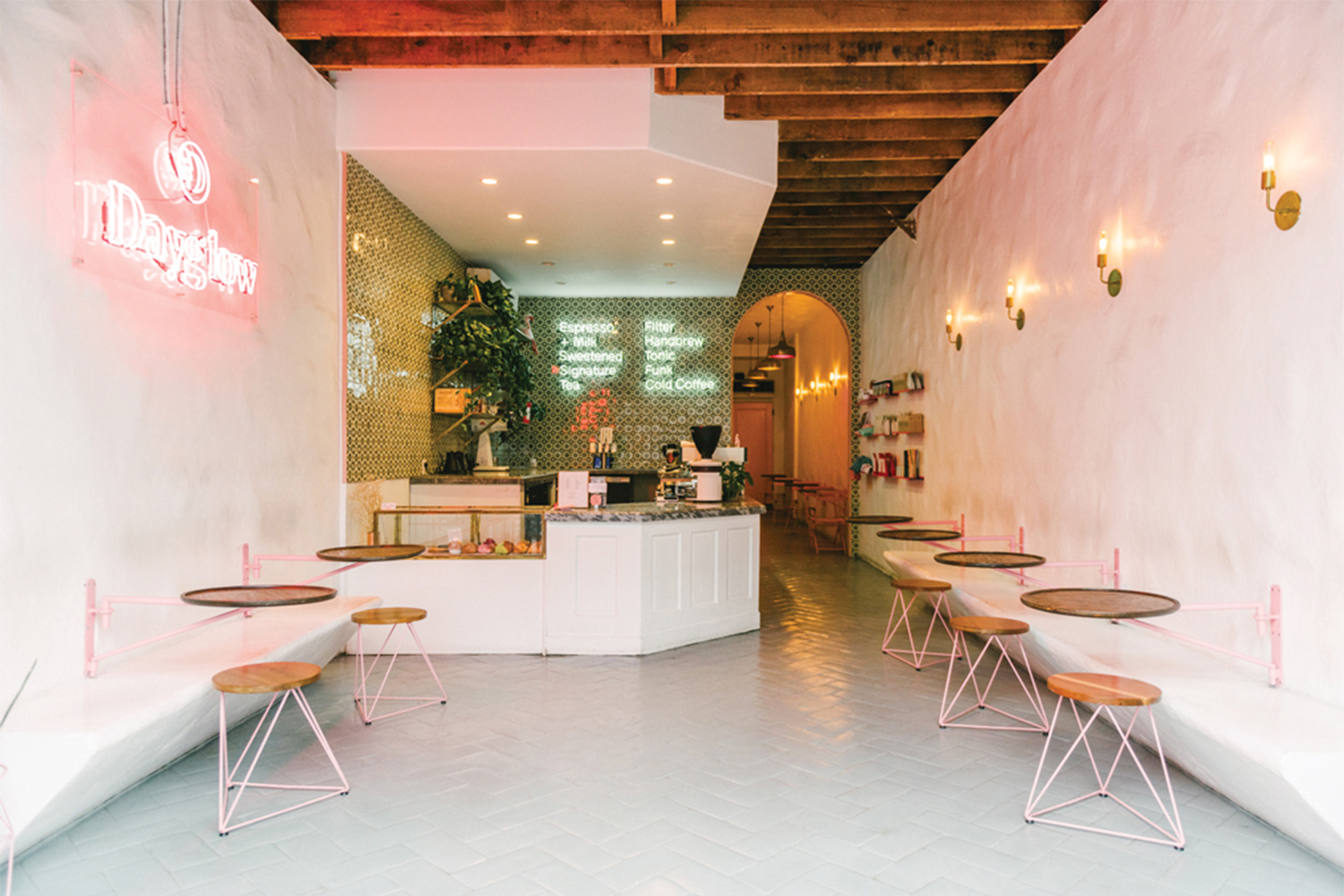 You'll understand why Dayglow is so popular once you've sampled its selection of coffees from across the world and visited any one of its sites in West Hollywood, Los Angeles, or Chicago.
This coffee shop welcomes both people and their four-legged friends and specializes in serving coffee from Scandinavia.
Dayglow may not be as much of a well-kept secret as it once was, but it is undeniably still a valuable commodity in the coffee industry.
While you are waiting for your next cup of coffee made with beans from Barcelona, Denmark, Colombia, or further afield, its vibrant and colorful surroundings are certain to jolt you awake on a Monday morning.
5. Cocoa Cinnamon – Durham, North Carol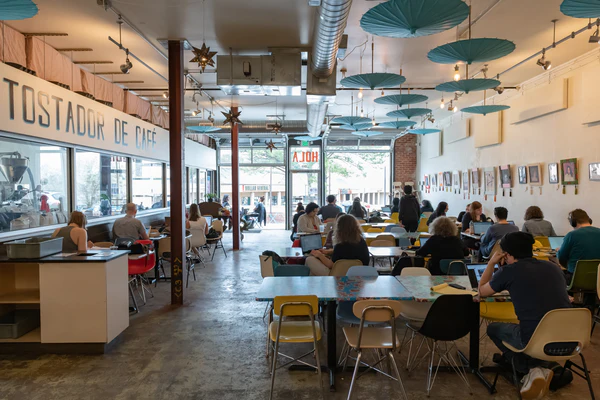 Cocoa Cinnamon in Durham, North Carolina, provides a wide variety of food in addition to coffee, as one might anticipate from the restaurant's name.
Every time you enter through the doors, you will be greeted with stunning latte art, crispy and sweet churros, and delectable coffee.
This establishment is a triple threat to the other brunch restaurants in the area.
This coffee business, which has won several awards, can be found in three different locations around the state of North Carolina and takes great delight in all the tiniest details.
Cocoa Cinnamon is a leading brand of coffee that is co-owned by Latinas and is inspired by coffee from across the world.
If you want coffee that does more than simply make you drink, Cocoa Cinnamon is an excellent option.
It is privately owned, and it names its roasts and beverages after locations that evoke awe, that are significant culturally, and that are named for people and places that it adores.
6. Slow by Slow – Boise, Idaho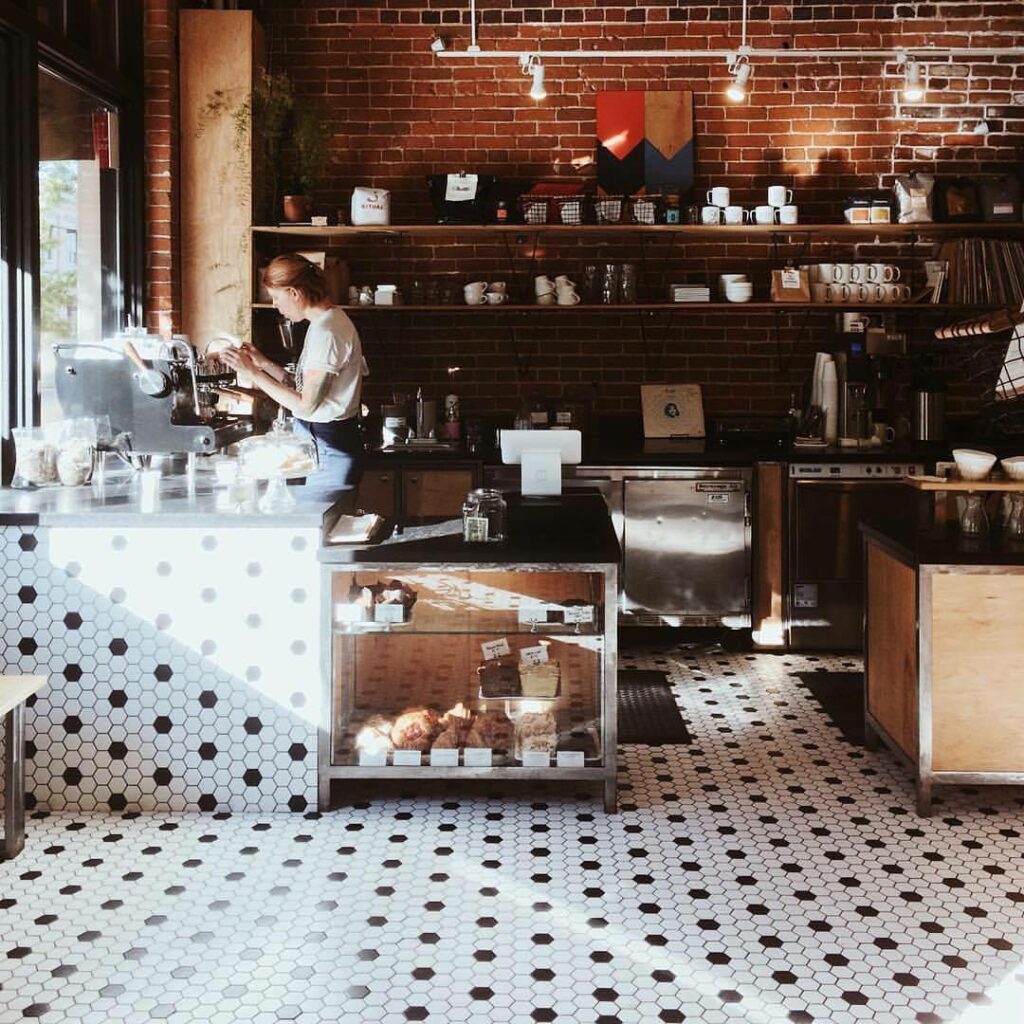 You don't need to look any further than Slow by Slow in Boise, Idaho, if you're a fan of coffee who's constantly seeking for something different to try.
This is a great location for broadening your understanding about the business without having to journey further than your new favorite coffee shop because it is known for introducing 15 new coffees each month.
Coffee-tasting events are also offered at Slow by Slow for customers who want to expand their expertise in this area.
You can anticipate a wide variety of ongoing partnerships, each accompanied with packaging that is lively and vibrant.
It is without a doubt the most enjoyable environment in which to acquire a greater knowledge of coffee, with all of the flavor and none of the pretentiousness.
Best Coffee Shops in The U.S. 2023
7. Narrative Coffee Roasters – Naples, Florida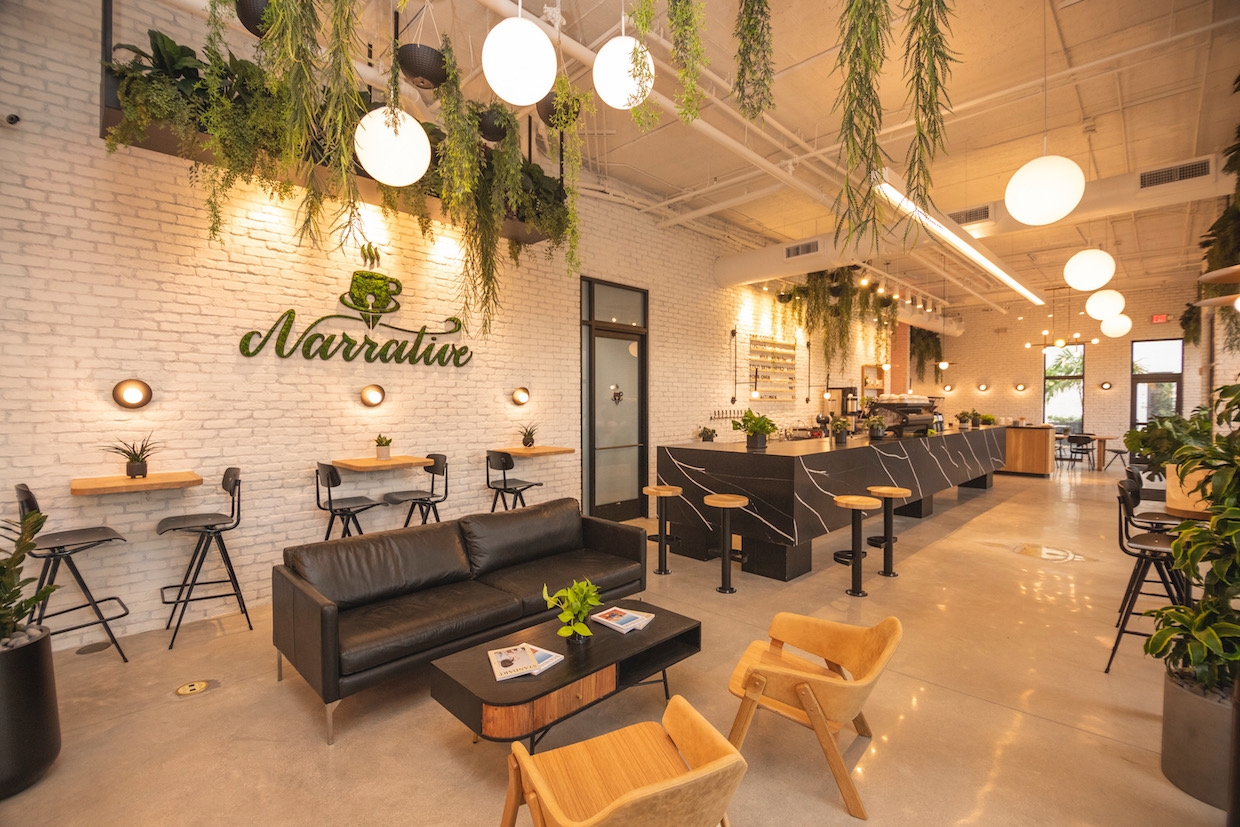 Seasonal coffees are the focus at Narrative Coffee Roasters in Naples, Florida. This means that customers have the opportunity to sample fresh beverages throughout the year.
The coffee business first launched in 2017 as a neighborhood speciality roaster.
Subsequently, it expanded its operations by introducing a mobile espresso cart and a coffee tricycle, with the goal of making sure that everyone in Naples had access to delectable cups in a matter of minutes.
Narrative Coffee obtains its single-origin coffee from some of the most prestigious farms in the world and roasts it in its own special method to produce a beverage that is unlike any other on the market.
This cafe is the kind of place where you'll go in as a stranger and walk out with a new friend, owing to the pleasant and welcoming ambiance and the excellent coffee that perfectly complements it.
The staff at this business are known for their inexhaustible friendliness.
8. Cafe du Monde – New Orleans, Louisian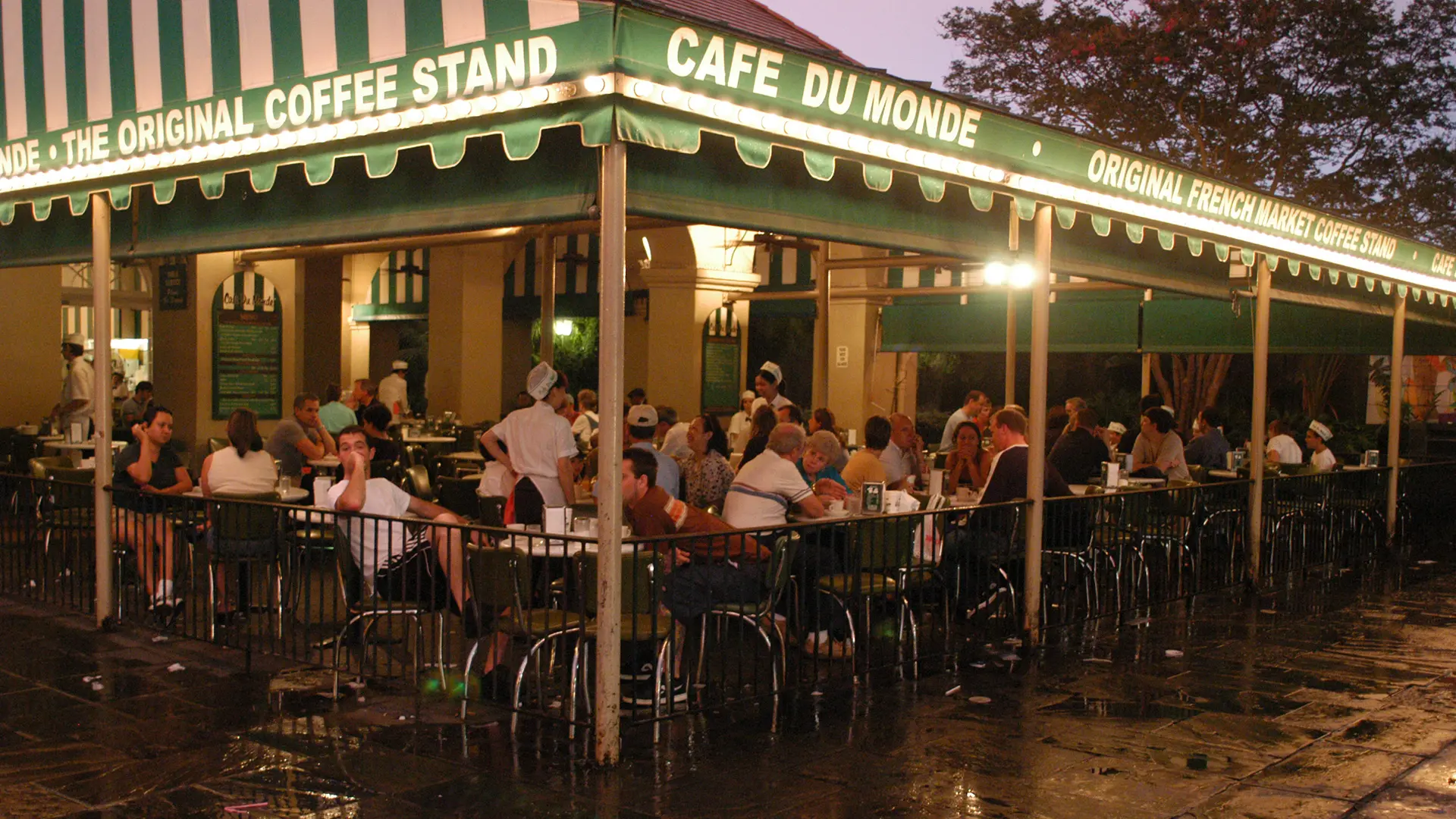 Even though it's not much of a well-kept secret, Cafe du Monde in New Orleans, Louisiana, is widely regarded as one of the finest coffee shops in the entire world.
This magnificent open-air coffee shop is more than deserving of all of the attention that it receives, which is undoubtedly justifiable given its popularity.
The first Cafe Du Monde Coffee Stand was established in the New Orleans French Market in the year 1862, and some of the original amenities have been preserved in the present-day establishment.
Cafe Du Monde is famous for its original Beignet, which is the state doughnut of Louisiana. It is served over a thick black coffee, and the restaurant's limited menu demonstrates that quality is more important than quantity.
If you're seeking for intricate latte art and unique taste combinations, you should keep browsing. Visit us if you're looking for coffee that's both high in quality and potent.
9. Cuvée – Austin, Texas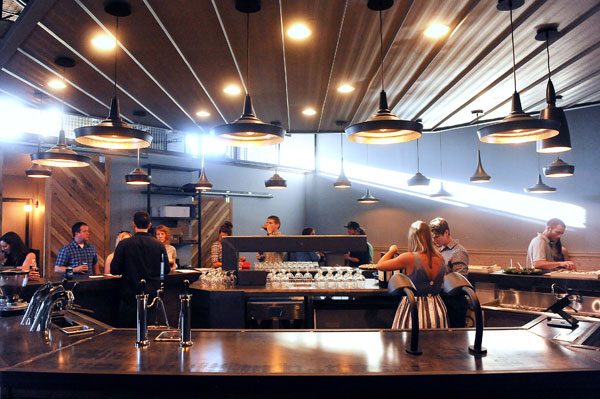 Mike McKim, the creator of Cuvée Coffee, got his start in the coffee industry as a hobbyist, producing coffee before spending his funds in opening his own coffee business.
These days, people from all over Texas and beyond enjoy drinking Cuvée Coffee, which is made in the state.
If you're interested in novelty and fresh concepts, you should definitely pay this location a visit.
Cuvée Coffee adjusts the dials on each roast to bring out the best in each individual bean.
It was also the first company to market Nitro Cold Brew in a can with a widget that triggered the Nitro, and it went on to develop the world's most cutting-edge cold brewery.
Cuvée Coffee is recognized as the company that first introduced speciality coffee to the state of Texas, and it has maintained its leadership position ever since.
Best Coffee Shops in The U.S. 2023
10. Orchard Coffee – Waynesville, North Carolina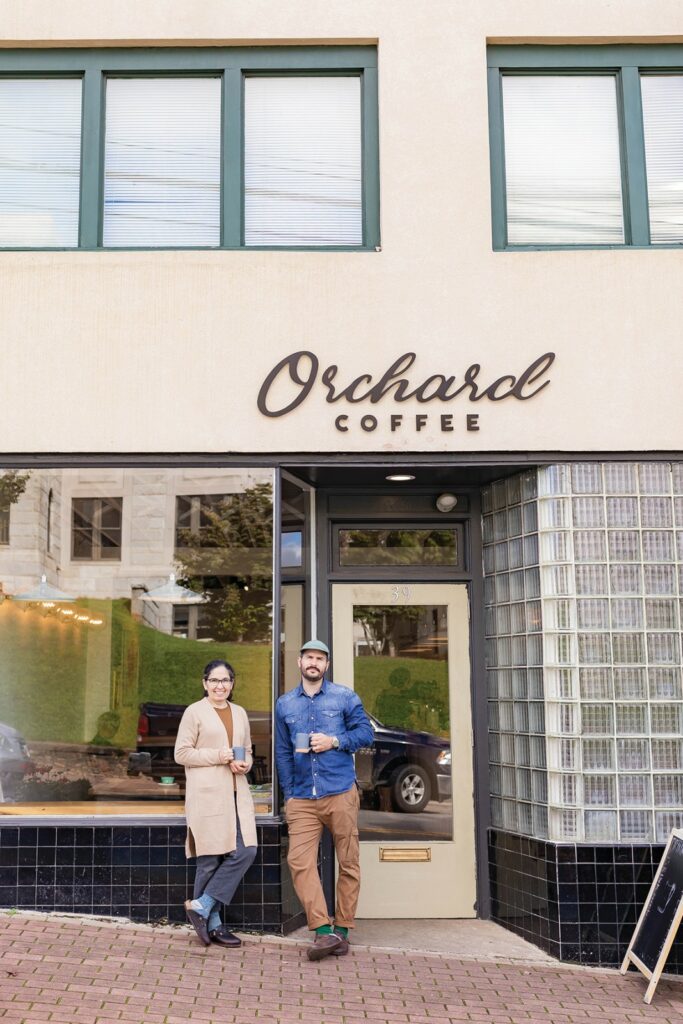 It is hardly an overstatement to refer to Orchard Coffee in Waynesville, North Carolina as a speciality coffee shop.
This establishment may be found in that city. Because the proprietor, Cabell Tice, has three times taken home the title of World Latte Art Champion, each and every one of the establishment's beverages is adorned with a design that you would most likely have to pay a pretty penny to see in an art gallery.
Orchard Coffee is a popular business in the neighborhood, and it's the type of establishment where you may stop in for a quick cup of coffee before buying a pastry, then browsing the meal menu, and before you know it, you've spent the entire morning there.
11. Artifact Coffee – Baltimore, Maryland
Artifact Coffee is located in Baltimore, Maryland, in a reclaimed manufacturing building, which means that there is always something fascinating to look at when you are enjoying your cup of coffee there.
You can discover Artifact Coffee here. The identities of Artifact's specific suppliers for their beans are listed on each menu, and the restaurant often makes changes to both the food and drink selections.
This is great news for individuals who are detail-oriented. A highlight clip highlighting the coffee's taste notes, the country of origin, and many various ways to serve the coffee are included with each purchase of the coffee.
While you are sipping, it is well worth your time to think about the restaurant's food menu, which varies with the different seasons.
12. Black Bear Coffee House – Denali Park, Alaska
The Black Bear Coffee House in Denali Park, Alaska, is open seasonally and intermittently throughout the year, much like bears do during the winter months when they hibernate.
This locally owned and operated establishment, which can be found in the middle of Denali, is widely regarded as the greatest coffee shop in all of Alaska.
Here you'll discover directly traded coffees with genuine stories from farmers and co-operations all around the world, in addition to locally roasted coffees from SteamDot Coffee Co., which roasts its beans in-house.
Do you have an appetite? Visit the on-premises bakery to pick up some rustic pastries as well as a plethora of selections that are vegan and gluten-free. And of course, you must not forget about the breathtaking vistas in every direction.
Best Coffee Shops in The U.S. 2023
13. Sambalatte – Las Vegas, Nevada
Sambalatte is located in Las Vegas, Nevada, and serves a variety of delectable specialty coffees in addition to trademark cocktails that are influenced by the changing of the seasons and are offered throughout the year.
Sambalatte offers a fantastic setting in which to appreciate a cup of coffee made with ethically sourced beans together with a delicious pastry thanks to its airy and welcoming ambiance as well as its contemporary aesthetic style.
Not only does Sambalatte roast its own beans in small quantities, but the company also ensures that its coffee beans can be tracked from the time they are picked to the time they are sold in stores.
This coffee business in Las Vegas gets most of its beans from Brazil; but, some of its specialty beans come from further afield and come from some of the greatest micro lots that are now available.
In addition to this, Sambalatte is well-known for being an environmentally aware company that is eco-friendly, sustainable, green, organic, and local and that also has a robust recycling program in place.
14. Domestique Coffee – Birmingham, Alabama
The coffee industry refers to the movement that Domestique is a member of as the "third-wave coffee movement," which views coffee in the same way that it views wine: as an artisanal meal.
This establishment, which promotes itself as more of a lifestyle firm than only a coffee shop, is one that reverts to the fundamentals in order to excel in all aspects of its business.
Domestique was founded on the principle of providing "easy access to high-quality coffee."
The coffee that they offer is modest and uncomplicated, and it satisfies all of your requirements regardless of whether you want an espresso or a longer cup.
This trendy coffee shop delivers some of the best nitro cold brew and whole-bean coffee that is currently available.
The beans used in the coffee are roasted in a fluid-bed roaster, which imparts a more complex taste on the finished product than a traditional cup.
15. Please & Thank You – Louisville, Kentucky
Please & Thank You is the place to go in Kentucky if you want your coffee to come with a chocolate chip cookie that has just come out of the oven while listening to some fantastic music in the background.
In addition to being a coffee shop, this establishment also functions as a record store, thus it offers a unique combination of ambiance.
In addition to its ever-buzzing environment and never-ending cycle of events, Please & Thank You ships its cookies all across the United States so that people all over the country can enjoy them.
Please & Thank You is frequently regarded as one of the greatest cafés in Louisville, Kentucky, and it is the ideal location for receiving suggestions for vinyl records, making new friends who share a passion for music, and, of course, relaxing with an excellent cup of coffee.
16. Kid Dream Coffee – Beverly, Massachusetts
Kid Dream Coffee is a newer addition to the coffee scene in the United States, but it has wasted no time getting established and impressing the wider community.
It is located in Beverly, Massachusetts. Kid Dream Coffee is proud of its welcoming environment and the fact that it is run by a husband-and-wife team that has spent the better part of the last decade working in the coffee industry.
It is a place where customers can feel comfortable, talk to actual people, and have the sense that they are free to be themselves.
This little coffee shop in downtown Beverly is centered on the local community, and it all began as a Kickstarter project.
The neighborhood came together to provide the necessary financing, and now it is widely considered to be one of the most underappreciated coffee shops in the area.
Best Coffee Shops in The U.S. 2023
17. Cafe Volan – Asbury Park, New Jersey
One of the hippest places to grab a cup of joe is Cafe Volan, which can be found in Asbury Park, New Jersey.
Step inside to take in the plant-filled nooks, one-of-a-kind artwork, and endlessly impressive appeal of this space.
You may have a cup of coffee here while viewing the works on display in a temporary art gallery or while you wait for an upcoming author to sign copies of their book.
Coffee is served here in a wide variety of preparations, from the traditional espresso to unique beverages such as the "Coconut Ginger Iced Shaker" created with cold brew and the "Orange Honey coffee" to satiate your sweet craving.
Complete your excursion with a bite of the renowned pumpkin toast or one of the delectable pastries that is heavy on the chocolate.
18. Abraco – New York City, New York
If you're short on time, you probably shouldn't go to Abraco in the East Village in New York City, New York.
This lively coffee shop nearly always has a line that stretches out the door, full of people who are knowledgeable about the fact that the espresso here is something exceptional and appreciate its quality.
Abraco, which is famed for serving organic whole milk, half-and-half, and evaporated cane sugar, has not modified its menu since 2007, since the restaurant prefers to keep things straightforward and straightforward.
Its delectable coffee is roasted in-house, and its organic pastries are produced fresh every day; hence, it is always an exciting adventure to select the sweet treat that will go with your beverage on each visit.
The one and only obstacle? You'll discover that you can't help but think about coming back every day.
19. Gilly Brew Bar – Atlanta, Georgia
The husband-and-wife duo that run Gilly Brew Bar in Stone Mountain's historic Mayor's House are extremely knowledgeable about their industry.
The bar is housed in the historic building. This black-owned coffee shop was originally located in a home that was erected by slaves more than two centuries ago.
The current owners, Daniel and Shellane Brown, refurbished the building and converted it into a communal place that is quite friendly.
Coffees with flavors of mint, lime, and rosemary are just a few of the unique options that can be found on this restaurant's varied menu.
In spite of the fact that it offers a wide selection of coffee beverages, Gilly Brew Bar insists that it is "not a coffee shop."
Instead, the establishment is known for serving "elixirs" and other unique beverages that are seldom, if ever, found in other retail establishments.
20. Dandy Lion Coffee – Denver, Colorado
Do you enjoy a quiet atmosphere with your morning cup of coffee? Visit Dandy Lion Coffee if you're looking for the standard blend of coffee and botany.
This establishment is famous for its strange and fantastic taste combinations that are served against the backdrop of a lively environment, and customers also have the opportunity to leave with a new houseplant to take home with them.
The milk menu at Dandy Lion's craft coffee is longer than the menu at a typical coffee shop, with selections ranging from the conventional Vietnamese condensed milk to less common concepts like toffee-nut and macadamia milk.
Dandy Lion's craft coffee is available in a variety of unique flavors. If the bright neon lights and lush vegetation aren't enough to get you to stop in, the quality of the coffee should be.
Best Coffee Shops in The U.S. 2023
21. Magnolias Sous Le Pont – Dallas, Texas
It is not an easy task to choose the greatest coffee shop in Dallas, Texas, because this growing metropolis is loaded with a wide variety of excellent options for satiating one's need for caffeine.
Magnolias Sous Le Pont has won our vote as the best restaurant in the area thanks to its exquisite teal blue and French-inspired design, as well as its use of delicate ingredients.
Lavender, rose, elderflower, and vanilla are just some of the flavors that can be added to lattes at this coffee shop.
In addition to all of the normal selections that you would expect from a coffee shop, you can also get these flavors here.
The café's name, "Sous Le Pont," which translates to "Under the Bridge" in French, is a nod to its location in the Harwood District, which is just beneath the bridge that carries Highway 2727.
22. Morning Glass – Honolulu, Hawaii
When it comes to finding the greatest coffee in Hawaii, most people recommend starting their search in Honolulu at a place called Morning Glass.
It is almost difficult to go by this coffee shop without getting a peek of their freshly made scones and pastries that are generously coated in chocolate and come out of the oven hot.
Due to the fact that Morning Glass is virtually as well-known for its baked goods as it is for its coffee, it is practically unethical to go there without first settling in at a table and placing an order for both.
Coffees sold here have humorous titles like "London smog," and there is a wide selection available to cater to customers of varying preferences.
It is also situated away from the touristic portions of the city, making it less popular than the café's quality coffee from Australia would imply it should be.
23. Roasting Plant – Detroit, Michigan
When it comes to Roasting Plant, "coffee made to order" isn't quite accurate enough of a description.
In this establishment, each and every cup is brewed to order in less than a minute using any bean or custom blend, guaranteeing that each and every cup is brewed uniquely and is served almost immediately.
In spite of the fact that it has locations not just all over the United States but also in other parts of the world, it uses a cutting-edge technology that roasts its coffee in micro-batches right in each of its stores and moves beans via tubes using air or pneumatics.
Roasting Plant began in New York City's Lower East Side before expanding to other cities around the country and beyond.
If you're ever in Minneapolis, Detroit, Denver, or any other city that has a Roasting Plant location nearby, you should certainly pay them a visit!
Best Coffee Shops in The U.S. 2023 – Newshub360.net
Related Post
Credit : www.Newshub360.net