The 13 Treehouse Rentals in South Carolina 2023: Who wouldn't want to live out their childhood dream of staying in a treehouse? That's why renting one is more common than ever.
They can be found in a wide variety of sizes and designs, from opulent hideaways to traditional rustic glamping resorts.
Even while South Carolina doesn't currently have many, the places you do find—like these top picks—will guarantee a wonderful visit.
13 Treehouse Rentals in South Carolina 2023
1. The Forestry House, A Modern Luxury Treehouse – Travelers Rest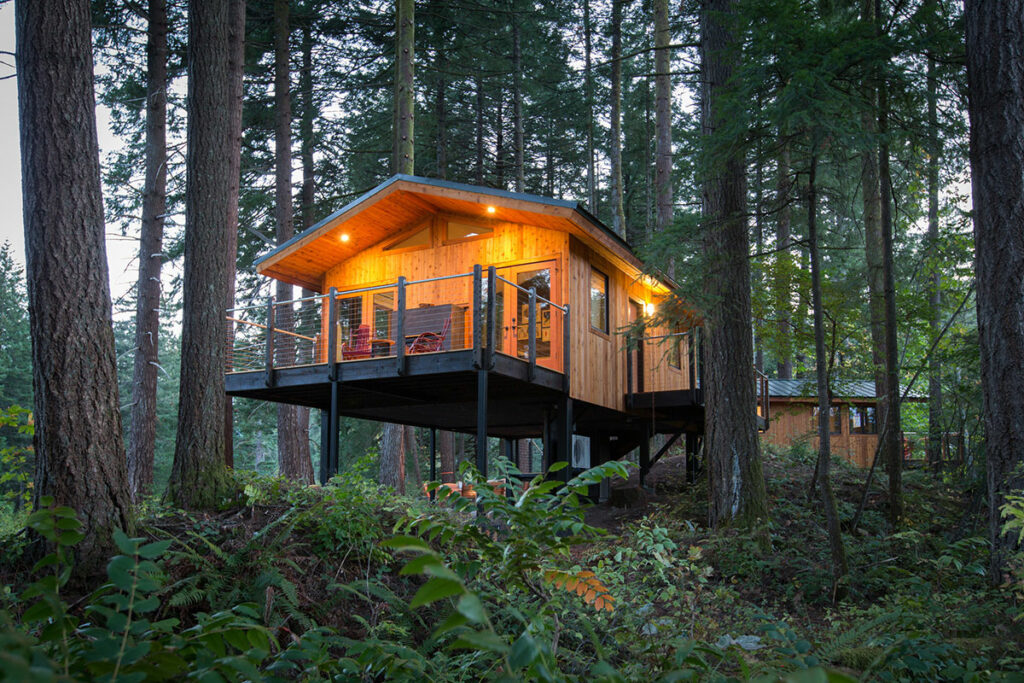 This luxurious modern treehouse is a getaway for two people that has two glass walls that let in the outside view. It is situated on a 16-acre property. Even though it is in a remote area with lots of seclusion, you can walk to nearby restaurants, shopping, and wineries in no time.
The kitchen is equipped with a two-burner induction hob, a toaster oven, an air fryer, a fridge and a Nespresso machine with pods and sugar. The back deck is the ideal place to start your day with an espresso and the sounds of the birds.
Refresh with an outdoor shower after a day of play (and picking up a bottle of wine at one of the nearby wineries), and then have a glass of wine by the fire pit beneath the stars.
In addition, there are yoga mats, a reading corner with books and games, a king-size bed from which you can admire the stars, and other appealing amenities.
2. Cozy Treehouse – Greenville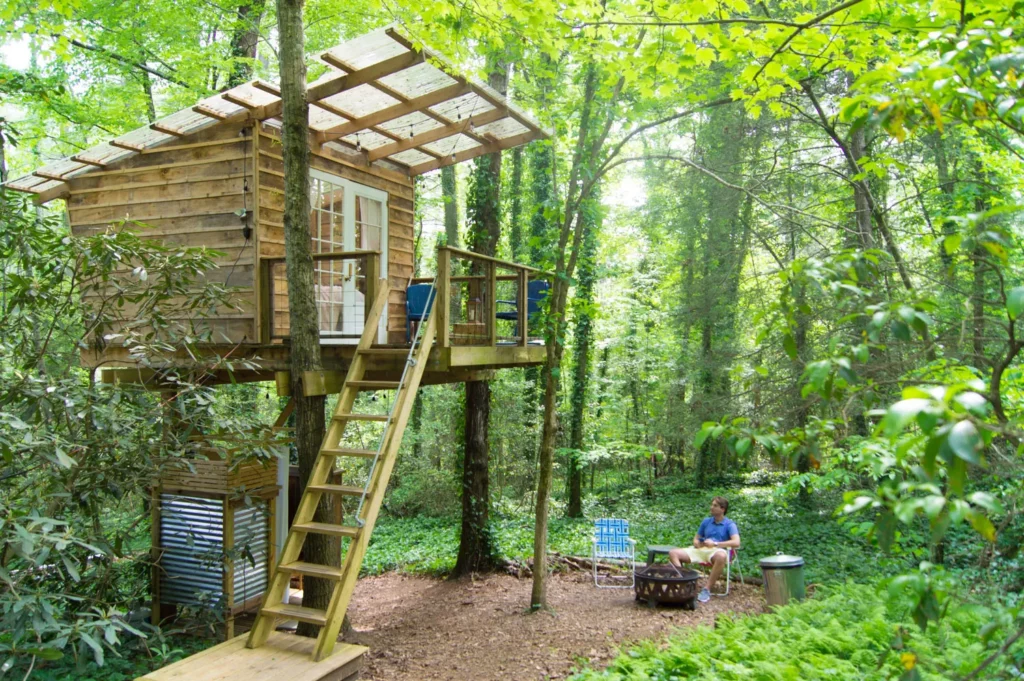 Just ten minutes from Greenville's downtown, this treehouse is tucked away in a 2-acre forested site. Enjoy a more luxurious kind of glamping with a kitchenette that includes a microwave, toaster oven, and coffeemaker.
The main living room also has a 20-foot-high A-frame wall of windows that will completely immerse you in the surrounding woods.
A heater and an outside TV are also provided on the open-air deck and screened-in porch for your comfort.
Yoga in the morning, meditation, watching the sun set, and stargazing are all excellent activities you may do on the rooftop deck.
3. Enchanting Treehouse with Modern Amenities – Marion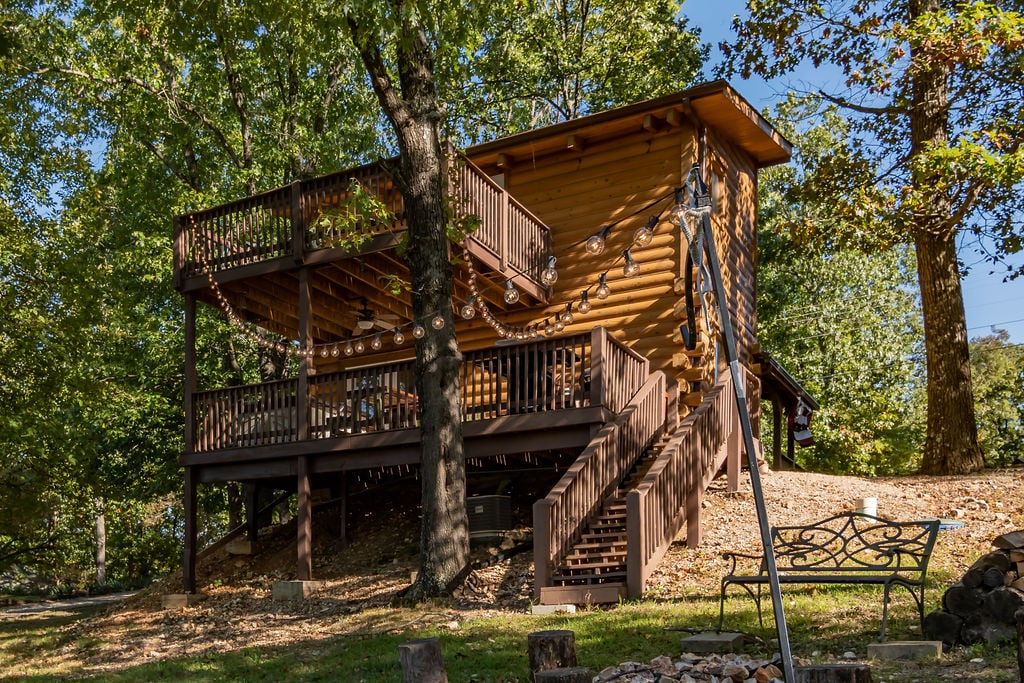 Up to six guests can stay in this stunning treehouse, which is located on a 20-acre property alongside Catfish Creek and allows them to appreciate nature from a bird's-eye perspective.
The loft-style bedroom area has two bunk beds, a full kitchen, a bathroom, a large dining table and other furniture. Enjoy canoeing and kayaking, then wash off afterward in the outdoor shower.
A fire pit, swings, and a hammock finish off this tranquil sanctuary.
4. Branches Up Tree House Mountain Getaway – Pickens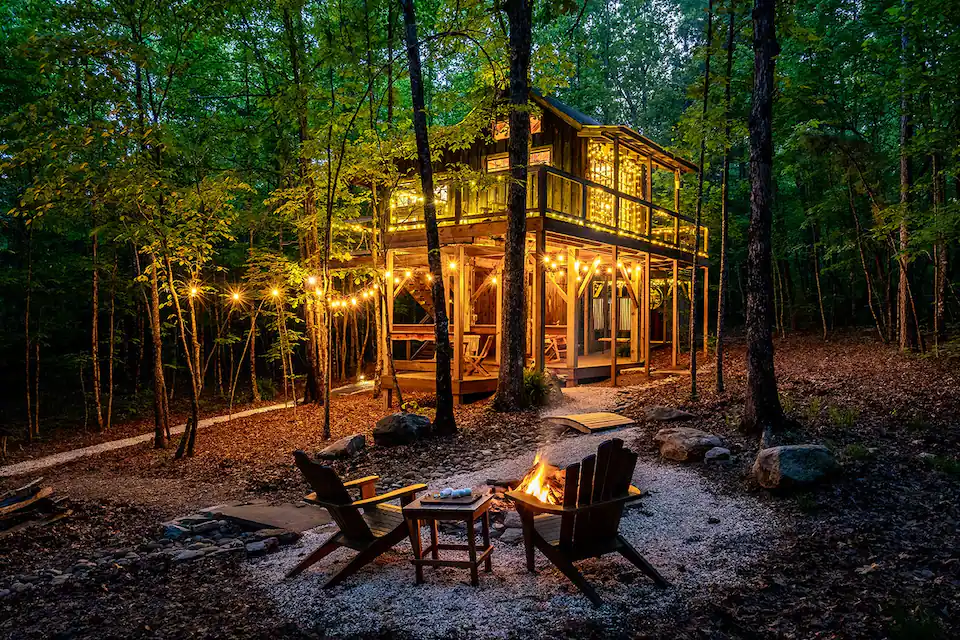 With a stunning view of Table Rock Mountain, this straightforward but charming treehouse offers a reasonable place to stay. The five-acre property has hiking trails nearby and access to nature paths.
Many spots, including a deck upstairs and swings below, are available for you to unwind. A picnic table for outside dining and a fire pit for roasting marshmallows are also included, along with a kitchenette with a microwave, minifridge, and Keurig coffeemaker.
5. Bella Luna Romantic Mountain Retreat – Mountain Rest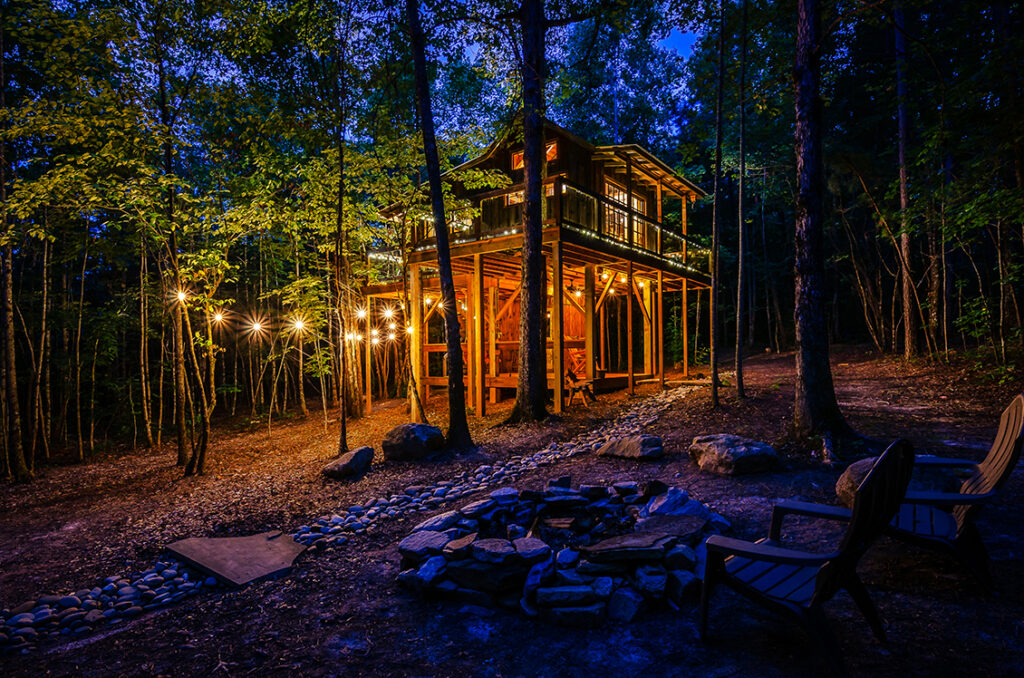 As the name implies, Bella Luna is a very magical place reserved only for couples. It offers a luxurious and especially romantic hideaway adjacent to Issaqueena Falls as well as hiking trails, white water rafting, parks, and other attractions.
Even though it is tucked away in the trees and surrounded by nature, nothing is given up here. With an antique crystal chandelier hanging over the king-size bed and Rainbow Poplar live edge headboard, it also features a custom-built king-size bed with matching white flowing curtains enclosing the sleeping area.
You can enjoy your morning coffee or an evening glass of wine on the terrace by opening the French door, which faces west.
Along with a kitchenette, a Weber electric grill, and an electric griddle, there are also antiques, a record player with a wide range of music, an outdoor hammock, a fire pit, an outdoor hammock, books, and games.
Without TV or WiFi, this place is all about rekindling relationships.
6. Private and Peaceful Treehouse by the Sea – Harbour Town, Hilton Head Island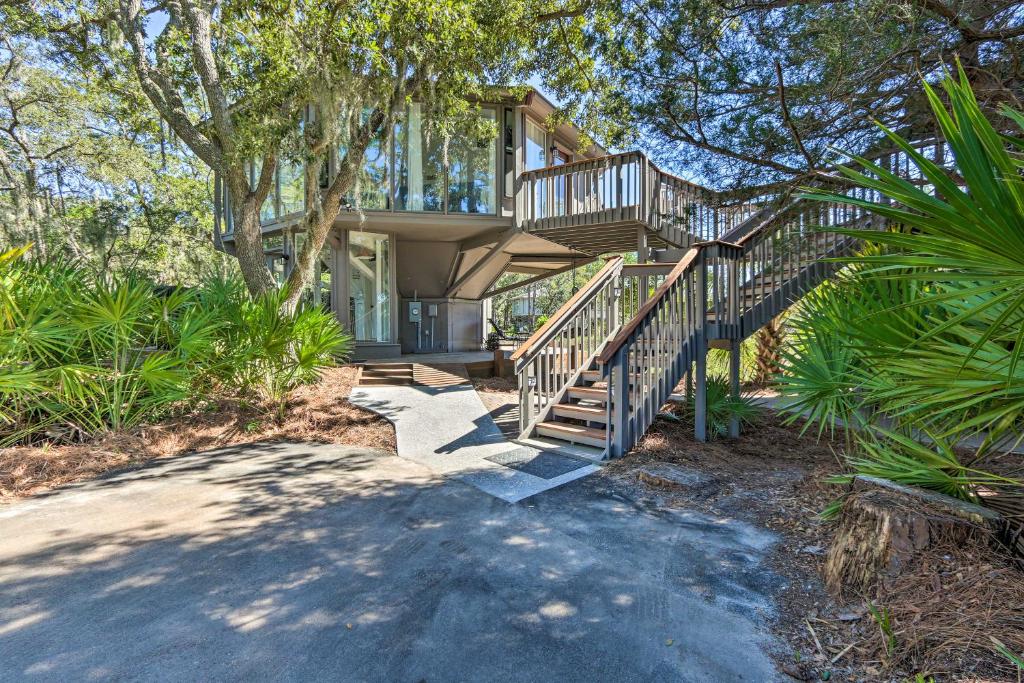 For a modest family with kids eight years old or older, this two-bedroom treehouse can sleep up to four people.
While taking pleasure in a calm, private stay amid the pines, you'll be near to all the sights and activities in Harbour Town as well as some of the most stunning beaches in the nation.
Along with floor-to-ceiling windows that let in the outside, the area itself has two levels of terrace where you can view the birds and deer.
Cable TV, Wi-Fi, an Amazon Firestick for indoor entertainment, and a small but completely functional kitchen are all included.
7. The Majestic Treehouse – Walhalla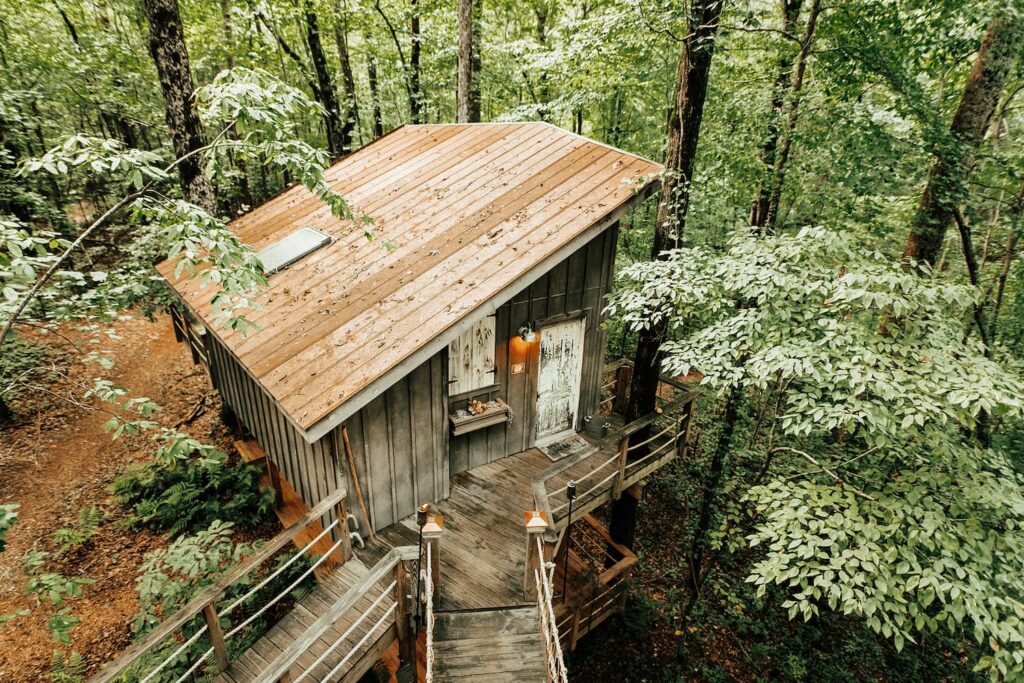 This beautiful treehouse is a work of art and was created by NEEDTOBREATHE band member Seth Bolt, who grew up on Bolt Farm.
The 40-acre property has gardens, untouched woodland, waterways, and paths for hiking and mountain biking.
It is a year-round attraction. It has heating and air conditioning, an outside kitchen with a grill and pizza oven, a bathroom with a toilet and a sink, and the nearby hot outdoor shower is just a short distance away.
Additionally, the host provides historic fine dinnerware and locally brewed organic coffee.
8. Romantic Mountain Treehouse – Mountain Rest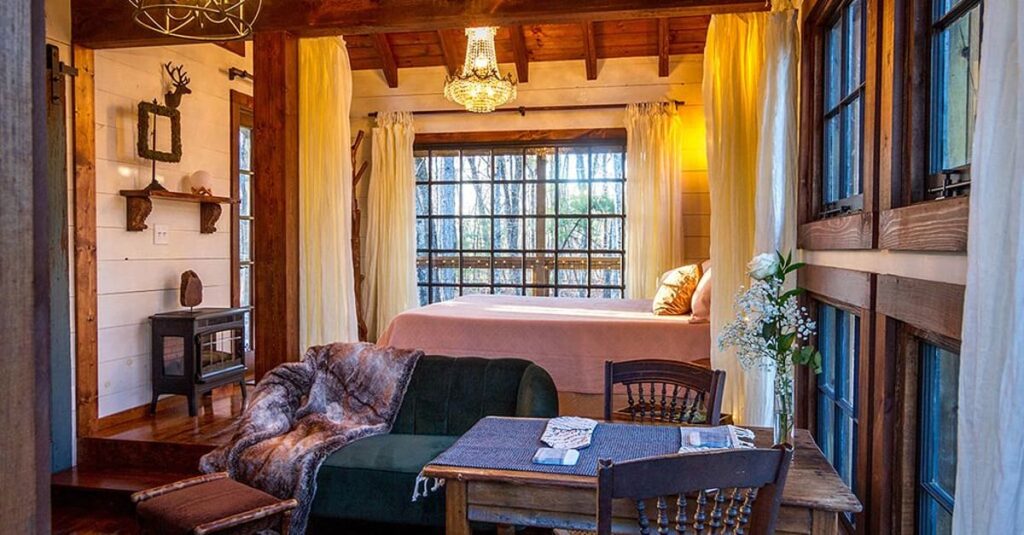 A magnificent king-size bed made of wood and wrought iron with opulent linens and cosy wraps is featured in Stella Vista, a cosy treehouse for two.
The Moravian Star that is directly above is what gave it the moniker "Stella Vista." Vintage French doors that lead to a deck and a peaceful view of the treetops will greet you as you awaken.
This deck is the perfect place to have your morning coffee while listening to the sounds of the waterfall below. Speaking of coffee, you have the option of using a French press or a coffeemaker to create it.
Both ground and whole beans are also available. Aside from a variety of teas, honey, sugar, creamer, and sugar substitute, the kitchenette contains an electric water kettle, coffee grinder, toaster, microwave, and mini fridge.
Board games, a retro-style record player with records, an electric grill for cookouts on the lower deck, a large shower made of fossil stone tiles with a river rock floor, and fairy lights made of copper wire are all there.
9. Luxury Treehouse in the Heart of Columbia – West Columbia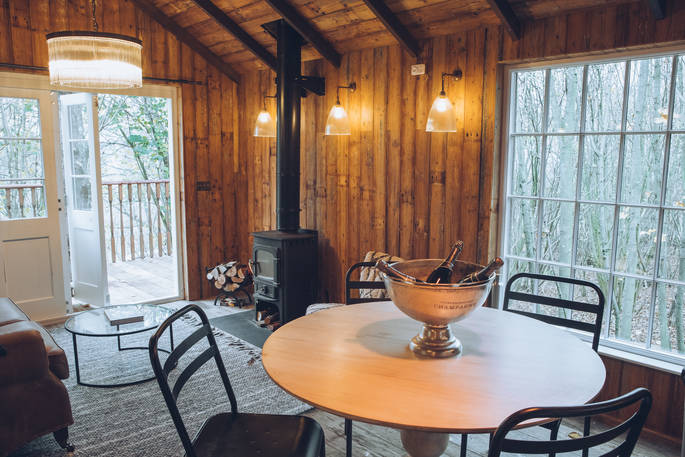 This mid-century contemporary treehouse is accessible by crossing a bridge over gorgeously designed gardens.
It is tucked away in the woods and features a sizable terrace with a hot tub that looks out over a bubbling creek, a BBQ grill area, and a fire pit area with a shimmering chandelier and string lights.
A full kitchen with a coffeemaker, free pods and creamers is available inside, as well as a fireplace where you can cuddle up next to each other while watching films.
Included in the event are extra-special extras like apple cinnamon scones.
10. Treehouse Villa with Marshfront Views – Harbour Town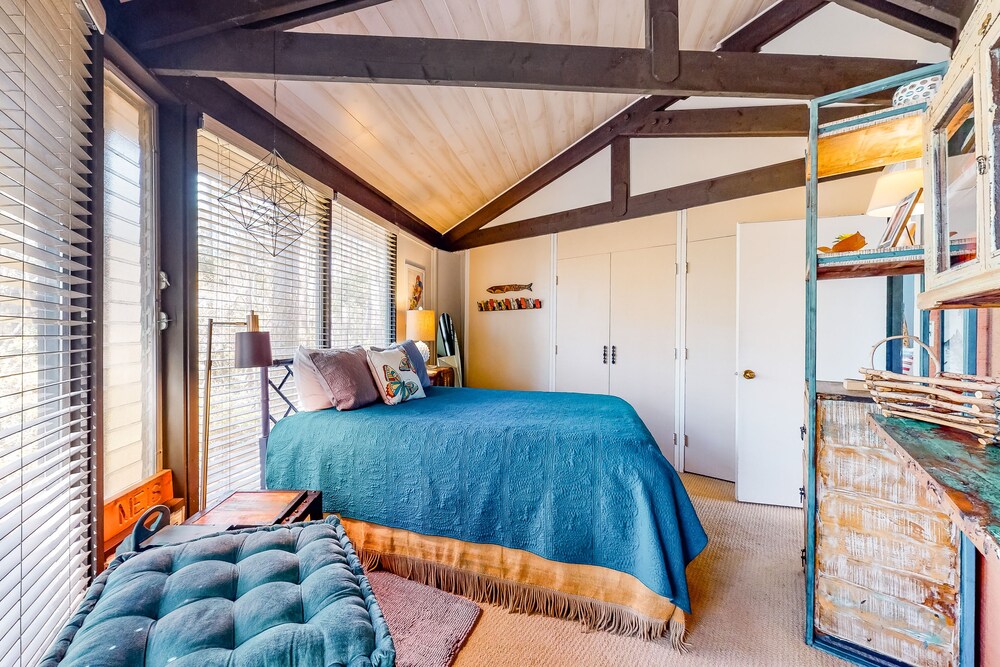 This magnificent Hilton Head Island treehouse is situated in Sea Pines, a short distance from Harbour Town by car or bicycle, and adjacent to marinas, boat rentals, lagoons, and rivers, which make it particularly well-liked by boaters.
Golfers will value the easy access to the Harbour Town Golf Links, and everyone will appreciate the variety of cafes and eateries, many of which provide freshly caught fish.
It has two bedrooms that can sleep up to four people, and your dog is also welcome. Along with desirable amenities like a full kitchen, central AC and heating, and a washer and dryer, there are numerous windows that provide views of the adjacent wetlands.
11. Airy Treehouse with Bikes; Walk to Harbour Town – Hilton Head Island
With all the conveniences of home, including a private deck overlooking the marsh with room for outdoor dining and a grill, this luxurious treehouse is perfect for a seaside retreat on Hilton Head.
In addition to having access to a communal pool for an extra cost, you also get four bikes, beach chairs, and beach towels.
Enjoy the full kitchen, three Smart TVs, wall-to-wall windows, French press, Keurig coffeemaker, blender, and other amenities inside.
12. Private Island Treehouse – Beaufort
This studio treehouse in the glamping style is situated on a somewhat private island with dock access to the Intercoastal canal and is only a short distance from the centre of Beaufort.
Swimming, fishing, paddle boarding, kayaking, and canoeing are just a few of the activities that are right outside your door.
Along with extras like champagne and fresh muffins, your host even offers a complementary paddleboard and kayak.
Gather around the fire pit and relax in the hot tub after a long day of excitement. The use of Wi-Fi is complimentary, and a bathhouse is close by.
13. The Lost Treehouse of Lake Jocassee – Salem
With a short climb leading to stunning views of the lake and Devil's Fork State Park only a mile away, this treehouse suspended in the treetops offers convenient access to Lake Jocassee for up to two visitors.
With a queen-size bed in the loft above, it is a cosy apartment with lots of windows to let in the natural light.
There is a mini-fridge, coffee maker, electric kettle, dinnerware and cutlery but no kitchen, only a four-burner gas grill for cooking outside.
The distance to a bathhouse with two private restrooms, a shower, a toilet, a basin and a changing bench is only 50 feet. In addition to renting kayaks, motorboats, and paddleboards, your host may arrange hiking and waterfall excursions.
13 Treehouse Rentals in South Carolina 2023 – Newshub360.net
Related Post

Credit: www.Newshub360.net