10 Best Places To Stay In Miami. The city of Miami is a melting pot where people from all over the world have come together to create something absolutely extraordinary.
The city in South Florida is even considered a vacation destination by those who choose to make their permanent home there because the city's beaches and nightlife provide an escape from everyday life every day of the year.
In terms of its appeal to visitors, Miami is a town of astounding beauty. Miami is a one-of-a-kind American metropolis in every sense of the word, from the beaches with their glistening waves to the art deco structures that line the city's historic streets.
Because of the city's fantastic climate, it is a popular destination for vacations throughout the entire year. In Miami, temperatures almost never fall below 74 degrees Celsius (or 75 degrees Fahrenheit) (24-degrees Celsius). There is always something exciting to do in Miami, so it doesn't matter if you visit during the summer or the winter.
Discovering new activities, places to stay, and places to eat and drink depends largely on the neighborhood you decide to call home for the duration of your trip.
You may discover a neighborhood to stay in that fulfills all of your vacation requirements in Miami, regardless of what it is that you hope to get out of your time there.
1. Downtown Miami
Consider staying in the downtown area, where there are seemingly countless things to do. You'll have a wide variety of options to choose from here, since several of Miami's most popular attractions are within walking distance.
Bayfront Park is the city's oldest public meeting spot, so why not start your morning with a stroll through it? You should make the most of the rest of your afternoon by going to the Frost Museum of Science, the Perez Art Museum, and the iconic Freedom Tower.
After that, stop by the FTX Arena, formerly known as the American Airlines Arena, to watch a concert or a Miami Heat basketball game before having supper and beverages at one of the numerous restaurants located within Bayside Marketplace.
Pros of Staying in Downtown Miami:
Many of the top attractions in Miami all within walking distance
World-renowned restaurants, bars, and nightclubs sprinkled throughout the district
Litany of hotel options replete with a rooftop pool, hot tub, fitness center, and stunning views of the Bay
Con of Staying in Downtown Miami:
Often the busiest district in Miami with the most traffic
2. Brickell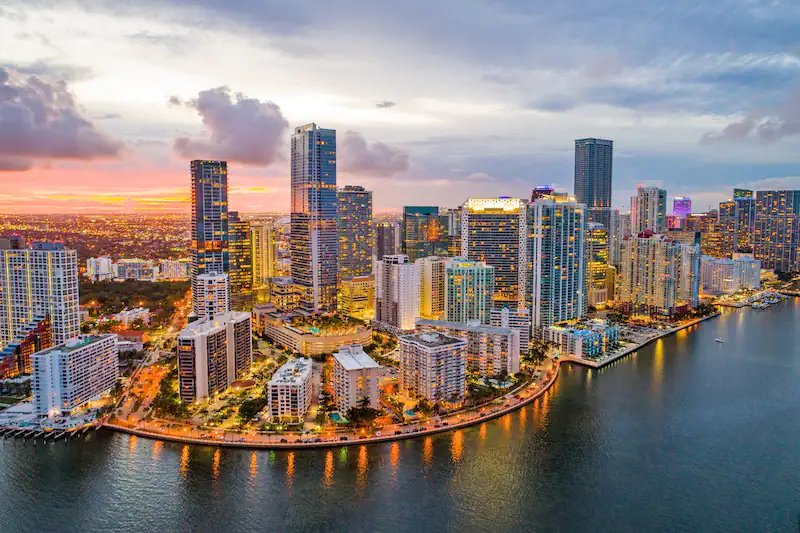 What was once solely a financial district is now the most popular destination for young professionals who are traveling in large numbers to Miami. The population of Brickell is growing rapidly.
Old-style Miami has almost completely disappeared, and in its place are gleaming new skyscrapers and hotels, many of which feature lively nightclubs and rooftop cocktail bars on their rooftops.
Because of this combination, Brickell's nightlife is second to none, and as a result, spending the evening out will undoubtedly set you back top money.
It is common for visitors vacationing in the region to discover luxury accommodations that include a rooftop pool, a wellness center, world-class dining, and private rooms with windows that reach from floor to ceiling and provide a view of the city skyline.
Do not be fooled, however; Brickell is still the best location in Miami to stay if you are visiting Miami on business. This is because the neighborhood is filled with corporate headquarters and banks that are easily accessible.
Pros of Staying in Brickell:
Amazing bars and restaurants seemingly on every corner
Safe and walkable neighborhood for business travel
Access to a high-end shopping mall, luxurious rooftop bars, and 5-star dining options
Con of Staying in Brickell:
No major attractions directly in the neighborhood
Among the most expensive places to stay and play in Miami
3. Coconut Grove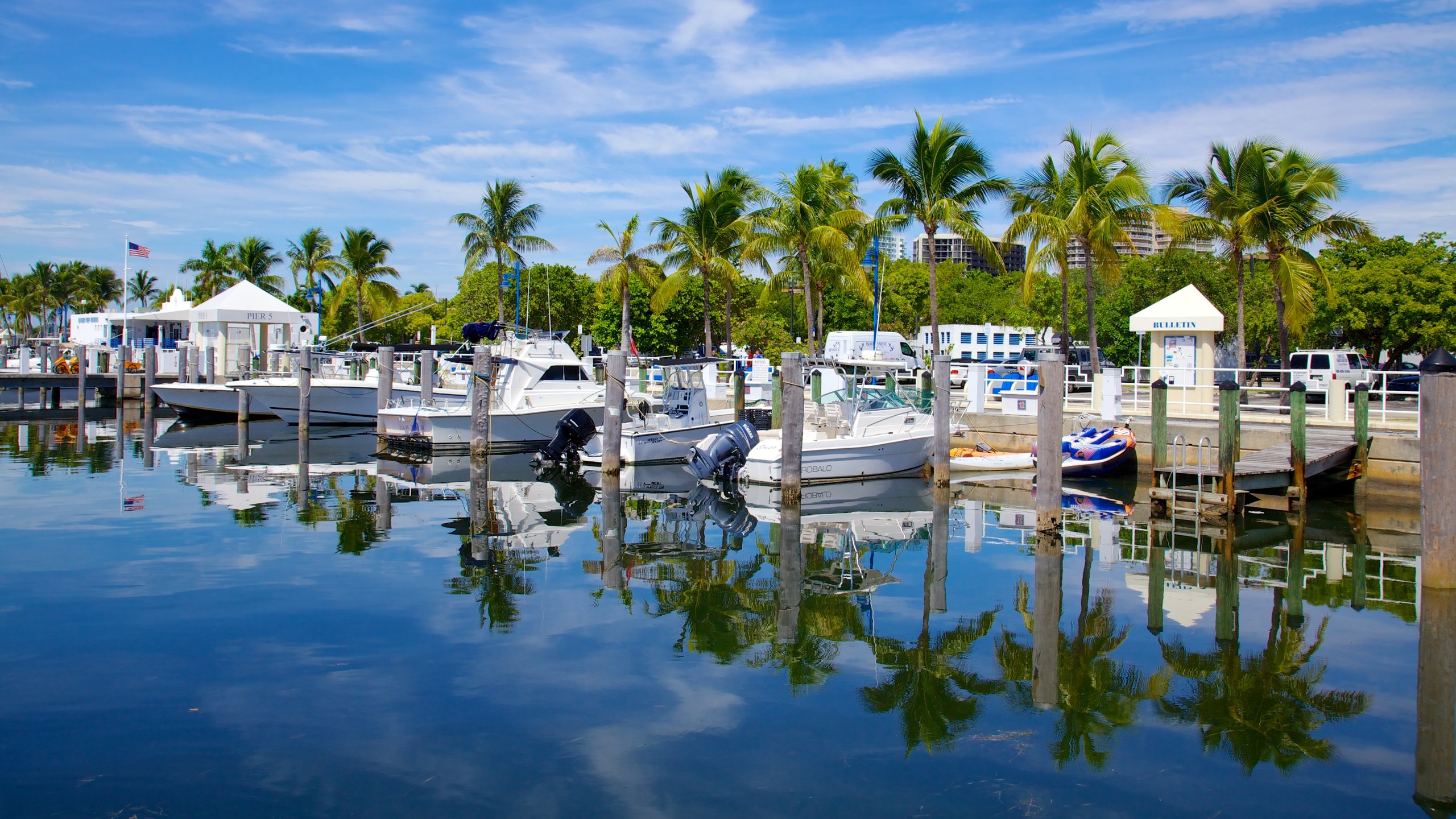 Coconut Grove is a charming enclave that stands in stark contrast to the buzzing atmosphere of Miami. This tranquil neighborhood on the city's southwestern fringe is well-known for its quaint market known as the CocoWalk. Here, streetside cafes, classic booksellers, and buzzing gastropubs can all be found in close proximity to one another.
Along the water's edge are private marinas that are home to a community of weathered sailboats in addition to more contemporary megayachts.
The parks in the area include a variety of water sport rentals, including as stand-up paddleboards, kayaks, jet skis, and small sailboats.
The walking paths that pass through upscale residential areas and along the scenic boardwalk are shielded from the elements by a dense canopies of foliage.
The Vizcaya Museum and Gardens, which is consistently ranked as one of our top things to do in Florida, can be found tucked away in a nook of Coconut Grove.
The villa was originally the estate of James Deering, a prominent local businessman who is also a dedicated environmentalist.
The preservation of South Florida's natural splendor, including its mangrove shoreline, tropical forests, and clear waterways, is exemplified by the presence of his villa.
Pros of Staying in Coconut Grove:
Quiet and laid back neighborhood directly on Biscayne Bay
Many top South Florida attractions in the immediate vicinity
Excellent location for water sports like sailing and kayaking
Con of Staying in Coconut Grove:
Far away from Miami hotspots like Wynwood and South Beach
4. North Beach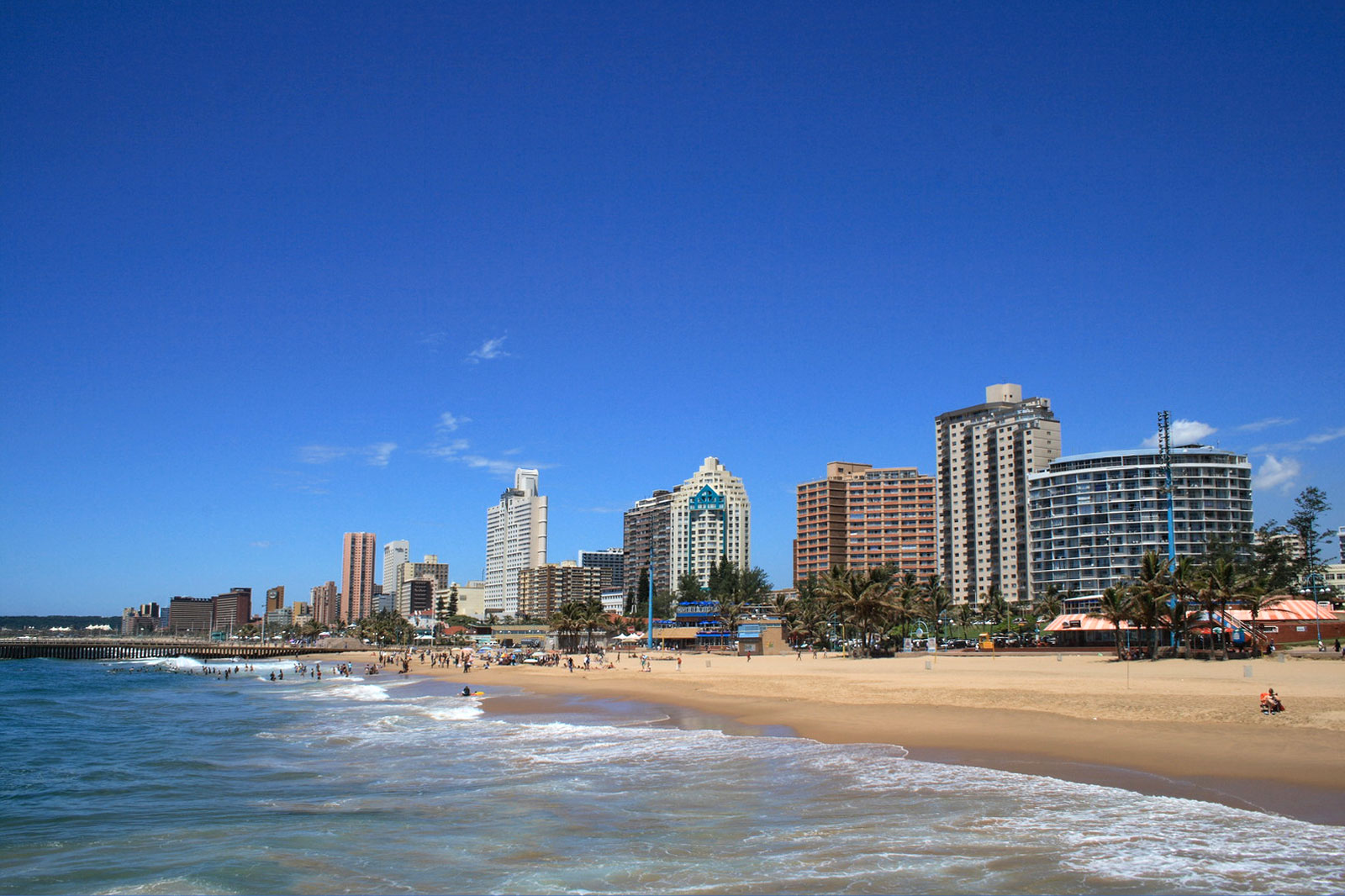 The northernmost section of Miami Beach is known as North Beach, and it features miles of stunning coastline that looks out over the ocean.
If you want to avoid the spring break crowds that typically congregate on South Beach during your trip to Miami, this neighborhood is your best bet for finding a place to stay that is beachfront and quiet.
Along the sandy shoreline, you'll find a variety of small hotels and resorts, while the side streets are home to residential apartments, condos, and even a few boutique hotels.
The neighborhood is filled with genuine eateries providing cuisine from Latin America, and many of them have walk-up windows where customers can order freshly baked pastries and freshly made coffee.
The neighborhood is known for its relative tranquility because there are very few bars and nightclubs in the area. If you have a hankering for a bustling neighborhood, South Beach is just a hop, skip, and a jump away down Collins Avenue.
Pros of Staying in North Beach:
Less traffic than other parts of the city
Quiet and beautiful beaches along the coast
Cheaper accommodation than other parts of Miami Beach
Con of Staying in North Beach:
The main attractions of Miami are a car or taxi ride away
5. Coral Gables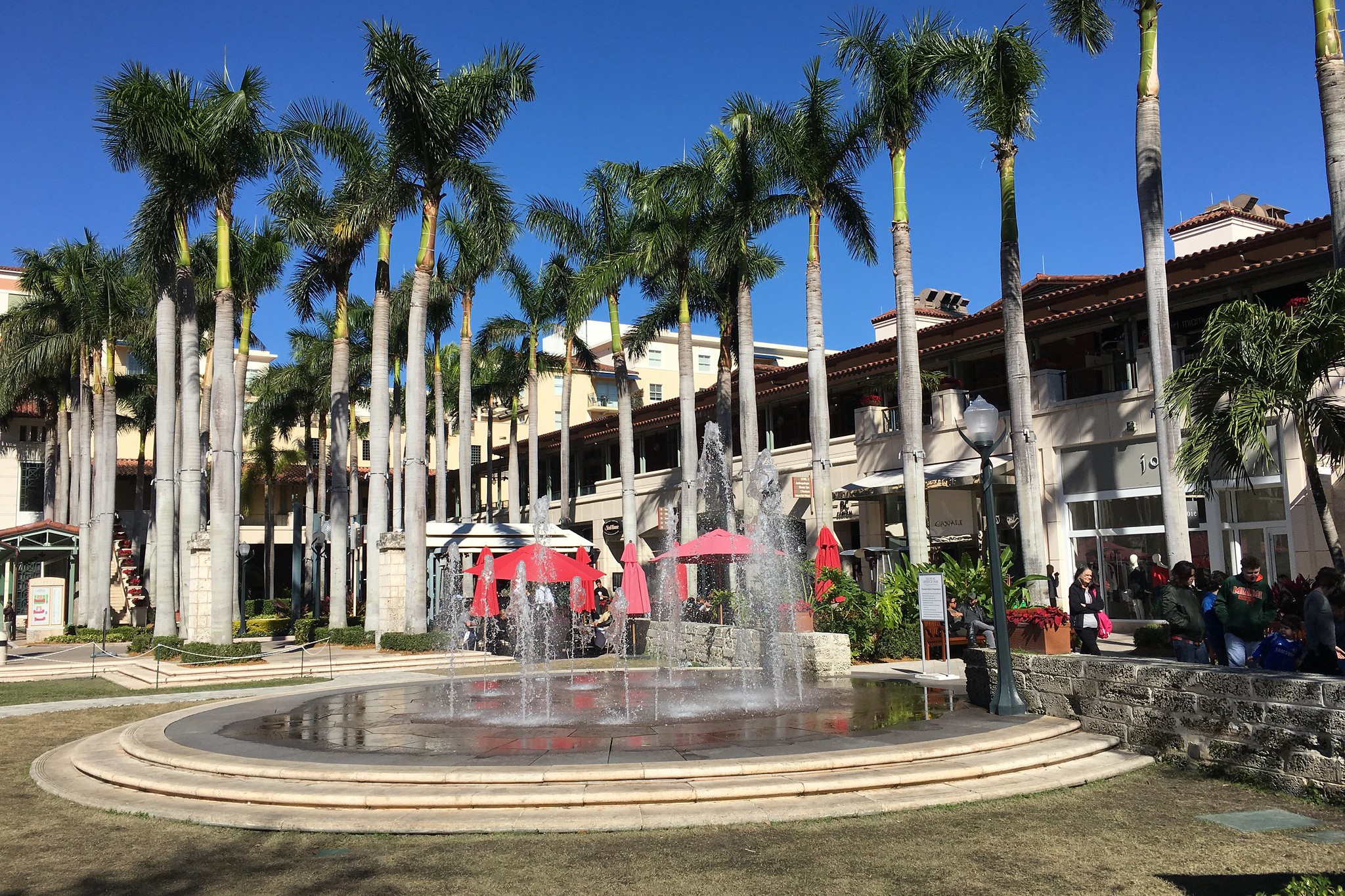 Coral Gables is a beautiful city that also happens to be one of the oldest in Southern Florida. In the 1920s, real estate magnate George Merrick developed the city, and the city has kept George Merrick's original plan for the city's streets, which was designed in the Mediterranean style.
Mansions with a Spanish flavor can be found lining the streets of residential communities that are covered in a dense tropical canopy and protected by formal gates.
Since 1926, the picturesque Biltmore Hotel, which was designed to resemble the cathedral in Seville, Spain, has stood tall.
The Venetian Pool is only a few blocks away, and it is an aquatic facility that was carved out of the coral bedrock below.
It's quite incredible, but the water in the outdoor pool comes from a naturally flowing aquifer underneath the ground.
Other points of interest include the Miracle Mile, an open-air shopping complex that serves as the hub of activity in Coral Gables, and the Fairchild Tropical Botanic Garden, a tropical oasis that spans 83 acres and is home to thousands of species found nowhere else on earth.
Pros of Staying in Coral Gables:
Close to main attractions in Miami, including a few on our list of the best things to do in Florida
Access to Biscayne Bay at Matheson Hammock Park
Close to Miami International Airport
Con of Staying in Coral Gables:
Although gorgeous, the top hotels in the area tend to be pricey due to their historical significance
6. Key Biscayne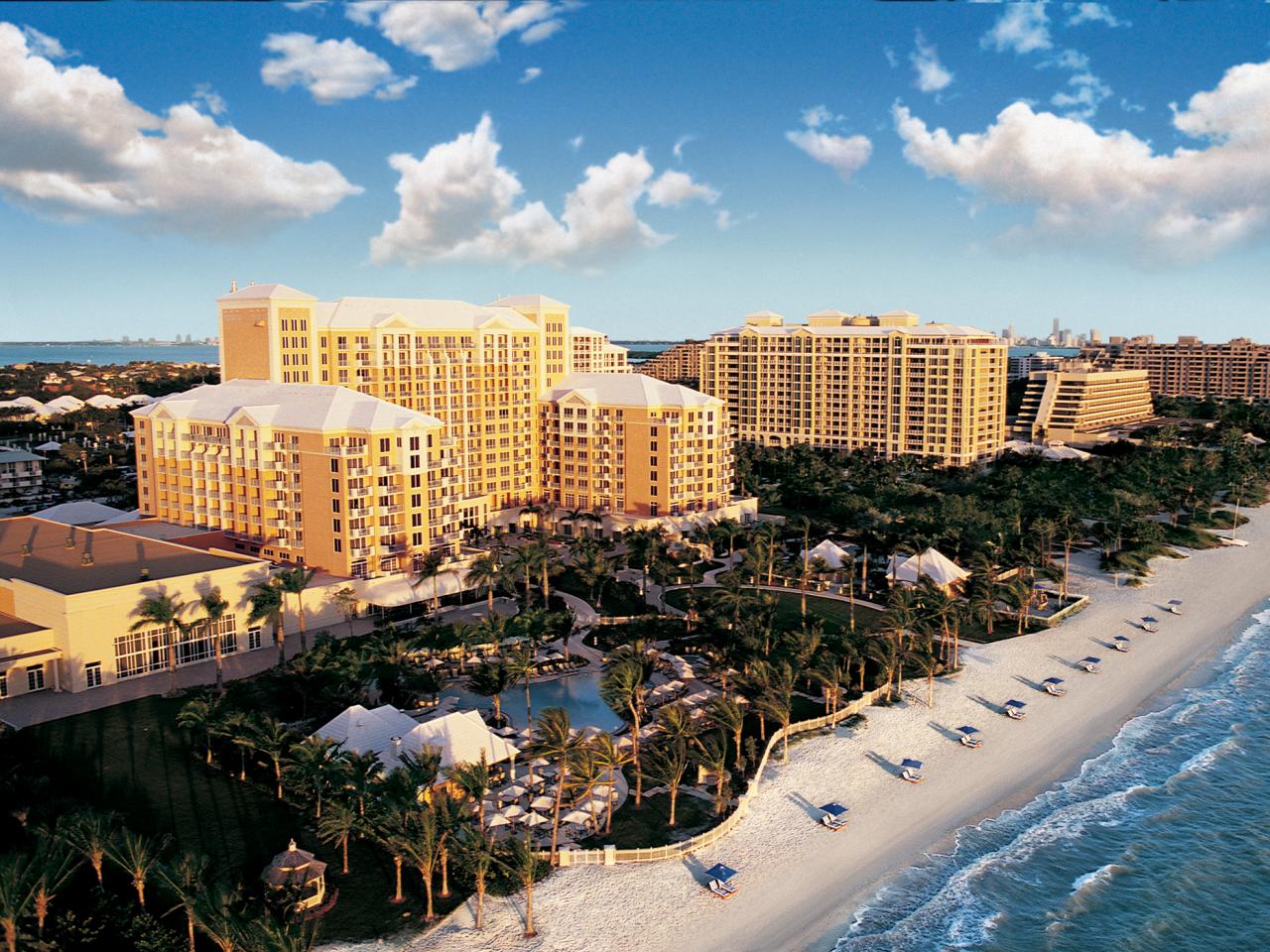 To get a glimpse of nature while still being close to the city, Key Biscayne is the place to go for many locals. The posh island can be found just to the south of the central business district.
It features a breathtaking state park, a lighthouse that dates back to the 19th century and can be climbed, ancient city parks, and lovely beaches that are reminiscent of the Caribbean.
The island has several activities that are fun for the whole family, including as the Miami Seaquarium, the stand-up paddleboard rentals at Crandon Park, and the kayaking trails on Virginia Key that feature manatees.
Snorkeling tours with Diver's Paradise leave daily from Crandon Marina, and Miami Watersports leases small sailing catamarans that are appropriate for a variety of other types of boating adventures.
The lodging is unquestionably of a high-end caliber, and the restaurant scene is not significantly different. On the other hand, if you and your loved ones are looking for a holiday area that is peaceful and soothing, this could be the ideal destination.
Pros of Staying in Key Biscayne:
Quiet atmosphere and private beaches at most hotels
Best location in Miami for a family vacation
Con of Staying in Key Biscayne:
You'll need to go to downtown Miami or South Beach for any sort of nightlife
Great restaurants but few bars
7. Homestead
The city of Homestead, which is the southernmost municipality in Miami-Dade County before entering the Florida Keys, is located 35 miles to the southwest of Miami.
The town enjoys a prime location directly in the middle of not one but two national parks in the United States: Everglades National Park and Biscayne National Park.
Homestead is a completely different animal when compared to the bright city lights of Miami. Long stretches of land devoted to the cultivation of sugarcane, oranges, and coconuts may be found leading up to the Everglades and Biscayne Bay, respectively.
These two bodies of water are located to the west and east of the region, respectively. Before entering the lush tropical paradise of the Florida Keys, make your way south along the stretch that spans 20 miles.
Homestead is the finest starting point (and the cheapest) to see the natural habitats that are native to Southern Florida because it is home to not one but two National Parks, as well as being conveniently close to Key Largo and the Florida Keys.
If, on the other hand, you have your heart set on remaining in Miami proper, a trip to Homestead or either of the two national parks is a fantastic option for a day trip beginning and ending in the city proper.
Pros of Staying in Homestead:
Easy access to two US National Parks – the Everglades and Biscayne Bay
Much less busy than Miami's city center
Affordable launching point to visit the Florida Keys
Con of Staying in Homestead:
You'll need a rental car to get anywhere
Miami's beaches are almost an hour drive away
8. North Miami Beach
A trip to Miami is not always associated with the term "friendly to one's bank account." However, this does not mean that you cannot get more value for your money when you go sightseeing.
Cheap lodging can be found in North Miami Beach, a separate municipality from the city of Miami proper that is located just 18 kilometers (11 miles) to the north of the metropolitan area.
Ironically, the city is not even located on a beach; however, it is conveniently located near Oletta River State Park, Haulover Sandbar, and Haulover Beach, all of which provide access to the water.
The Museum of Contemporary Art, Bal Harbour, Aventura Mall, and Gulfstream Park and Casino are some of the other places of interest in the area.
Staying in the neighboring city of Fort Lauderdale is yet another alternative for those on a limited budget.
The well-known vacation spot is easily accessible by car and is located just a short distance from Miami. It is also home to a plethora of attractions unique to itself, such as an extensive range of boating opportunities.
Pros of Staying in North Miami Beach:
Budget-friendly and less crowded
Excellent launching point to spend a day in Fort Lauderdale
Access to outdoor activities like kayaking and hiking within Oletta River State Park
Con of Staying in North Miami Beach:
You'll need to drive to public beaches like Haulover Beach or Bal Harbour
9. Wynwood & the Miami Design District
Wynwood and the Miami Design District are located only a short distance to the north of the central business district.
Because of the striking contrast that exists between these two adjacent communities, it is considered to be one of the more desirable places to stay within the greater Miami area.
Wynwood was a neglected part of town in the past, but it has now been redeveloped into a vibrant neighborhood that is bustling with a variety of activities.
The Wynwood Walls are a labyrinth of street art that is splashed along the concrete alleyways between abandoned warehouses that have been turned into breweries, coffee shops, and nightclubs. Art lovers will appreciate the Wynwood Walls.
The chic and cutting-edge Miami Design District can be found just a few blocks away. The neighborhood is known for its concentration of modern art galleries, boutiques selling designer clothing, and restaurants run by celebrity chefs.
When tourists visit Miami to indulge in some high-end shopping therapy, the contemporary architecture and public art provide them with an alluring backdrop to do so.
Pros of Staying in Wynwood & the Design District:
The most active neighborhood in downtown Miami
Endless selection of bars and restaurants all within walking distance
Vibrant nightlife attracting visitors and locals alike
Con of Staying in Wynwood & the Design District:
Accommodation is limited to private apartments and condos – often for a steep price
10. Little Havana
When thousands of Cuban refugees sought sanctuary in Miami during Castro's bloody Cuban Revolution in the 1950s, the city experienced a watershed moment in its long and eventful history.
Little Havana was the first Cuban enclave to be established in the United States, and it quickly developed into a destination for people fleeing oppression in other parts of Latin America.
Naturally, traditional Cuban culture was woven into the fabric of each and every building in Little Havana, as well as each and every street corner and public space.
Restaurants like Versailles serve authentic Cuban cuisine. Coffee shops on the sidewalks of Cuban streets serve freshly brewed Cuban espresso.
Calle Ocho, which is essentially the equivalent of the Hollywood Walk of Fame in Latin America, is where notable Cuban and Latin American cultural personalities are honored.
Maximo Gomez Park is a tiny public place that is mainly famous for the long-time locals who play dominoes here.
The park can be found on the other side of the street. The Ball & Chain is one of the oldest nightclubs in Miami.
It was established in the 1930s as a salsa dance venue, and it continues to this day to play live music, serve Cuban-style food and drink, and host dance parties.
Pros of Staying in Little Havana:
Con of Staying in Little Havana:
Most accommodation options are privately owned so finding a place to stay may be difficult
Tips
Traveling Around Miami Takes Time
It can appear to be close on the map, but just like in any large city, traveling from one neighborhood to another requires time and, if you take a taxi, money as well.
When deciding where to stay in Miami, keep this in mind, and give careful thought to the activities you have planned for your time here.
Touch Up on Your Spanish Before Staying in Miami
Because Miami is home to the largest Latin American population in the United States, nearly everyone there is fluent in Spanish, particularly in areas that are not popular with tourists.
At the very least, it would be beneficial to brush up on your Spanish greetings and pleasantries as well as your ability to place food orders before your trip.
However, you should never assume that someone doesn't speak English because doing so could be considered insulting.
10 Best Places To Stay In Miami In 2023 :Newshub360.net
Related Post
Credit :www.Newshub360.net