The 9 Best Hilton Hotels and Resorts in Florida 2023: Known for offering reliable and luxurious rooms, Hilton is a highly esteemed hotel chain. Knowing what to anticipate when visiting the chain reduces travel anxiety significantly.
Hilton is familiar with Florida's stunning coastlines and beaches, which provide some of the swankiest and most attractive spots to unwind in the Sunshine State.
Therefore, head to one of the lovely Hilton locations in Florida with your sunglasses and bikini.
9 Best Hilton Hotels and Resorts in Florida 2023
1. Hilton Sandestin Beach Golf Resort and Spa – Miramar Beach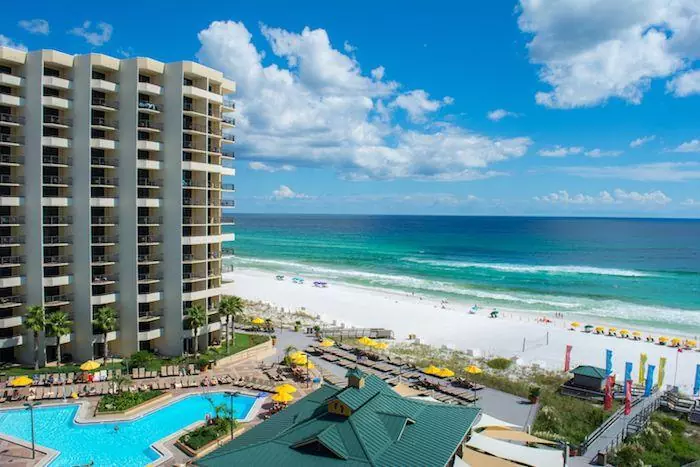 The Hilton Sandestin Beach Golf Resort and Spa is located beachside on Miramar Beach, close to Destin on the Florida Panhandle.
The hotel offers a wide variety of dining options, including a substantial breakfast buffet, a sushi bar and juicy room service burgers that let visitors stay in all day without ever leaving.
There is also a Starbucks on site. Direct views of the turquoise seas of the gulf are available from a geometric pool and deck area, and if you need a drink, someone will go get one for you.
Simply leave the car parked and explore the area, as shopping and Destin's major attractions are just a short tram ride away.
A private beach, on-site spa, and four championship golf courses are also accessible to guests while they are staying here.
Key Amenities:
Private beach and on-site spa with whirlpools
Access to four championship golf courses
2. Hilton Marco Island Beach Resort and Spa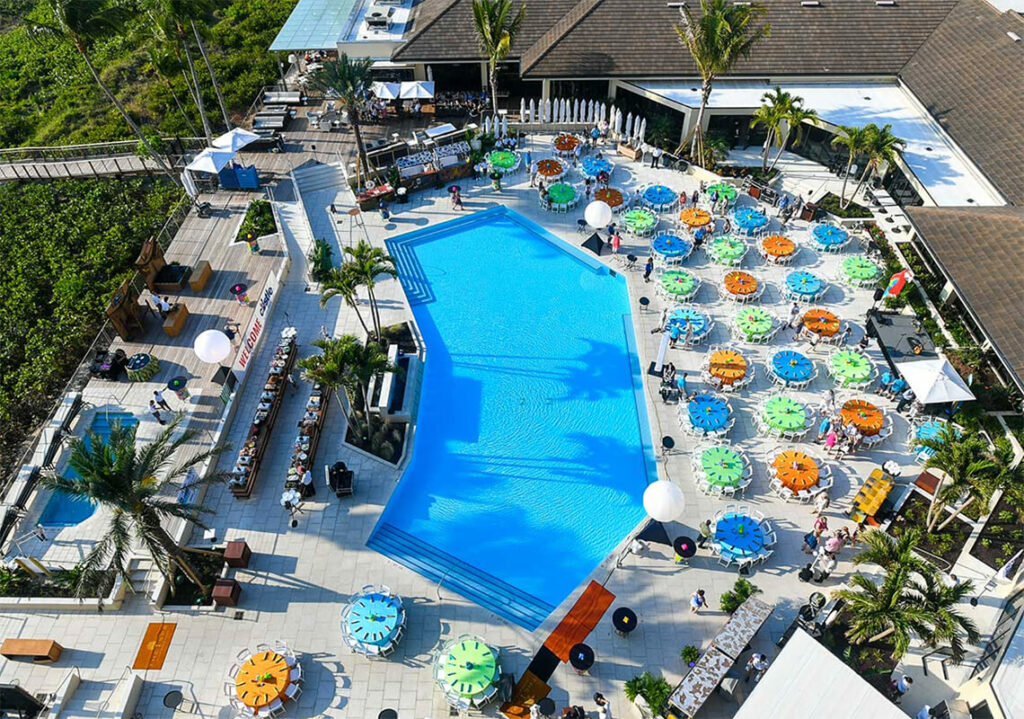 The idyllic Marco Island in Florida is situated on the gulf side, almost as far south as Miami, and is encircled by navigable lagoons and channels.
The Hilton Marco Island Beach Resort and Spa's tropical environment, surrounded by tonnes of luxuriant palms, is opulent and soothing. Enjoy the heated outdoor pool and sun terrace or the beach access.
The rooms have been airy and sleekly remodelled, and the luxurious vanities and soaking tubs in the bathrooms give off a spa-like ambiance.
Speaking of spas, there is one on the property where you can have a deep tissue massage before retiring to the hot tub with views of the beach.
Key Amenities:
White-sand beach access and watersports
On-site spa with ocean-facing hot tub
Heated outdoor pool and sun deck
3. Hilton Cocoa Beach Oceanfront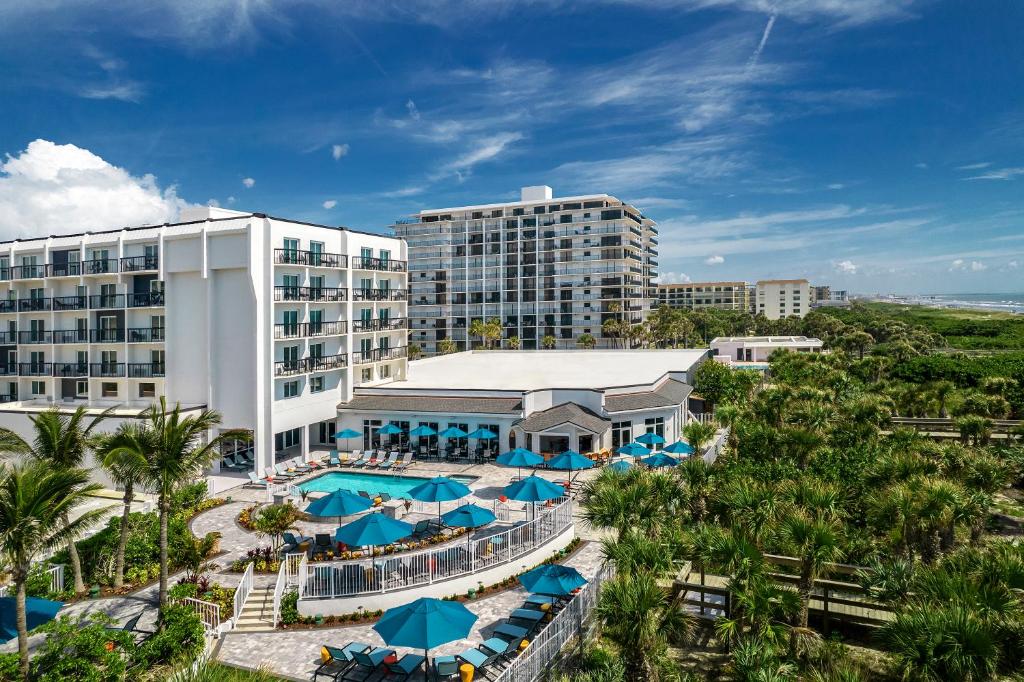 On a small patch of undeveloped land, Cocoa Beach is tucked away on the state's Atlantic coast. It's a cool destination for NASA aficionados and beach bums, and is well known for the Kennedy Space Centre Visitor Complex.
With its "serious" aesthetic of dark colour schemes and sharp edges, this Hilton site is a top hotel in Cocoa Beach. The tiki bar offers a touch of laid-back tropical flair.
There is a lot of appreciation for the on-site eating options, particularly the breakfast buffet.
Key Amenities:
Outdoor pool deck and direct beach access
Beach volleyball courts and surfing lessons
Oceanfront dining
4. Hilton Orlando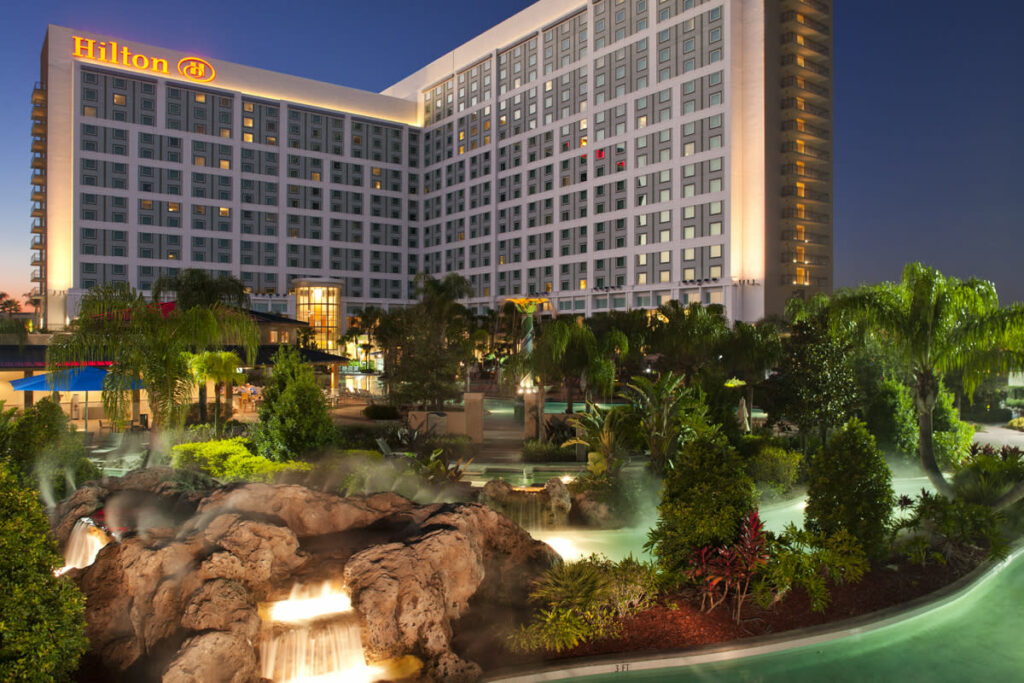 Does it get much better than this? A gorgeous hotel, complete with a tranquil lazy river and elegant, comfortable rooms. Yes, it does, as Hilton Orlando is a short distance from Disney World and other theme parks where dreams come true.
Transportation to SeaWorld and University Orlando Resort is provided at no cost. It's a great option for families because there are lots of activities for the kids, like waterslides, a splash pad, and other fun areas, while the parents enjoy the elegant environment.
On-site dining options range from fast food outlets to more upscale establishments. The hotel offers a variety of dining alternatives, from fast food to fine dining establishments.
Key Amenities:
Lazy river, splash pad and waterslides
Complimentary shuttle to SeaWorld and Universal
Full-service spa and salon
5. Hilton Naples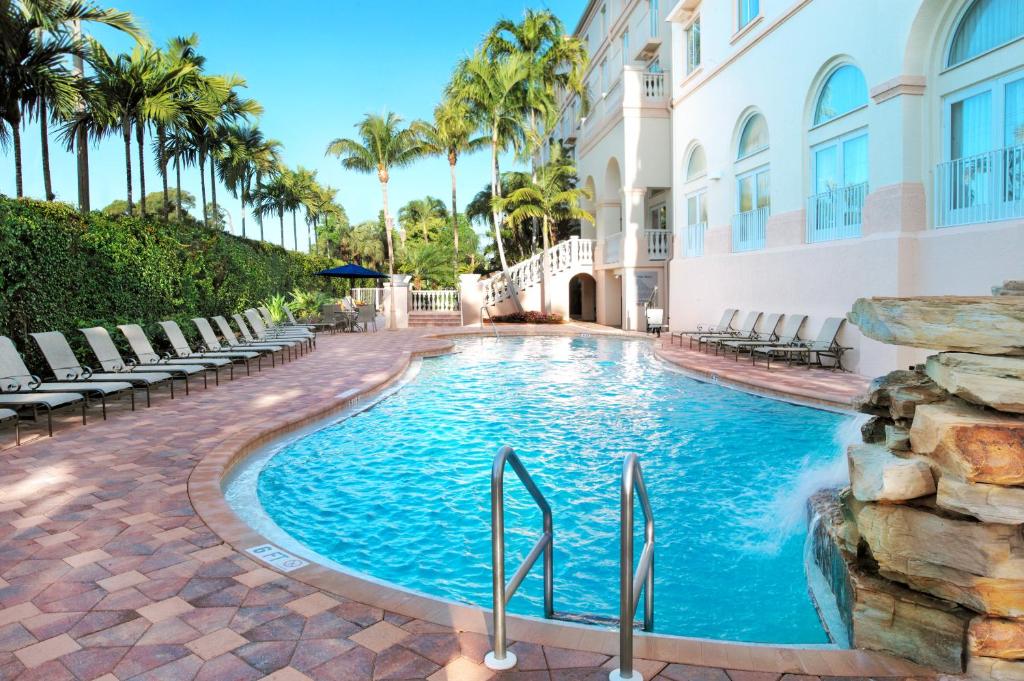 Anyone who has been to Naples will agree that the city exudes enchantment and offers a wealth of must-see sights.
While premium, a variety of restaurants and shops cater to all visitors along immaculate paths enhanced by glittering lights and local vegetation.
Hilton Naples has the same charm as the community it calls home, with a lovely, airy design and classy accents. The pool area is charming and has a stone cascade at the side, despite being smaller than some.
By offering shuttles as well as towels, chairs, and umbrellas, the crew removes all the stress associated with travelling to the beach.
Key Amenities:
Beach shuttle and equipment included
Outdoor pool with waterfall
Walking distance to Waterside Shops
6. Hilton Fort Lauderdale Beach Resort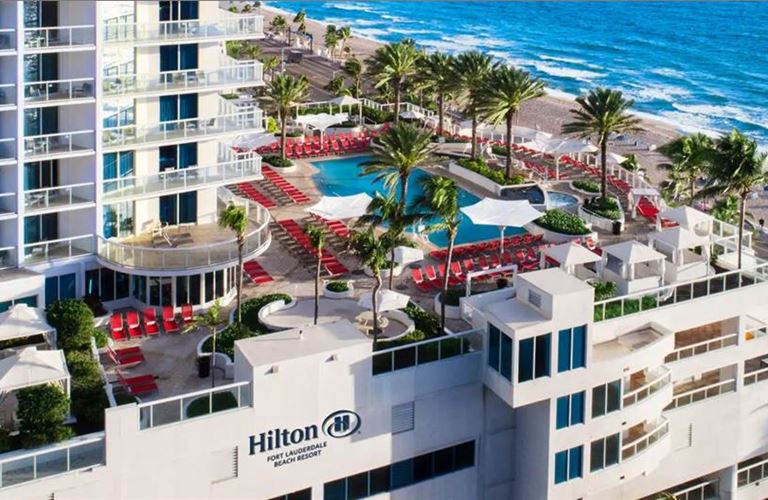 This Hilton property is among the best locations to stay in Fort Lauderdale, whether you need a spot to relax before leaving for a cruise or you simply want to explore the neighbourhood.
You may enjoy uninterrupted views of North Beach from the sizable pool area while relaxing on the sun deck or in the jacuzzi.
There are three restaurants here, but the full-service spa with a gorgeous outdoor pool for visitors to use in between treatments is the star of the amenities show.
Free bike rentals, morning beach yoga, and entry to the kids club are additional features.
Key Amenities:
All-suite resort with waterviews
Full-service spa with outdoor pool
Bike rentals, morning beach yoga and kids club access
7. The Diplomat Beach Resort Hollywood, Curio Collection by Hilton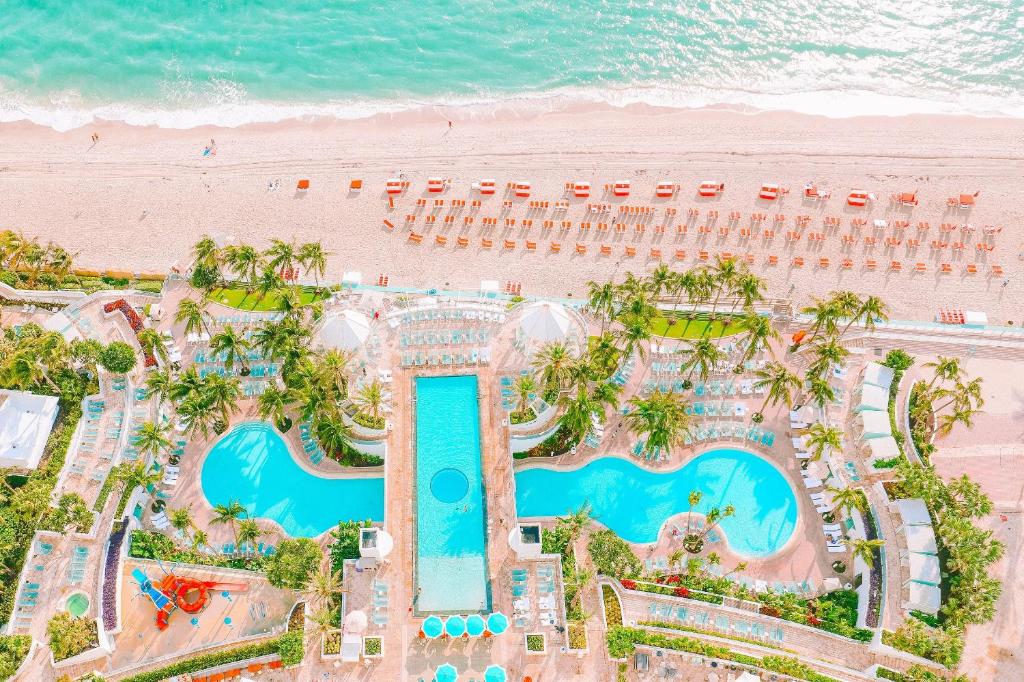 Hollywood, which is located just above Miami, has its own distinct style as well as a very amazing boardwalk area filled with ice cream parlours, gift shops, and a variety of delicious restaurants.
However, the lagoon-style pool area with rentable cabanas and waterside service can make you never want to leave.
Waterfalls cascade from the walls of a second pool that overhangs the ground level, providing a sheltered area for relaxation. There is on-site fine cuisine, and you are naturally on the beach.
Key Amenities:
Lagoon-style pool with cabanas and waterfalls
Dip and slide splash pad for kids
1,000 feet of beach access with watersports
8. Hilton Cabana Miami Beach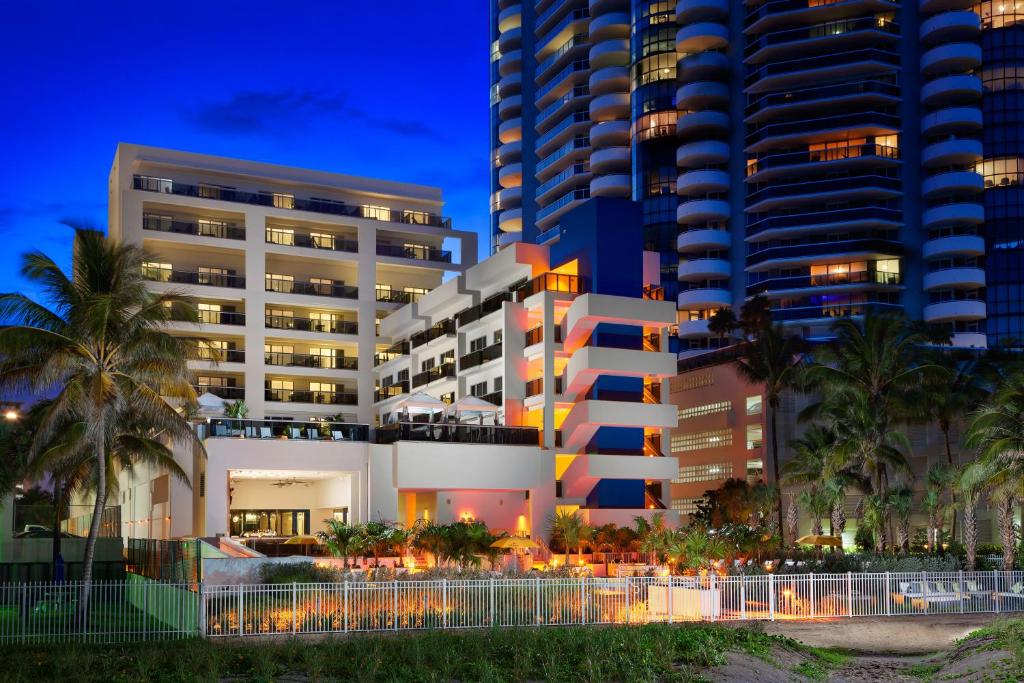 Naturally, there is a Hilton in this well-known Florida town, and it looks a lot like Miami. As soon as you walk into the Collins Avenue site of the Hilton Cabana Miami Beach, you'll feel like you're living the high life.
Explore the area's well-known eateries and shopping, relax by the pool or unwind with a drink at the outdoor bar. To complete the entire Miami experience, there is a private beach and a bar with beach service.
Key Amenities:
Two ocean-view outdoor pools and poolside cabanas
Private beach and bar with beach service
Complimentary bike rentals
9. Hilton Clearwater Beach Resort and Spa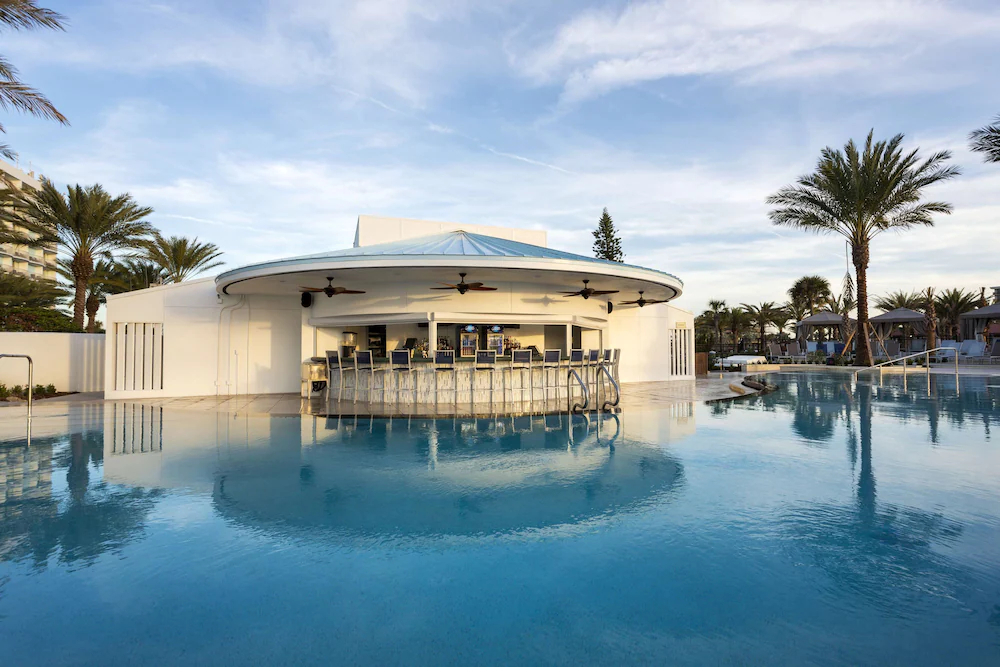 The Hilton Clearwater Beach Resort and Spa is located on the barrier island next to Tampa, and its beaches include sugar-soft sand and stunning teal sea.
The culinary service is excellent, and the pools have a premium feel. The hotel offers a tiki bar, private cabanas and four covered decks right on the beach.
The on-site spa offers lava shell and hot stone massages, as well as treatments for tanned skin and pedicures.
Key Amenities:
On-site spa with lava shell massages and Vichy shower room
Four beachside covered decks and pools
Private cabanas and beach tiki bar.
9 Best Hilton Hotels and Resorts in Florida 2023 – Newshub360.net
Related Post

Credit: www.Newshub360.net