The Best Museums in Chicago 2023:The city of Chicago is home to a diverse range of cultural institutions and museums, many of which are regarded as among the best in the world.
Do you want to view first-ever works created by renowned artists? Visit the Art Institute or the Museum of Contemporary Art. both are excellent choices. Do you like anything and everything that has to do with natural history and dinosaurs?
Then the Field Museum is eagerly awaiting your arrival.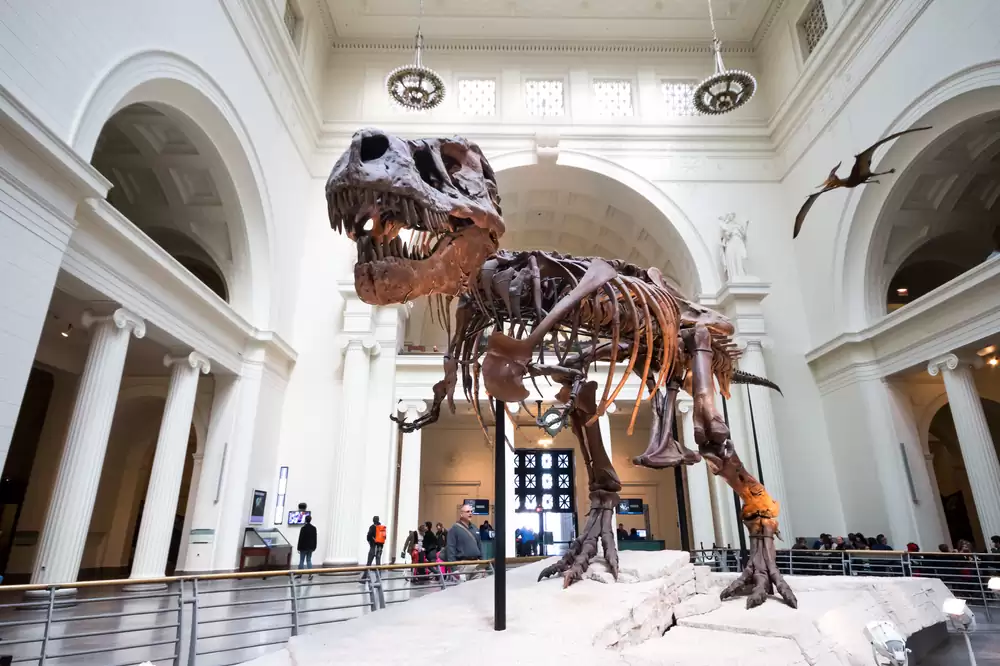 It doesn't matter if your interests lie in art, science, history, or architecture; a visit to one of Chicago's numerous museums is one of the city's most popular tourist destinations and a fun way to pass some time.
In addition, you won't have to empty your savings account because the majority of museums host free days or provide free entrance throughout the whole year.
Therefore, schedule a day to visit some of the greatest museums in Chicago, and be ready to pick up some new information.
The Best Museums in Chicago 2023
1. The Art Institute of Chicago
When you get close to the Art Institute of Chicago, you'll notice the famous pair of bronze lions that stand in front of the building.
You are going to have a great time exploring the over 300,000 works of art that are housed in the collections. These works include anything from ancient relics to impressionist paintings and more.
There are also displays of architecture, including the Prairie school, which is a design aesthetic that mimics the patterns seen in nature.
The structures of prairie schools gave the impression of being low to the earth and mimicked the lines of the grassland horizon.
Visit the museum and take in its permanent collection, which features works like as Georges Seurat's "A Sunday on La Grande Jatte" and "Nighthawks." After that, sate your appetite at one of the food trucks that are located outdoors, along Michigan Avenue and Monroe Street.
2. Chicago Architecture Center
2018 marked the year that the Chicago Architecture Foundation opened the doors of the Chicago Architecture Center.
As you enter the structure, you will be greeted by life-size replicas of skyscrapers located in cities all around the world, in addition to the Chicago Gallery.
The CAC is a non-profit organization that provides a total of 85 unique tours, in addition to a variety of other activities like as exhibitions, seminars, and classes.
The John Hancock Center, the Willis Tower, and a number of other historically significant structures are some of the highlights of the most popular type of walking tour in Chicago, which lasts for ninety minutes and takes you through The Loop.
3. Museum of Contemporary Photography
This museum may be found on the campus of Columbia College Chicago, which can be accessed through South Michigan Avenue. Artists such as Ansel Adams and Irving Penn have displayed their works here for visitors to view.
In addition to the groundbreaking new photography that was created by artists from all over the world, the Museum of Contemporary Photography has a permanent collection of their work. It is a fantastic opportunity to observe how various kinds of photography have developed throughout time.
In addition, there are digital resources available, such as the Midwest Photographers Project, which may be found in the Print Study Room. This project is a collection of photographers' portfolios from the Midwest.
4. Chicago Money Museum (Best Museums in Chicago)
The Money Museum is located within the Federal Reserve Bank of Chicago, and it is highly recommended that everyone who has an interest in economics spend some time there.
You will get the opportunity to have an insider's look into the workings of the financial system in the United States.
You owe it to yourself to check out the exhibits of a million dollars at the very least; you might be astonished by how much room they take up.
You may also learn a lot about the history of money not only in the United States but all across the world by taking tours inside the building while it is open for business.
This is a wonderful place to go because it is located on LaSalle Street and it does not charge any entry fees. It is highly recommended that you go to the gift store in order to get some interesting souvenirs.
5. Chicago History Museum (Best Museums in Chicago)
This museum in Old Town, which was once known as the Chicago Historical Society, gives visitors the opportunity to learn more about the illustrious history of the city of Chicago.
You may find out everything there is to know about historical occurrences like the Great Chicago Fire of 1871 (which was to blame for the destruction of this museum) and the World Columbian Exposition of 1893.
You will learn a lot about the history of the city by exploring the interactive galleries and amazing dioramas.
You will gain knowledge on a wide range of topics, including significant historical personalities (such as Abraham Lincoln), sports, and even the components of a Chicago-style hot dog.
Registering for access to the Research Library, which has an incredible collection of papers, artifacts, and images, is open to anybody who has a desire to gather information on Chicago events for a project.
6. Museum of Contemporary Art Chicago
The majority of the exhibits at the MCA Chicago are focused on temporary special displays due to the museum's relatively modest permanent collection. Recent examples include "The Octopus Eats Its Own Leg" by Takashi Murakami and "David Bowie Is" by David Bowie.
The Museum of Contemporary Art, which is located on Chicago Avenue, houses a variety of unorthodox works of art in addition to traditional mediums such as paintings and sculptures.
Witness captivating performances on stage and indulge in gastronomic masterpieces inspired by the changing seasons.
Visit the gift shop to look at or purchase some fantastic and infamously strange items to take home with you.
After viewing these modern works, visitors who are feeling peckish can satisfy their hunger at the restaurant-café that is located on the premises.
7. Pritzker Military Museum & Library
The Pritzker Military Museum & Library is a multi-story museum and library in downtown Chicago, Illinois, that is dedicated to the preservation of military history as well as the education of the general public on this topic.
It has evolved into a meeting spot for those who have served in the military in the past as well as those who are currently serving.
In addition to the many rotating exhibits, there are also activities that take place throughout the year.
You will be able to view a variety of items, including letters written by active troops, significant images, medals acquired throughout numerous conflicts, and more.
8. Chicago Cultural Center (Best Museums in Chicago)
The Chicago Cultural Center, which can be found in the city's central business district, once served as the city's primary library when it first opened its doors in 1897.
It is widely acknowledged as being among the most eye-catching examples of architecture in the Beaux-Arts style to be found in the United States.
It has been transformed into a center that is used for hosting special events, in addition to the mosaic that predominates the Washington Street Lobby and the Tiffany Dome, which is made of stained glass.
At any given moment of the year, there are free concerts, cultural celebrations, and exhibitions on display for the public.
9. Illinois Holocaust Museum & Education Center
Following an attempted Neo-Nazi march in Skokie in 1981, Holocaust survivors established this small storefront museum.
It is currently a complex that spans 65,000 square feet and is the largest Holocaust museum in the world.
The permanent collection of this museum has more than 28,000 artifacts that were given as donations by people who survived the Holocaust and their descendants.
If you are interested in gaining a more in-depth understanding of one of the most tragic periods in recent history, you will find that the images, artifacts, letters, clothes, and testimonies of Holocaust survivors that are shown in this area can provide you with a wealth of information.
10. The Oriental Institute Museum
The Oriental Institute, which can be found on the campus of the University of Chicago in Hyde Park, is dedicated to the preservation and exhibition of artifacts from a wide variety of ancient Middle Eastern cultures.
Clay tablets from Persepolis, mummies, and the Megiddo Ivories (evidence for early internationalism in what is now Israel) are some of the objects that date back as far as 6,000 years that may be found here.
11. Smart Museum of Art (Best Museums in Chicago)
The Smart Museum of Art is another wonderful choice for people who are interested in art and are located in Hyde Park.
This museum creates public activities and exhibits that inspire people to appreciate all types of art. There are around 15,000 pieces in the permanent collection, in addition to rotating exhibits that change every few months.
Some of the artists in the permanent collection include Andy Warhol and Edward Degas.
You are welcome to explore the four galleries that are available for public viewing as well as private visits.
These galleries showcase modern art, contemporary art, European art, and Asian art, respectively.
12. American Writers Museum
Any reader who is interested in literature should definitely check out this museum.
The American Writers Museum, which can be found on Michigan Avenue, demonstrates both the power of the written word and the variety of voices that contribute to its definition.
The American Writers Museum is the only national museum that recognizes the achievements of American authors and the contributions they've made.
You will be able to examine the authors' original manuscripts and gain insight into the histories of many of these influential authors.
13. The Richard H. Driehaus Museum
This museum, which can be found in the Gold Coast Historic District and is accessible through Erie Street, is dedicated to exhibiting Victorian-era works of art and architecture.
Paintings, furniture, sculptures, and works of decorative art from that era may be seen to stunning effect at this museum, which recently marked its anniversary of 14 years since it first opened its doors to the public. In addition, it possesses architectural materials and drawings stored away in its archives.
14. Chicago Children's Museum
This is a wonderful destination for families traveling to Chicago, Illinois, as it is situated near Navy Pier. Children may participate in a variety of hands-on scientific activities and interactive exhibitions designed just for them.
They may learn about amazing scientific phenomena while having fun in water play areas, arts and crafts sections, treehouses, jungle gyms, and sensory play areas.
After your tour of the museum, we recommend that you spend some quality time at Navy Pier, where you may ride the Ferris Wheel and dine at one of the many great restaurants located along the Chicago waterfront.
15. National Museum of Mexican Art
The National Museum of Mexican Art is one of the greatest cultural institutions in the United States that is dedicated to representing the Latino culture.
The museum can be found in the neighborhood of Pilsen, which is known for its vibrant Mexican street murals and art.
There are almost 35,000 works of art at this museum, created by artists from both Mexico and the United States. One of the permanent exhibits, titled "Nuestra Historias," is particularly diverse and interesting.
A portion of the artwork dates back to the time period of BC. You can gain a good deal of knowledge about past events, contemporary societal concerns, photography, and a great deal more.
16. Peggy Notebaert Nature Museum
This museum may be found in Lincoln Park, which is known for its landscaped gardens and prairies. In addition to the biology of a variety of species, you may learn a great deal about ecosystems by visiting exhibitions in Chicago, Illinois, which are open to the public.
This establishment provides narrated walks along the outside nature path, and the Judy Istock Butterfly Haven is where you may be awestruck by the exotic beauty of the butterflies that live there.
Hands-on scientific exhibits that are informative for the whole family and regular animal feedings are also available.
17. DuSable Museum of African American History
This museum is the oldest of the country's African American museums that are run independently, having been established by Dr. Margaret Burroughs in 1961.
The contributions of African Americans and others who campaigned for racial equality are seen in significant events that took place in the United States.
There are more than 15,000 artifacts and papers from the lives of prominent personalities, such as Ida B. Wells and Langston Hughes.
You will get the opportunity to view vibrant works of art created by African Americans, observe informative documentary screenings, and take part in conversations on the history of African Americans.
18. The Field Museum (Best Museums in Chicago)
The South Loop museum campus, which can be found on Randolph Street and extends all the way down to Lake Michigan, is home to a number of the city's most acclaimed cultural institutions.
This museum site also includes the Field Museum, which is home to a number of intriguing exhibits that are devoted to the study of natural history.
Over twenty permanent exhibitions are housed here, some of which include priceless gems, a real preserved Ice Age mammoth, an ancient Egyptian tomb, and the largest and most complete skeleton of a Tyrannosaurus Rex that you can find anywhere.
After that, I suggest going to the museum's bistro bar, which is tucked away in one of the corners of the building.
19. Adler Planetarium (Best Museums in Chicago)
The Adler Planetarium, which may also be seen on the premises of the Museum of Contemporary Art, was the very first planetarium ever built in the western hemisphere.
It is open today and there is no requirement for timed entrance, which makes it simple to incorporate into your trip plan for Chicago.
At this location, you may enjoy incredible sky displays at the Grainger Sky Theater, and then proceed to the Doane Observatory to look through the city of Chicago's biggest telescope that is open to the public.
Anyone who is interested in gaining knowledge in physics and astronomy will find this to be an excellent location to do so. There are also special events, classes, and lectures.
20. Shedd Aquarium (Best Museums in Chicago)
The world-famous museum campus includes a number of different museums, one of which is the Shedd Aquarium.
There are over 32,000 different kinds of creatures here, such as dolphins, sea otters, beluga whales, and penguins.
In seven different permanent exhibits, you can gain knowledge about extraordinary animals from all over the world. Examine up-close views of the marine life in the underwater viewing area.
In addition, the Shedd Aquarium offers a live meet-and-greet experience, a 4-D cinema, and a simulated Caribbean reef that can be walked around in 360 degrees.
21. Chicago Sports Museum
Have you ever been curious about the difference between your wingspan and Scottie Pippen's, or about what's become of the historic ball that Steve Bartman shot?
Then make your way to the museum that is located in Water Tower Place and is connected to the Harry Caray's 7th Inning Stretch restaurant.
You'll get the opportunity to put your athletic prowess to the test in interactive exhibitions while perusing one-of-a-kind memorabilia from Chicago's many different sports teams. Admission to the museum is free with a purchase at Harry Caray's.
Best Museums in Chicago 2023 – Newshub360.net
Related Post
Credit : www.Newshub360.net