Best Hikes in Colorado. It can be overwhelming to consider the myriad hiking routes and potential destinations. That's why we compiled this list of the best hikes in Colorado.
One can take a leisurely one-mile stroll at Maroon Bells, while others can challenge themselves with an eight-mile round-trip to a gushing waterfall in Rocky Mountain National Park.
This collection of trails in Colorado is ideal for exploring the state's wide range of landscapes and climates during a vacation.
2023 Best Hikes in Colorado
1. Emerald Lake Trail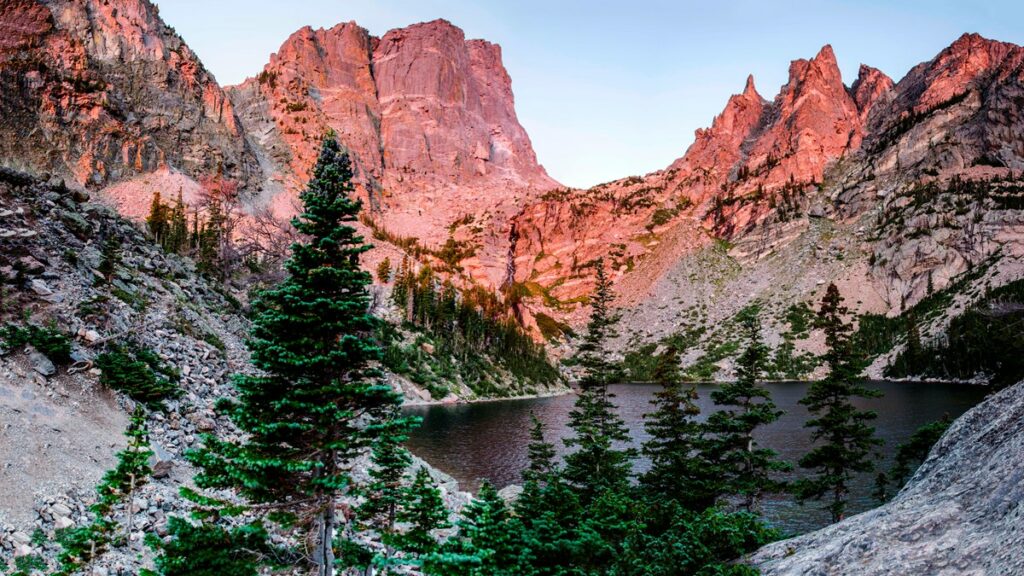 One of the most well-known trails in Colorado is the Emerald Lake Trail, which leads through Rocky Mountain National Park. This out-and-back hike is perfect for families or those who aren't used to the high altitude.
This trail is 3.2 miles long and passes several beautiful lakes in the alpine region. The smallest of the lakes is Nymph Lake. Next, you'll see Dream Lake, where you might spot a herd of elk and even a rainbow trout swimming in the water. At last, there's Emerald Lake, bookended by the towering peaks of Hallett Peak and Flattop Mountain.
If the stunning surroundings have you yearning for more, venture away from the crowds. There is a trail junction to the east of Dream Lake that will allow you to continue your hike to Lake Haiyaha. This side trip is fantastic because it takes you to the park's historic core away from the madding crowds.
2. First and Second Flatirons Loop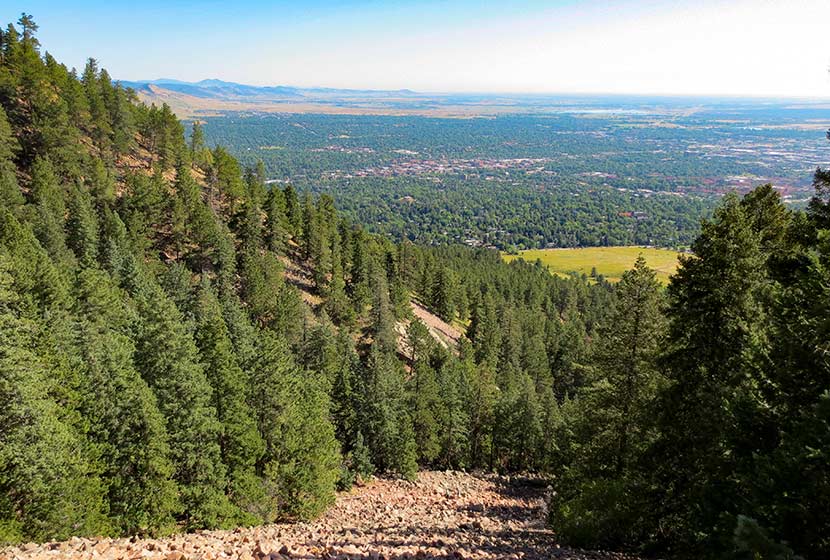 One of the best hikes in Boulder, Colorado is the First and Second Flatirons Loop. Although this trail is considered moderate, its elevation gain of over 1,400 feet may prove challenging for some hikers. The stunning front range panoramas, however, make the climb worthwhile.
The trail's proximity to the city makes it popular, but users should be prepared for heavy foot traffic. Visiting during the off-season or on a weekday will increase your chances of finding a parking spot in the lot. On the other hand, there is parking in the surrounding areas. Take advantage of the complimentary Park-To-Park shuttle service to get to the Chautauqua Trailhead.
3. Longs Peak – Keyhole Route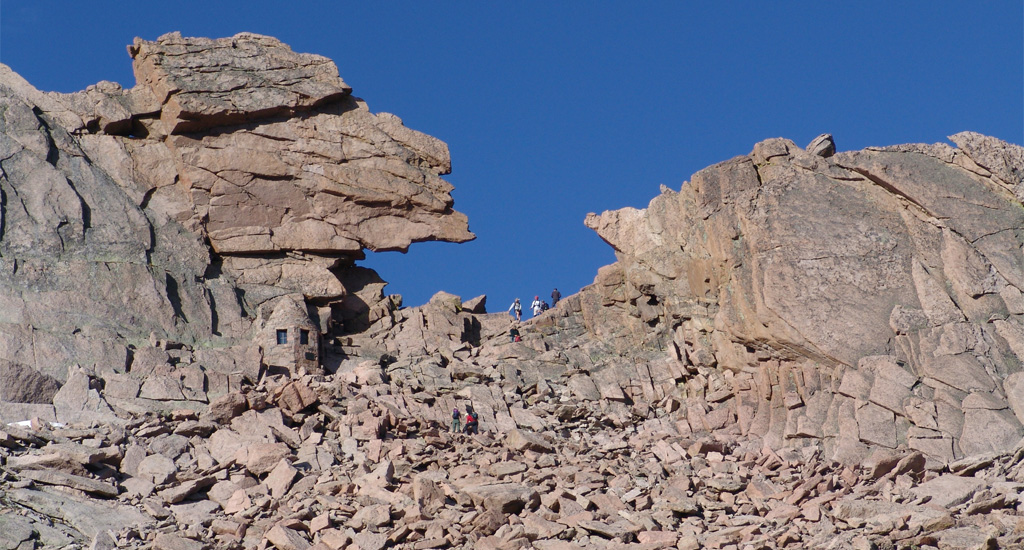 One of the most well-known trails in Rocky Mountain National Park is the Keyhole Route, which leads to the peak of Longs Peak. Although this is a well-traveled path, novice hikers should not attempt it.
Longs Peak, the highest point in the Park at 14,259 feet, is an instantly recognizable landmark. Hikers who want to summit in a day must set out before sunrise to beat the afternoon storms. The hike usually takes between 10 and 15 hours, so some people opt to spend the night in a tent at the Boulder Field before making the ascent.
High exposure and scrambling are required to reach Longs Peak. This path is treacherous due to the steep cliffs, precarious ledges, and crumbling rock. Possibilities may also be impacted by the higher altitude. However, those who have courage and skill will benefit greatly from the challenge.
4. Hanging Lake Trail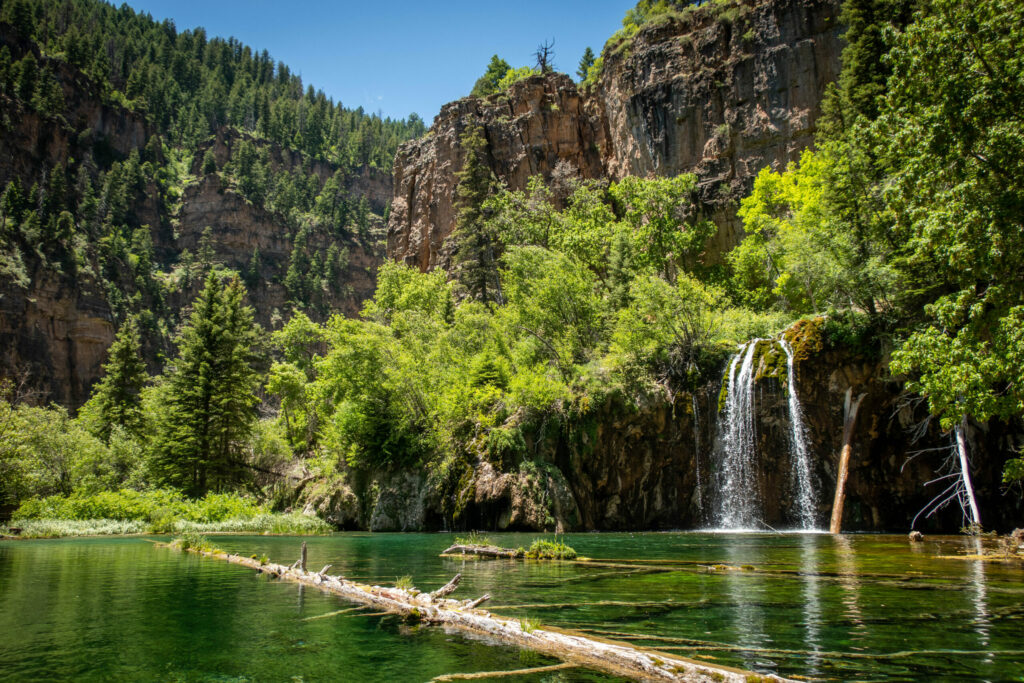 The trail to Hanging Lake in the Rocky Mountains is beautiful. The 1.5-mile climb has a moderate degree of difficulty but gains nearly 1,200 feet in elevation.
Be sure to bring lots of water. The trail includes some rock scrambling, so a hands-free water reservoir is recommended. Most backpacks have enough room for these bendy pouches.
As you hike along Dead Horse Creek, you'll have to cross a few different wooden bridges. Near the summit, there is a detour that leads to Spouting Rock, a waterfall that shoots straight out of the rock.
After that, follow the handrail down to Hanging Lake. The sight of several waterfalls draining into the turquoise pool is breathtaking. Glenwood Canyon, to the south, is a sight to behold.
5. Sky Pond – Glacier Gorge Trail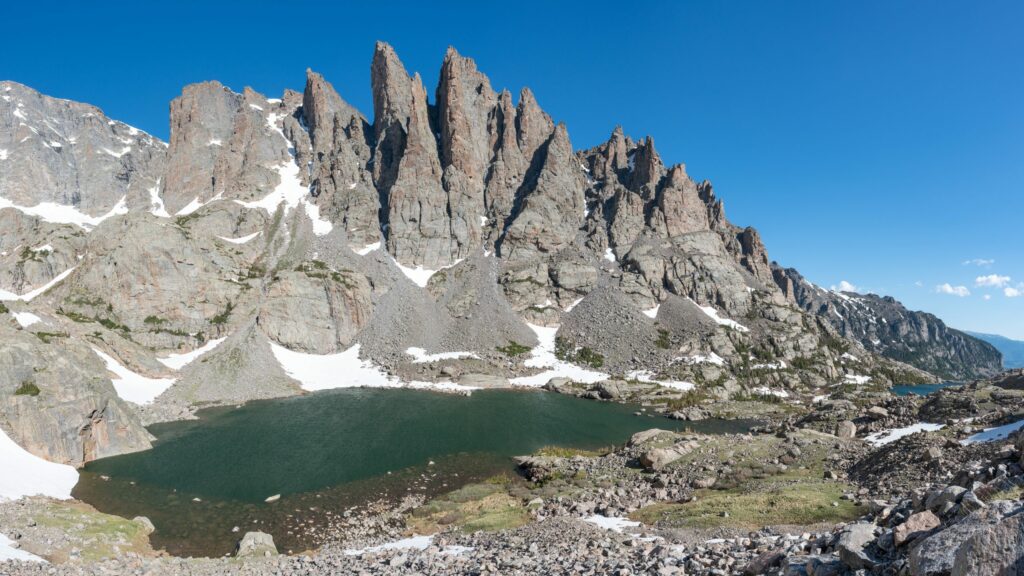 Are you looking for a trail that is less crowded in Rocky Mountain National Park? Sky Pond, reached via Glacier Gorge Trail, is a wonderful place to unwind in solitary splendor amid breathtaking natural beauty.
In order to get to Alberta Falls, a popular waterfall hike close to Denver, many people park at the Glacier Gorge parking lot. Visitors quickly disperse once they move on from the main draw. From here, you can hike past several blue lakes in the alpine meadows.
We start with The Loch, then move on to Lake of Glass and Timberline Falls. In the distance, the jagged peaks of Petit Grepon, Sabre, and Sharkstooth reveal Sky Pond. Contrasting with the dramatic, rugged scene are the soft blooms of wildflowers and the gentle trickle of a nearby waterfall.
Because of the journey's length and isolation, a GPS unit could prove useful. Many modern devices have built-in communication features and digital maps make it easy to navigate unfamiliar territory in case of an emergency. But if you're heading into the Colorado mountains, a dependable compass is an absolute must.
6. Mount Bierstadt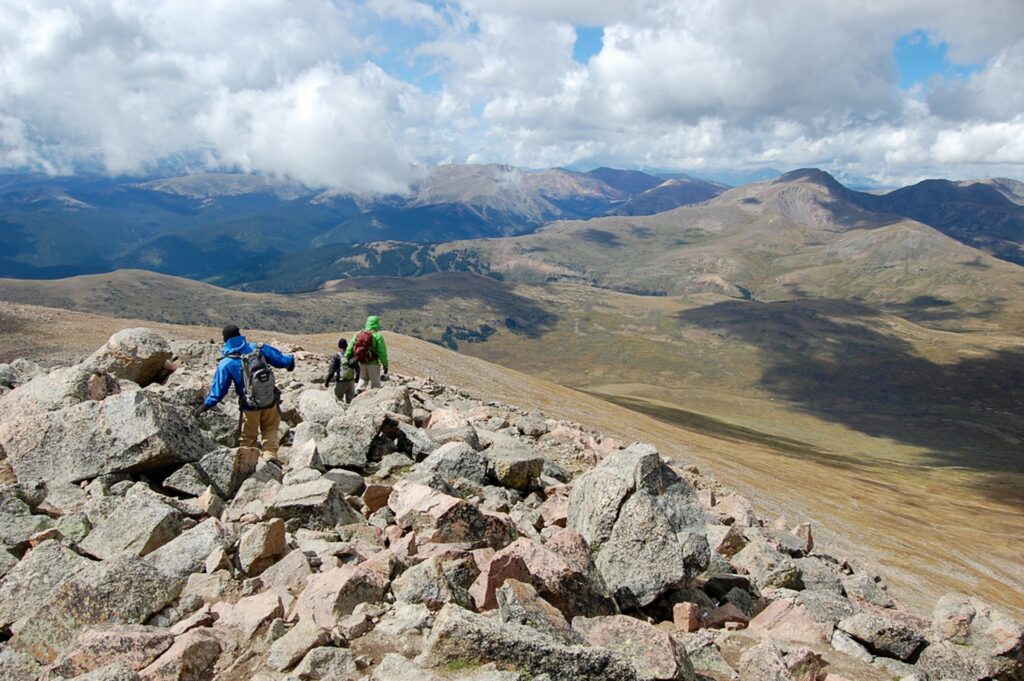 Trailhead parking for Mount Bierstadt can be found along the seasonal Guanella Pass Road. Even though you can't do this hike in the winter, it's definitely worth doing when the weather is warmer.
When the snow finally melts, the meadows and surrounding landscape become carpets of wildflowers. The surrounding Arapaho National Forest and other mountains can be seen in their entirety from the peak. The Continental Divide is home to several such peaks, such as Grays Peak and Torreys Peak. Mount Evans, the neighboring peak, can be reached by traversing the Sawtooth Ridge via Class 3 climbing.
Like many others, Mount Bierstadt was the very first Colorado Fourteener I ever climbed. Because of its proximity to Denver and easy hiking route, it serves as an excellent training ground for summiting 14,000-foot peaks.
However, keep in mind that no trek up a 14er can be described as "easy." Get going early so you can beat the afternoon storms, and pack accordingly. Bring along plenty of fluids, clothing to shield you from the cold and the sun, and a basic medical kit just in case. Hiking in Colorado's blistering heat is no joke, so be sure to bring blister balm.
7. Crater Lake – Cascade Creek Trail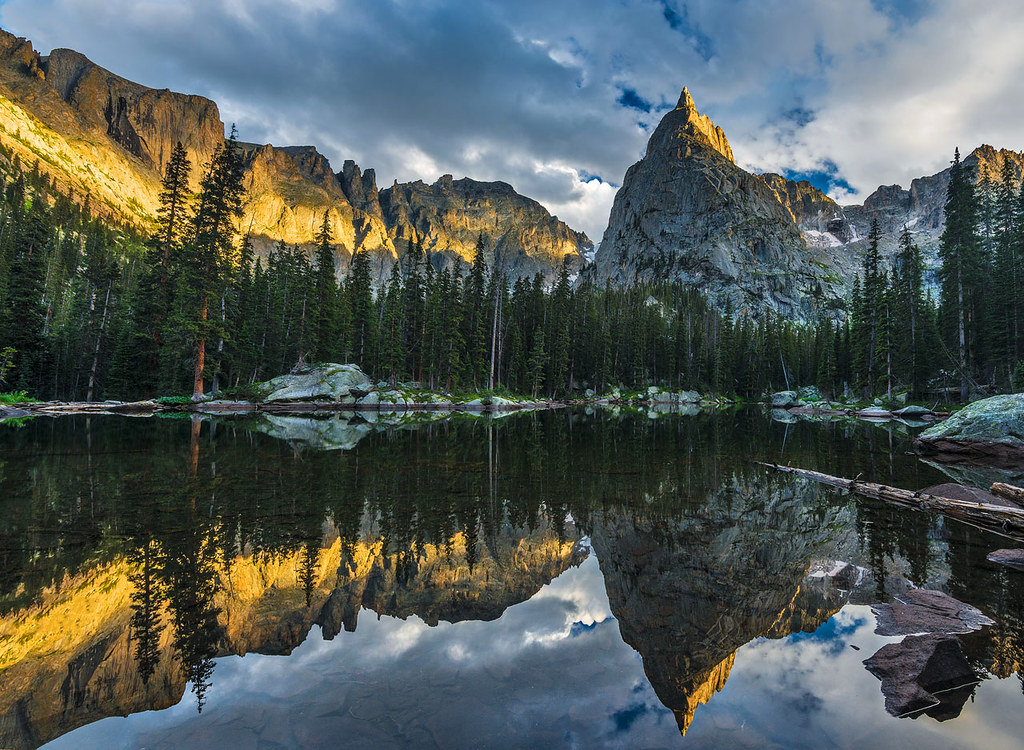 Some of the best hiking in Colorado can be found along the Cascade Creek Trail to Crater Lake. This trail is ideal for beginners to backpacking because it is well-used and has easy access to water.
Follow Arapaho Bay Road (CR 6) around Lake Granby to the trailhead for Monarch Lake. During the winter months, this dirt road is typically impassable.
In contrast, the area is bustling with hikers from all over during the summer. Since Monarch Lake Loop is one of the most popular day hikes in the area, the trailhead tends to get quite crowded.
After the first few miles, however, the trail becomes less crowded and the scenery improves even further. Mirror Lake can be reached by hiking up switchbacks and through flower-filled alpine meadows. At this vantage point, you can see Lone Eagle Peak and Crater Lake is only a half-mile away. Best Hikes in Colorado.
8. Perkins Central Garden Trail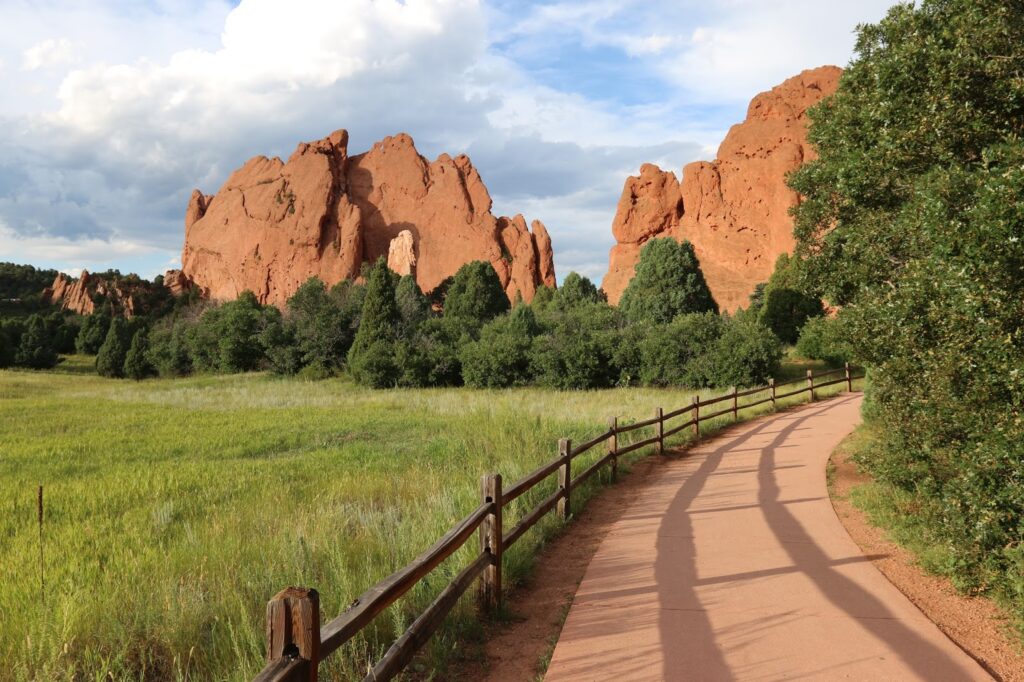 Visiting the Perkin Central Garden Trail is enjoyable at any time of year. Exerting oneself physically is a prerequisite for many of Colorado's best hikes, but the rewards are worth it. The Garden of the Gods, however, is not like that at all.
This hike is great for families because of its accessibility and low elevation gain. This trail loops around the park's core, bringing you close to some impressive sandstone cliffs. A rock climber or two can usually be seen making their way up the vertical routes.
This classic Colorado trek can be extended with little effort. Carry on down Scotsman Trail for access to the park's southern features and picnic tables. Alternatively, you could return to the parking lot and hike across the street to access Palmer Trail, which offers stunning views of the surrounding area. There's a chance you'll see Pikes Peak, Colorado's highest point.
9. Ice Lakes Basin
One of the most enjoyable trails in Colorado is Ice Lakes Basin, which is located in the San Juan Mountains. It's a very popular hike despite being considered challenging and located far from major cities. Visitors come from all over the world to see the famous alpine lakes in Colorado.
Park at South Mineral Campground, then walk across the street to the trailhead. You'll gain nearly three thousand feet in elevation on this seemingly never-ending series of switchbacks. But around every bend are more stunning vistas of flora and fauna, including waterfalls and, finally, alpine lakes.
You'll pass Lower Ice Lake first, but you shouldn't stop there. Ahead of you is Upper Ice Lake, the true highlight of the trip. The turquoise pool is stunning in its setting between 13ers Golden Horn, Pilot Knob, and Vermillion Peak.
Island Lake, another must-see in the San Juan, is another 1.5 miles further along your hike. You'll find the 3.2-mile marker of the spur trail just east of Ice Lake.
10. Star Dune
Hiking up Star Dune in Colorado's Great Sand Dunes National Park is one of my all-time favorite outdoor activities. Most hikers who set out on this path never make it past the so-called "High Dune" false summit. However, you won't see any other hikers between High Dune and the peak, which is still another 2.5 miles away.
Sand makes hiking challenging, but the scenery is incredible. The backdrop of the Sangre de Cristo Mountains is absolutely stunning, and the sand dunes seem to go on forever.
The only thing that breaks the silence is the rhythmic humming of the sand dunes. If you hike along the edge of a cliff, you might send a small avalanche of sand sliding down the face of a dune. Almost like a low note on a string instrument, this causes a vibration that can be heard. I can honestly say that I have never seen anything like it before in all of nature. Best Hikes in Colorado
11. Four Pass Loop
In my opinion, the Four Pass Loop in Colorado's Maroon Bells Wilderness is the best hike in the state. It takes most people three to four days to complete this epic backpacking trip.
The majority of hikers get on the shuttle bus in downtown Aspen and head to the famous Maroon Lake to begin their journey. The West Maroon Trail and the Snowmass Trail split off from each other at about the 1.5-mile mark. The 23-mile loop can be completed in either direction, though most hikers go anti-clockwise.
Four mountain passes (Buckskin, Trail Rider, Frigid Air, and West Maroon) will need to be crossed on this route. Wildflowers, alpine lakes, waterfalls, and an abundance of wildlife make up the landscape's picturesque scenery. Take necessary safety measures, as this is bear country. For your safety, it is recommended that you bring bear spray and bear canisters whenever you go hiking in this area.
It's important to note that this is not a trip for inexperienced backpackers. However, if you put in the time and effort required to prepare, you will have a once-in-a-lifetime adventure.
12. Warner Point Nature Trail
When people think of Colorado's National Parks, Black Canyon of the Gunnison is often at the top of the mind of extreme sports enthusiasts. Rock and ice climbers flock to Colorado's vertical faces, including the state's tallest cliff, Painted Wall. Experienced kayakers come here to tackle the Colorado River's most difficult rapids.
The rim of the Black Canyon of the Gunnison is beautiful enough for ordinary hikers to enjoy. The 1.5 miles of Warner Point Nature Trail have minimal elevation change and are therefore very manageable. The trail provides stunning vistas of the inner canyon as well as the surrounding mountain ranges.
Be sure to find out the state of the area right now before you go there. The park is inaccessible during the months of November through April due to the closure of South Rim Road.
13. South Colony Lakes Trail
From Great Sand Dunes National Park, many people have gotten a good look at the Crestone Group. The South Colony Lakes Trail, however, brings you within striking distance of all three mountains—Humboldt Peak, the much-publicized Crestone Needle, and Crestone Peak. Those last two are among the most challenging 14ers to climb.
Although this trail does not involve Class 3 climbing, it is still a strenuous ascent of nearly 2,300 feet. Some high-clearance vehicles can make it along the first two miles of the trail, making the hike shorter.
After you get through this part, the hike becomes one of the best in Colorado due to the breathtaking scenery. The Sangre de Cristo Wilderness features a waterfall, flower-filled meadows, and rugged mountain peaks.
Adding some backcountry backpacking to your trip is a great way to see more of the area. There are a total of 40 scattered campsites in the basin, plus a few more near the road and the trailhead.
14. Fish Creek Falls
Steamboat Springs is more well-known as a ski destination, but the area is also home to some fantastic trails. One of the most well-known trails, Fish Creek Falls leads to a stunning waterfall that drops from a height of 280 feet.
This rocky path is a challenging ascent of 1,450 feet. The majority of hikers reach Upper Fish Creek Falls before turning around, making their total distance traveled 4.7 miles.
Some people keep going to Long Lake, but be aware that doing so will extend your trip by 7.6 miles. Yet others opt for the quick and easy 0.3-mile paved path that leads to the falls' observation deck.
Regardless of your level of expertise, you should not miss this destination in Routt National Forest. Read my guide to the 21 top attractions in Steamboat Springs before you plan your Colorado road trip.
15. Royal Arch Trail
Hiking opportunities abound in Boulder, making it one of the best day trips from Denver. The Royal Arch Trail, which leads to a spectacular arch in the rock, comes highly recommended by residents.
Chautauqua Park is the starting point for the journey. From here, you can access a network of trails, many of which connect to the path to Royal Arch.
The shortest distance is only 3.1 miles, but the steep, rocky, and switchbacking path to get there is quite treacherous. Hikers who make it to the end of the trail will be treated to a breathtaking panorama. Best Hikes in Colorado
Twenty feet in height, the stone arch welcomes exploration from any angle. Beautiful year-round are the vistas over Boulder and into Bluebell Canyon. However, I prefer going in the winter when there are fewer tourists. If you do, make sure your shoes have good traction!
Best Hikes in Colorado 2023[UPDATED] – Newshub360.net
Related Post
Credit : www.Newshub360.net