The Top 20 Best Hot Springs in Colorado to Escape the Cold This Season. Not many places in the world have pools heated by hot water that naturally rises from deep within the earth.
It is said, however, that Colorado is home to 93 of these miraculous thermal springs, of which about 30 have been transformed into bathing ponds, many of which are located outdoors and offer stunning views of the surrounding mountains.
These enchanted locations have been used for centuries as places of solace and recovery.
These thermal springs are naturally rich in minerals like calcium, magnesium, sodium, potassium, and lithium; the indigenous peoples of the area referred to the waters as "medicine waters," and now, people from all over the world come to soak in them.
Indulge in a soothing bath in one of Colorado's many natural hot springs while taking in the state's signature mountain scenery and bracing alpine air.
Hot Springs in Colorado to Escape the Cold This Season 2023
1. Mount Princeton Hot Springs Resort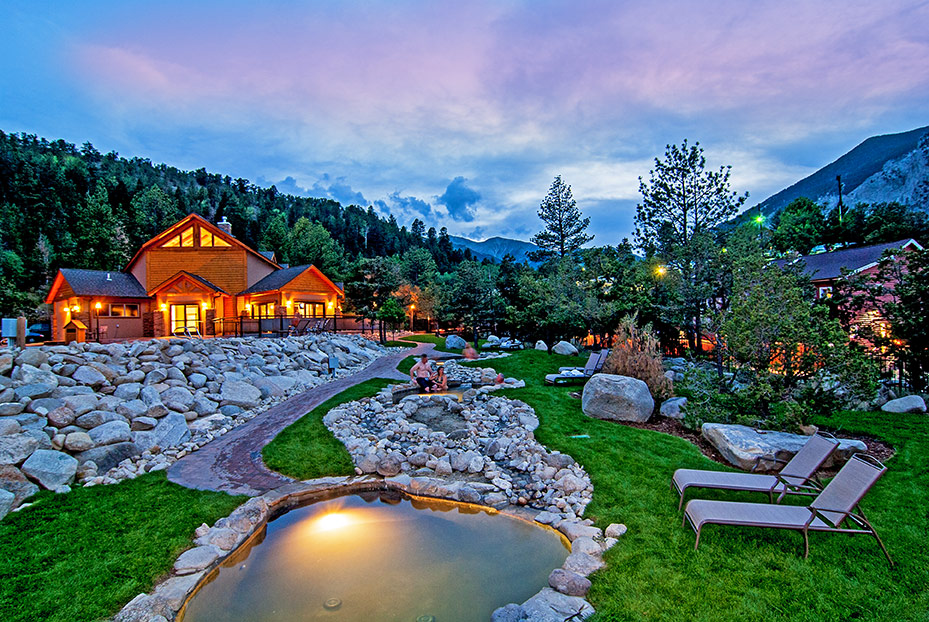 The resort at Mt. Princeton Hot Springs features a Creekside infinity pool, a historic bath house, and natural hot springs. Plus, there's a water slide that's 400 feet long and sure to be a hit with the little ones.
The spa and nightclub are restricted to those aged 16 and over. In addition to its natural hot springs, this resort also features rooms, a restaurant, a juice bar, and fitness and yoga sessions.
2. Hot Sulphur Springs Resort & Spa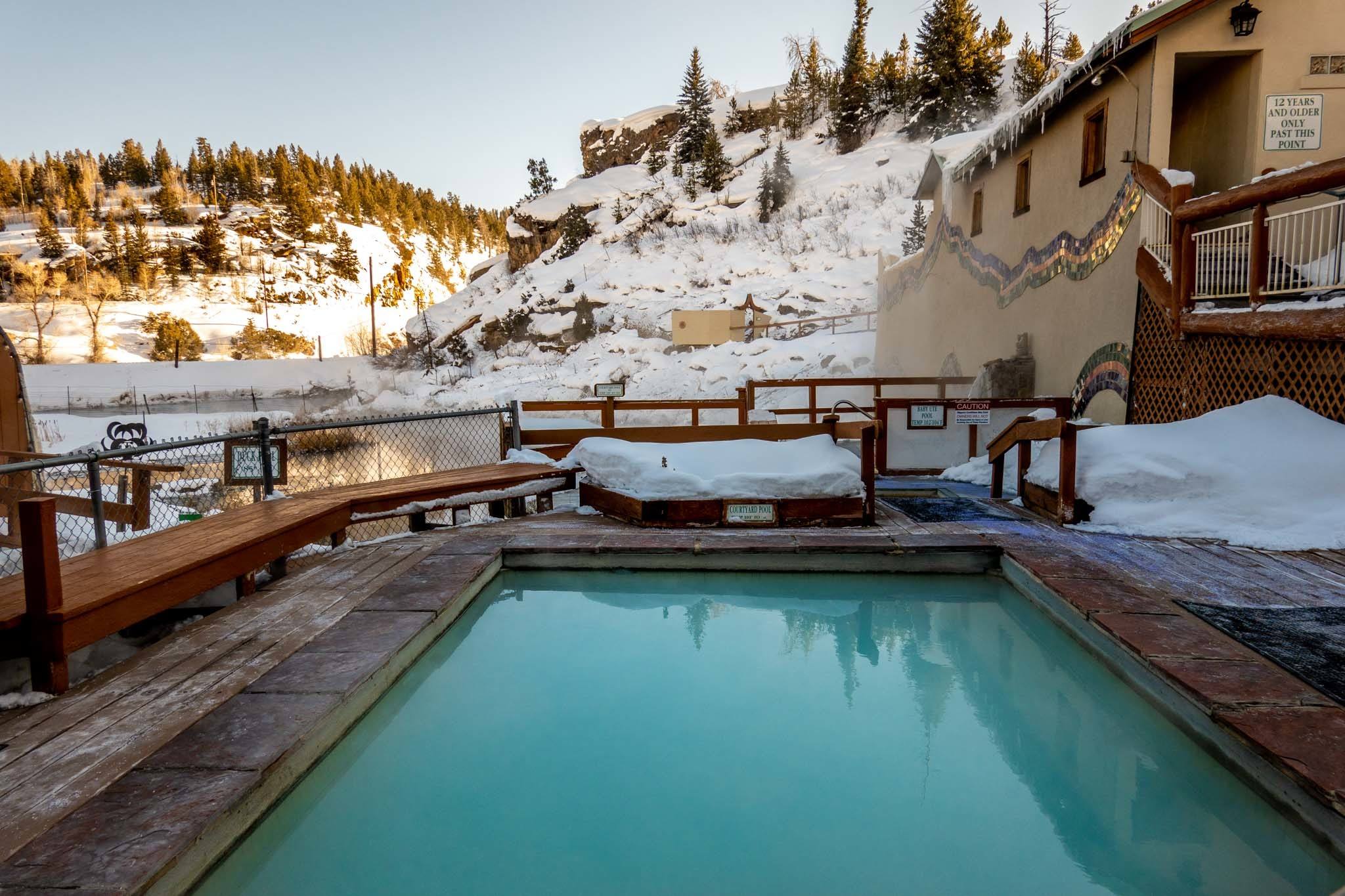 After a day of hiking or skiing in Rocky Mountain National Park or Winter Park, relax your sore muscles at the Hot Sulphur Springs Resort.
Historically, the Utes enjoyed these hot springs, and in 1997, a tribal leader from the Ute people came to bless the resort's opening.
Guests can relax in one of numerous temperature-controlled mineral water pools.
3. Strawberry Park Hot Springs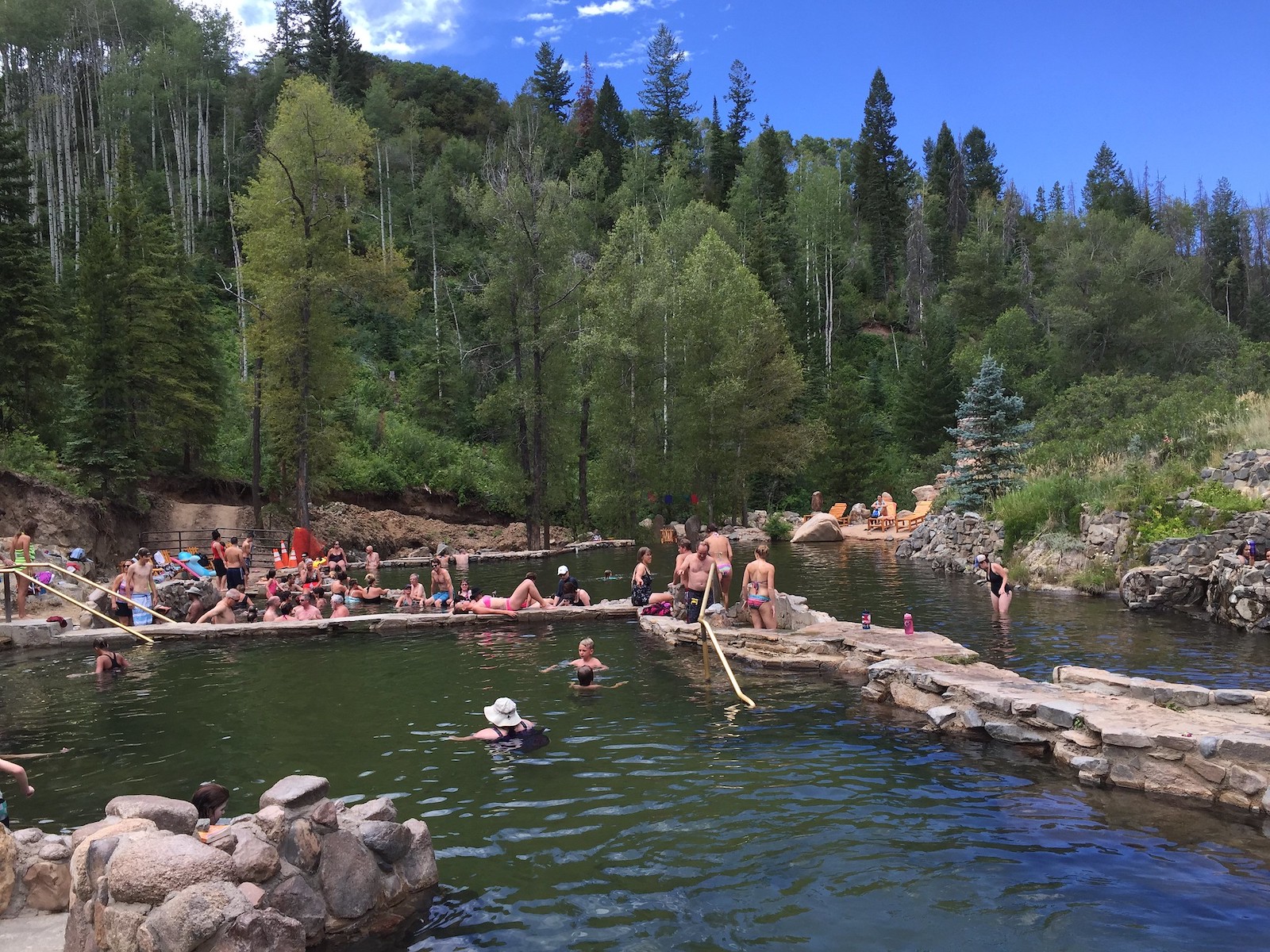 About seven miles from Steamboat, Strawberry Park Hot Springs is less developed than other, more upscale hot springs resorts.
Upper soaking pools are warmer than lower soaking pools due to their location near the point where water from Hot Spring Creek combines with cold river water.
After dusk, Strawberry Hot Springs becomes a clothing-optional zone, and minors are not permitted. That's one of the best things to do in Steamboat Springs, for sure!
Best Hot Springs in Colorado 2023
4. Radium Hot Springs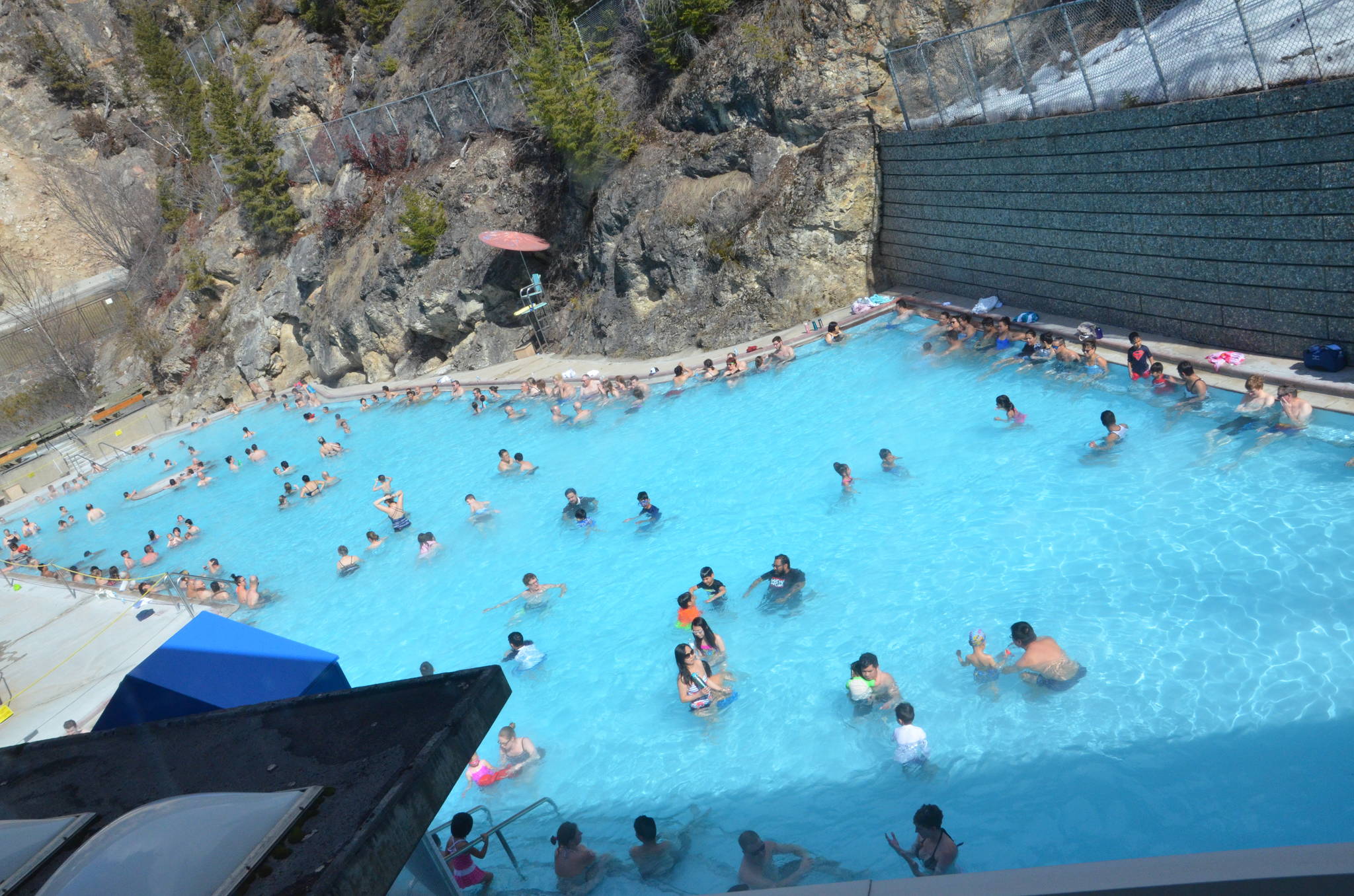 The Colorado River has some natural hot springs that can be reached by hiking between Kremmling and Eagle.
You may raft the river or take a one-mile stroll to get to these hot springs in Colorado.
5. Indian Hot Springs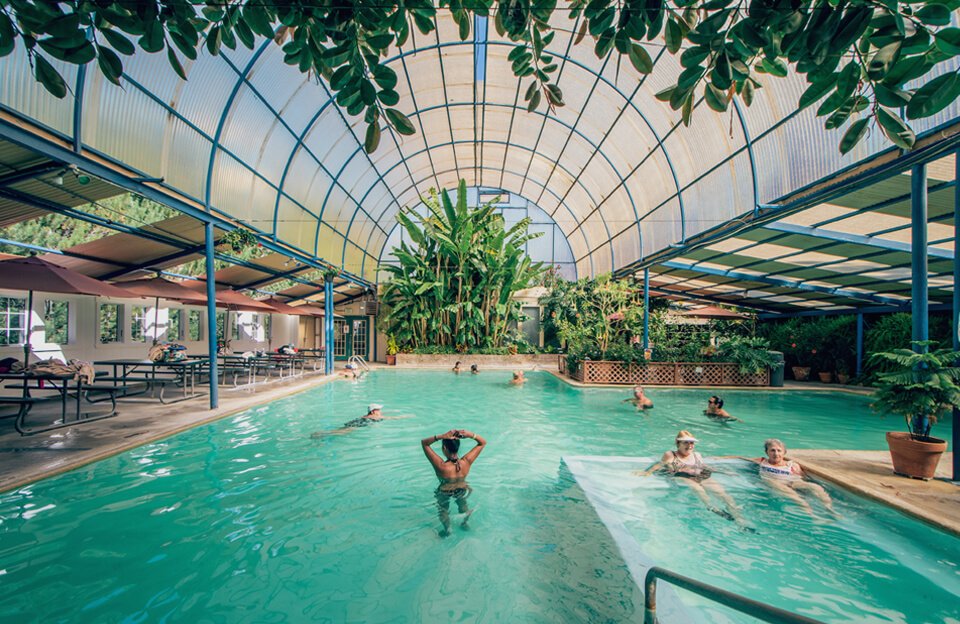 Despite being the least luxurious hotel on this list, Indian Hot Springs is nonetheless the most convenient hot spring for Denver residents.
This means that it can get quite crowded during the peak times of the year; to avoid the crowds, try going on a weekday or during the off-season.
Most places are suitable for children, but if you'd want some peace and quiet, you can book a private bath or vapor cave.
6. Springs of Cottonwood Heat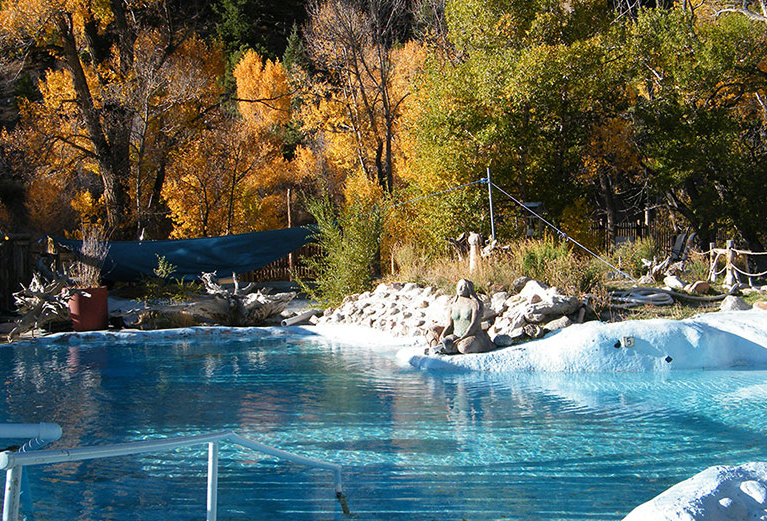 Views of the Collegiate Peaks can be seen from the hot tub at Cottonwood Hot Springs, located outside of Buena Vista. The temperature of the mineral pools varies.
Log cabins are among the available accommodations at Cottonwood Hot Springs, which also features spa facilities and alternative therapies.
There is no WIFI and the atmosphere is calm and peaceful, therefore younger children shouldn't be allowed because they might splash or make noise.
Best Hot Springs in Colorado 2023
7. Conundrum Hot Springs
Some of the most elevated natural hot springs in all of North America may be found in Colorado, but getting there is no picnic.
Located in the Maroon Bells-Snowmass Wilderness, the group faces an 8.5-mile trek before reaching their target. The trail is strenuous since it climbs 2,400 vertical feet.
You'll get to relax in the hot springs and take in the breathtaking scenery of the highlands before making the long journey back.
8. The Springs Resort & Spa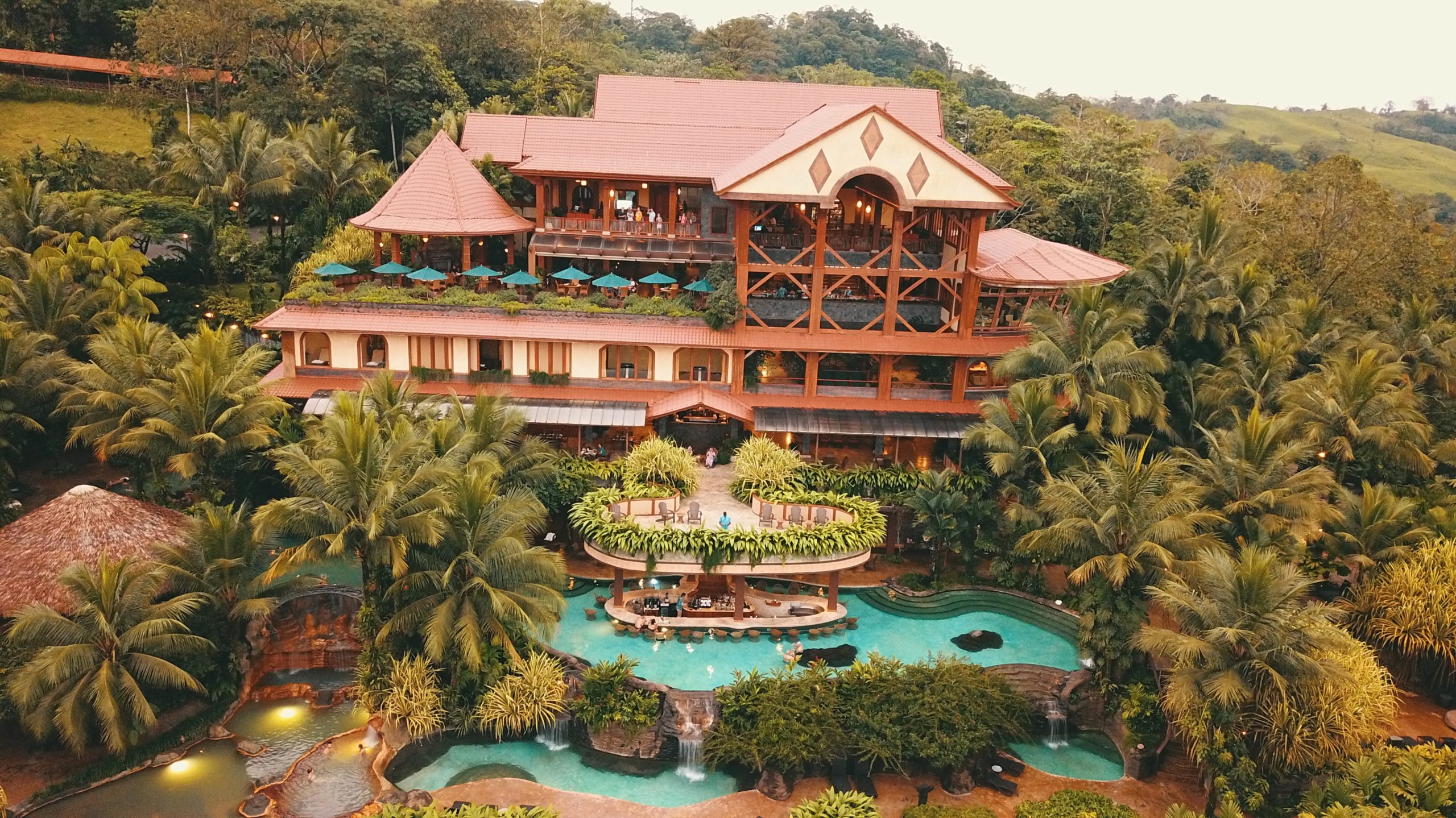 These geothermal hot springs in Pagosa Springs are the deepest in the world. There are 25 different hot spring pools for guests to relax in, ranging in size and temperature.
The Lobster Pot's 108°F water temperature is sure to satisfy those who want scorching hot springs.
You can have a one-of-a-kind experience by sitting right where the mineral waters from the hot springs meet the water from the river. Although there are adult-only hot spring pools, the Springs are mostly family-friendly.
9. Rainbow Hot Springs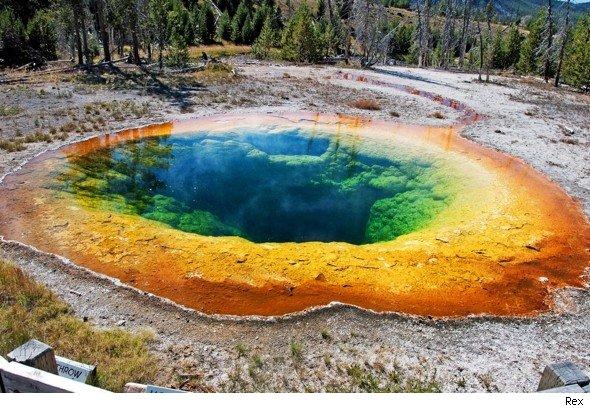 Hikers in Colorado can reach this hot spring after a 4.5-mile journey from the town of Pagosa Springs, located directly to the north.
Previous hikers built the pools along the San Juan River. They are movable, allowing you to let in more or less of the hot springs water or the chilly river water.
10. Salida Hot Springs Pool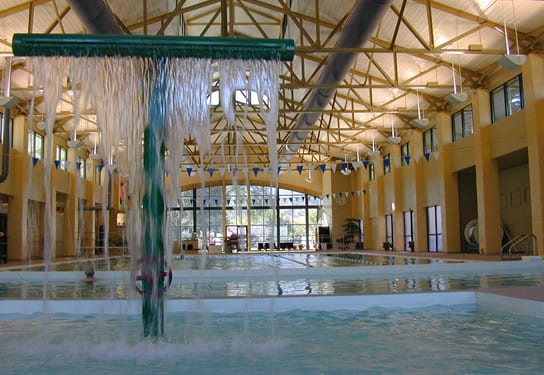 One of the largest indoor hot springs pools in the United States may be found in Salida. Underground springs supply the water for the two hot springs pools.
This pool is located in a recreation center, so it lacks the luxuries found at resorts, but it is still a fun spot to swim laps or relax with the family.
Best Hot Springs in Colorado 2023
11. Valley View Hot Springs Pool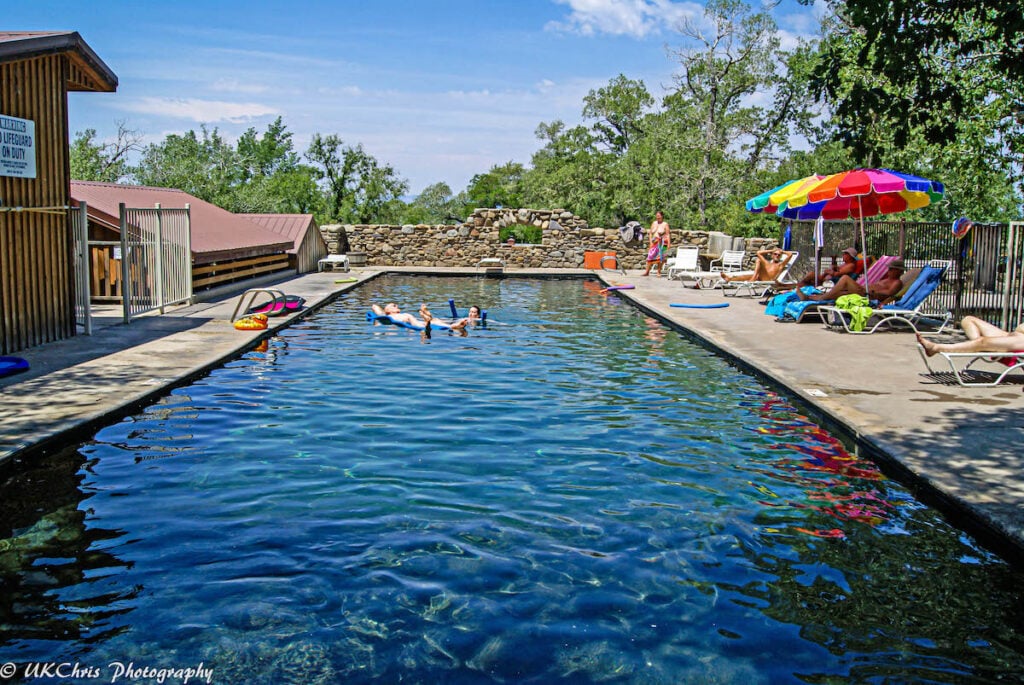 The eco-sanctuary that is Valley View Hot Springs welcomes families and those who like to bathe without clothing.
There is a geothermally heated hot tub and sauna, as well as soaking ponds dotted along hiking trails in the forest.
These hot springs in Colorado have a far more natural feel than a typical resort. Top 20 Hot Springs in Colorado
12. Joyful Journey Hot Springs
At Joyful Journey Hot Springs, you can bathe in a tub while taking in panoramic vistas of the Sangre de Cristo Mountains.
Spa treatments, yoga, and art lessons are all available, as are nourishing meals prepared in the on-site kitchen.
13. Ouray Hot Springs Pool
There are 5 pools to choose from at the pool complex. In addition, the scenery of the nearby mountains is breathtaking.
These Colorado hot springs have a waterslide, making them suitable for families, and also offer pools only for adults.
14. Twin Peaks Lodge & Hot Springs
At the hot springs lodge, guests can bathe in the outdoor hot tub or swim in the heated pool, which is open around the clock. The lodge also features a spa and a restaurant.
15. Durango Hot Springs Resort & Spa
With your pass, you can relax in one of 15 natural hot spring pools, swim in the pool, or indulge in the spa facilities like the dry Finnish sauna, cold plunge, and reflexology trail.
At these Colorado springs, visitors can also enjoy spa treatments and snacks.
You may visit the Pueblo cliff dwellings and Mesa Verde National Park in a day trip from Durango. Learn more about Mesa Verde by signing up for a tour with Viator.
Best Hot Springs in Colorado 2023
16. Dakota Hot Springs
There is a single pool in the hot springs club. The absence of sulfur or iron in the water prevents it from having a sulfur odor.
With the exception of Tuesdays, when swimming suits are compulsory, this is a clothing-optional club. Their website expressly states that minors are not permitted at this time.
17. Glenwood Hot Springs Resort
I-70 westbound drivers have a good chance of spotting the world's largest hot springs pool. Take a break from your road journey in the Glenwood Hot Springs Pool, or make a weekend of it and stay at the hotel.
The Glenwood hot springs are kid-friendly, and there's also a spa for some peace and quiet.
18. Yampah Spa & Vapor Caves
Some of Colorado's finest natural hot springs may be found near Glenwood Springs. This one offers spa services including vapor tunnels and stream baths.
Do you wish you could have even more fun in Colorado? You can see a compilation of the state's top attractions here.
19. Iron Mountain Natural Spas
While there is no housing at Iron Mountain Hot Springs, there are sixteen hot spring pools to enjoy.
Children are welcome at the family-friendly pool, and adults can find peace and quiet in designated areas.
20. Penny Hot Springs
Penny Hot Springs are natural hot springs that are accessible only by foot. Spring is not the ideal time to come because the pools may overflow due to melting snow. Summer, fall, and winter are much better.
Pack in what you need and take out what you don't use; there are no services here.
If you arrive at these Colorado hot springs and there are already more than four cars in the parking lot, you may want to go elsewhere.
Top 20 Best Hot Springs in Colorado 2023 :Newshub360.net
Related Post
Credit :www.Newshub360.net