How to unlock and rotate the screen on an iPhone. Even while it makes the most sense to have the screen format of your iPhone set to vertical orientation the vast majority of the time, there are times when it is vital to rotate to the landscape orientation.
It's not always best to use the default iPhone screen formatting, whether you're playing a game, watching an episode of your favorite show on Netflix, or looking at high-resolution photographs.
The good news is that rotating your screen is a simple operation that should only take a few seconds to complete. Everything that you need to know is included below.
How to unlock and rotate the screen on an iPhone 2023
Launch a program that allows you to watch content in landscape mode, such as YouTube or Netflix. Instead of holding your phone in the portrait mode, which is the default position, rotate it so that it is held on its side. The material that was previously in portrait mode should now be displayed in landscape mode.
There is a possibility that you have an orientation lock enabled, which prevents the screen from rotating. Activating or deactivating this functionality can be done as follows:
1. To disable Screen Rotation Lock, unlock your iPhone so that you're on the home screen and swipe down from the top right of your screen to reveal the Control Center.
2. Locate the icon featuring a small lock with an arrow curving around it. If Screen Rotation Lock is active, this will appear highlighted. Tap it to unhighlight it, which will disable Screen Rotation Lock and allow your screen to rotate freely.
3. When finished, tap on any unused (free of buttons) space on the screen to return to your home screen. Now, when physically rotating your phone to landscape mode, your screen should follow suit.
Turn Off Orientation Lock on iPhone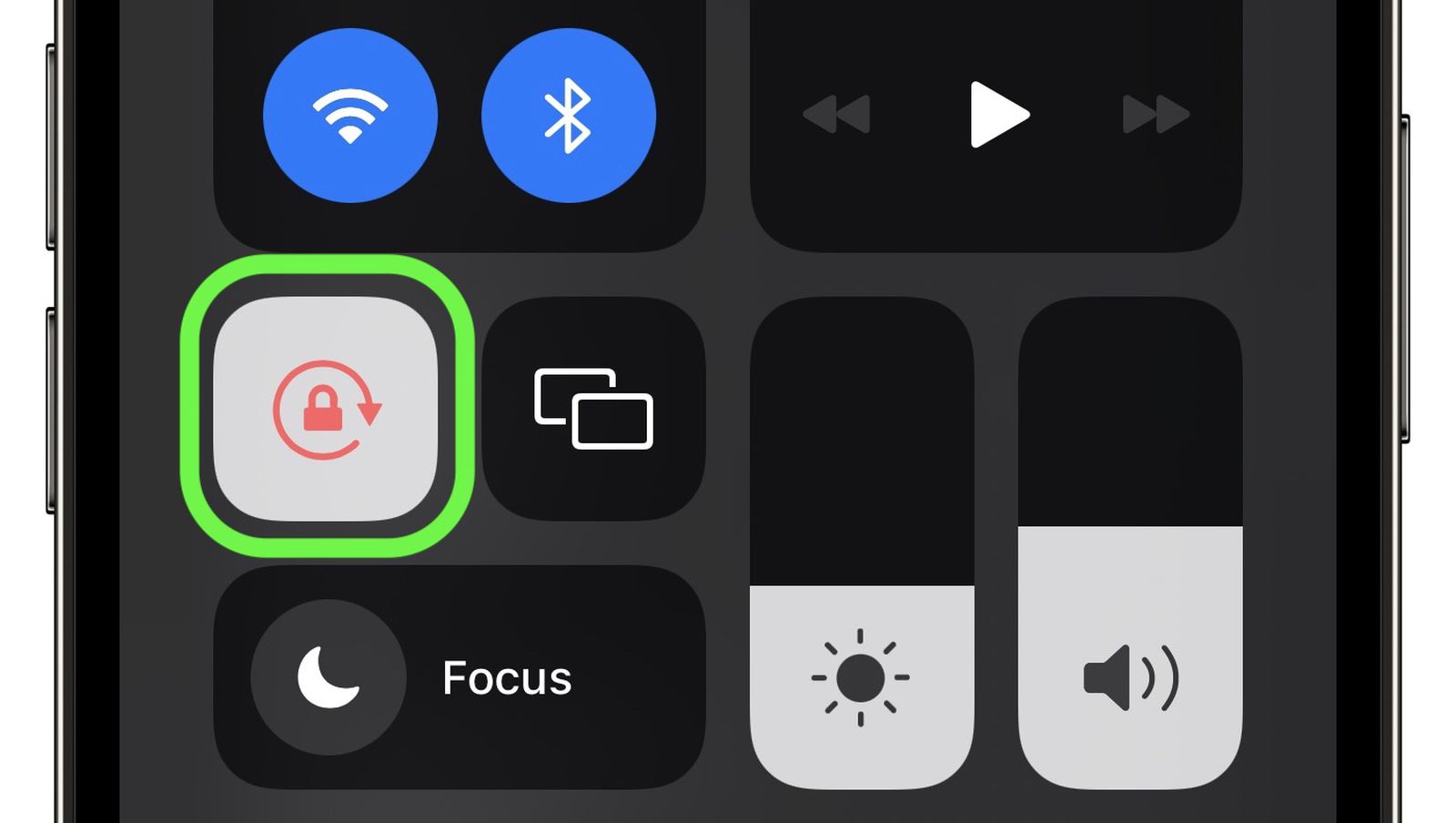 If the display on your iPhone is permanently set to portrait mode and will not rotate to landscape mode, even when you hold the device in a landscape orientation, the Portrait Orientation Lock may be to blame. Thankfully, we can instantly disengage this lock by going to the Control Center on our iOS device.
To access the Control Center on a device with a notch similar to the one on the iPhone X, swipe down from the top-right corner of the screen in the direction of the arrow.
To access the Control Center on an iPhone 8 or an earlier model with a physical Home button, swipe your finger up from the bottom of the screen in the direction of the top of the screen.
Locate the icon that looks like a lock with a circle around it and it will be found in the Control Center. This icon will have a white backdrop if the Portrait Orientation Lock setting is active; otherwise, it will have a gray background. Simply deactivate the feature by tapping the button labeled "Portrait Orientation Lock."
At the very top of the Control Center, you will notice a message that reads "Portrait Orientation Lock: Off."
Your iOS device should now flip to the landscape orientation automatically if you turn your iPhone on its side.
Turn Off Rotation Lock on iPad
When compared to an iPhone, an iPad's screen can be locked in either the landscape or the portrait configuration. On the iPad, this function is referred to as Rotation Lock for this reason.
We are going to utilize the same method outlined earlier in order to disable the Rotation Lock setting on the iPad.
It is important to keep in mind that the steps necessary to access the Control Center on an iPad vary from one version of iOS (or iPadOS) to another.
Swipe down from the top-right corner of the screen if you are using an operating system that is higher than iOS 12 or iPadOS 13.
What you should do if your iPhone screen won't rotate
It is important to remember that not all programs will enable screen rotation, despite the fact that iOS and some applications, such as Netflix and YouTube, do support the feature.
Even if you have checked to make sure that the Screen Rotation Lock setting on your phone is turned off, the app in issue may still prevent you from rotating the screen in the desired direction.
If you know for a fact that an application supports screen rotation but it isn't functioning properly on your iPhone, you have a few different choices at your disposal to try and fix the problem.
1. Close and reopen the app. Sometimes apps experience glitches and need to be restarted.
2. Restart your device. Sometimes technology can be finicky and a simple restart gives your phone a chance to get things right. There's no rhyme or reason to why this works, but it often does.
3. Contact Apple Support. If you've restarted your device and disabled Screen Rotation Lock but your screen still won't rotate, it may be time to contact Apple Support to fix the problem.
Your phone may have a broken accelerometer or another issue that you'd need a professional to fix. Taking your phone to your local Apple store or authorized Apple repair store is the first step to getting the issue fixed.
How to unlock and rotate the screen on an iPhone 2023:Newshub360.net
Related Post
Credit :www.Newshub360.net