How to Transfer Old iPhone to New iPhone. Having the ability to move data from one iPhone to another is a talent that is almost certain to come in helpful at some point.
Even though it's natural to want to start using your brand-new iPhone as soon as you get your hands on it, it's critical that you take your time going through the initial setup process.
The last thing you want is to end up losing any images or files that are particularly essential to you.
It doesn't matter if you just bought an iPhone 14 or another of the greatest iPhones that are now on the market; in any case, you'll need to transfer the data from your previous iPhone to the one you just bought.
You have the option of beginning from square one and configuring your iPhone in a brand-new state; however, the majority of people will wish to move their data over to the new device.
When it comes to how to set up a new iPhone. It is true that Apple will ask you if you want to transfer data from one iPhone to another.
However, depending on whether or not you use iCloud, whether or not you have the appropriate iPhone transfer cables, or whether or not you want to use one of the best MacBooks and Macs as an intermediary, there are a variety of ways that you can transfer data from one iPhone to another.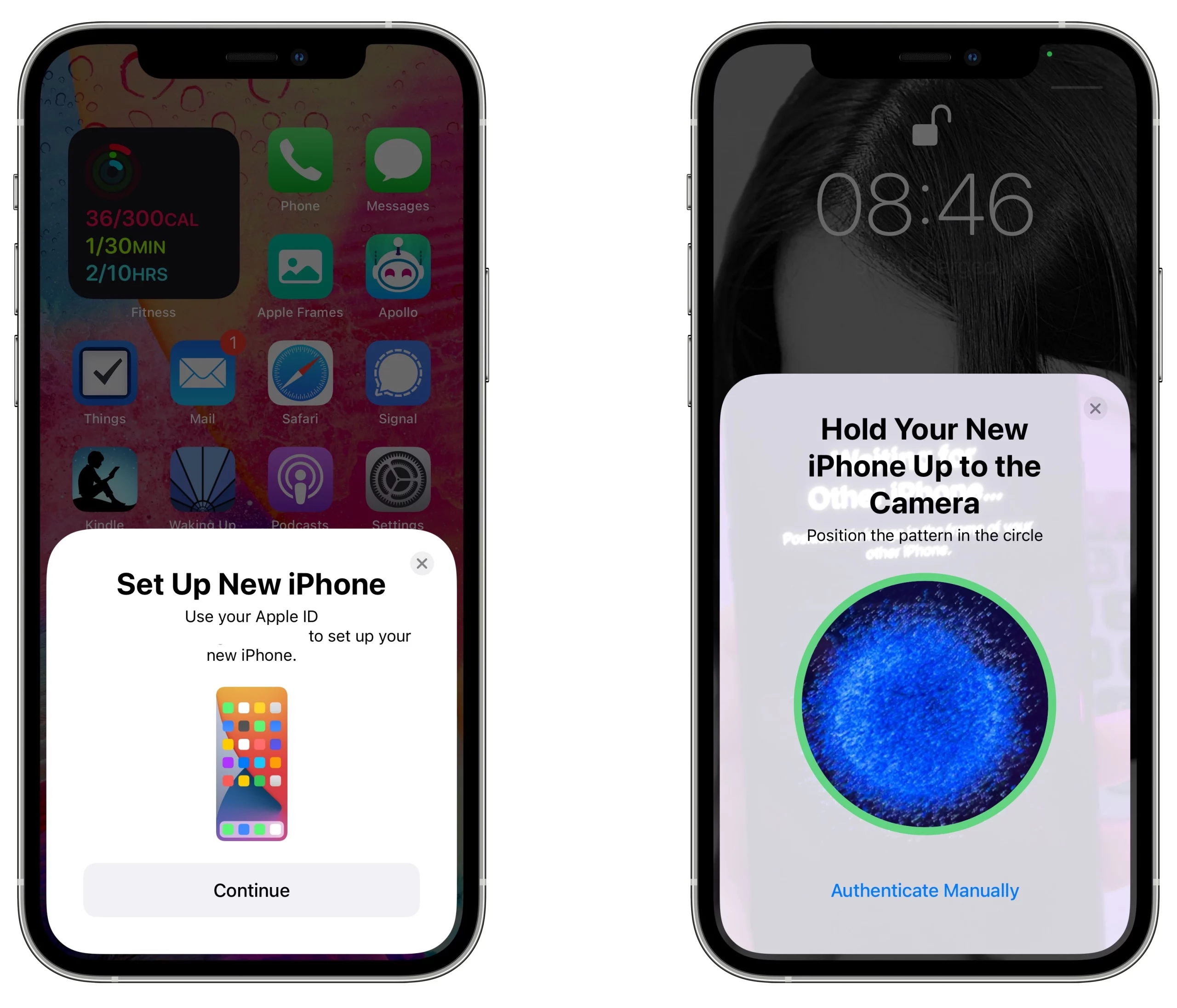 1. How to transfer data from iPhone to iPhone using iCloud
Even if you have no urgent plans to move data from one iPhone to another, keeping a backup of your device will provide you piece of mind in the event that your iPhone is ever misplaced or stolen.The data can be stored securely on iCloud, making it convenient for whenever you decide to move it. This is a significant advantage.
 To begin, open the Settings app and tap on your name at the top, then tap iCloud.
Go through the list of services and decide which apps should and should not use iCloud. Either tap and select On or Off or tap a toggle, depending on the available option.
Bear in mind that free iCloud accounts only have 5GB worth of storage space. If you want more than that, tap Manage Storage. You can then select Change Storage Plan and choose a paid option for 50GB, 200GB or 2TB. You will have to increase the amount of space you use if you want to back up your whole iPhone to iCloud.
Backups can be made automatically. Just tap iCloud Backup and toggle it on. It's also possible to immediately back up your iPhone to iCloud. To do this, tap Back Up Now.
If you're now looking to move your data from one iPhone to another, you'll have a huge bank of stuff to transfer.
When you fire up your new iPhone (or one that has been erased and reset), input your language and region and, on the Quick Start page, tap Set Up Manually. Choose a Wi-Fi network, tap Next and wait a few minutes while the iPhone is activated.
You can set up things such as TouchID either right away or later. After you've created a passcode for your iPhone, you'll end up on the Apps & Data screen. Here, you can tap Restore from iCloud Backup.
Sign in with your iCloud Apple ID and select the most recent iCloud backup. Now you just need to wait while the data is transferred to the new iPhone.
2. Transfer Data from One iPhone to Another with iTunes
Another way to transfer photos from old iPhone to new iPhone is by using iTunes. To complete this process, you have two steps to go.
Connect your old iPhone with iTunes and create a backup file for this device. Go to Summary > This Computer > Back Up Now.
Turn on new iPhone, follow the setup procedure. As you go to the "Apps & Data" screen, select "Restore from Mac or PC" option and connect iPhone to computer that you used to backup your previous device.
Open iTunes > Summary > Backups, choose "Restore Backup" and select the target backup file to restore.
This method is somewhat complex, and Tenorshare Phone to Phone Transfer is recommended as preferred way when comes to transfer data between iPhone/iPad without iCloud or iTunes.
3. Transfer All Data to New iPhone 14/13/12/11 without iCloud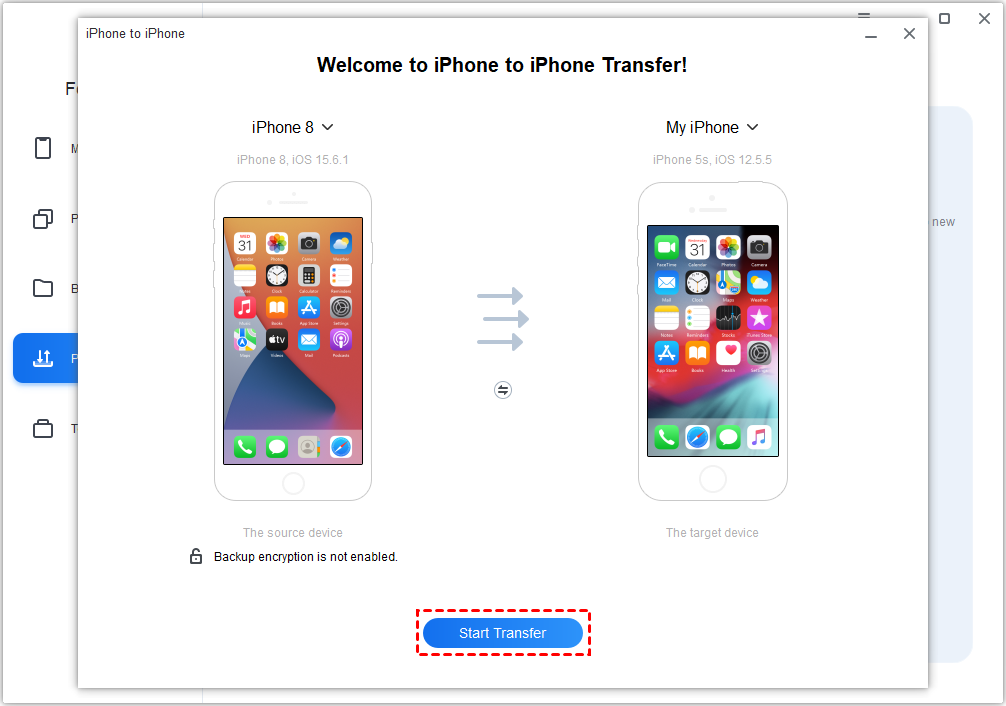 The debut of new feature "Transfer Directly from iPhone" is really amazing. That means users are allowed to transfer previous iOS device to iPhone and more. If some users like new feature, you can try it.
Before that, there are some preconditions.
Both old iPhone and new iPhone should run iOS 12.4 or later.
Both iPhones are connected to the same Wi-Fi network.
Keep your devices near each other and plugged into power until the data migration completes.
Let's see how to transfer data from old iPhone to new iPhone wirelessly.
Turn on your new iPhone and place it near the old iPhone. The quick start screen will appear. Tap on Continue button to proceed.
Log in your Apple ID account in the new phone.
You'll see an animation on your new iPhone. Hold your new iPhone up to the Camera. Or you can tap Authenticate Manually. You'll receive an authentication code on your new iPhone, enter that code to the old iPhone.
Enter the passcode of your old iPhone, this will also be set up as screen passcode on your new phone.
Follow the instructions to set up iMessage & FaceTime, Face ID or Touch ID.
Tap Start Transfer to start. During the process, follow the onscreen instructions to enter Apple ID password.
After you customize the settings such as location, Apple Pay and Siri, you can transfer from old iPhone to new iPhone
How to Transfer Old iPhone to New iPhone 2023:Newshub360.net
Related Post
Credit :www.Newshub360.net