The 18 Dreamy Treehouse Rentals in North Carolina 2023: Those who wish to spend time in the great outdoors while yet having at least some of the conveniences of home available to them should strongly consider renting a treehouse.
It just so happens that the state of North Carolina is home to a plethora of magnificent treehouses that serve as the ideal hideaway for anyone looking to get away from it all.
You can find them anywhere, from remote areas that provide a plethora of chances for outdoor activities to sites within or close to cities that offer an exquisite haven to retreat to after a day of adventuring in the surrounding area.
Dreamy Treehouse Rentals in North Carolina 2023
1. Luxurious Secluded Romantic Treehouse with Hot Tub – Old Fort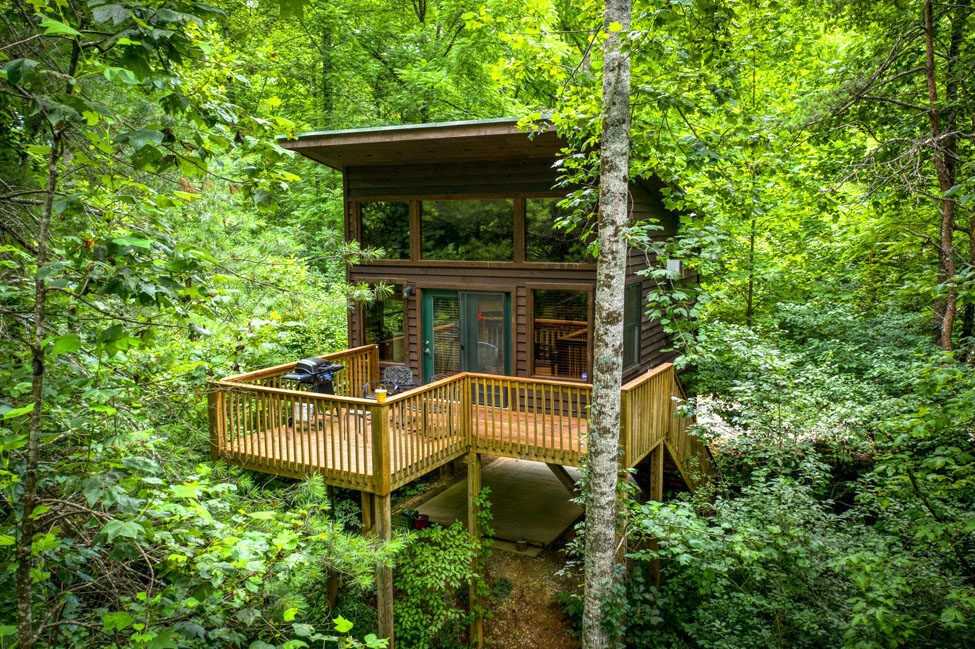 This absolutely breathtaking treehouse is located about 10 minutes away from Old Fort and 20 minutes away from Asheville.
It is exactly what we were discussing, despite the fact that it comes with a greater number of frills than others.
You will cross a swinging bridge to get to your oasis, and while you are there, you may listen to the birds singing while you drink your morning coffee.
It can accommodate up to two visitors, making it an excellent choice for a romantic getaway for a couple.
In fact, it comes with additional features like couple cards to help you and your significant other connect on a deeper level.
In addition, you will enjoy a kitchenette equipped with a cooker, refrigerator, and microwave, cable television, and a reliable Internet connection.
You will also have a hot tub for soothing soaks, an LED fireplace, and cable television.
2. Dreamy Treehouse Retreat – Asheville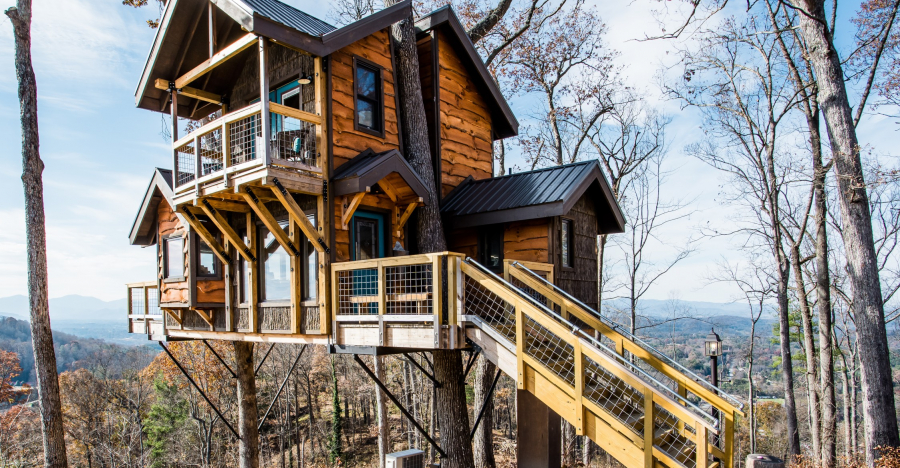 This magnificent treehouse was handcrafted specifically for the customer, making it a one-of-a-kind structure that stands out amid the towering white oak trees.
It is close enough to Asheville to be convenient, yet far enough away to experience the peace and quiet of the surrounding mountains. This location offers the best of both worlds.
You can watch the sun go down over the mountains from the comfort of your bed or on the patio that has a rocking rocker outside where you can enjoy the sunset over the mountains.
Other amenities include a kitchenette, an outside grill, wireless internet access, and a television; but, who would want to watch television when the view is as beautiful as that?
3.Asheville's Luxury Treehouse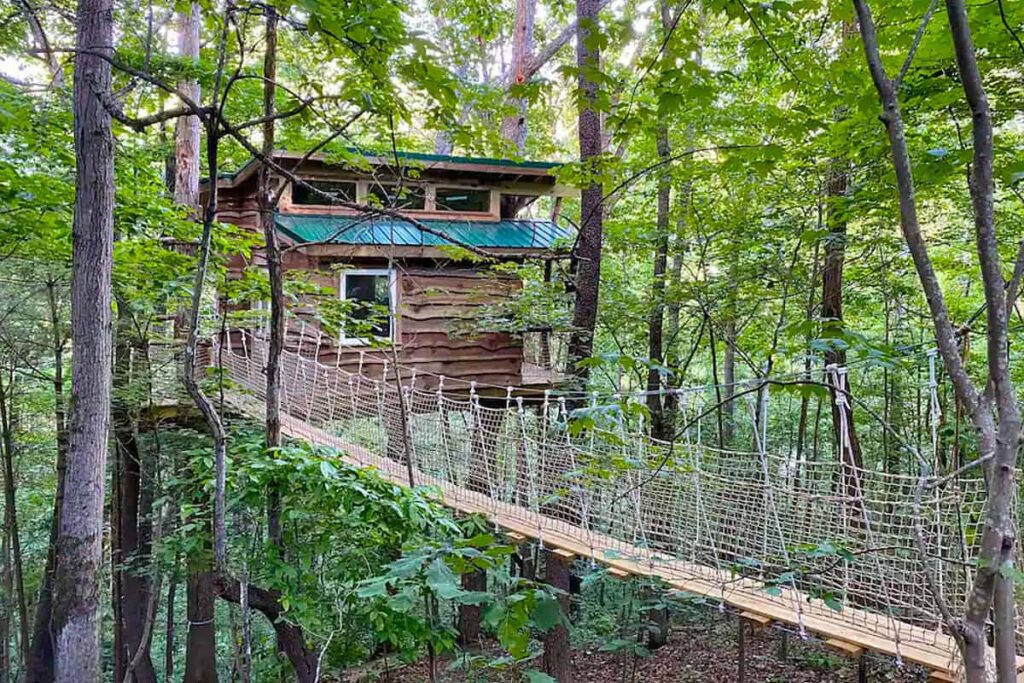 This pet-friendly treehouse in Asheville, North Carolina, sleeps up to four people and is only a few minutes away from the Blue Ridge Parkway, which features uncountable miles of hiking trails.
The city of Asheville, with all of its numerous attractions, is also near by. It is bordered by forests that give a natural playground, and despite the fact that it is rather posh, there are trees that thread right through the middle of the property.
This makes it ideal for lone travelers, couples, or small families. You will be provided with a high-end kitchen, a gas grill, Wi-Fi, and a television, in addition to having breathtaking views from each of the numerous windows.
4. Jefferson's "Treehouse on the Farm"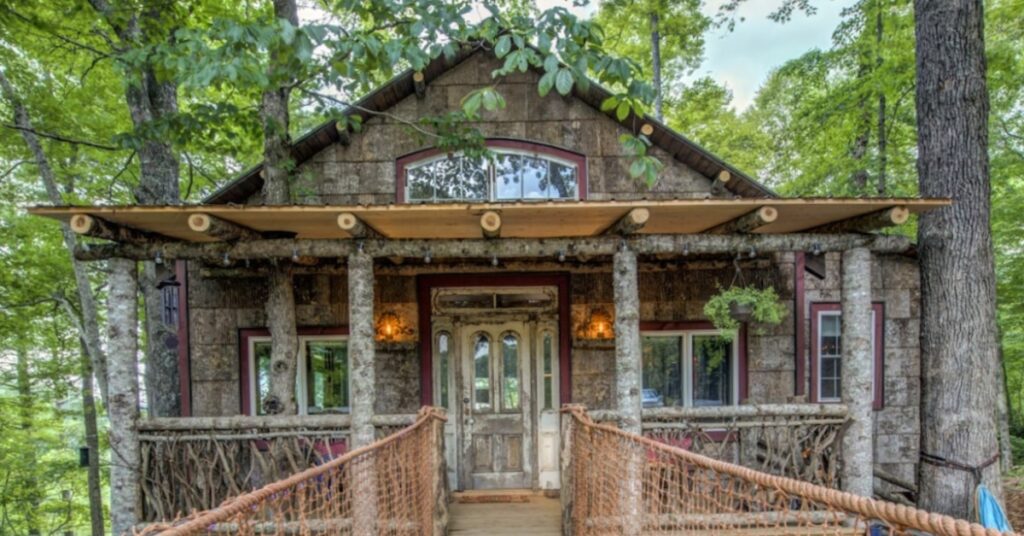 This treehouse, which is located on a farm with unlimited options to walk and many of friendly farm animals to get to know, including horses, donkeys, goats, and chickens, checks off two items on a bucket list: staying in a treehouse and staying on a farm.
You are also able to collect fresh eggs for breakfast from the "Gypsy Chick Inn," in addition to participating in other activities in the area such as fishing, tubing, kayaking, canoeing, and horseback riding.
It features a warm and inviting wood heater, a wall of windows that look out over the surrounding forest, and an antique clawfoot tub for relaxing in while taking in the breathtaking scenery.
Dreamy Treehouse Rentals in North Carolina
5.The Carolina Treehouse in Charlotte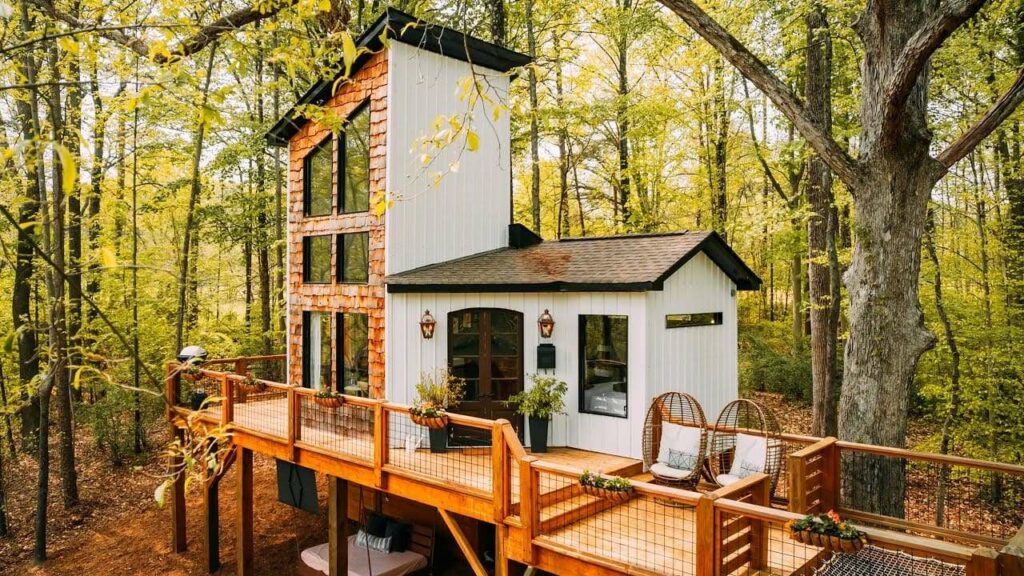 This Charlotte Airbnb is the ideal treehouse getaway for two people, and it was created so that you may enjoy the slower pace of life.
In this treehouse with a lodge-chic aesthetic, you may relax with a cup of coffee in the morning, listen to a record of your choice as the sun goes down or snuggle up underneath the swing bed, which provides a view of the own pond.
It is a secluded haven where you may relax and take in the sights of the natural world in North Carolina.
6.A Beautiful Tree House with Luxurious Features – Woodfin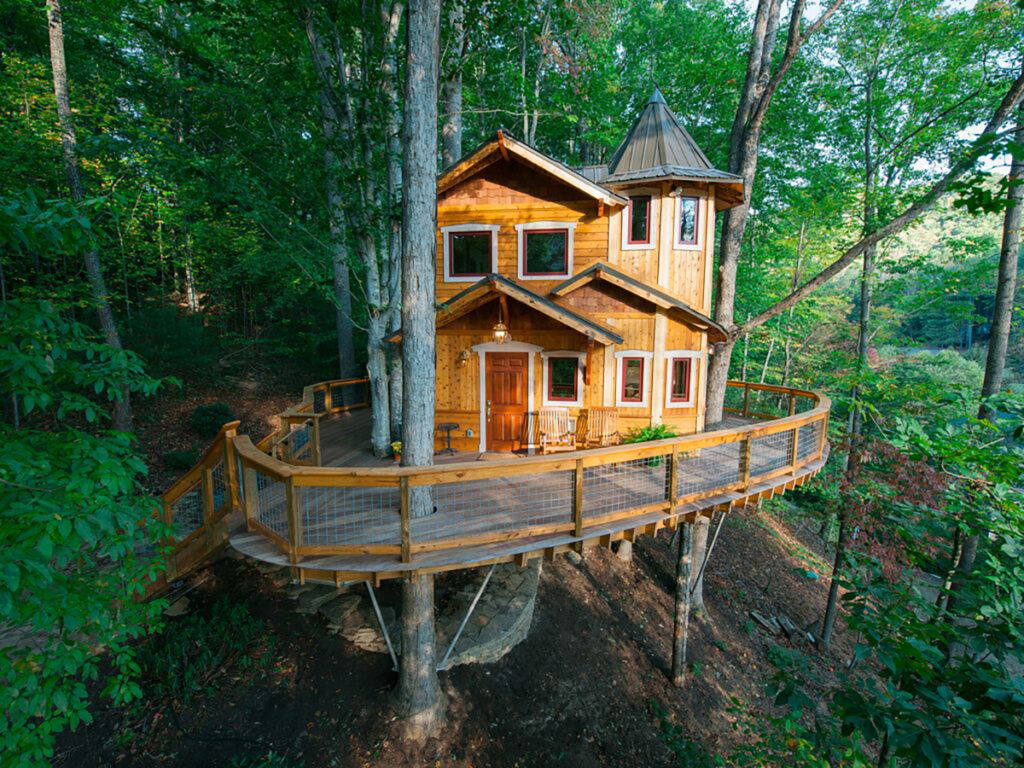 Tree Tops provides a stunning hideaway because to its location in the mountains just outside of Asheville. The home features a wall of windows that extends across all three floors of the property.
You'll be able to take in breathtaking vistas throughout the year, from the verdant vegetation of spring and summer to the brilliant foliage of fall and the snow-capped peaks of winter.
It has six bedrooms that can sleep a total of ten people, and each of its four bathrooms has luxurious spa amenities.
In addition, there is a circular fireplace, an open concept kitchen, a gaming room with a Ping Pong table, a laundry room, and a terrace that includes a gas grill and eating tables.
These and many more upmarket facilities can be found in this property.
7.Stone and Timber Treehouse on a 20-Acre Farm – Concord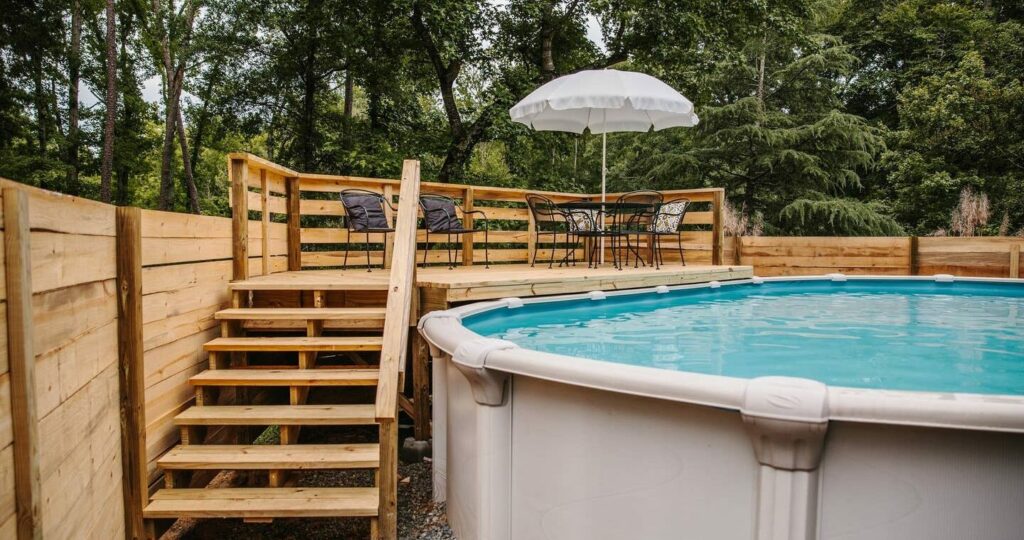 Glamping in the lap of luxury is possible for up to two guests at a time in this treehouse, which is located on a 20-acre farm estate and is surrounded by tall pine trees.
It comes with handcrafted furniture and a private balcony where you can enjoy your morning coffee.
Additionally, there is a spot for eating under the stars and a gas grill in the outside area.
A Keurig coffeemaker, bath towels, pool towels, robes, a coffee bar with ground coffee, hot chocolate, a variety of teas, creamer, and sweeteners, and a variety of teas are all supplied in the host's home.
The host is aware of what their visitors are searching for. In addition, you will have use of the property's seasonal swimming pool, spa, and outdoor fire pit.
8.Cherry Treesort 'Miss Molly'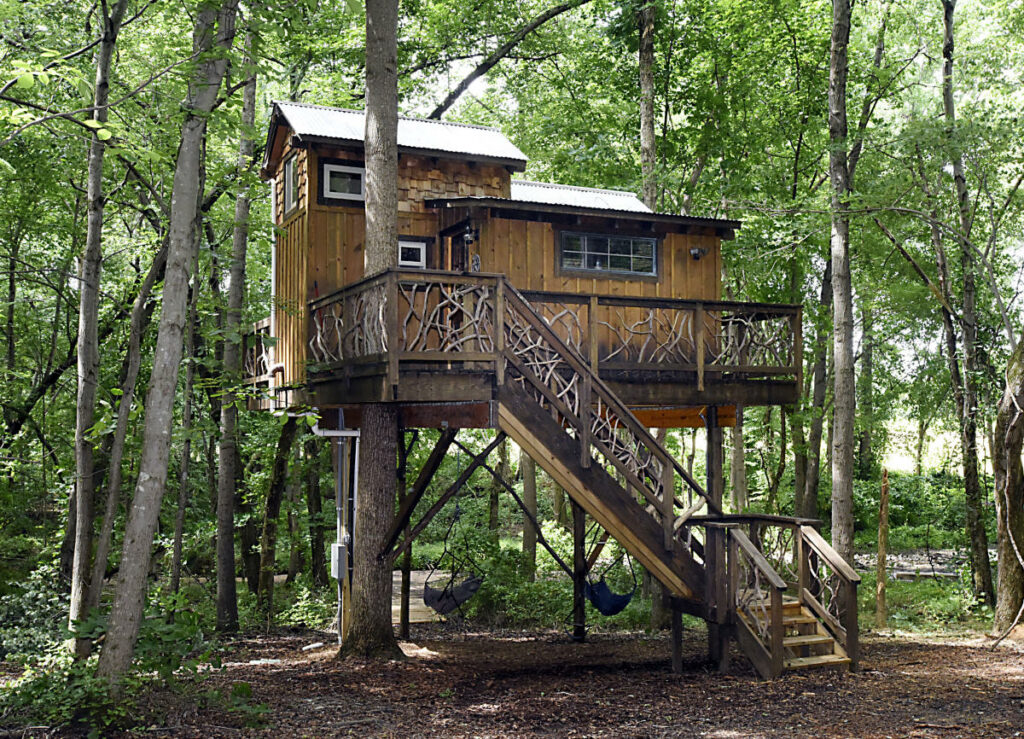 A wonderful setting for up to four guests is provided by Miss Molly, which can be found at the Cheery Treesort.
This setting includes a location for a bonfire as well as the necessary ingredients for making s'mores.
Glamping at its finest, complete with heating and air conditioning, a television with a DVD player, and a fully-equipped kitchen.
You may take in the magnificent view while rocking in the rocking rockers or dining al fresco at the bistro table, all of which are located outside.
Dreamy Treehouse Rentals in North Carolina
9.The Aerie Treehouses of Serenity – Woodfin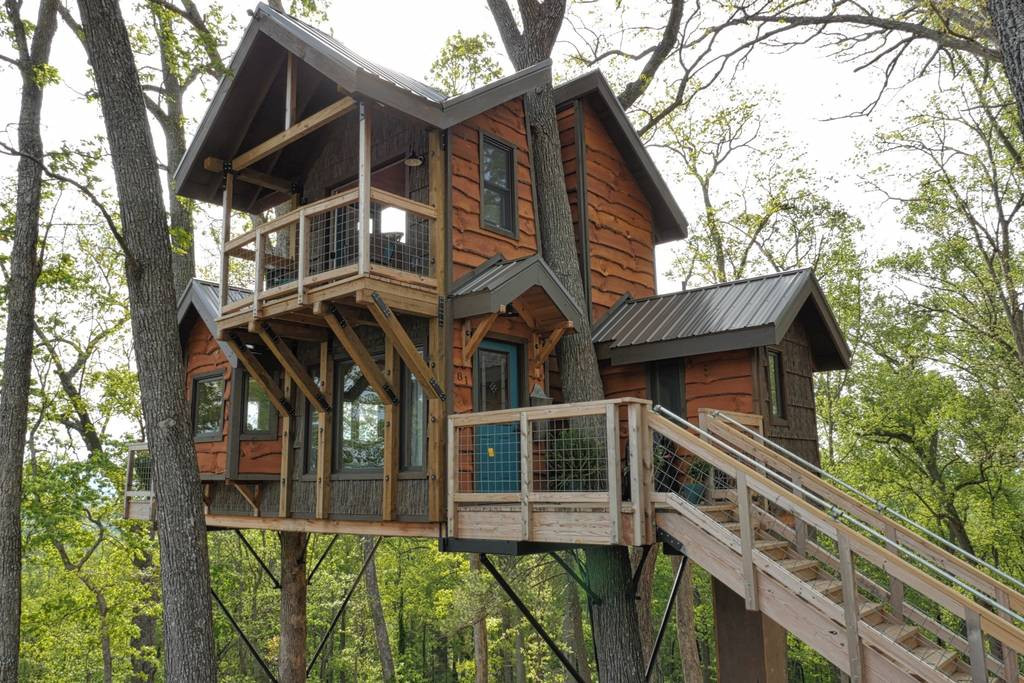 This is "The Aerie," one of the five "Treehouses of Serenity," and it is nestled in the Blue Ridge Mountains about ten minutes north of downtown Asheville.
It has space for up to four guests and can be accessed through a private bridge.
It has huge windows that highlight the expansive mountain and sunset views, a kitchen with the essentials for cooking (there is no oven, but there is a microwave, electric stove, and electric grill), including supplies like coffee and tea, creamers, condiments, olive oil, and light snacks; and large windows that showcase the expansive mountain and sunset views.
In the living area, there is a comfortable fold-out sofa with a memory foam topper, a TV for streaming services such as Nextflix and YouTubeTV, and a variety of games. In addition, a fire pit along with fuel and a starter are provided for you.
10.Heated Winter Treehouse – Deep Gap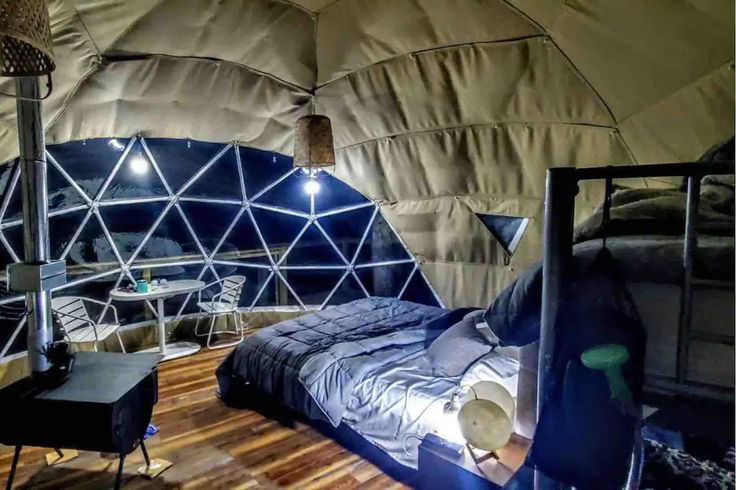 Glamping is available throughout the year in the Heated Winter Treehouse.
It is a location to get away from it all and reconnect with yourself, as there is no Wi-Fi, power, or plumbing available there.
A tent stove, a fire pit, and cargo net hammocks are provided, and there is also electricity available through USB for recharging the lights.
Have fun exploring the over 8-acre site, which features a cave, waterfalls, and a trout stream that has been supplied by the state and offers excellent fishing and swimming opportunities.
11.America's Smallest Castle Treehouse – Reems Creek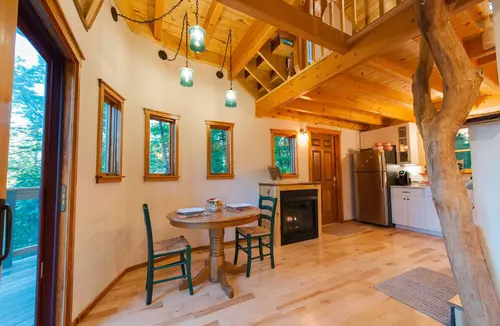 The "Treehouse Guys" from the DIY Network took a standard treehouse and gave it a luxurious makeover so they could market it as "America's smallest castle."
The treehouse can accommodate up to four people and began off as a standard treehouse.
It is located on the side of a hill, propped up by five trees, and may be reached after a quick walk down a route that has been beautifully manicured.
After watching the sun go down from the rocking rockers, you may unwind and rest on the wraparound deck thanks to the rope lights and the hot outdoor shower that is included with this property.
On the interior, you will find a kitchen fit for a gourmet, a fireplace with gas logs, and two full bathrooms with heated tile floors. Additionally, high-speed Wi-Fi is made available to guests.
12.Crooked Shutter Treehouse, an Escape from Reality in Denver
This treehouse, which is located in the back of a six-acre farm, is the perfect place to spend an unforgettable vacation throughout any time of year.
You will have plenty of solitude while still being able to enjoy a warm and inviting environment that is completely heated and features mesmerizing views of colorful autumn foliage when the time comes.
No matter when you visit, you will have the opportunity to appreciate being surrounded by nature. There are rocking seats on the front porch where you may unwind while taking in the lovely surroundings.
A queen-size bed and a couch bed that also sleeps queens provide space for up to four guests in this loft space.
There is an area to work and access to high-quality Wi-Fi, as well as a kitchenette, a bathroom with a flushing toilet, and an outdoor shower that has been heated in advance.
13.Happy Place Treehouse Apartment – Black Mountain
The "Happy Place" is a treehouse apartment for two that is adjacent to the main house but has its own door, terrace, and driveway so that residents may enjoy complete seclusion.
You will be sure to depart this tranquil retreat with a grin on your face thanks to the breathtaking views of the surrounding mountains.
Wi-Fi, a fully stocked kitchen, a washer and dryer, an electric fireplace with an LED display, and other homey amenities are included in the package; the only thing missing is a television.
In addition, there are hammocks in which one may relax and a dartboard on which one can engage in some lighthearted rivalry.
Dreamy Treehouse Rentals in North Carolina
14.Celesterra, Transformation Amidst Heaven and Earth – Canton
The gorgeous treehouse that is Celesterra serves as a spiritual retreat and provides the ideal setting for one or two visitors to unwind and unwind from their stressful lives.
Your presenter describes it as "floating between the earth and the sky," and it is elevated around 15 feet from the ground. It was constructed by the crew of the reality television program "Treehouse Masters."
It is required that you remain there for a minimum of three nights and may be most suited for vegans, vegetarians, or anybody who doesn't mind going without meat for a short period of time.
It is meant for introspection, healing, and profound slumber.
You will have access to a kitchenette that is fully supplied, a living space that is equipped with a wood stove, and a bathroom that is equipped with a composting toilet.
Even though there is no running water, there is a supply of spring water that may be used for drinking, washing dishes, and washing one's hands.
You will also have access to a complete bathroom in the main home, which will be reserved solely for your use.
15.Sugar Creek Treehouse with Hot Tub – Green Mountain
The Sugar Creek Treehouse is an artist's paradise, with plenty of space to accommodate as many as six people, and it is located deep in a forest on six forested acres, 35 feet above a stream and tumbling waterfalls approximately 45 minutes northeast of Asheville.
However, due to the presence of a floating log staircase that leads to a romantic upper loft complete with a Romeo and Juliet balcony, it may be best suited for use by a couple.
You can also anticipate enjoying each other's company while huddling close to the warmth of the wood-burning stove and preparing meals in the unexpectedly outstanding kitchen that was designed with a culinary expert in mind.
Wi-Fi, cable television, and a washer and dryer are just some of the contemporary conveniences that are provided at this location at no additional cost.
16.Beacon Tree House – Hendersonville
The Beacon is a lovely and romantic treehouse for two that provides a glamping experience for those looking for a comfortable stay while appreciating the natural surroundings.
There is a queen-size bed for a restful night's sleep, however there is neither central air conditioning nor heating in the room.
Instead, you will have a heated electric blanket and a fan at your disposal to ensure your comfort throughout the year.
In addition, there is a Keurig coffeemaker, which also comes with one complimentary cup of coffee every day, as well as an outdoor hot shower and outdoor toilet.
You'll have access to a fire pit that comes with one free bundle of chopped firewood per night, and you'll be close to a variety of attractions, including downtown Hendersonville, fishing, picturesque hiking trails, and more.
17.Treehouse with Stunning Views from Every Room – Penrose
This treehouse is a value, and it features two beautiful bedrooms.
Because of its location at a short distance from Pisgah National Forest, DuPont State Forest, Brevard, and Hendersonville, each of the property's rooms offers breathtaking views of the surrounding mountains and valley.
You may spend your days hiking or biking along the trails, or you can travel to the Davidson River, where you can go tubing, kayaking, canoeing, or trout fishing.
There are lots of chances for outdoor recreation along the river. It is a delight throughout the year; throughout the winter, you may keep warm by using the quaint wood burner.
In addition to that, it features a fully-equipped kitchen, a Wi-Fi connection, a smart television, and even a laundry and dryer.
18.Snowbird Treehouses – Marshall
Glamping is available at the Snowbird Treehouse, which is located at the peak of a hill and features a treehouse that has been heated and insulated.
You may access the sleeping loft, which has ceilings that are high enough to stand up in, by ascending a ladder that is located on the deck that overlooks a stream that is running.
Even though there is no running water, you will have access to a water dispenser, a tiny refrigerator, lighting, and even a record player with records to play.
A grill that has a burner attached to it may be used for both cooking breakfast and having cookouts.
In addition to that, there is a little electric heater that, on the colder evenings, keeps everything nice and toasty.
18 Dreamy Treehouse Rentals in North Carolina 2023 – Newshub360.net
Related Post
Credit : www.Newshub360.net