The 12 Best Cabin Rentals in Alabama 2023 : Renting an Alabama cabin is a wonderful option if you're searching for a different kind of break in the American South.
There are many quiet, rural areas in the state that are perfect for a trip centered around nature that you may take with a partner or the whole family.
The top cabin rentals in Alabama that can be found on Airbnb and VRBO are listed below.
12 Best Cabin Rentals in Alabama 2023
1. Timber's Edge – Mentone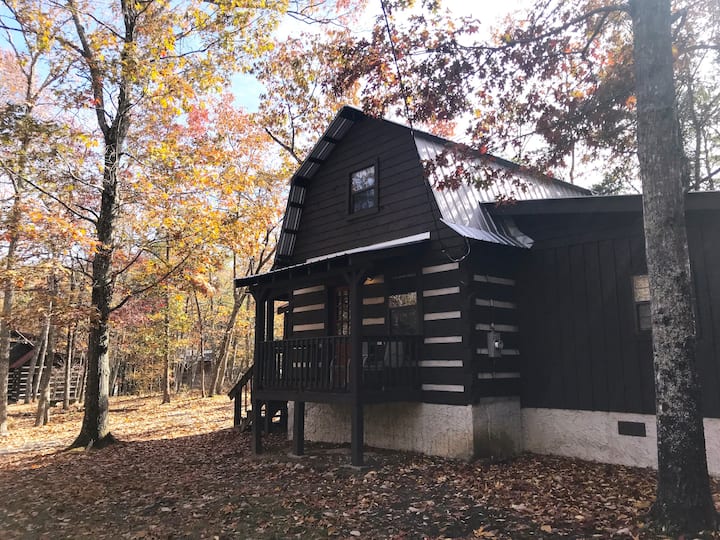 The Mentone region of Alabama is a great location to rent a cabin, like this one that can accommodate up to six people. It is in a pleasant and peaceful environment with two bedrooms, three beds, and one bathroom.
The cabin, which was constructed in the 1940s, is now furnished with contemporary comforts like smart TVs. There is coffee available, and a carpark with an electric vehicle charger.
There is a king-size bed, a queen-size bed, and a sofa bed for sleeping. There are Wi-Fi, a kitchen, a TV, a designated workplace, and washing facilities on site.
You may stroll to the restaurants and shopping in downtown Mentone while staying here.
2. Lake Farm Cabin – Perry County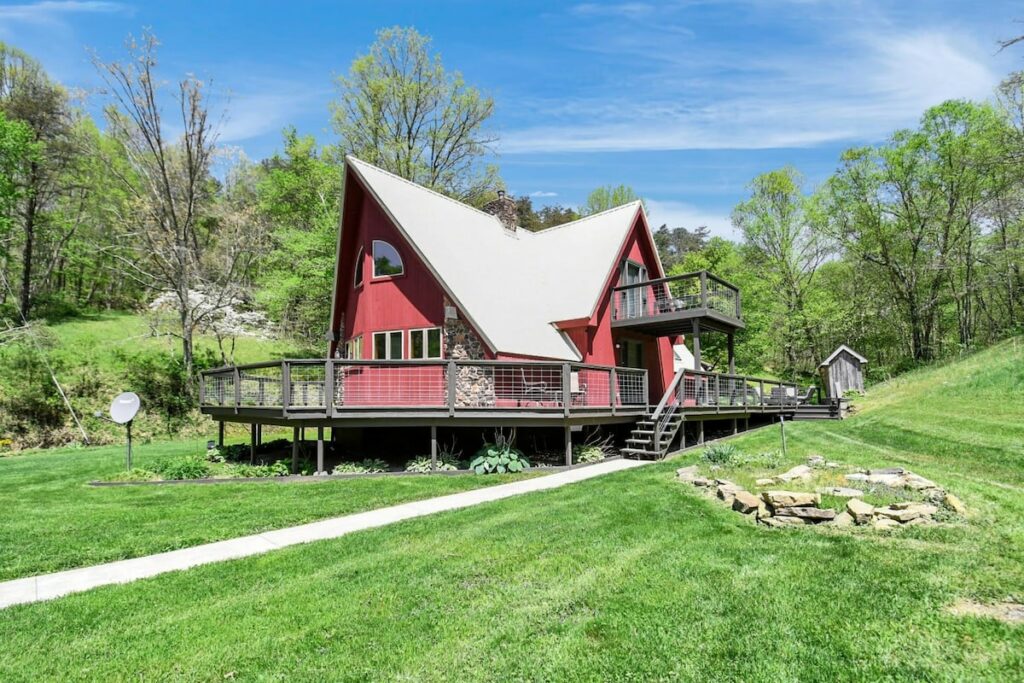 This well-liked cabin welcomes pets and offers a secluded lake on eight acres where you may go fishing. When you stay in this cottage, which was built in 2005 and sleeps up to seven people, it's also great to swim and paddle a boat on the lake.
The house contains one bathroom, two bedrooms, and six beds. The cabin also has a screened-in porch, brand-new appliances, internet, television, and laundry facilities.
A johnboat, a paddleboat, fishing gear, lures, and life jackets are all included in your rental here. If you have any questions, you can ask the host family, who also resides on this property.
3. Peaceful Cabin in the Woods – Talladega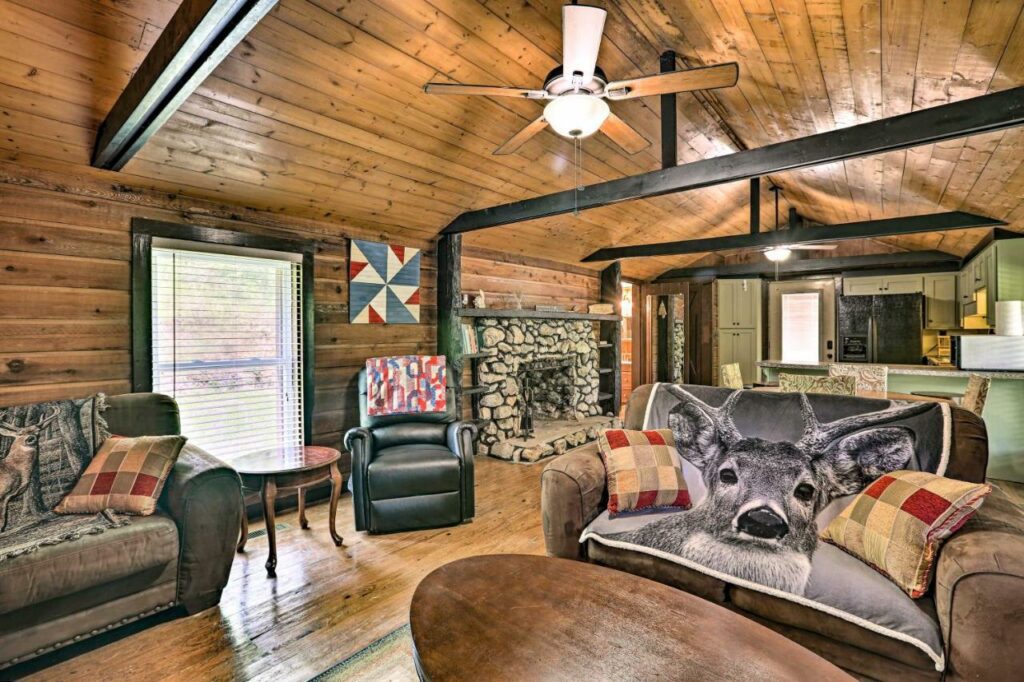 This Vrbo cabin rental in Alabama, which has fantastic reviews and sleeps up to four people, is incredibly popular with visitors. It contains a completely furnished kitchen, two full bathrooms, three beds, and two bedrooms.
The cottage is situated next to a tiny brook and the Talladega National Forest. Pinhoti Trail, Cheaha Mountain, and the Talladega Super Speedway are all nearby.
Because of this, it's in a great location since it's close to Talladega but still far enough away to get some peace and quiet.
One bedroom has a king-size bed, and the other has a double bed and a single bed for sleeping arrangements. Dogs up to a combined weight of 20 pounds are allowed.
4. Whippoorwill Creek Ranch Cabin – Altoona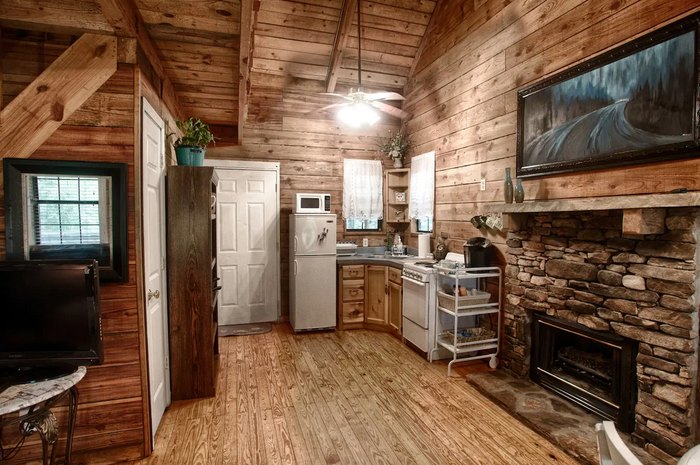 Consider this Airbnb rental cottage with a loft bedroom, desk, kitchenette, bathroom, living room, and dining area if you want to be on more than 150 acres of stunning nature. It includes front and back patios with furniture so you can unwind and take in the view.
The entire property, including the trails and creek, are included in your reservation. The RV park's bathhouse has a washer and dryer for laundry.
It includes a queen-size bed in the bedroom and is a fantastic area for two people. A TV, air conditioning, and an interior fireplace are additional benefits.
5. The Peaceful Retreat Near Birmingham – Chelsea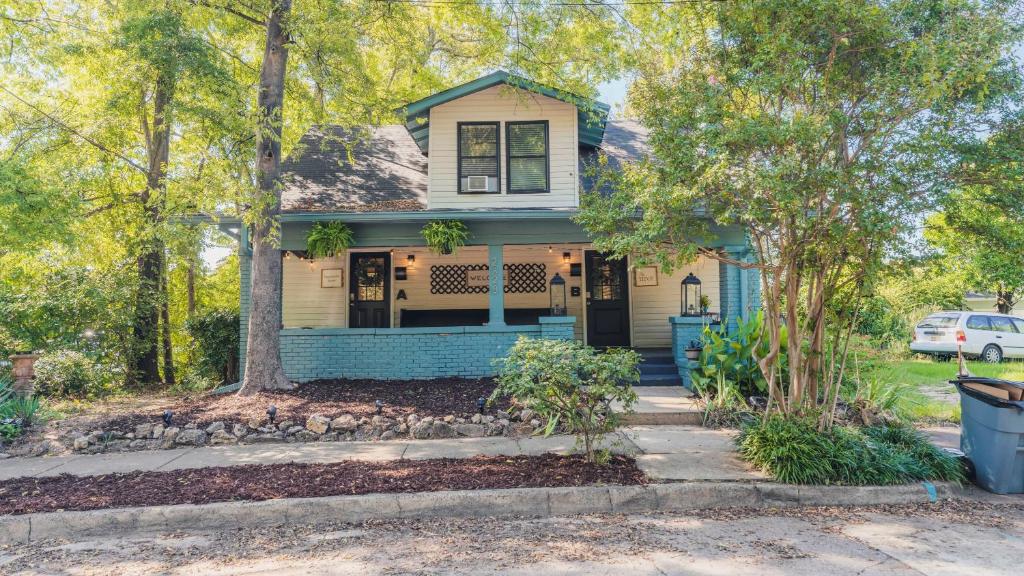 The distance from this cabin, which is 750 square feet in size and accommodates up to four people, to downtown Birmingham is roughly thirty minutes. It has a front porch and is secluded in Shelby County, Alabama, and has a woodland environment.
Come here to unplug since there is no TV or internet service in this cabin. The host serves breakfast stuff for the visitors. The cabin sits on 3.5 acres and looks out into a lake with a catch-and-release fishing option that is six acres in size.
The salt-system pool, a guest-use canoe, and patio dining tables are further entertaining amenities. On a case-by-case basis, dogs are permitted for a $10 per night cost.
6. Serene Studio Library Retreat – Mentone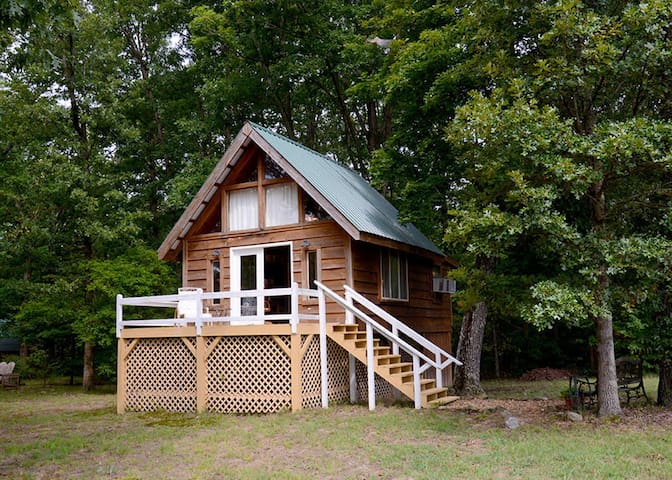 In this 250 square foot Airbnb rental cottage with 24-foot ceilings, two visitors will have a quiet stay. A horse farm is located across the street from the A-frame cabin.
Since this is a cottage in the woods, campfires are not permitted, and bugs are definitely a possibility. There is a double bed in the bedroom, and other features include a kitchen, Wi-Fi, a designated workplace, and a TV.
You'll enjoy exploring the artistic and diverse town of Mentone, with its restaurants and antique stores, while staying at this cabin. The Little River Canyon National Preserve and DeSoto State Park are also nearby.
7. The Cabin in the Hollow – Guntersville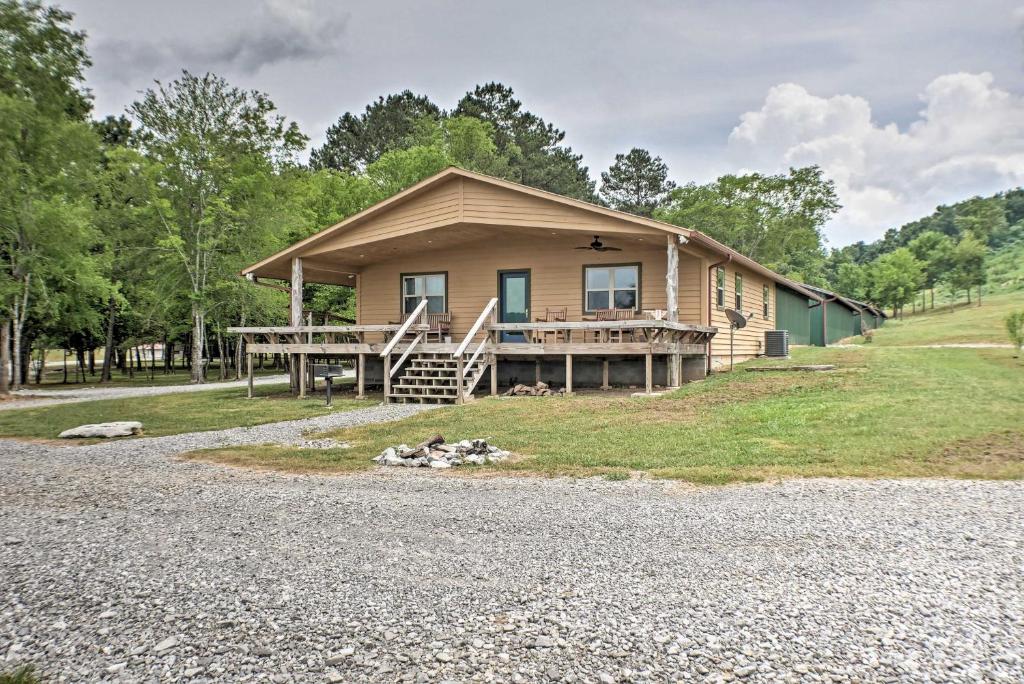 Here is a highly rated Airbnb cabin with two bedrooms, three beds, and one bathroom that accommodates five people. It is located on Guntersville Lake and is called the Cabin in the Hollow.
It includes a sizable, covered, private, deep water pier with power. This cabin allows pets and is only 15 minutes from grocery stores, restaurants, and pubs.
The cabin is tucked away in the woods with beautiful sunsets, one hour north of Birmingham and 45 minutes south of Huntsville. Come here to for swimming, fishing, jet skiing, and boating.
Here, in addition to a hot tub, outdoor fire pit, canoe, several TVs, gas grill on the porch, and charcoal smoker on the pier, visitors have access to a full kitchen.
8. Clovers Cabin – Springville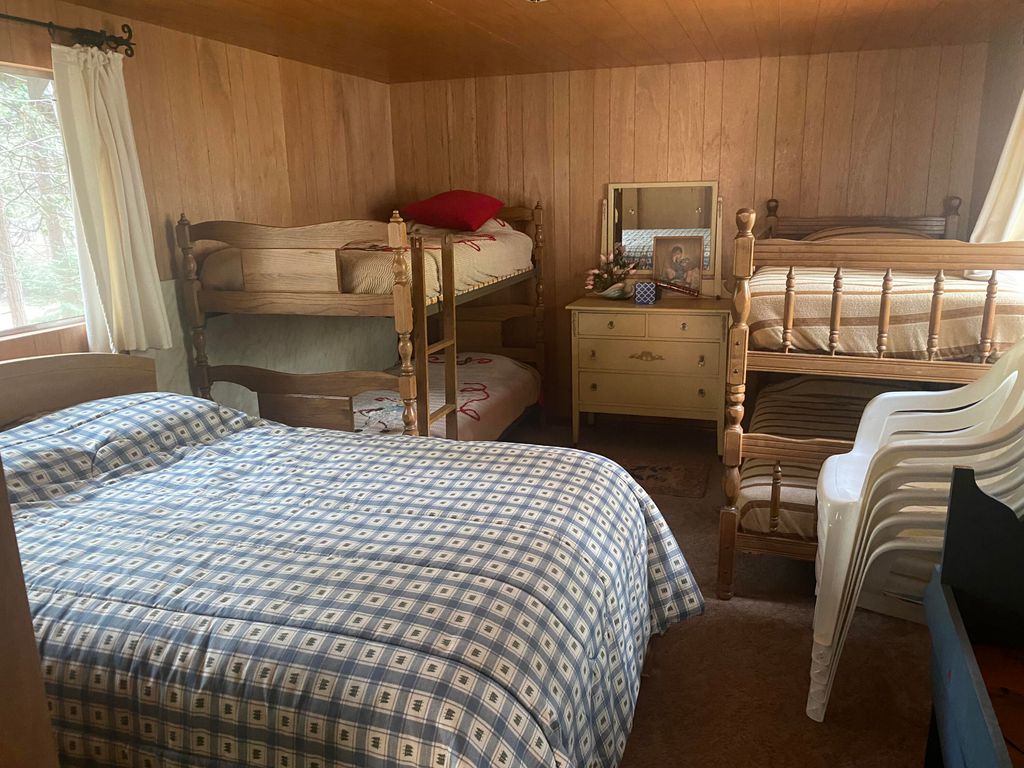 The modest Clovers Cabin is located on a 19-acre idyllic island. It is next to the host's house and nine miles from the center of Springville.
Pets are allowed in the 500-square-foot tiny house cabin with the host's permission. It's a nice place for two people and the yard is home to hens, cats, and dogs.
With this Alabama cabin rental, you'll enjoy a tranquil, wooded location in addition to more contemporary comforts like cable TV and air conditioning.
9. Family-Friendly Cabin by Noccalula Falls – Gadsden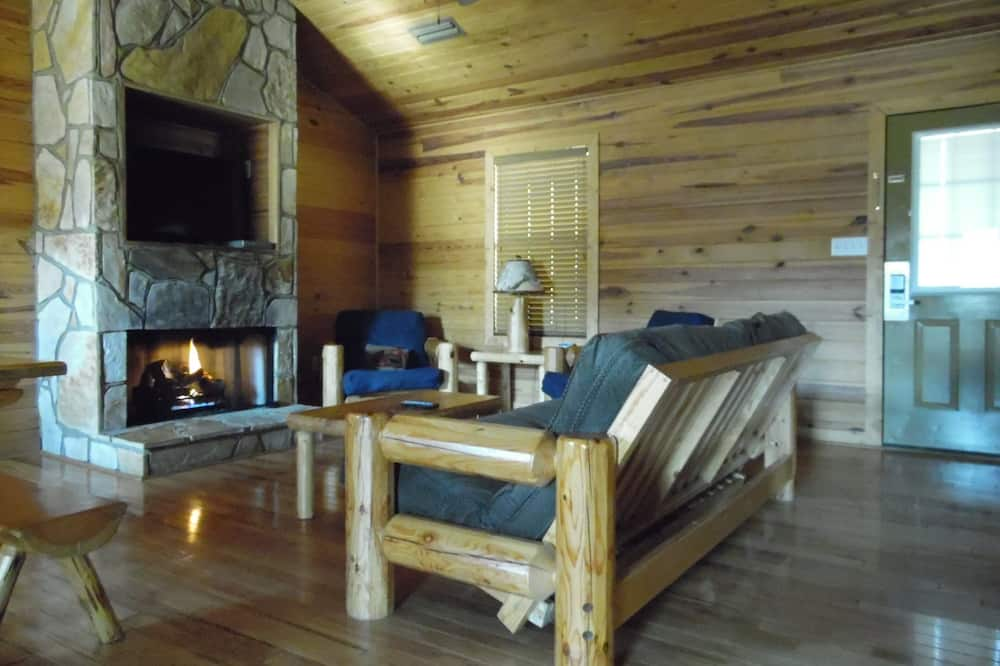 Here is a 960-square-foot cabin that is offered for up to six renters on VRBO. For your getaway in Alabama, it offers two bedrooms, three beds, and one bathroom.
The host offers towels, laundry facilities, a gas grill, as well as standard kitchen items and appliances. For your outdoor lifestyle, there are front and rear porches with rocking chairs and a gas grill.
The Coosa River and its nearby boat launch are also close by, and the cabin is less than 10 minutes from stores and restaurants. The pool is accessible to visitors and is located near the campground's front desk.
10. Calm, Cozy & Restful Selma Retreat – Selma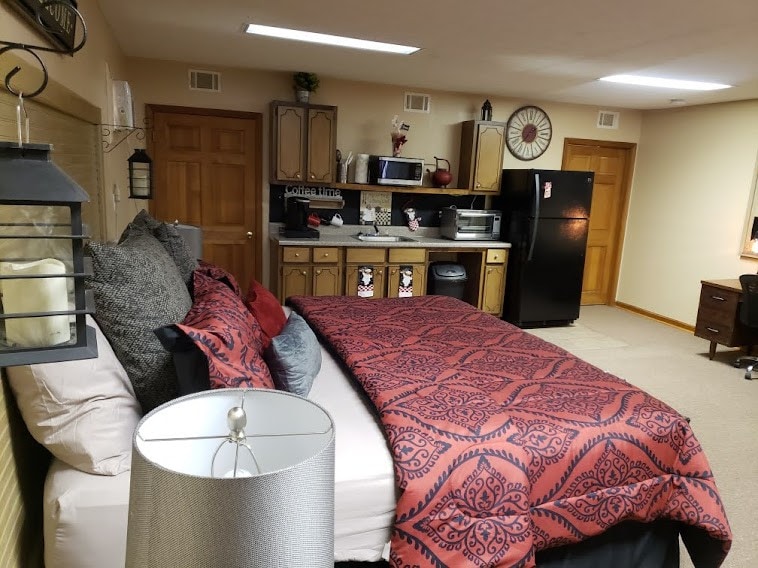 Consider renting this charming cabin for your romantic retreat while visiting the Selma region. The cottage has one bedroom, a screened-in porch, with views of pastureland and horses.
The cabin opens up to a ten-acre pecan orchard with many local songbirds around, and it is only a short distance from Selma's downtown.
For a charming farm stay where the host family is on-site if you need anything, reserve this Airbnb cottage. Wi-Fi, a TV, an air conditioner, and a high chair are all provided as amenities.
11. Coyote's Cabin – Albertville
This 224-square-foot cabin is perfect for a weekend getaway, and it comes with stunning views. It is a treehouse-style cabin that prohibits kids. Instead, it's a secluded location for lovers set above a sizable cliff with numerous caves.
Adults staying here can explore the neighboring parks and tunnels. The cabin has beds available both upstairs and downstairs.
You are allowed to use the clawfoot tub outside the cottage, but you will need to use cold water and fill it with a hose. But there is a toilet, a shower, and a sink in the bathroom.
Although there isn't a full kitchen, there is an outdoor barbecue, a small fridge, and a Keurig.
12. Beautiful New Lake Cabin – Titus
This charming Alabama cabin is 1,000 square feet and includes two bedrooms, two beds, and one complete bathroom, making it ideal for a family or small group of four.
It has a flat-screen TV, a terrace with chairs, a swing and a picnic table, a grill, a pier, and a fire pit and is close to Titus.
If you have a larger group searching for a break and wish to book both at once, there is another cabin available for rent on this same property that sleeps eight people. As there is no Wi-Fi available here, make a disconnect plan before you come. Here, pets are not permitted.
12 Best Cabin Rentals in Alabama 2023  – Newshub360.net
Related Post

Credit: www.Newshub360.net