The 12 Most Romantic Resorts in Pennsylvania 2023: A break from the monotony of everyday life and some quality time spent with loved ones can be greatly enhanced by planning a trip with an emphasis on romance.
There is place for love and passion at any time of the year, but many couples opt for inexpensive weekend getaways to stay for special occasions like anniversaries and birthdays.
The following is a list of Pennsylvania's hotels and resorts that are considered to have the most romantic atmosphere.
These romantic places in Pennsylvania are perfect for taking it easy, reigniting the flame in your love, and having a fantastic time together.
Most romantic resorts in pennsylvania 2023
1. The Lodge at Woodloch, Hawley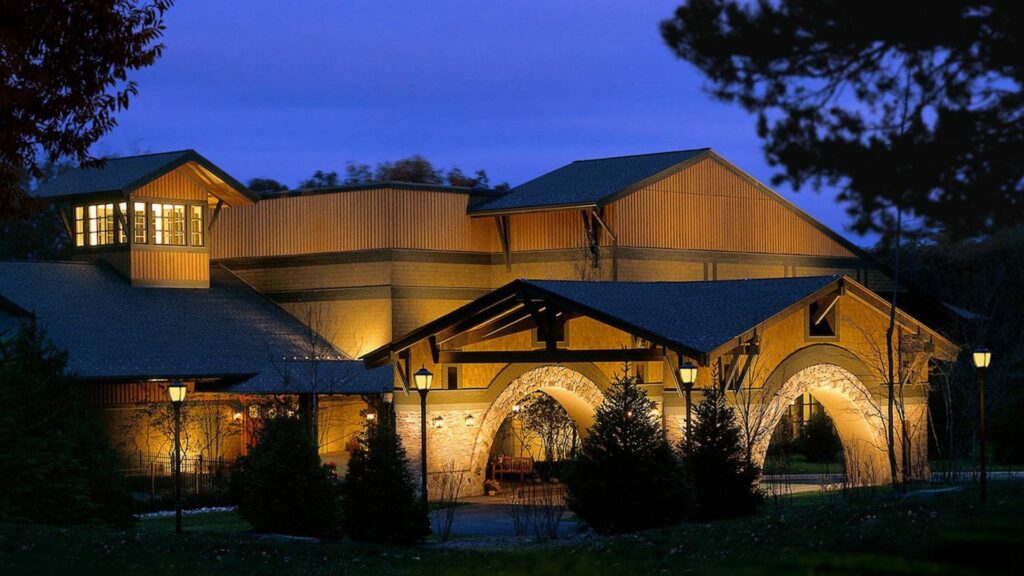 This enchanting Pennsylvania resort is located in the Pocono Mountains, and it is one of the few that caters only to adults with its particular luxury rooms.
Every one of these rooms is roomy and beautiful, and it comes with an own balcony where you can unwind while watching the dawn or listening to the waterfall in the rock garden.
The resort is conveniently located only 95 miles away from Philadelphia's most famous attractions, making it a convenient destination for a romantic weekend escape.
You'll be right next to a private lake that's 15 acres in size and surrounded by more than 400 acres of woods.
The on-site spa features a co-ed quiet lounge with a fireplace and an outdoor patio in addition to the 27 treatment rooms it offers.
In addition, there is an aqua garden that has co-ed soaking pools with heated Hydromassage WaterWalls as well as an outdoor whirlpool that is available for use throughout the year.
It doesn't matter what time of year it is, couples enjoy visiting here since they may have a unique experience here throughout each season.
2. Omni Bedford Springs Resort, Bedford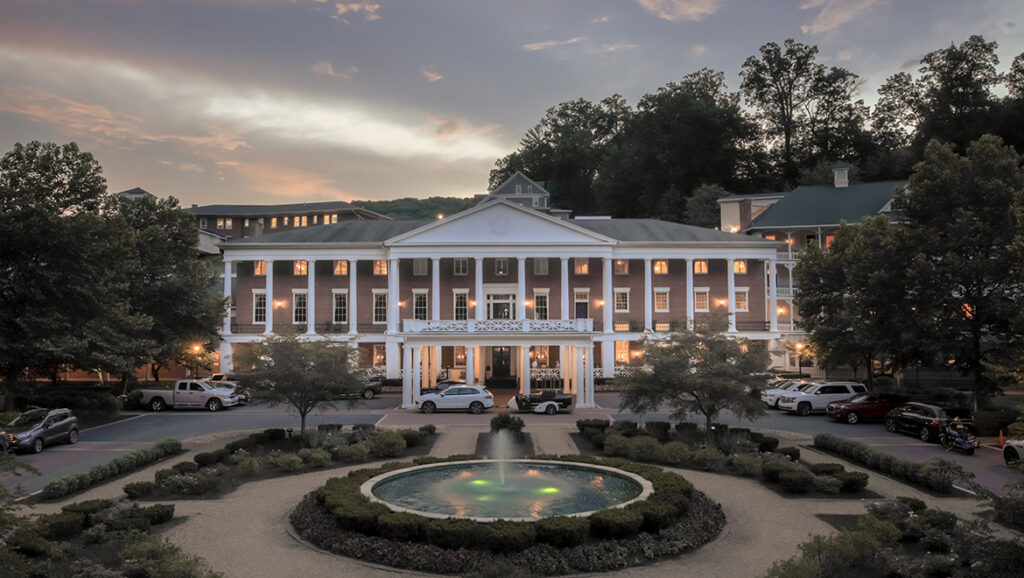 The Omni Bedford Springs Resort Bedford in Pennsylvania is a well-known spa resort that goes back more than two centuries to the time when the surrounding area became famous as a wellness destination due to its mineral springs.
It is around 90 minutes away from Pittsburgh and about two hours away from Washington, DC, and is situated in the Cumberland Valley of Pennsylvania. At the four-season resort that spans 2,200 acres and features guest rooms and suites that are generous in size.
At the Springs Eternal Spa, which spans 30,000 square feet, you may still have treatments utilizing the mineral springs that are located here.
In addition to the 25 miles of gorgeous hiking trails that are located close by, the property features five restaurants that serve food from the area.
You may pick resort packages that include sparkling wine and strawberries, a historic walking tour with a memento book, or a trademark spa welcome amenity if you and your partner are wanting to add a little romance to your time spent at the resort.
Participating in the Bedford Springs custom of having afternoon tea on Fridays and Saturdays is another enjoyable activity to partake in.
Most Romantic Resorts in Pennsylvania
3. Buhl Mansion Guesthouse & Spa, Sharon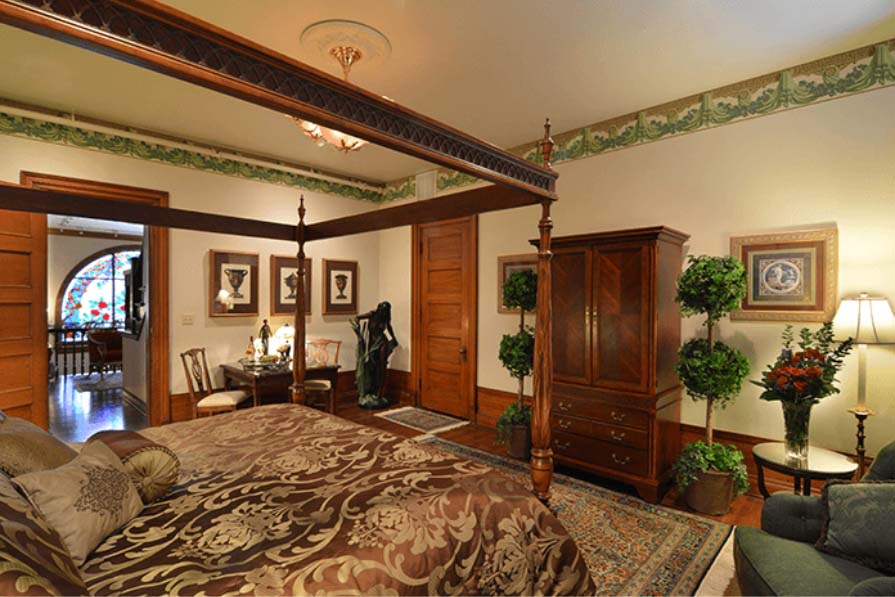 You may also arrange your romantic holiday in the town of Sharon, Pennsylvania, in the state of Pennsylvania, and make a reservation at the Buhl Mansion, Guesthouse & Spa.
Because this location is ranked among the National Register of Places' Top 10 Most Romantic Inns in the United States, you can be certain that it is ideal for getting away with that important someone in your life.
The renowned steel mogul who formerly called this town home, Frank H. Buhl, left this mansion to his family. Both the building's history and its architectural design are extremely stunning.
The property has a fascinating past. The Grand Oak staircase leads up to the luxurious guest rooms, and each one of them features a gas fireplace, a Jacuzzi that can accommodate two people, bathrobes, and slippers.
The on-site spa provides a selection of services, including massages, facials, and body treatments.
A delightful lunch is included in the garden sweetheart package, as well as the romantic turndown package, the castle escape package, and the garden sweetheart package that is available for couples.
4. The Shawnee Inn and Golf Resort, Delaware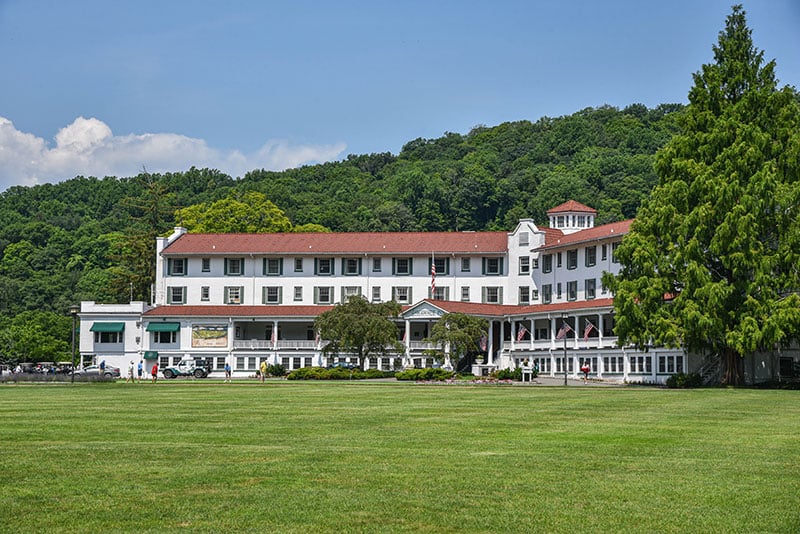 The Shawnee Inn and Golf Resort is not just one of the most romantic couples resorts in the Poconos, but it is also a fun destination for a romantic getaway, especially if you and your significant other enjoy playing golf.
On-site amenities include the peaceful ShawneeCraft Spa, which spans 3,200 square feet, the ShawneeCraft Brewery, and a variety of outdoor activities, such as archery and river cruises.
Tent accommodations in the form of glamorous camping are also available. Wine tasting excursions, relaxing spa treatments, and a mouthwatering breakfast are all included in the special package deals.
5. Harry Packer Mansion Inn, Jim Thorpe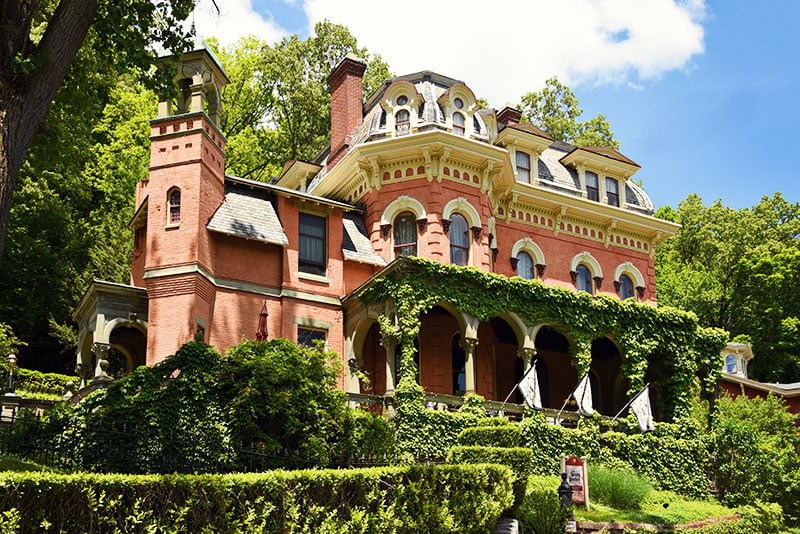 The Harry Packer Mansion Inn is a romantic inn for couples that can be found in the Poconos Mountains. It is located in one of the most lovely tiny villages in the state of Pennsylvania.
Fabulous 15-foot ceilings, gilt mirrors, and marble fireplaces can be found in this property, which is located in the Victorian hamlet of Jim Thorpe.
You are in an area that is restricted to adults only, and it is in this setting that you will be able to truly unwind and take pleasure in each other's company.
Breakfast is included in the cost of your stay, there is a full bar available, on-site parking is free, and bicycles may be stored safely here. Other perks include these.
You may participate in wine tastings on the first Friday of every month here, and the Libations Lounge serves wines by the glass and bottle, as well as other alcoholic beverages and beer.
Most Romantic Resorts in Pennsylvania
6. Nemacolin Woodlands Resort, Farmington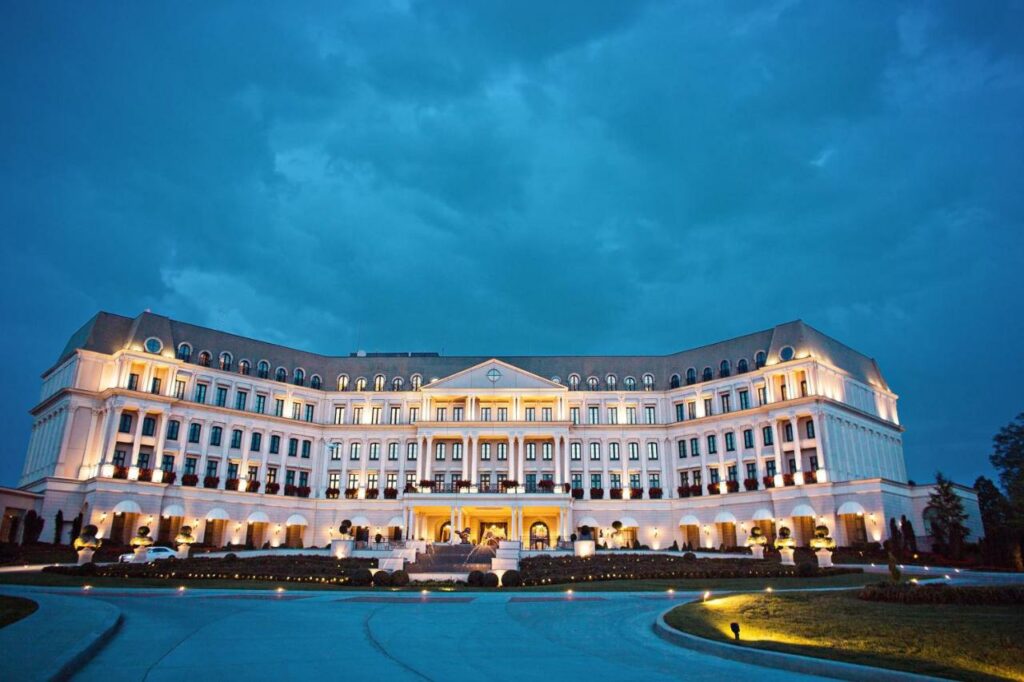 This Pennsylvania resort is ideal for couples who like engaging in a variety of outdoor activities together and who prefer to give one another memories and adventures rather than material possessions.
Ziplining, golf, wildlife safaris, off-road driving, spa treatments, and exquisite dining are just some of the activities that are available to guests at this destination.
The Chateau Lafayette, Falling Rock, The Lodge, townhouses, and luxury vacation homes are some of the places that may be rented out for overnight stays.
There are also hotels that are suitable for those traveling with their pets. Fine food can be found onsite at the restaurant named Lautrec, which is ideal for a night out with a significant other.
You may test your love luck at the Lady Luck Casino Nemacolin, which is located approximately one mile from the resort's main gate. The casino features both table games and slot machines.
7. Skytop Lodge, Skytop
The Skytop Lodge in Barrett Township is another fantastic location for couples to stay when visiting the Pocono Mountains.
The lodge has been around since 1929, and its current location encompasses 5,500 beautiful acres in Pennsylvania.
The lodge at this location features luxurious rooms and suites that are decorated in one of three distinct themes: water, garden, or mountain.
You can also choose to stay at the nearby inn, which is conveniently located near the golf course and features breathtaking views in every direction.
Both a restaurant and a lounge serving alcoholic beverages may be found within the inn. Cottages provide a more private escape than hotels or motels, and those that are located next to streams are especially appealing to tourists.
The 33-foot rock climbing wall, the Old Western Town, and horseback riding are all enjoyable activities that may be enjoyed here with the person that you love.
8. Stone Lake Inn, Saylorsburg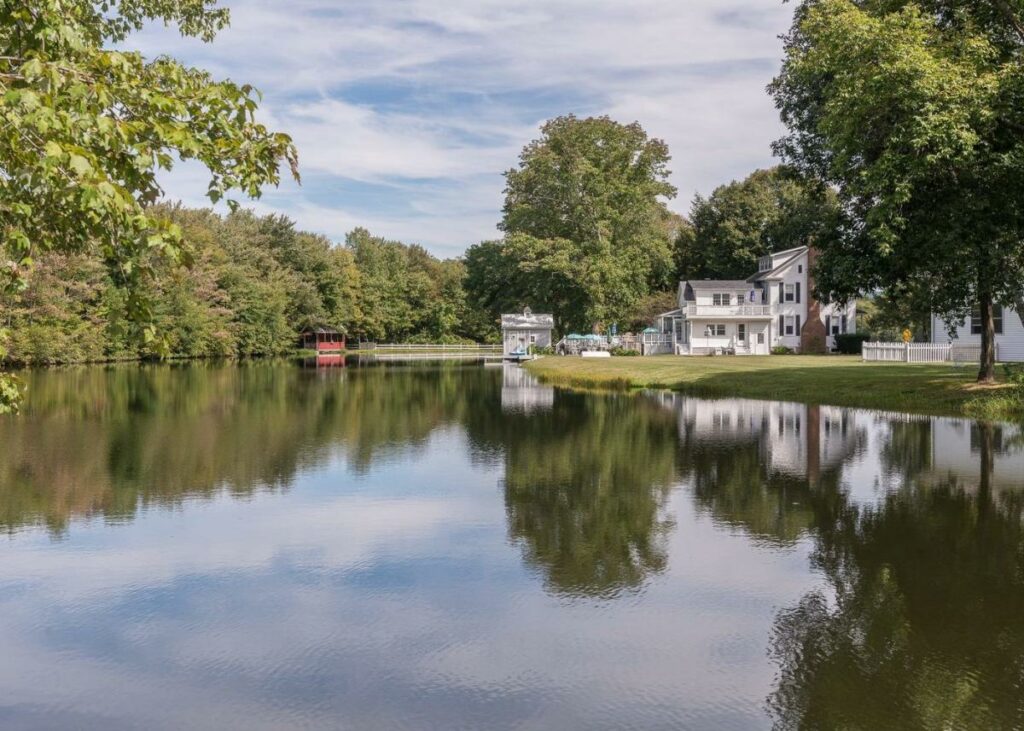 If you book your romantic getaway at the Stone Lake Inn, you will be staying in a historic mansion that was built in the 1800s on a gorgeous acreage in the country.
This bed and breakfast is located on six acres of land and features a quaint atmosphere throughout its four guest rooms.
You will have access to a private terrace overlooking the lake, a fully equipped kitchenette in your room, an electric fireplace, bathrobes, and breakfast served to you in the elegant dining area.
Intimate weddings can also be held here in a beautiful setting like this. Make a reservation at this inn when you wish to be in the middle of the wine region in Pennsylvania and get away from the hustle and bustle of your typical routine to discover some peace and quiet.
9. The Inn at Westwynd Farm, Hummelstown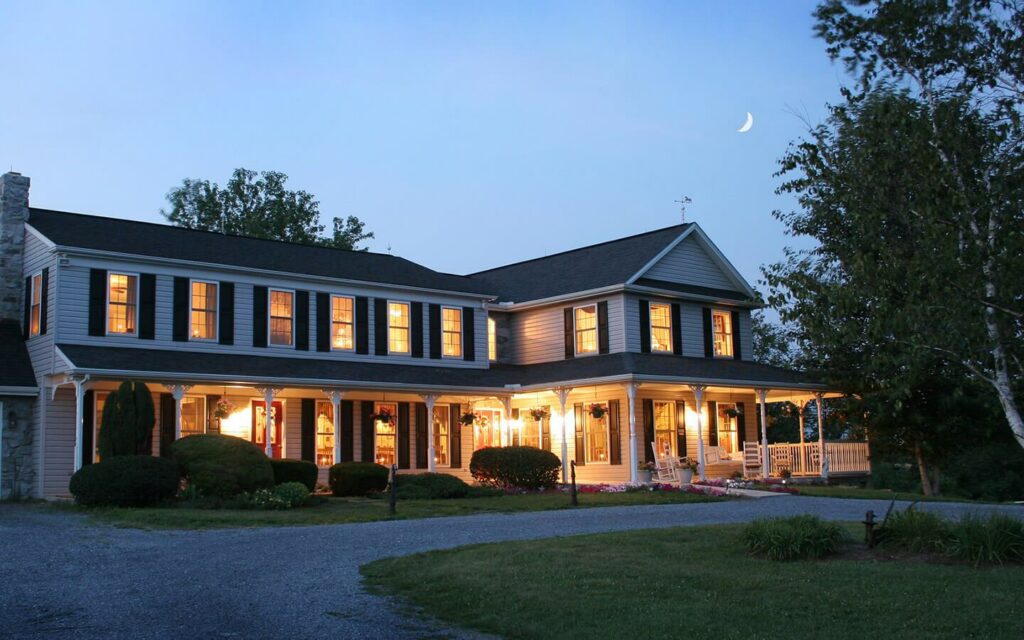 The region around Hershey, Pennsylvania is most well-known for its chocolate, but there is a quaint horse farm not far away that is home to a cozy bed and breakfast that is well worth checking out.
At The Inn at Westwynd Farm, you and your travel companion may watch the horses gallop and graze while enjoying taking advantage of the hospitable fireplaces and the daily gourmet breakfast.
This is a genuine rural retreat, and to make your time here even more memorable, you may take advantage of the celebratory and romance enhancement packages.
Most Romantic Resorts in Pennsylvania
10. Golden Plough Inn, New Hope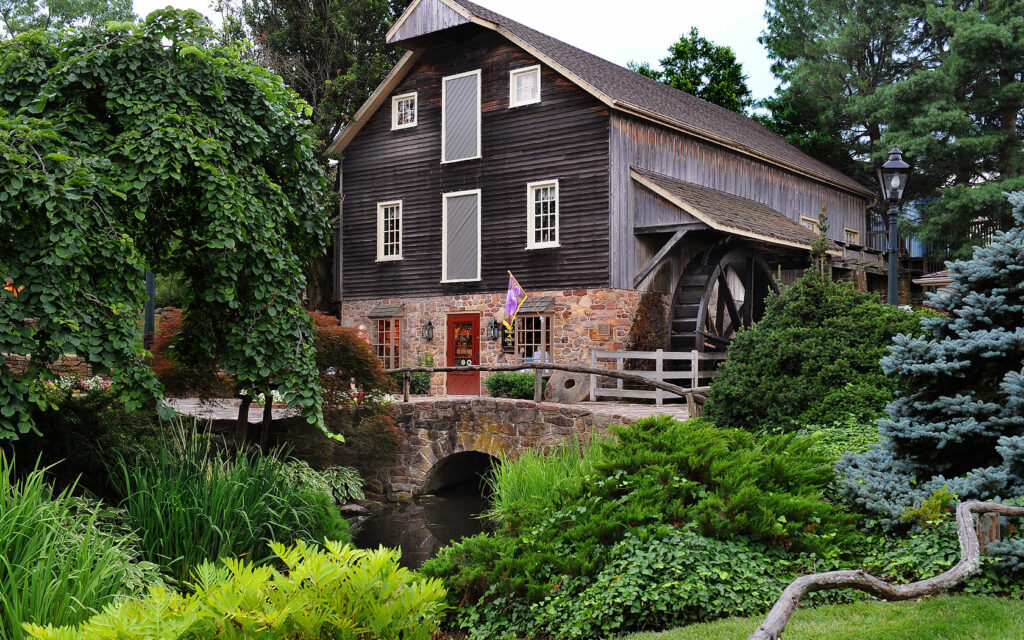 The Golden Plough Inn is a sophisticated rural inn that may be found roughly in the middle of the route that goes from New York City to Philadelphia.
Down quilts, four-poster beds, comfortable fireplaces, and window chairs that gaze out over old oak trees are some of the lovely details that the inn offers.
You have the option of staying in either a room or a suite here, with pricing varying according on the amount of space and amenities you require.
When you stay in this part of New Hope and Peddler's Village, it is a lot of fun to investigate the various specialty stores and eateries in the neighborhood.
There are many happy couples who have tied the knot here, and the venue offers various wedding packages.
11. Paradise Stream Resort, Mount Pocono
The adults-only and all-inclusive Paradise Stream Resort in Pennsylvania is one of the most romantic locations to vacation with your significant other in the state of Pennsylvania.
On a location that serves as a resort for all four seasons, this establishment is one of the Cove Pocono Resorts and includes suites, a number of restaurants and bars, and a nightclub.
There is live entertainment here every night, and you can have a dip in one of the recognizable heart-shaped hot tubs while you're here with a loved one.
In addition, the resort is home to a well-known champagne tower that stands at a height of seven feet.
There are specialized vacation packages available for honeymoons that include activities such as horseback riding, chocolate-covered strawberries, luxurious baths, and other enjoyable extras.
12. Inn at Birch Wilds, Lehighton
The Inn at Birch Wilds is a romantic vacation destination in Pennsylvania that caters only to adults and is located within a short driving distance of Jim Thorpe.
It includes a full breakfast each morning, as well as access to the indoor heated pool and jacuzzi, the pool, the comprehensive library, and the outdoor fire pit.
You may add a touch of romance to your stay by making arrangements to have flowers waiting for you in your room when you check in.
In addition, there is the possibility of having a selection of cheeses, meats, and fruits ready for you on a tray the moment you check in. This will set your vacation off to a spectacular start.