The 8 Coolest Hotel Pools in Houston, Texas 2023: The presence of a swimming pool frequently enhances the quality of a hotel stay. After a long day of seeing all the interesting things that Houston has to offer, you may relax with a swim in the pool or spend the entire day chilling out and reading a book to take your mind off of your adventures.
These specific hotel pools are among the most interesting and unique that can be seen anywhere in the Houston area.
8 Coolest Hotel Pools in Houston, Texas 2023
1. Marriott Marquis Houston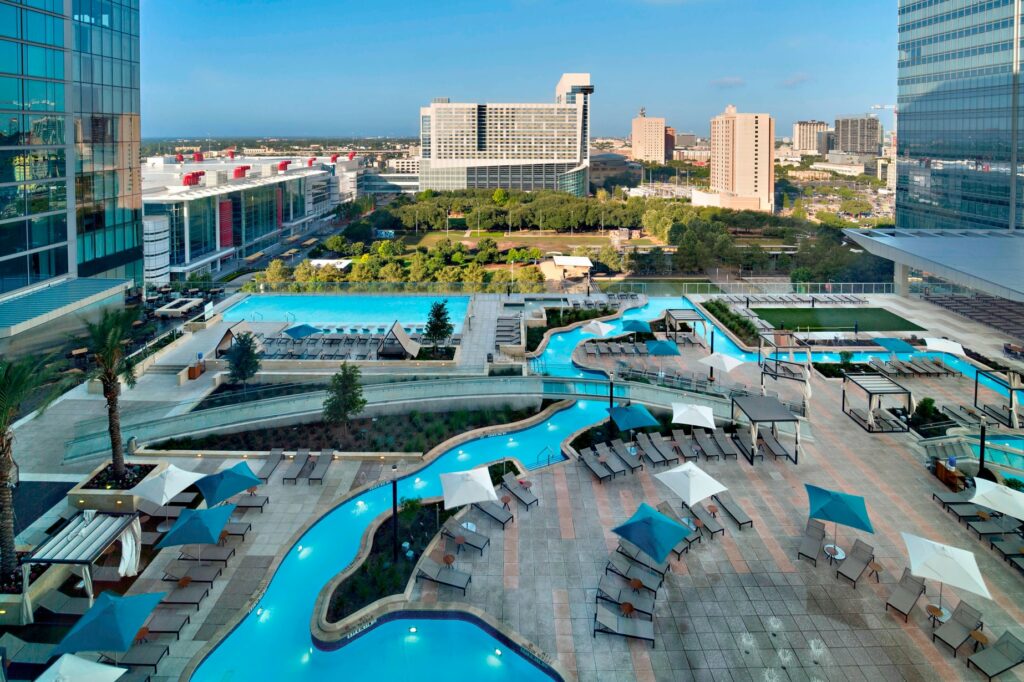 The over-the-top pool of the Marriott Marquis Houston, which is attached to the convention center and is located downtown, is an undeniable highlight due to the fact that it is constructed in the form of the Lone Star State itself.
There are in fact two pools here: one is a big lazy river in the shape of Texas, and the other is an infinity pool that is right next to it. In addition to that, there is a bar and grill as well as a hot tub.
Other amenities include a 5,000-square-foot spa with services like as couple's massages and salon services, in addition to a variety of dining options serving everything from tapas to Mexican cuisine.
Coffeemakers, flat-screen televisions measuring 55 inches with premium movie channels, and workstations outfitted with ergonomic chairs are provided in the large rooms.
In certain suites, the baths have large soaking tubs that are situated near floor-to-ceiling windows, which provide spectacular views.
Key Amenities:
Two pools and hot tub
Lazy river in shape of Texas
Spa with couples massages and salon services
2. Houstonian Hotel, Club & Spa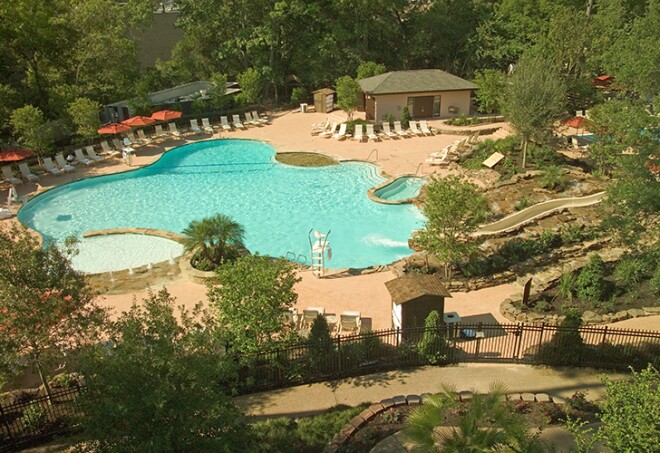 This "wooded oasis in the heart of Houston," as the hotel labels itself, is one of the greatest spa resorts in Texas and is located to the west of the downtown area of Houston.
There are three swimming pools, a water slide, a children's pool, a barbecue by the pool, walking pathways, and tennis courts, all of which are contained inside an area that is 18 acres in size and is forested.
The fitness center offers more than one hundred different programs every week, and in addition, there is a rock-climbing wall. On-site dining options are plentiful, and guest rooms come complete with Keurig coffeemakers and windows that go from floor to ceiling.
The suites all have their own fireplaces and Jacuzzi baths.
Key Amenities:
Three pools and kids' pool
Walking paths through 18 acres of forest
Fitness gym with rock-climbing wall
3. Four Seasons Houston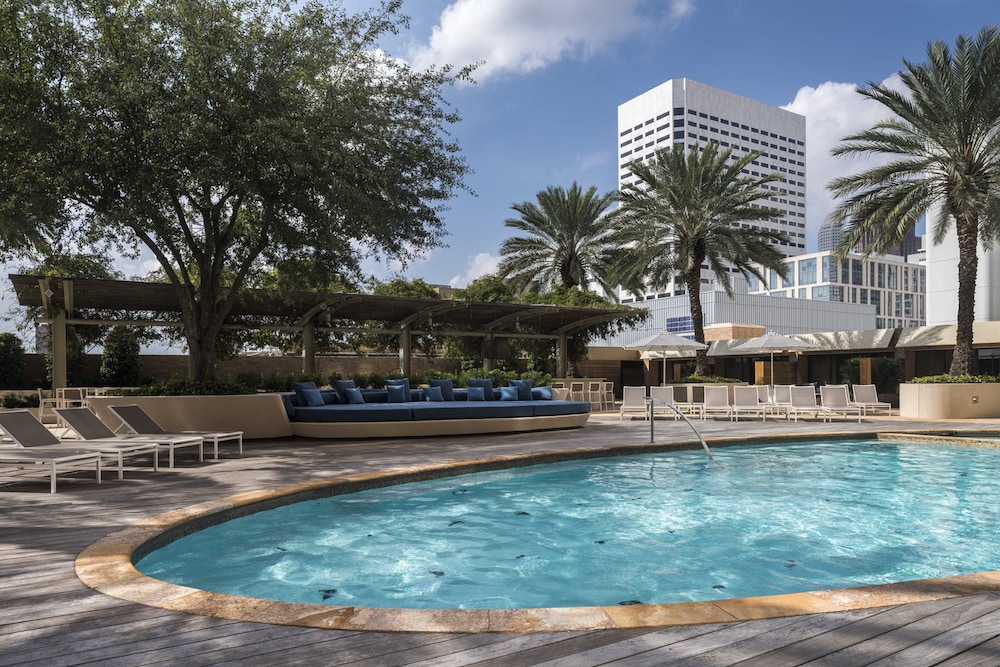 The Four Seasons Houston is a luxury hotel with five stars, and it is situated in the heart of the city, allowing easy access to both the convention center and Minute Maid Park.
It has a remarkable selection of amenities, some of which may make it difficult to go, such as an outside deck that comes equipped with a pool, hot tub, and fire pit.
In addition, there is a fantastic spa that provides a broad range of services, from hot stone massages to seaweed masks, as well as a fitness facility that features an extensive collection of apparatus for both cardiovascular and strength training.
The well-known Bandista speakeasy, the Bayou and Bottle whiskey bar, which has Topgolf Suites, and Toro Toro, a restaurant with a Pan-Latin flavor, are all located immediately on the premises of the hotel.
The rooms include expansive windows and are stocked with high-end toiletries. In addition, there are residential suite choices available that have two bedrooms and complete kitchens.
Key Amenities:
Spa with hot stone massages and seaweed masks
Topgolf Swing Suites on-site
Two-bedroom residential suites with kitchens
4. St. Regis Houston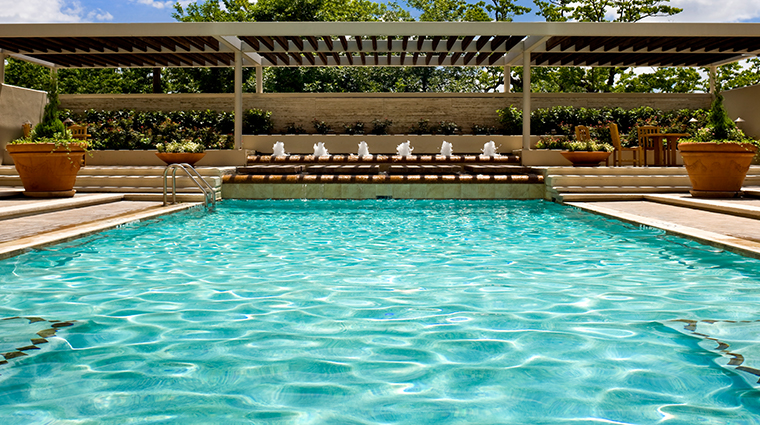 The opulent River Oaks area and the renowned Galleria shopping district are both within close proximity to the St. Regis Houston hotel.
It is one of the few hotels in Houston that have received a rating of five stars, and it features a broad selection of premium facilities, such as a beautiful outdoor pool that is surrounded by comfortable lounge chairs.
In addition to that, there is a luxurious spa that specializes in holistic body treatments as well as a fitness facility. The steaks at the Remington Restaurant, which is located on the premises and provides American cuisine, are particularly well-liked by both hotel guests and residents.
Spend the evening drinking drinks while being entertained by live music at the bar. There are flat-screen televisions and Bose Wave audio systems in each of the guest rooms.
The majority of suites include butler service and Jacuzzi baths, and the living rooms of the suites are distinct from one another.
Key Amenities:
Outdoor pool
Lavish spa with holistic body treatments
Suites with whirlpool tubs and butler services
5. The Moran Hotel CITYCENTRE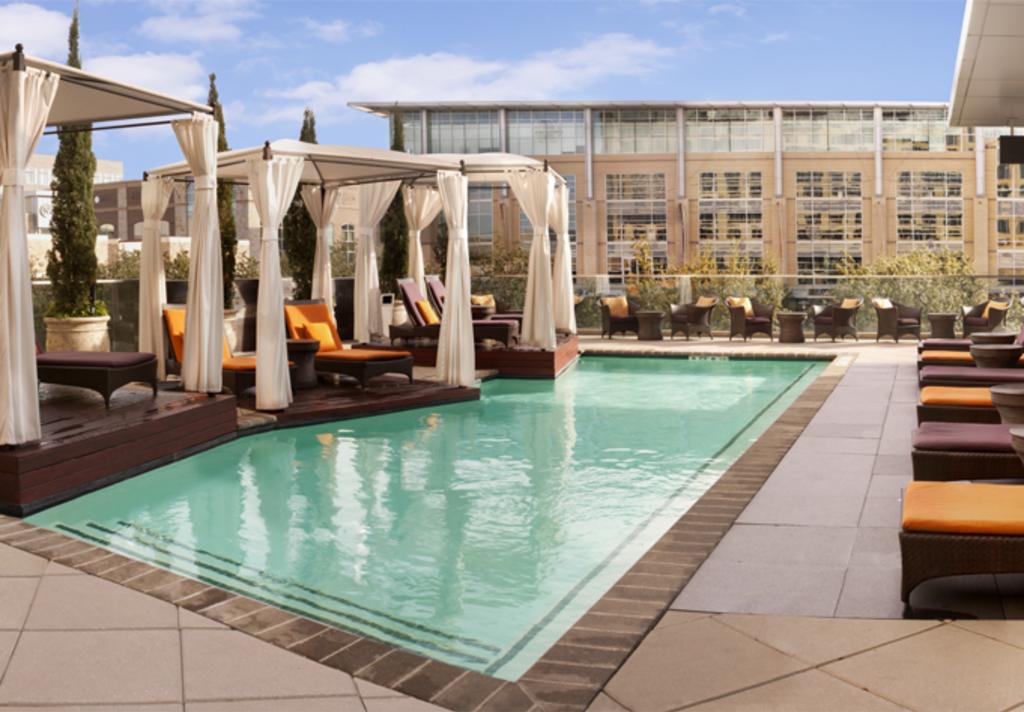 The chic Moran Hotel CITYCENTRE in West Houston contains a self-contained town that provides premium shopping, eating, and entertainment outlets.
This neighborhood serves as a calming refuge for guests of the hotel. It has a stunning infinity pool with cabana-type beds, which are very popular after dark.
The pool is lighted up in a purple glow, and it also has a full bar and a restaurant designed in the form of a bistro to keep the party going.
In addition, there is a fitness facility that is open around the clock as well as a large spa that offers both body and beauty treatments. In addition, the rooms have both a flat-screen television and a minibar.
Key Amenities:
Infinity pool with cabana-style beds
Spa with body and beauty treatments
Bistro-style restaurant with full bar
6. Hotel ZaZa Houston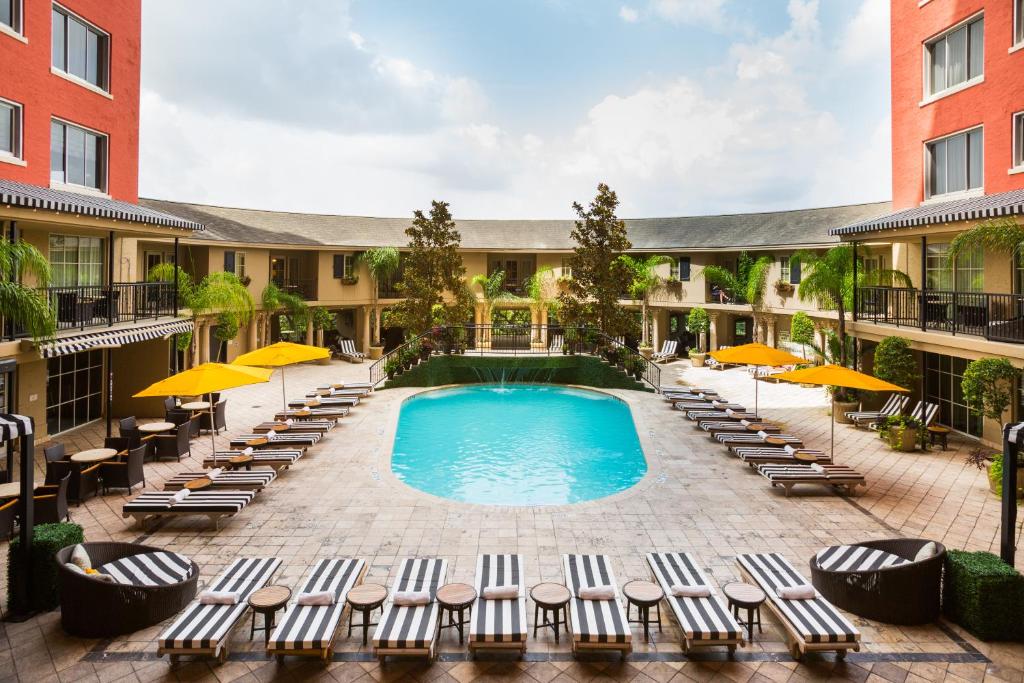 The cool and quirky Hotel ZaZa Houston is located in the Museum District of Houston. It is a boutique hotel that boasts a pool in the manner of Europe that is situated inside a charming courtyard that is surrounded by lush vegetation and lounge chairs.
During the day, it's the ideal spot to laze around in the warm rays of the sun, and then in the evening, it turns into the Poolside at ZaZa, a famous outdoor bar area.
The opulent spa is ideal for honeymooners since it provides beauty and body treatments in addition to a fitness facility that is open around the clock and contains weight equipment and cardio machines that each have their own television.
The rooms are modern while yet maintaining a sense of comfort, and they come complete with in-room bars, flat-screen televisions, rainfall showers, and premium bath amenities.
Key Amenities:
European-style pool in courtyard
Outdoor bar lounge area
Luxe spa with body treatments and fitness center
7. The Westin Houston, Memorial City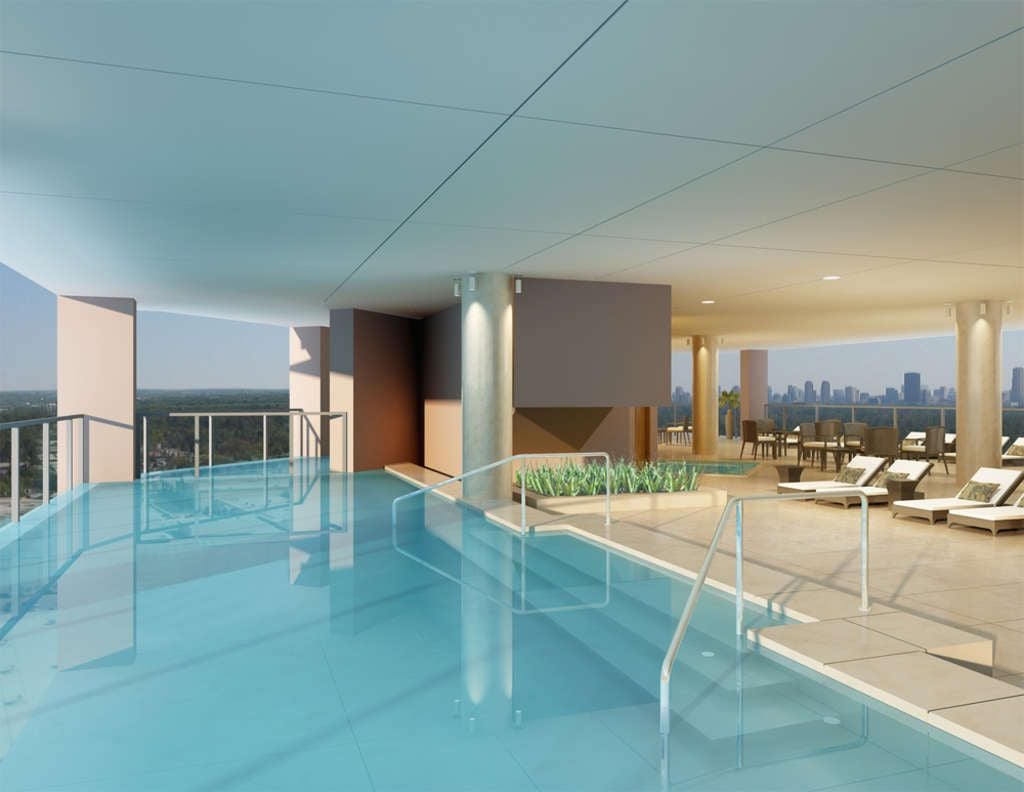 The Westin Houston is located immediately across the street from the Memorial City Mall and is connected to the mall through a skywalk, which makes it very popular among shopping fans.
However, the highlight of this hotel is its rooftop infinity pool, which offers views of the city skyline in addition to a hot tub.
There is also a very well-equipped fitness facility located on the rooftop, which includes high-tech weight training machines, cardio machines, and free weights.
Guests also have the option of renting New Balance running shoes and having workout clothes delivered to their rooms for an additional cost.
The rooms come equipped with a flat-screen television and luxurious bathrobes, and the hotel has a restaurant, a bar, a coffee, and room service that is available around the clock.
Key Amenities:
Rooftop infinity pool and hot tub
Rooftop fitness center and fitness gear for rent
Restaurant, lounge, cafe and 24-hour room service
8. The Post Oak Hotel at Uptown Houston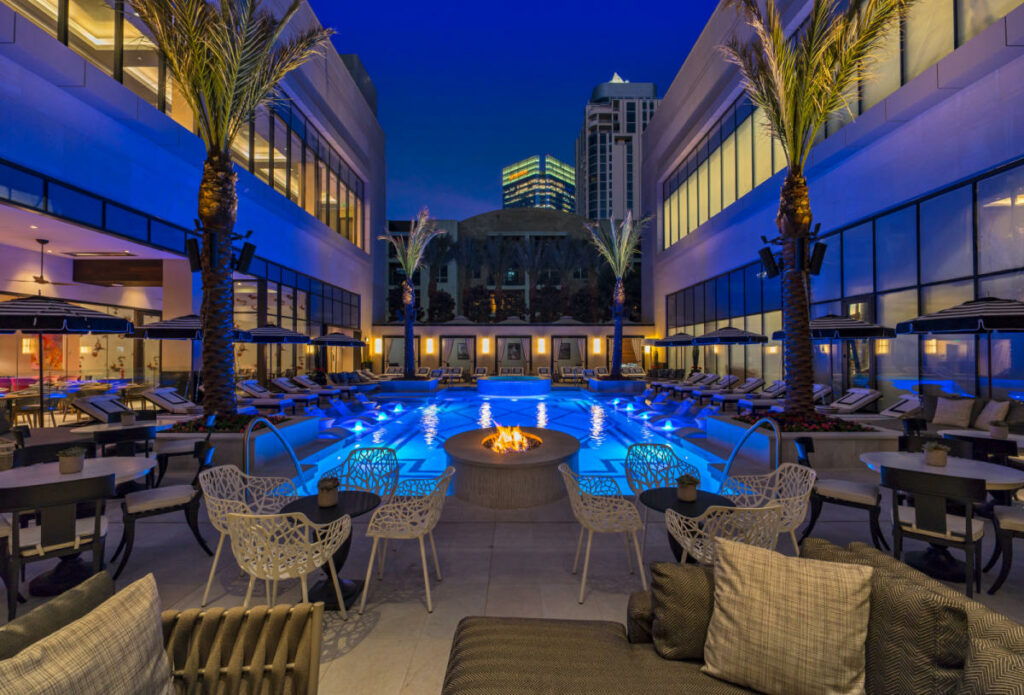 The pool at the Post Oak Hotel in Uptown Houston is simply out of this world, and it is flanked by chaise couches and a fire pit. There is also a luxurious spa and salon, in addition to a state-of-the-art fitness center that features cycling lessons.
Because you are able to order anything to drink or eat from anywhere on the site, this includes your cabin or a lounger by the pool; in fact, you are even able to have sunscreen sent to you.
On-site dining at Mastro's Steakhouse provides a selection of 16 different cuts and chops, and a sommelier in the wine cellar can guide you through the selection of 30,000 different bottles of wine.
The lavish rooms come complete with amenities such as Nespresso coffee makers, Technogym health racks, fully stocked minibars, and marble bathrooms that come equipped with their very own television screens and soaking tubs.
Key Amenities:
Gym offering cycling classes
Pool with lounges and fire pit
Marble bathrooms with TVs and soaking tubs
8 Coolest Hotel Pools in Houston, Texas 2023- Newshub360.net
Related Post

Credit : www.Newshub360.net