The Best Couples Resorts in the World 2023: Numerous five-star hotels offer services geared at couples, making it easy for them to relax and enjoy each other's company while on vacation.
As a matter of fact, vacationing at one of these resorts may be an ideal and stress-free experience.This list of the finest couples resorts in the globe can help you find exactly what you're looking for.
If the idea of taking a vacation somewhere exotic with your significant other sounds like the ideal way to take a break from the craziness of your everyday life, but you're not sure which resort would be best for you.
20 Best Couples Resorts in the World 2023
1. Four Seasons Resort Bora Bora – French Polynesia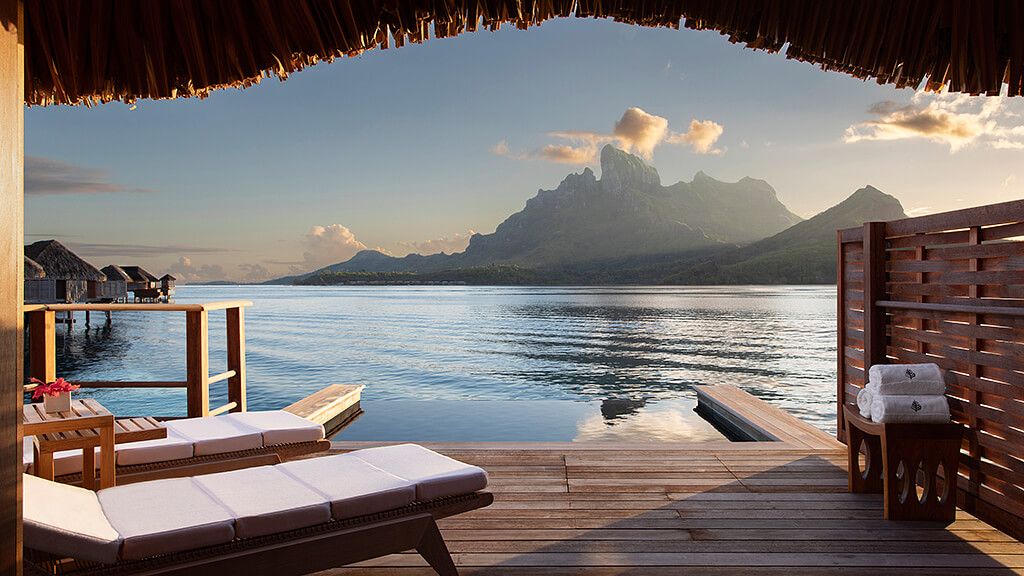 Is one of the items on your bucket list to spend a night in an overwater bungalow in Bora Bora? You won't want to miss out on this fantastic resort for couples, which is located in the South Pacific and is encircled by islands on an outer coral reef.
The Four Seasons Resort Bora Bora features a catamarán, an infinity pool, a lagoon sanctuary, a spa with relaxation lounges, and complimentary use of non-motorized water sports.
All of these attractions are included in the resort's list of amenities. Special wedding and honeymoon packages are offered at the Four Seasons, making it the perfect location for a romantic getaway in the South Seas.
Consider staying in one of the speciality overwater bungalow suites or the beachfront villa estates for a vacation that is the epitome of opulence.
Key Amenities:
Infinity pool and lagoon sanctuary
Complimentary non-motorized water sports
Luxury overwater bungalow suites and beachfront estates
2. Spice Island Beach Resort – Grenada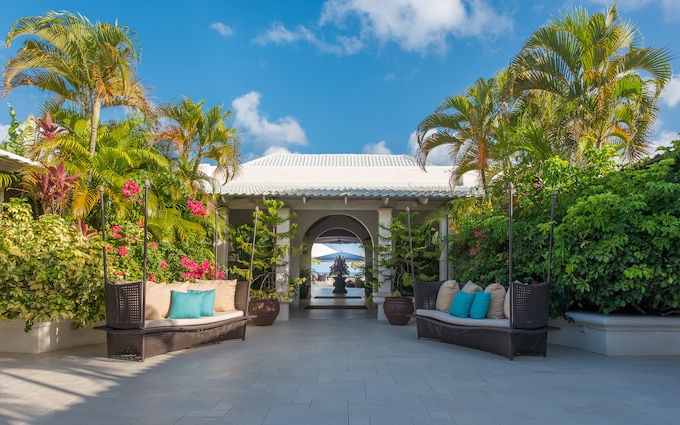 The all-inclusive Spice Island Beach Resort in the West Indies is a popular choice for honeymooners and other couples seeking a tropical getaway.
This is a well-known location for weddings and honeymoons due to its beautiful gardens of tropical flowers, pool suites, and sunset sails, all of which are designed to infuse your vacation with a sense of romanticism.
Both the Sea and Surf Terrace & Bar and Oliver's Restaurant provide true regional delicacies, while Oliver's Restaurant is a more formal dining establishment that serves Creole, international, and vegetarian dishes.
Sea and Surf Terrace & Bar also serves drinks. In addition to that, there is a spa that offers a variety of massage therapies.
Key Amenities:
All-inclusive property
On-site luxury spa.
Spacious pool suites
3. Jade Mountain – St. Lucia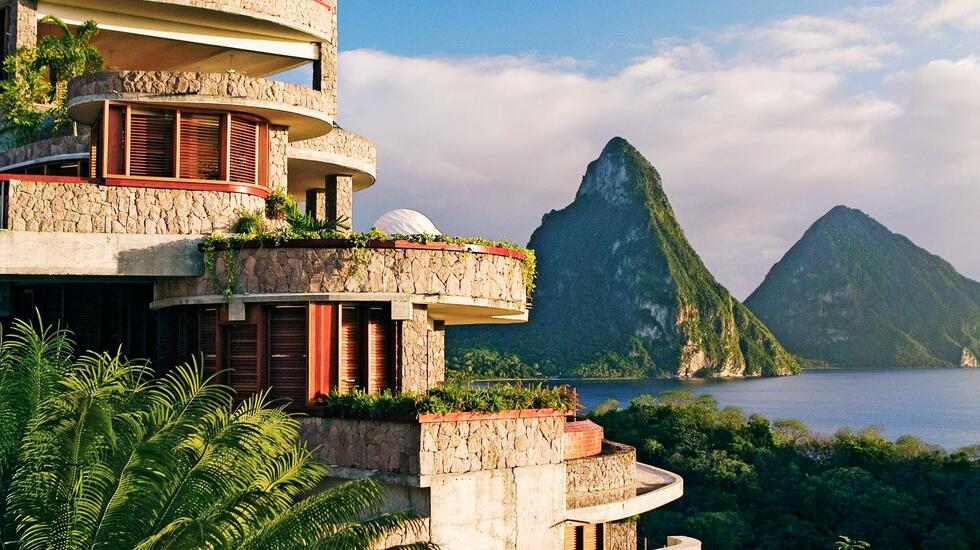 Jade Mountain is a romantic luxury resort in St. Lucia that celebrates the region's picturesque beauty and is regarded as one of the top adults-only all-inclusive resorts in the world.
The resort stands above a beach that spans 600 acres and is known for its all-inclusive amenities.
In addition to the breathtaking panoramas of the Piti and Gros Piton mountains that are afforded by the location's elevated position above the Caribbean Sea, guests have their choice of lodgings between sparkling infinity pool retreats and extravagant romantic sky jacuzzi suites.
In addition, couples may revel in the exotic delicacies of "Jade Cuisine" at the Jade Mountain Club, participate in complimentary yoga lessons, and experience the romantic Alchemy of Two spa treatment together.
Key Amenities:
An adults-only all-inclusive property
Views of the Piti and Gros Piton mountains and the Caribbean Sea
An infinity pool
Romantic sky jacuzzi suites
4. Kokomo Private Island Resort – Fiji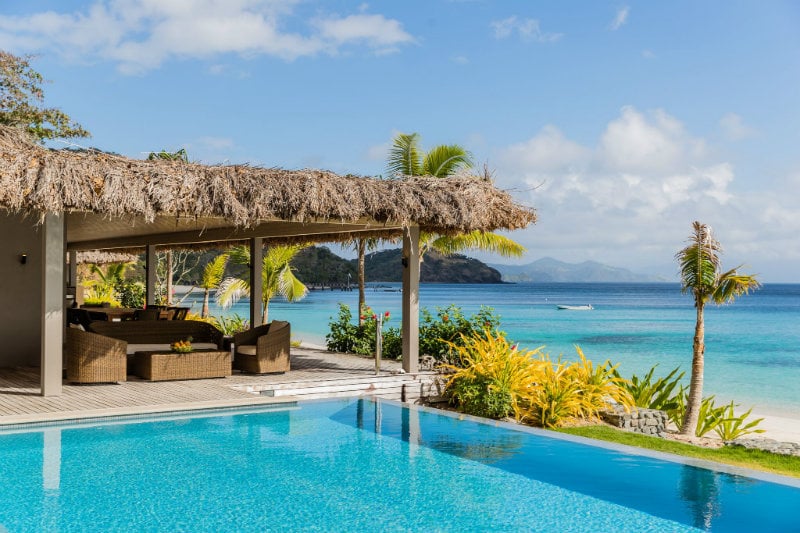 Another country that is perfect for romantic getaways for couples is Fiji, and the Kokomo Private Island Resort provides a private island refuge that is unparalleled in comparison to any other.
You have the option of staying in one of the luxury homes, which may have up to six bedrooms, or one of the beachfront villas, which provide direct access to the beach.
Each of the luxury suites at this paradisiacal retreat features an own infinity pool.
Your stay includes all meals, beverages that do not include alcohol, and water activities that do not involve motorized vehicles.
Key Amenities:
A private island getaway
Luxury suites with infinity pools
Upgraded beachfront villas with direct beach access
5. Cayo Espanto – Belize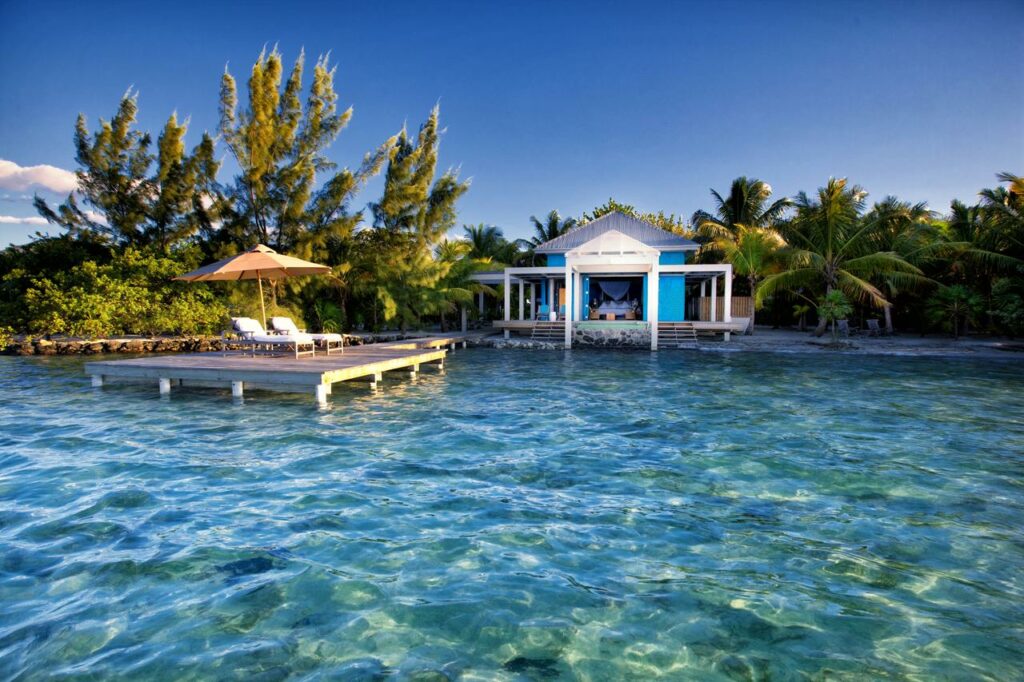 Are you seeking the utmost degree of privacy? Cayo Espanto is a private island resort in Belize that features luxury villas that are both on the beach and along the water's edge, and each house comes equipped with its own private pool.
Scuba diving, windsurfing, catamaran sailing, and jungle tours are some of the excursion activities that may be enjoyed by couples during their stay at this five-star resort.
Visit this location if you value your privacy and the opportunity to spend some quality time with the person you love.
Key Amenities:
A private island resort
Beachfront villas with private pools
Excursions like scuba diving, windsurfing, and sailing
6. Excellence Playa Mujeres – Mexico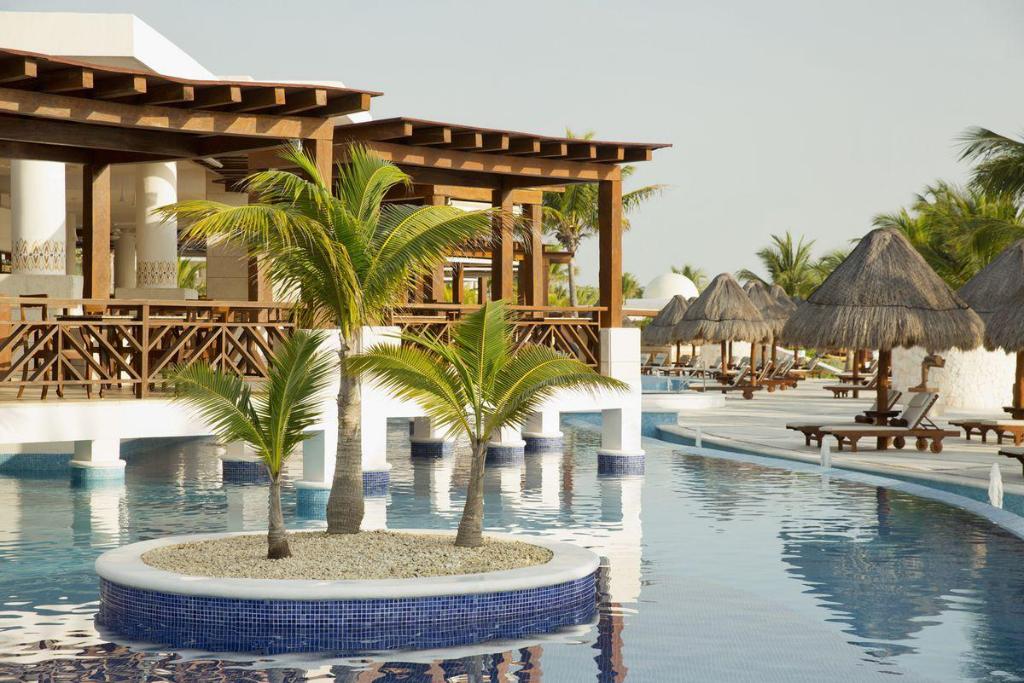 Cancun's vibrant nightlife and the Cancun International Airport are both conveniently located near Excellence Playa Mujeres, which is widely regarded as the best all-inclusive resort in Mexico.
Inland marinas, championship golf courses, and luxurious spas are all located nearby.
This adults-only retreat features a variety of eateries from across the world, making it an ideal spot to stay for those who enjoy trying new cuisines.
The deluxe suites at Excellence have spacious living areas, private Jacuzzis with both indoor and outdoor access, as well as breathtaking views from the bedroom.
There are also honeymoon suites available, in addition to a number of swimming pools, nightly entertainment at the Main Stage Theater, and a variety of chic lounges and bars that are supplied with quality beverages.
Key Amenities:
Adults-only, all-inclusive property
Multiple restaurants on-site
Suites with private jacuzzis
Nightly entertainment and multiple lounges/bars
7. Galley Bay Resort & Spa – Antigua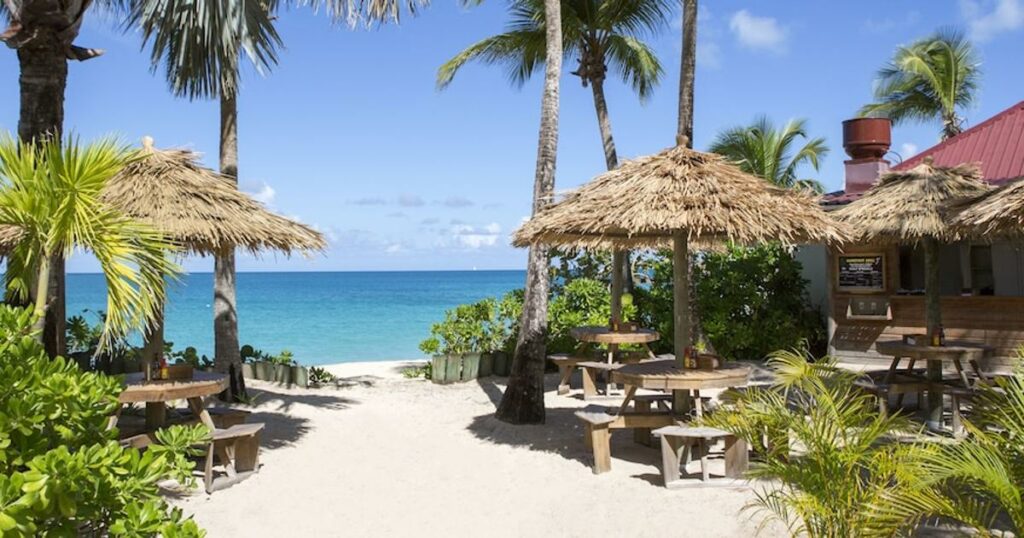 The all-inclusive beachfront atmosphere of the Galley Bay Resort & Spa makes it an ideal place for couples to spend a vacation in the Caribbean.
This resort offers private accommodations that are nestled away along the beach and have luxurious suites that are surrounded by forty acres of grounds.
There are a variety of accommodations offered, including beachfront rooms, premium beachfront suites, and Gauguin Suites.
Other attractions include evening hors d'oeuvres, afternoon tea, top-shelf beverages, and wines by the glass.
There are also beautiful open-air restaurants and several lounges with breathtaking seaside panoramas.
Couples have complimentary access to water activities, live entertainment, and excursions into the surrounding area to view native species.
Key Amenities:
All-inclusive property
Beachfront rooms and suites
Oceanfront restaurants and lounges
8. Astra Suites – Santorini, Greece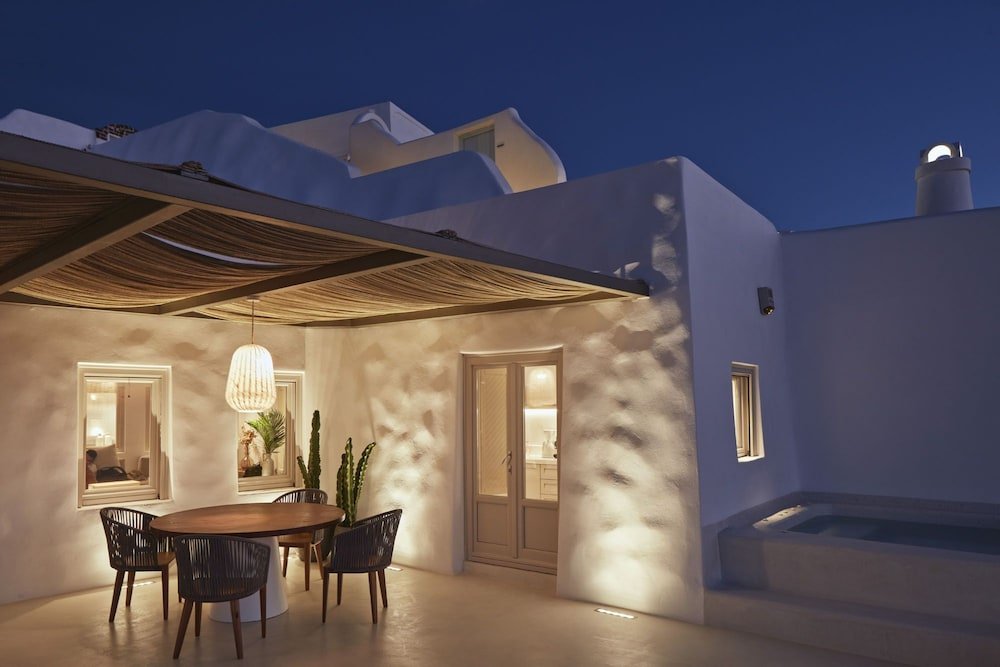 The Astra Suites is widely considered to be one of the most romantic hotels in all of Greece. This is due to the gorgeous views, private balconies, and romantic surprises that are offered to guests.
Couples may enjoy the Santorini sunset while gazing out at the caldera and the Aegean Sea from one of the luxury suites, which also have outdoor jacuzzis and big private verandas.
Romantic views of the caldera and the sea can be found throughout the hotel. After taking a dip in the cliff-side infinity pool or getting a couples treatment at the spa, guests may enjoy Greek and Mediterranean cuisine while gazing up at the stars from the restaurant terrace at Astra.
Spending time in the on-site spa, restaurant, bar, and cliff-side infinity pool at the resort will be a highlight of your trip to Santorini.
You will enjoy strolling hand in hand along the white-washed streets and gorgeous structures of Santorini.
Key Amenities:
Luxury suites with outdoor jacuzzis and verandas
Cliffside infinity pool
On-site spa with couples massages
9. Auberge du Soleil – Rutherford, California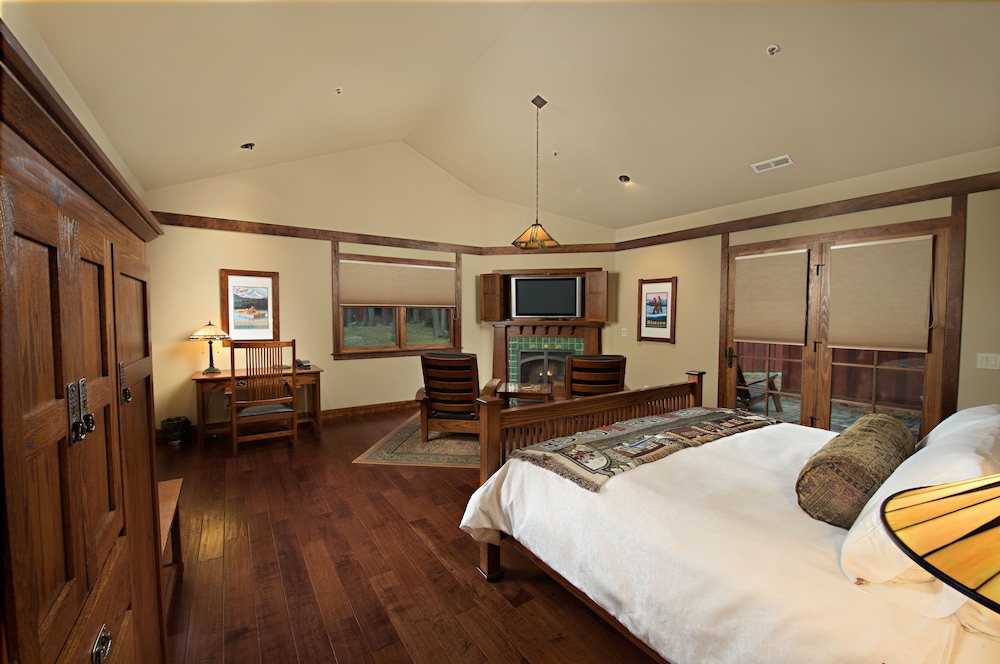 The Auberge du Soleil is widely regarded as the best resort for couples to visit in California, in addition to being one of the most tranquil hotels in the United States.
It's also a stunning hideaway in the Napa Valley that takes its design cues from the South of France.
The resort is situated on 33 acres of ancient olive and oak trees, and it offers luxurious and opulent hotel rooms and suites to its guests.
It provides couples with romance packages that may include outdoor candlelight baths for two, couples massages, in-room breakfasts, multi-course meals, and complimentary wine and fruit upon arrival in the hotel.
Take a look at the unique after-hours access package that is offered at the spa that is located on the premises.
This package consists of a three-hour couples experience that includes a private garden bath, massage, steam, sparkling wine, and dessert served beneath the stars.
Key Amenities:
Set on 33 acres of olive and oak trees
Elegant rooms and suites
Romance packages with couples massages
Luxury on-site spa
10. Hana-Maui Resort – Maui, Hawaii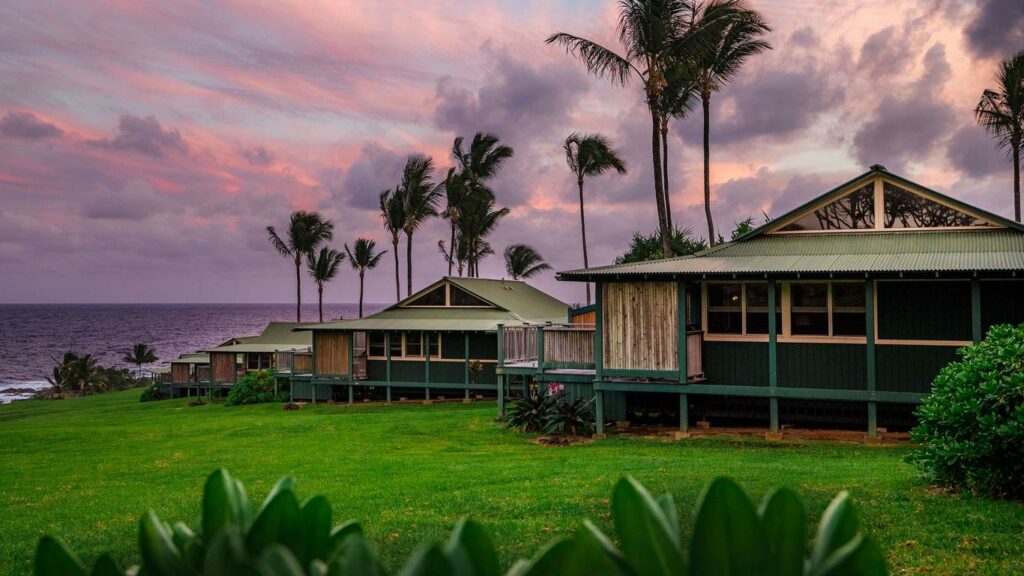 The Hana-Maui Resort, located on the most eastern point of Maui, is widely considered to be among the top all-inclusive hotels in all of Hawaii.
It is tucked away along the world-famous Road to Hana in Hawaii, which is known for its 64-mile length of breathtaking beauty along the highway.
You'll have quick and easy access to some of the most stunning beaches in the area when you stay at this resort, which is located in Hana town.
The rooms and suites are beautiful, and the apartments have kitchens as well as beachside bungalows with outstanding views of the water.
The property spans 66 tropical acres. You may get pampered to your heart's content at the on-site spa, which has Hawaiian healing techniques like lomi lomi massages, as well as a eucalyptus steam room, a cold plunge pool, and a jetted tub with a view of Kapueokahi Bay.
If you want to be pampered, head to the on-site spa. After that, you may indulge in farm-to-table cuisine at the Hana Ranch Restaurant or sip cocktails poolside at the Pool Bar. Both are located on the property.
Key Amenities:
An oceanfront swimming pool
On-site spa with Hawaiian-focused treatments
Farm-to-table dining at on-site restaurant
Easy access to Hawaii's best beaches
11. Enchantment Resort – Sedona, Arizona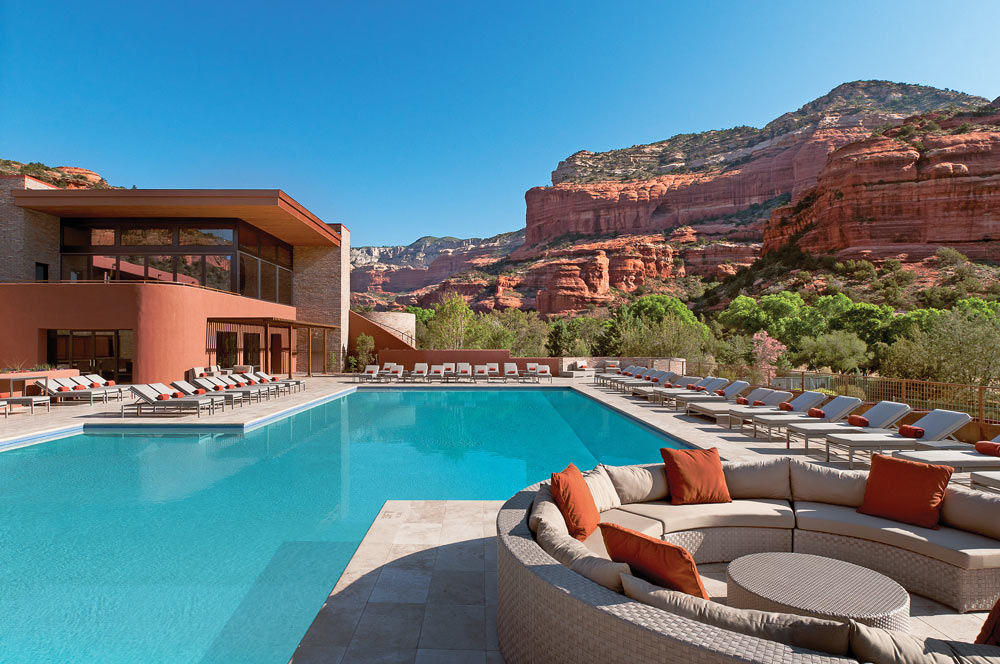 Enchantment Resort is a haven of good energy and tranquillity, and it offers some of the greatest hotel views in the United States.
It is located among Arizona's famous red rocks, which are known all over the world. The rooms and suites are housed in modest pueblo-style structures.
Each room and suite features a comfortable beehive fireplace as well as individual terraces from where guests can take in the breathtaking vistas.
If you want the finest experience, be sure you reserve a room that is either on a higher level or with a view of the canyon face.
You may look forward to having luxury treatments at the world-class Mii Amo spa, where clients have special rights for treatments inspired by the knowledge and traditions of Native Americans, with the goal of reaching balance and harmony.
You can also look forward to wandering the trails of the resort. Beading, ceramic glazing, canyon treks, and stargazing are just a few examples of the diverse activities that guests can participate in while staying at the Enchantment Resort.
Key Amenities:
Rooms with views of Arizona's iconic red rocks
Luxury on-site spa
Activities like canyon walks and stargazing
12. The Caves – Jamaica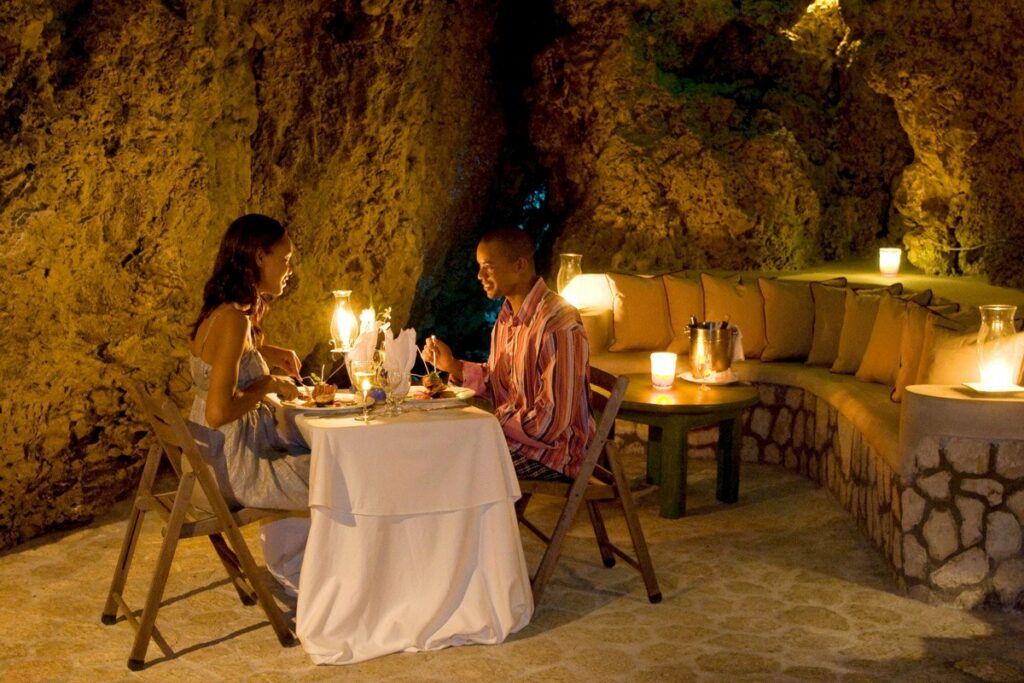 The Caves in Jamaica, a hideaway in Negril that is reserved only for adults, is consistently named as one of the couple's resorts that receives the highest ratings throughout the world.
Every single accommodation is one of a kind and is perched above the famous sea caves that are the inspiration for the resort's name.
One of the best places to get away from it all, The Caves in Negril can be found just a few minutes away from the world-famous Seven Mile Beach.
During your time here, you have the option of staying in a cliffside cottage or in the big villa and taking use of the resort's dining gazebos, rum bar, and private caverns.
Activities like as kayaking, sipping drinks and eating jerk chicken that is produced onsite, and visiting Negril's thriving nightlife and live music scene are popular choices for couples looking for things to do in the area.
In addition, there is a spa that offers a unique Jamaican brown sugar body scrub as their signature treatment.
Key Amenities:
An adults-only property
Cliffside cottages
Spa with Jamaican brown sugar body scrubs
Easy access to Seven Mile Beach
13. Anantara Uluwatu Bali Resort – Bali, Indonesia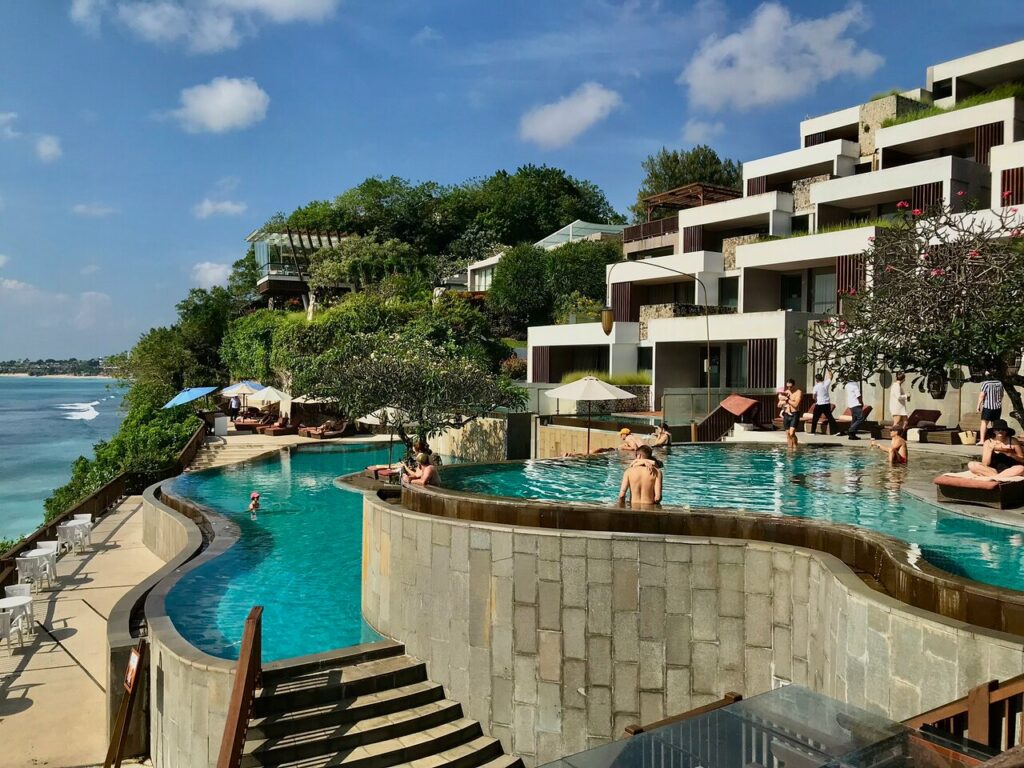 In addition, the Anantara Uluwatu Bali Resort in Bali is one of our top picks for a couple's resort because of its enticing suites, pool villas, and townhouses, all of which are situated on a magnificent cliffside.
In addition to that, there is a modern wedding chapel perched on the edge of the cliff, as well as an oceanfront swimming pool with many levels.
A romantic honeymoon package is one of the offerings that Anatara has to offer. This package includes rose petal baths, massages, clifftop dining, and other enjoyable extras.
In the meanwhile, the spa features two treatment rooms specifically designed for couples, as well as wellness programs that include yoga, nutritious cuisine, and therapeutic therapies.
This is also a fantastic area to try surfing with your significant other at the neighboring Quiksilver Bali Surf Academy, or to take a day trip to the world-famous Uluwatu Temple, which is known for its breathtaking sunsets and its traditional Kecak dance.
Key Amenities:
Dramatic cliffside setting
Romantic suites, pool villas, and townhouses
A multi-layered oceanfront swimming pool
Posh spa with wellness programs
14. Qualia – Hamilton Island, Australia
Due to the fact that guests at the luxurious resort of Qualia must be at least 16 years old, this destination is ideal for romantic getaways with a significant other.
It is possible for couples to spend their days at this resort lounging by the pool, indulging in massage treatments at the spa, taking advantage of the private beach, and kayaking along Whitehaven Beach.
At Qualia, there are a variety of restaurants to choose from, in addition to a culinary school run by the hotel's executive dining staff.
While you're in the area, you should take an excursion to the Great Barrier Reef to take in its breathtaking beauty and fly in a helicopter to get to the golf club.
Key Amenities:
Adults-only property
Luxury on-site spa
Private beach
Excursions to the Great Barrier Reef and Whitehaven Beach
15. Ashford Castle – Cong, Ireland
Because of its refined atmosphere and proximity to Cong, County Mayo, Ashford Castle is a popular place for couples to spend their vacations.
It is widely regarded as one of Europe's most romantic castle hotels, making it an excellent choice for couples celebrating their honeymoons or anniversaries.
The resort provides romance packages that include things like spa treatments, dinners consisting of many courses, archery lessons, champagne, and access to golf courses.
Fishing, horseback riding, cycling, kayaking, and falconry are just some of the enjoyable activities that couples may engage in while staying at this estate that spans 350 acres.
Couples who share a love of good food will also like the hotel's four major dining rooms, afternoon tea, private wine tastings, and Irish tapas served in the Billiards Room.
Key Amenities:
Romance packages with spa treatments
Activities like fishing, horseback riding, kayaking, and falconry
Afternoon tea and wine tastings
16. Hotel Remota – Patagonia, Chile
At this Patagonia couple's resort, you will be living in luxury despite the fact that Patagonia is a place that is wild and harsh.
There is a heated pool, saunas, Jacuzzis, a shop, a bar, and a fantastic restaurant in addition to the luxurious accommodations with wonderful views.
Couples that like outdoor activities together, such as climbing, mountain biking, and fly fishing, particularly enjoy going on nature excursions together.
Key Amenities:
Luxe rooms with Patagonia views
A heated pool and sauna
Excursions such as mountaineering, mountain biking, fly fishing
17. Chiva-Som – Hua Hin, Thailand
Chiva-Som, a worldwide health resort, is also known as "Haven of Life." If you and the person you care about most want to improve your overall health and wellness, here is the place to go.
Over seventy different treatment rooms are available, in addition to a kinesis studio, watsu pool, Kneipp spa, and sauna.
The resort may be found at Hua Hin, which is a royal city on the Gulf of Thailand and is approximately 183 kilometers (114 miles) from Bangkok.
The Niranlada Medi-Spa specializes in non-invasive laser therapy, micro-invasive cosmetic surgery, and anti-aging medication.
Couples will also appreciate the variety of meals that are designed to cleanse the body, and they may do so while the Niranlada Medi-Spa is providing services.
Key Amenities:
Focus on health and wellness
Posh spa with sauna, watsu pool, and Kneipp bath
Medi-spa with anti-aging and laser treatments
18. The Cliff House in Cape Neddick, in the State of Maine
Couples who wish to enjoy one other's company while taking in the breathtaking scenery of the northeastern United States can consider booking a stay at the Cliff House.
This historic resort in Maine has been open to tourists ever since it was founded in 1872, and it stretches across 70 acres along the beach and Bald Head Cliff.
The ocean-view suites and traditional seafood dishes that are offered at the resort's restaurants are popular amenities for couples.
During your visit, you may enjoy year-round outdoor activity at the resort, such as sea kayaking and snowshoeing, by making reservations at the spa for massage treatments for both you and your companion.
Key Amenities:
Set on 70 acres along the ocean
Ocean-view rooms
On-site restaurant serving fresh seafood specialties
Outdoor activities like sea kayaking
19. Magee Homestead – Saratoga, Wyoming
Consider booking a stay at the Magee Homestead, a luxurious guest ranch located in Wyoming, for an unforgettable vacation in the United States with your significant other.
Visit this place to relive the glory days of the Wild West and feel like you've traveled through time.
The ranch features a private lodge, historically restored cottages, a quiet pool surrounded by sun loungers, a luxury spa, and a multitude of possibilities for you to cross off some of the items on your outdoor adventure bucket list.
There are a variety of activities available to guests, some of which include fly fishing, mountain biking, horseback riding, mountain shooting sports, and yoga.
Key Amenities:
Luxury guest ranch in Wyoming
A private lodge and cozy cabins
An outdoor pool with sun loungers
Wilderness adventure opportunities, such as horseback riding and fly fishing
20. Vigilius Mountain Resort – South Tyrol, Italy
The Vigilius Mountain Resort is a popular destination for romantic getaways for couples who want to get away from it all and focus entirely on one another.
Come here to escape the stresses of modern life and find a haven while you're on a health vacation.
Choose the Simply Twosome package for a breakfast with breathtaking views, a romantic candlelit supper for two with four courses, guided hiking trips, and other romantic delights.
Together, you and your companions may enjoy the wonderful spa, as well as the restaurant, wine cellar, and enlightening workshops.
Key Amenities:
Set 1,500 meters above sea level
Infinity pool with mineral water
Rooms with balconies or terraces
Only reachable via a cable car
Best Couples Resorts in the World 2023 – Newshub360.net
Related Post
Credit : www.Newshub360.net