The 14 Treehouses in Florida That Awaken Your Inner Child 2023: You would be mistaken if you assumed that treehouses were nothing more than elevated versions of traditional backyard playhouses.
You can reminisce about your childhood by spending the night in one of Florida's many one-of-a-kind treehouses that are available for rent around the state.
These one-of-a-kind works of architecture can only be seen in the Sunshine State; they will take your experience to new heights.
14 Treehouses in Florida That Awaken Your Inner Child 2023
1. Treehouse at Danville – Geneva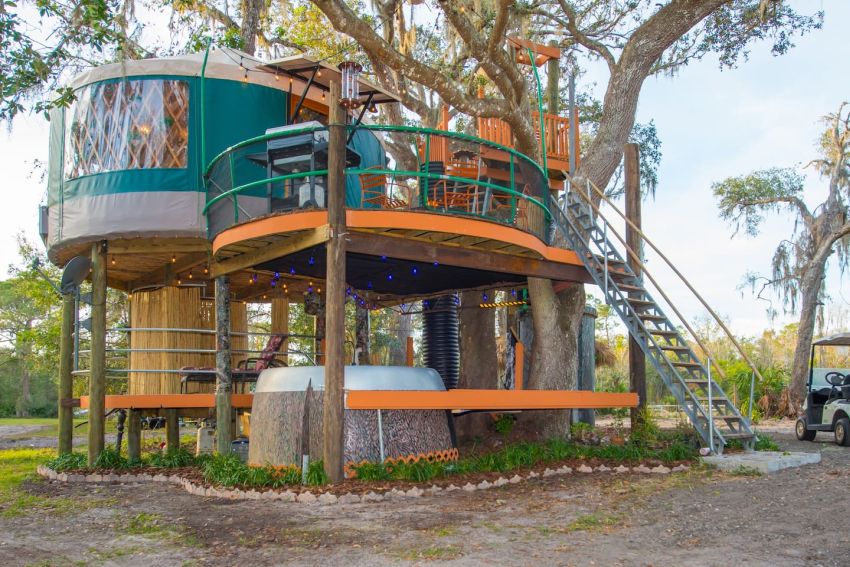 Have you ever heard of anything called a tree trunk elevator? You will get the opportunity to live in the woods if you stay at this adults-only treehouse Airbnb, which is considered to be one of the greatest in the United States.
Air conditioning, a gas grill, a fire pit, 14-foot ceilings, and a hot tub are some of the amenities included in this property, which is situated on five acres and is bordered by oak and magnolia trees.
After taking in the scenery from the four-foot skylight or the panoramic window, you can kick back and watch a movie on the flat-screen television that is equipped with Netflix.
Alternatively, you can travel to the top deck and unwind on the swing chair that overlooks the property.
2. Relaxing Jungle Bungalow Treehouse – Hernando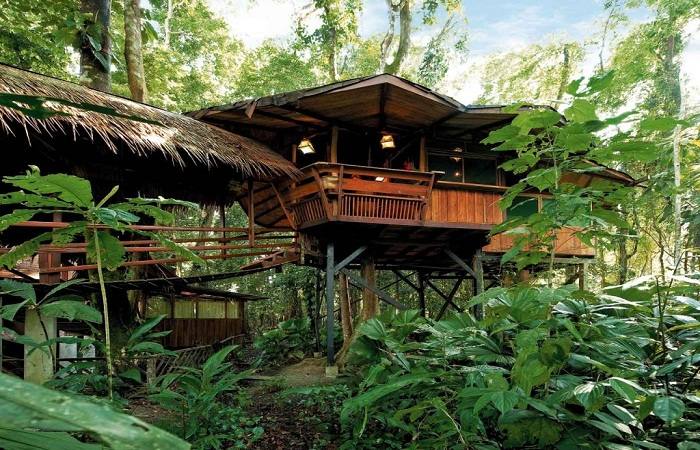 This jungle bungalow is located along a secret trail in the woods of Florida, and it can accommodate a total of two visitors at a time.
It has two platforms, each with a variety of useful glamping facilities, such as an outdoor shower, a composting toilet, a Black Stone griddle, a gas burner, a refrigerator, and an air conditioner.
There is lots of room outside for hanging out, and there is even a fire pit that doesn't produce smoke so that you may gaze at the stars at night.
3. The Beehive Treehouse – Orlando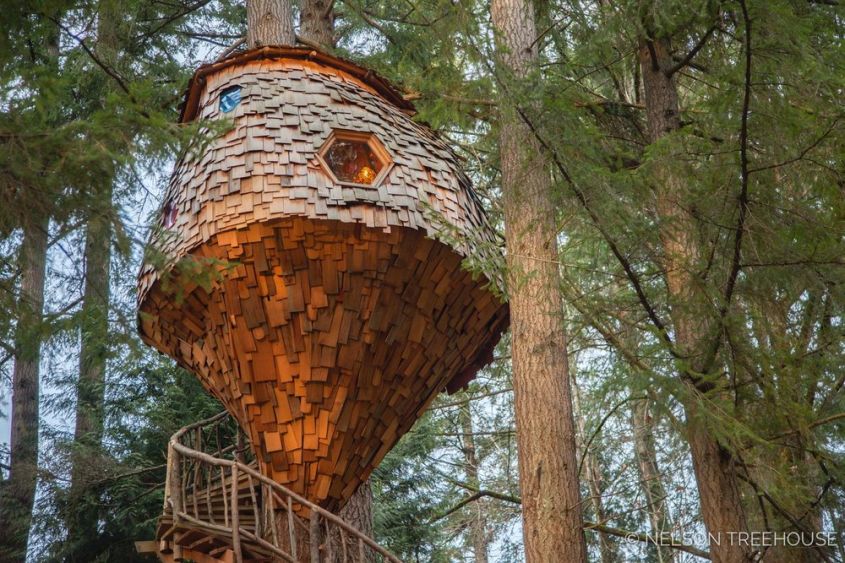 This ultra-chic treehouse Airbnb rental located in Orlando comes complete with all the bells and whistles, such as a Nespresso coffee machine, an 80-inch TV, and a private terrace.
In addition, there is an outdoor claw tub, a chandelier that was created from scratch, and air conditioning for those hot evenings in Florida.
The living areas are inviting thanks to the luxurious leather couch, and guests may access the comfortable bed via a ladder.
It would be a shame to lose the swing set and record player that are linked to the treehouse if you forgot them.
4. Luxurious Modern Treehouse with Mineral Pool/Spa – West Palm Beach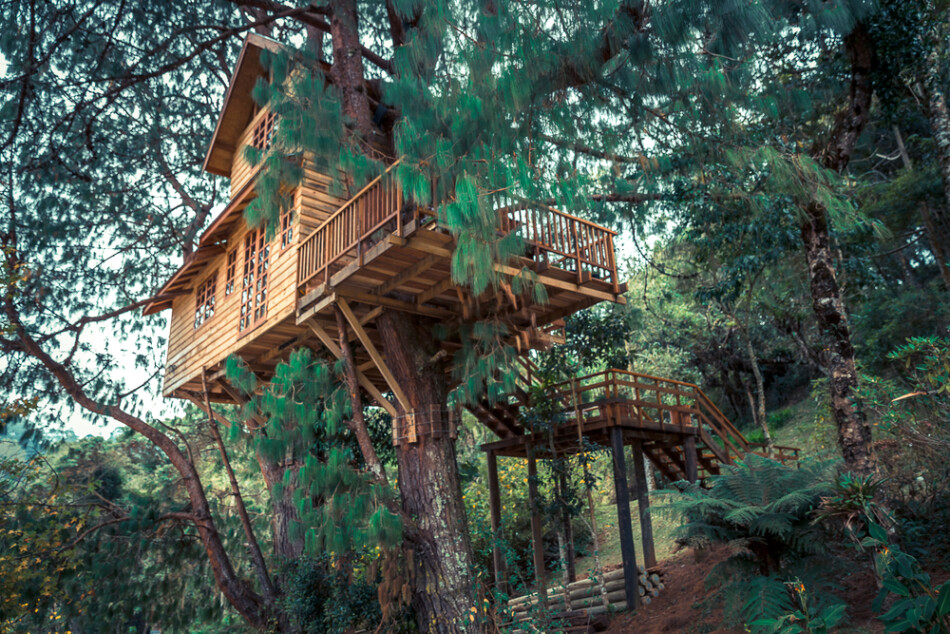 This luxurious treehouse retreat can be found in West Palm Beach, South Florida, and is sandwiched between two pine trees.
The completely furnished rental comes with a complete kitchen as well as a bathroom, and it has space for up to six guests.
It also has a balcony where you can relax with your morning coffee while taking in the breathtaking views of the treetops.
In addition, there is a private deck that looks out over the swimming pool and hot tub, as well as an outdoor picnic area that features a charcoal grill and a picnic table.
5. Treehouse Gypsy Palace, Direct Oceanfront – St. Augustine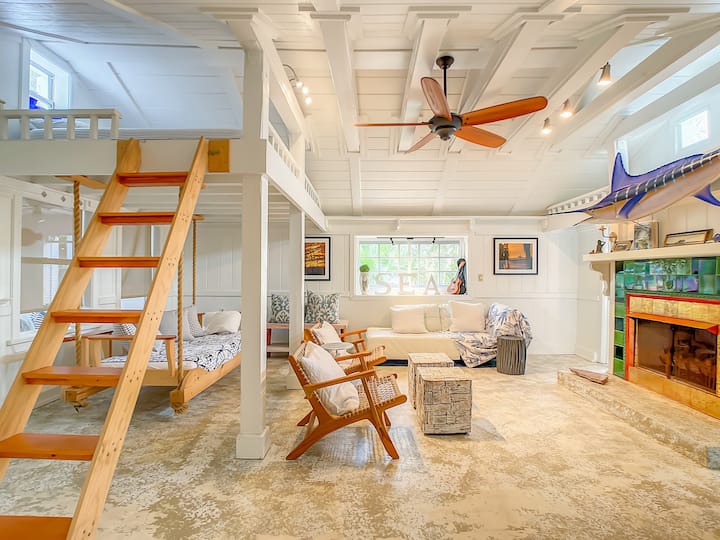 This beachfront home features a treehouse that is one of the most interesting vacation rentals in Florida, and it is at a position that is ideal for people who adore the ocean.
This Airbnb rental has one bedroom, one bathroom, and an open living/kitchen space that can accommodate as many as four people in a relaxed manner.
The rental is spread out over three stories. You may enjoy uninterrupted views of the ocean and catch a sight of the dolphins playing in the sea just a few feet after stepping out onto the promenade. The ocean is just a few steps away.
6. TreeHouse in the Cloud, Close to Theme Parks – Saint Cloud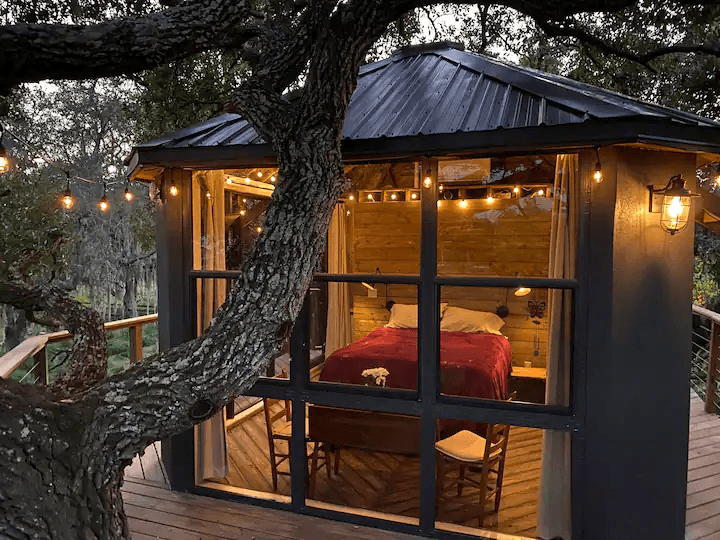 Your significant other will be blown away by the romantic vacation you plan for the two of you in this breathtaking treehouse in Saint Cloud for an unforgettable overnight stay.
Inside, you'll find a comfortable bedroom with a table and chairs, a full bathroom, and a kitchenette, while the exterior features a deck that goes all the way around the building and is its primary selling point.
You will have the option of using either the steps or a fixed ladder to get into the treehouse. Love animals? There are horses who live on the property, and there is a refrigerator stocked with carrots for you to use if you want to say hi to them.
7. The Treehouse: Peaceful Cabin Near PCB and 30A – Ponce de Leon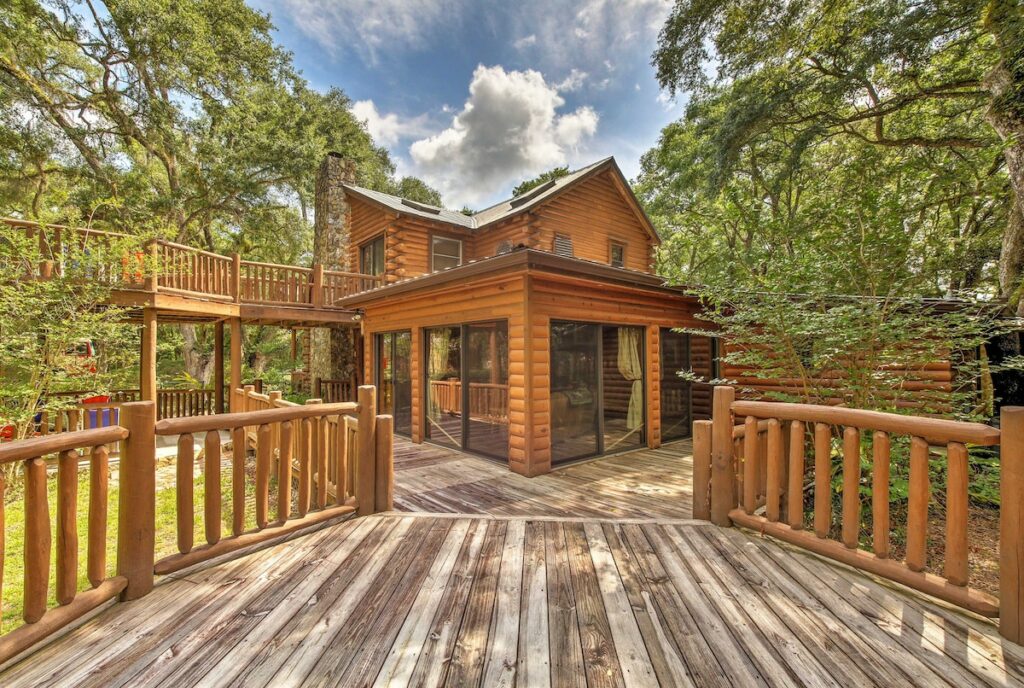 Book this vacation rental, which has a living area and bedroom that are both open to one another, if you want to get the feeling of being in a rustic cabin.
In addition, it has a gas fireplace that is elevated 12 feet from the ground and is constructed of old, reclaimed cypress.
While Panama City Beach and 30A are only a short drive away, this property provides a picture-perfect vista of the natural beauty and the wildlife that surrounds it.
Just two miles away on the Choctawhatchee River is where you'll find a boat launch, as well as a kayak and paddle board park. When you're ready to go exploring, you may use these amenities.
8. Treehouse & Cabin Retreat – Old Town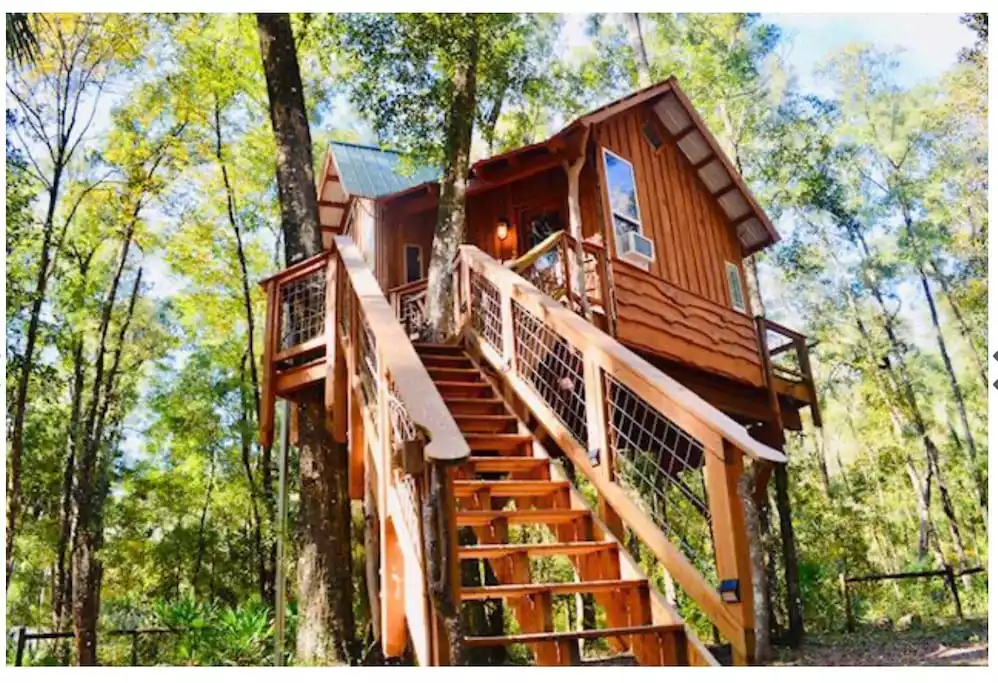 This huge treehouse escape is perfect for those who are wanting to get away from it all as it has a layout that can accommodate up to seven visitors in its three bedrooms and is a great place for those who want to get away from it all.
It is simple to experience some of Florida's pure natural surroundings when you relax by the campfire, take naps in the hammock, or drive to neighboring springs and parks because the property is situated on 4.5 acres and has its own private entrance.
The rental consists of two separate buildings: a cabin that has all the amenities of a kitchen and a treehouse that can accommodate three to four people in comfort.
Both have heating and air conditioning, but neither has Wi-Fi, so you should only come here if you are genuinely prepared to unplug from the outside world.
You are even allowed to bring your slobbering, four-legged, furry companions if you have prior consent.
9. Treehouse with Pool, Garden & Hot Tub – Cutler Bay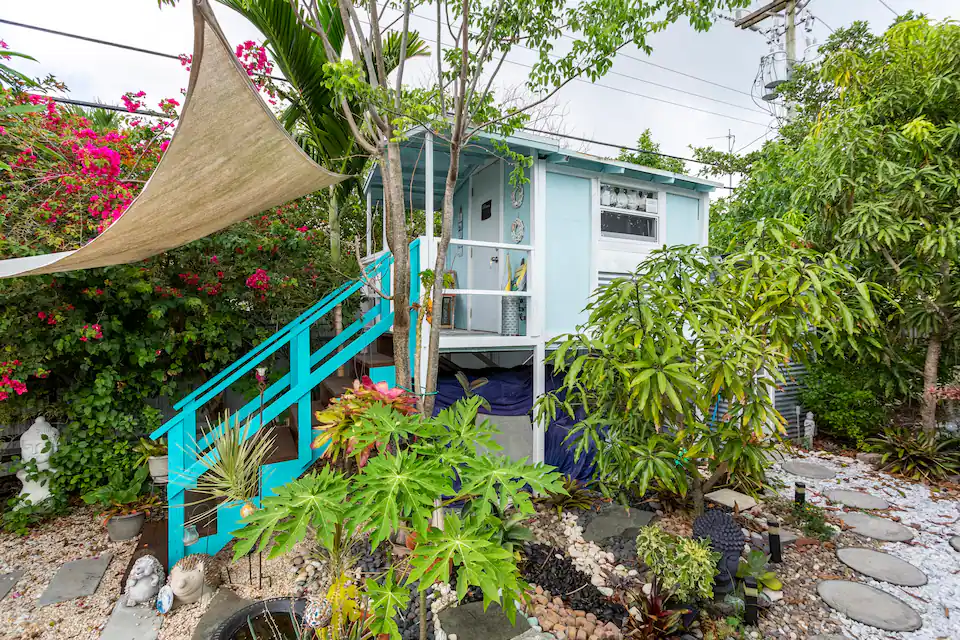 This charming treehouse is located in Cutler Bay, midway between Miami Beach and Key West, and offers a full-size bed in addition to a private bathroom.
The best part is that your stay will come with a complimentary continental breakfast, which will include things like coffee, tea, and cereal.
Because it is detached from the main home, you may wake up to the sound of birds singing and take use of on-site luxuries such as a personal air conditioning unit, a Bluetooth speaker, and a Smart television.
Outside, there is a designated space for barbecuing as well as a fire pit.
10. The Birdhouse: Suwannee River Sanctuary – Old Town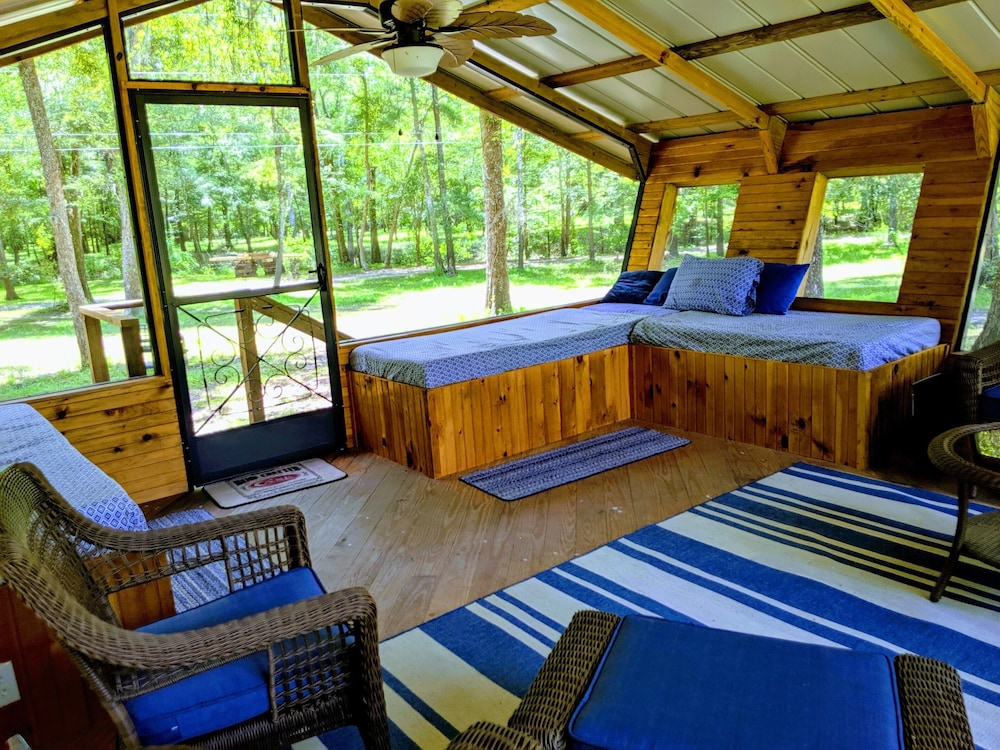 Are you interested in having a glamorous camping experience in Florida? The Birdhouse is frequently selected as the venue of choice.
The treehouse location is unlike any other in Florida because to its open-air construction that offers a full 360 degrees of views and is furnished with three single beds, a rocking chair, a charcoal grill, and a mini-fridge.
After waking up to breathtaking vistas of the natural world that surrounds you or sipping a cup of coffee on the balcony that overlooks the river, you may spend the day hiking, fishing, swimming, or kayaking.
You may also go to any one of the several natural springs that are located close to the Suwannee River.
11. North Island Treetop – Fort Pierce
This treetop retreat in Fort Pierce, Florida, is ideal for those seeking peace and quiet; it features a private balcony with views of the property's expansive tropical gardens.
After a day at the beach, guests may use the outdoor shower to wash the sand off before entering the two-bedroom property's living space, which is located on the second floor and has antiques and unique works of art.
You will have access to complimentary bicycles, beach chairs, towels, and bodyboards during the duration of your stay.
12. Treehouse in the Woods – Kissimmee
This Kissimmee treehouse is a one-of-a-kind residence in the woods and provides guests with a posh alternative to traditional camping.
After spending the day visiting some of Orlando's most popular theme parks and attractions, you may come back and refresh in this secluded sanctuary in the woods.
It has an internal room that is brightened by natural light and a pleasant place for two, in addition to an outside deck and lounging area with a hammock.
13. Luxurious Modern Treehouse with Mineral Pool – Palm Beach Gardens
This ultra-modern and magnificent treehouse can be found in Palm Beach Gardens, South Florida, and is sandwiched in between two pine trees.
The outside porch that is hidden away among the branches of the trees is the most attractive element of the treehouse, despite the fact that it is completely furnished with a complete kitchen and toilet.
In addition to a private balcony that looks out over the swimming pool and hot tub, visitors can take use of an ice machine that is built into the countertop, a coffee and tea bar, and an outside picnic area that is equipped with a grill and seats.
In addition, it takes place on a small farm, where the children will have the opportunity to pet and feed the animals.
14. Perfect "Tiny" Tree Lake House – Naples
An ideal dwelling in the trees This Airbnb rental in Naples is secluded and quiet, making it an ideal place to get away from it all.
The one-of-a-kind lake house on stilts in Stilt has two stories and a screened terrace that looks out over a peaceful pond.
A Keurig coffee machine, a Direct TV package, and an outside lounging area complete with a grill, hammocks, and an outdoor shower are among the perks that are provided.
If you wish to go exploring, there are bicycles at your disposal, as well as a Jacuzzi and a fire pit. All of this is located close to some of the most beautiful beaches in Florida.
14 Treehouses in Florida That Awaken Your Inner Child 2023 – Newshub360.net
Related Post

Credit : www.Newshub360.net