The Best Beach Camping Spots in Florida 2023: A Florida beach is a great place to spend the night if you've always wanted to feel the stars and the ocean wind.
The breathtaking coastline of Florida is home to approximately 900 campgrounds with a combined total of more than 100,000 campsites.
You are likely to locate a location in Florida that is ideal for you and your loved ones to completely appreciate waking up on one of the state's gorgeous beaches because the state offers such a wide variety of activities.
Explore some of the most beautiful spots in the Sunshine State where you can bury your toes in the sand and drift off to sleep to the soothing sounds of the waves crashing on the shores of the Atlantic or Gulf of Mexico.
13 Beach Camping Spots in Florida 2023
1. Bahia Honda State Park, Big Pine Key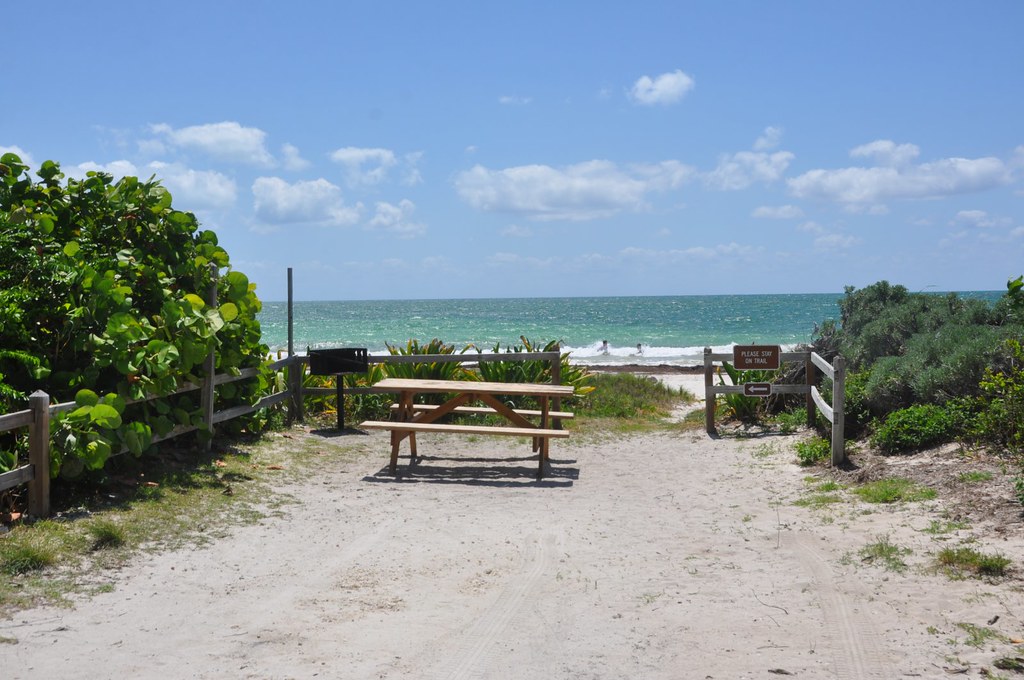 There is a good reason why Bahia Honda is considered to be one of the state parks in Florida that is visited the most by residents.
You may have an overnight beautiful escape on what seems like a five-star resort thanks to the right blend of lush coconut trees, white beach, clear tropical seas, and 80 campsites.
This is the perfect recipe for a great getaway.
2. Dr. Julian G. Bruce St. George Island State Park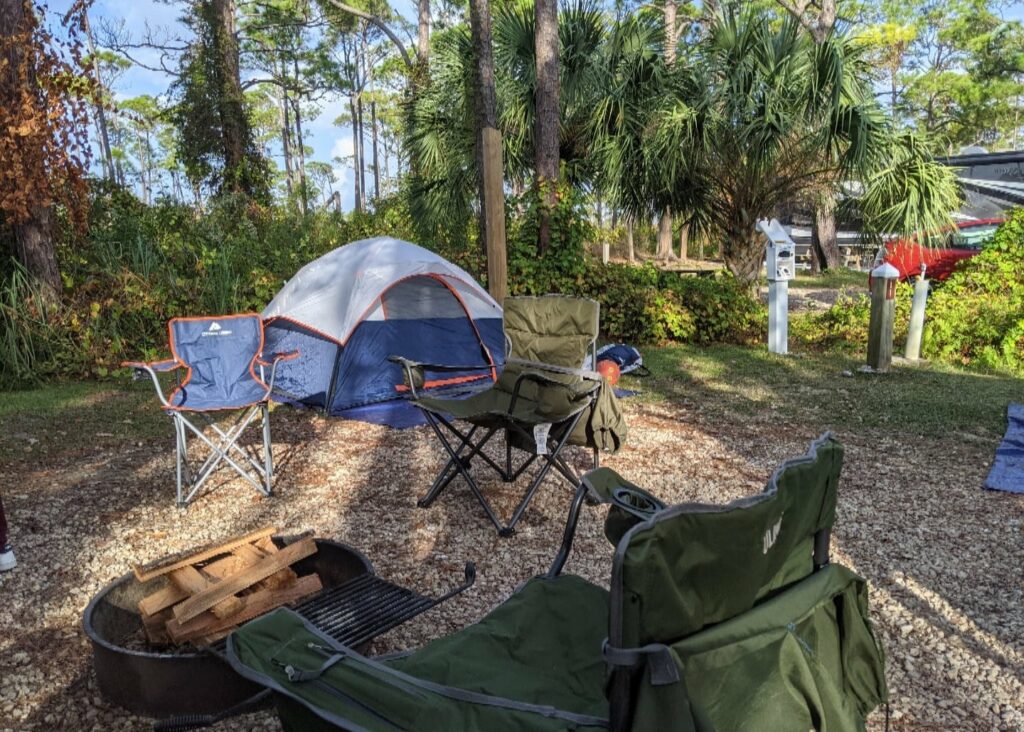 You want a quiet moment on the beach, do you? St. George Island State Park, which can be found on the eastern end of the barrier island that surrounds Apalachicola Bay, is home to nine miles of white sandy beaches that are rarely visited by other people, making it a great location for a variety of outdoor activities including camping.
Less than a quarter of a mile from the coast, the town of St. George features sixty campsites that are tucked away in the midst of a pine forest and sweeping dunes.
3. Grayton Beach State Park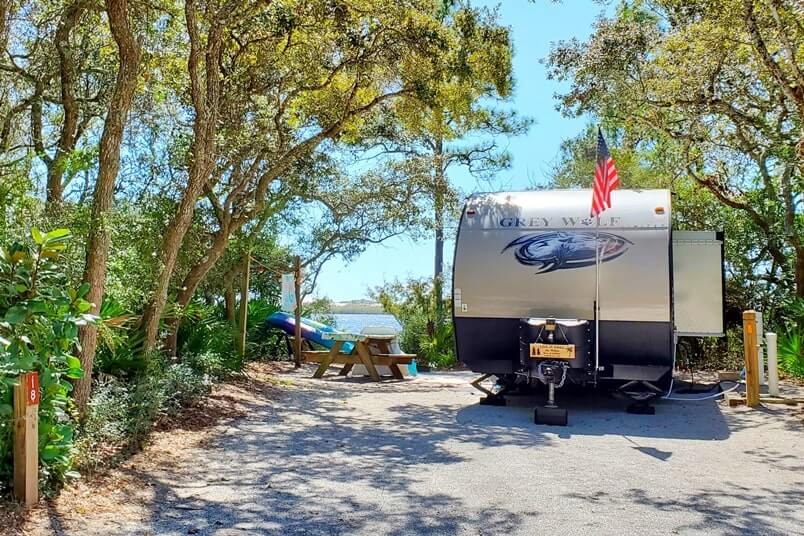 Grayton Beach State Park, widely regarded as one of Florida's most beautiful beaches, can be found midway between Panama City Beach and Destin.
You will be able to explore the emerald green waters and gorgeous nature paths before watching one of their renowned sunsets if you set up camp at one of their private campsites that overlooks the lake.
These campsites are located on a bluff overlooking the lake. Along the Gulf Coast, many people consider this to be one of the most beautiful camping spots.
Beach Camping Spots in Florida
4. St. Andrews State Park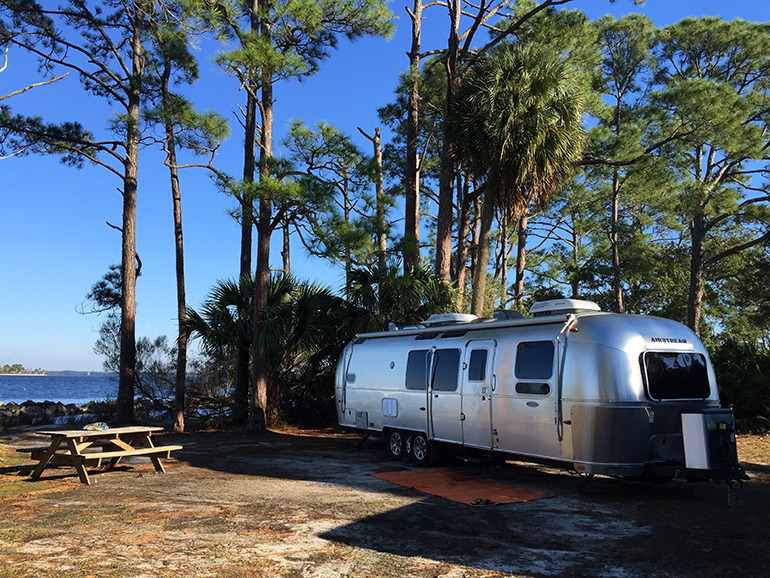 Canoeing, swimming, snorkeling, and kayaking are just some of the water-based activities that are available at St. Andrews State Park.Other water-based pursuits in the park include scuba diving and catamaran sailing.
Place your tent at one of the 176 available campsites to give yourself the opportunity to investigate the untouched beach and the emerald-colored waves.
5. Cayo Costa Island State Park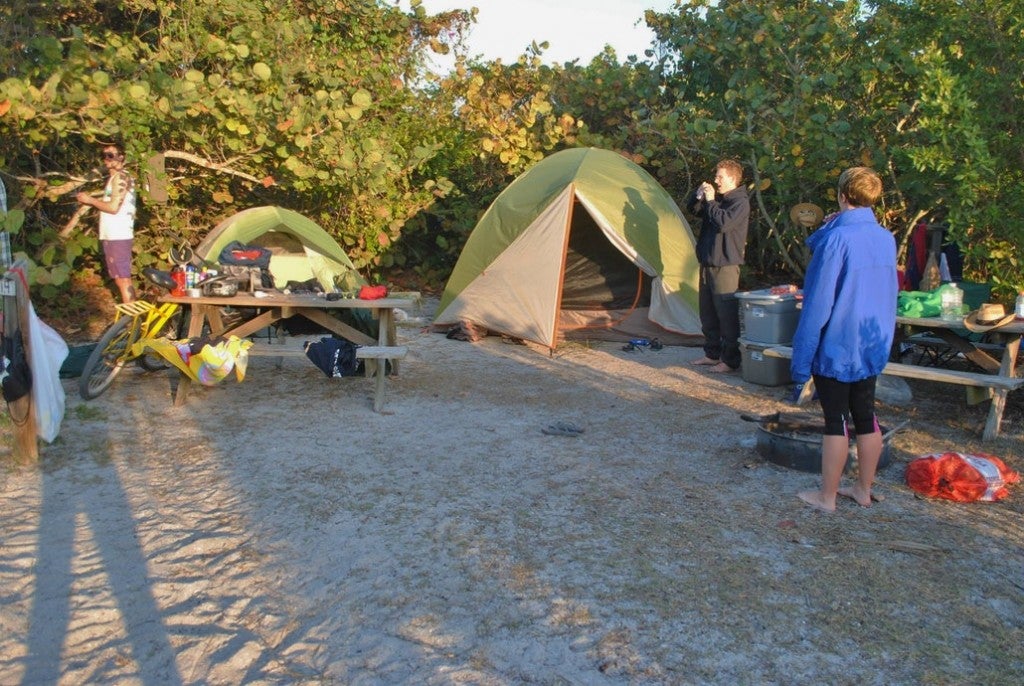 Cayo Costa Island State Park, which is only accessible by boat or ferry, is sometimes referred to as the paradise of the Gulf Coast.
The park features nine miles of beautiful coastline that is bordered by Gulf sea on all sides. A camping place may be found directly behind a small group of dunes.
This area is conveniently situated in the middle of the 2,426-acre expanse of breathtaking natural scenery.
6. Long Key State Park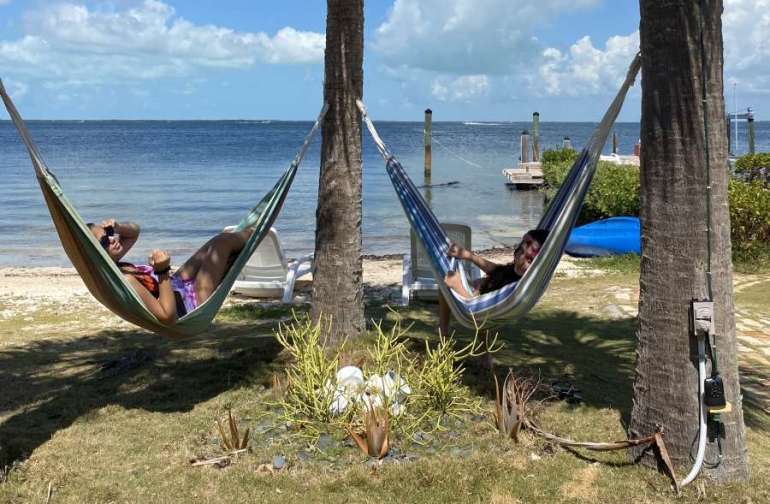 The park's traditional tent campgrounds are located along the Atlantic Ocean, while the park itself is located in the Florida Keys.
There are sixty campsites at Long Key State Park, and they are the only ones in the state that are so close to the water that you can reach it by walking just one hundred feet.
You'll find the seas of the Florida Keys to be a stunning shade of blue, and offshore you'll discover a diverse collection of coral reefs.
This makes the Florida Keys an ideal location for hiking one of their numerous nature paths or paddling a kayak through a shallow-water lagoon.
7. Anastasia State Park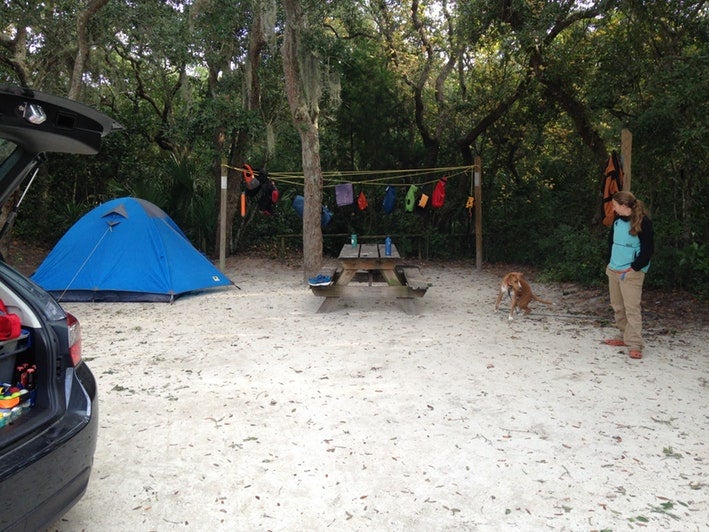 The 139 fully-serviced campsites at Anastasia State Park are nestled within a picturesque maritime hammock and are just a short stroll away from the park's four kilometers of white sandy beaches.
Those who have a passion for nature will find a variety of activities, such as bird viewing, hiking, and swimming, to keep them occupied throughout their stay.
Beach Camping Spots in Florida
8. Fort De Soto Park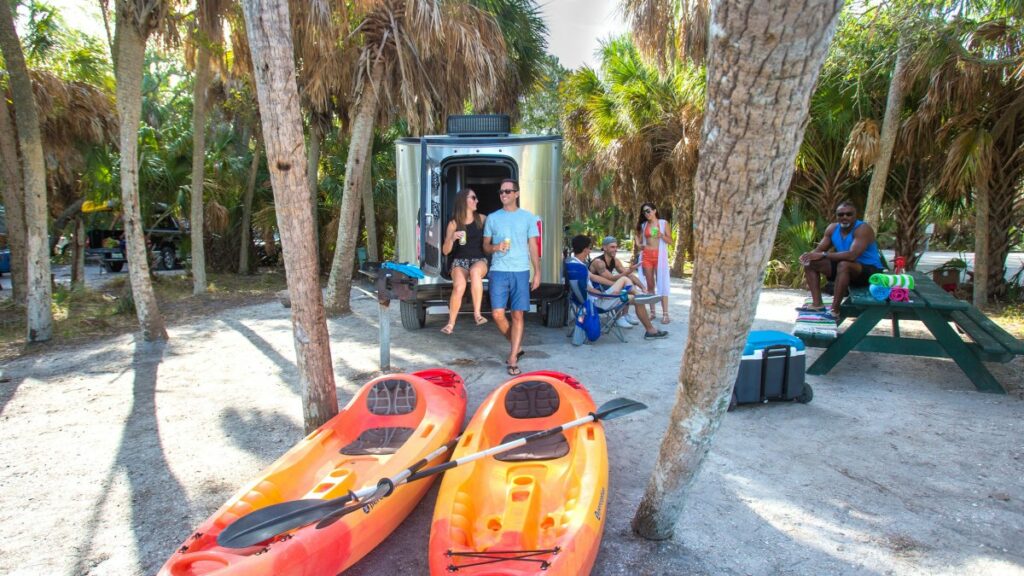 Fort De Soto County Park features 238 notable campsites that are packed with facilities such as picnic tables, barbecues, electricity, and modern bathrooms.It is often considered to be the most family-friendly campground on the list.
Canoeing, biking, or hiking the nature paths that are ideal for campers of all ages are great ways to discover the seven miles of waterfront activity that are available at this campground.
9. Fort Clinch State Park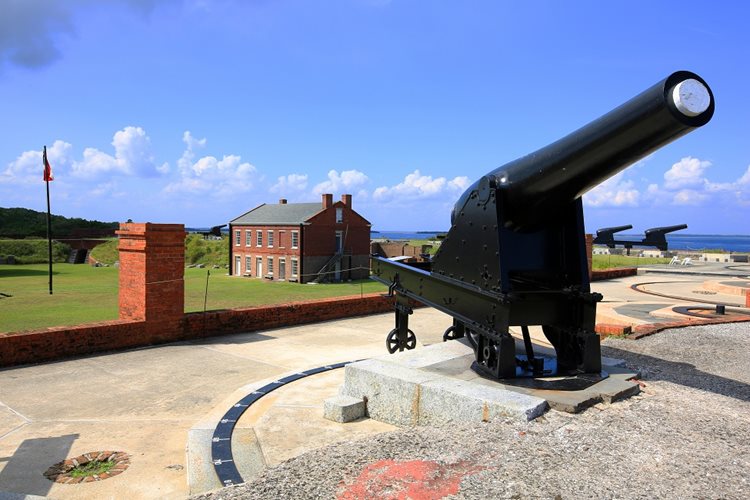 On Amelia Island in Florida, to the north of Fernandina Beach, is where you'll find Fort Clinch State Park. This park offers 68 campsites and a campground that views out over the beach.
This is the northernmost barrier island, and it boasts three miles of beach, a fishing pier that is half a mile long, and six miles of nature trails, all of which provide campers with enough of things to keep them occupied throughout the day.
10. Fort Pickens at Gulf Islands National Seashore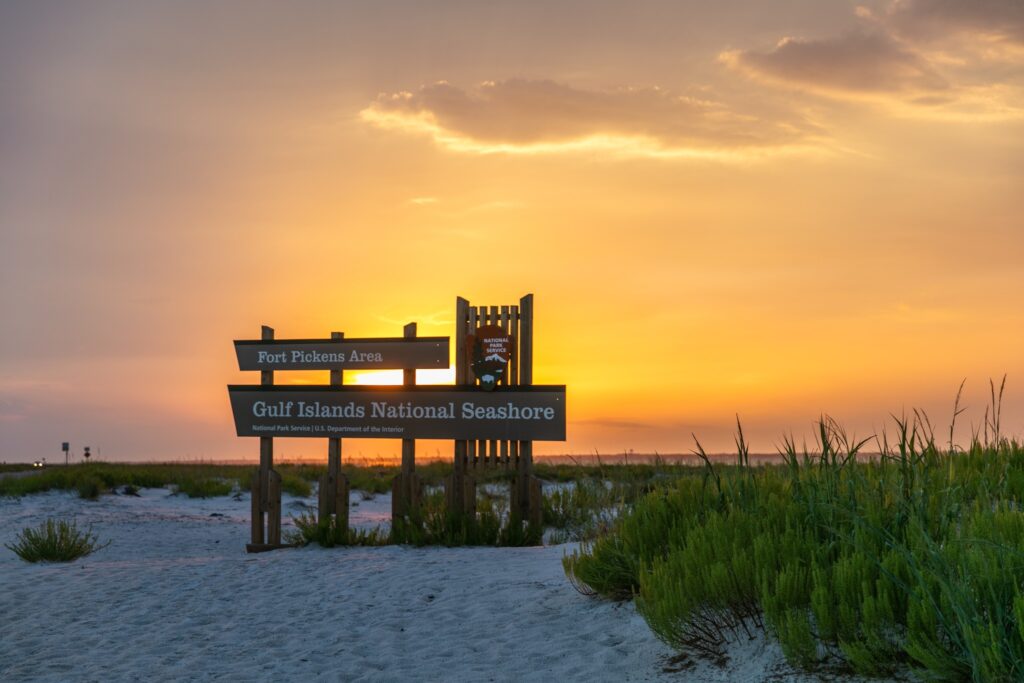 On the western shore of Santa Rosa Island, within the boundaries of Florida's Gulf Islands National Seashore, is where you'll find Fort Pickens and its two hundred camping spots.
If you choose to camp in this area, you will have access to emerald-green seas, beaches with white sand, and ancient forts that date back to the early 1800s.
11. Little Talbot Island State Park
Little Talbot Island State Park, located in the Northeastern region of Florida, is one of the state's most gorgeous and untouched barrier islands, and it is guaranteed to leave campers with a favorable impression.
The short journey to the campground, which is located in a maritime hammock forest, is well worth it since it grants access to five miles of untouched coastline and salt marshes.
The walk to the campground is only half a mile long.
12. Sebastian Inlet State Park
There is a campground near Sebastian Inlet, which is known as a surfing hotspot, that stretches over both sides of the inlet.
From this campsite, you can watch pro surfers ride some of the greatest waves in the state. Canoeing, kayaking, and fishing are just some of the activities that are available in the surrounding region.
The campground at the park is conveniently located just a short distance away from the beach, making it simple to stroll there.
13. Gamble Rogers Memorial State Recreation Area – Flagler Beach
One of the most desirable locations in Florida for beachfront camping is the Gamble Rogers Memorial State Recreation Area, which is located at Flagler Beach.
There are 34 campsites located on the principal dune of the beach, and some of them provide views of the ocean that are practically postcard-worthy. Dune walkovers provide convenient access to the water's edge.
13 Beach Camping Spots in Florida 2023 – Newshub360.net
Related Post
Credit : www.Newshub360.net