The 20 Best Colorado Cabins to Rent 2023: Some of the most gorgeous landscapes in the United States can be found in Colorado. The state is home to the magnificent Rocky Mountains as well as other picture-perfect locations with unspoiled rivers, glistening lakes, and an abundance of animals.
Although sleeping out under the stars is an option, if you don't want to deal with the trouble of packing your own gear or are unwilling to make sacrifices in terms of comfort, renting a cabin could be the best option for you.
In addition to the necessary conveniences for a restful stay, these cabins provide stunning vistas and convenient proximity to a diverse selection of exciting outdoor activities.
20 Best Colorado Cabins to Rent 2023
1. Secluded Cabin on 10 Acres – Estes Park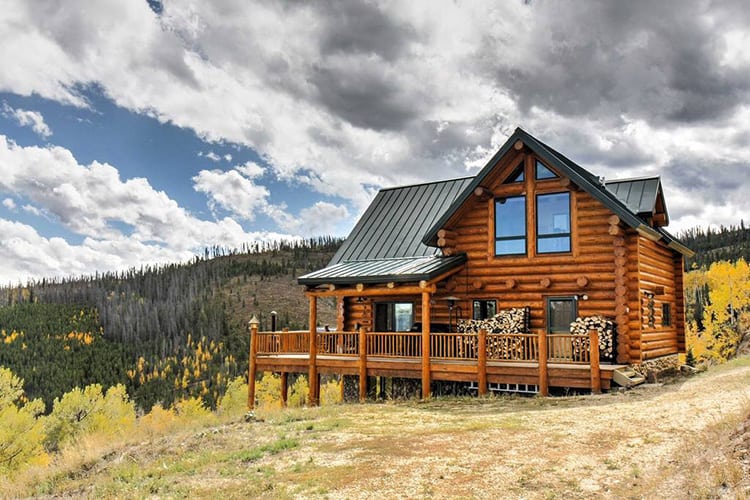 There is no question that Estes Park is without a doubt one of the most amazing locations to visit in the whole country of the United States.
This rustic cottage is well-appointed and features traditional décor; it can accommodate up to eight people comfortably.
There is also a washing machine and dryer in the unit. The basic design is given a lovely splash of color by the red cabinetry in the kitchen, and the bridge that goes up to the home from the outside is one of our favorite features.
2. Moose Haven – Walden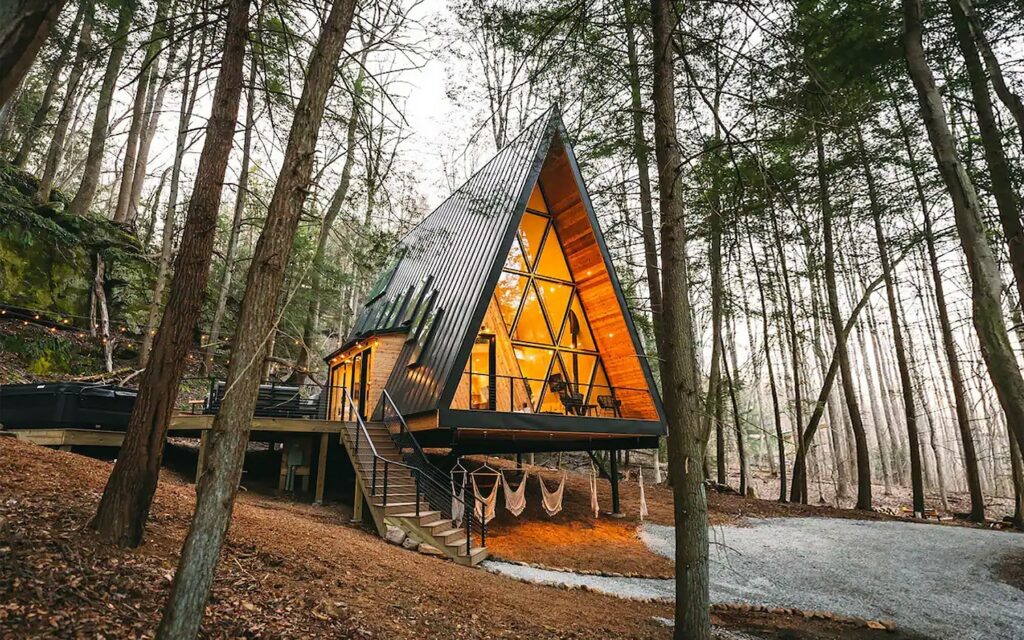 This off-grid cottage in the Mount Zirkel Wilderness Area is perfect for wilderness explorers and couples looking for a romantic getaway because of its proximity to the small mountain town of Walden and its location in the wilderness.
Rocky Mountain National Park is a great place to get away from the crowds and take in some breathtaking scenery, including towering mountain peaks and crystalline mountain lakes.
The region is home to a rich variety of animal life, including around 600 moose, as well as elk, black bears, mule deer, and bald eagles, among other species.
You will have access to a vast network of hiking trails, but the closest restroom is an outhouse that is twenty feet distant. Additionally, there is no running water and just a little amount of power available.
3. Pikes Peak Resort Wilderness Cabin – Woodland Park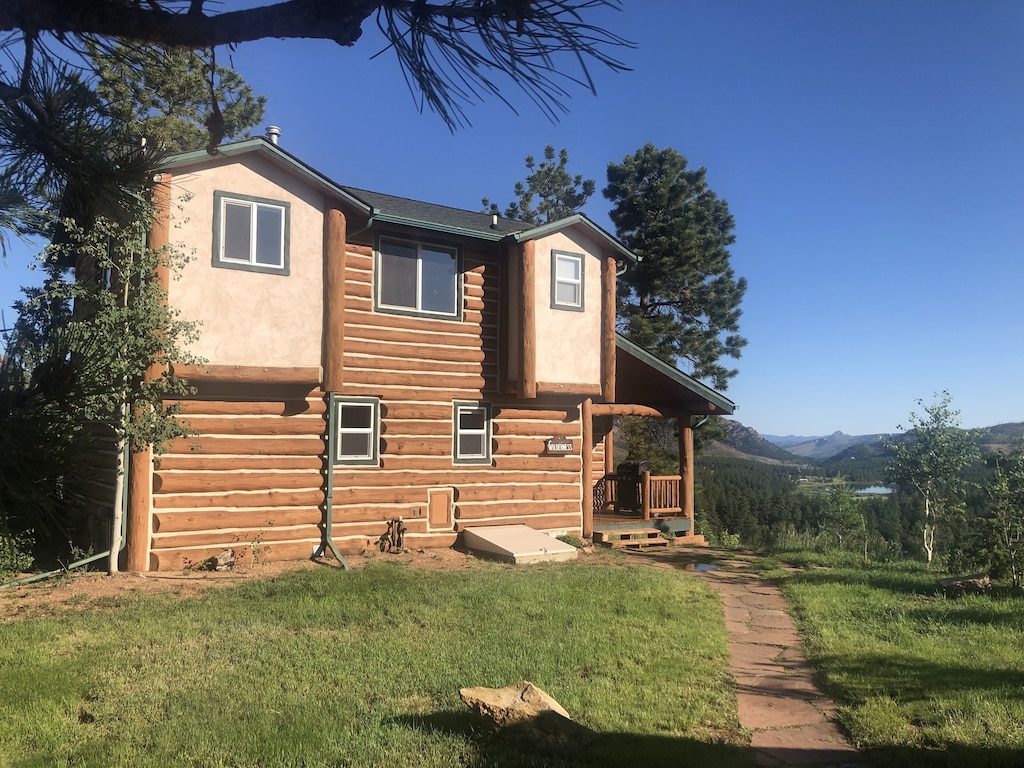 Because it is located on such a large number of acres, visitors will have plenty of opportunities to see the natural splendor of Colorado.
The cottage includes enough sleeping space for a family of eight, a kitchen that has just undergone renovation, and an absolutely breathtaking fireplace.
If it isn't snowing, there is a hot tub in the backyard that is surrounded by thick, verdant grass.
4. Pagosa Springs Cabin with Private Hot Tub and Outdoor Fireplace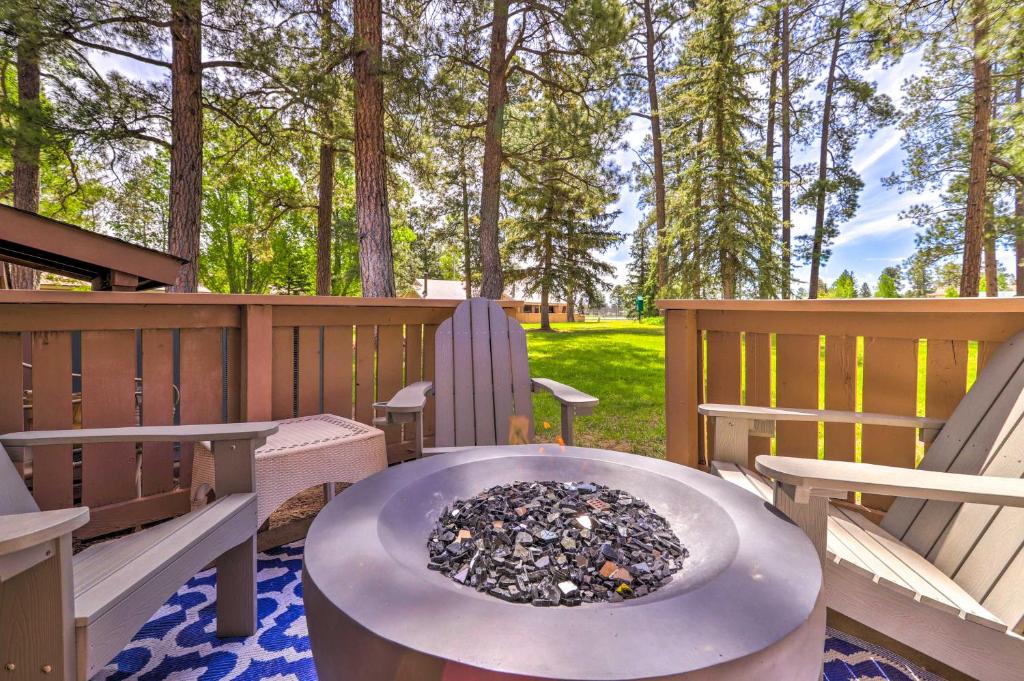 After undergoing extensive renovations, this two-bedroom cabin, which was formerly a bookshop and coffee shop and is now located in the historic downtown district of Pagosa Springs, is now able to accommodate up to six people in a manner that is both comfortable and convenient.
It offers a comfortable living area with a leather sofa and rocking chair where you can enjoy the flat-screen cable TV. The kitchen is well-equipped and contains condiments and a dishwasher.
There is a gas barbecue and a hot tub in the backyard. During your stay in the winter, you will especially appreciate the boot dryers, which will keep your feet warm and dry.
5. Cozy Boho Modern Mountain Cabin – Idaho Springs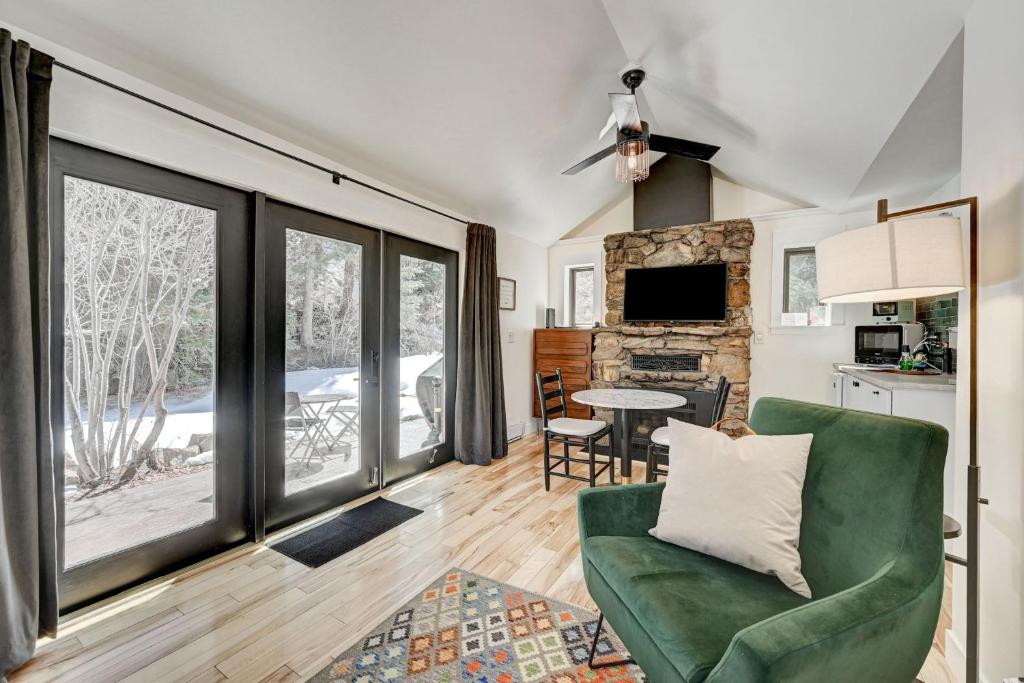 There is simply something about this cottage that makes it sound like a lot of fun. The inside is predominantly constructed from natural elements such as stone and wood, but it also contains a few contemporary additions that give it a somewhat more up-to-date feel.
Relax in the fresh air and let the soothing sounds of the creek accompany you throughout the day and night. Or perhaps immediately after you've finished skiing on the adjacent slopes.
6. The Hygge Chalet and Sauna – Grant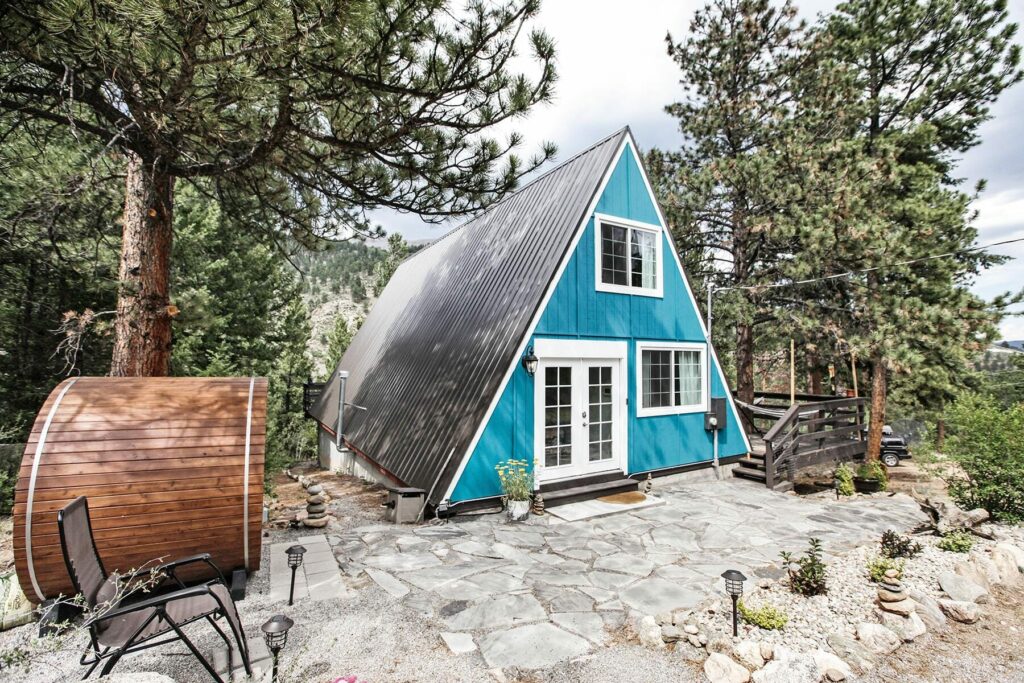 The hosts completely nailed that airy yet rustic atmosphere, which they got their inspiration from the Danish word meaning comfortable.
Before entering the crisp but cozy interior, travelers are greeted with exteriors that are a vibrant blue color. In addition, the property features a stunning steam sauna that is built out of wood in the shape of a circle.
7. Mountain Cabin with 360 Views & Hot Tub – Guffey
The views from the deck are just magnificent, the cabin has those unique small touches that make it memorable, and the pricing is unrivaled. However, despite the fact that it may be surpassed, it is still outstanding!
It's possible that you may go on vacation to Colorado without breaking the bank. To top it all off, there is a warm and inviting hot tub simply hanging out on the porch ready for you to use it.
8. Cozy Romantic Cabin in the Woods – Steamboat Springs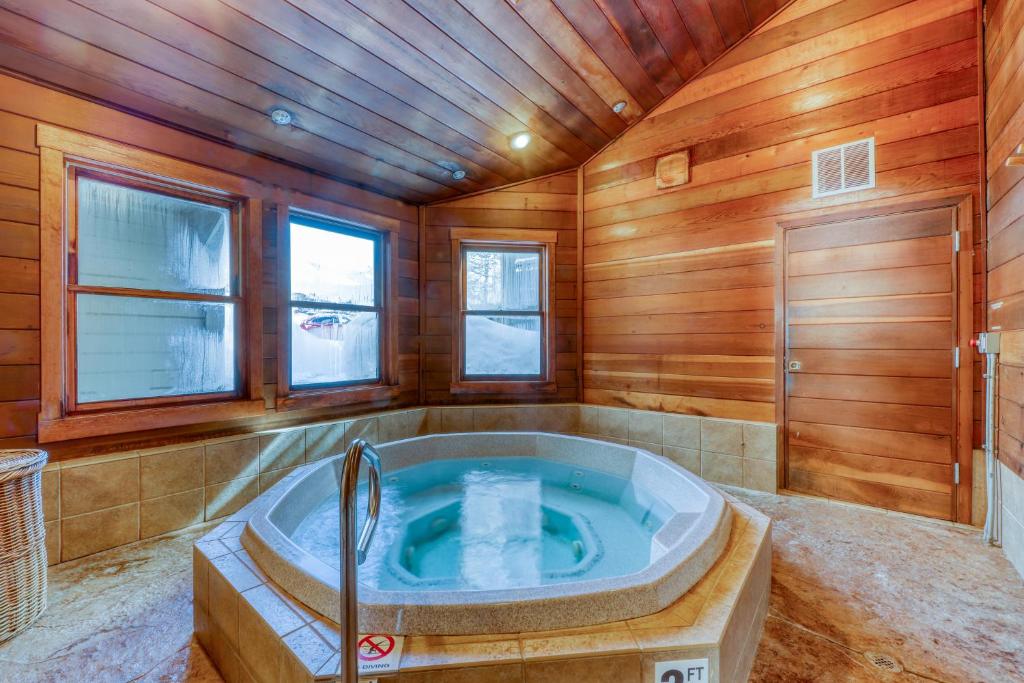 You have arrived at Steamboat Springs, Colorado, an area of the state that is on your list of places to go while you are here in the United States.
This little cottage has such a cozy atmosphere! We could stay here for weeks and just cuddle up thanks to all of the plaid textiles, the wooden surrounds, and the warm lighting.
9. Red-Tail Round House @ 22 West – Walden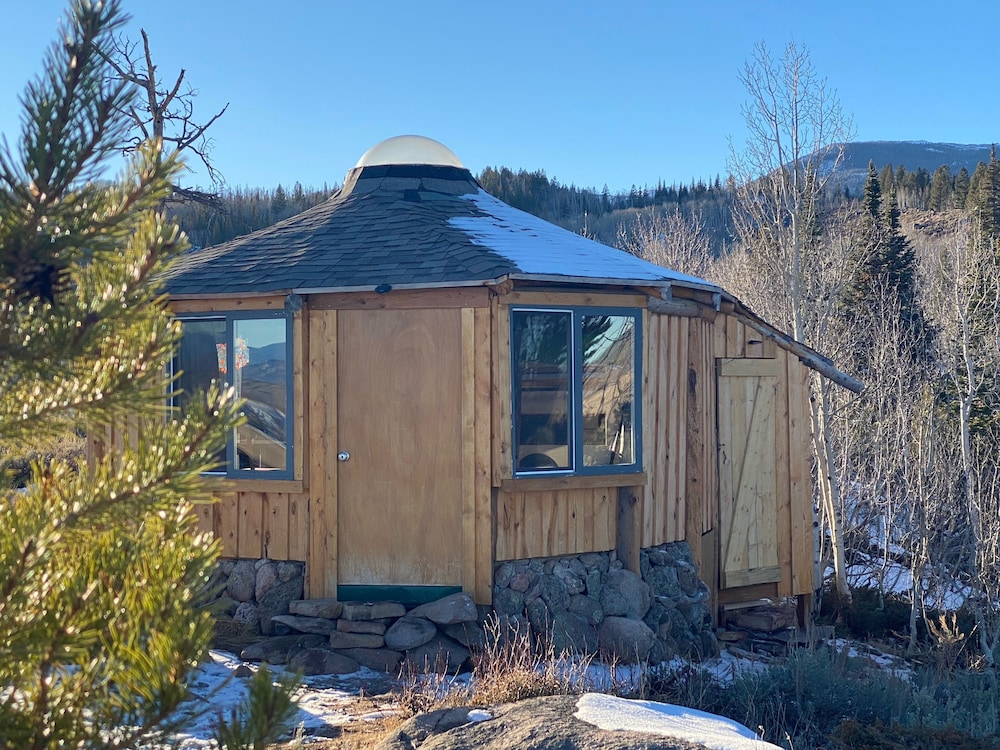 Get used to the concept of living fully alone in this circular beauty that is surrounded by purple vegetation and views of the mountains.
In addition to the numerous windows that are located throughout the building, there is also a skylight that can be seen at the very peak of the tower.
Children will have a great time sleeping in the bunk beds, and adults of any age will appreciate the connected compost toilet for its convenience.
10. Bear Crossing Cabin – Grand Lake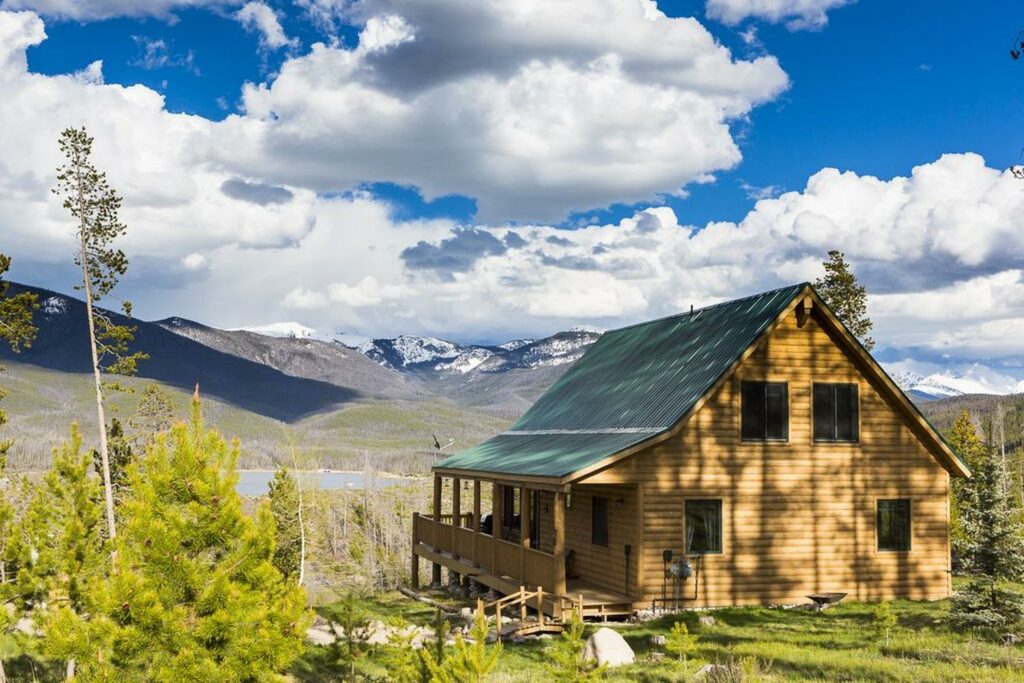 Bear Crossing Cabin is situated on three-quarters of an acre on a hill overlooking Shadow Mountain Lake. It is less than ten minutes away from Grand Lake Village and less than fifteen minutes away from the west entrance to Rocky Mountain National Park.
The cabin offers expansive views of the surrounding mountains and forests. It has two bedrooms, which together can accommodate up to six people, and you are welcome to bring your canine companion along with you because dogs are welcome.
You will have access to a spacious deck for taking in the breathtaking views, a kitchen that is fully supplied, and a loft that can be used for reading, playing games, or as an additional sleeping place.
The deck will be furnished with a table and chairs for eating in the fresh air. In addition to that, there is a satellite TV, a fireplace, a washing and dryer, and a little multi-game table where you may play table tennis or pool.
11. Cozy Cottage for Two with Hot Tub – Cripple Creek
The heart of the Colorado Rockies, close to historic Cripple Creek, is the setting for this little cottage that has one bedroom and is perfect for couples looking for some romance.
Enjoy your morning coffee or dinner beneath the stars on the deck that views out over the mountains, and afterward, unwind in the bubbling hot tub. The deck overlooks the mountains.
When it is time to go inside, you may make yourself comfortable in front of the fire that is blazing in the wood-burning stove. In addition to being pet-friendly, it features a TV and free wireless internet access.
12. Mountain Creek Lodge – Fairplay
This secluded mountain home in the Fairplay area features three bedrooms and is located around 35 minutes from Breckenridge. It spans 23 acres and is situated beside a fishing creek, with national forest on two sides.
It features a sizable pond and spectacular views of the surrounding mountain peaks, as well as a wide covered terrace that encompasses three sides of the property. Even Enrique Iglesias and Jon Z decided to shoot their music video in this location because of its breathtaking beauty.
In addition, there is a fireplace, free Wi-Fi, satellite TV, a full kitchen, a washer and dryer, and sleeping accommodations for up to eight people. Additionally, it is a place that welcomes pets.
13. Scenic Mountain Cabin – Black Hawk
A rustic wooden cottage may be found concealed behind a grove of magnificent trees. The inside has a classic look and feel, almost like being at home.
Get toasty in front of the fireplace, whip up some easy foods in the kitchen, and simply soak in the breathtaking scenery outside the window.
14. Grinning Bear Lodge – Twin Lakes
The Grinning Bear is a three-story log lodge that features an open floor plan and three luxury bedrooms. It has floor-to-ceiling windows and a wraparound balcony that offer stunning views of the Mosquito Mountain Range, and it has enough comfortable sleeping space for up to ten people.
In addition to a two-car garage, the walk-out basement features a billiards table, foosball, a flat-screen television with a DVD player, and activities specifically designed for children.
The living room is outfitted with a flat-screen television that comes equipped with a Blu-ray player, an iPod radio hookup, and a fireplace that burns wood.
You will also have access to an outdoor fire pit to the south, which will provide you with breathtaking views of the mountains during the day and excellent opportunities to observe the stars at night.
15. Cabin in Beautiful Riverfront Setting – Monarch
This riverfront cottage in Monarch is located 15.7 miles from the heart of Salida and offers a picturesque and private setting along the river.
It has two bedrooms, a loft, and a separate room with bunk beds, and it offers breathtaking views of the surrounding mountains as well as the soothing sounds of the river.
The Great Room features a Waterford gas stove in addition to two French doors that go out onto a wide balcony that looks out over the river. In addition, it provides free Wi-Fi and satellite television.
16. Secluded Cabin on 2.5 Acres with a Hot Tub – Florissant
The west side of Pike's Peak is home to Florissant, Colorado, where you'll find this quiet cottage with two bedrooms spread across 2.5 acres.
It is perfect for a family or a couple looking for a romantic getaway since it can accommodate up to six people, it is set on a hill that offers plenty of seclusion, and it has great views of the mountains that are around and it is next to Pikes National Forest.
Hiking at Florissant Fossil Beds National Monument, fishing in Eleven Mile State Park, and visiting the attractions in Cripple Creek, such as a historic train ride, gold mine, casinos, museums, and restaurants, will be very convenient for you.
You'll be able to come back at the end of the day and unwind in the hot tub after a fun-filled day of playing.
17. Sage Canyon Cliff House Near Mesa Verde – Cortez
This cottage is very literally integrated into its natural surroundings because to its incredible construction around a cliff that is located close to Mesa Verde National Park.
The construction itself exudes a sense of modernity, which creates an attractive contrast with the recognizable rocks that are found in this region. Just beyond your front door are a plethora of fantastic opportunities for adventure.
18. Cozy Cabin – Breckenridge
This remote cabin is located a good distance from the hustle and bustle, yet it is still less than a half-hour's drive from the well-known ski resort of Breckenridge, and it is in close proximity to some of the most beautiful hiking trails in the state.
It is a contemporary property with three bedrooms that can accommodate up to six people, and it features a jetted Roman tub, a hot tub, and a huge terrace with breathtaking views of Mount Lincoln and the Mosquito Range.
A wood fire, radiant floor heating, three flat-screen televisions, laundry facilities, and a fully furnished kitchen are just some of the numerous upmarket features that can be found in this property.
19. Trapper Cabin – Walden
Staying in this tiny log house that is nestled within a historic mountain base camp is about as cozy as it is possible to get. There isn't much that comes close to it.
There are a few more buildings that may be rented out if you're interested. The atmosphere that visitors experience here is one that is both straightforward and genuine. The entrance to the National Forest is conveniently located just a few steps away.
20. Log Cabin on Chicago Creek – Idaho Springs
Near this cabin, there is a plethora of things to do, like hiking, exploring the surrounding nature, zip-lining, and resting in hot springs.
The fact that this is a fairly strong cabin that offers nice places to sleep at a price that is reasonably reasonable makes it really amazing.
20 Best Colorado Cabins to Rent 2023 – Newshub360.net
Related Post

Credit : www.Newshub360.net