Do you need help finding a place to stay in the Big Apple? For the past eight years, my home has been in the Big Apple. Since then, I've had more visitors than my introverted nature would like.
I put my dear guests at risk (I'm so sorry, but it was necessary) by suggesting they stay at hotels in different parts of New York City.
As a result, I've learned a lot about the top hotels in New York City for first-timers, and the advice given to me has been both helpful and genuine.
Where to Stay in New York City 2023
1. Midtown Manhattan
Whenever New York City is depicted on film or television, it is typically Midtown Manhattan that is shown. Midtown is the heart of New York City and home to several famous landmarks like Times Square, the Empire State Building, Broadway, Bryant Park, the Museum of Modern Art, and Rockefeller Center.
It's important to remember that the neighborhood is always bustling with people due to the abundance of nearby tourist destinations. Since most of the city's metro lines converge in Midtown, getting around throughout the day is a breeze.
First-time travelers to New York City should book a hotel in Midtown Manhattan, where they can find accommodations to suit their needs and budgets. Enjoy the greatest views of the Manhattan skyline from atop a bar or restaurant.
Pros
Heart of the tourist area
Plenty of budget options
Walkable, central location
Great for families and first-time visitors
Close to Grand Central Terminal and Penn Station
Cons
Crowded and loud, especially at night
No "cool" factor or neighborhood style
Dining options can be expensive
2. Upper East Side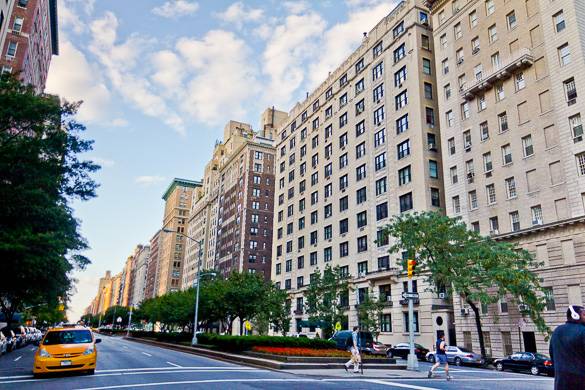 The Upper East Side (UES) stretches from 59th Street to 96th Street along the East River and is known for its high-end shopping and dining. The wealthy Rockefellers and Kennedys once called this area home, so it's no surprise that it's been depicted on Gossip Girl and Sex and the City.
Some of the finest museums in all of New York City may be found along Fifth Avenue's Museum Mile, which begins at Central Park and winds its way up the Upper East Side (and the world).
However, you can still reach Midtown's major sights in roughly twenty minutes via subway or bus, despite your location's disadvantage. It's more residential and kid-friendly than some of the more central parts of New York City. A lot of families with kids and pets will be out and about, especially in the green spaces.
There are many pleasant strolls to be had on the Upper East Side, particularly in and around Central Park. This is the best area to stay in New York City if you want to see museums, shop for high-end labels on Madison Avenue, and dine at some of the city's best restaurants.
This is the best area to stay in New York City if you want to see museums, shop for high-end labels on Madison Avenue, and dine at some of the city's best restaurants.
Pros
Close to Museum Mile
Easy access to the fun things to do in Central Park
Lots of great dining options
Quieter and family-friendly
Cons
Hotels and dining can be pricey
Further from popular attractions in Midtown
Not much nightlife
3. Upper West Side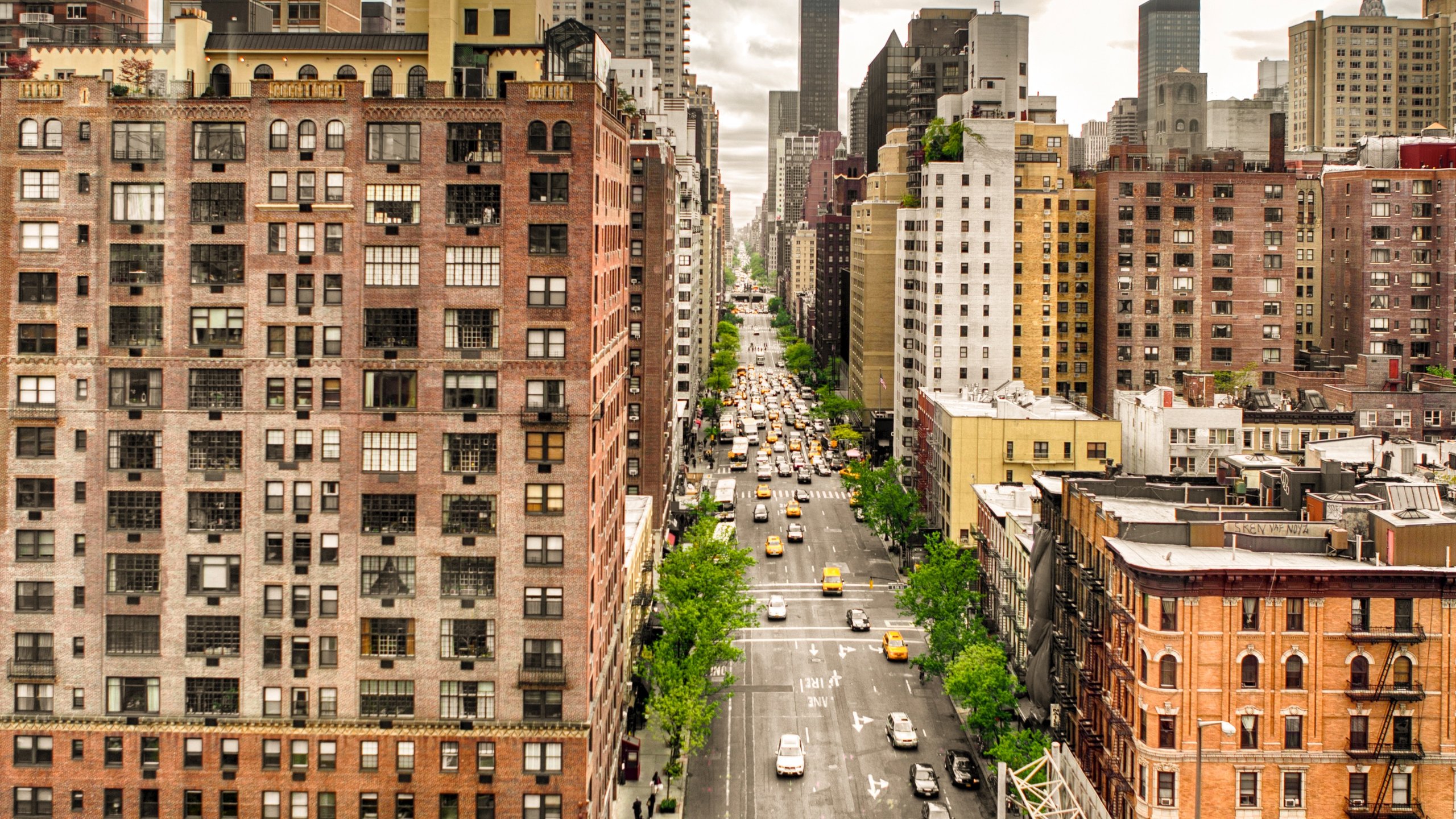 From West 59th to West 110th Streets, the Upper West Side (UWS) of Manhattan is located between the Hudson River and Central Park. There are few better locations to stay in New York City than this family-friendly hotel and neighborhood.
Lincoln Center, the Beacon Theatre, and the American Museum of Natural History are just few of the cultural landmarks of New York City that may be found on the Upper West Side. The Upper West Side is home to some of the city's most prestigious addresses, including the Central Park–facing The Dakota and San Remo apartment buildings.
It's a terrific place for families with kids to stay and play because of all the playgrounds and smaller parks, as well as the kid-friendly hotels (some of which even have kid-specific activities). Within twenty minutes, you can be in Midtown or one of the city's other neighborhoods via subway or bus.
To get away from the hustle and bustle of the city after work, take the metro or bus for around twenty minutes and you'll be in Midtown or another nearby neighborhood.
Pros
Great location for families
Walking distance to Central Park and Riverside Park
Quiet and relaxed residential neighborhood
Cons
Not much nightlife or bar scene
Further from tourist attractions
4. Financial District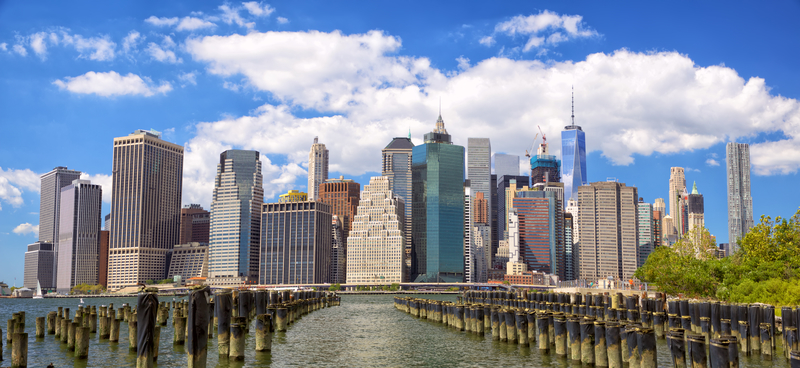 The Financial District is the heart of New York City, frequently called the global financial capital. This lower Manhattan district is where business travelers should stay to be close to Wall Street and the New York Stock Exchange.
There is a long tradition of business in the Financial District, which is located in a historically significant area of downtown San Francisco. Some of the restaurants and taverns are as old as the 1800s, while the streets itself are paved with old cobblestones. Since most business visitors will have left town by the weekend, prices at hotels tend to drop and deals can be found.
The Financial District is home to both the World Trade Center and the 9/11 Memorial. Visit the museum and memorial, or head to the top of One World Trade for breathtaking vistas of New York City. The lively bar scene of the Lower East Side is just a short subway ride away.
The Statue of Liberty on Ellis Island and the Staten Island ferry can both be seen from this area, making it a fantastic vantage point for watching the action in New York Harbor. The Brooklyn Bridge, which spans the Hudson River and links Manhattan to Brooklyn, will be within easy walking distance. In the afternoon, grab a drink and take in the sights and sounds of the ferry activity at Pier 17.
Pros
Close to Brooklyn Bridge
Quieter and more budget-friendly on the weekends
Quick access to Staten Island and Statue of Liberty ferries
Budget and mid-range hotel options available
Cons
Not many unique dining options
Nightlife is lacking
Business-oriented neighborhood
Further from sights in Midtown
5. SoHo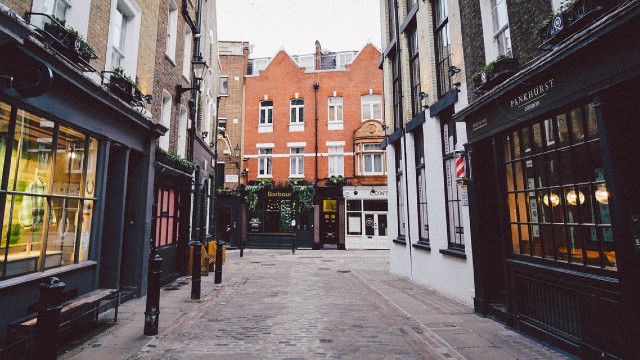 SoHo is a shopping and art gallery mecca located south of Houston Street. Since SoHo is primarily a residential area, you won't have to deal with any massive tourist hordes when visiting the area's shops and galleries.
SoHo is home to some of New York City's finest restaurants and bakeries, including Laudurée and Dominique Ansel, as well as some of the city's finest pizza. People in the know flock to this area because of its proximity to Little Italy. The West Village and much of lower Manhattan may be reached by foot from here as well.
Staying in SoHo is a great decision if you're like fashion or pizza. You may see famous people and want to take pictures for Instagram, so make sure your phone is charged.
Pros
Plenty of places to shop
Great people watching
Not as many crowds
Several restaurant and bar options
Cons
Further from public transportation
Can be crowded during peak hours of the day
Dining options are expensive
6. Greenwich Village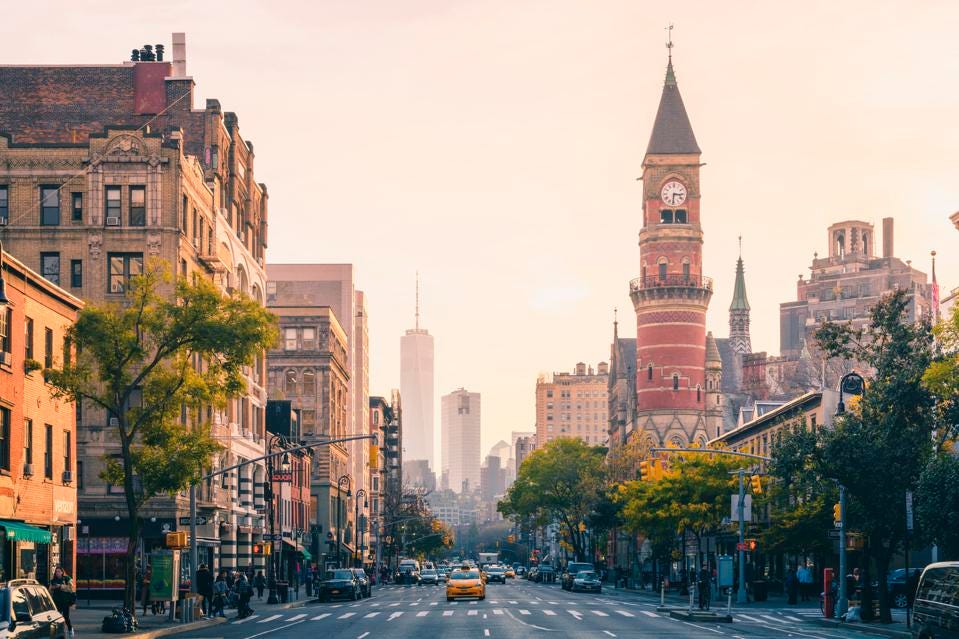 The lower west side of Manhattan is home to the quaint community of Greenwich Village. This area, often referred to simply as "The Village," is sandwiched between Broadway and the Hudson River on the western side and the East River on the eastern side. It's a prime spot for nightlife because it features some of the city's top restaurants and bars, but it's also one of the most costly areas to reside.
Greenwich Village is located outside of Manhattan's main grid, and its winding lanes are lined with historic brownstones. Stay here to explore the city's historic district and see some of the city's iconic architecture.
Do you consider yourself a fan of Friends? Pass past the familiar apartment building on the junction of Grove and Bedford Streets.
This area is home to both New York University and The New Academic, thus it is very crowded with students during the school year and can get rather rowdy at night.
Pros
Close to Washington Square Park
Fantastic dining options
Great nightlife and bars
Cons
Can be loud and crowded at night
Dining options are pricey
Not many hotel options
7. Long Island City (Queens)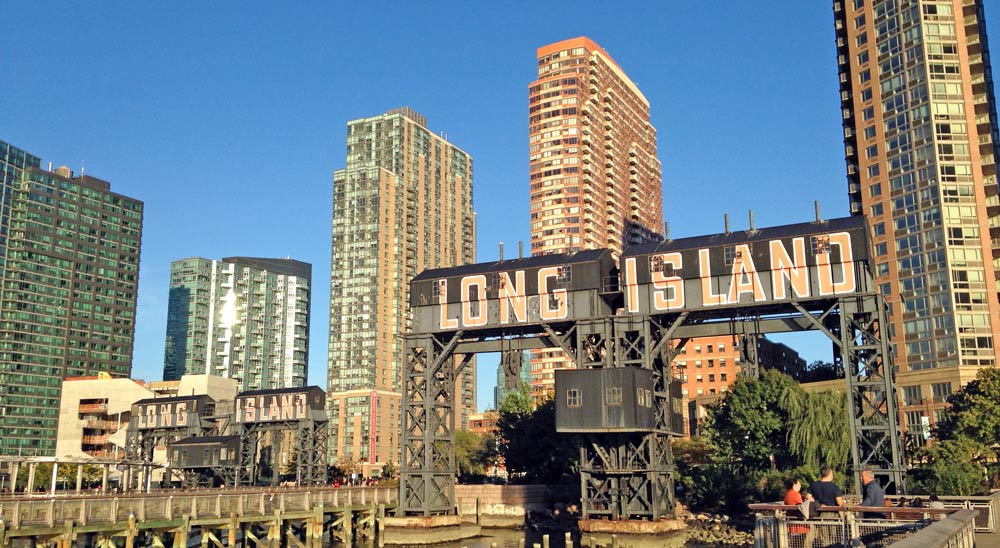 Long Island City (LIC) in Queens lies directly over the East River from Midtown Manhattan. Here is a terrific low-cost place to stay in the heart of New York City if you're on a tight schedule. Within 20 minutes, you may be in the heart of Manhattan thanks to the abundance of subway lines that pass through Long Island City. Take the ferry for a change of pace and to admire the cityscape from the water if the weather is favorable.
To get a flavor for this residential area, stop by some of the local art galleries, top NYC music venues, and waterfront breweries (the vistas are fantastic). The cuisine, beverages, and vintage products at the LIC Flea Market are worth the trip alone. As one of the city's most culturally and gastronomically diverse areas, Long Island City is a must-visit for foodies.
Pros
Diverse dining options
Easily accessible from other boroughs and neighborhoods
Budget hotel options available
Multiple modes of public transportation are available
Cons
Not much nightlife
Public transportation is required to get to tourist attractions
8. Williamsburg (Brooklyn)
When you cross the East River from lower Manhattan into Brooklyn, you'll find Williamsburg right across the water. It's a terrific place to stay in New York City if you're interested in the restaurant and nightlife scenes. The quick trek across the East River to Williamsburg is well worth it, as it is home to some of my favorite rooftop pubs.
Williamsburg is widely known as the "hipster" district due to its thriving art and music scenes and young, creative population. Admire the East River from Domino Park, Brooklyn Bridge Park, or the Williamsburg Bridge for breathtaking views of the city.
In sum, if you're looking for a place to stay in New York City that puts you in close proximity to the city's vibrant arts and music scenes, trendy boutiques, and vintage stores, go no further than Williamsburg. To get to Union Square in Manhattan from here on Bedford Avenue takes only a few minutes on the metro.
Pros
Easy access to Manhattan via public transportation
Amazing views of the city skyline
Trendy bars and varied dining options
Less crowded and touristy
Many parks and green spaces
Cons
Further from main attractions in Manhattan
Can be crowded at night
10. The Bronx
The Bronx is worth mentioning in its totality despite the fact that it is one of the five boroughs and not a single neighborhood. Stay in The Bronx, New York City, if you're a baseball fan or traveling with kids. The Bronx is located north of Manhattan, separated by the Harlem River.
The Bronx, where Yankee Stadium is located, has undergone tremendous revitalization in recent years and is now a popular tourist destination. Attending a home game as a visitor? There isn't a better place to stay in New York City if you want quick and easy access to the stadium.
Planning a trip with the kids? The Bronx Zoo is home to a wide variety of species from all over the world. I think the New York Botanical Garden is a fantastic place to spend a day, depending on the time of year. Seeing the Garden in the afternoon is well worth the short trip across town on the Metro North rail.
A great alternative for those who enjoy Italian cuisine may be found in the Bronx. More than a mile long, Arthur Avenue is the city's own Little Italy. Get some baked goods to take home, or get some traditional red sauce for dinner.
It's important to plan your route through The Bronx carefully, especially if you'll be out late.
Pros
Classic Italian dining options
Close to Yankee Stadium
Accessible from Manhattan by public transportation
Cons
Not many hotel options
Certain areas aren't as safe
Not as walkable as other neighborhoods
11. Greenpoint (Brooklyn)
Greenpoint, the most northerly section of Brooklyn, is located on the riverfront of the East. The area was formerly home to a sizable Polish population and is located immediately adjacent to Williamsburg. Greenpoint is the best place to stay in New York City if you're looking for a residential area with less noise and activity.
Greenpoint, like Williamsburg, is a trendy area with plenty of brand-new, expensive housing complexes. There is an abundance of amazing bar and nightlife options, as well as numerous restaurants that can get crowded on the weekend (get a reservation!).
Greenpoint also has several parks where you may go for a stroll, visit a farmer's market, or get some exercise. Centrally located parks that are popular with locals are McCarren Park and Msgr. McGoldrick Park. In between stops at stores and galleries, take in the neighborhood's stunning architecture and historic townhouses.
Greenpoint is not as easily accessible by subway as other parts of Brooklyn because just one line (G) travels there. The price of the ferry is comparable to that of the subway, and it provides stunning views of the cityscape from the sea, especially around dusk.
Pros
Less crowded and more residential
Multiple parks and green spaces
Hip bars and restaurants
Cons
Only one direct public transportation option
Certain areas might not be as safe, especially at night
Where to Stay in New York City 2023:Newshub360.net
Related Post
Credit : www.Newshub360.net