The 14 Best Budget Beach Hotels in Florida 2023: Being a native Floridian who has spent more than 20 years traveling on a budget, I am aware of how crucial it is to book Florida beach hotels that offer the most value for your money.
We budget tourists seek the best deal but also quick access to the shore to make the most of our vacation.
Due to the tremendous demand from tourists, it is not surprising that the oceanfront hotels that line Florida's 1,350 miles of scenic coastline are often more expensive.
There are hidden gem hotels that are both inexpensive and provide access to the white sand beaches of Florida's top beaches, so vacationing on the beachfront doesn't have to be expensive.
14 Best Budget Beach Hotels in Florida 2023
1. Holiday Inn Resort Pensacola Beach Gulf Front, Pensacola Beach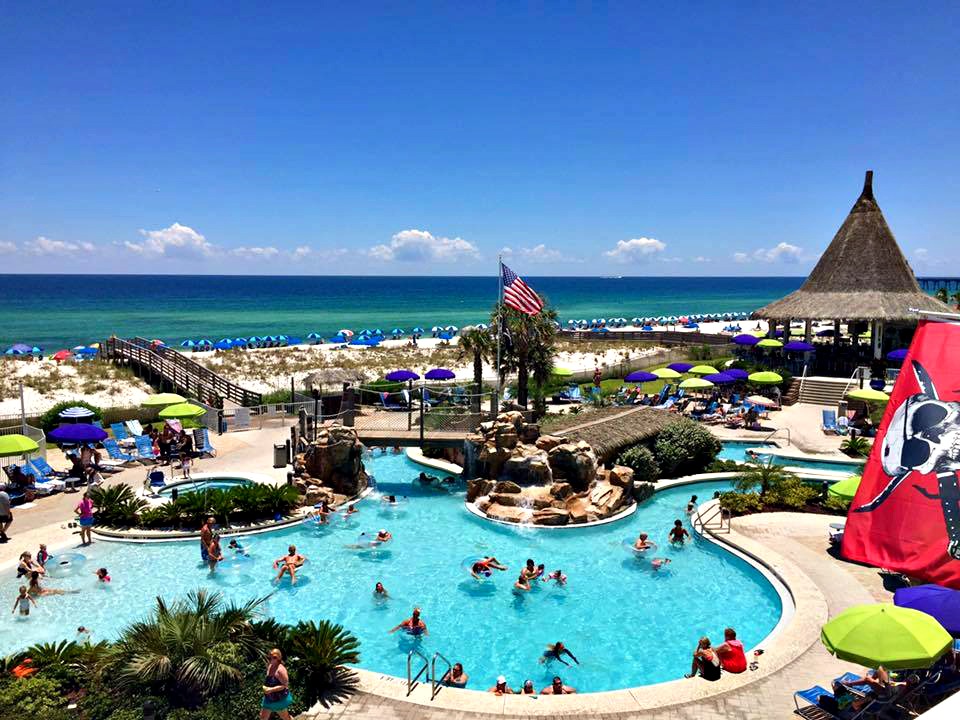 Holiday Inn Resort Pensacola Beach offers a great position close to Pensacola Beach's biggest attractions, so bring your flip-flops and book a room there.
In addition to accommodations with private balconies or terraces and breathtaking ocean views, the family-friendly hotel also has an enticing on-site pool with cascading waterfalls and a lazy river.
Enjoy regional cuisine at the Beachfront Tiki Bar and Riptides Sports Grill, or spend the day on the water fishing, paddleboarding, kayaking, or riding.
Key Amenities:
Rooms with private balconies and terraces
Pool with waterfalls and lazy river
Paddleboarding, kayaking and biking
2. Resort at Perry's Ocean Edge in Daytona Beach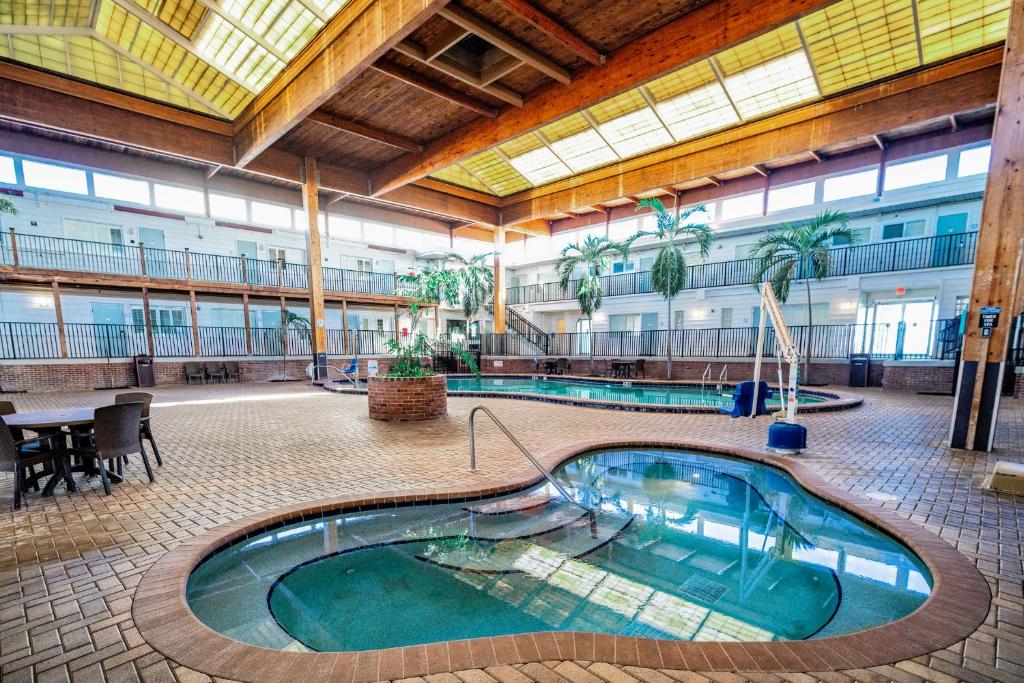 Perry's Ocean Edge Resort is a popular oceanfront hotel in Daytona Beach and is ideal for families wishing to soak up the sun.
There are numerous swimming pools, volleyball and shuffleboard courts, and lots of other organized fun and games.
Additionally, each morning can start with the famed baked breakfast doughnuts. Its apartments come with kitchens so you may prepare meals at home, while family suites have bunk beds for the kids.
Key Amenities:
Suites with kitchens and bunk beds
Homemade donuts for breakfast
Garden atrium with indoor heated pool
3. Miami's Catalina Hotel and Beach Club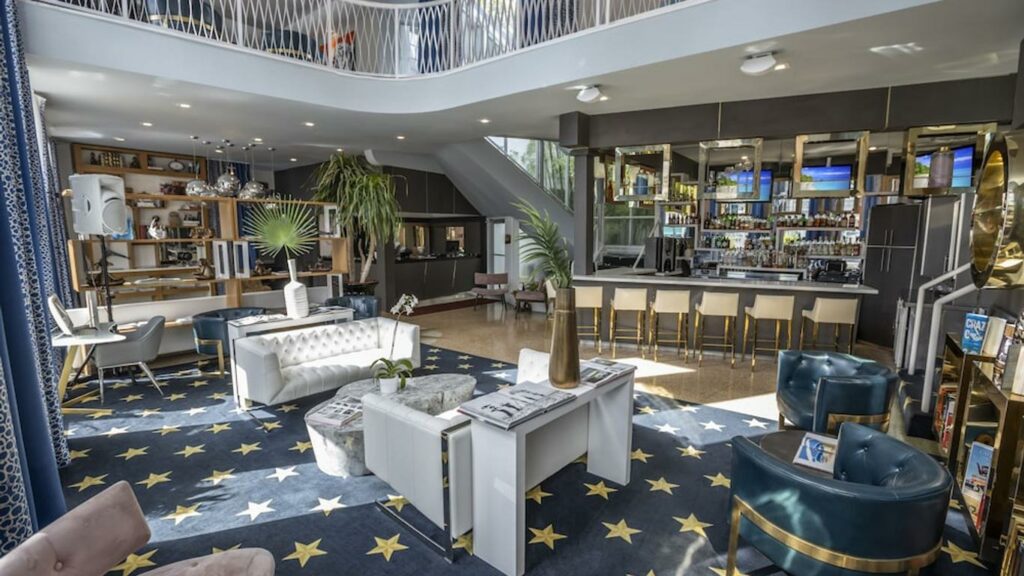 Catalina Hotel and Beach Club in Miami is a boutique hotel just one block from the beach, making it the ideal location for anyone wishing to party it up in South Beach on a tight budget.
By booking a room at this small hotel with Tempur-Pedic beds, 300-thread-count linens, and goose-down comforters, you can save your money for cocktails.
Take advantage of the rooftop pool, which features comfortable sun loungers, numerous on-site bars with happy hour deals, and free beach towels.
Key Amenities:
Best Budget Beach Hotels in Florida
4. Wyndham Garden Fort Walton Beach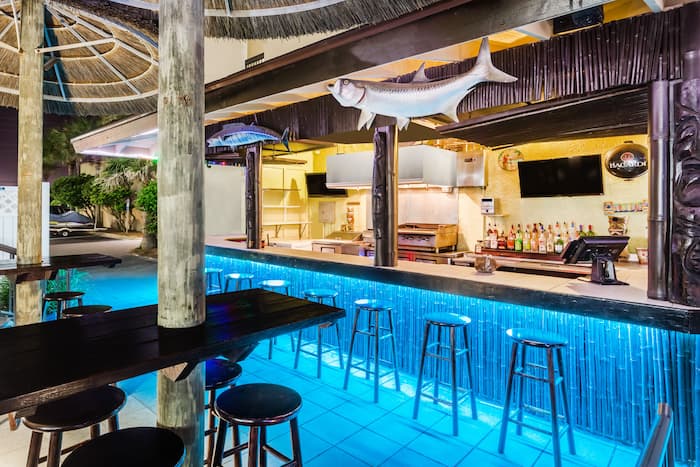 At Wyndham Garden Fort Walton Beach in Destin, Florida's Emerald Coast, you may take a break from reality and relax while taking in the breeze beneath swaying palms.
This beachfront hotel in the Panhandle's major draw is its oceanfront setting, where you can unwind in roomy suites and rooms after enjoying a hot tub, rockslide, game room, and poolside bar and restaurant.
There are also planned events like ping pong competitions, beach volleyball, movies by the pool, and Bingo.
Key Amenities:
Free bicycle rentals
Game room Rockslide and hot tub
5. Panama City Beach's Beachcomber By The Sea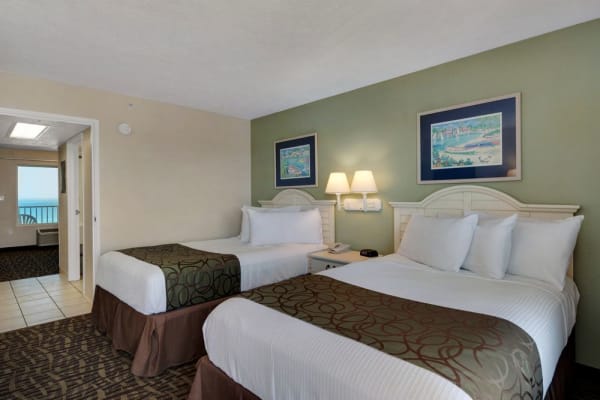 Beachcomber By The Sea in Panama City Beach offers breathtaking views of the Gulf of Mexico without breaking the budget.
It provides free breakfast and gives discounts on local attractions, and its gulf-front lodging options include regular, jacuzzi, and suite room types.
Relax in your roomy apartment with a kitchenette and private balcony after taking use of the gulf-front hot tub and waterfall pool.
The best dining, shopping, and entertainment options are close by Frank Brown Park and Pier Park.
Key Amenities:
Gulf-front suite with kitchenette and private balcony
Hot tub and waterfall pool
Complimentary breakfast
6. Tropical Winds Oceanfront Hotel, Daytona Beach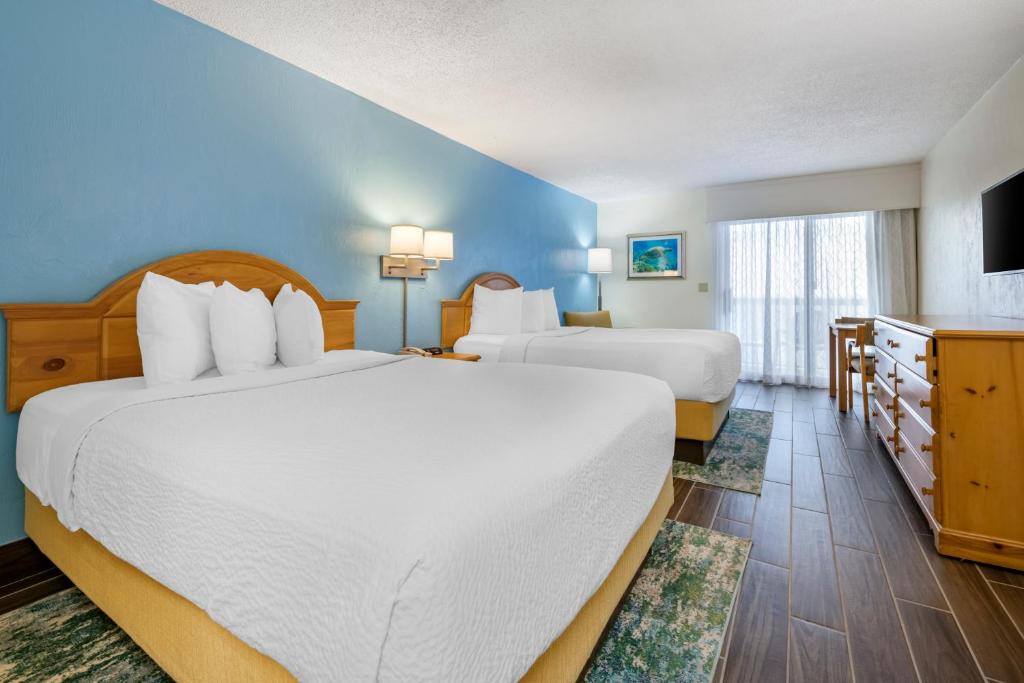 The Tropical Winds Oceanfront Hotel in Daytona Beach is known for its stunning oceanfront pool. The hotel's extensive breakfast selections and lunch provided at the Poolside Cafe mean you don't need to travel far.
Instead, you can surf the waves of the Atlantic Ocean or build sandcastles on the sandy beach. Enjoy the scenery from your personal balcony or go shell-hunting on the "World's Most Famous Beach."
Key Amenities:
Rooms with private balconies and kitchens
Indoor/outdoor pool
Beach access
Best Budget Beach Hotels in Florida
7. Holiday Inn Resort Panama City Beach, Panama City Beach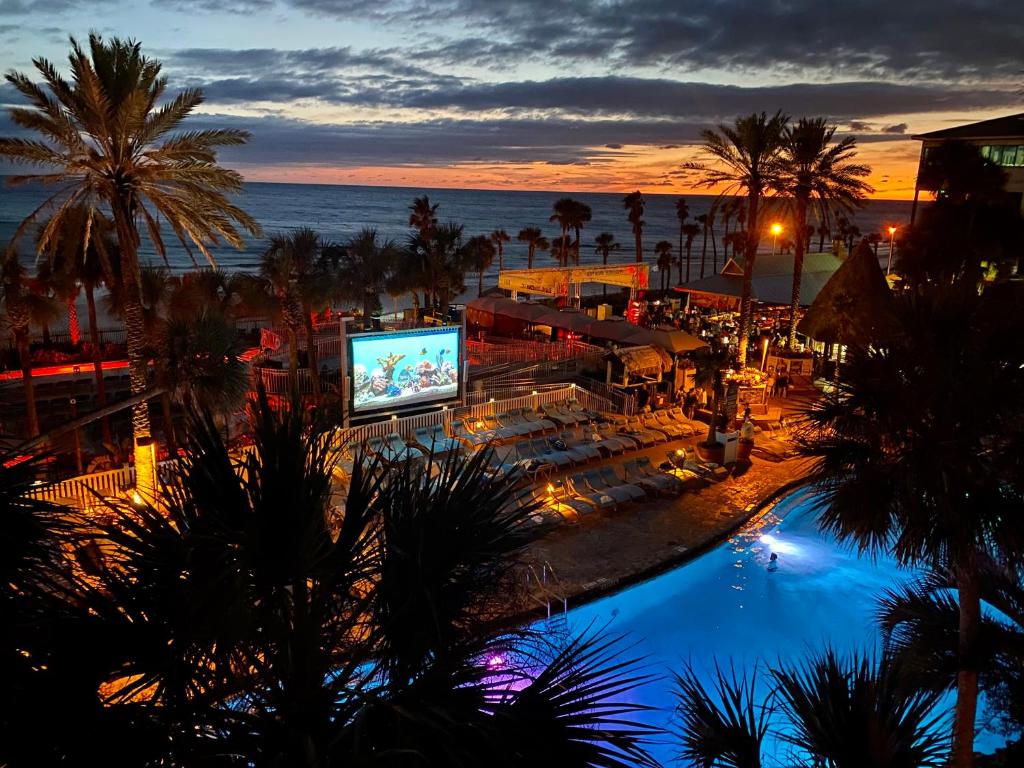 The Holiday Inn Resort Panama City Beach is a premier hotel with gulf-front rooms that are surrounded by tropical gardens on the pristine sands of Panama City Beach.
There are many dining options on-site, along with a lagoon-style pool and waterfall, a beachfront balcony, and a tiki bar. Little ones can participate in supervised kids' games including corn hole, seaside bingo, and hula-hoop hopscotch.
Additionally, there is a fantastic Aqualand with slides and enormous buckets of water.
Key Amenities:
Beachfront deck and tiki bar
Lagoon-style pool and waterfall
Water playground for kids
8. The Island Resort, Fort Walton Beach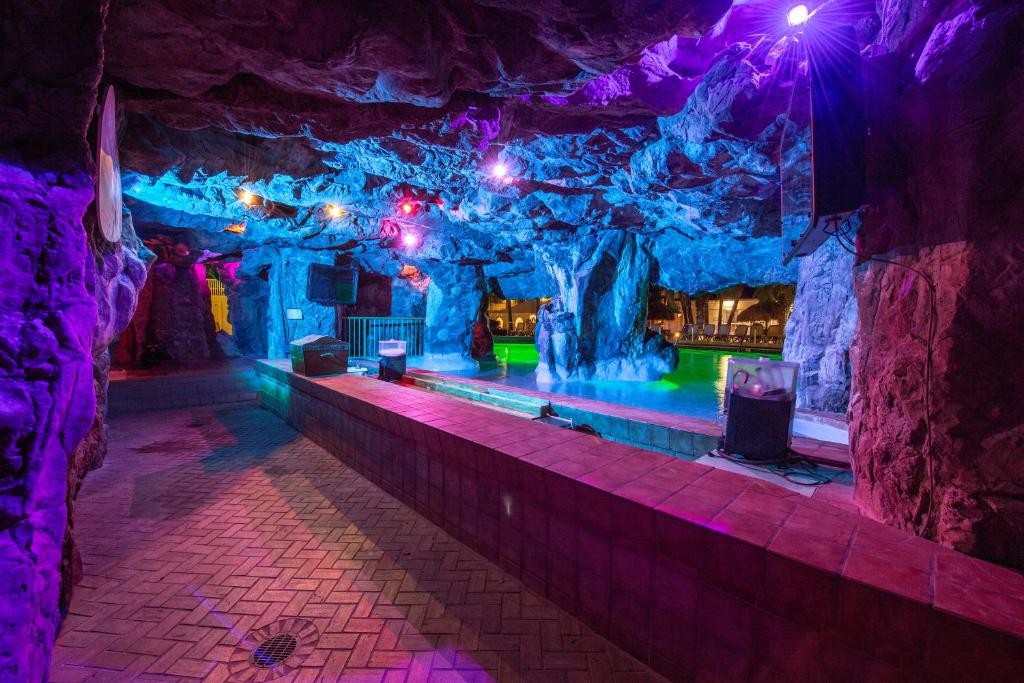 The Island Resort in Fort Walton Beach, Florida, is a popular destination for fun in the sun and is a reasonably priced beachfront resort on the island of Okaloosa off the Panhandle of Florida.
The resort's family-friendly grounds also contain numerous on-site restaurants and bars, a grotto swim-up bar, and tropical gardens. You'll have easy access to the lovely white sand beach.
You can stroll to Okaloosa Island Boardwalk, Gulfarium Marine Adventure Park, and Wild Willy's Adventure Zone from the hotel in a matter of minutes.
Key Amenities:
Direct access to white sand beach
Grotto swim-up bar and tropical gardens
On-site pools and kids play area
9. Plaza Beach Hotel – Beachfront Resort, St. Pete Beach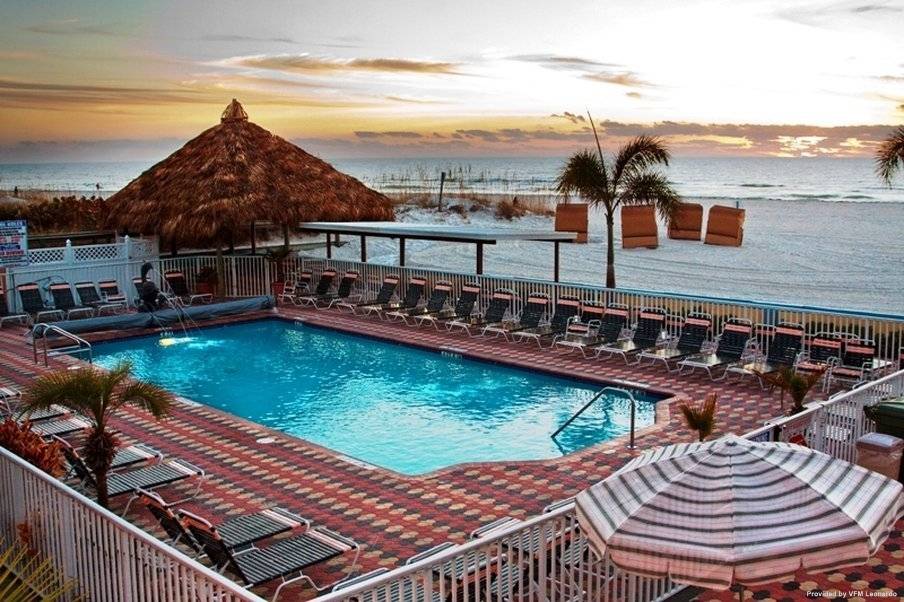 At the family-run Plaza Beach Hotel – Beachfront Resort on St. Pete Beach, you'll discover everything you require for an unforgettable beach vacation.
In the opulent rooms without the exorbitant price tag, you can reach the seductive white-sand beaches with ease.
Utilize the kitchenettes to cut costs, then tan in the pool with a view of the beach and unwind in the peaceful hammocks.
Key Amenities:
Pet-friendly suites with kitchenettes
Beachfront pool and hammocks
Private fishing pier
10. Sandpiper Gulf Resort, Fort Myers Beach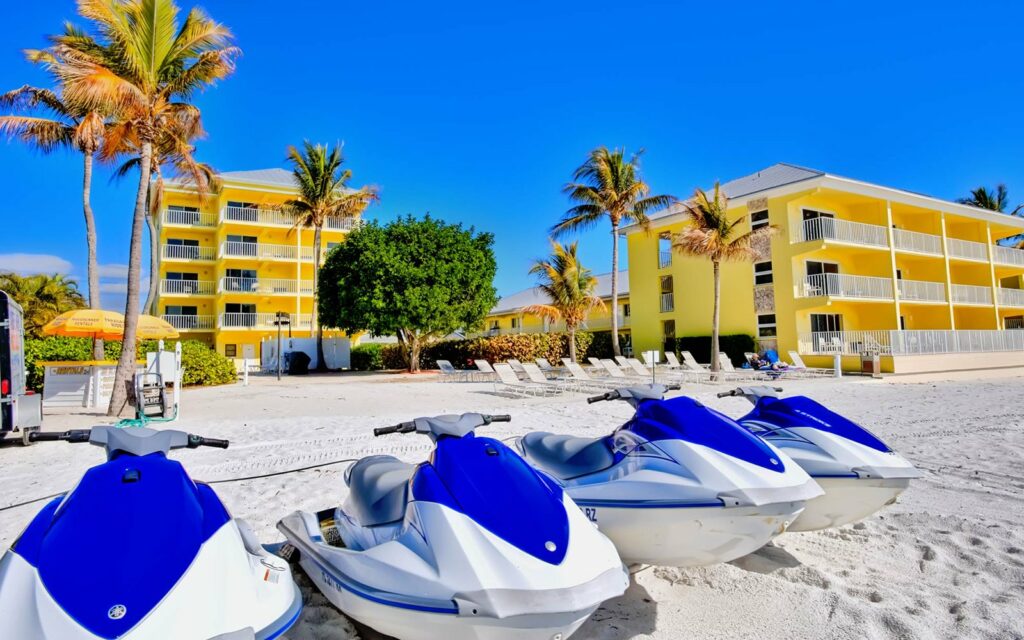 Sandpiper Gulf Resort in Fort Myers Beach provides access to Estero Island's silky white sand while providing the height of leisure.
Budget-friendly hotel with a kid-friendly pool, an adults-only pool, and the option to sign up for WaveRunner rentals or dolphin sightseeing tours is ideal for couples or families who don't want to forgo comfort.
Make the most of the roomy floor layouts and kitchenettes in one of the many inviting rooms and suites that face out into the Gulf.
Best Budget Beach Hotels in Florida
11. Delta Hotels Daytona Beach Oceanfront, Daytona Beach
At Delta Hotels Daytona Beach Oceanfront, just minutes from the center of Daytona Beach, take in expansive views of the Atlantic Ocean.
The hotel's spacious rooms come equipped with flat-screen TVs, plush linen, and private balconies with views of the ocean.
The closest major tourist destinations include the Daytona International Speedway, Ponce Inlet Lighthouse, and Main Street amusements. Swim in the beachfront pool or relax in the hot tub before dining on-site at Ocean Terrace or having food sent to your room.
Key Amenities:
Ocean-view rooms with private balcony
Oceanfront pool and hot tub
Outdoor dining and room service
12. Best Western Hibiscus Motel, Key West
In Key West, you may find a great price at the Best Western Hibiscus Motel, which is conveniently close to the ocean.
Enjoy the lush tropical setting that is just a block from Duval Street, where you may visit the city's finest attractions, before returning to the hotel's tranquil area. Swim in the heated pool, schedule a boat tour, or register for a paddleboarding course.
You can upgrade to the 2 Queen Beds Suite with a separate living room if you need more space and enjoy a complementary breakfast to start your day.
Key Amenities:
Complimentary breakfast
Pool and watersports on-site
Located one block from Duval Street and beach
13. Palm Pavilion Inn, Clearwater Beach
Award-winning Palm Pavilion Inn is a beachside boutique hotel in Clearwater that provides quick access to well-known Florida attractions including Adventure Island and Lowry Park Zoo.
With its large rooms and one-bedroom flats that feature flat-screen TVs, mini-fridges, and breathtaking beach views, this modest, affordable hotel is ideal for families.
Enjoy the sunshine at the outdoor pool or unwind at one of Florida's top beachfront restaurants, Palm Pavilion Beachside Grill & Bar, while a front desk, luggage storage, and free morning coffee service make sure your stay is stress-free.
Key Amenities:
Apartment-style suites with ocean views
Outdoor pool and on-site beachfront restaurant
Free morning coffee service
14. Ocean Manor Beach Resort, Fort Lauderdale
On the Galt Ocean Mile, there is a resort in Fort Lauderdale called Ocean Manor Beach Resort that is reasonably priced.
This contemporary hotel offers endless family entertainment in the private cabanas by the pool and a 200-foot length of private beach in addition to lovely coastal suites.
One of South Florida's best happy hours can be found at the on-site Bamboo Beach Tiki Bar, while Casa Calabria, an authentic Italian restaurant, offers a fine dining experience with a piano bar.
The best part is that Ocean Manor Beach Resort is at a prime location close to the nightlife in downtown Fort Lauderdale, the Las Olas retail area, the airport, and the cruise port.
Key Amenities:
Private poolside cabanas and private beach
Happy hour specials at on-site tiki bar
14 Best Budget Beach Hotels in Florida 2023 – Newshub360.net
Related Post

Credit: www.Newshub360.net