The 11 Best Florida Resorts with Water Parks 2023. Because I was born and raised in Florida, I am well aware of how essential it is to select a hotel that has facilities that are appropriate for children.
Because of this, the Sunshine State is home to an astonishing variety of high-quality resorts, each of which features a variety of on-site activities and enticements that are appropriate for use with children of all ages.
These hotels are the best of the best, taking it one step further with fun-filled water parks that include intricate slides, lazy rivers, and lagoon pools.
Water slides and on-site pools may be common in Florida, but these hotels are the finest of the best, taking it one step further.
Enjoy a day of family-friendly fun splashing around in the water instead of braving the tourist throngs, paying entry fees, and dealing with parking difficulties.
At these luxurious Florida resorts with water parks, you can walk out of your hotel and straight into the pool.
11 Best Florida Resorts with Water Parks 2023
1. Holiday Inn Resort Orlando Suites – Waterpark, Orlando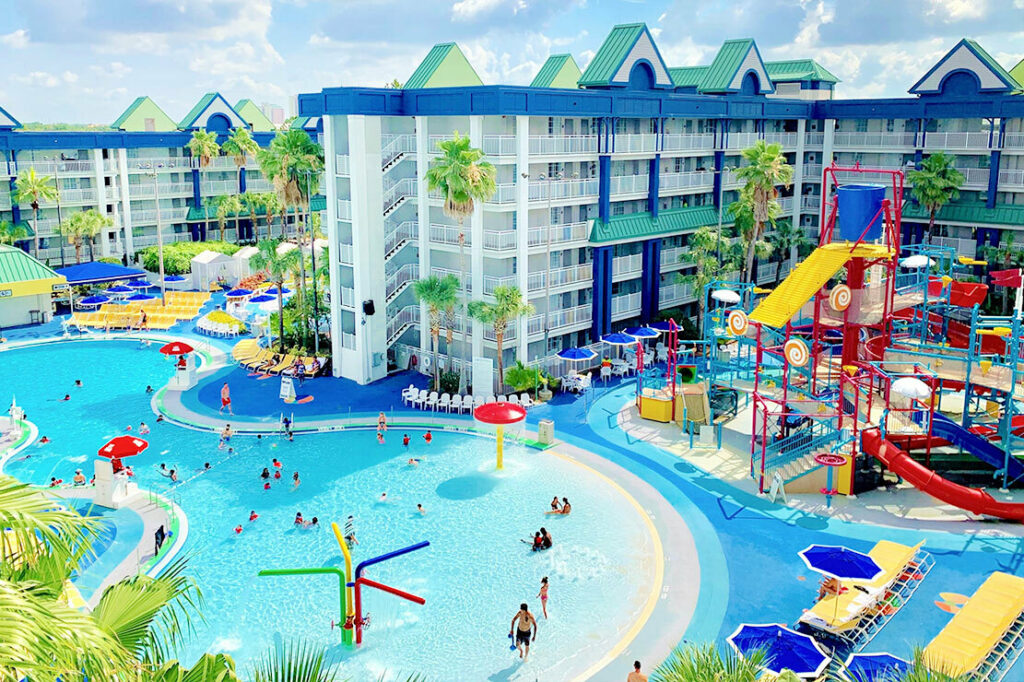 The Holiday Inn Resort Orlando Suites – Waterpark is one of the greatest hotels in Orlando that features a lazy river, and it is located just one mile away from the Disney theme parks.
Unwind in the large room you've been provided, and then get ready for an action-packed day of entertainment at the on-site water park or the indoor Batman Laser Challenge, 4-D Theater Experience, and arcade.
After you've had a chance to refuel at the Marketplace Dining or have some meals poolside, you may participate in weekly events such as game shows, movie night, and family trivia.
2. CoCo Key Hotel and Water Park Resort, Orlando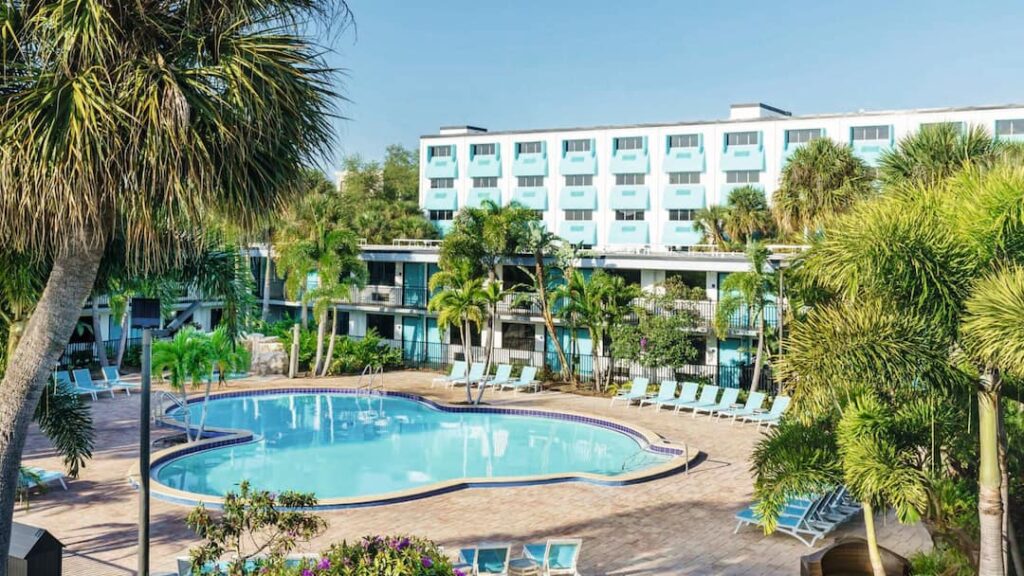 When it comes to fun in the water, nothing beats the water park at the Coco Key Hotel and Waterpark Resort in Coco Key, Florida.
This resort is great for families since it boasts a wide variety of kid-friendly water elements, including 14 slides, three heated pools, and a lengthy list of additional activities that will keep kids occupied throughout the day.
In addition to a sizable arcade, a poolside tiki bar, and a variety of eateries located on the premises, the hotel also provides a shuttle service for guests who wish to visit the nearby theme parks.
3. Four Seasons Resort Orlando Walt Disney World, Lake Buena Vista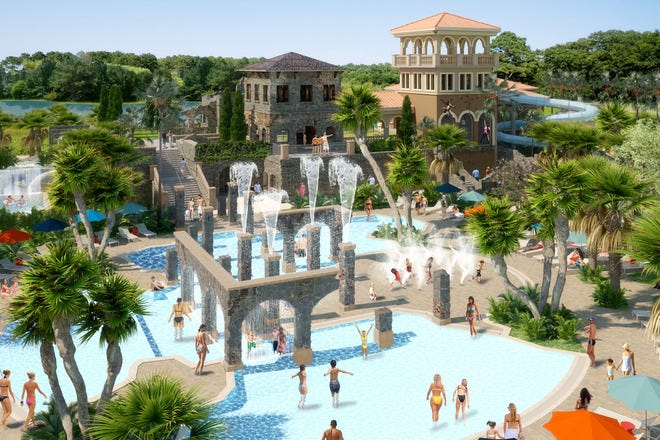 The Four Seasons Resort Orlando is a prominent Orlando resort that is located in Disney World.
The resort features Park View Rooms, which allow guests to view the nightly fireworks show at Disney from the comfort of their own private balconies.
Splash zones, interactive fountains, water slides, and a lazy river are just some of the attractions that await you at Explorer Island, where you can spend a day having fun in the sun.
Spend some quality time with your loved ones by playing a round of table tennis at The Mansion, then cool down with a ride down one of the two water slides, and round things up with a round of beach volleyball.
Best Florida Resorts with Water Parks
4. Orlando World Center Marriott, Orlando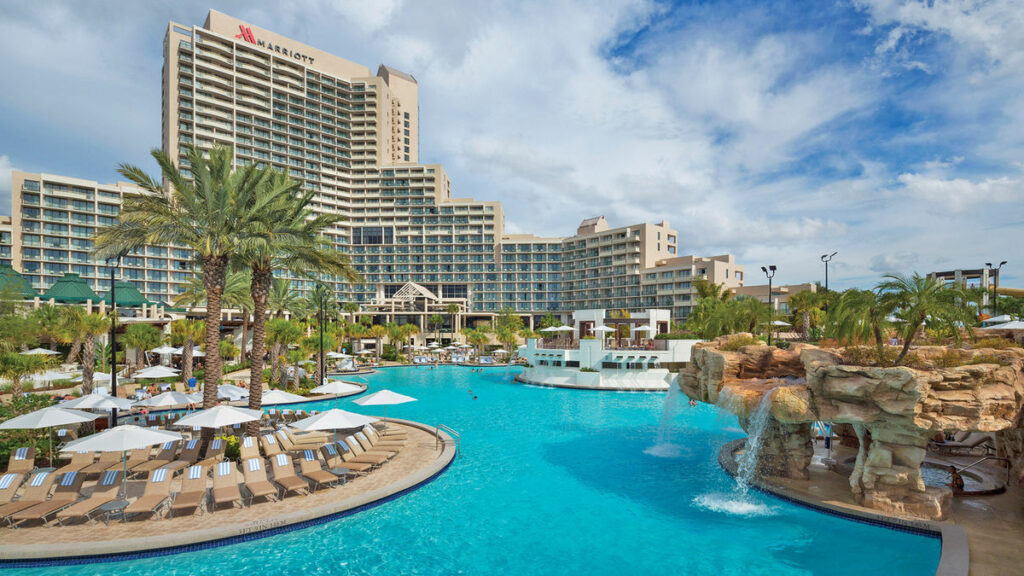 The Orlando World Center Marriott Resort is the place to go if you are seeking for an entertaining day filled with splashing around in various water features.
There are two meandering water slides that are 200 feet long and a super rapid speed slide that is 90 feet long, both of which will please thrill-seekers of any age.
If you are not the sort of person who enjoys risky activities, you need not worry since those who are searching for a more laid-back way to spend the day may head to the oasis pool and hot tub grotto that is tucked away behind a rocky waterfall.
5. The Ritz-Carlton Golf Resort, Naples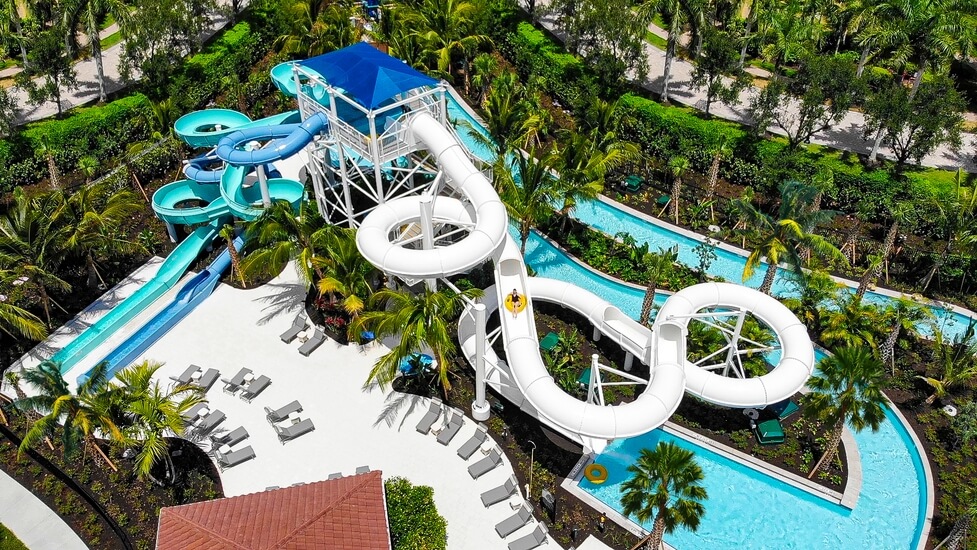 The Ritz-Carlton Golf Resort in Naples provides guests with a comprehensive selection of amenities.
This resort offers outdoor entertainment in the form of an outdoor pool, sundeck, and 14,000 square foot Reservoir waterpark in addition to its two 18-hole golf courses, a luxurious spa, and several on-site eating options.
You have the option of relaxing in a luxurious cabana, making a splash in the family pool, or floating down the 600-foot lazy river at your leisure.
If you're looking to satisfy your craving for speed, take a ride down one of the three waterslides, which feature two slides that accommodate several riders at once and one tube slide.
Even the youngest children are able to have fun in the water at Cascade, which is specifically built for them.
6. Hammock Beach Resort, Palm Coast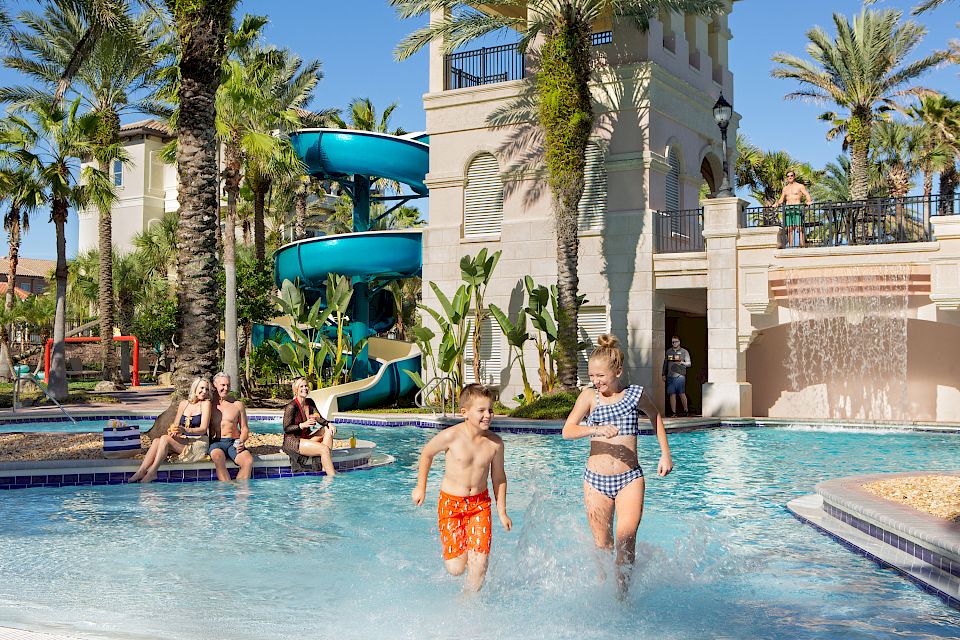 The Hammock Beach Resort in Palm Coast is considered to be among the best family-friendly beach resorts in all of Florida.
It is located on a length of beach that has not been developed. Families are able to enjoy the resort lifestyle with a variety of luxuries thanks to the availability of multi-room villas and suites.
The water park adventure features a 91,000 square foot water pavilion with a lazy river and a thrilling water slide, and while the children are having fun at the water park, the restaurants on the seashore are serving up fresh seafood.
Best Florida Resorts with Water Parks
7. The Grove Resort & Water Park Orlando, Orlando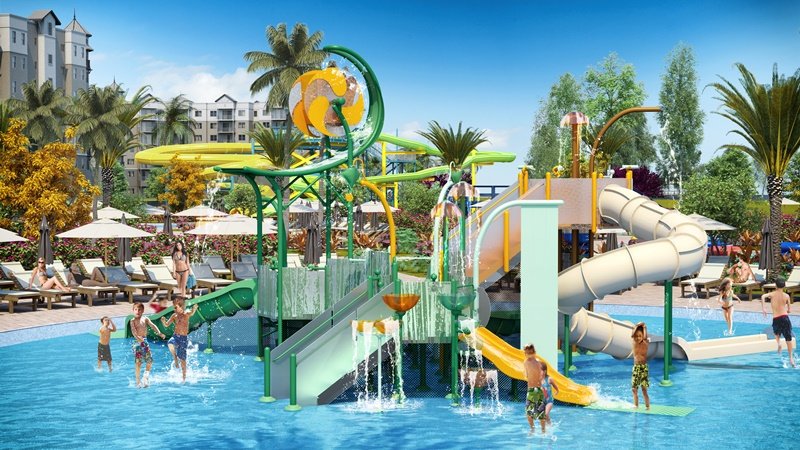 The Grove Resort & Water Park Orlando has lodgings designed in a residential style; nevertheless, the spectacular Surfari Water Park, which features water slides, a zero-entry pool, and a lazy river, will be the primary draw for children visiting the resort.
The one-, two-, and three-bedroom suites are great options for families since they have amenities such as flat-screen televisions, full-size washers and dryers, sleeper sofas, and separate living and eating rooms.
You can get some bites to eat in the Alfresco Market, or you may feast on pizzas with Three Cheese Margherita at Antonio's Pizza.
8. Gaylord Palms Resort & Convention Center, Kissimmee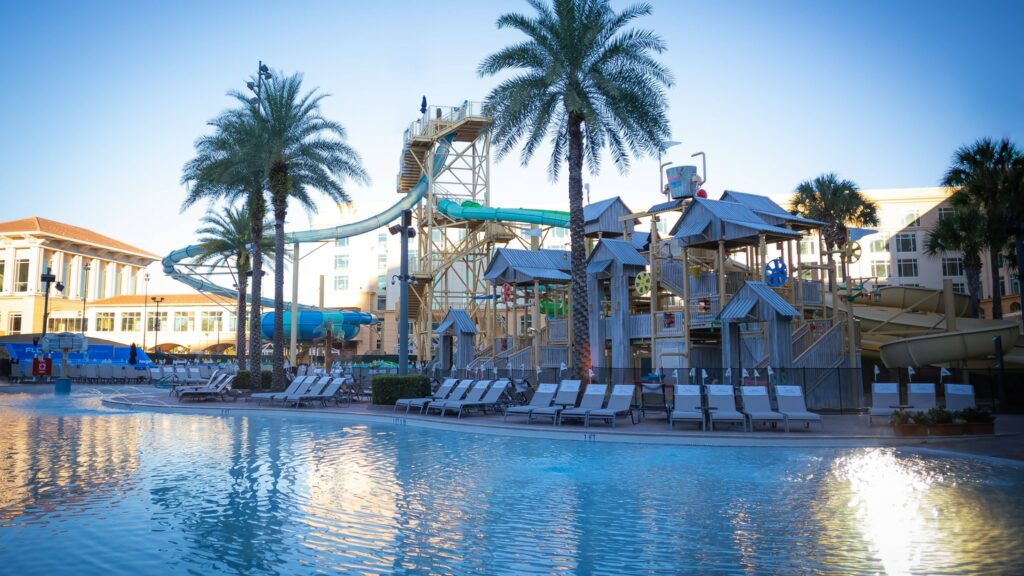 The Gaylord Palms Resort & Convention Center is a luxurious hotel in Kissimmee, Florida, and it has a prime position adjacent to Disney World.
Before exploring the hotel's many attractions, such as its water park, adults-only pool, full-service spa, and various restaurants, take a moment to admire the hotel's soaring glass atrium, which serves as the hotel's centerpiece.
During the winter, the resort transforms into a particularly enchanted place to stay since guests can take use of both the indoor water park and the extravagant holiday decorations, which include more than 2 million lights.
9. Reunion Resort, Kissimmee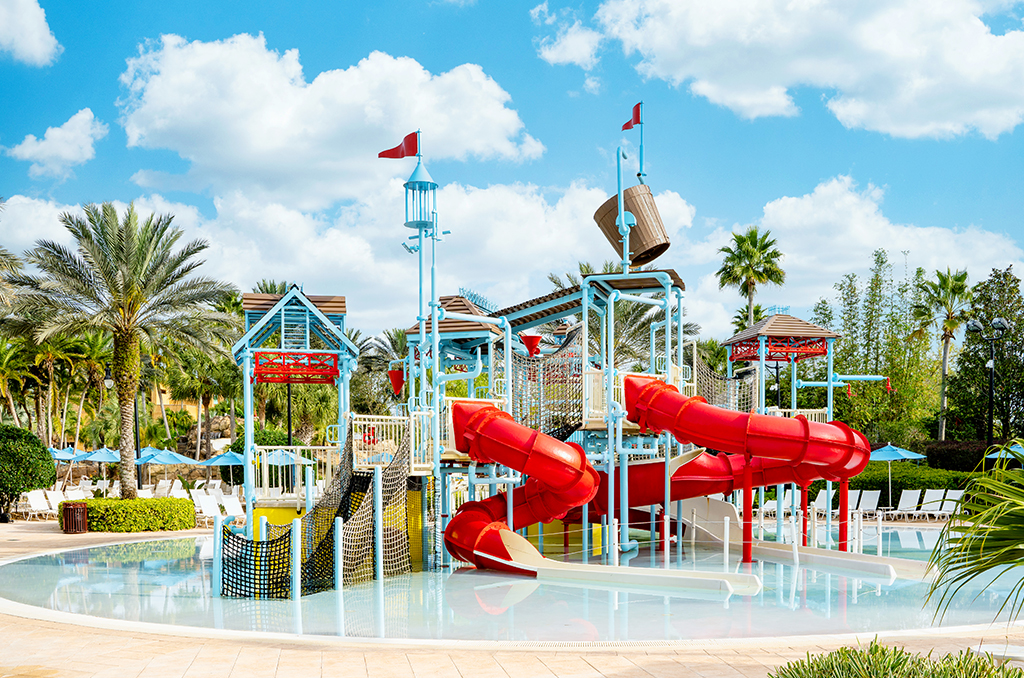 Families are drawn to Reunion Resort by its expansive water park, which features twisting water slides and a lazy river.
The resort also provides villas with one, two, and three bedrooms for guests to stay in. The large villas have balconies, separate living and dining spaces, as well as full kitchens.
You may practice your swing at the Arnold Palmer-designed golf course that is located on the premises, or you can unwind with a Citrus Melon Mojito mani-pedi at the on-site spa.
10. Marriott's Harbour Lake, Orlando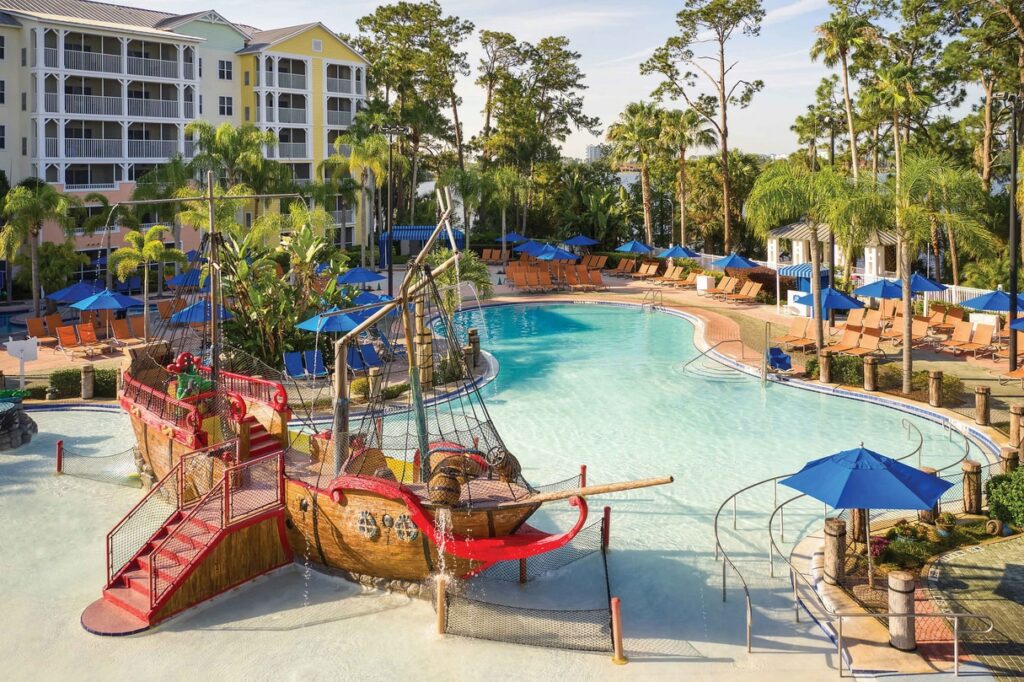 At Marriott's Harbour Lake, you have the opportunity to have a tropical holiday right in Florida.
The resort's large one- and two-bedroom villas come with fully outfitted kitchens, screened-in balconies, and living and dining rooms that are kept separate from one another.
Shipwreck Landing is a themed pool area that has a pirate ship, water slides, and water cannons. You may practice your swing at the miniature golf course or head to Shipwreck Landing.
There are also many activities that are suitable for the whole family, such as karaoke, games to play by the pool, and movie evenings.
11. Renaissance Orlando at SeaWorld, Orlando
At the Renaissance Orlando at SeaWorld, you can relax poolside while the children play in the on-site water park, which has slides and spaces designated for toddlers to run and play in.
In addition to the exquisite day spa, the property features a number of eateries, one of which is located by the swimming pool.
Unwind and take it easy in one of the hotel's large guest rooms or suites, which have lounge spaces, mini-fridges, and Netflix in addition to views of the pool or SeaWorld.
11 Best Florida Resorts with Water Parks 2023 –Newshub360.net
Related Post
Credit : www.Newshub360.net