The 20 Best Resorts in Florida for Couples 2023: Being a native Floridian, I am well aware of the significance of location when it comes to selecting a romantic getaway in the Sunshine State.
You should look forward to an ideal combination of laid-back beach atmosphere, superior customer care, and an extensive range of amenities that provide outstanding value.
Thank goodness, Florida's beaches with their powdery white sand, balmy sunshine, and five-star beachfront hotels offer the ideal ingredients for a romantic vacation with the person you care about the most.
Create unforgettable recollections with your amazing partner by booking a stay at one of these five-star resorts in Florida for couples on your next romantic getaway.
20 Best Resorts in Florida for Couples 2023
1. Hawks Cay Resort – Duck Key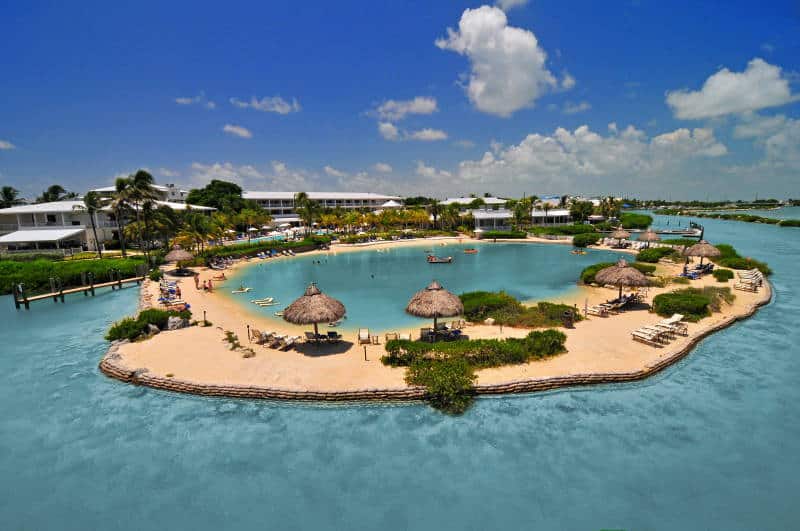 The 60-acre paradise that is Hawks Cay Resort, widely regarded as one of the top resorts in Florida, will captivate the hearts of adventurous couples looking to spend quality time together.
During your visit, you are certain not to become bored due to the availability of a marina that provides all available services as well as a plethora of other activities.
Participate in exciting adventures such as snorkeling, scuba diving, swimming with dolphins, or paddling to adjacent tropical islands and enjoying activities like these.
After an action-packed day, you may unwind by the adult-only pool with a glass of one of their reviving mojitos or schedule a soothing body massage at the spa. Both of these options are available.
2. Naples Grande Beach Resort – Naples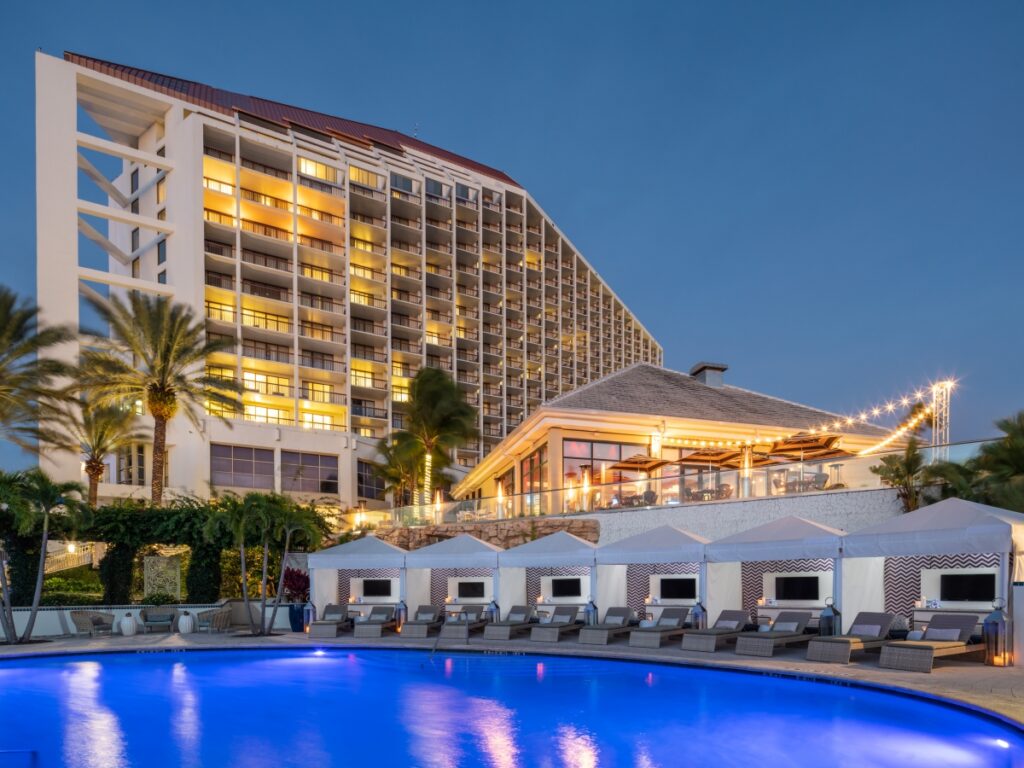 The Naples Grande Beach Resort, which is considered to be one of the top spa resorts in Florida, is located on three miles of white sandy coastline.
Here, you and your significant other may enjoy the seclusion of your own double-lounger while dipping your toes in the sand.
Enjoy a refreshing dip in their pool reserved exclusively for adults, get up close and personal with the local marine life in a kayak, or raise a glass to a breathtaking sunset from the comfort of your own private balcony.
Spend the afternoon relaxing at their serene organic day spa after taking in the breathtaking views of the Gulf of Mexico.
3. Cheeca Lodge & Spa – Islamorada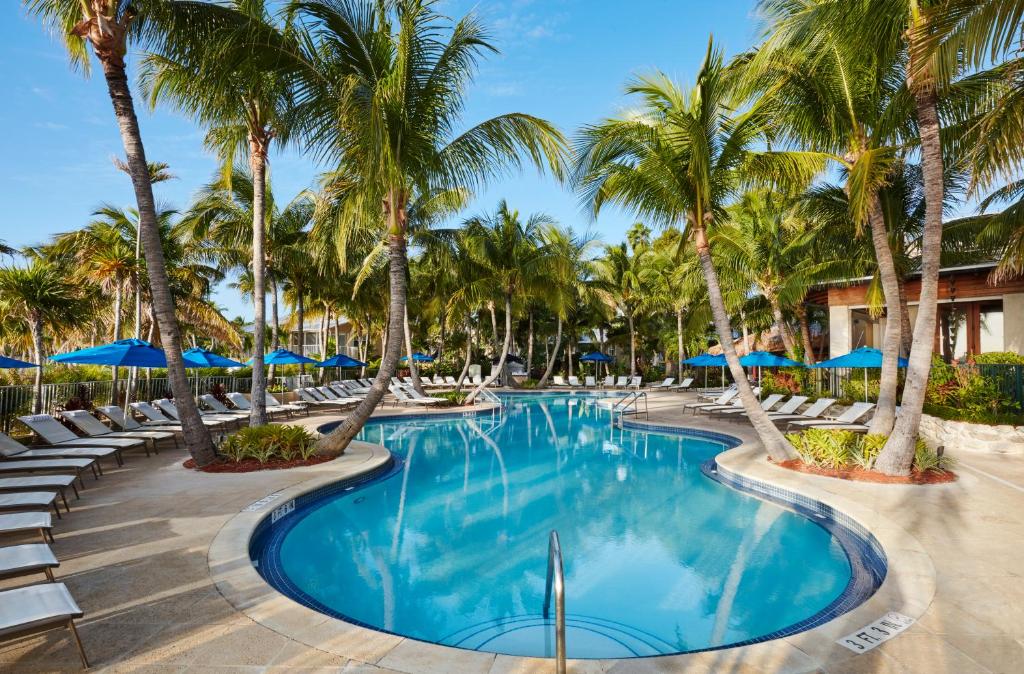 The Cheeca Lodge & Spa is a leading hotel in the Florida Keys due to its excellent location as well as its bright and airy interiors that are decorated with tropical and lush elements.
Cheeca has an amazing resume and a unique blend of laid-back attitudes and ultimate luxury thanks to its towering palm-lined beaches, first-class restaurants, adults-only pool, 9-hole golf course, a soothing day spa, and romantically illuminated tiki-torched walkways.
Fishing is king in Islamorada, but couples may also go snorkeling, diving, kayaking, or bicycling.
4. Sunset Key Cottages, A Luxury Collection Resort – Key West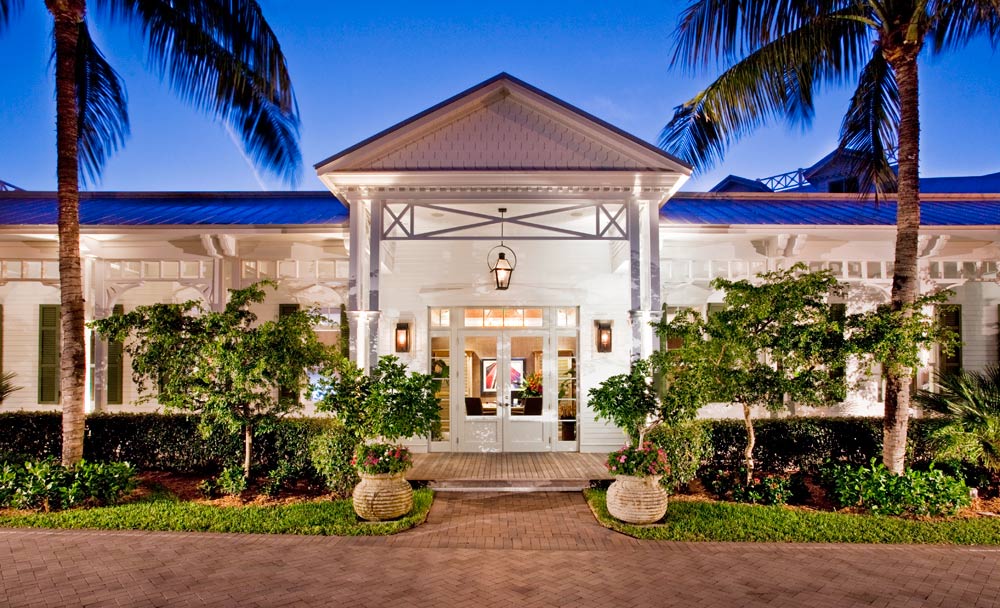 The opulent and private homes that make up Sunset Key Guest homes can be found on a peaceful island that is 27 acres in size and is only 500 yards away from Key West.
You can feel the breeze of the salty air in the spacious living spaces, and you can rest on the big porches that gaze out over the beautiful sea.
The ambiance is reminiscent of Old Florida. Have a romantic supper on the beach with freshly caught seafood and a drink of bubbly while you dine in your own private plunge pool or have a swim in your own private pool.
Best Resorts in Florida for Couples
5. South Seas Island Resort – Captiva Island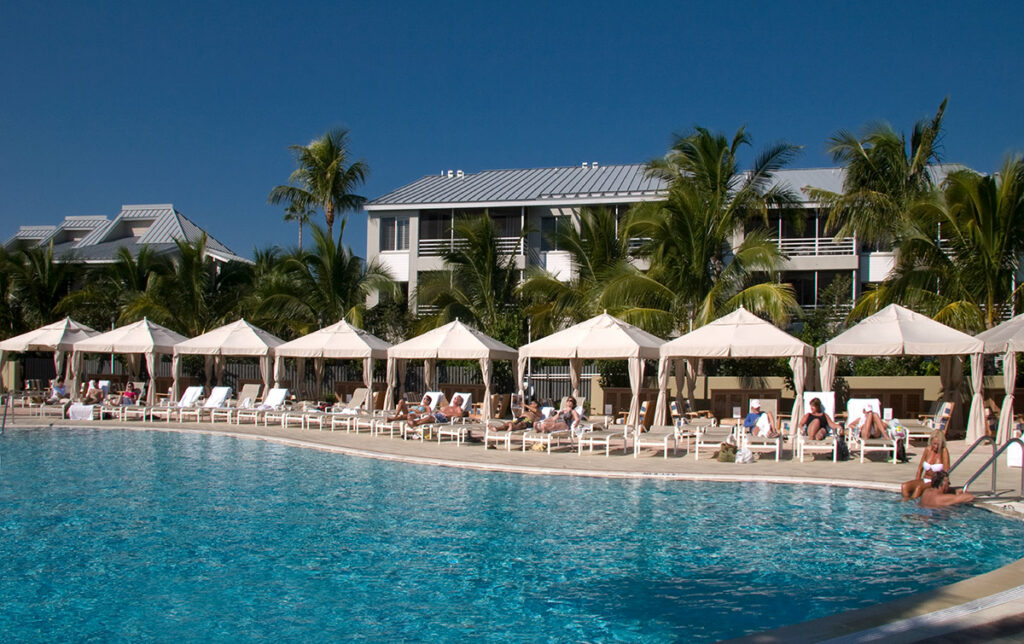 The South Seas Island Resort occupies the entirety of one end of the beautiful island of Captiva, and guests may take use of the resort's complimentary trolley service to get about.
In addition to the luxury 2.5 miles of beautiful beach that the resort stands on, couples have a wealth of outdoor activities to enjoy in such as bike rentals, sailing lessons, kayaks to explore the mangroves, and hot tubs in a lagoon pool to rest in after a day of thrills. All of these activities are available at the property.
Shell collecting and watching dolphins swim alongside your yacht make for a once-in-a-lifetime experience that you may have on a romantic cruise through Cayo Costa National Park and around Captiva Island.
It is not hard to see why so many honeymooners choose to stay at this Florida resort.
6. Acqualina Resort & Spa On The Beach – Sunny Isles Beach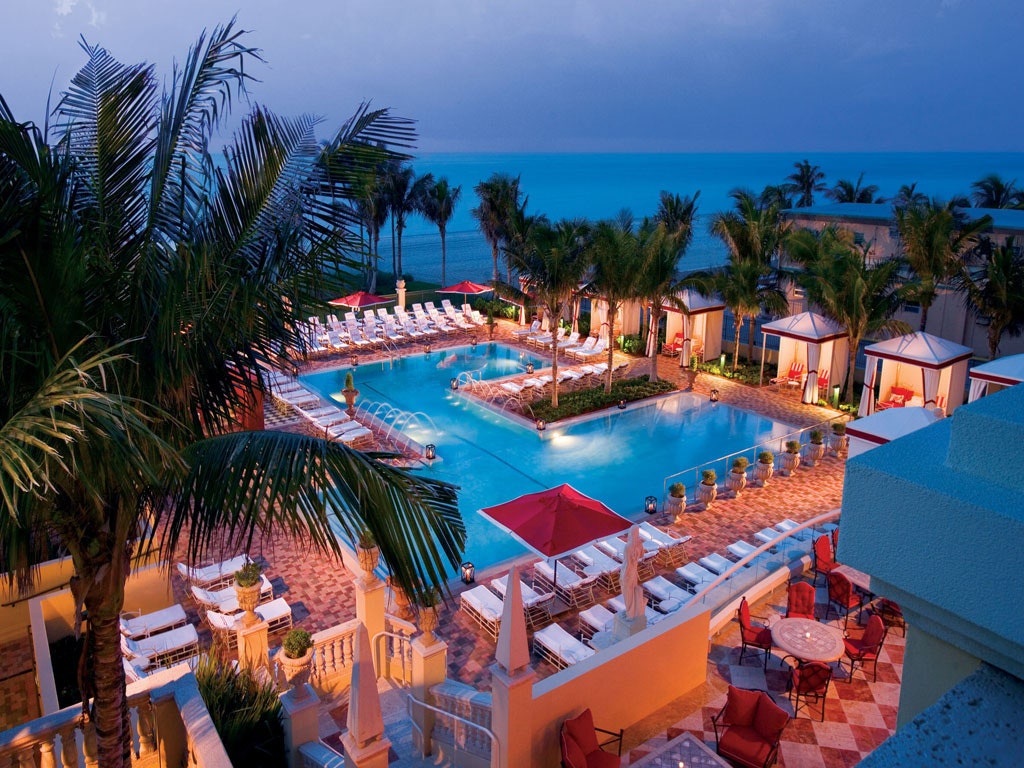 The Acqualina Resort & Spa, which is consistently rated as one of the top resorts in the world, offers guests a comprehensive experience.
The hotel, which takes its inspiration from the Mediterranean region, provides guests with the entire 5-star experience by providing a spa that has won awards, a pool for adults only, and breathtaking views.
You will be spoiled for choice when it comes to deciding where you want to spend your time because the hotel provides service poolside and is located only feet away from magnificent beaches that have a beach butler service.
Enjoy the last moments of the day on your own private balcony while listening to the sounds of the Atlantic Ocean and watching the sun go down while gazing at the sparkling stars over the water with someone you care about.
7. Little Palm Island Resort & Spa – Lower Torch Key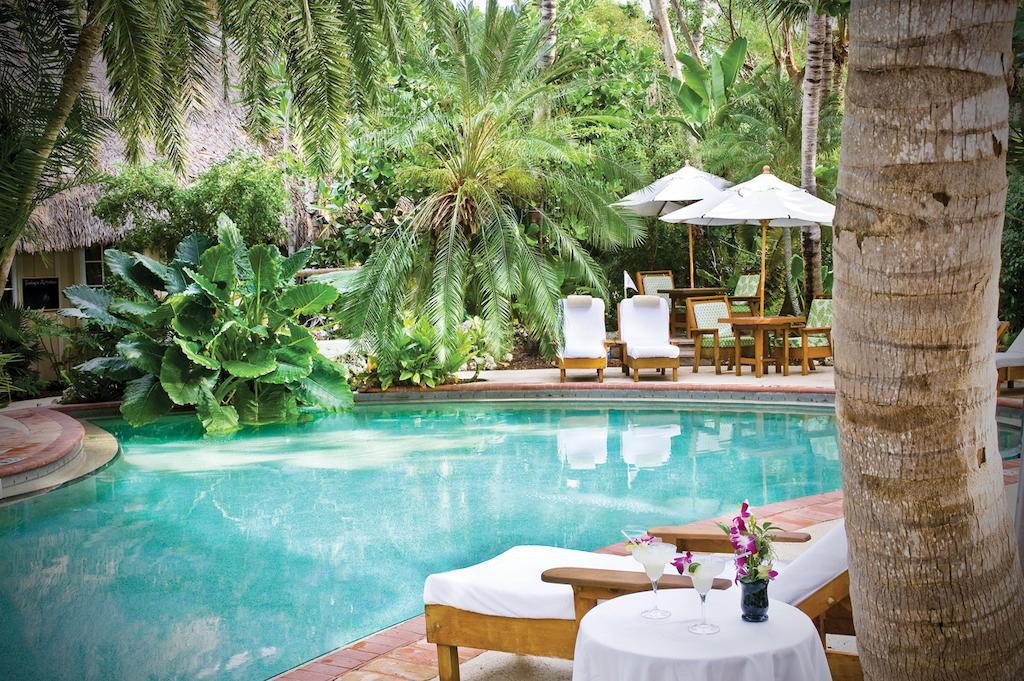 The Little Palm Island Resort & Spa is a true haven for honeymooners and other romantic travelers who wish to get away from it all.
The idyllic stand-alone thatched-roof bungalow suites are located on a private stretch of land close to Little Torch Key and are encircled by an abundance of verdant vegetation.
These suites can only be reached by boat or seaplane. Experience the simpler things in life with outdoor showers, hammocks, and private decks while being disconnected from any electrical gadgets.
You may enjoy a lobster dinner for two under tiki torches, a sunset cruise on a boat that is 38 feet long, or a couples massage on what seems like your very own little island by making reservations for these activities.
It's not hard to see why it's regarded as one of the most opulent hotels in the state of Florida year after year.
8. Henderson Park Inn – Destin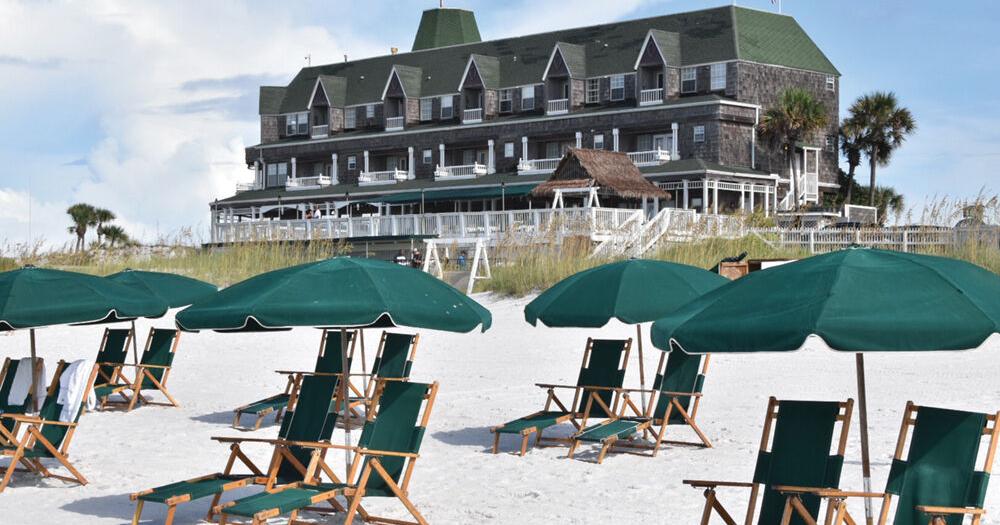 In the past, Tripadvisor recognized the Henderson Park Inn as the number one most romantic hotel in the United States, while About.com listed it as the number two most romantic hotel in the world.
The Henderson Park Inn is located on the Panhandle of Florida.
The hotel has a distinguished history, but what really sets it apart from the competition are its breathtaking vistas of the Emerald Coast, its high-end facilities, and the exceptional quality of its service.
This adults-only, all-inclusive resort in Florida offers a breathtaking panorama of some of the state's white sand beaches, which are known for their immaculate condition.
If you want to have a romantic weekend that neither of you will soon forget, make sure to take advantage of the complimentary wine, grapes, and chocolates that are provided on your oceanfront terrace and take in the breathtaking views of the setting sun.
Best Resorts in Florida for Couples
9. Watercolor Inn – Santa Rosa Beach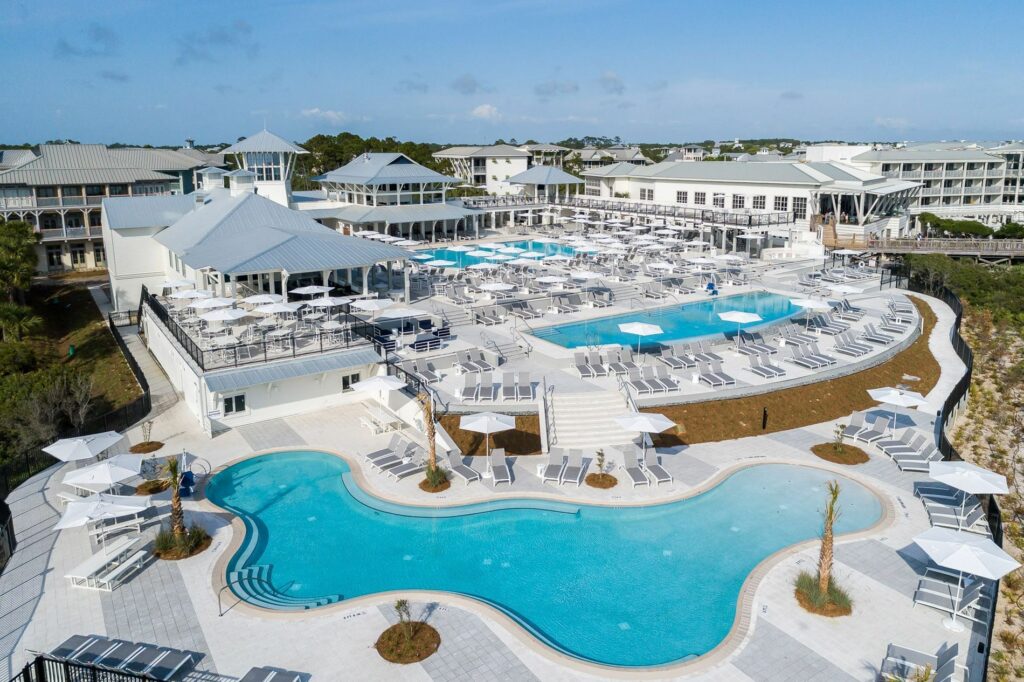 The Watercolor Inn was ranked number one by Conde Nast Traveler as the "Best Resort in Florida," and it is a wonderful destination for romantic getaways for couples.
The enchanting accommodations at the magnificent resort at Santa Rosa Beach include views of the beach's signature aquamarine waters.
You may paddle a kayak or canoe through the one-of-a-kind coastal dune lake here, ride along one of the green pathways, or enjoy a couples massage at the Watercolor InnSpa before you spend the day relaxing on the pristine white beach.
10. The Palms Hotel & Spa – South Beach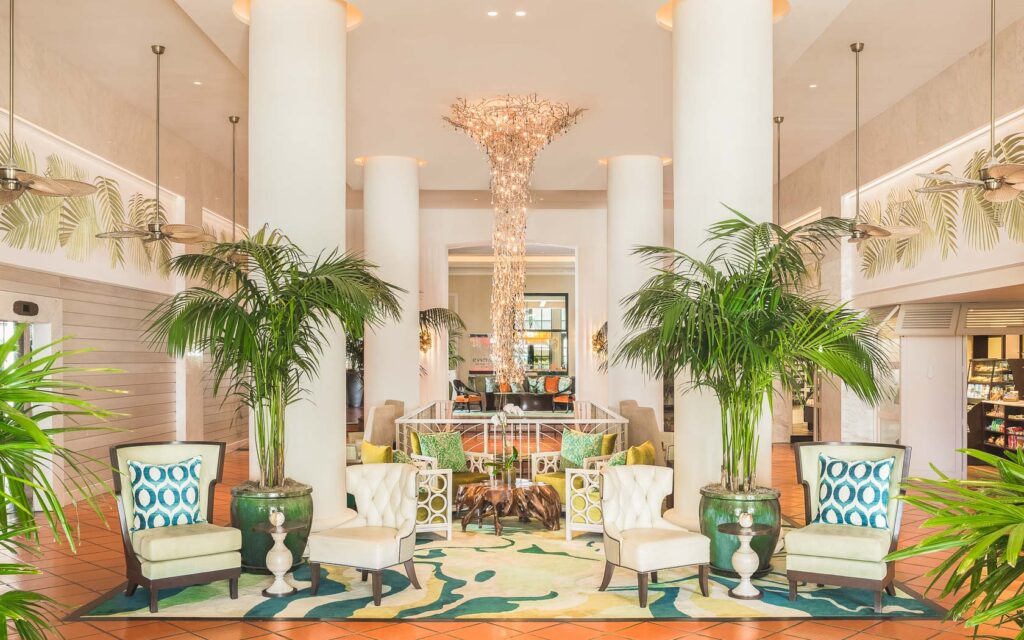 The Palms Hotel & Spa is a five-star resort in Miami that is known for its exquisite landscaping, which has towering palm trees and verdant gardens.
At the resort's restaurant, Essencia, couples may enjoy a farm-to-table meal with an emphasis on sustainability while dining al fresco on the resort's outdoor patio.
A genuinely peaceful escape for two may be had by making reservations at The Palms Spa for a nature massage and facial, grabbing a drink at the poolside Tiki Bar, or taking a stroll through the tropical gardens that lead straight to the private beach.
11. The Breakers – Palm Beach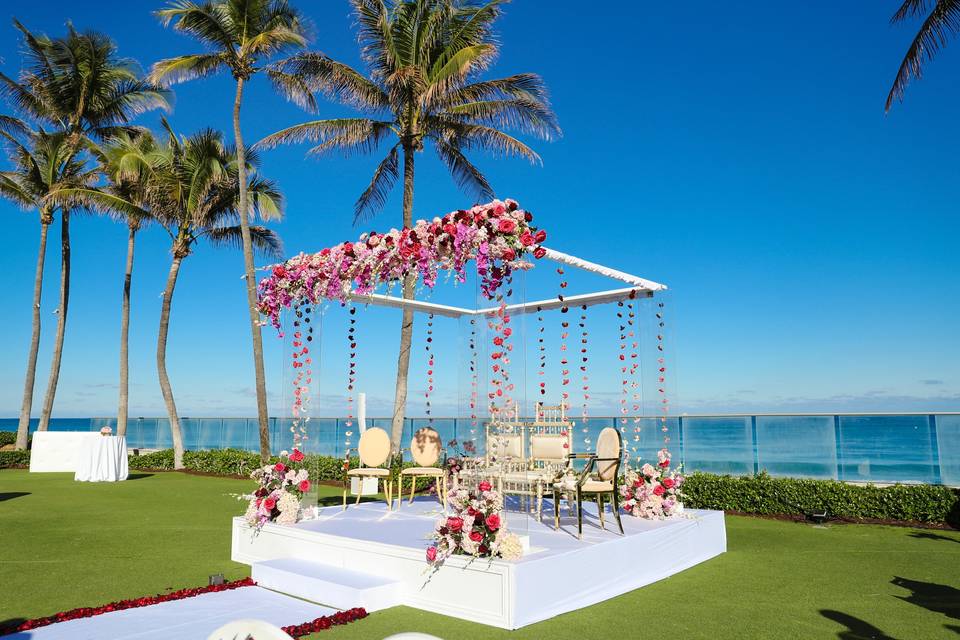 The Breakers Palm Beach is the epitome of beach happiness and is regarded as one of the most romantic beachfront hotels in Florida, especially for couples.
This luxurious retreat not only provides its guests with access to a secluded length of beach, but it also features a selection of stunning beachfront rooms.
Couples may arrange peaceful body treatments at the indoor-outdoor spa, take advantage of the four beachfront pools, or repose in one of the private bungalows on the beach.
It is the pinnacle of leisure, and in addition to that, it features a multitude of tennis courts, two championship golf courses, and a wide variety of eating options right on site.
12. The Don CeSar, St Pete Beach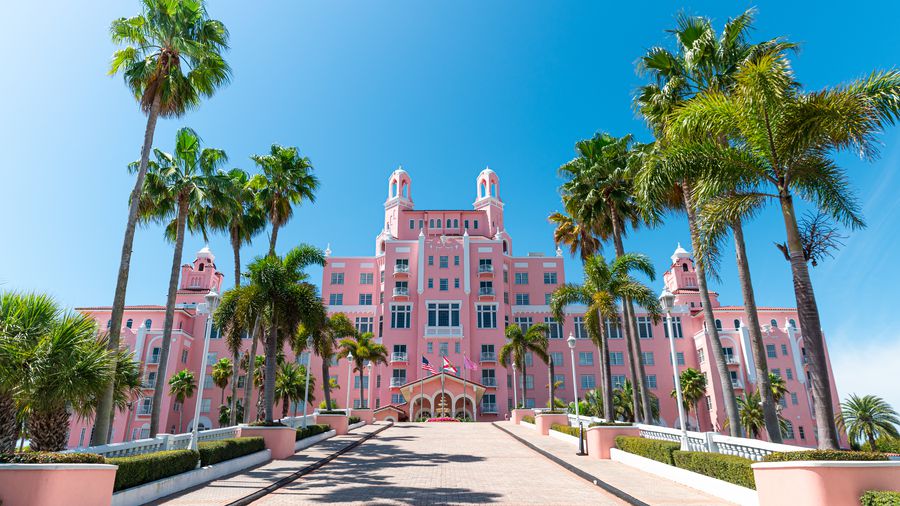 The Don CeSar Hotel in St. Pete Beach is located on a breathtaking stretch of white sand beach, which is a large part of the reason why couples will find it difficult to resist the temptation of this luxurious hotel that is colored pink.
This historic hotel was built in 1928, making it the perfect place for you and your significant other to experience the sparkle, glamour, and atmosphere of the Great Gatsby era.
This luxurious hotel, also known as Florida's "Pink Palace" because to the stunning Mediterranean and Moorish architectural characteristics it incorporates, features chic rooms and suites with private balconies and breathtaking views of the ocean.
Indulge in seafood cuisine at Maritana, drinks at the seaside Rowe Bar, or sweet sweets at Uncle Andy's Market before unwinding in the hotel's heated pool or scheduling a massage at the on-site spa.
Best Resorts in Florida for Couples
13. Four Seasons Resort, Palm Beach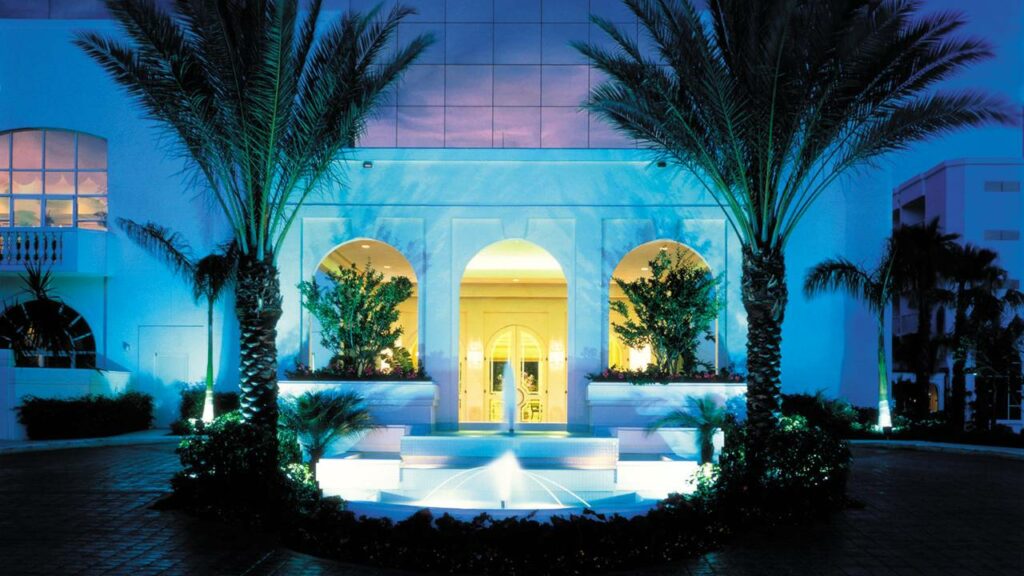 The opulent and five-star Four Seasons Palm Beach is a haven of luxury for couples, including chic rooms and suites with ocean views and excellent service.
Because of the proximity of a freshwater pool area to the beach, you have the luxury of picking and choosing where you would want to go swimming.
Relax and rejuvenate your body in the spa located on the premises, or dine on traditional dishes from the Mediterranean at Florie's.
Take a break from the heat at Florie's Bar, which features a variety of exquisite drinks inspired by gardens, or relax beneath the shade of sea grape trees at Seaway, which serves delicious seafood and has stunning views of the ocean.
Take advantage of the hotel's outstanding beachfront position by reserving a beach day bed or a poolside cabana for the day and spending the day relaxing there.
14. Eau Palm Beach Resort & Spa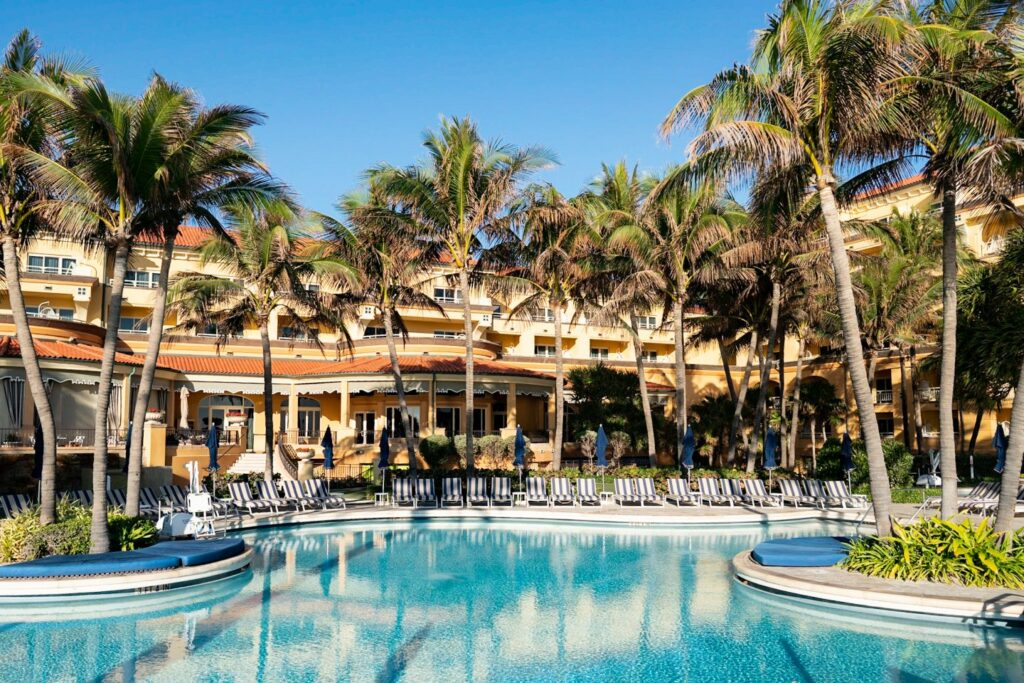 Make a reservation at the 5-star Eau Palm Beach Resort & Spa for a romantic getaway with your significant other.
This hotel is located on a private beach with a view of the ocean, and it is only a short distance from the excitement that can be found in West Palm Beach.
Relax in the sun in the hotel's resort-style pool, then get some exercise with a surf lesson or book a private oceanfront cabana for a day of carefree pleasure at the beach.
Feel revitalized with treatments from head to toe at the full-service spa located on-site, and then treat yourself to a romantic meal at Angle Restaurant with farm-to-fork food.
After that, you may relax in a luxurious room while taking in the sights of the ocean from the wraparound balcony of your suite.
15. The Ritz-Carlton, Naples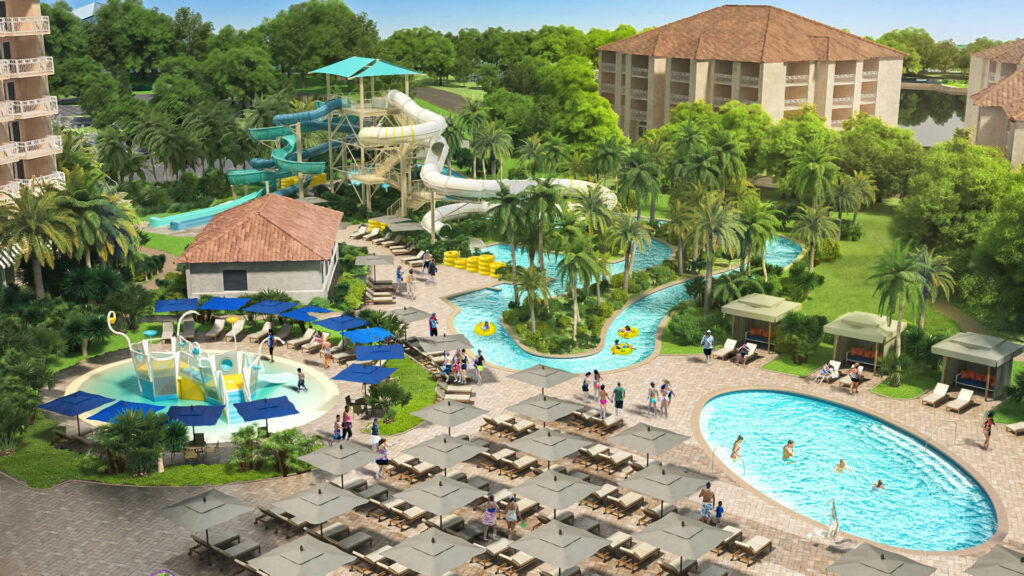 The Ritz-Carlton in Naples lives up to its opulent brand name by providing a variety of five-star amenities, in addition to offering a seaside position that is picture-perfect.
You will be spoiled for choice with the variety of activities available, which range from luxurious spa treatments influenced by the ocean to 36 holes of championship golf.
Spend the day soaking up the rays at an outdoor pool, and then for supper, choose from the seafood and steak dishes offered at Gumbo Limbo and The Grill.
The deluxe rooms and suites at the hotel each have a breathtaking view of the beach, in addition to the breathtaking views of the Gulf of Mexico that are available throughout the property.
16. JW Marriott Marco Island Beach Resort – Marco Island
The JW Marriott Marco Island Beach Resort, which is considered to be one of the finest beachfront hotels on Florida's Gulf Coast, is an elite resort that is ideal for a romantic break for couples since it features three miles of beautiful private beach.
After taking in the sights of the Gulf of Mexico from the private balcony of one of the hotel's luxury suites, guests may then refuel at one of the many restaurants located on the premises, which provide a variety of cuisines, from delicious steak to gastro-pub standards.
Enjoy a round of golf at one of the resort's two championship courses, relax with a drink by the pool, and be treated in the spa.
Best Resorts in Florida for Couples
17.Tranquility Bay Beachfront Hotel & Resort – Marathon
Tranquility Bay Beachfront Hotel & Resort in Marathon is not only one of the most romantic hotels in the Florida Keys but also one of the greatest hotels in Florida with a private beach and is among the best hotels in the state overall.
You may bring the kids along with you and enjoy more space in the two- and three-bedroom beach houses, which overlook the Gulf of Mexico.
The one-bedroom accommodations are quaint and include views of the garden.
Take a plunge in one of the three swimming pools, relax with a spa treatment in the comfort of your room, or dine at Butterfly Cafe on freshly prepared seafood.
TJ's Tiki Bar is the ideal place to wind down your day since it combines a relaxing atmosphere on the beach with a delectable selection of frozen cocktails.
18.The Ritz-Carlton Key Biscayne, Miami
When you stay at the Ritz-Carlton Key Biscayne, you can count on receiving service worthy of 5 stars.
It is located on a barrier island that is five miles long and is close to both Miami Beach and the excitement in the downtown area. It provides beachside luxury for couples in Miami.
At Lightkeepers, guests may dine on fish supplied from Florida, while at Cantina Beach, they can enjoy traditional Mexican dishes while overlooking the ocean.
In addition to a relaxing spa, it features a bustling bar and club themed after Havana in the 1940s, complete with rum drinks and live music.
19.Casa Marina Key West – Key West
Casa Marina Key West is a great place for couples to stay since it has a superb position less than a mile from Duval Street and is also located on the largest private beach in Key West.
Spend the night in one of the luxurious suites decorated in a Mediterranean style and enjoy ocean views from your own private terrace.
Charter a boat or spend the day parasailing when you're ready to take in some of the most breathtaking scenery that the Florida Keys have to offer.
After that, you may unwind with a massage at the hotel's on-site spa, eat a meal of freshly caught seafood at Sun Sun Beach Bar & Grill, or sip a beverage while lounging poolside at one of the two beachfront pools. All of these options are located within the hotel.
20.The St. Regis Bal Harbour Resort, Miami
The St. Regis Bal Harbour Resort is a beachgoer's dream because it is located on one of the most gorgeous beaches in the area.
This oceanfront hotel, which is located at the northern edge of Miami Beach and directly across the street from the Bal Harbour Shops, has received high praise from married couples as being among the best in Florida.
After spending the night in one of its large guest rooms or suites with beachfront balconies, guests may enjoy the resort's two infinity pools, as well as the 14,000 square foot Remède Spa.
Choose from one of the many different gourmet dining options, then indulge in the exquisitely decorated Oceanfront Day Villas and the impeccable butler service that is characteristic to the St.
Regis brand. Wine aficionados are in for a treat when they visit The St. Regis Bar & Wine Vault for an afternoon of wine sampling.
20 Best Resorts in Florida for Couples 2023 –Newshub360.net
Related Post
Credit : www.Newshub360.net