21 Most Dreamy Treehouse Airbnbs in the United States 2023: There are a lot of incredible treehouse masterpieces available for rent on Airbnb, and if you're looking for a somewhere to stay that will let you live out your childhood fantasies while you're away from home, this is the place to look.
There is no denying that these treehouses are designed for adults, as seen by the fact that they have luxurious amenities such as outside decks, fireplaces, and windows that stretch from floor to ceiling, all while being tucked away in forested and wooded areas.
The following includes a list of our selections for the top treehouse Airbnbs in the United States, which range from quaint mountain getaways in Montana to jungle homes in Hawaii.
21 Most Dreamy Treehouse Airbnbs in the United States 2023
1. Silicon Valley Treehouse – San Jose, California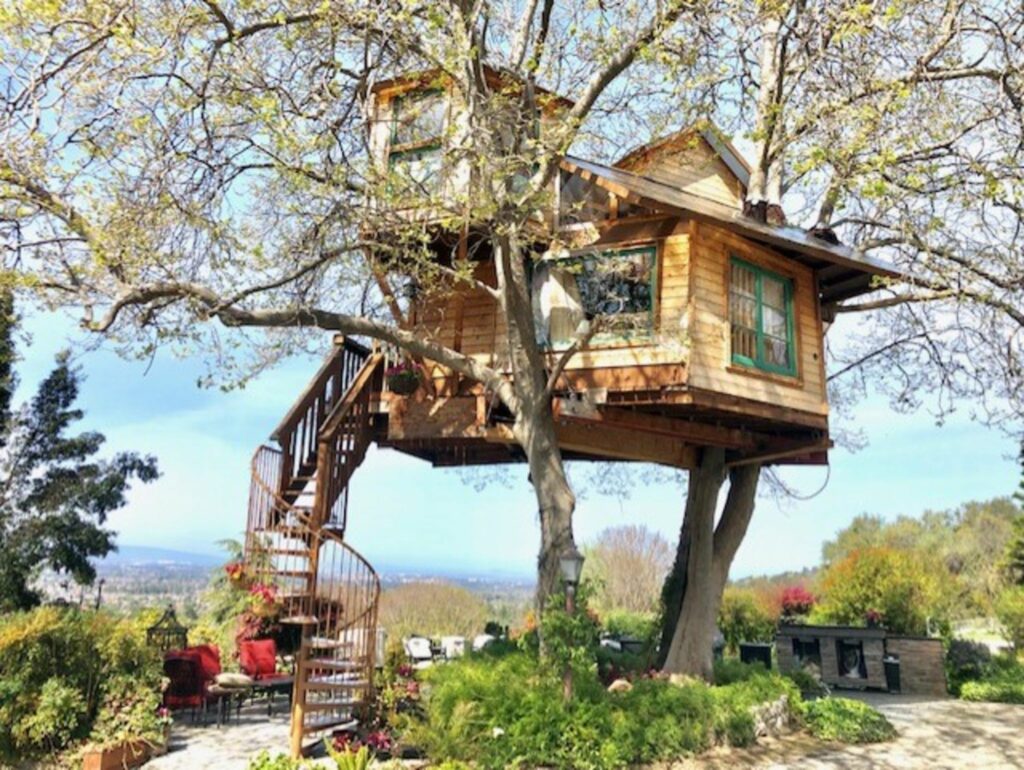 Travel to the West Coast to stay in this treehouse that is 250 square feet in size and offers a fantastic experience with two lofts that showcase amazing views of Silicon Valley.
Enjoy a glamping experience with its kitchenette, cooking stove, and mini-fridge as well as a fully functional bathroom on its 14-foot-high deck that is snuggled among three sycamore trees.
Enjoy the sky-high living with its deck that is set at a height of 14 feet and is nestled among the trees. It can accommodate up to four people, making it the ideal choice for traveling families or groups of friends.
The garden and patio area is the perfect place to watch the sunset from.
2. Whippoorwill Retreat Treehouse – Georgia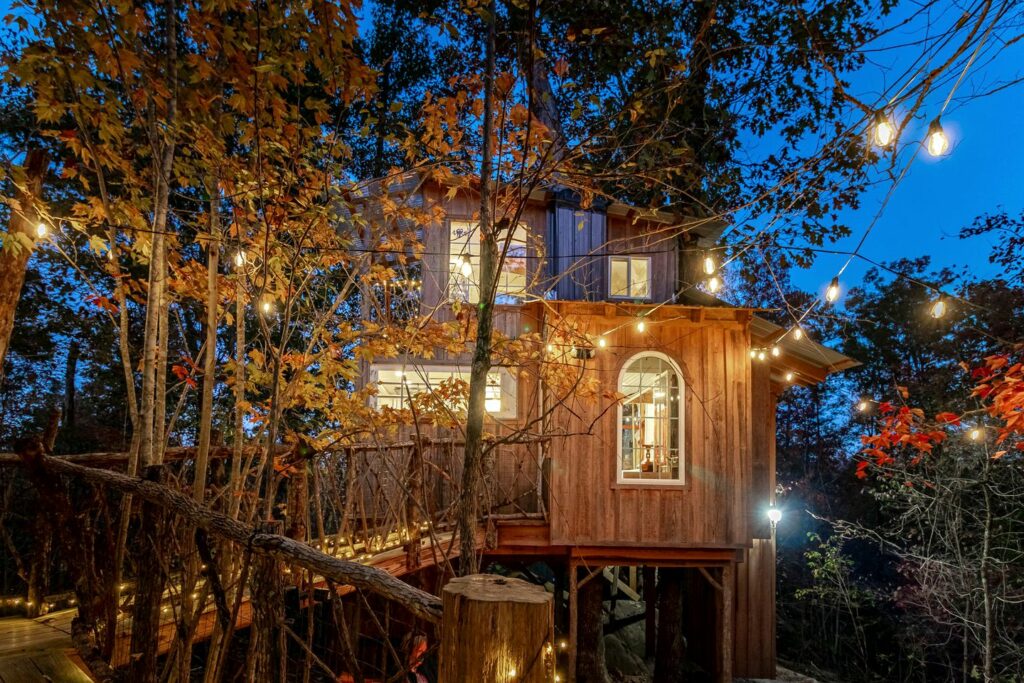 Enjoy a romantic break with two stories at this treehouse rental located in Georgia, which features two bedrooms.
Floor-to-ceiling windows, a sun/moon rising perch, a big outside porch with a fireplace, and a fire pit are some of the attractions of this home, which is located in the treetops of Sand Mountain and is only twenty minutes from Chattanooga.
From the outdoor soaking tubs, which come complete with scented bath salts, Alexa, and a chandelier, it is simple to take in the breathtaking panoramas of the surrounding natural scenery.
You have the option of sleeping in a bed that is suspended in the air or in the Canopy Suite, which has expansive views of the sky above.
3. Fort Ebey Treehouse – Washington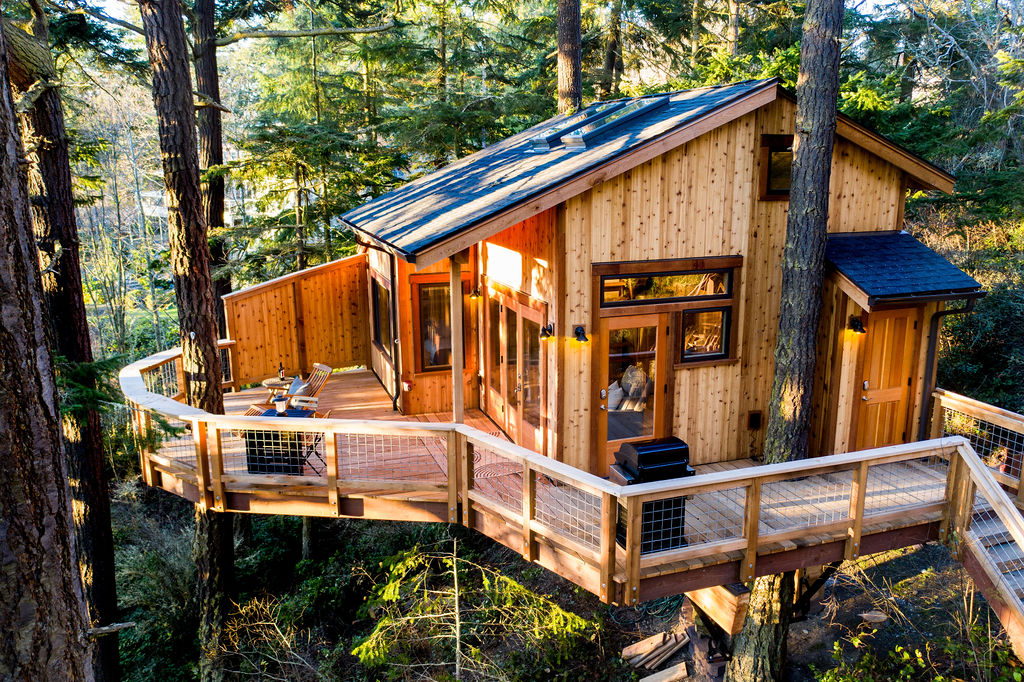 Book a stay at the Fort Ebey Treehouse for a one-of-a-kind vacation experience that puts you in the middle of nature without requiring you to give up any of today's conveniences.
This treehouse has quick access to miles of mixed-use paths, as well as easy access to two beaches on the Admiralty Inlet, and it is tucked away in the canopy of tall Douglas Fir trees.
It also comes completely furnished and boasts wonderful views of the surrounding forest as well as Lake Pondilla. Pete Nelson, a well-known treehouse builder, is also the proprietor of Treehouse Point and the star of the television show Treehouse Masters.
Nelson created the treehouse, which has a floor space of 500 square feet.
4. Secluded Intown Treehouse – Atlanta, Georgia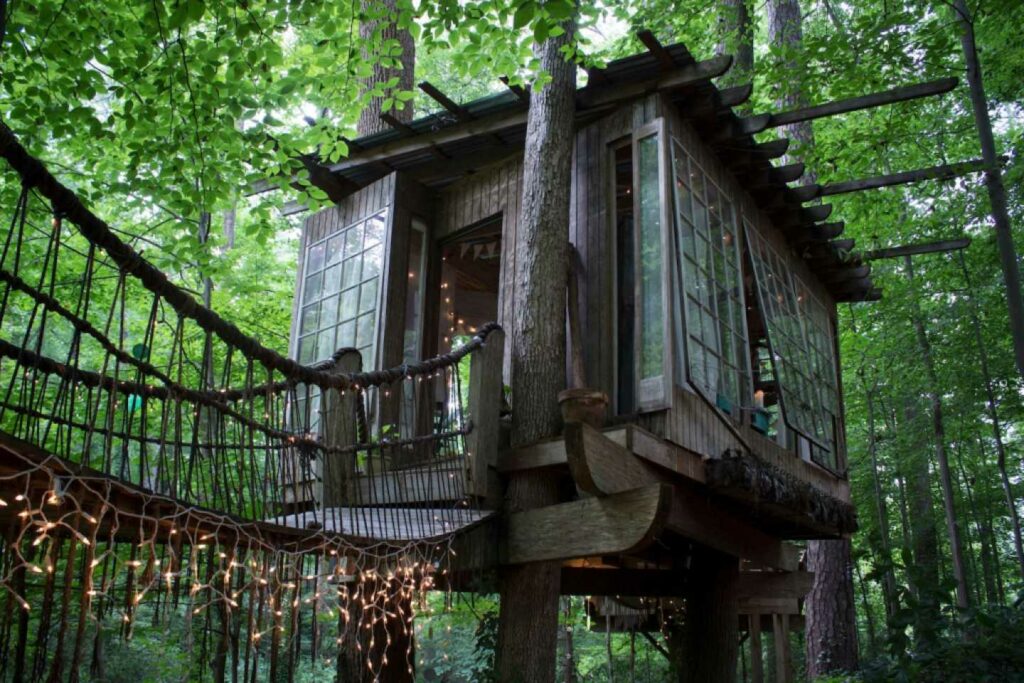 This treehouse in Atlanta, which was voted the number one 'Most Wish-Listed Property in the World' by Airbnb, seems like something out of a storybook.
It is ideal for two people due to its furnished rooms that are nestled amongst beautiful vegetation and its proximity to the attractions of the downtown area, which are just a few minutes away.
The bed in the treehouse is on wheels, so guests have the option of sleeping either within the treehouse or on the platform outside.
The treehouse has been featured on the Today show, in Architectural Digest, and even in Travel + Leisure. The best part about the treehouse is that it is supported by a Southern Short-Leaf Pine tree that is 165 years old.
5. Treetop Hideaways: Luna Loft – Georgia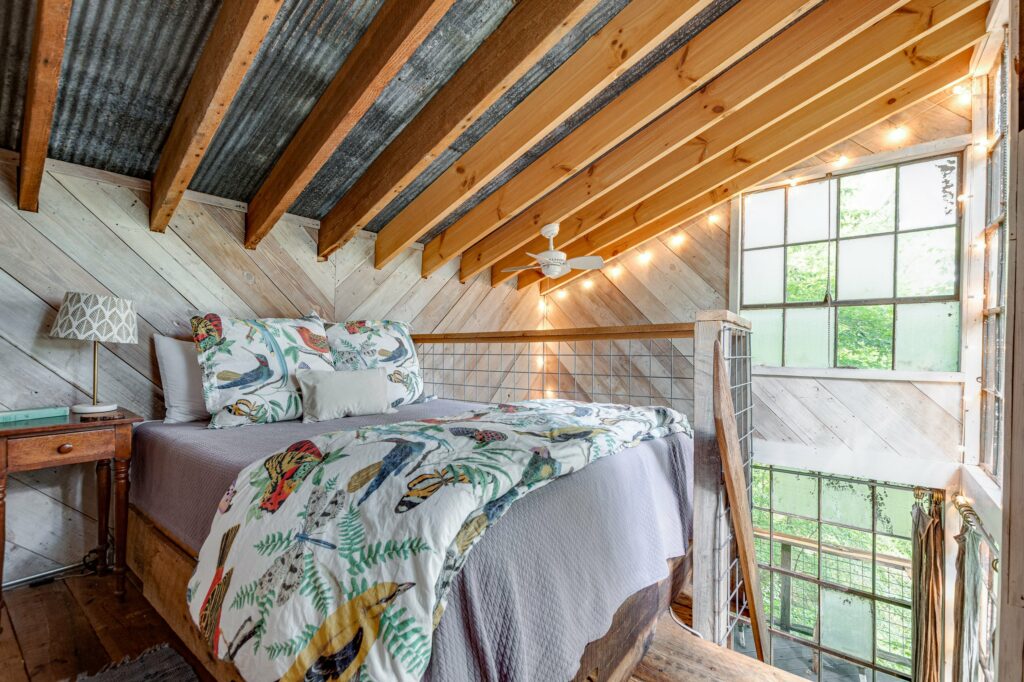 In this beautiful treehouse, which is a combination of camping and staying in a boutique hotel, you may finally live out the dreams you had as a child.
In addition to having climate control, this hideaway also has a shower and a kitchenette, and it has views that stretch from floor to ceiling of the valley below.
The interior is adorned with reclaimed barn wood and beams, and the bar-top terrace is the ideal place to unwind with a glass of wine at the end of a long day spent in neighboring Chattanooga enjoying the city's cuisine, entertainment, and many outdoor activities.
6. Pleasant Bay Lookout – Bellingham, Washington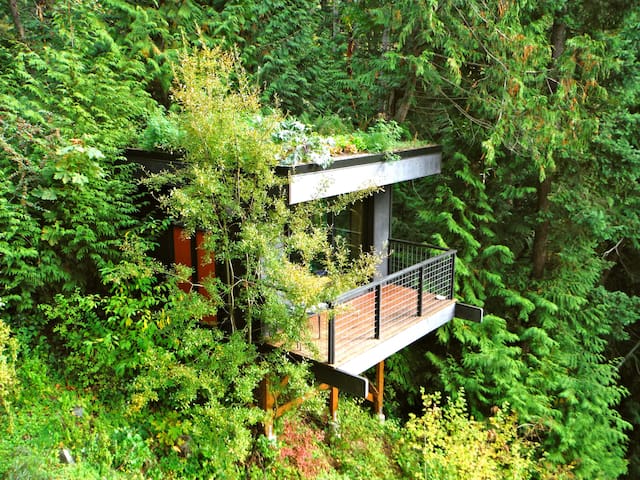 This tiny treehouse Airbnb is located in a forest overlooking the Salish Sea, and it provides breathtaking views of both the surrounding forest and the bay.
The glass wall and outside deck are the primary selling points of the home with one bedroom since they allow residents to observe wildlife such as songbirds, shorebirds, and deer walking freely around the property.
Enjoy thoughtful elements such as a limb from a tree that has been used as a coat hook, a live edge coffee table, and artwork that has been carefully selected.
You will have access to the family house, which features a kitchen, bathroom, and hot tub. Chuckanut Mountain trails and beaches can be reached on foot in a short amount of time.
7. Montana Treehouse Retreat Near Glacier Park – Columbia Falls, Montana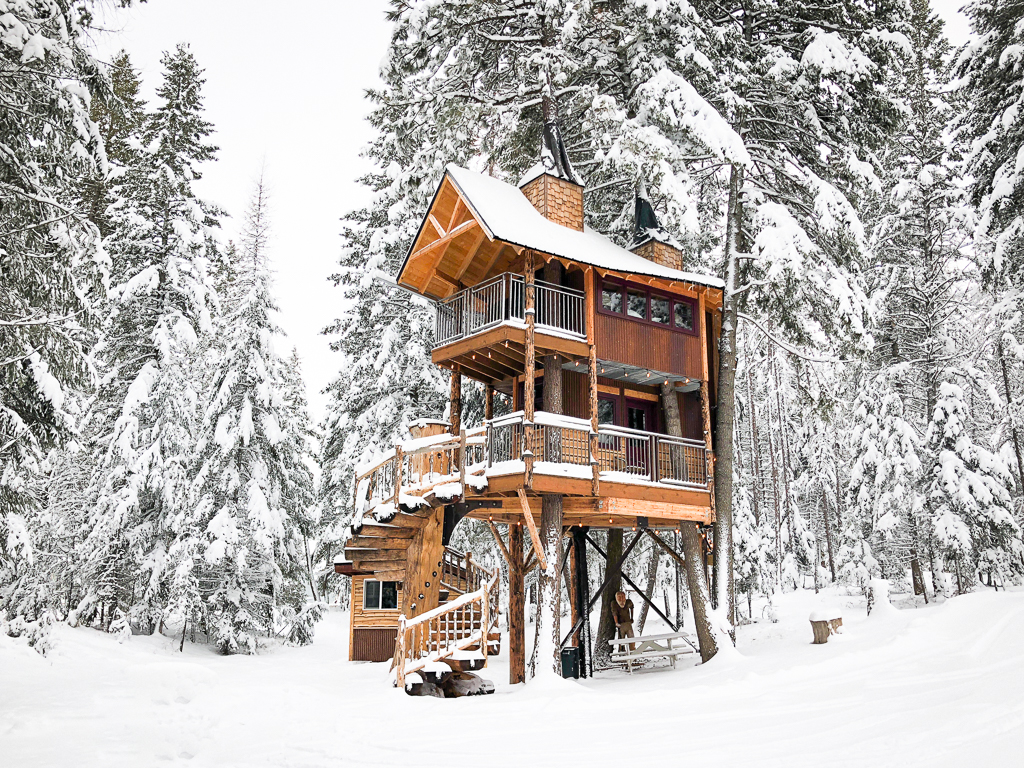 This charming getaway in Columbia Falls, Montana, which has five forested acres, is the perfect place to go back to nature.
You'll have easy access to a variety of outdoor activities, including skiing at Whitefish Mountain Ski Resort and hiking in Glacier National Park, both of which are within a half-hour of your location.
After ascending the spiral staircase, you will find a living space that is 500 square feet in size and has two outside deck spaces, a common room, and a fully equipped kitchen.
In the master suite, in addition to a Tempur-Pedic mattress, there is a complete bathroom with a shower as well as a Tempur-Pedic mattress.Additionally, there are two live trees that are growing throughout the inside as well as the decks!
8. Treehouse-Eagles Perch Over the Water – Port Angeles, Washington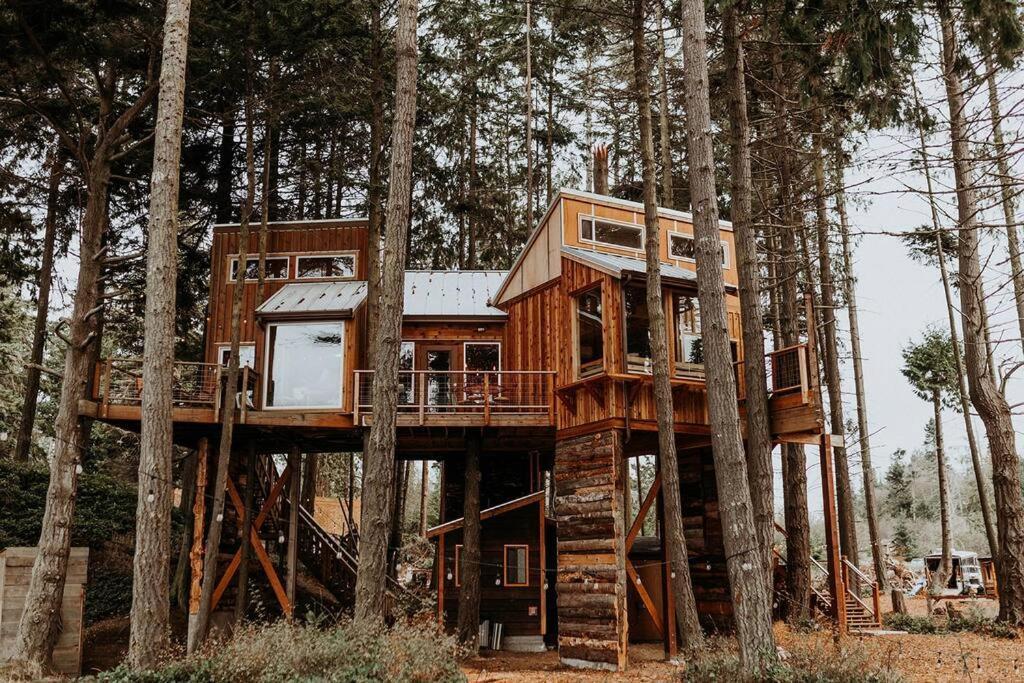 To enjoy a vacation in this luxurious treehouse, you should travel to Washington State. You will have a one-of-a-kind experience in Northwest Washington as you gaze out of the floor-to-ceiling windows to observe a constantly changing scene comprised of cruise ships, animals, and bald eagles.
The location overlooks the Strait of Juan de Fuca. You can watch the sunset while cuddling up on the sofa or on the private porch, which was designed with the intention of accommodating two visitors.
After the sun goes down, you can take use of the on-site facilities, which include a barbecue grill, a Keurig coffeemaker, and a private bathroom with a shower.
9. Off the Grid and 40-Feet Up – Tiller, Oregon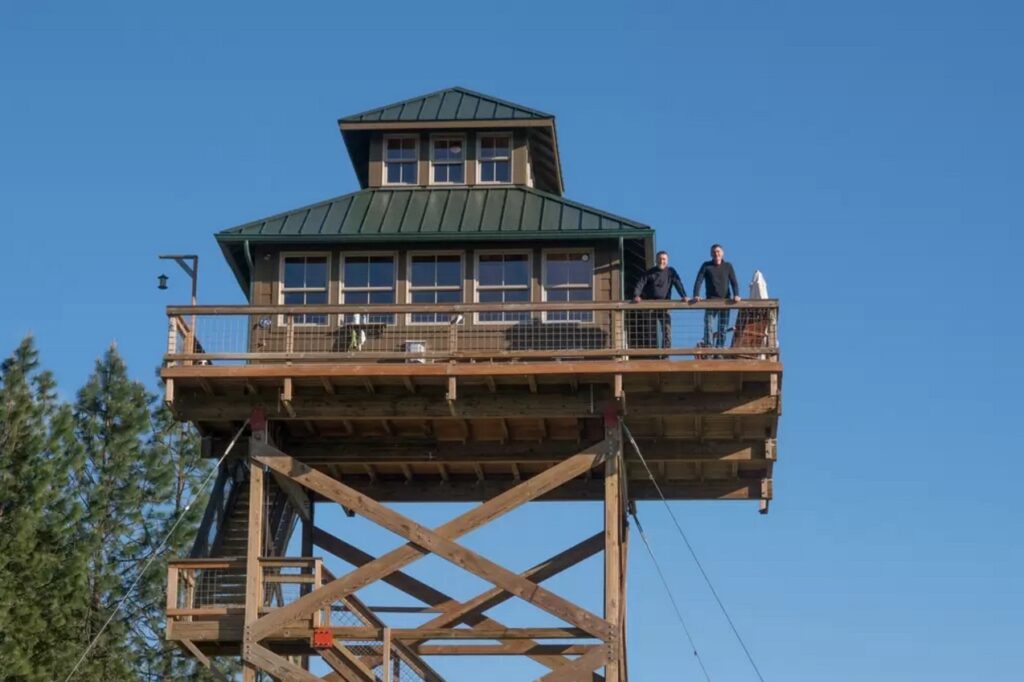 This tranquil lodging, which is a treehouse and is listed on Airbnb as one of the most popular treehouses, can be found in Tiller, Oregon, on 160 acres of private land.
This contemporary home was designed to resemble the Fire Lookout Towers that were constructed by the United States Forest Service in the early 1900s.
It features a wood-burning stove, a refrigerator, a fire pit, a vegetable garden, a hammock tree, and, most importantly, a private hot tub that is fed by a spring and heated by wood.
Get away from it all and enjoy day outings to neighboring Crater Lake, South Umpqua Falls, or even Canyonville's Seven Feathers Casino.
10. Secluded Willow Treehouse – Willow, New York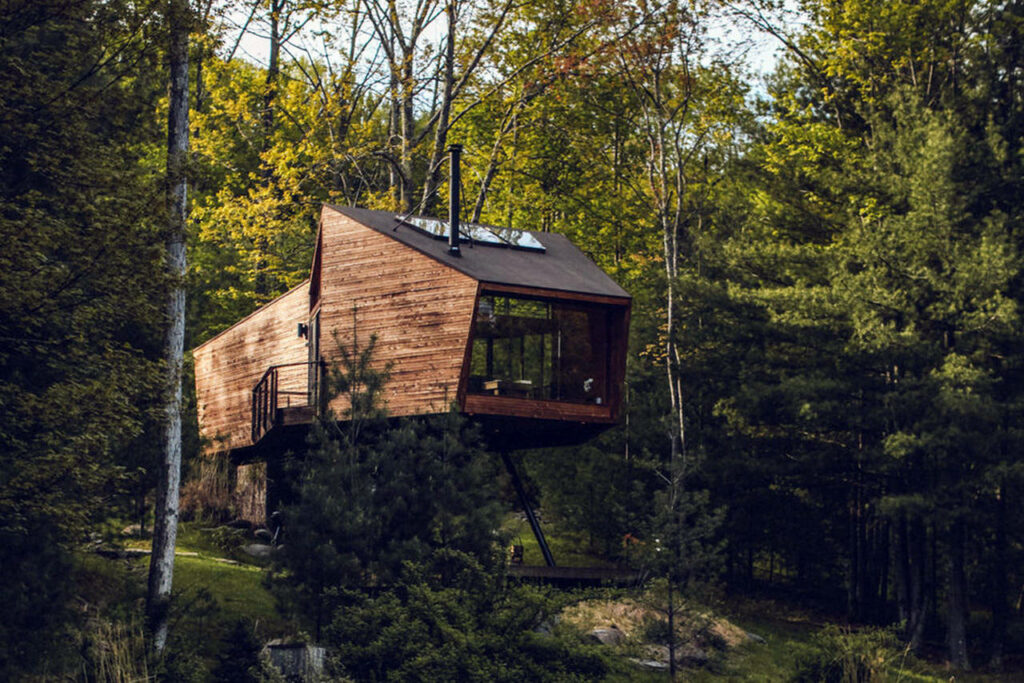 This remote willow treehouse in New York, which is situated amid the trees and looks out over a tiny pond where one may swim, offers some of the most tranquil conditions that one could hope to find anywhere.
Only fifteen minutes away from Woodstock, the warm and inviting corner is ideal for lone travelers as well as couples who wish to spend their time reading, hanging out, or preparing a meal together.
Take use of the hot tub, which is heated by firewood, for the highest possible level of relaxation. There is no need for televisions in this space because there are vast windows that look out over the surrounding landscape.
11. Peaceful Treehouse with Ocean Views – The town of Aptos in California
In this three-bedroom Airbnb in Santa Cruz, you can get a taste of the California lifestyle from the comfort of a hammock while taking in breathtaking views of the ocean and the surrounding forest.
You'll find mid-century furnishings and architectural features made of stone and wood within the stylish treehouse. Floor-to-ceiling windows provide you the opportunity to immerse yourself in the breathtaking natural panorama that spans 1.5 acres.
Close the chic sliding doors, which were modeled after the shoji screens that are seen in Japanese homes, when it's time to turn in for the night. In addition, there is a comfortable living room, a study, and a fully-equipped kitchen.
12. Dreamy Treehouse Retreat – Asheville, North Carolina
This one-of-a-kind getaway in the form of a treehouse that was built to order may be found in Asheville, in the state of North Carolina.
Watch the sun go down over the mountains while you relax in the rocking rocker that is located on the outdoor patio or prepare a supper in the kitchenette.After dinner, you may try your hand at stargazing from the luxury of your deluxe double-size bed.
You'll be within easy walking distance of a number of restaurants, grocery stores, and a tourist center in addition to being only ten minutes away from the action in downtown Asheville.
13. Adults-Only Treehouse at Danville – Geneva, Florida
Have you ever heard of anything called a tree trunk elevator? This adult-only treehouse is as one-of-a-kind as they come, giving you the opportunity to live in the canopy above the ground.
Air conditioning, a gas grill, a fire pit, 14-foot ceilings, and a hot tub are some of the amenities that can be found at this property, which is situated on five acres and is bordered by oak and magnolia trees.
After taking in the scenery from the four-foot skylight or the panoramic window, you can kick back and watch a movie on the flat-screen television that is equipped with Netflix.
Alternatively, you can travel to the top deck and unwind on the swing chair that overlooks the property.
14. Treehouse in Vineyard Overlooking Monterey Bay – Los Gatos, California
This California jewel is known for its outstanding views, giving breathtaking uninterrupted panoramas of Monterey Bay. It is located on Lago Lomita Vineyards, which is known for its winemaking.
Built on top of enormous Douglas fir trees, this platform has a total area of 400 square feet and is equipped with a complete bathroom, a queen-size bed, and wireless internet access.
You are conveniently near to San Jose, Capitola Beach, and Silicon Valley thanks to your location high atop the Santa Cruz Mountains.
15. Majestic Treehouse Retreat – Walhalla, South Carolina
This amusing treehouse can be found in South Carolina. It has two linked treehouse decks, each of which comes equipped with contemporary conveniences like a fireplace and air conditioning. Additionally, it has an outdoor shower, a big deck, and a swing.
You'll find thoughtful details like organic, locally roasted coffee and a VIP package that includes "luxury s'mores" and fun activities when you visit this place, which attracts people from all over the world who want to enjoy the peace of its natural surroundings on 40 acres of unspoiled woodland.
You'll discover miles of gorgeous pathways in the neighborhood.
16. Dreamy Tropical Treehouse – Fern Forest, Hawaii
Reach this hidden bamboo treehouse by making your way through the thick forest that covers Hawaii. It is possible to observe lava in Hawaii Volcanoes National Park, which is only 10 miles away and is located in the Fern Forest area.
The structure is perched on stilts that are 15 feet high and are embedded in the overhanging vegetation of the area.
Take pleasure in your own little paradise, complete with luxuries such as a hanging bed, bamboo fittings, and a lanai that encircles the whole space and offers sweeping views of the rainforest.
You may take pleasure in a vacation that is kind to the environment thanks to the one-of-a-kind bathroom's floor-to-ceiling windows, natural lighting, and solar electricity.
17. Lovely Treehouse in the Woods – Hardwick, Vermont
This cozy treehouse in Vermont, which is hidden away in the woods, is sure to put you in a better mood after a long day.
Hiking, kayaking, and visiting nearby breweries and distilleries are all quite convenient from here, and a comfortable hammock is provided for those who would rather spend some time alone in seclusion.
This treehouse was built with a focus on using local, natural, and recycled materials whenever possible. It comes complete with a living room area as well as a terrace that views out over a peaceful stream.
After you have set up your accommodations, you may either relax by the fire or prepare a dinner on the propane burner.
18. Sulfur Ridge Luxury Treehouse – Bloomington Springs, Tennessee
The Cummins Falls State Park, Center Hill Lake, and Cookeville's historic town center are all just a short drive away from Sulfur Ridge, Tennessee's first luxury treehouse, which can be found nestled in the heart of Upper Cumberland and is just a short distance from Sulfur Ridge.
The beautiful stained-glass windows in the local Amish treehouse stretch back to the turn of the last century, making it one of the oldest structures in the area. The entrance in the treehouse goes back to 1848.
In addition, there are other modern conveniences offered, such as a deluxe mattress, a clawfoot tub made of cast iron, and a jukebox. Take a relaxing dip in the hot tub or watch the stars from the comfort of the fire pit.
19. Stone and Timber Treehouse on 20-Acre Farm – Concord, North Carolina
Travel to North Carolina for an enticing glamping experience, where you'll be immersed in nature on a 20-acre farm estate near Concord and surrounded by towering pines the whole time.
This one-bedroom apartment is located about forty minutes from Charlotte Douglas International Airport and boasts hand-crafted furniture, a queen-size bed, and a private deck with a view of the trees.
In addition, there is both air conditioning and heating, a tiny refrigerator, and a bar with both coffee and tea. Take use of the seasonal pool, hot tub, and fire pit, or dine in the outdoor dining area that is furnished with tables, chairs, and a grill that is fueled by propane.
20. The Carolina Treehouse – North Carolina
This Charlotte Airbnb, which is in the form of a treehouse getaway for two, is intended for you to enjoy the leisurely pace of life.
In this treehouse with a lodge-chic aesthetic, you may relax with a cup of coffee in the morning, listen to a record of your choice as the sun goes down, or snuggle up underneath the swing bed, which provides a view of the own pond.
It is a secluded haven where you may relax and take in the sights of the natural world in North Carolina.
21. Redwood Treehouse Santa Cruz Mtns. – Watsonville, California
This Airbnb, which can be found in the stunning Santa Cruz Mountains, is a piece of art and features a living tree that is growing right through the middle of the living room.
In addition to a kitchen with a stovetop and refrigerator, there is also a hot tub with water heated to 103 degrees Fahrenheit, which is ideal for a relaxing bath in the evening.
It is also just a short drive away from the famed Pacific Coast Highway, which is the route that goes to Monterey, Carmel-by-the-Sea, and Big Sur. This location provides the best of both worlds.
21 Most Dreamy Treehouse Airbnbs in the United States 2023 – Newshub360.net
Related Post

Credit : www.Newshub360.net