Best Printing Services in Singapore 2023
The Top 30 Best Printing Services in Singapore 2023: There are a variety of factors that may have led you to our list of Singapore's best printing services.
Perhaps you've been caught in a time crunch and can't manage to locate the nearest and cheapest printing services. You would have been desperately looking for a 'printing company near me' at that time, no doubt.
Perhaps you're planning an event that will necessitate printed materials and want to be prepared.
Whatever the case may be, we've made things easier for you by discovering the island's most dependable and competent printing companies. Our top recommendations, along with explanations on why they're among Singapore's best printing services, are included below.
Top 30 Best Printing Services in Singapore 2023
1. Print City Printing Services

BEST FOR: Event management services
PRICING: Rates
WEBSITE: https://www.printcity.com.sg/
ADDRESS: 1 Genting Lane #03-01, Singapore 349544
CONTACT DETAILS: +65 6274 8171
OPERATING HOURS: Monday to Friday, 9am to 6pm
Print City will always be at your service, regardless of the size or number! Offset, big format, installation, and digital printing services are also available.
Aside from this, they also provide exhibition rentals, signage, clothes, and corporate gifts. They've also supplied items for exhibitions, events, and roadshows.
Accenture, Mitsubishi, H&O, and Fortes Innovations are just a few of the big names they've worked with in the past. Despite being a well-known company, they continue to provide unique discounts for more reasonable services.
They've earned a reputation as one of Singapore's most dependable printing businesses due to their quick response.
Service Highlights
Short turnaround (48 hours)
Online printing shop
Direct factory price
Customer Reviews
Print City's professionalism and extensive variety of services have impressed both established and new enterprises. Customers claim that they can even advise them on which printing service is best for a certain task or project.
This review was written by Charyn Lim on Google Reviews:
"I've worked with a number of printing firms in Singapore, and I've had the best experience with Print City so far!" Because I'm not based in Singapore, but most of my clients are, all collateral must be created there.
From the 3-4 printers I have worked with, Aden(who assisted us with our project from Print City) is super efficient in replying and is very helpful from our first inquiry email, test prints, helping in printing guides to the final product! He has provided us assurance, high quality and ease with our booklets and bookmarks, my client is super pleased! Definitely will work with them again and highly recommend them!"
2. Gogoprint Printing Services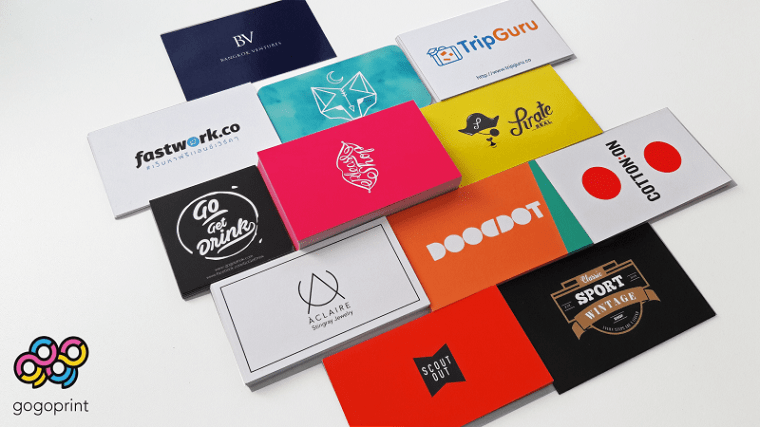 BEST FOR: Affordable and wide-range printing services
PRICING: Rates
WEBSITE: https://www.gogoprint.sg/
ADDRESS: 21, Bukit Batok Crescent, #15-75 WCEGA Tower
CONTACT DETAILS: +65 3159 3042
OPERATING HOURS: Mon – Fri, 9AM to 6PM
Are you a complete novice when it comes to generating successful marketing materials or unsure which template to utilize for your school project? If that's the case, Gogoprint offers all the solutions you need!
If you're looking for low-cost printing in Singapore, Gogoprint is a good place to start. They provide their customers with free templates and designs.
They may print business cards, brochures, posters, pamphlets, and other materials and distribute them to customers (including ones overseas).
The list of consumers they have served is one of the finest testaments to their professionalism. For example, they've worked with a number of well-known firms, like Lazada, Honda, and Lion Air.
Service Highlights
Free design services and online templates
Fast and free global delivery services
Broad range of products
Customer Reviews
Gogoprint has gotten a lot of praise for their friendly customer service. Clients claim that they go above and beyond to suit all of their clients' wants and preferences.
On Trustpilot, Shahrin Rashid endorsed the firm and stated the following:
"This is my first attempt at making 50 stickers for my squad. In every category, I rated them 5 stars. CS performed admirably. He even called me to ask if I had received the proposed altered artwork in my email. The process and delivery were both quick and efficient. The end result was great. The quality of the material was excellent, and the color and printing were crisp! I'll definitely be ordering from them again. I'm going to experiment with other materials."
3. FastPrint Services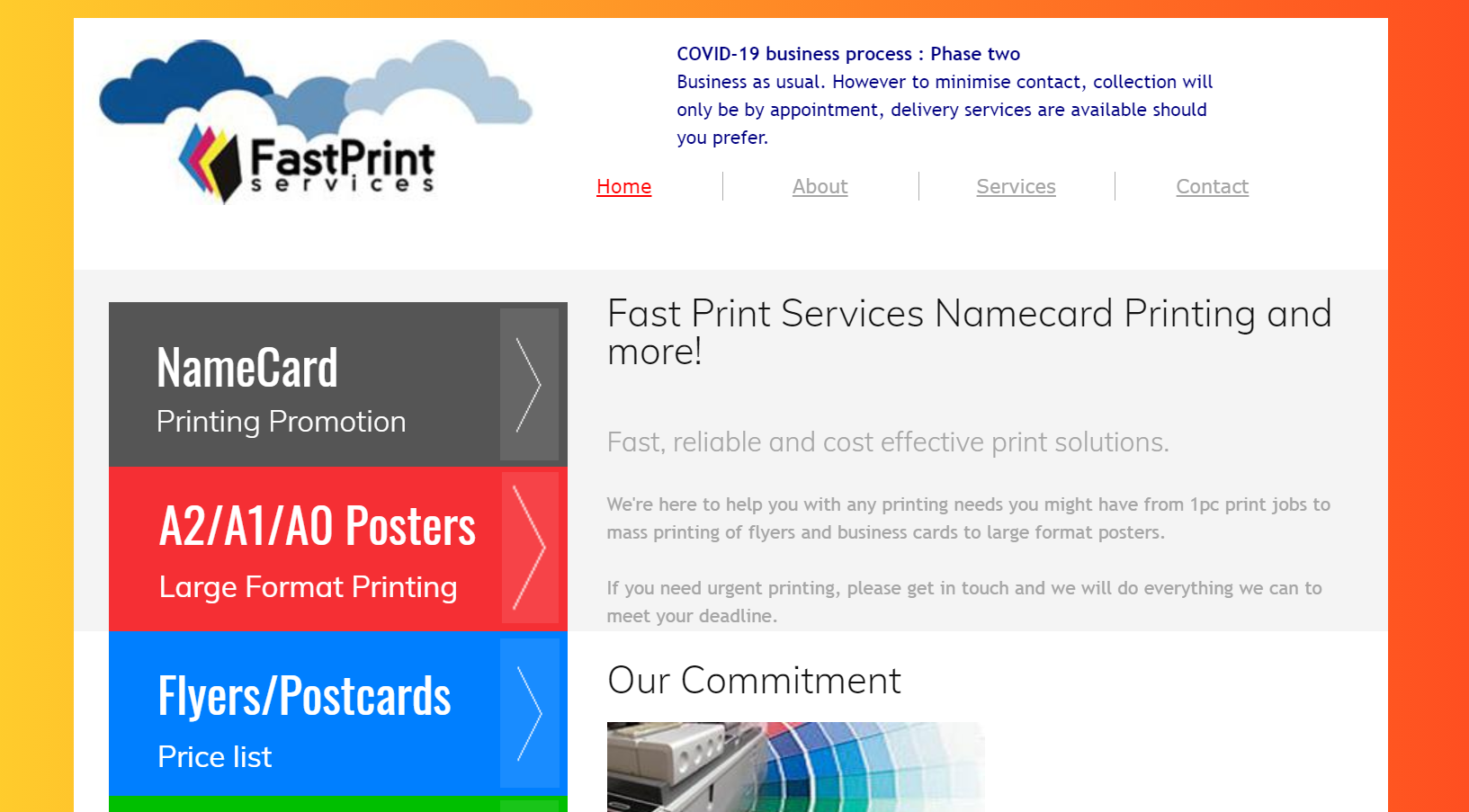 BEST FOR
Wide range of printing services
WEBSITE
http://www.fastprint.com.sg/
ADDRESS
Blk 9 Selegie Road #01-21 Singapore 180009
CONTACT DETAILS
+65.9674 2123
OPERATING HOURS
Monday – Friday 11am-6.30pm
​(Please make an appointment if you wish to visit the shop)
FastPrint is a small printing firm that has been in business since 2002. Since then, it has been dedicated to offering high-quality printing services to Singaporeans.
They're also one of the go-to printing locations for those who need something printed quickly. Regardless of the deadline, FastPrint sticks to their high standards, resulting in the greatest print goods in the country.
Highlights
Trained designers with the knowledge and know-how of the printing process
Over 10 years of experience in the printing field
Colour proof available
Customer Reviews
"Instead of the typical wedding supper invitation card provided by the hotel, I wanted a customized wedding invitation card." FastPrint collaborated with my designer, and I was able to create a very unique and unusual wedding invitation card that wowed my clients."
"On my new business, FastPrint provided me with advice on paper material and printing methods. They were quite helpful and worked patiently on the job."
4. IPrint Express Pte Ltd
BEST FOR: Commercial printing services
PRICING: Rates
WEBSITE: http://www.iprint.sg/
ADDRESS: 158 Kallang Way, #01-03, Singapore 349245
CONTACT DETAILS: +65 6258 9595 / +65 6258 9895 / +65 8809 9895
OPERATING HOURS: Monday – Friday: 9:30 – 18:30 (Closed on Sat, Sun, & Public Holidays)
IPrint Express Pte Ltd started off as a small in-house printing company in Singapore. As their services developed, they became one of the most well-known printing companies.
For business purposes, they supply marketing materials such as brochures and posters. You may rely on them for digital, offset, large format, display stand, and installation services.
They take orders on the internet (great news for those who want convenience). They may execute bespoke brand design printing for effective marketing.
Service Highlights
Online printing services
Talented and creative designers
Modern printing technology
No hidden charges
Customer Reviews
iPrint has only been in business for four years, but they have already garnered the trust of numerous company owners and have established themselves as a reliable brand. On Google Reviews, Rishi Kesan left these compliments for them:
"Professional and thorough." Before commencing, they always double-check my artwork to ensure that everything is up to printing standards. When I print with them, I know I'll have my prints on time. Keep up the good work!"
5. FotoHub Printing Services

BEST FOR: Photo journal printing services and customised gifts
PRICING: Rates
WEBSITE: https://www.fotohub.com/
ADDRESS: https://www.fotohub.com/locate-us/
CONTACT DETAILS: https://www.fotohub.com/locate-us/
OPERATING HOURS: https://www.fotohub.com/locate-us/
FotoHub is a printing firm in Singapore that specializes in personalized calendars, mugs, and coasters, as well as picture books and canvas prints.
FotoHub offers a variety of picture printing alternatives for individuals interested in photography who would want to have their photos exhibited at home. They are an excellent option for individuals who are unsure where to get their favorite photo memories reproduced.
Soft-cover printing is also available for academic and personal use. You should go to their website and look at all of their fantastic present alternatives!
Service Highlights
Mobile printing services
High-definition photobook
Wall decorations
Customer Reviews
Unlike other companies, FotoHub focuses on providing customised gifts with personal photos designed on them. It is a one-stop gift shop for the whole family!
Soh Hui Tan gave this top-rated feedback on Google Reviews:
"I would like to give my fullest compliments to your great team of staff at FotoHub (FORUM). The team of staff (Ivy and all at FotoHub (FORUM), they are very professional, efficient, suggestive and knows what the customer wants. I live in Marine Parade and my workplace is at Tai Seng. But I will travel to FotoHub (FORUM) just to develop my photos for memory keepsake. It is very worth all my every effort to patronize FotoHub (FORUM) as the team of staff is really very customer oriented, always smiling, helpful, suggestive and sincere to all their customers. This team of staff at FotoHub (FORUM) definitely deserve to be complimented and I sincerely hope that the Management can convey to them this message. It is very great that FotoHub (FORUM) has this fantastic team of staff. Thank you very much. Warmest Regards, Tan Soh Hui"
Best Printing Services in Singapore 2023
6. 6999 Media Printing

BEST FOR: Artistic and responsive website design services
PRICING: Rates
WEBSITE: http://6999media.com/
ADDRESS: 50 East Coast Road, Singapore 428769
CONTACT DETAILS: +6581021093
OPERATING HOURS: Monday to Friday, 9am to 6pm
6999 Media Printing is well-known for its website design services, which are ideal for new business owners who are just getting started with their online presence. They are, nevertheless, a competent printing firm.
You may get brochures and other marketing materials printed there, among other things. The National University of Singapore, Tan Tock Seng Hospital, Humanist Society, Art Front Gallery, and other institutions are among its clientele.
Service Highlights
Offset printing services
Free delivery service
Artwork designs
Free (1) Year Web Hosting.
Customer Reviews
6999 Media Printing may not have the most extensive product line, but their website design services make them an all-in-one option for many startups and enterprises looking for help with multi-channel marketing.
On the company's official website, landscape designer Ashley Lim wrote:
"6999 Media Printing, 6999 Media Printing, 6999 Media Printing, I simply wanted to submit this testimonial to express my gratitude to your sales staff. I'm a landscape designer, and I recently ordered 1000 accordion fold brochures from your website, intending to use the sales brochure as a self-promotion marketing tool to advertise my services. The printing of the accordion fold brochures are wonderful, and the entire process was smooth and simple!"
7. Ho Printing Services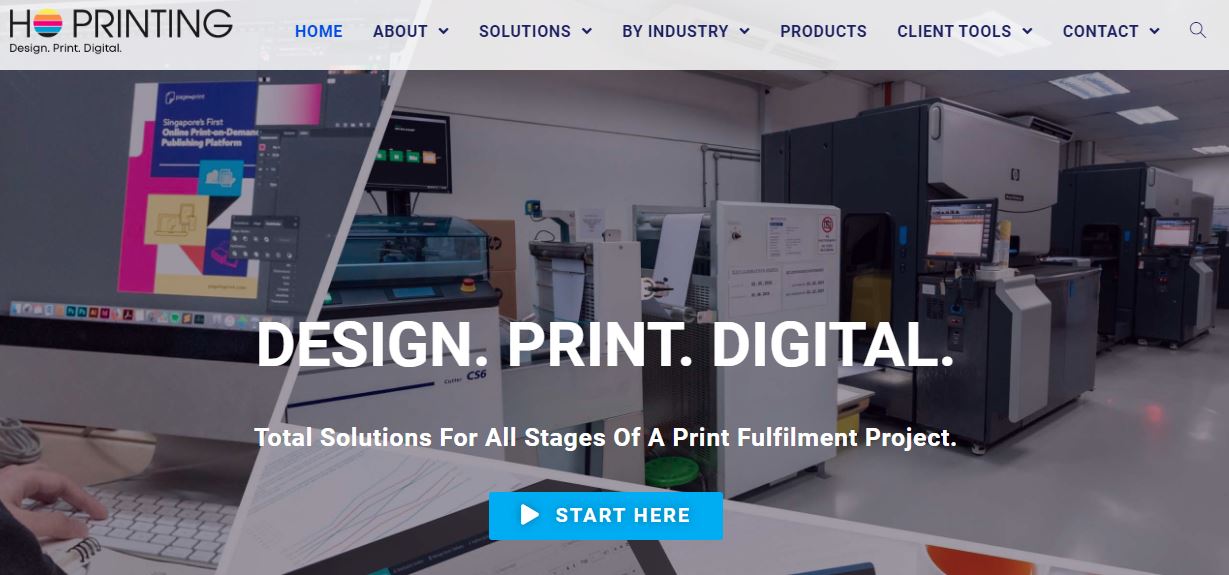 BEST FOR: The only mid-to-large printing company in Singapore that offers total design, print and digital solutions
PRICING: https://www.hoprinting.com.sg/solutions/
WEBSITE: https://www.hoprinting.com.sg/
ADDRESS: 31 Changi South Street 1, Singapore 486769
CONTACT DETAILS: +65 6542 9322 | [email protected]
OPERATING HOURS: —
Ho Printing has over 68 years in the experienced, completing over 32,000 projects and helping an impressive number of 11,000 clients and counting! Their size and integrated solutions give them the right combination of capability and agility to handle projects of almost any size and complexity.
Service Highlights
Variable printing and mail management capabilities
One-stop marketing communications and direct marketing print fulfilment with a focus on data security
They are also one of the very few local printers certified with ISO 12647: ProcessStandard Offset (PSO) that was developed by Fogra in co-operation with the German Printing and Media Industries Federation.
Customer Reviews
Here's a moving customer testimonial from Farheen Chinoy, Senior Manager, Operations for Asia at The Economist:
"We consider Ho Printing a partner in every sense of the word. The staff is a pleasure to work with, and their attention to detail is greatly appreciated! Whether a large order or last-minute request, we know that they will deliver a flawless product."
8. PrintVolution

BEST FOR:
PRICING: Rates
WEBSITE: http://printvolution.sg/
ADDRESS: 60 Paya Lebar Rd, #B1-35 Paya Lebar Square, Singapore 409051
CONTACT DETAILS: +65 6655 0989
OPERATING HOURS: Mon-Fri: 10am-8pm; Sat-Sun: 11am-7pm
Because of their superior technology and ability, PrintVolution makes it simpler for people and businesses to print things in the finest quality and with a larger selection of paper kinds.
They also provide a variety of finishing options to ensure that you get exactly what you want. PrintVolution promises the highest quality printing services, whether you're printing business cards, invitations, brochures, or even coasters and button badges.
If you are an official business entity registered with ACRA with at least $50,000 paid up capital, have operated in at least 5 physical shop locations, and have an annual printing volume of more than $3,000, you can join their VIP list.
To know more about this wonderful promotion, you may visit their website or pay them a visit.
Service Highlights
Customer focus
Transparent services with honesty pervading every action
Proactiveness
24 hour service available
First class service
Customer Reviews
The shop has provided printing services to hundreds and thousands of people in Singapore and with that, they have made a name in the industry as one of the most trusted shops in the area. As a matter of fact, here are some proof taken from Google Reviews showing that their clients were actually satisfied with their work.
"Great work and design. Very happy with my purchase!"
"Printed some items. Got it on the spot. Thank you"
9. Print That Now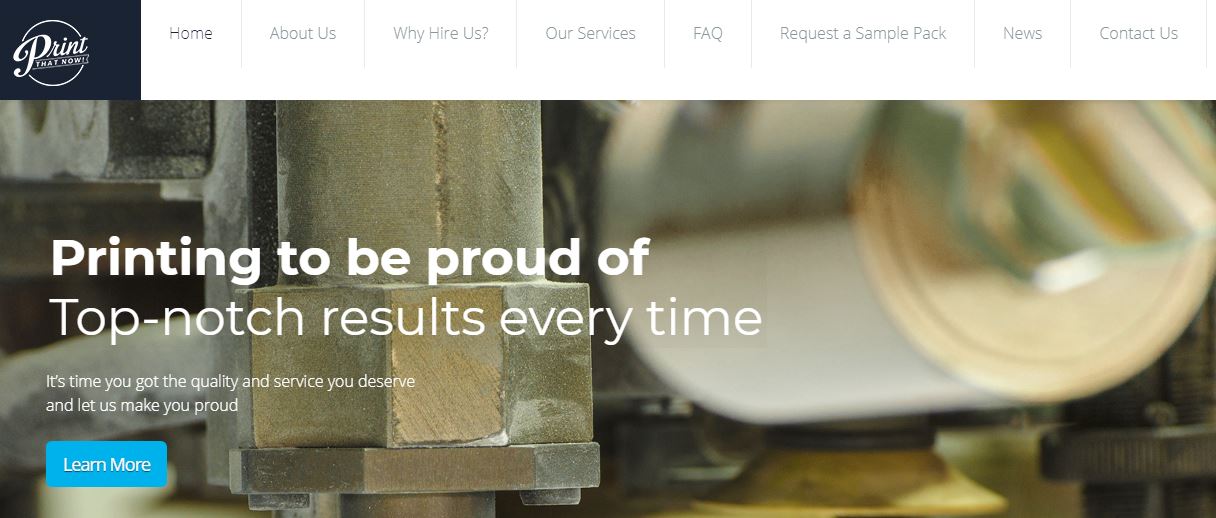 BEST FOR: Printing company with in-house design team
PRICING: https://printthatnow.com/services/
WEBSITE: https://printthatnow.com/
ADDRESS: Sunshine Plaza, 91 Bencoolen Street, #01-71 , Singapore 189652
CONTACT DETAILS:
Office: (+65) 6337 9789
Telegram: @PrintThetNow
Whatsapp: (+65) 8107 0561
[email protected]
OPERATING HOURS: Monday Friday: 10 am – 8 pm; Saturday: 11 am – 7pm; Closed on Sundays & Public Holidays
Print That Now has an in-house support staff sits on the front lines, helping their customers solve problems and replies instantaneously to their concerns with their state-of-the-art printing solutions.
Print That Now is one of the few Singapore printing services that you can rely on for design input. This works if you need your own designs to be spruced up or if you need entirely fresh ideas.
Service Highlights
Print That Now uses the latest in printing services technology 
No project is too big or small, they can get your printing request done
Expert design and printing service combined
Customer Reviews
With 4.1-rating on Google from 67 reviews, here's a 5-star review from Kevin Ho:
"Nowhere better to print. Unbeatable prices and great service. Kevin was really nice and professional. I'm coming back here for life for all my printing needs."
10. United Graphic
BEST FOR: Colour Separation, Design, Printing and Large Format/Signages in Singapore.
PRICING: Contact for more information
WEBSITE: http://www.unitedgraphic.com.sg/
ADDRESS: Lorong Bakar Batu, #04-12, Singapore 348743
CONTACT DETAILS:
+65 6745 7633
[email protected]
OPERATING HOURS: 
Head Office
Mon- Fri | 8:30am to 6:00pm
Production Team
Mon- Fri | 8:30am to 9:00pm
Sat | 9:00am to 3:00pm
United Graphic offers a wide range of printing services for publishers, printing press, ad agencies, and even construction companies. These include Pre and Post Press Services, Wet Proofing, De-Screening, Design, Color Retouch, DTP, Lightbox Signages, Large Format Print & Installation.
Service Highlights
Strict Intellectual Property Protection Procedures
Alignment of their products to meet the latest Fogra Digital Printing Standard (ISO 15311).
Customer Reviews
United Graphic has a history of having established connections in the printing industry. Here's one customer testimonial from Donna McCarthy, a long-standing client relationship from the US for over 19 years:
"Thank you and your team for focusing on this title. It is a very high-profile and important title, with a large print run."
Best Printing Services in Singapore 2023
11. Print for Fun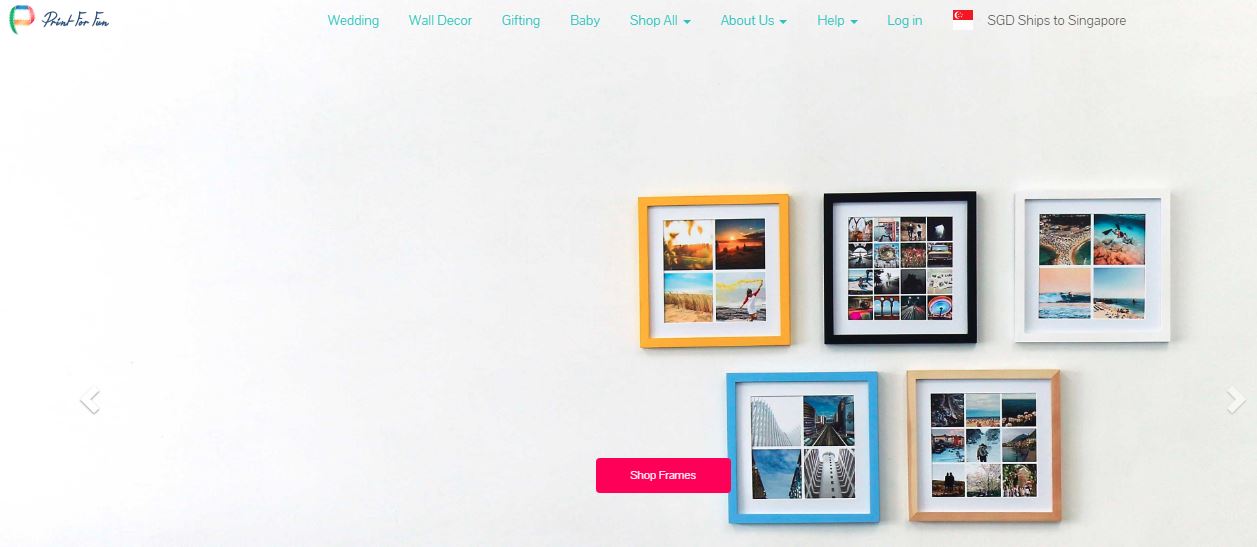 BEST FOR: Photo printing services
PRICING: Contact for more information
WEBSITE: https://www.printforfun.sg/
ADDRESS: Block 3025, Ubi Road 3, #01-153, Singapore 408653
CONTACT DETAILS:

+65 6547 1733
OPERATING HOURS:  Collection timings are Mondays – Thursdays 930am – 530pm, Fridays 930am – 5pm, excl. public holidays. They are closed on weekends.
Print for Fun is a startup focusing on providing the best online photo printing service and we are based in the sunny island of Singapore. They want to make the process for photo gifts and photo printing simple and convenient. They put the very best to create beautiful artifacts of your memories, using our industry-grade photo printers with lovely customer service.
Service Highlights
Gifts and Creative Prints
Standard Printing Services
Home Decor
Customer Reviews
5-star Facebook review from Cherry Morales:
"Received my order in 3 working days even if it is just a local standard delivery. The quality of the pictures were very very good and it was packed nicely. I will definitely order more prints here in future."
12. El Print Pte Ltd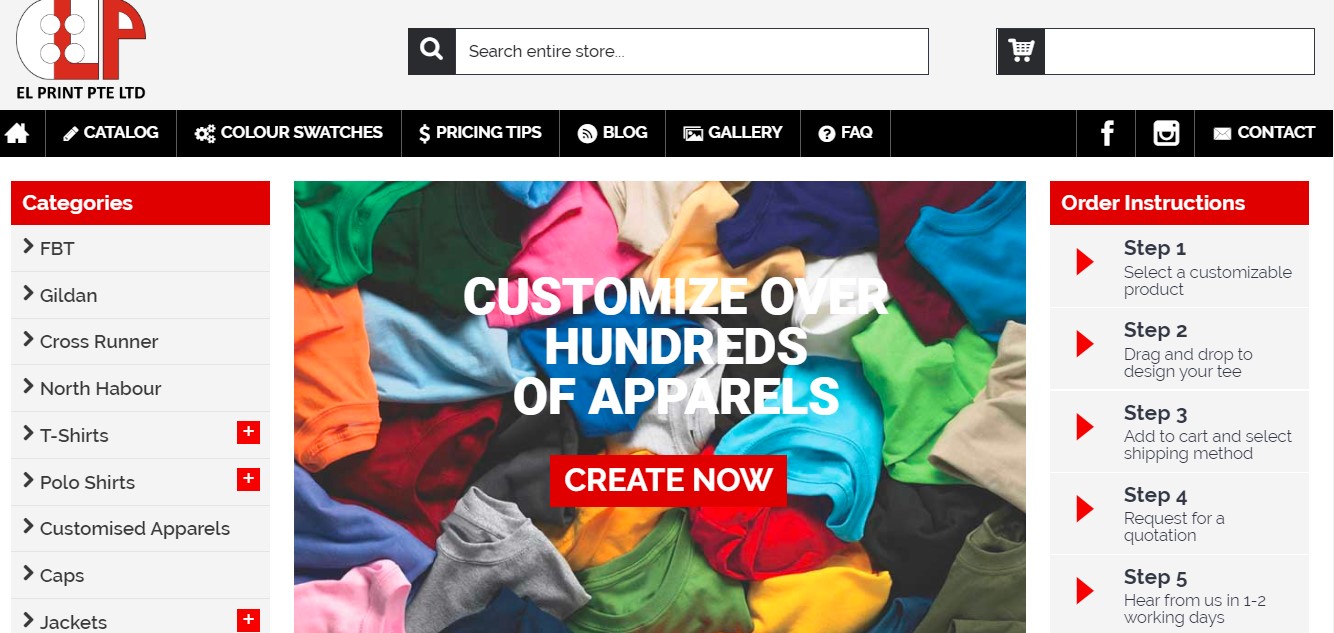 BEST FOR: Rush printing services
PRICING: Contact for more information
WEBSITE: https://elprint.sg/
ADDRESS: 15 Lorong 8 Toa Payoh #07-08 Braddell Tech, Singapore 319262
CONTACT DETAILS: 6100 5225
OPERATING HOURS:  Contact for more information
EL Print Pte Ltd aims to provide customers with affordable and hassle-free printing experiences. To do this, they will work around your budget to bring to you a product that supersedes your expectations. Their strict protocols also prevent faulty batches from reaching your hands
The printing process here is quite hands-on, much like a self service printing place in Singapore. El Print has a Design-it-Yourself lab available for clients to use prior to final printing.
Service Highlights
Island-wide Shipping
Rush Orders Welcome
Design-It-Yourself Lab
Strict Quality Control
Customer Reviews
Customer review from Nina Tan of Night Owl Cinematics:
"If you're looking for a T-Shirt printing company, you have to go with El Print! They print Friendship Tees, Class Tees, CCA Tees, Soccer Jerseys, Hoodies, and more! They are not only prompt in service, their T-Shirts are also of good quality 🙂 NOC's Tees are printed by them!"
13. You Print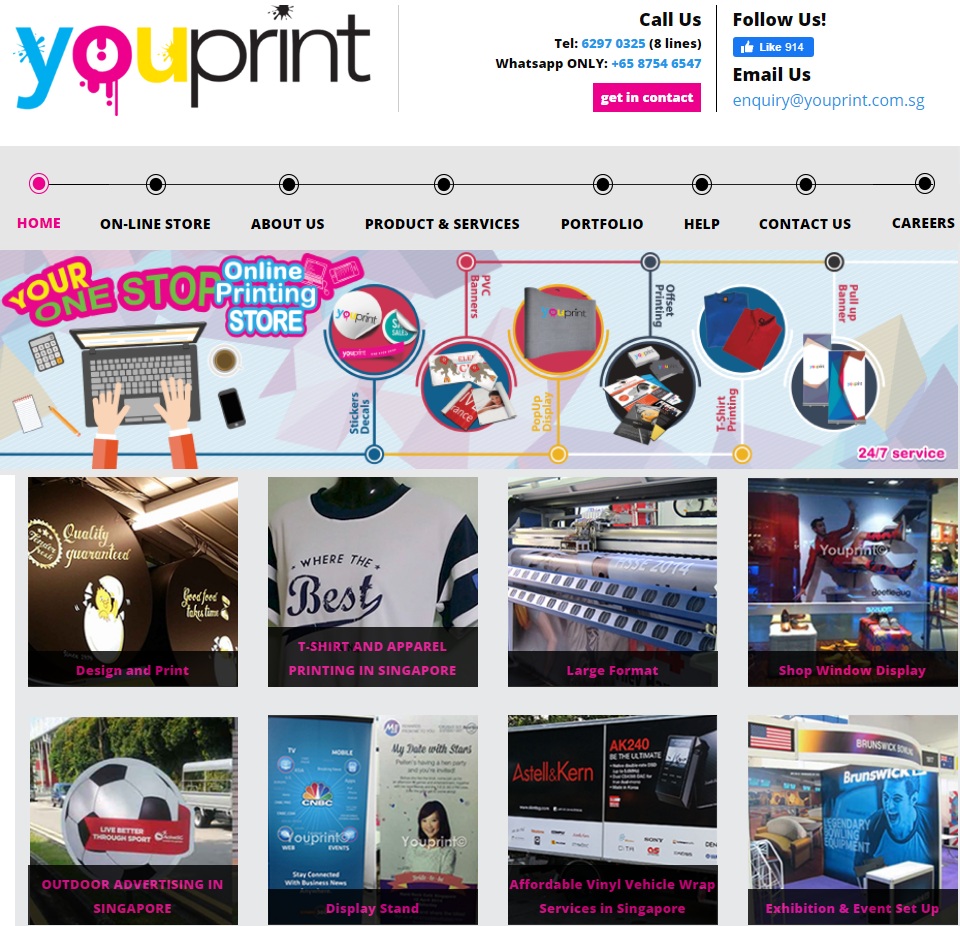 | | |
| --- | --- |
| BEST FOR | Corporate Apparel, Designing & Printing |
| PRICING | Services |
| WEBSITE | https://www.youprint.com.sg/ |
| ADDRESS | Youprint Productions Pte Ltd 30 Kallang Place, #03-12, Singapore 339159 |
| CONTACT DETAILS | +65 6297 0325 | [email protected] |
| OPERATING HOURS | Monday to Friday 09:00 to 18:00 |
If you are looking for a printing company that can accommodate corporate accounts and other marketing-related endorsements, You Print can definitely help you.
They are one of Singapore's most sought after digital printing service providers most suited for Corporate Apparel, Designing & Printing and Outdoor Advertising / Media Services.
Their state-of-the-art and advanced technology and equipment make their production high in quality, cost-effective, and quick in service.
More importantly, their services are offered at very affordable prices so there really is no reason for you not to hire them for your next printing session.
Service Highlights
High quality products
Fast turn-around time
Affordable pricing
Customer Reviews
You Print astound their clients with their quick delivery of work while keeping their standards high. Here's a review posted on Google by one of their clients.
"Highly recommended, particularly Elvan from their team. He's kind, efficient, professional and very patient! Competitive pricing and high quality work – which makes YOUPRINT always our preferred choice!"
14. DIVERSE SOLUTIONS PTE LTD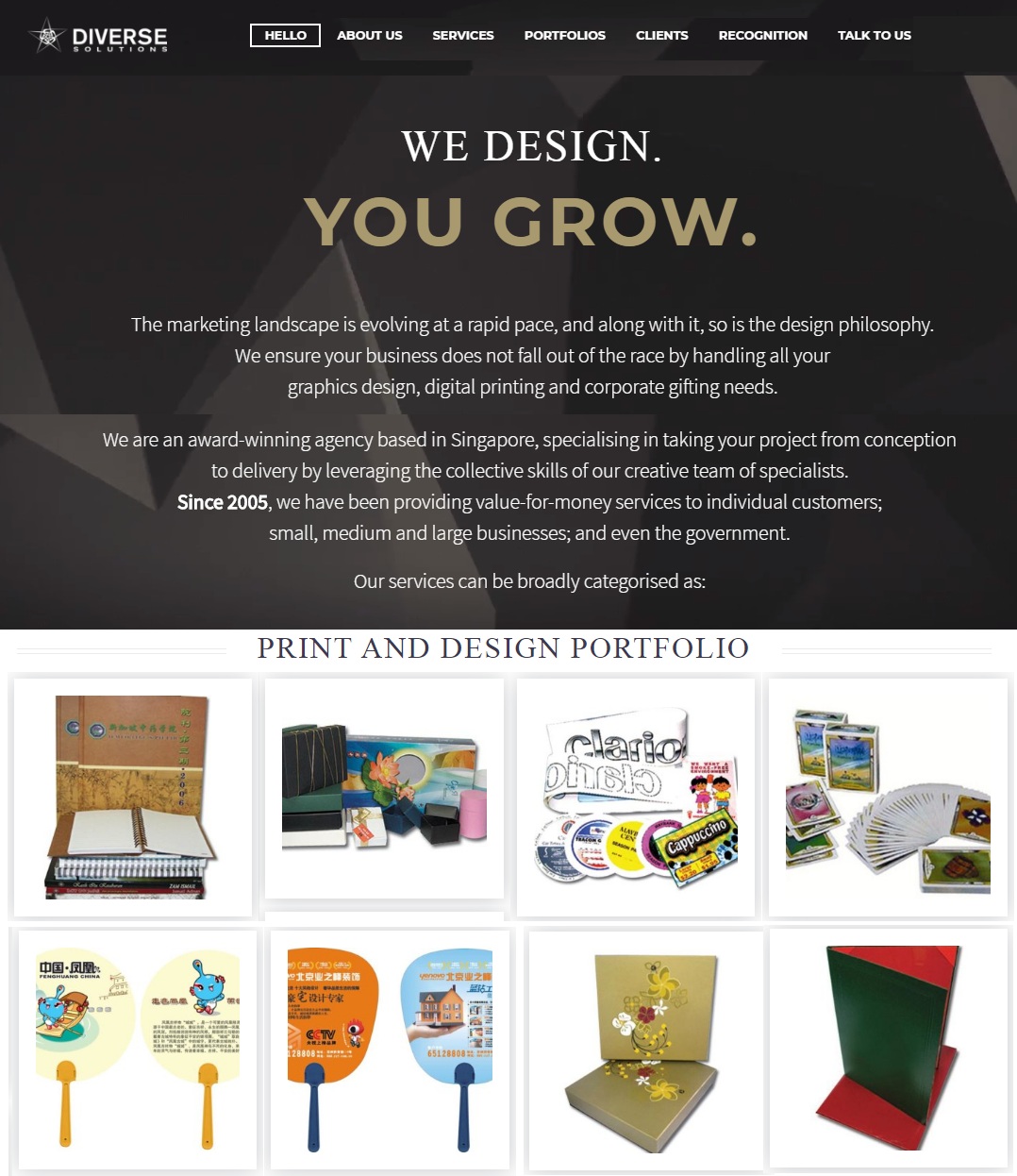 BEST FOR: Corporate printing
WEBSITE: https://diversesolutions.com.sg/
ADDRESS:55 Ubi Ave 1, #03-01 Singapore 408935
CONTACT DETAILS:+65 6749 4491
OPERATING HOURS: Monday – Friday: 9:00 am – 6:00 pm
Diverse Solutions Pte Ltd aims to keep abreast with the changing media preferences of a lot of people brought by technological advancement. The revolutionary emergence of digital media has greatly affected the design preferences and people's reach.
They provide high quality design, printing and other creative services to corporate accounts. They design, print, and provide other gifting services.
Aside from that, their company also provides other creative services like web design, professional photography, translation, copywriting, and many more. Be sure to check their site if you are interested.
Service Highlights
Beautiful and original design
Interactive designs
Signage & wallpaper services
Premium corporate gifts
15. Express Printing Shop

BEST FOR
Offset Printing, free template
PRICING
https://www.expressprint.com.sg/shop/
WEBSITE
https://www.expressprint.com.sg/
ADDRESS
Blk 998 Toa Payoh North #01-09, Singapore 318993
CONTACT DETAILS
+65 6100 8328 | s

[email protected]

OPERATING HOURS
Mon – Thu: 9:30am to 6pm, Fri, 9:30am to 5pm
Express Printing Shop is best for businesses who'd like to have their business cards and brochures printed in high quality. Should you need some professional template and artwork designer, they will also happily do so.
You can browse their website to know more about the printing services that they offer that can help ease and fasten your production. Instant price check is also available to help you work around your budget.
Highlights
Premium quality printing
Design service available
Accepts bulk orders
Customer Reviews
"Expressprint is the most helpful printing shop that I have ever met!
I use their services twice to print banners that needed on the next day. Their fast respond to my enquiry showing their professionalism.  They are align with their shop name, they really do express printing and I always get my banner on time even though was a last min request.
surprisingly with reasonable price and last min request, they still manage to deliver good  quality product!
Thanks Express Print for always been so helpful. I have great experiences with your services :)"
16. Printhouse

| | |
| --- | --- |
| BEST FOR: | Wide range of printing services |
| PRICING: | https://printhouse.com.sg/shop/ |
| WEBSITE: | https://printhouse.com.sg/ |
| ADDRESS: | 1 Yishun Industrial Street 1, #06-12, Singapore 768160 |
| CONTACT DETAILS: | +65 6339 3738 |
Printhouse is your one-stop solution for any and every of your printing needs. Ranging from bookmarks and decals to brochures and albums, they can easily accommodate your requests and have them printed of only the finest quality.
Choose between offset printing and photoprinting then you're good to go! Simply upload your designs on the site and configure the details needed, and Printhouse will have it done in no time.
Highlights
Lowest price in town
Premium paper and finishing
Less than 3 weeks production lead time
Customer Reviews
Read some of the reviews on Printhouse's website:
"Thank you Jue for the excellent service. Products received was GREAT! Love the customization and personal touch be her. Great Value for money."
"Love the quality and the prices. Service rendered was more than excellent!"
17. Fei He Printing and Photocopy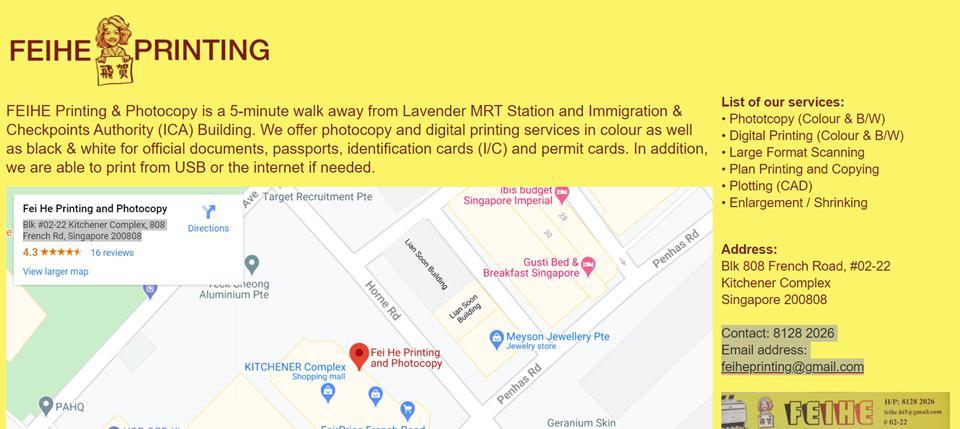 BEST FOR:
Widescale printing
PRICING:
Contact company for quotations
WEBSITE:
https://feiheprinting.com/
ADDRESS:

Blk #02-22 Kitchener Complex, 808 French Rd, Singapore 200808

CONTACT DETAILS:
Contact: 8128 2026
Email address: [email protected]
OPERATING HOURS:
Monday – Friday: 10am–5pm
Fei He Printing and Photocopy is the company to acquire printing services from when you want high-quality results for a more competitive price.
No matter the quantity or size of printing, rest assured that they can accommodate your needs. You can have it produced both in black & white and coloured, depending on your preference.
Aside from traditional printing, Fei He also offers photocopy and digital printing services. Contact the company for more inquiries.
Highlights
High-quality finish
Competitive rates
Accessible location
Customer Reviews
Receiving an almost perfect rating on google review, Fei He Printing and Photocopy has proved their services to be one of the best. Take a look at this feedback left for them:
"Good service! Was prepared to pay $1 per page, but the lady very honestly charged only $0.20 per page for black and white photocopy. Great for anyone who needs photocopies for ICA documents."
18. PrintVolution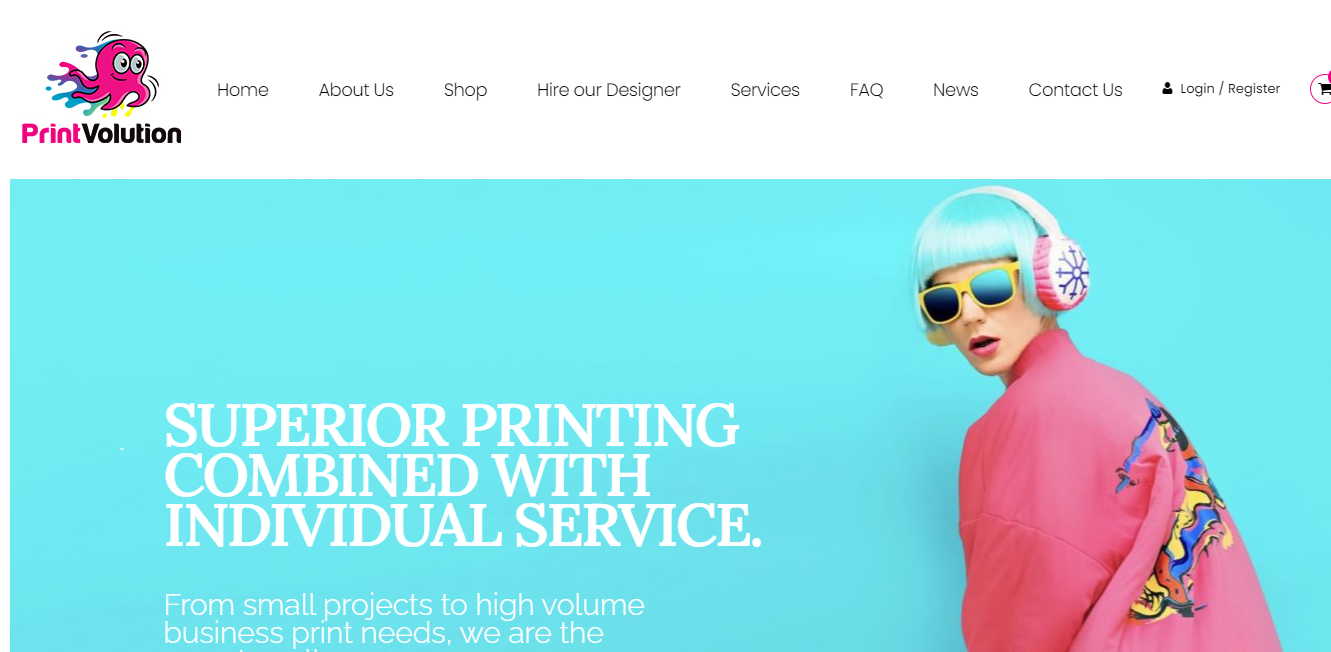 BEST FOR
Custom print services
WEBSITE
http://printvolution.sg/
ADDRESS
Paya Lebar Square
60 Paya Lebar Road, #B1-35
Singapore 409051
CONTACT DETAILS
(65) 6969 3837/[email protected]
OPERATING HOURS
Monday to Friday 10AM – 7PM
PrintVolution not only provides printing services of an extremely high standard but we are committed to serving their customers well. They make sure that they treat every single job equality and happily – either it is a bulk order or just one tee.
With knowledge of printing that covers many years, they are willing to go the extra mile no matter the size or complexity of the order. They use the latest machinery and materials for printing, no less.
Working in line with the highest of specifications and with reliable quality control processes in place, PrintVolution offers good printing services in Singapore. No client will not be disappointed, as they are willing to work with customers in every step of the way.
Highlights
Order through their website
Competitive quotations
High-quality print
Customer Reviews
"I strongly recommend their services. Fast reply, smooth transaction and very accommodating and most of all they will come out with really great artwork. With their budget price range together with their excellent service is really the Best Deal you will ever find! Just FYI, we did managed to settle everything just by chatting without dropping by to the shop."

"Fast and efficient excellent service. Friendly and helpful!"
19. Flyer Distribution SG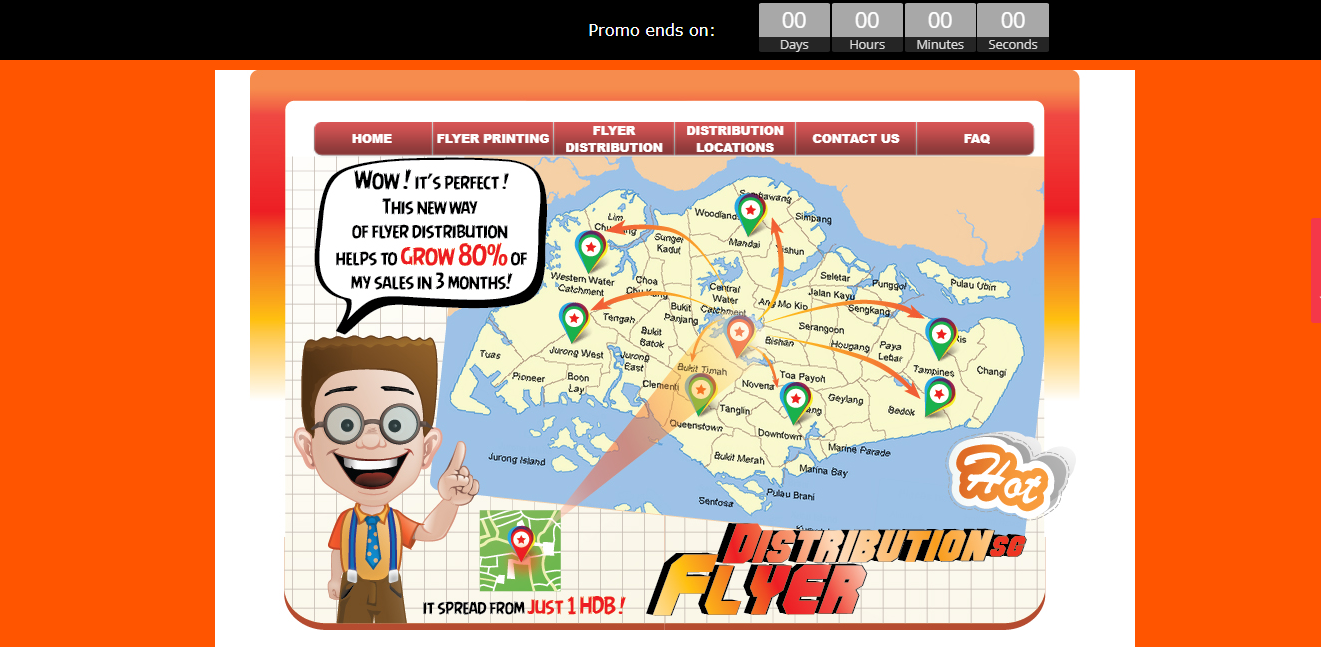 Flyer Distribution SG provides a one-stop solution when it comes to flyer printing and flyer design. The company's very reliable team seeks to help clients to reach out to their target audience effectively.
Through their established distribution, they go for the offline and online network simultaneously. Their Flyer Distribution methods cover more than 80 locations island-wide.
Their coverage runs from Tuas to Pasir Ris to CBD Shenton, and all the way to Woodlands. Flyer Distribution SG is confident to reach out to your target buyers effectively.
Highlights
Free online advertisement
Exciting promos and discounts
Distributes to 80 locations
Customer Reviews
"We needed someone to tend to a redemption booth at Marina Square. After a full understanding on our job, they were able to advise, process and deliver the job with much satisfactory. We greatly appreciate their professionalism in handling this project."

"We have been working with flyerdistributionSG on several projects. Although their schedule is very tight, they put in their best efforts to update and get my job done."
20. Archer Marketing and Development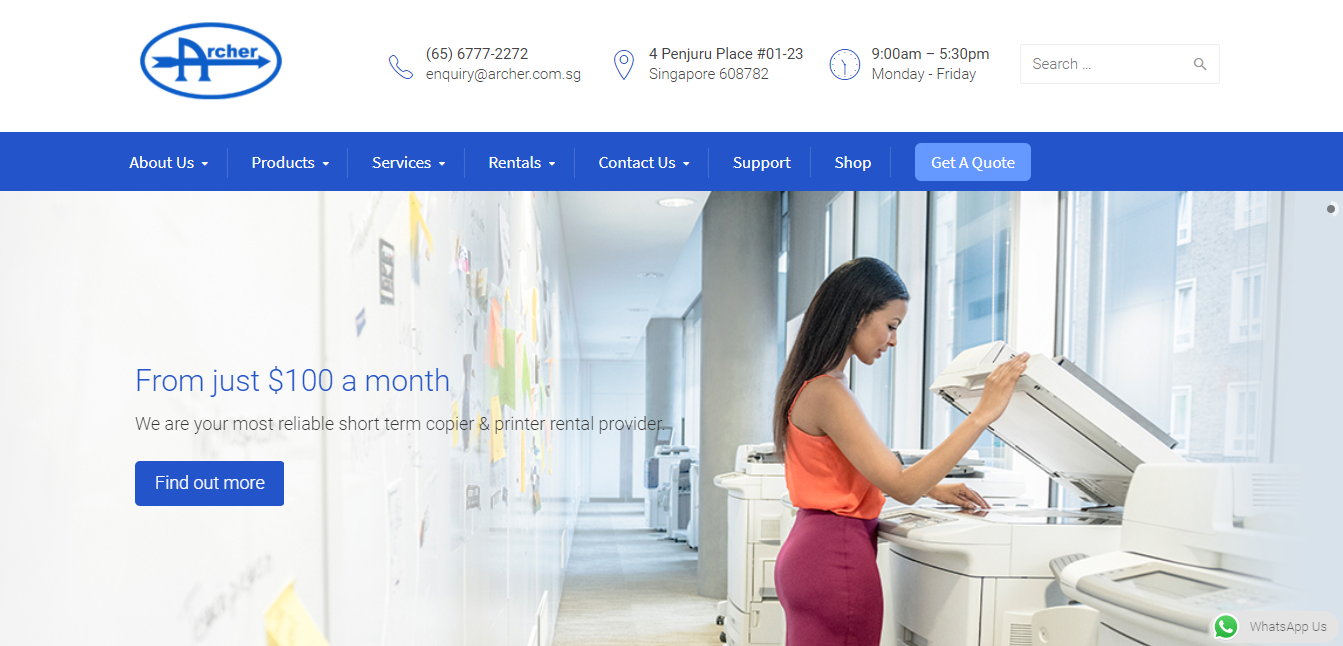 BEST FOR
Printer and copier rentals
WEBSITE
https://www.archer.com.sg/
ADDRESS
4 Penjuru Place #01-23
Singapore 608782
CONTACT DETAILS
(65) 6777-2272
[email protected]
OPERATING HOURS
9:00am – 5:30pm
Monday – Friday
Since 2007, Archer Marketing and Development has brought the industry's focus back to the local Singapore market that provides retail printing, photocopier and printer rental and leasing services. The company enables quality support and print solutions for the offices.
They have recently expanded their services to include print management solutions encompassing both software and hardware. They have succeeded to truly provide an all-rounded service in the photocopier and printer space.
The company also established 2 overseas branches providing copier rental, leasing and digital printing services in Johor Bahru, Malaysia and Yangon, Myanmar.
Currently, they are the official photocopier vendor for the Singapore F1 Grand Prix, further establishing Archer Marketing and Development in the event copier and printer event rental industry.
Highlights
Wide range of services
Online quotation
Cost-effective packages
Customer Reviews
"Thank you for sending your Technician to help us set up our Office copier and also check on the condition of the copier. We are very satisfied with the professional service that he has provided. "

"I would like to commend Archer's Staff who was very friendly and helpful during the whole installation process. He made the whole experience a fuss free one and I saw the need to highlight a job well done to your company."
Best Printing Services in Singapore 2023
21. Partyinkers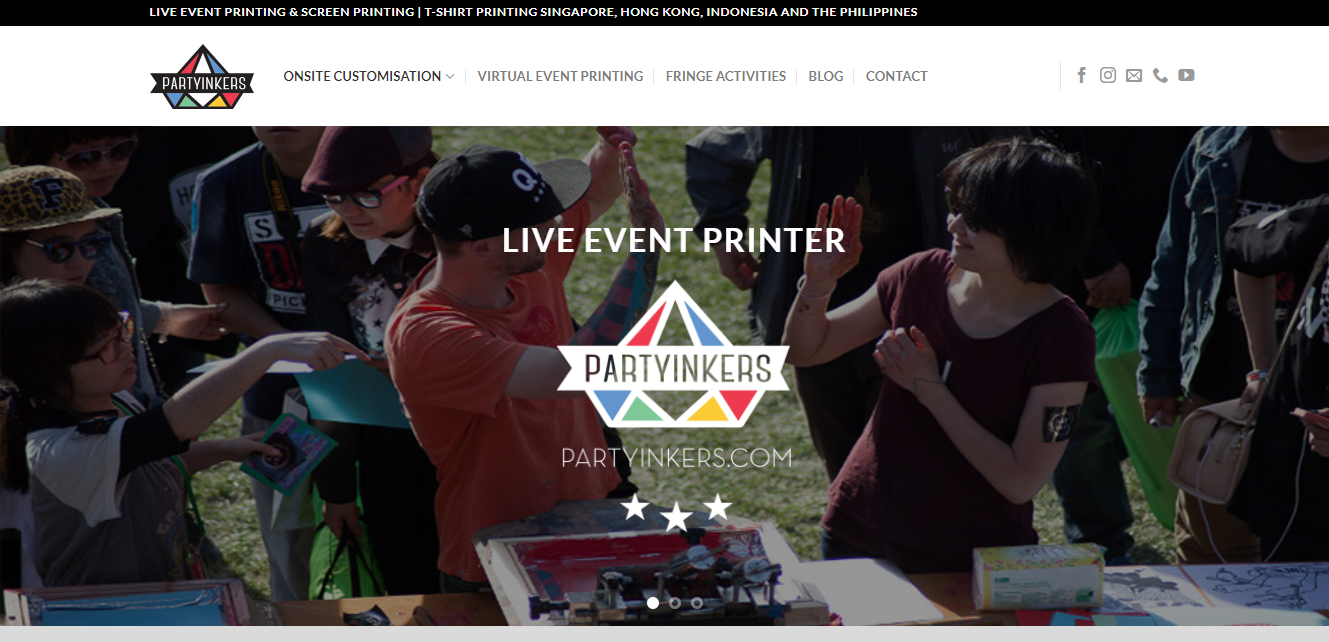 PartyInkers is a Live-Event Printing and on-site Screen Printing Company. They are currently operating in Southeast Asia, in countries such as Singapore, Hong Kong, Indonesia and the Philippines.
With over 10 years of T-Shirt Printing experience, they can turn any event into the next big thing. They also provide on-site designs that tailor-fits the requests of any guests.
Not only that, but Partyinkers also consists of a highly-skilled team who are passionate about working with clients and guests in each event. This way, Partyinkers can make anyone believe that printing is fun.
Highlights
On-site customization
Virtual event printing
Budget-friendly prints
Customer Reviews
"What they did for out event was way out of our expectations! Attendees at the events were happy and thus our client gave us a thumbs up for what we did."

"Efficient, personalized and innovative, Partyinkers is one of the best partners to work with!"
22. T-Shirt Guys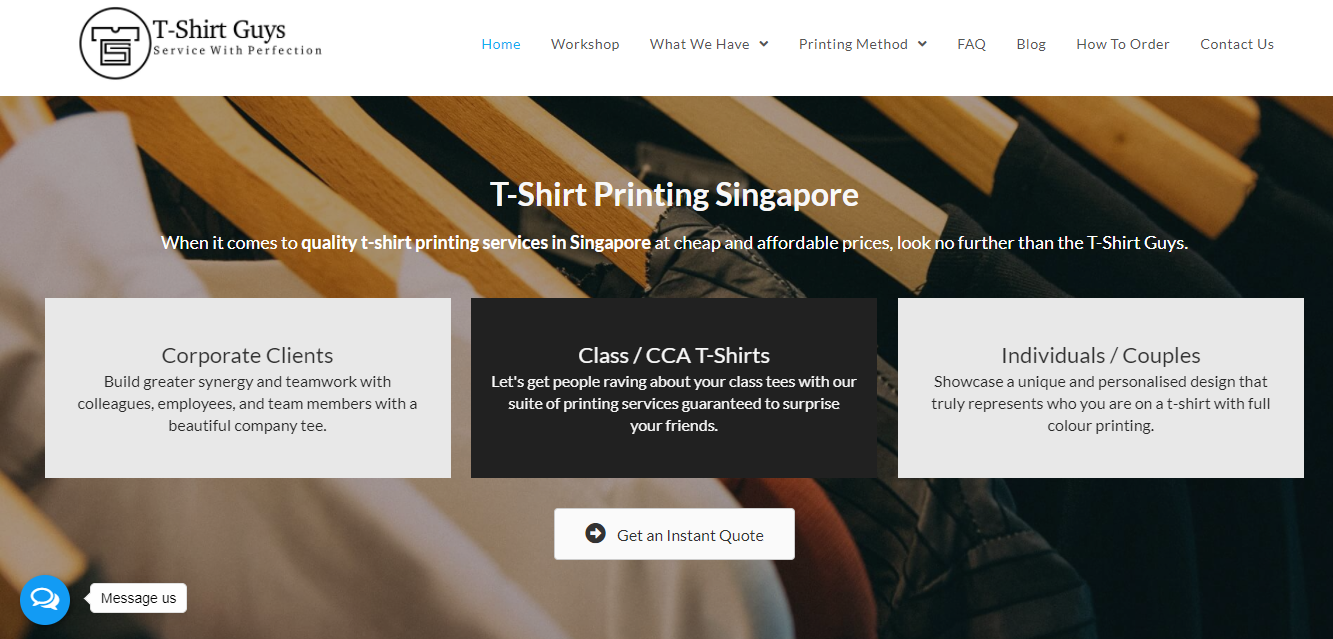 BEST FOR
T-Shirt printing
WEBSITE
https://www.tshirtguys.com.sg/
ADDRESS
30 Kallang Pudding Road,
#04-04, S349312
CONTACT DETAILS
65 9720 1044
[email protected]
OPERATING HOURS
Monday – Friday: 8:30 a.m. – 5:30 p.m.
Lunch Hour (Please avoid):
12:30PM to 1:30PM
T-Shirt Guys are a dedicated bunch in the field of customised t-shirts, specially designed for a group of friends, company, or community. They believe that customization really creates a unique identity.
Anything personalized emphasizes an identity that makes you stand out from the crowds or a voice that booms through the masses. That is why the T-Shirt Guys want to go even beyond high-quality personalised t-shirts.
The T-Shirt Guys are obsessed with creating a unique identity for your organisation, transforming groups of people into teams, gatherings into occasions and moments into memories. Statements and designs of simple T-shirts can give anyone the voice and the power to feel like they are a part of something worthwhile.
Highlights
Comprehensive process
Caters to individual and corporate/bulk orders
Very helpful staff
Customer Reviews
Here are some examples of the feedback posted by customers on Google Reviews:
"Our company little island brewing co-ordered some crews uniforms and ordered 150pcs. Only took a week to deliver to us. Very efficient!"
"Very good workmanship. Prompt replies and patient in the process of selecting material, what sort of printing and sizing informations etc. Will definitely come back again for their tip top services."
23. Musa 24 Hours Printing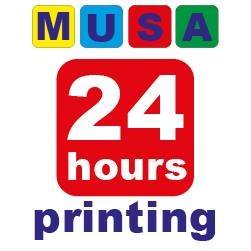 BEST FOR
Urgent printing services
WEBSITE
https://www.24hours-printing.com/
ADDRESS
SULTAN PLAZA, 100 Jalan Sultan,
#03-06, Singapore 199001
CONTACT DETAILS
Mobile : +65 9889 6872 (whatsApp)
OPERATING HOURS
24/7
If you've found yourself in the middle of the night searching for a 24 hour printing shop near me or you, this is good news for you. Musa 24 Hours Printing, as its name suggests, offers printing services that never sleeps to the people of Singapore.
Aside from their quick and accessible services, Musa also guarantees affordable, quality printing, regardless of the material the customer wishes to be printed. Contact them today for your printing needs.
Highlights
Open on weekends and holidays
Accessible location
Affordable rates
Vibrant prints
24. Studio Five Corp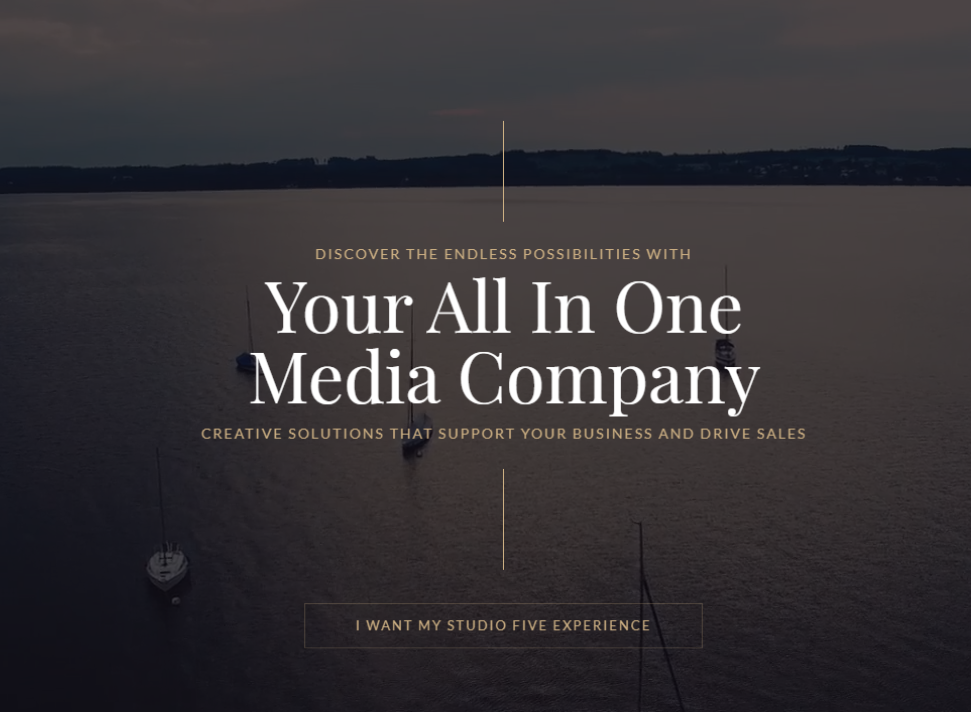 Studio Five Corp is the only production media company in Singapore. It understands the power of media and strives to provide clients with quality services that can help boost their goals long-term.
In terms of printing services, Studio Five Corp excels the most in photo printing. They offer customizable and affordable lay-flat albums, premium 4r albums, and canvases of various sizes and styles.
Studio Five Corp offers discounts for photographers (20%) off and designers (10%) off for all of our products listed on our website.
Highlights
Photography
Video production
Graphic design
Commercial printing
Web design
25. PullUpStand.com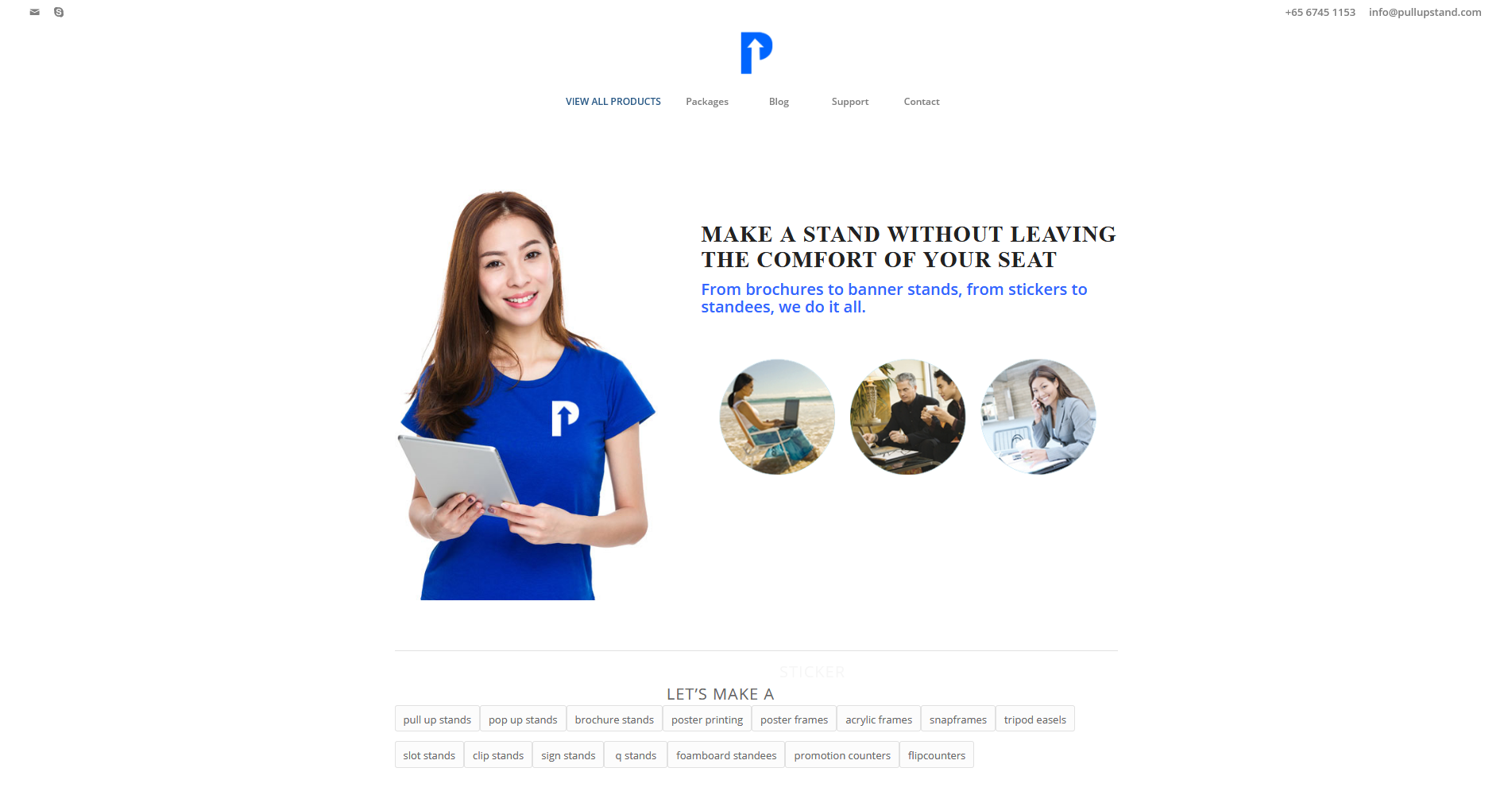 BEST FOR
Display items
WEBSITE
https://pullupstand.com/
ADDRESS
72 Eunos Ave 7 #06-06
Singapore 409570(Singapore Handicrafts Building)
CONTACT DETAILS
T: +65 6745 1153
OPERATING HOURS
Mon-Fri: 9am-6pm
Sat, Sun, PH: Closed
PullUpStand.com was conceived to provide clients with excellent printing and display services. Their quality materials and printing, alongside the straightforward pricing information, makes them one of the best choices in Singapore.
Clients have the option to provide their own designs for printing. But it is also possible to have one done by PullUpStand.com's expert design team.
Highlights
Transparent pricing
24-hour online resource centre
Excellent customer service
26. Alibaba Printing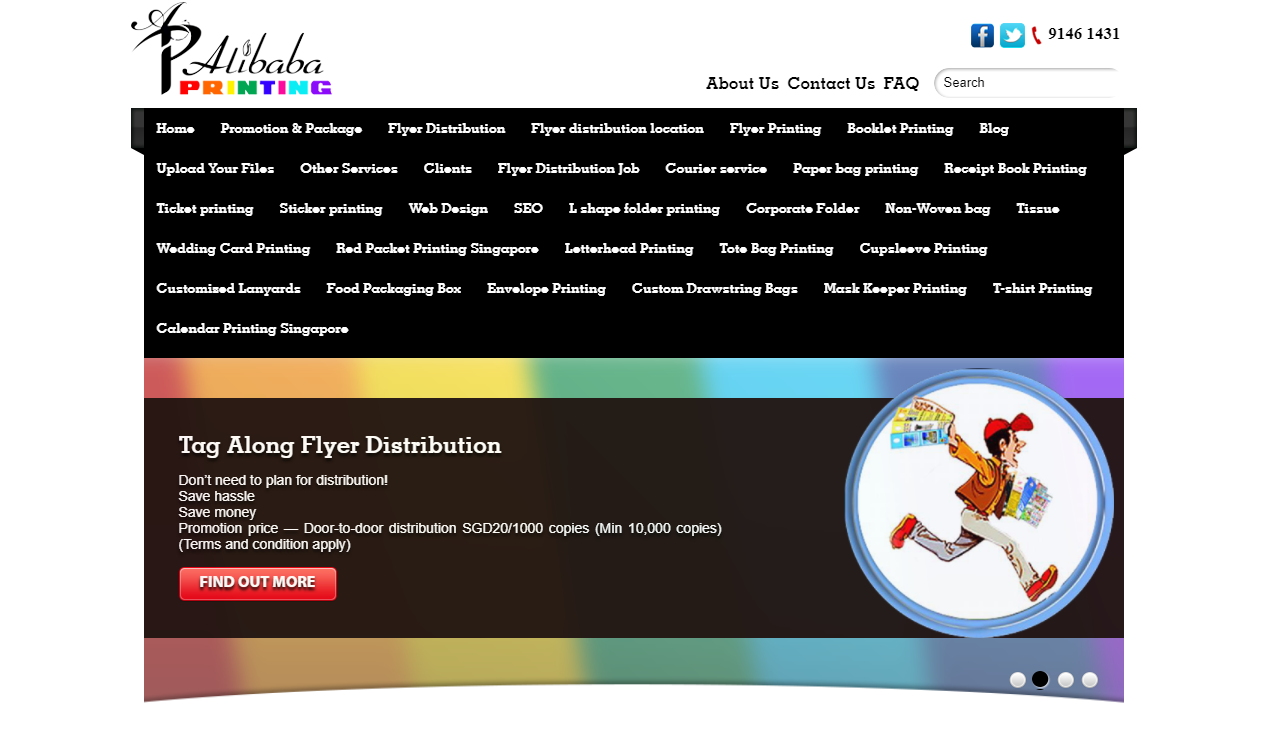 For quality printing services that won't cost an arm and a leg, Alibaba Printing comes highly recommended.
Alibaba Printing is a marketing company that strives to help clients increase their market exposure with the use of traditional marketing and advertising materials. With over seven years of experience in the field, Alibaba Printing has earned a reputation for providing quality customer service as well as a wide array of printing options to their clients.
These printing options include but are not limited to flyer printing, booklet printing, paper bag printing, ticket printing, sticker printing, and letterhead printing. As for marketing endeavours, Alibaba Printing also provides web design, SEO, and flyer distribution services.
Getting one's files printed at Alibaba Printing almost always guarantees top-notch outputs, with vibrant colours and sharp details that will no doubt catch the eye and last for a long time.
Moreover, Alibaba Printing works to deliver requests on time, no matter how large the order is.
Service Highlights
Reliable and trustworthy customer services
Affordable, high quality printing
Offers speedy island-wide flyer distribution
27. West Coast Label

The next company on our list is one of Singapore's oldest printing enterprises. Over 30 years ago, West Coast Label was founded with the objective of providing high-quality printing, labeling, and packaging services to people in need.
West Coast Label has earned a reputation as one of the most dependable commercial printers on the island as a result of its unwavering dedication to being flexible and adaptive in order to suit its clients' ever-changing and rising demands.
West Coast Label established a collection of equipment in order to provide a full service of printing processes and print finishings in order to consistently fulfill this aim.
Unlike other printing firms, West Coast Label focuses heavily on sticker, label, and package printing.
The stickers may be completely customized in terms of shape, size, and quality. Customers may choose from waterproof stickers, die-cut stickers, holographic stickers, and even decals.
When it comes to the labels, West Coast Label goes above and above with this product. They can also create labels that meet industrial requirements, such as pressure sensitive labels and deep freeze labels, which are common in the pharmaceutical business.
West Coast Label frequently uses letterpress, rotary & flexography, offset & screen printing, and digital printing equipment.
With the help of these items, West Coast Label can easily offer a one-stop service to the people of Singapore.
Another thing to note about West Coast Label is its customer service, which is one of the finest we've come across so far. West Coast Label takes the time to take note of every clients' requests, heedful of the order sizes, and endeavour to deliver things on time.
Service Highlights
Wide array of printing services
Caters to various industries
Capable of accepting and delivering large orders
28. GPG Printing
| | |
| --- | --- |
| BEST FOR | Branding, art, and architectural work productions |
| WEBSITE | https://www.gpgprinting.com.sg/ |
| ADDRESS | 18 Boon Lay Way #03-101 Tradehub 21. Singapore 609966 |
| CONTACT DETAILS | +65 6304 8080 |
| OPERATING HOURS | Weekdays: 9.30am – 6pm |
GPG Printing provides high-quality printing and laser cutting services for a variety of purposes, including branding, decorations, adverts, and more! GPG Printing can simply and accurately bring it to life in any shape or form. With its years of experience, the shop is capable of working with a diverse variety of materials and generating an equally diverse range of content.
Plan printing, single pull up banners, poster printing, wall sticker printing, outdoor PVC banner printing, sticker printing, lightbox backlight printing, and canvas printing are just a few of the printing services they provide.
GPG Printing works with people and businesses of all sizes, and has handled huge orders before. GPG Printing strives to create high-quality prints on time as a company dedicated to quality and punctuality.
Service Highlights
Flexible customisation options
Excellent production quality
Special discounts for students
29. Allegro Print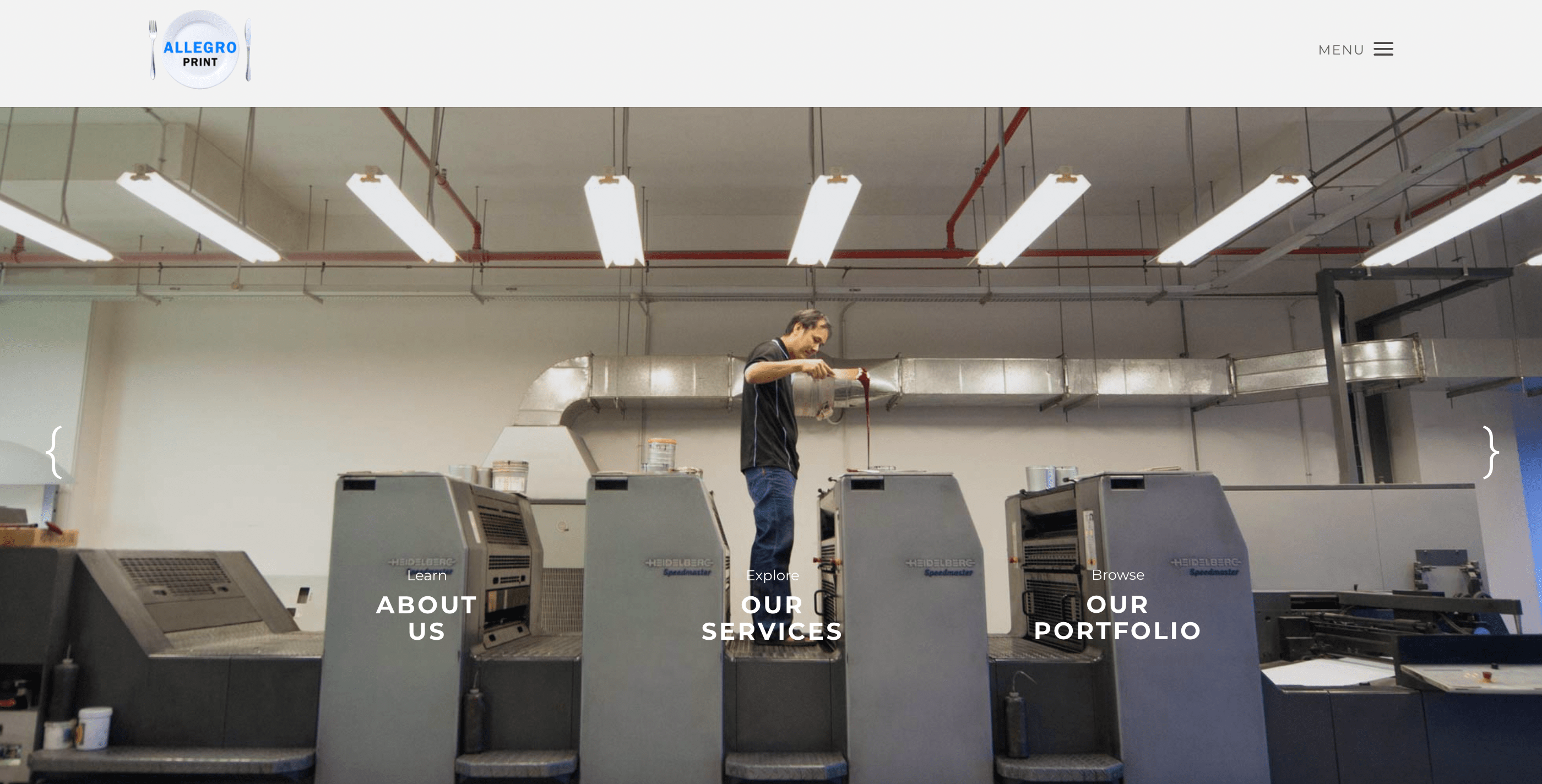 | | |
| --- | --- |
| BEST FOR | Sustainable printing, production of specialty handcrafted books |
| WEBSITE | https://allegro-print.com/ |
| ADDRESS | 61 Tai Seng Ave, #05-02/03/04, Print Media Hub, Singapore 534167 |
| CONTACT DETAILS | +65 6858 8322 | [email protected] |
| OPERATING HOURS | Mon to Fri: 9:00 am – 6:30 pm |
Allegro Print has been in the printing industry since 1998. Being in the profession for so long indicates that they're highly knowledgeable about what they do, as seen by the fact that they've won accolades for their work.
Indeed, their off-set and digital printing capabilities have helped a number of local designers develop award-winning print projects over the years.
They also specialize in the manufacturing of handcrafted speciality publications, which is ideal for budding self-publishers!
Beyond that, we believe they are deserving of a mention because of their environmentally friendly printing methods.
They only use eco-friendly ink for all printing jobs. Plus, they see to it that all liquid waste they produce is collected and disposed via a licensed waste collector to minimise damage to the environment.
Service Highlights
Award-winning company
Specialises in the production of handcrafted books
Uses eco-friendly ink
Practises proper waste disposal to minimise environmental impact
30. Global Asia Printings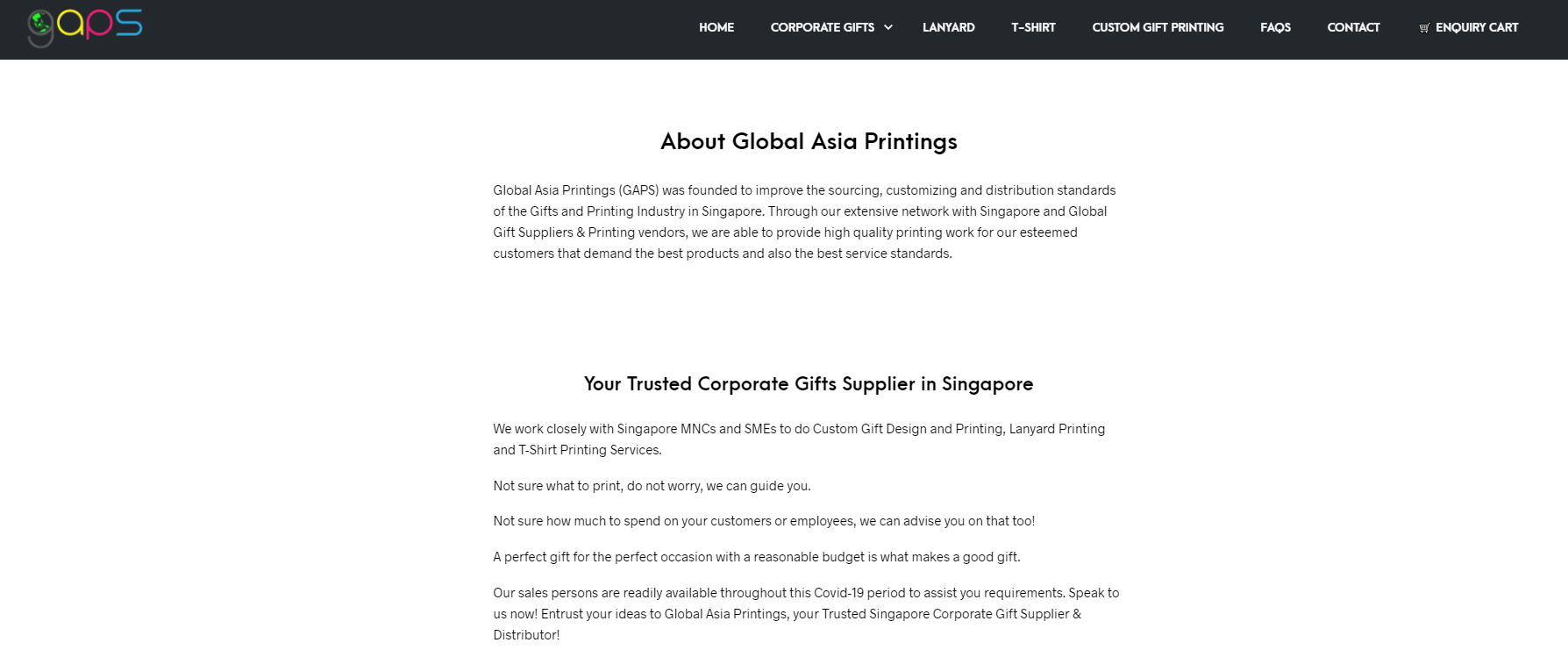 BEST FOR
Custom Gift Printing
WEBSITE
https://globalasiaprintings.com
ADDRESS
66 Tannery Lane
#02-06 Sindo Building
Singapore 347805
CONTACT DETAILS
9665 5426 (Zhuwen)
9728 9088 (Bernard)
9734 7545 (Tiffany)
8693 4657 (Jamien)
Email: [email protected]
OPERATING HOURS
By appointment
The next firm on our list is a professional printing company that has recently become a go-to for Singaporeans.
Global Asia Printings provides some of the island's top printing services. If you're seeking for personalized presents for the holidays, we highly recommend using their services.
Aside from printing services and personalized gifts, Global Asia Printings also sells garments, bags and pouches, gadgets, and lifestyle and home items.
Global Asia Printing offers high-quality printing, speciality printing, shipping, and fulfillment services, as well as industry-leading customer support. They can supply bespoke printing solutions for new markets, events, and clients across Singapore thanks to their extensive in-house capabilities.
Service Highlights
Wide range of products offered
High-quality printing services
Custom gifts available
Excellent customer service
---
Anyway, that wraps up our list of the best printing services in Singapore. If you do go with one of our picks, please tell us how it went and what you appreciated most about your printing company!
Top 30 Best Printing Services in Singapore 2023 – Newshub360.net
CHECK THIS OUT :
♦ Top 10 Richest Politicians in Singapore 2023
♦ Top 10 Richest Celebrities in Singapore 2023
♦ Top 10 Richest People In Singapore 2023
♦ Top 5 Best Centers To Do Printing in Singapore 2023
♦ Top 10 Richest Sportsmen in Singapore 2023
♦ Top 5 Singapore Celebrities With Impressive University Degrees
Credit : Newshub360.net