The 6 Best Resorts in Vermont 2023: Vermont, a state with beautiful mountainous scenery and woodland vistas, is a gorgeous getaway location all year round.
It never fails to astonish even the largest outdoor enthusiast, whether it is draped in snow or displaying its renowned fall foliage.
Visitors will be treated to pristine natural treasures that are ideal for mountain trekking, swimming, and fishing during the summer.
Visitors to Vermont will find its recent snow excellent for an action-packed day of exploration. Vermont is known for having one of the top ski resort locations in the eastern United States.
6 Best Resorts in Vermont 2023
1. Woodstock Inn and Resort – Woodstock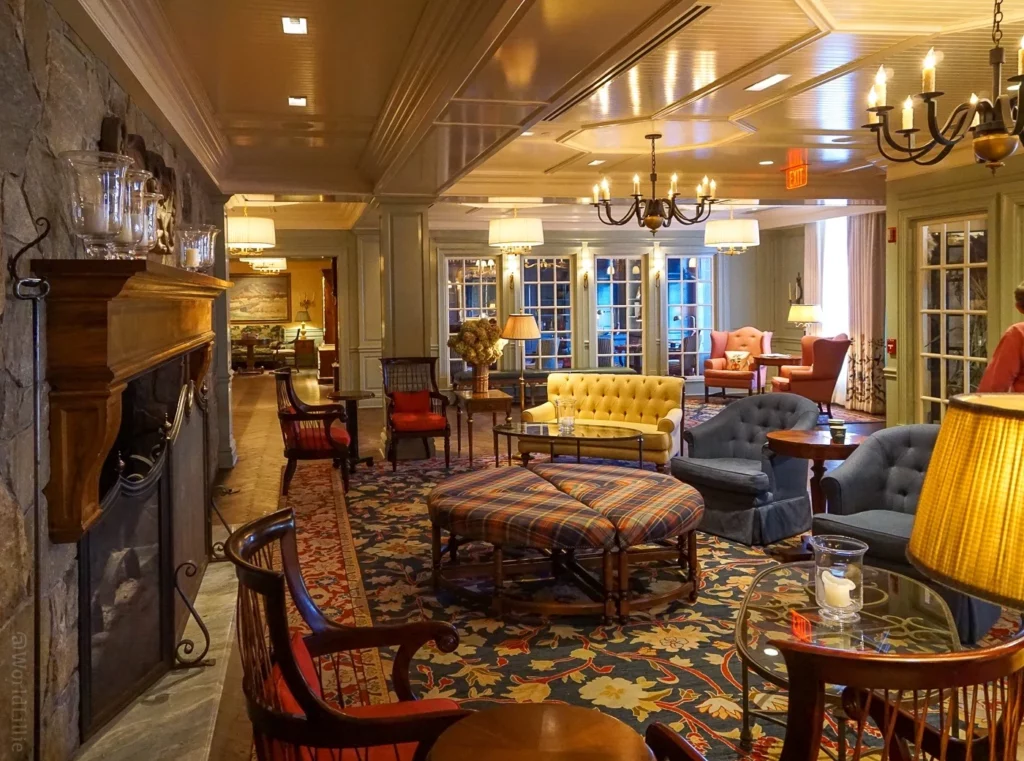 The Woodstock Inn and Resort, one of the most opulent hotels in the country, dates back to the 1700s. It is situated in a picturesque area with numerous traditional Vermont landscapes, vintage churches, and dairy farms.
Visitors are catered to at every turn, from the opulent 10,000-square-foot spa to the delectable food at the on-site fine dining restaurant.
When visitors arrive, they are greeted with cozy vibes and shown to contemporary rooms that are furnished with cherry and mahogany furniture.
There are contemporary conveniences like flat-screen TVs, Keurig coffee makers, and quilts crafted by hand.From substantial soup to flavorful sandwiches, The Red Rooster serves a variety of food to its customers.
Visitors can enjoy the magnificent gardens, tennis courts, and hiking paths outside the property. Golfers will enjoy the 18-hole course, which is one of the oldest in Vermont.
Key Amenities:
Contemporary rooms in historic 1700s inn
Lush gardens, hiking trails and tennis courts
On-site spa, fine dining and golf course
2. The Lodge at Spruce Peak – Stowe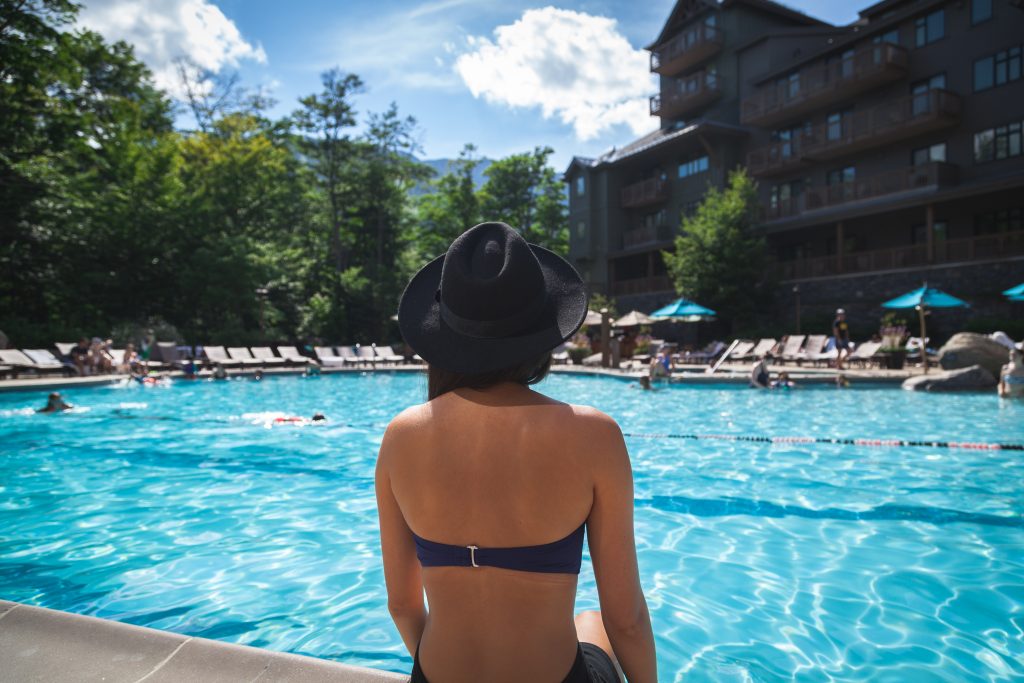 The Lodge at Spruce Peak, conveniently situated on Vermont's renowned Mountain Road, provides visitors with rustic elegance and unforgettable experiences. This resort is stunning all year round and is more than just an opulent mountain retreat.
Here, you're treated to a long list of benefits that include an Alpine Concierge, luxury spa and wellness center, 18-hole golf course, outdoor swimming area with mountain views, and access to a variety of knowledgeable ski, golf, and recreation guides.
This resort offers visitors a real Vermont vacation. The outstanding children's program at Stowe Mountain Lodge, which is great for families, as well as the flat-screen TVs and balconies in each of its 300 roomy suites and rooms, make it a great choice.
Key Amenities:
Ski-in/ski-out hotel with guides available
Luxury spa and wellness center, golf course and pool
Kids summer camps on-site
3. Equinox Golf Resort & Spa – Manchester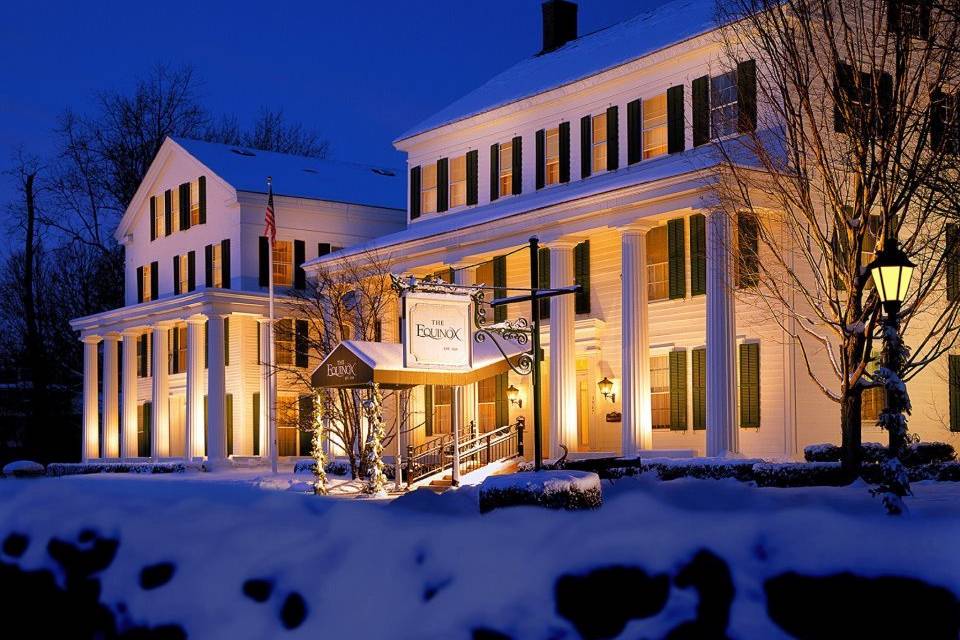 One of the top hotels in the state, Equinox Golf property & Spa is a 200-year-old property with historical value that dates back to 1769.
The resort, which has hosted prominent leaders like Ulysses S. Grant and Teddy Roosevelt, currently has 17 buildings in six different architectural styles to reflect the times.
In the midst of the Green Mountains, guests may enjoy golf, skiing, as well as a variety of luxurious spa services, to make their stay memorable.
Guests can eat at one of the five on-site restaurants, swim in the 75-foot heated pool, or schedule a relaxing spa treatment at the 13,000-square-foot spa before settling into one of the 200 luxury rooms with 400-thread-count linens, terry cloth bathrobes, and down pillows.
Key Amenities:
Historic inn with suites, resort rooms and vacation rentals
Golf course and skiing
Heated pool and on-site spa
4. The Mountain Top Inn & Resort – Chittenden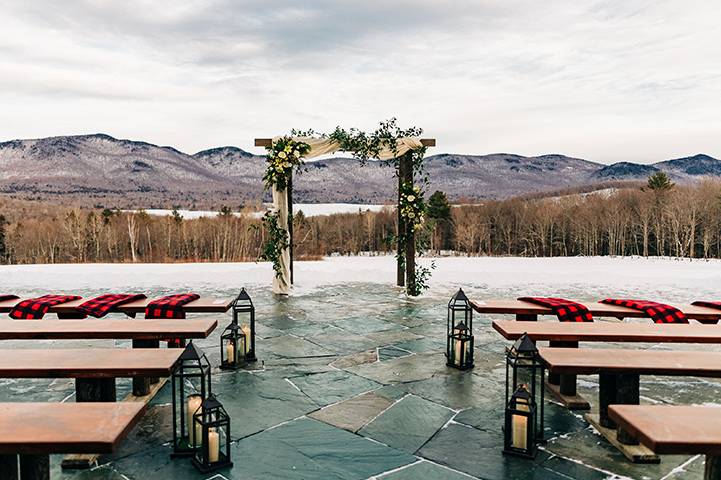 The Mountain Top Inn & Resort provides visitors with 350 private acres of woodland landscapes and a 740-acre glittering lake, as well as stunning vistas of the Green Mountains and Chittenden Reservoir.
The resort's wonderful natural surroundings should be taken advantage of, so visitors are urged to sign up for boat tours, horseback riding, and cross-country skiing.
Three various room types, including rooms and suites, luxurious cabins, and large guest homes, are available to guests at this rustic inn. Warm details like red accents and wood floors are used throughout.
This restaurant offers a range of eating alternatives, such as a mountain view dining room with an outdoor patio and a relaxed bar featuring regionally produced Vermont beers. Also available to guests is the hotel's luxurious spa, which also offers wellness programs, yoga studios, and a heated pool.
Key Amenities:
Rustic lodging in suites, luxury cabins and guest houses on lake
Boat tours, horseback riding and cross-country skiing
On-site spa and wellness center with yoga studios
5. Topnotch Resort – Stowe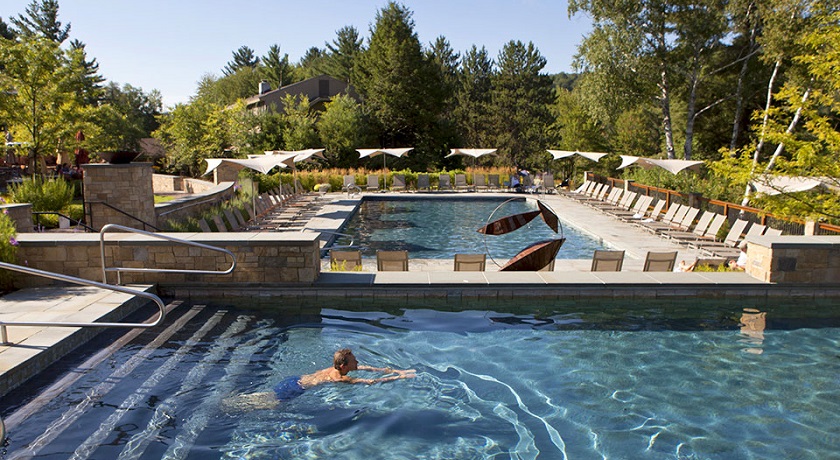 Topnotch Resort in Stowe, a top destination for leisure, has achieved the ideal harmony of country elegance with a minimalist design and a wealth of on-site activities.
In the stylish and modern rooms, which include pleasant décor, flat-screen TVs, Keurig coffeemakers, and mini-fridges, guests are welcomed.
Depending on the season, Topnotch Resort's 120 acres of mountains and woodland are home to horseback riding, nature hikes, tennis, and kids' programs.
Flannel and The Roost are two of the resort's on-site eateries that serve up casual fare with light nibbles and a more formal dining area.
A large exercise center takes care of all your cardio requirements, while the relaxing spa and sugar body treatments refresh your muscles in preparation for another day of exploration.
Key Amenities:
On-site spa, two pools and fitness center
Tennis Academy with lessons
Kids' activities for children and teens
6. Stoweflake Mountain Resort & Spa – Stowe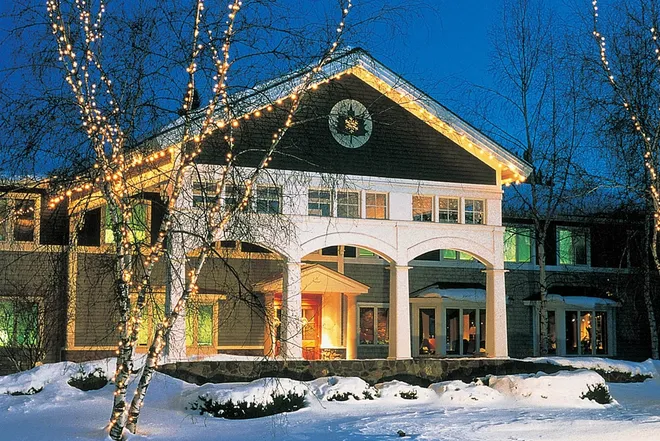 Stoweflake Mountain Resort & Spa, which is situated at the foot of Stowe Mountain, is well-known for its spectacular views of the towering peaks in the region.
Visitors are spoiled with a variety of outdoor activities and on-site services at this luxurious resort with modern conveniences.
While those who would rather stay inside and unwind can stay warm in the cosy fireplace, in-house eateries, and award-winning wine cellar, those who are interested in exploring the ski slopes can benefit from the simple access to the mountains.
Everyone will want to use the hot tubs, steam rooms, and indoor hydrotherapy cascade at the Stoweflake Spa, a premier spa in the globe.
Pet-friendly rooms have rustic design, spa bathrobes, complimentary toiletries, access to the Sports Club, and an outdoor Jacuzzi where guests may unwind.
Key Amenities:
Pet-friendly suites and townhouses with fireplaces
Spa with hot tubs, steam rooms and hydrotherapy waterfall
Access to skiing and Sports Club
6 Best Resorts in Vermont 2023 – Newshub360.net
Related Post

Credit: www.Newshub360.net