The 13 Lake House and Cabin Rentals in Maine 2023: Although its coastline and lighthouses are among the state's most recognizable features, Maine also features towering mountains covered in dense forest and more than 6,000 lakes.
They are spread out around the state and offer a variety of lakeside retreat options. Take advantage of the water by swimming, kayaking, canoeing, or fishing while spending your days leisurely with a view.
From families and adventurers to lone travelers and couples looking for love, these Maine lake house rentals are perfect.
Top 13 Lake House and Cabin Rentals in Maine 2023
1. Lakefront Cabin with Epic Views of Lake and Mt Kineo – Rockwood
This two-bedroom cabin on Moosehead Lake welcomes pets and sleeps up to four people. Due to its fantastic lakefront location, it provides breathtaking water views.
Additionally, you can see Mt. Kineo from the rear terrace. A private dock for boating, swimming, and fishing is only a few steps away.
Additionally, you'll enjoy a sizable yard with a lawn for playing games, a gas barbecue, a pebbly beach for wading or swimming from, and campfires.
There is a cable TV, a comfortable gas fireplace, and a fully functional kitchen inside.
2. Log House Maine Lake Shore – Chesterville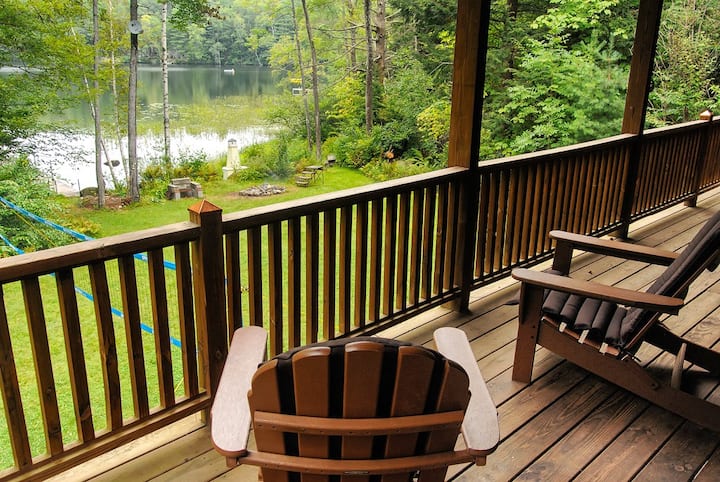 The log cabin home known as "Kiwi Lodge" is located on a small "secret" pond where visitors can engage in activities including boating, swimming, fishing, hiking, and cookouts.
Three bedrooms and 2,000 square feet of living area can accommodate six people. There are also several unique accessories included, such as a hot tub, kayaks, canoes, paddleboats, and swimming rafts.
With washing facilities, a sizable kitchen, and a herb garden where you can choose your own seasonings for meals like rosemary, basil, oregano, mint, and lemon balm, you'll have all the conveniences of home.
3. Sidney's Waterfront Cottage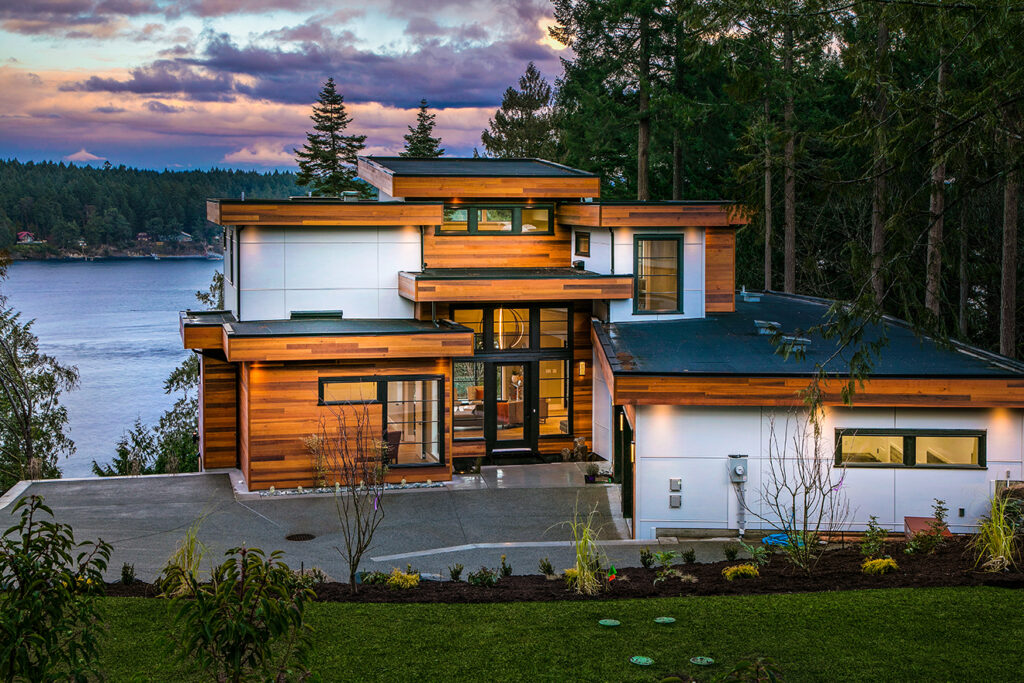 On Messalonskee Lake, this beautiful beachfront home offers the ideal place to unwind while spotting loons, otters, and bald eagles from inside or outside.Additionally, you may anticipate witnessing stunning sunsets and spending your days on the water.
The front deck is adjacent to a beach where kayaks can be launched or used for swimming; there are two single-person and one two-person kayaks, a paddleboard, and floaties available.
Enjoy gathering around the fire pit and unwinding in the outdoor cast iron soaking tub that views out into the lake. A fully equipped kitchen, Wi-Fi, a Smart TV with Netflix and Hulu, as well as a record player and record collection are all included inside.
4. Amazing Sunsets Waterfront Getaway – Pittsfield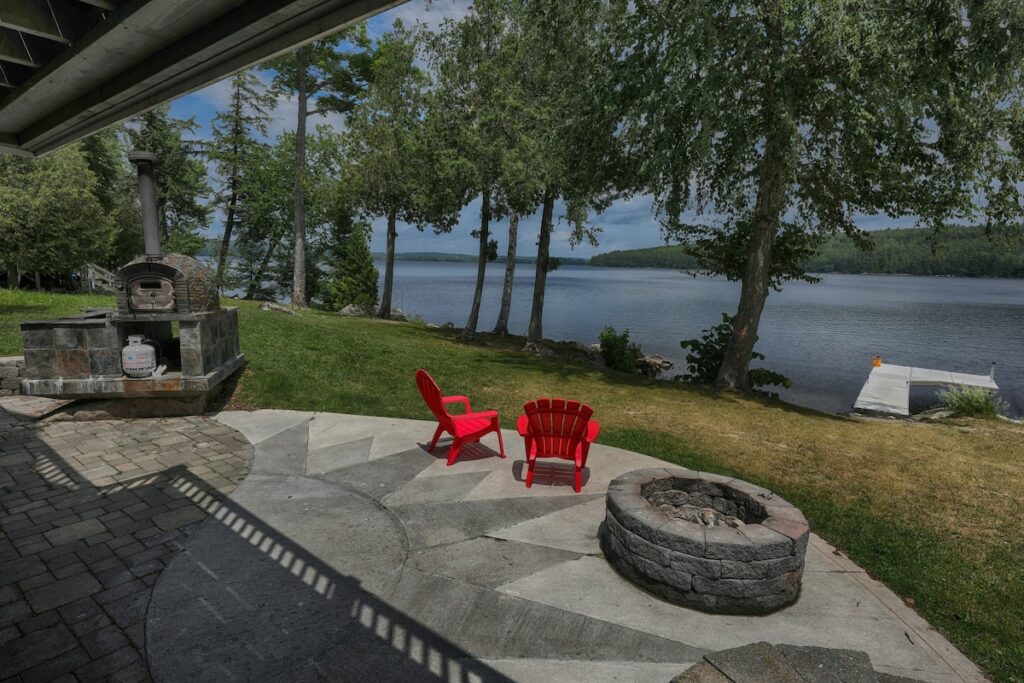 This six-person pet-friendly cottage is situated on more than an acre of land at the edge of Sibley Pond and offers immediate waterfront access.
It has a 56-foot dock in addition to 125 feet of water frontage, and the big windows inside provide the impression that you are inside a houseboat.
Six kayaks, a canoe, and life jackets are available to guests at no additional cost. There is also a large deck equipped for al fresco eating with a view of the water.
There is a fire pit for roasting marshmallows under the stars, a propane gas barbecue for cookouts, and a sizable open yard for outdoor activities.
Other noteworthy amenities include Wi-Fi, a full kitchen, and a 50-inch TV with a DVD/Blu-ray player for watching movies.
5. The Guest Lodge at Santa Claus Lake – Temple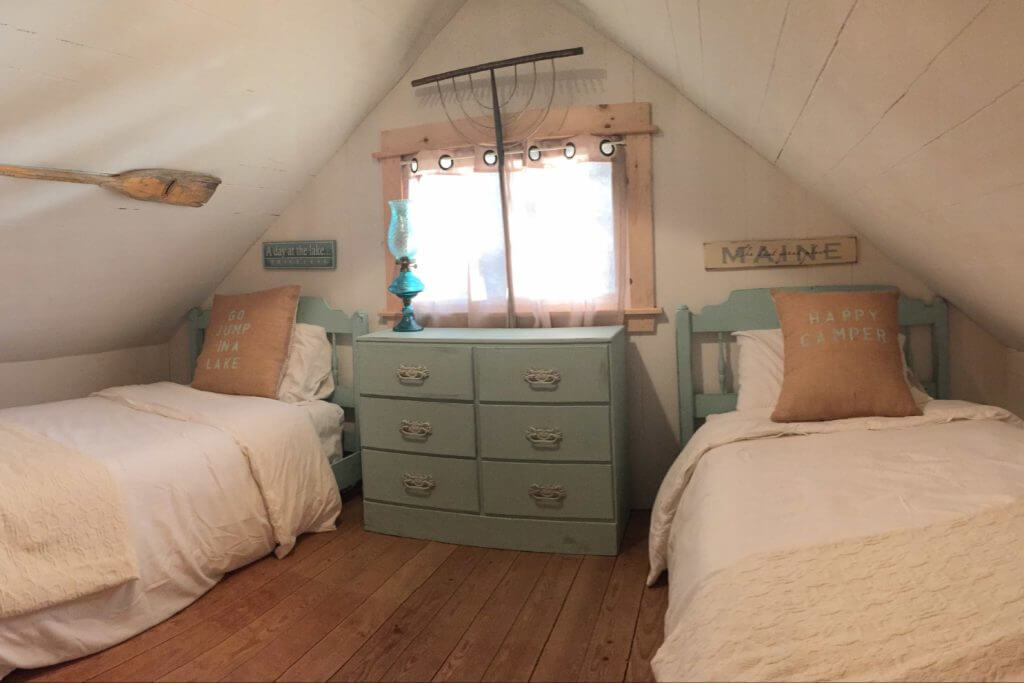 This remote cabin provides the ideal lake getaway, complete with a private swimming dock, a rowboat, canoe, kayaks, and a lot of loons that add to the allure of this tranquil location.
It has a charcoal grill on the back porch, an enclosed outdoor shower with a dressing area, and both.
There is no cable service in this rural location, but your host offers two TVs in the living room and master bedroom, along with a DVD/Blu-Ray player, some movies, and an Apple TV for accessing your own personal accounts like Netflix.
A full kitchen, air conditioning, and Wi-Fi are all included.
6. Spectacular Maine Cobbossee Lakefront Home with Hot Tub – Manchester
With its spectacular lake views and lovely grass that slopes down to the water's edge, this three-bedroom house stands out.
A canoe, two sit-on-top kayaks, a two-person kayak, and two stand-up paddleboards are among the gratis water sports equipment offered.
It also has a private shoreline with a dock. Following a day of fun, you can relax in the six-person hot tub and hang out by the fire pit with the provided firewood.
Each of the downstairs bedrooms has a sliding door leading to the patio with the hot tub that also overlooks the water, and the living room opens to a pleasant sunroom with a view of the lake.
7. Lakeside Lodge with Amazing Water Views, Screened Porch, Dock, & Fire Pit – Greenville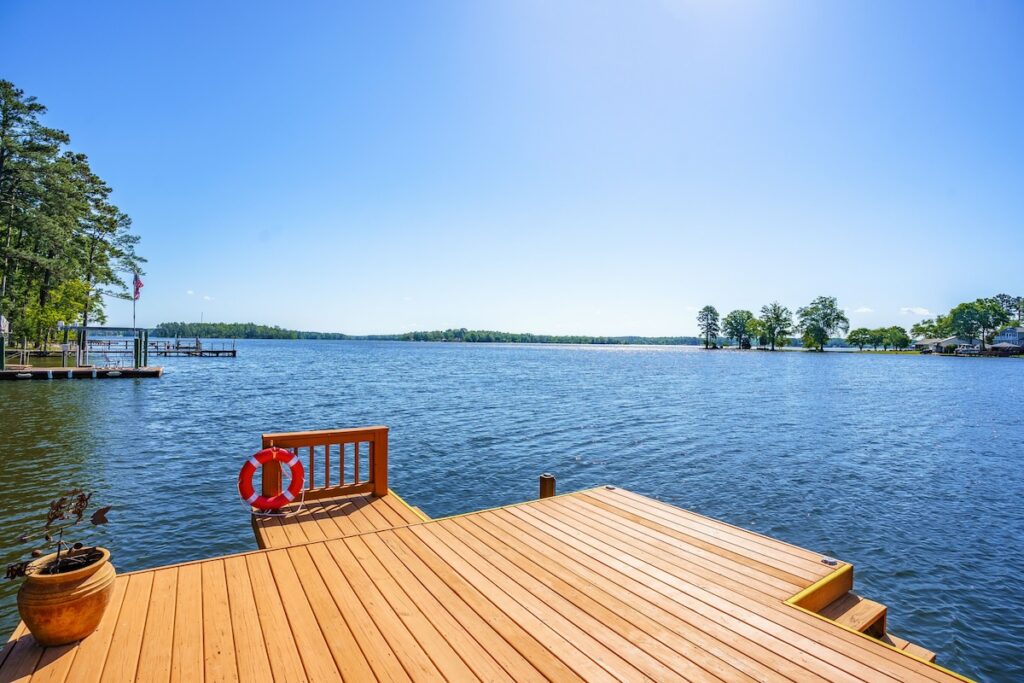 The five-bedroom Lakeside Lodge, which has a view of Moosehead Lake and sleeps up to eight people, is the perfect place for a family or group of friends. It is located just a few steps from a pebbly beach, and a pier is in the garden.
Making coffee in the fully-equipped kitchen and then sipping it on the screened porch while taking in the fresh morning air is one of the nicest ways to start the day here.
There is a fire pit by the shore that is ideal for roasting s'mores at the end of the day.
8. Charming Private Camp on China Lake – China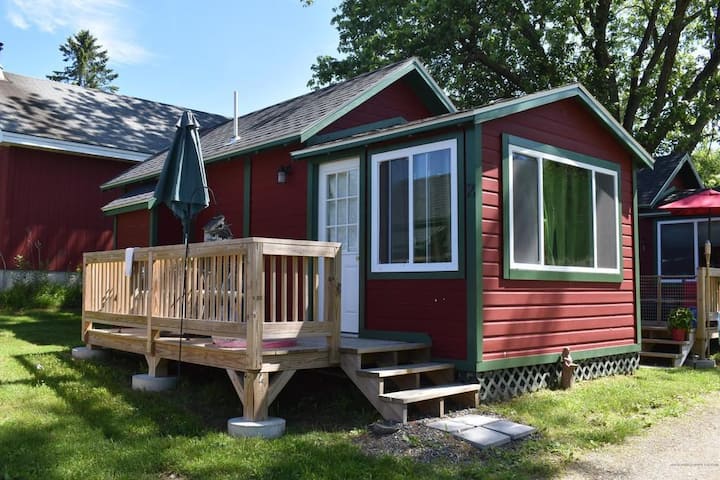 For your trip to the lake, this quiet two-bedroom cottage has all you need. There is lots of seclusion because it is situated on China Lake on a dead-end camp road.
It features a gas grill, a private dock, and plenty of indoor and outdoor living space. It can sleep up to six people. A full kitchen, WiFi, TV, and a washer/dryer are provided.
9. Little Sebago Lake Lake House – Sebago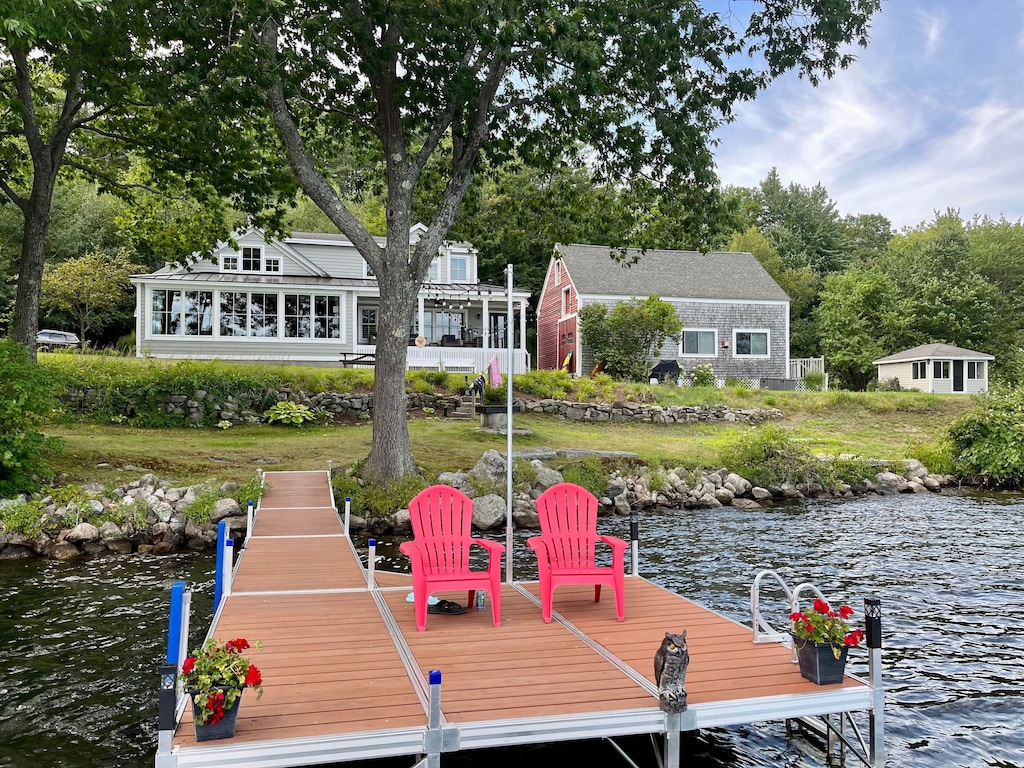 This cabin has three stories and is tucked away in a cove with views of Little Sebago Lake. It has a cedar dock, three kayaks, and a canoe that are all available for free use and is tucked away in the pines.
There is a marina nearby that rents out boats, and the lake has a sandy bottom so swimming in it is also a terrific option. You will have a deck with a view of the water, a big gas grill, and a fire pit.
This is the ideal place to enjoy your contemporary coffee. Horseshoes and board games, a Smart TV with cable channels, and Wi-Fi are just a few of the additional standout amenities.
10. 'Tranquil Waters' Near Acadia National Park – Otis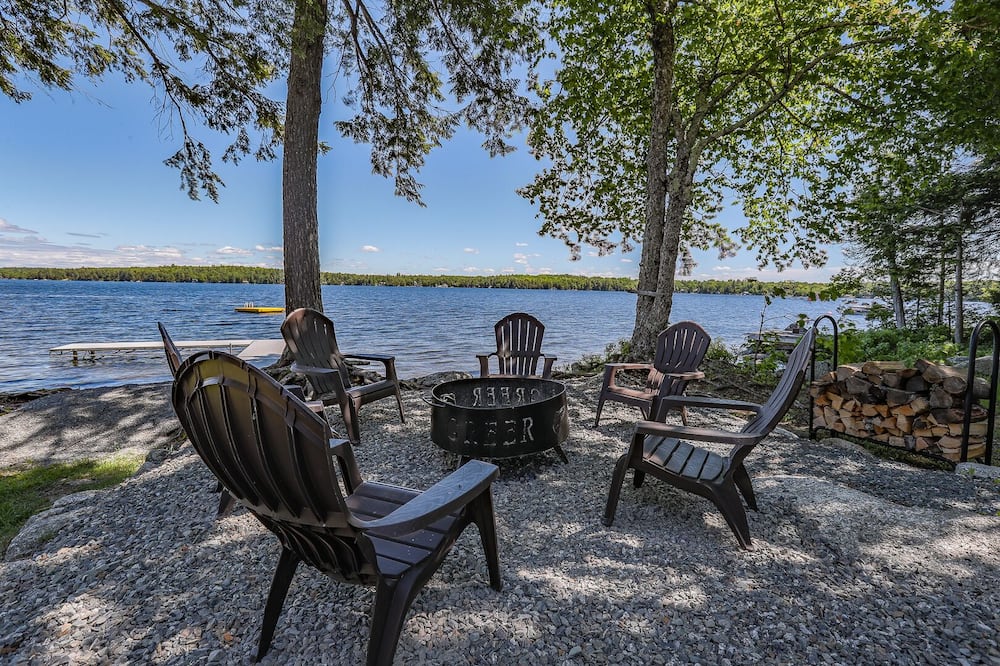 With five bedrooms and accommodation for up to 12, Tranquil Waters is a modern lake property that's perfect for large families or any kind of gathering.
There is plenty of space for indoor and outdoor entertaining. Swimming is fantastic in the spring-fed, crystal-clear pond, and you'll have a fire pit to cuddle up to afterward with firewood provided.
Two kayaks, a paddleboard, and a canoe are included in the rental. The wooden swing set will be enjoyed by the children as well.
It has a contemporary kitchen, a propane barbecue for cookouts, and a dining room with a pond view. It also has Wi-Fi, a washer/dryer, a TV, and is pet-friendly.
11. Spacious, Lakefront Cabin with Covered Porch and Views – Northeast Somerset
This stunning lakefront post and beam cabin is situated along Brassua Lake's shore. It comes with a free canoe and a backyard that descends to a sandy beach for swimming. A stone fireplace, a full kitchen, a washer/dryer, and floor to ceiling windows provide plenty of natural light and views inside. Cocktails at dusk go perfectly on the wraparound deck.
12. Unique Two-Story Log Cabin on Pristine Lake – Dallas Plantation
This ancient two-story log home on Loon Lake accommodates up to six people in two bedrooms, but if you require more accommodation, you may also rent the nearby two-bedroom Tarry-A-While cabin.
A large charcoal grill, a full kitchen with all the necessities, and a large corner fireplace with plenty of wood are all located just off the porch.
You can use the canoe, kayak, and fishing equipment provided by the host; you might even be able to catch your own food from the dock.
13. Quality Mooselookmeguntic Lake Home – Rangeley Plantation
This lake house on Mooselookmeguntic Lake was built as a place to unwind, replenish, and enjoy. It has a lot of huge windows that frame unobstructed views.
Only 75 feet separate you from the water where you may use the kayaks, canoes, or rowboats that are provided. There are also plenty of outdoor living areas where you can just sit and take in the scenery.
Use one of the many grills to prepare your food, and then enjoy it on the furnished deck with built-in chairs and tables. There are seats, beach loungers, and a fire pit that are ideal for relaxing by the fire after viewing a spectacular sunset.
Top 13 Lake House and Cabin Rentals in Maine 2023 – Newshub360.net
Related Post

Credit: www.Newshub360.net