The 13 Best Resorts in Oahu for Families 2023: Oahu is a great destination for families since it has both adult- and kid-friendly activities, as well as resorts that specialize in accommodating families.
You'll find the ideal place to stay here, whether you want to be close to Waikiki Beach's action or prefer a more secluded setting away from the people.
These locations provide everything, from modestly priced accommodations to opulent villas.
13 Best Resorts in Oahu for Families 2023
1. Aulani, A Disney Resort & Spa – Kapolei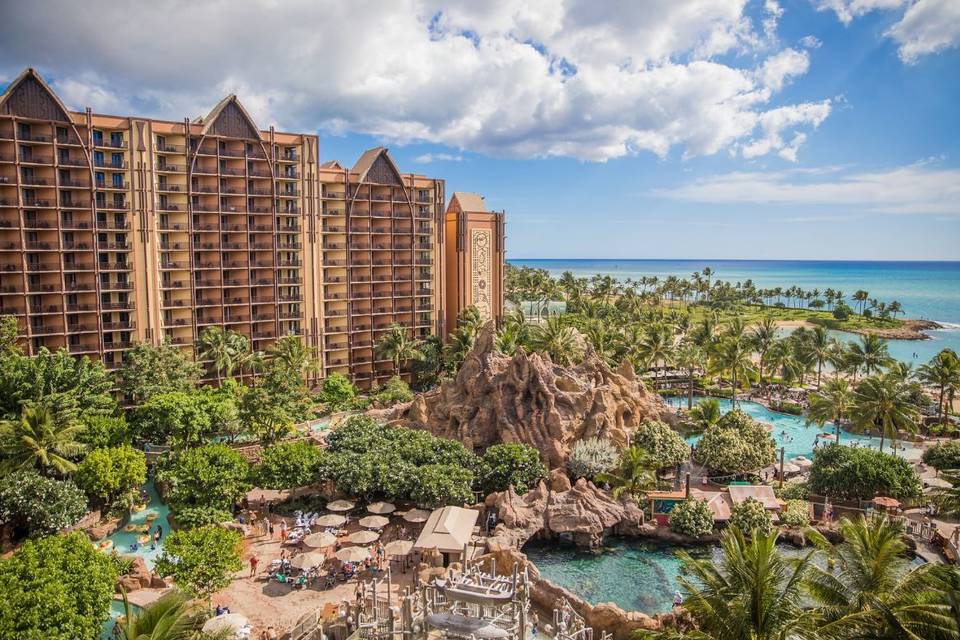 As one of Hawaii's and the world's top family-friendly resorts, Aulani is sure to delight your children. Favorite Disney characters wander the grounds of this resort, ready to take a photo.
Although the beautiful pools, lazy river, water slides, and private snorkeling lagoon are unquestionably highlights, the daily Disney character breakfast buffet is a major success.
A beach with calm water for swimming, kid-friendly dance parties, and daytime activities are further noteworthy characteristics.
You'll enjoy the roomy accommodations, which come standard with kitchenettes but may be upgraded to include complete kitchens and laundry rooms.
Key Amenities:
Daily Disney character experiences
Pools, water slides, a water zone, and a lazy river
Supervised activity center
2. Turtle Bay Resort – Kahuku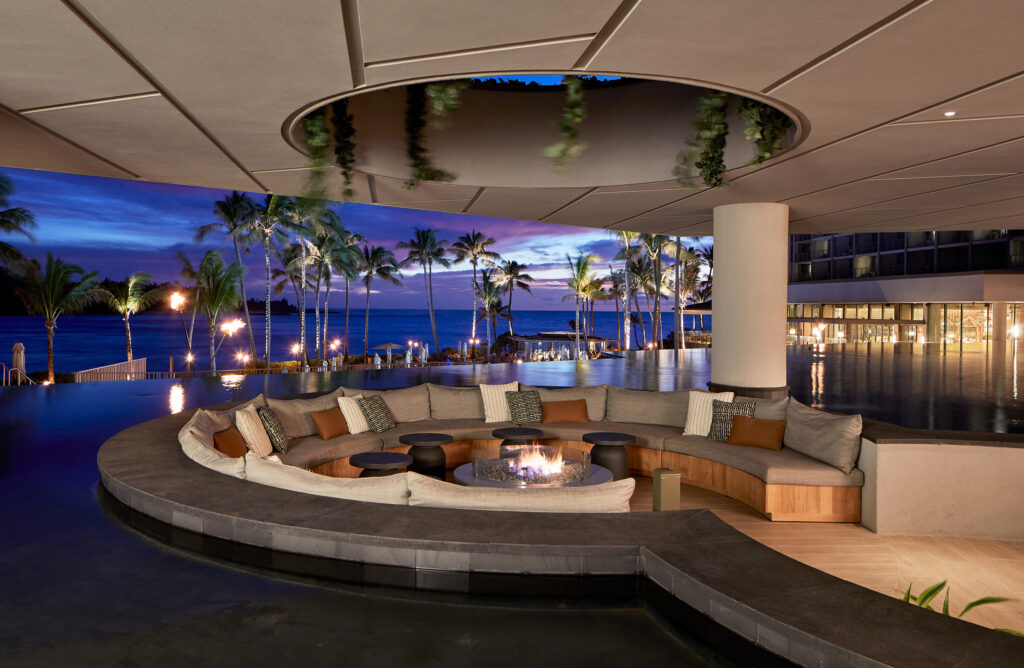 Turtle Bay Resort, the only actual resort on the North Shore, offers a stunning, secluded location away from the major tourist hubs. Additionally, it boasts a comprehensive number of features that appeal to people of all ages.
Numerous activities are available, from surfing instruction to hiking, mountain biking, and horseback riding, in addition to two championship golf courses.
Additionally, there are numerous tiny tide pools and chances to see marine turtles in their native habitat. Children will enjoy feeding fish and turtles and conversing with the parrots every morning.
A pool with a delightful splash slide is available for the little ones, and there is another pool that the whole family can use. Although every hotel room has an ocean view, families will especially love the ocean villas.
Key Amenities:
Stables with pony experiences and horseback rides
12 miles of hiking, running, and biking trails
Daily complimentary resort activities like ukulele lessons, farm tours, night snorkeling, and more
3. Hilton Hawaiian Village Waikiki Beach Resort – Honolulu
The 22 acres of lush gardens and tropical flowers around the oceanfront Hilton Hawaiian hamlet Waikiki Beach Resort provide the impression of being in an actual island hamlet.
The 10,000 square foot Super Pool, Paradise Pool, and waterslides are included. Kids up to the age of 12 can participate in Camp Penguin, which may involve field trips to surrounding destinations, craft activities, movies, and other activities.
The beach is a favorite among older children and adults, and you can hire equipment for water sports there.
The hotel's numerous dining establishments, bars, and cafes provide food made with seasonal and locally produced Hawaiian products, and its more than 3,000 rooms, split across five enormous towers, are incredibly spacious.
4. Honolulu's Sheraton Waikiki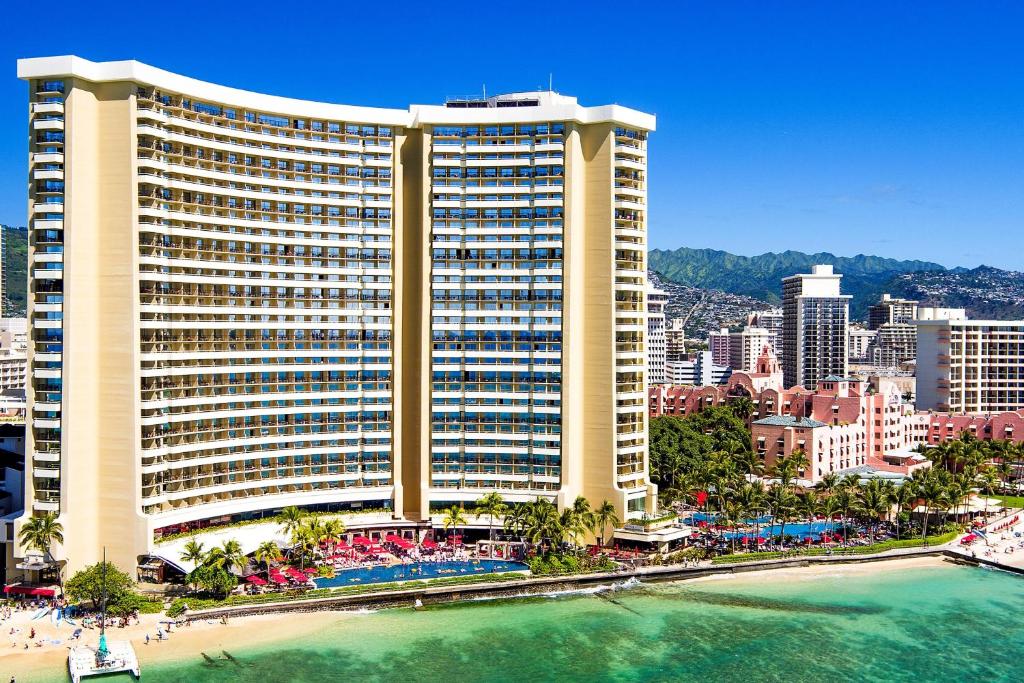 The Sheraton Waikiki is a high-rise hotel with sweeping ocean views and a variety of family-friendly activities that is situated along the nicest section of Waikiki Beach.
It contains two pools for kids, one of which is among the biggest in Waikiki, as well as a small pool for little ones and a freeform Helumoa pool.
Poppins Daycare is offered for children 12 and under for parents who want to participate in activities like surfing lessons or rest at the spa, which provides a variety of luxuriant body treatments.
Ocean, mountain, or ocean views are offered from the beds.
5. Waikiki Shore by Outrigger – Honolulu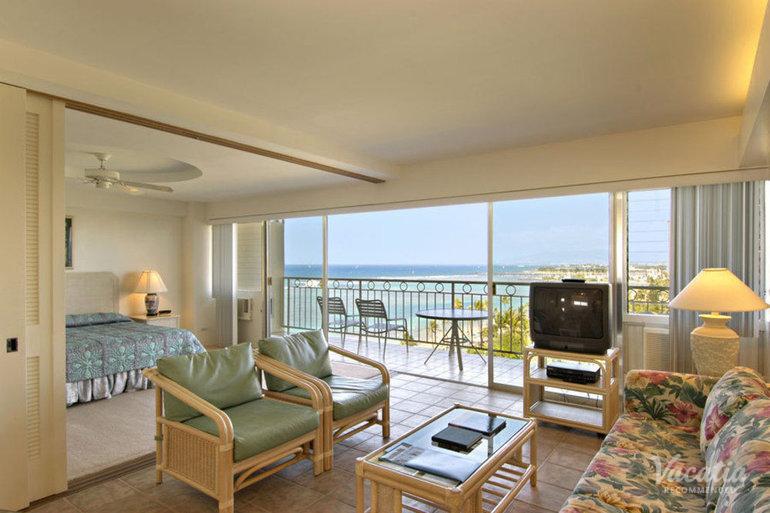 Waikiki Shore by Outrigger, which is tucked along Waikiki Beach, offers accommodations ranging from studios to two-bedroom condominiums, making it a great choice for families.
Flat-screen TVs, kitchens or kitchenettes, floor-to-ceiling windows, and private balconies are among the amenities. Some provide unrivaled ocean vistas and the famous Diamond Head.
The main draws in this area are the sand and the sea, which offer aquatic activities for people of all ages and skill levels, from beginner surf lessons to specialized surf tours.
Additionally popular sports are stand-up paddling and outrigger canoe surfing. Visitors can enjoy Dive-In movie nights and live music while feasting on Hawaiian fare after a day of fun and adventure (excursions can be scheduled at the hotel's independently-owned tour and activity desk).
6. Honolulu's Twin Fin Hotel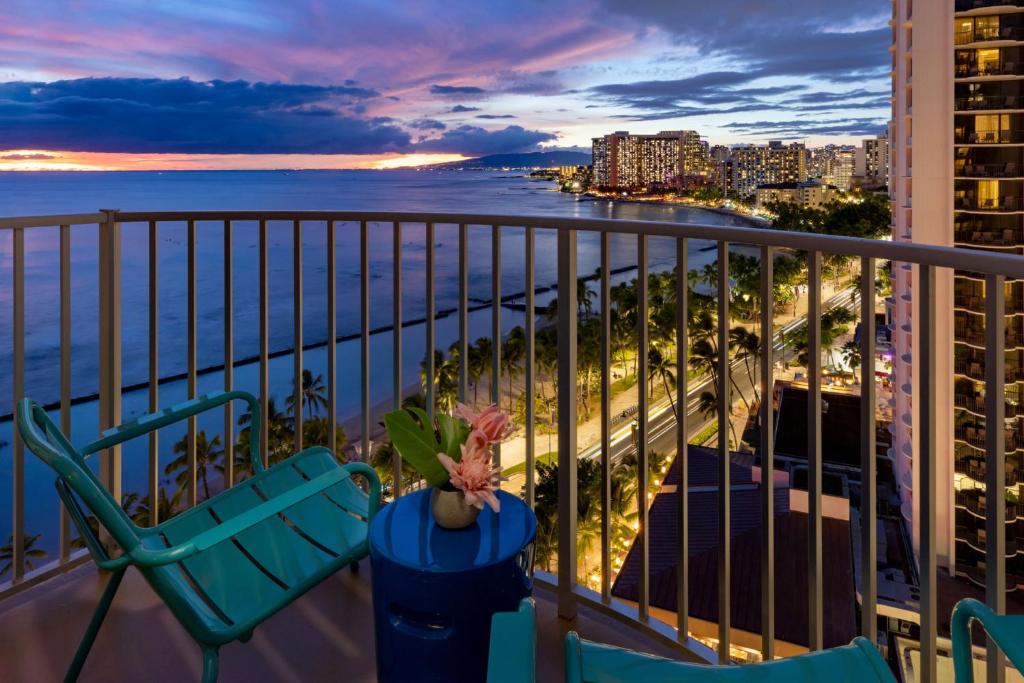 One of the nicest places you could ever want for is at the recently restored Twin Fin Hotel in Honolulu. The majority of the hotel's rooms have stunning ocean views due to its beachfront location.
This hotel is a favorite in Waikiki and a perfect choice for families visiting Hawaii because it is located to the Kuhio district, which is regarded as one of the most family-friendly neighborhoods.
Private balconies, mini-fridges, big flat-screen TVs, and the on-site Tiki's Grill & Bar are all available to guests.
7. Surfjack Hotel & Swim Club – Honolulu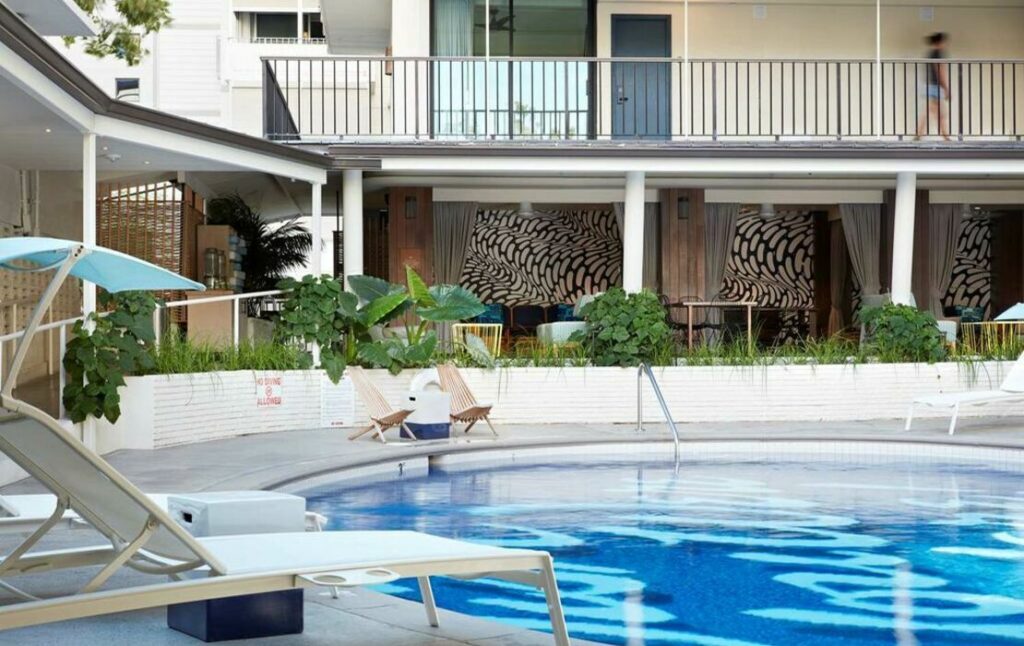 One, two, and three-bedroom suites at The Surfjack, which is more of a boutique resort and great for families that want plenty of space and have different bed arrangements as well as balconies or lanais, are available.
Although it's simple to spend your days at the beach, just a few streets away, if you want to experience Hawaiian culture firsthand, participate in a creative workshop like lei making with a floral master or flower crown making.
Enjoy the outdoor pool with cabanas, the poolside movies, and the free bicycles for two-wheeled exploration. There is a restaurant on-site, and there are many of other restaurants nearby.
8. Marriott's Ko Olina Beach Club – Kapolei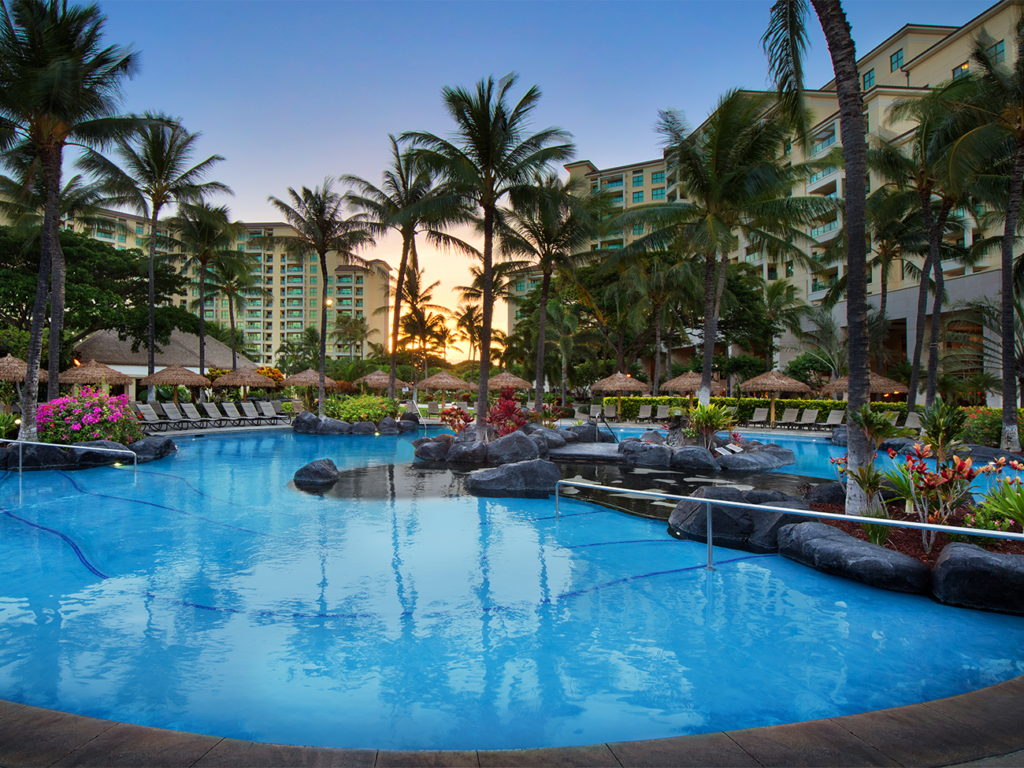 This Marriott resort is situated on a stunning beach in a man-made protected cove on 640 acres of private property and is surrounded by lush vegetation. The beach is surrounded by sun loungers and sunbeds.
The three heated lagoon-style pools with waterfalls, waterslides, and hot tubs are the attraction. For children aged 5 to 12, there is also a sandy zero-entry swimming area and the Keiki Club.
The kid-friendly Mermaid Kariel and Friends activities, such as "swimming with a mermaid" and mermaid storytime, are quite popular.
You can also take part in complimentary activities like Hawaiian Lei Making, the Ko Olina Oceanside Theatre, and Aqua Bingo.
Kitchenettes are available in some rooms, but villas with full kitchens and numerous bedrooms are also available.
9. Moana Surfrider, A Westin Resort & Spa – Honolulu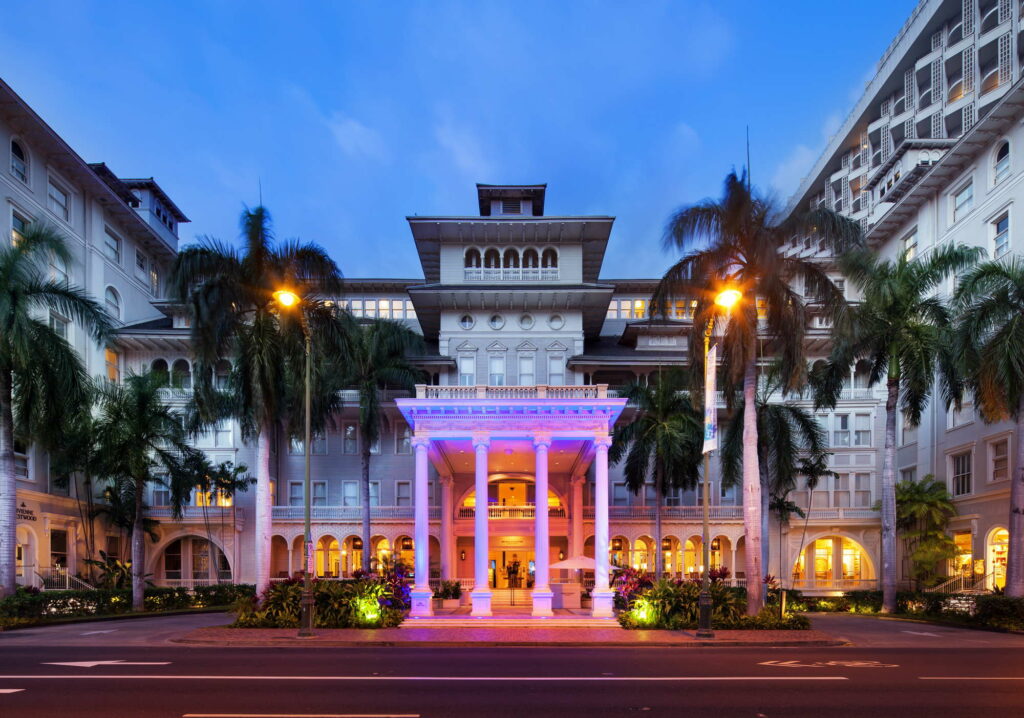 The first hotel in Waikiki was the oceanfront Moana Surfrider, which officially opened its doors in 1901. It features what is frequently referred to as the best length of sand on Waikiki Beach, as well as plenty of comforts and historic charm.
In addition, it offers activities like hula dance, snorkeling, and making leis, as well as a beachside pool that is a favorite gathering place for families.
When parents need a break, they can take advantage of the supervised programs for the kids while getting a traditional Hawaiian massage at the spa.
On-site dining options include a full-service beachfront restaurant providing Hawaiian and continental fare as well as a relaxed beach bar for cocktails and light fare.
There is a long list of amenities included in the rooms, and cribs are provided upon request. Families should choose the Tower Wing rooms because they are the largest.
10. Hyatt Regency Waikiki Beach Resort and Spa – Honolulu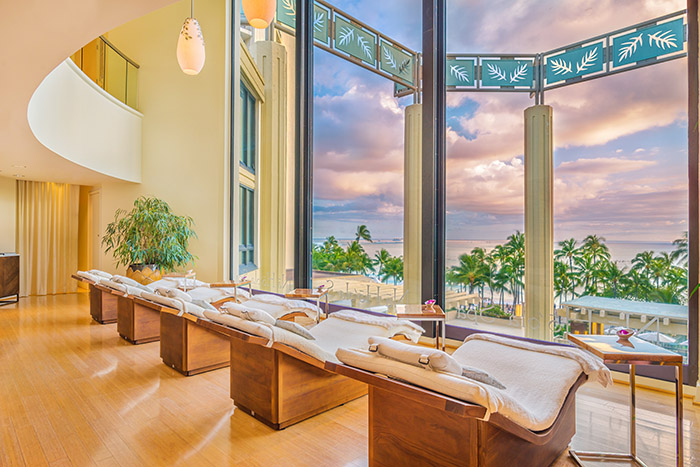 The Hyatt Regency, which is housed in two towers and has views of Waikiki Beach and the ocean, has a lot to offer families, including a kids' club and activities with a Hawaiian theme like lei-making workshops, ukulele lessons, and hula dance.
Additionally, you can create sandcastles, swim in the pool, and unwind in the hot tubs while spending time with your loved ones at the beach. Additionally, surfing lessons are offered.
The hotel has a full-service spa, a breakfast buffet, a steak and seafood restaurant with outdoor seating, and accommodations with lovely views of the city, sea, or mountains.
The King Family Ocean Suite, which has 1,000 square feet of room, a balcony with an ocean view, and many additional perks, is recommended if you can afford it.
11. Four Seasons Resort Oahu at Ko Olina – Kapolei
This upscale resort that welcomes families has four swimming pools and a swimmable beach. It is located in the upscale Ko Olina neighborhood, 30 minutes from Honolulu, and has some of the most luxurious suites on Oahu, each with floor to ceiling windows, private lanais, and breathtaking views of the ocean or mountains.
Families can go snorkeling, play in the sand, relax in the pools, or practice ukulele or hula moves. Even special kid-friendly facials and manicures are available at the spa.
A variety of entertaining and informative activities are offered in the free children's program for children aged 5 to 12, and there are American, seafood, Italian, and buffet options for meals.
12. The Kahala Hotel & Resort – Honolulu
Nearly 60 years old, the Kahala Hotel & Resort is only ten minutes from Waikiki Beach and offers free shuttle service to a number of neighboring activities.
It is a beachfront hotel with two pools, one of which is specifically for children, numerous on-site dining establishments with a wide variety of kid-friendly alternatives, a spa, and a kids' program.
Kitchens and other typical amenities like Wi-Fi are included in every room.
13. The Royal Hawaiian, A Luxury Collection Resort – Honolulu
The beachfront "Pink Palace of the Pacific" provides the ideal balance of adult relaxation and kid-friendly entertainment.
It stands out because of the peaceful surroundings, but guests may also use the Sheraton amenities next door, which include a pool with a waterslide and other reasonably priced, casual restaurants.
The Royal Hawaiian's beach activities kiosk is the best location to go if you want to learn how to surf. Additionally, it offers onsite dining, a pool, and cultural activities.
There are several different room designs that are perfect for families, like the Ali'i Suite, which sleeps up to four people and has a full kitchen and panoramic views.
13 Best Resorts in Oahu for Families 2023 – Newshub360.net
Related Post

Credit: www.Newshub360.net