The 10 Most Gorgeous Lakes to Visit in Georgia 2023: You have numerous possibilities to choose from in the state of Georgia if you are interested in going to a lake for the day, the weekend, or even a weekend getaway.
Dams are responsible for creating the majority of these lakes, and in addition to the typical water sports (swimming, boating, fishing, and kayaking), they provide excellent opportunities for anglers.
They might be quite modest and peaceful, or they can be enormous and expansive. They exist in a variety of sizes.
Even though each of these lakes features breathtaking natural scenery, you can be sure that this list contains at least one lake that is perfectly suited to your vision of the perfect weekend lake trip.
Gorgeous Lakes to Visit in Georgia
1. Lake Oconee – Greensboro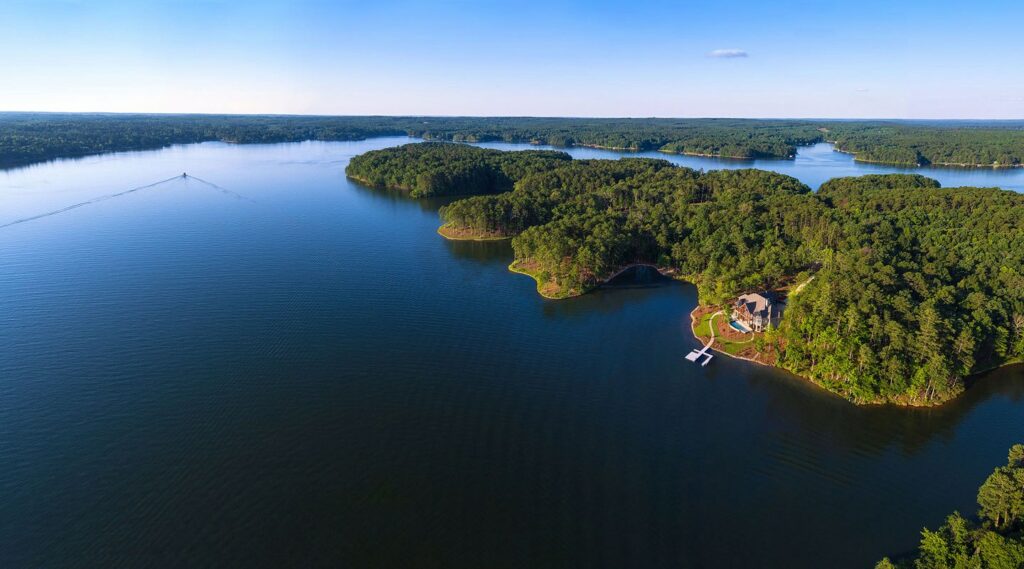 Lake Oconee, which can be reached in less than one hour and forty-five minutes by car from Atlanta, is situated in the middle of Georgia on the Oconee River, close to Greensboro and Eatonton. It is a popular destination for day trips from the Georgia capital city.
Enjoying some of the greatest fishing, boating, wakeboarding, kayaking, and other water sports is possible here, and because it is bordered by the Oconee National Forest, the scenery is very attractive.
Other water activities that can be done here include swimming and diving. Picnic spots, restaurants, souvenir stores, and places to rent boats, fishing equipment, and bicycles may all be found in this region, in addition to the many hotels, resorts, and vacation homes that are available.
There are several golf courses available for aficionados, in addition to a big list of other things to do, which makes it a great destination for a diverse group of vacationers, including families and couples looking for romance.
2. Lake Lanier – Gainesville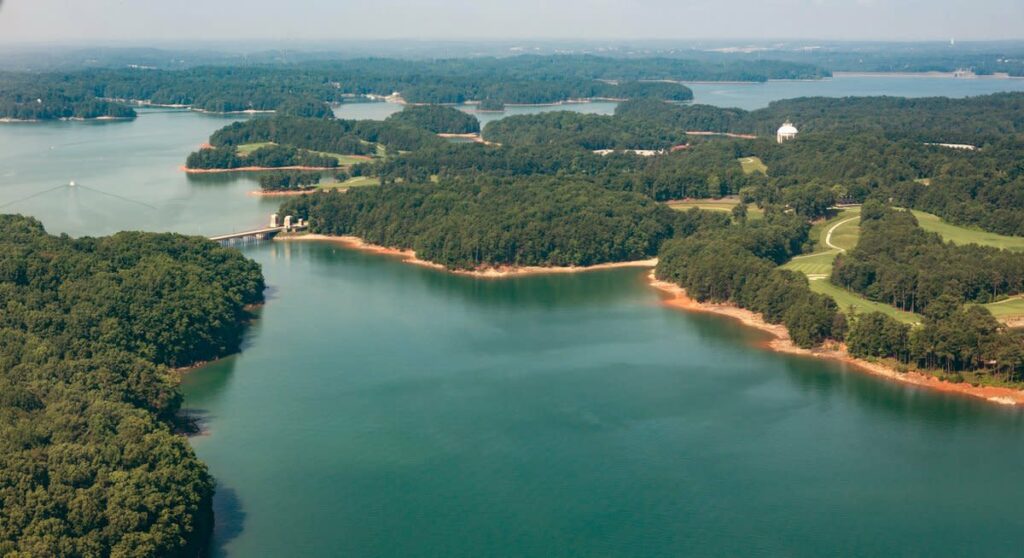 The biggest lake in Georgia stretches across 39,000 acres and features a shoreline that totals 692 miles. Additionally, it consists of up to 50 parks, of which approximately half of them include sandy beaches and swimming areas.
In addition to the stunning blue color of the ocean, the sunsets that occur here at the end of the day are among the most picturesque I've ever seen.
You will never run out of options for fun in or around the lake; in fact, you will discover some fairly unique activities like a trip in a biplane that gives a bird's-eye perspective above it all. You will never run out of opportunities for fun in or around the lake.
If you want to get out on the water and have some fun, you also have the option of renting a canoe, kayak, or boat. Make a reservation at a Lake Lanier cabin if you intend to spend the night there.
3. Tallulah Falls Lake – Tallulah Falls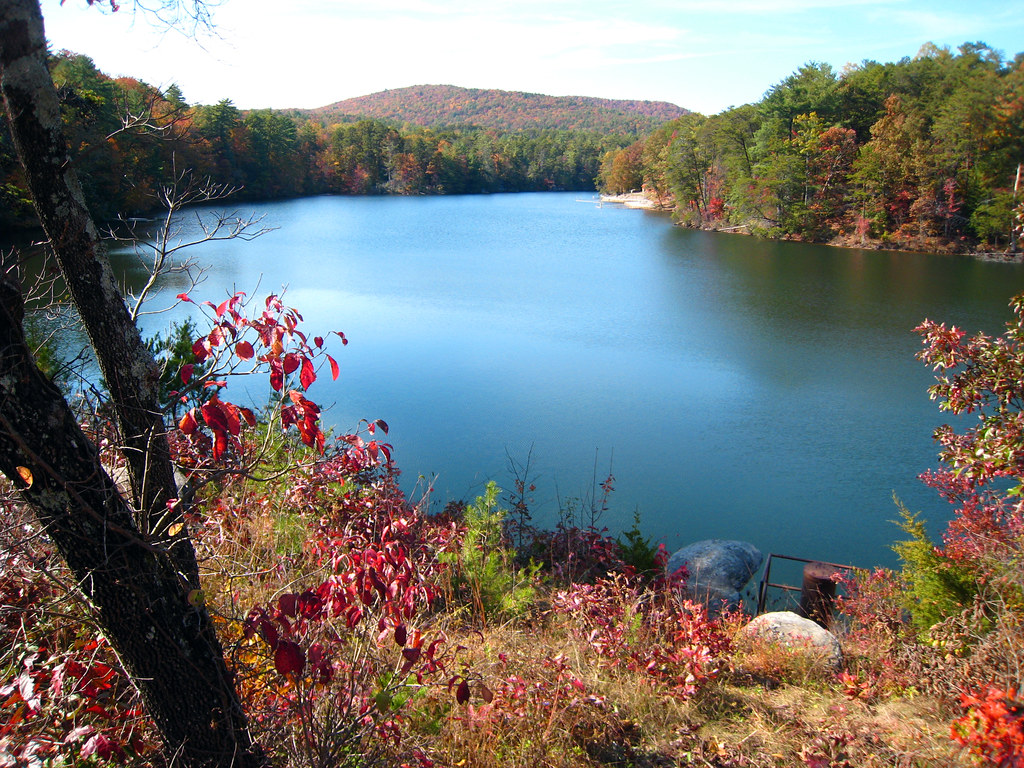 Tallulah Falls Lake may be found within of Tallulah Gorge State Park, which is home to some of the most breathtaking waterfalls in the state.
In addition to that, it is the location of the second deepest gorge in all of North America and is regarded as one of the Seven Natural Wonders of the state.
When you go to the lake, you may get an up-close view of the majestic Bridal Veil Falls by taking a hike down the Gorge Floor Trail. This trail is a gorgeous route.
Rafting across whitewater is also an option during certain times of the year thanks to water releases that occur throughout the year.
The lake, which is 63 acres in size, has a coastline that is 3.6 miles long and provides a variety of recreational opportunities, including swimming, fishing, boating, and picnics.
In close proximity to the Tallulah Falls Town Hall is both a boat launch and a public dock.
4. Blue Ridge Lake – Blue Ridge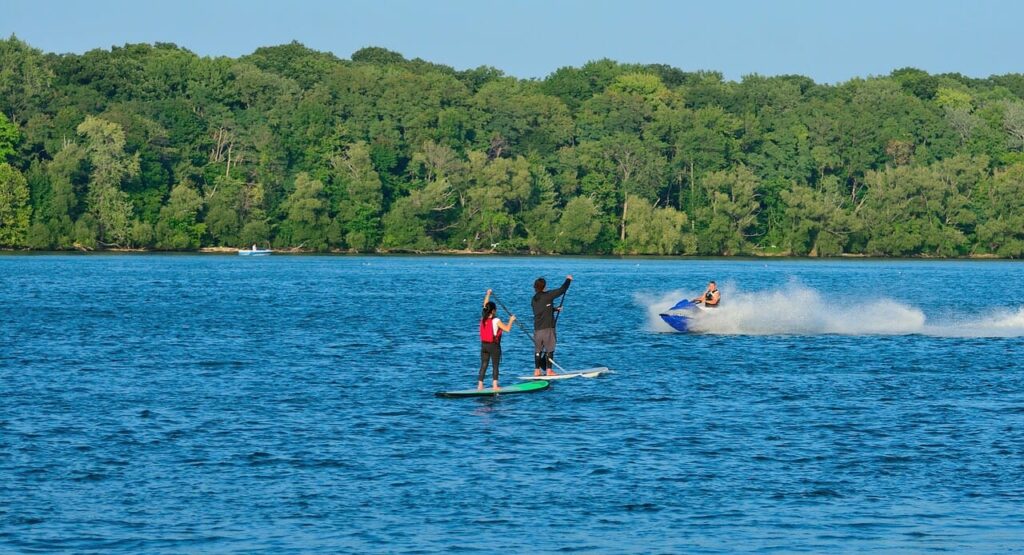 Swimming, fishing, and boating are all enjoyable activities that may be enjoyed at Blue Ridge Lake, which is located in the Chattahoochee National Forest and is encircled on all sides by mountains covered in forest.
It is one of the most scenic in the state, with water that is crystal pure and completely unspoiled, as well as a shoreline that is 65 miles long and only a fifth of which has been developed.
There are locations where you can launch your boat, beaches where you can sunbathe, and facilities where you can hire pontoon boats, kayaks, and paddleboards, among other watercraft.
There is a diverse selection of places to stay, from cabins to tent sites, and you may choose the one that best suits your needs.
5. Lake Allatoona – Cartersville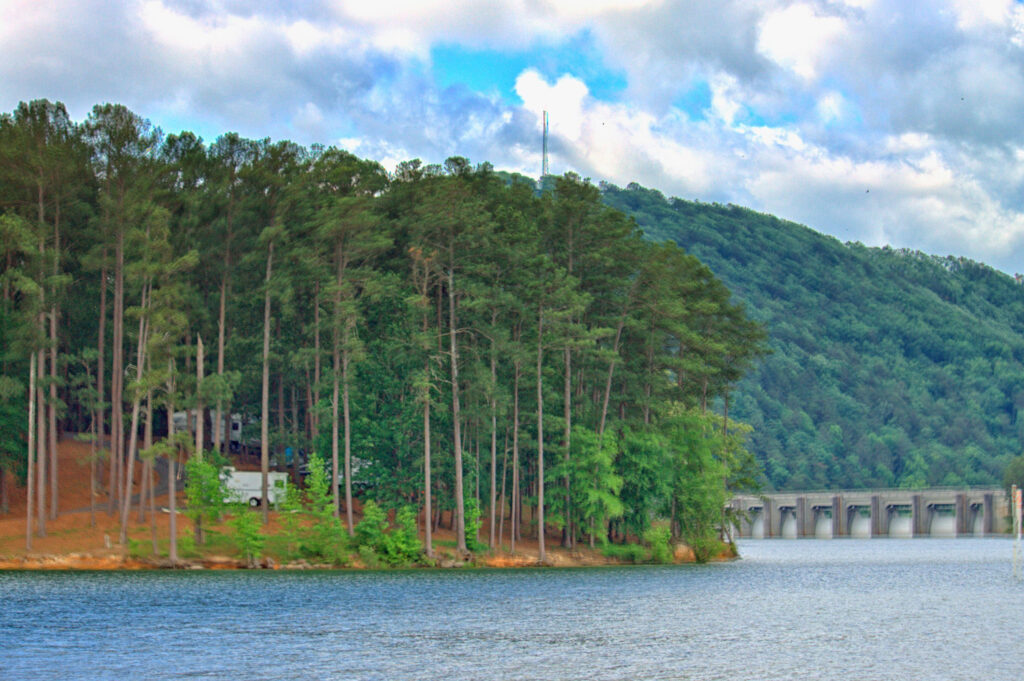 Lake Allatoona, which is considered to be one of the most beautiful and pristine lakes in Georgia, provides the communities that are located nearby with their source of drinking water.
It spans three counties: Bartow, Cobb, and Cherokee, encompasses 12,000 acres, and has 270 miles of shoreline that is frequented for fishing and boating by a large number of people.
Along its borders, there are eight marinas that provide full-service provisions, making it possible to hire a boat; in addition, there are swimming beaches, picnic spots, and playgrounds.
There are a variety of sites available for camping as well, should that be something that interests you.
The majority of the land on the north side of Red Mountain State Lake is off limits to development since it is located on a peninsula that is situated between the two arms of the lake.
6. Lake Seminole – Bainbridge
A reservoir spanning 37,500 acres, Lake Seminole may be found close to Bainbridge on the Georgia side of the state line that separates Georgia and Florida.
It is well known for the excellent fishing chances that are available there due to the abundance of grass and stump beds that provide the perfect environment for striped, largemouth, white, and hybrid bass.
There are also considerable populations of bream, crappie, and catfish in this body of water. Bainbridge, which is located along the lake's northeastern side and has been dubbed the Bass Capital of Georgia due to the extensive facilities and services it provides for fishermen, is named for the town's location.
Even if fishing isn't your thing, you'll still have a good time here because there are multiple boat launches, so just getting out on the lake in a boat may be an entertaining way to spend the day.
In addition, there are 35 parks along the coastline, with Seminole State Park being one of the larger of these parks. These parks offer access to the lake, picnic shelters, camping, and cottages.
7. Lake Rabun – Lakemont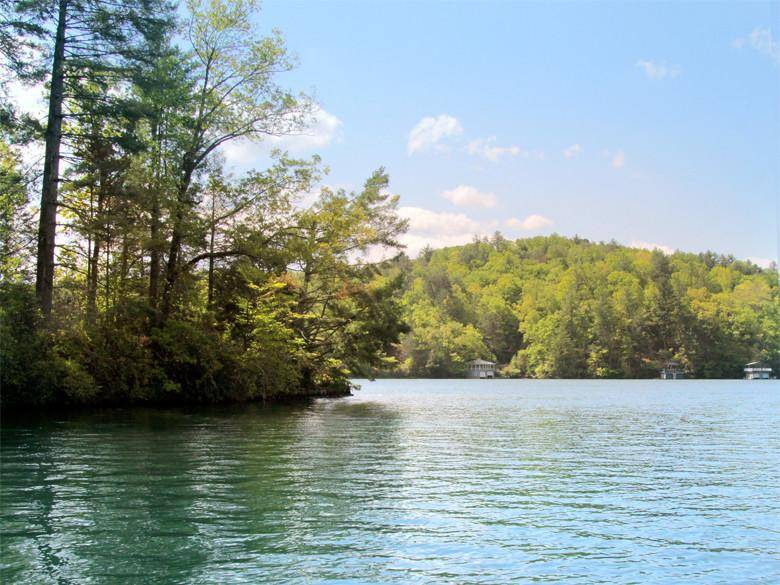 Lake Rabun is known as "The Land of Enchantment," and it is a destination that is located in the Blue Ridge Mountains.
Near the southern end of the lake is a quaint little hamlet called Lakemont, and the lake itself has 25 miles of peaceful beachfront that visitors may enjoy.
The crystal clear waters and breathtaking surroundings that surround you offer a timeless beauty as well as a wide variety of activities, such as the opportunity to swim, boat, and fish for trophy-sized fish.
On land, take advantage of the many beautiful hiking routes that meander through the verdant vegetation, rhododendrons, and mountain laurel, some of which lead to waterfalls.
In addition, there is a marina as well as a number of outfitters that offer guided fly fishing, whitewater rafting, and all-terrain vehicle tours.
If you are in town for the Fourth of July holiday, there will be a parade of wooden boats on the lake, and you are welcome to witness it.
8. Lake Chatuge – Hiawassee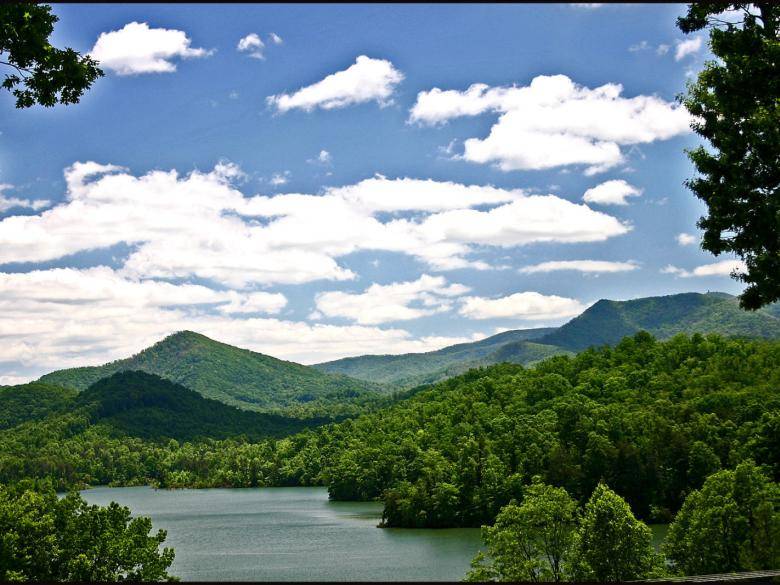 Lake Chatuge was formed in 1942 when the Chatuge Dam was built, and it is located at the foot of the Appalachian Mountains, with North Carolina and Georgia both claiming a portion of the lake as their own.
Swimming, fishing, sailing, and a variety of other water sports may be enjoyed along its more than 100 kilometers of shoreline.
A swimming beach, picnic spots, playgrounds, and public boat ramps are all at your disposal here. In addition to that, hiking and equestrian activities are also popular here.
Hiawassee, which is located along the Appalachian Trail, is the Georgia town that is located the most conveniently adjacent to the lake.
It is the location of the botanical garden known as Hamilton Gardens at Lake Chatuge, which features more than 3,000 different kinds of plants.
When you go to Bell Mountain Park, you may get a view that encompasses the entire lake and the mountains that are in the surrounding area.
If you visit during the fall, you will be able to appreciate the vibrant colors of the changing leaves.
9. Russell Lake – Cornelia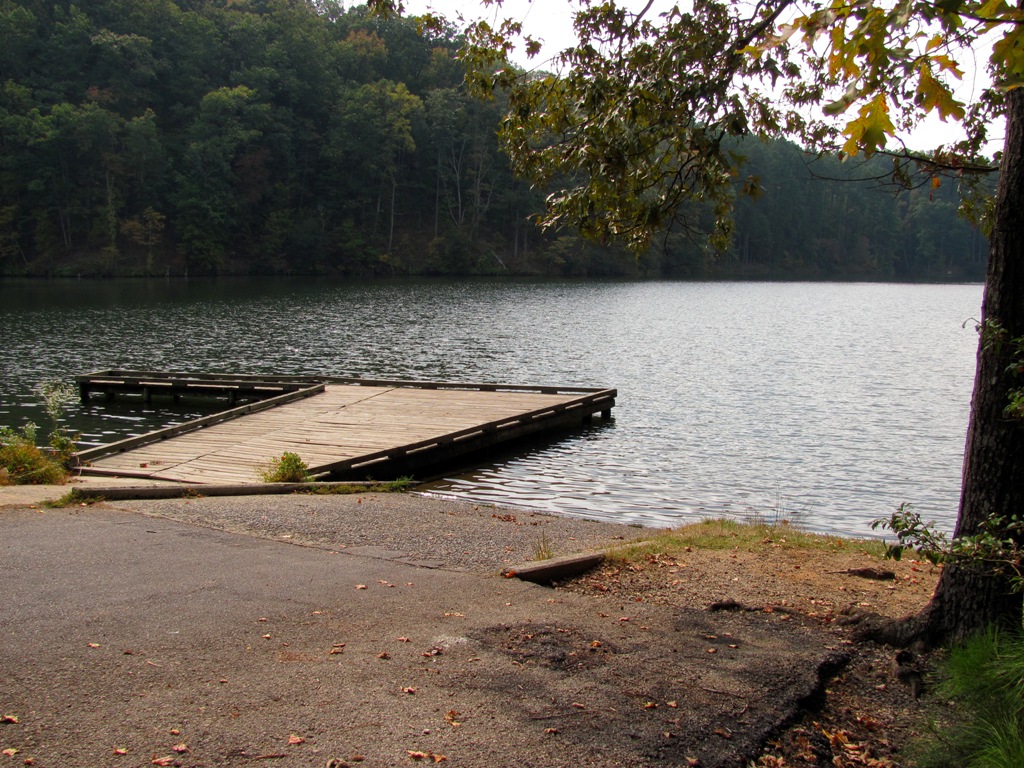 Cornelia is the nearest town to Russell Lake, which is located partially in the state of Georgia and partially in the state of South Carolina.
Trout, bass, catfish, perch, sunfish, and crappie are some of the warm-water and cold-water fish species that do well in this lake. Other species that do well here are perch, sunfish, and crappie.
Even while there are places to launch boats and fish, as well as set up picnics, the vast majority of the shoreline has not been developed in any way.
However, Richard B. Russell State Park is nearby, and it is a wonderful location to rent a cabin or set up a campsite.
10. Lake Blackshear – Cordele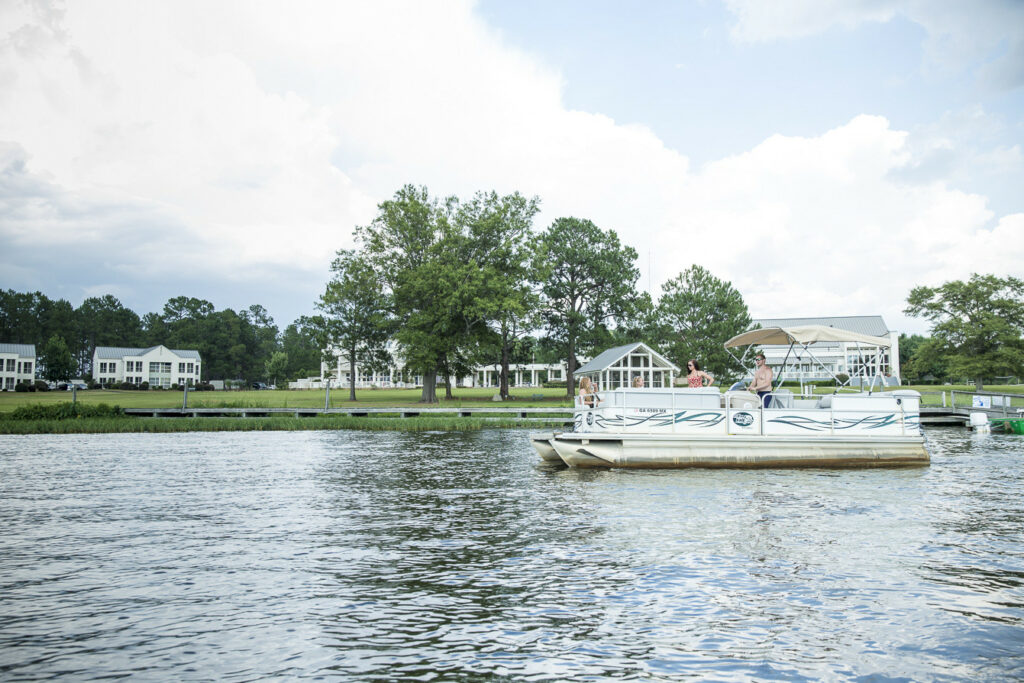 A lake that was formed artificially in 1930 by the Crisp County Power Damn in order to offer low-cost power to the local residents.
Not only did it accomplish that goal, but now, because to its location in the southwestern portion of the state, it also serves as a popular destination for a variety of leisure activities and exotic animals.
It is an excellent location for unwinding and recharging while taking in the breathtaking natural scenery, but there are also numerous opportunities for physical activity here.
The area is home to a variety of water sports that are popular among tourists, including trophy fishing, water skiing, boating, and swimming. As a matter of fact, a national bass fishing competition is conducted here every year.
This location is home to the Georgia Veterans State Park in addition to a resort, golf club, and a number of dining establishments.
The 10 Most Gorgeous Lakes to Visit in Georgia 2023 –Newshub360.net
Related Post
Credit : www.Newshub360.net