The 19 Beautiful Glamping Spots in Florida 2023: Glamping is a growing trend in luxury camping that combines the best aspects of "glamorous" with "camping," allowing you to enjoy the outdoors without forgoing creature comforts.
In this manner, you may easily reach a comfortable bed and a contemporary bathroom while taking in breathtaking views of some of Florida's top state parks, which provide quiet landscapes surrounded by nature.
If you want a little luxury with your outdoor experiences, start at one of these amazing glamping retreats in Florida, which range from grandiose tents to fancy cabins and soft tents.
19 Beautiful Glamping Spots in Florida 2023
1. Kai Hideaway, Camper in the Trees – Vero Beach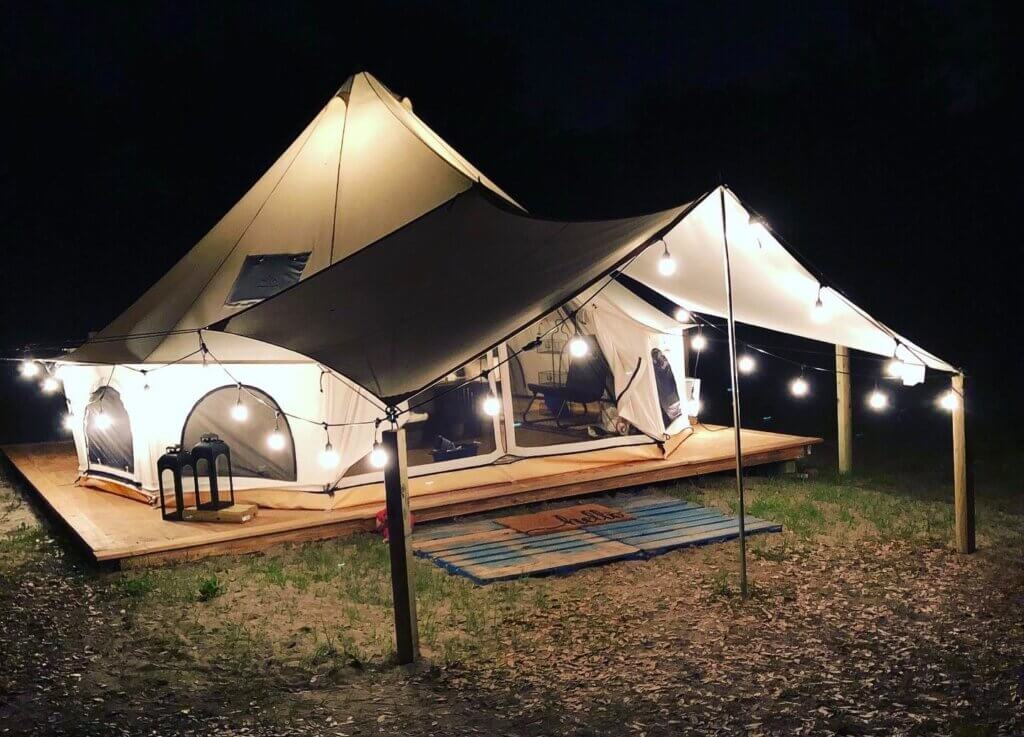 Go to Vero Beach and stay in this camper so you may be surrounded by gorgeous plants and trees. With its green surroundings and own road, it feels like its own little paradise.
Where you may spend your days relaxing in the hammock, cooking outside on the BBQ grill and outdoor kitchen, or simply sitting around the roaring fire, it's simple to unwind and appreciate the natural surroundings.
A comfortable queen-size bed, a fully equipped kitchen, a Smart TV in the living room, and hot baths are all within.
2. Cozy Glamping Retreat @Turkey Berry Patch – Plant City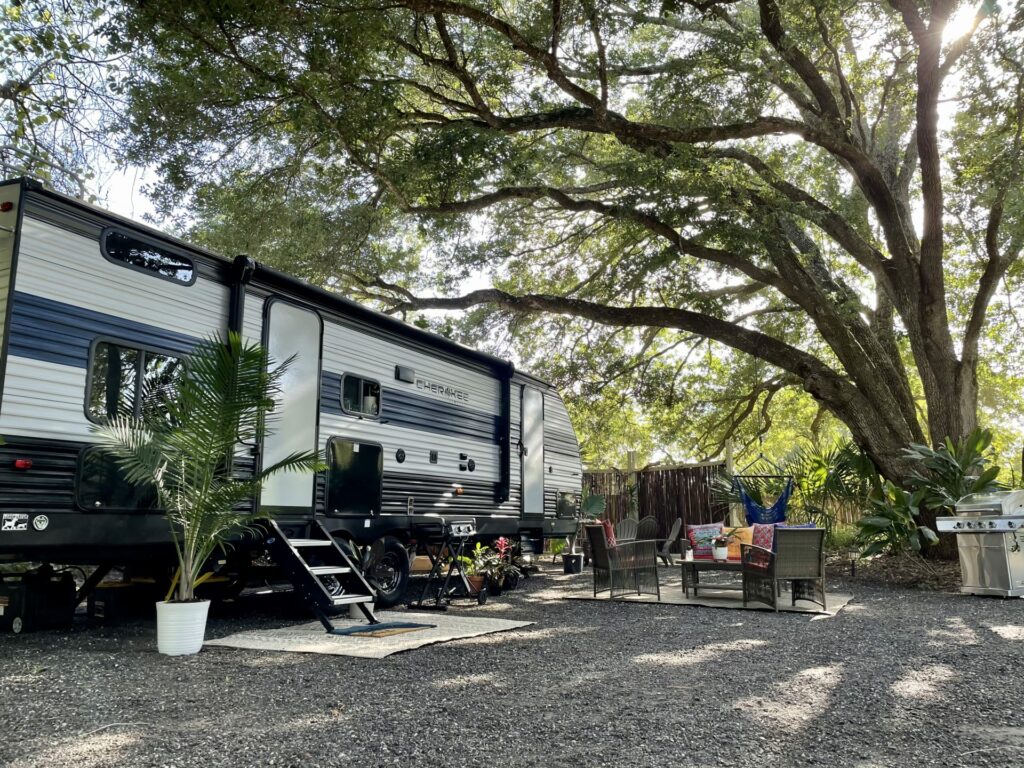 At this glamping-style rural living Airbnb, you'll have nearly two acres to yourself. Unplug and enjoy astronomy at night from the canvas tent, which has a cosy queen-size bed, a portable air conditioner, utilities for making coffee and tea, and entertainment activities.
Although it includes electricity and an outdoor shower, Wi-Fi is not a feature. Instead, spend some time relaxing by the fire pit, cooking outside, or introducing yourself to the neighbourhood chickens and ducks.
Additionally, it takes less than 30 minutes to go to downtown Tampa, and it takes an hour to get to Clearwater Beach's pristine sands.
3. Water View Cabin on Grandaddy Oak Covered Farm, Ocala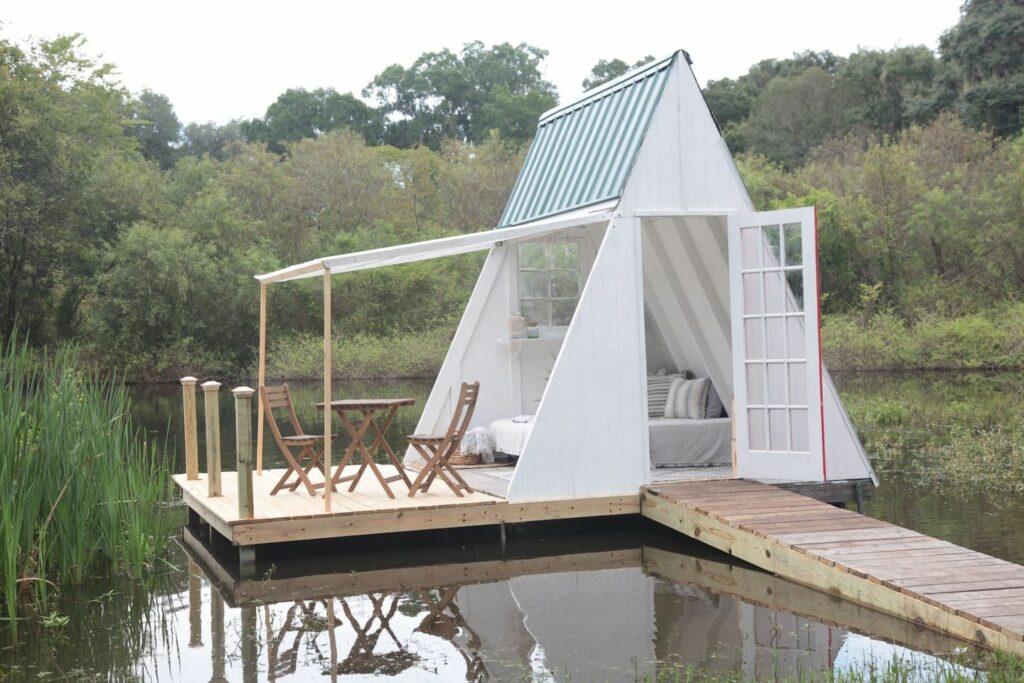 This unique whitewashed A-frame cabin is situated on an 8-acre farm covered magnificent grandaddy oaks.
If you wish to sleep with the wall open, there is even a bug net curtain right near the water.
The on-site kangaroo, miniature horses, ducklings, and zebra will excite animal enthusiasts, while a fire pit and seats will let you relax and take in the view.
4. Treehouse in the Cloud, Near Theme Parks – Saint Cloud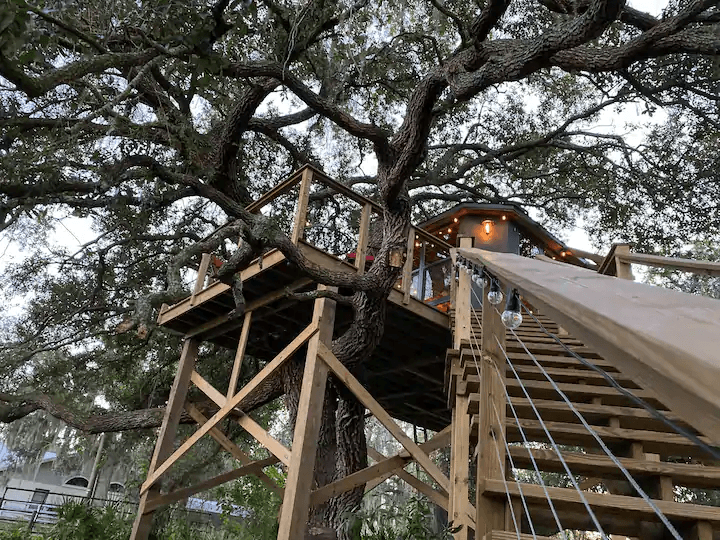 Couples who enjoy the outdoors will love this quiet retreat hidden beneath a thick canopy of woods. The treehouse has a full wrap-around deck and big windows for looking out, so you'll have lots of opportunities to take in the surroundings.
With access by stairs or a permanent ladder, it's a cosy area with a table and chairs, a bathroom and a kitchenette.
Remember to say hello to the four horses who live on the farm; the host has even left carrots in the refrigerator for you to give them. Additionally, there is a fire pit in the communal area.
5. Westgate River Ranch Resort, Lake Wales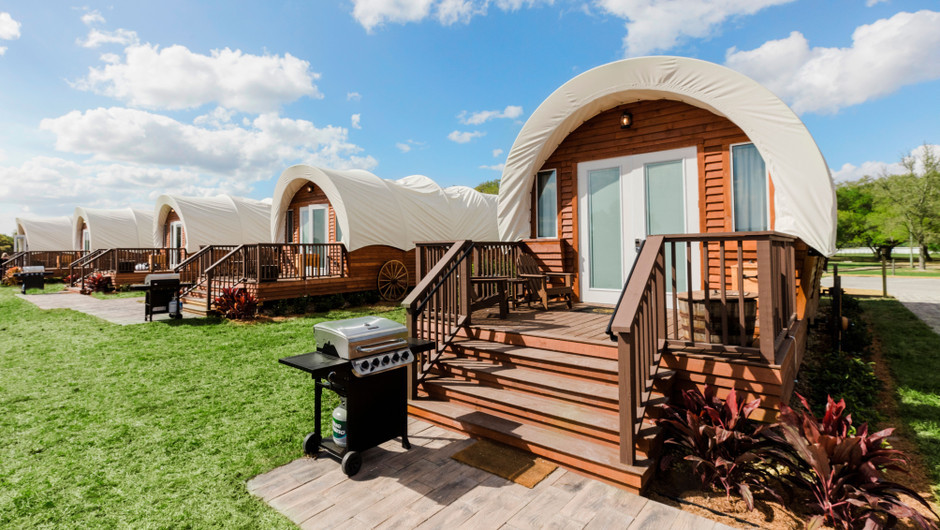 The Westgate River Ranch Resort, a 1,700-acre natural location overlooking Florida's picturesque Kissimmee River, offers the height of glamping in Florida.
Here, you may indulge in contemporary comforts while taking part in a real cowboy adventure. Also available to you will be a Glamping Concierge.
There are on-site amenities like a fine dining steakhouse, as well as fully furnished, climate-controlled camping sites with private bathrooms.
6. Priscilla's Hideaway – St. Augustine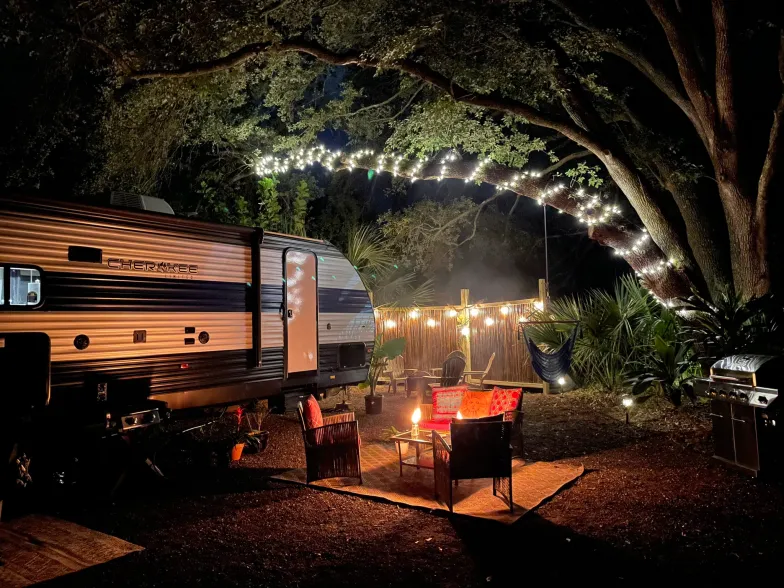 The ideal glamping trip is available at this St. Augustine Airbnb resort. This camper is described as "luxury camping with retro style" and includes all the creature comforts you might need for a vacation centred on the outdoors.
It's tucked away in a gorgeous Florida pine forest and only a mile from the landmarks of old St. Augustine.
There is a cosy queen-size bed, a flat-screen TV, Wi-Fi, a fully functional kitchen, and best of all, cool air conditioning for the summer.
When you step outside, you'll find a charcoal grill, a fire pit, a seating area, and a picnic bench.
7. Glamping 30a Topsail Preserve State Park Site – Santa Rosa Beach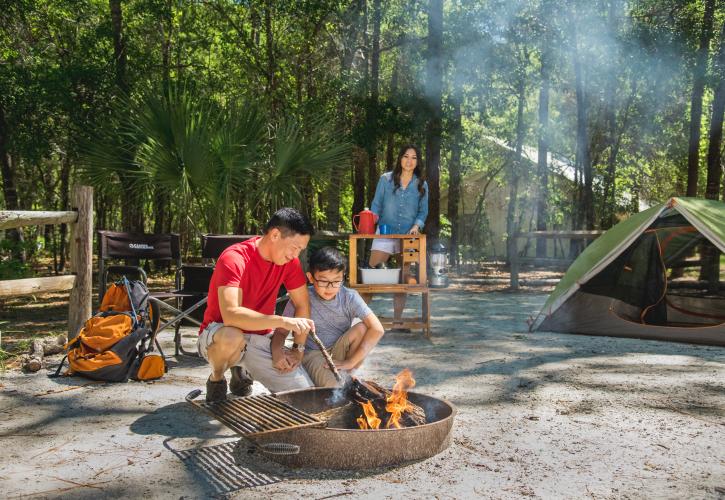 This Airbnb tent has one of the most picturesque settings in Florida as it is located in one of the lovely campgrounds at Topsail Preserve State Park.
The 16-foot bell tent, which is on the well-known 30A, has a queen-size mattress, a heating/cooling unit, outdoor lighting, tables, and chairs.
Two outside chairs and a fire ring are available for enjoying a calm night outside, comfortably sleeping two people.
Also nearby are quiet white sand beaches with 25-foot-tall dunes, uncommon coastal dune lakes for fishing, and a variety of wetlands for hiking and bird watching.
8. Meet Miss Ruby Lake Glamping, Lutz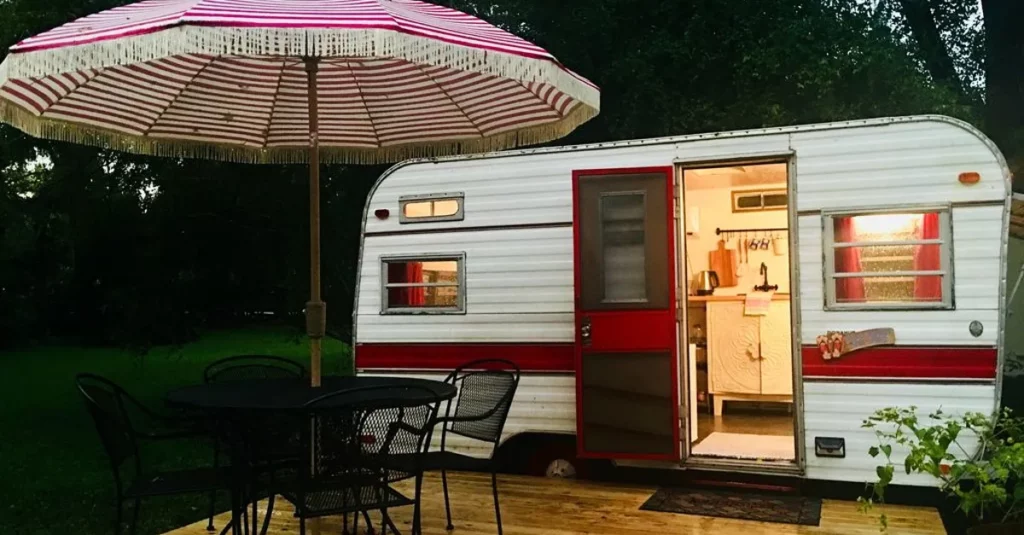 Meet Miss Ruby, a 1965 antique camper that has been refurbished and is equipped with modern conveniences like air conditioning and heating.
The TV has Roku, and the queen-size bed has cotton sheets and a Tempurpedic topper. A mini-fridge, hot plate, tea kettle, and French press are additional luxuries.
Living on a lake means you can go kayaking throughout the day, and there are lots of spots to relax with a hammock, grill, fire pit, and lounge chairs.
9. Waterfront Tiny Home, Orlando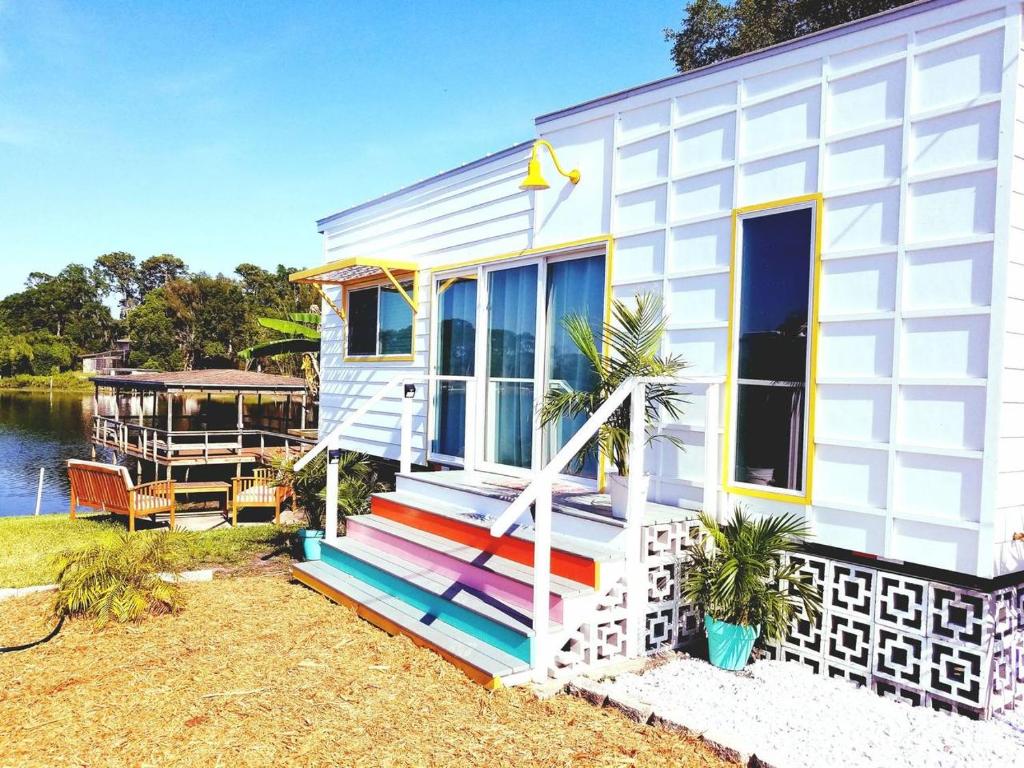 The "The View" property in Orlando, which is part of one of the biggest tiny-home communities in the country, provides stunning lake views from its big picture windows.
Along with a comfortable living room area and a sizable private deck, the property also offers lakeside activities like kayaking, fishing, and paddleboarding.
Try spotting some of the local wildlife or an otter family while enjoying your morning coffee on the deck.
10. Glamping Dome, Sleeps 4, Near Disney – Davenport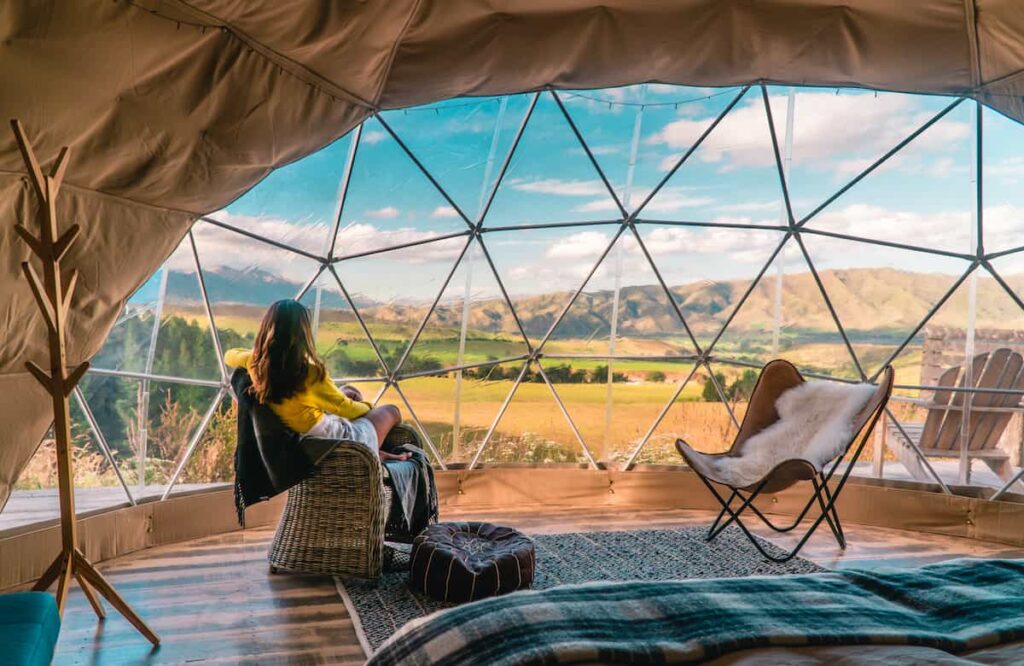 For those seeking something genuinely distinctive, consider renting this dome mansion. On the 10-acre property, there are several areas to unwind, including a hammock for two, a hot tub, and a private outdoor shower, giving you complete seclusion.
Also included are a tonne of contemporary conveniences like quick Wi-Fi, a TV with Netflix and Hulu, and cool air conditioning and heating.
With a private fire pit, grill, and a tonne of entertaining outdoor and indoor games, it's the ideal location for glamping in Florida where you can be completely surrounded by nature.
11. Suwannee River Cabin Sanctuary – Old Town
A charming getaway for nature lovers, this compact one-bedroom cottage on VRBO is tastefully furnished with special touches. The charming Suwannee River, where you may go swimming, kayaking, fishing, and hiking close, can be seen from the cedar cabin tiny house. There is a barbecue and fire pits outside, and inside there is a comfortable sitting area where you may unwind.
12. The Ritz, Lakefront Tiny House – Orland
This tiny house is ideal for people who want to experience the outdoors while sleeping indoors. It has contemporary comforts like a full-size fridge and high ceilings, and you can go kayaking, paddleboarding, and fishing just outside the front door.
Even your animal friend is welcome with a nominal deposit.
13. Orlando Venice, A Lakefront Tiny House – Orlando
Get back to nature in this little house in Orlando that opens from a summer kitchen into a covered patio and has a roll-up garage door with a double-paned window.
The tranquil Lake Fairview views alone are worth the visit, but you'll also find enjoyable extras like an electric fireplace and luxurious furnishings.
Utilise the paddleboat, paddle board, and kayak to take in a sunrise over the water and enjoy Florida lake life.
14. Florida Oldscool Campers, St. Pete/Clearwater
Rent, drive, and spend the night in a vintage bus or campervan. Nothing is cooler than arriving at your camping location with a view in an old VW bus.
Nearby Fort DeSoto Park has a number of waterfront locations with stunning views.Website visit
15. Cabin on Sante Fe Inlet – Fort White
Fans of glamping will love this Vrbo cabin in Fort White, which has a lovely covered porch from which to admire the magnificent views of the moss-covered cypress and oak trees.
On a Santa Fe inlet, where turkey and deer frequently graze, is where the one-bedroom cabin is situated.
Escape the hustle and bustle of the city and soak in the vibrant sunsets from your deck or make use of the grill and fire pit.
A highlight is paddleboarding, tubing, and snorkelling in the nearby Ichetucknee State Park.
16. Suwannee River Sanctuary, Old Town
The 360-degree open-air building in the Suwannee River Sanctuary, which has three single beds, a rocking rocker, a charcoal grill and a mini-fridge, provides you a glamping experience unlike any other.
Enjoy the breathtaking views of the surrounding landscape as you wake up, then go swimming or fishing on the floating dock, or check out one of the many natural springs near the Suwannee River.
17. Headwaters Eco Retreat, Jupiter
Three repurposed shipping containers were used to build this four-bedroom eco-retreat, which is situated on the picturesque Loxahatchee River.
This retreat offers a once-in-a-lifetime experience with access to bikes, kayaks, canoes, an organic garden, and a fire pit.Website visit
18. Fancy Camps Luxury Camping, Florida Gulf Coast State Parks
These lovely bell tent rentals are pet-friendly, offer a fire pit, electricity, and several locations around Florida Gulf Coast state parks. They also have other amenities.
You'll be sure to be comfortable inside your tent, which is furnished with rugs, end tables, and warm lighting. The view is also rather spectacular.
Locations include Topsail State Park and Grayton Beach State Park, which are both close to Panama City.Website visit
19. Historic Houseboat on Manatee River, Palmetto
This floating residence was once a chapel that had been historically significant and repaired. In fact, it's possible that this particular glamping location is the most opulent on the list.
The houseboat includes all the conveniences you could need, including a fully furnished kitchen with granite countertops, air conditioning, and a barbecue grill.
This trip is deserving on your bucket list thanks to the bustling marina, which has a restaurant, a shared swimming pool, a jacuzzi, and more.Website visit.
19 Beautiful Glamping Spots in Florida 2023 – Newshub360.net
Related Post

Credit: www.Newshub360.net