The 18 Stunning Oceanfront Vacation Rentals in Maine 2023: Maine may have been the standard family holiday spot throughout your youth, or perhaps you've just watched too many episodes of Maine Cabin Masters on the DIY Network.
When you step upon Schoodic Point's flat granite surfaces, something spectacular happens as blue waves erupt in a magnificent spectacle.
Or while eating buttery lobster with your bare hands while sitting at a picnic table. With so many fantastic things to do, a trip to Maine's coast is calling.
Check out our ranking of the best oceanfront rentals in Maine after you've made your travel arrangements.
18 Stunning Oceanfront Vacation Rentals in Maine 2023
1. The Beach House, Oceanfront & Sunrise Views – Saco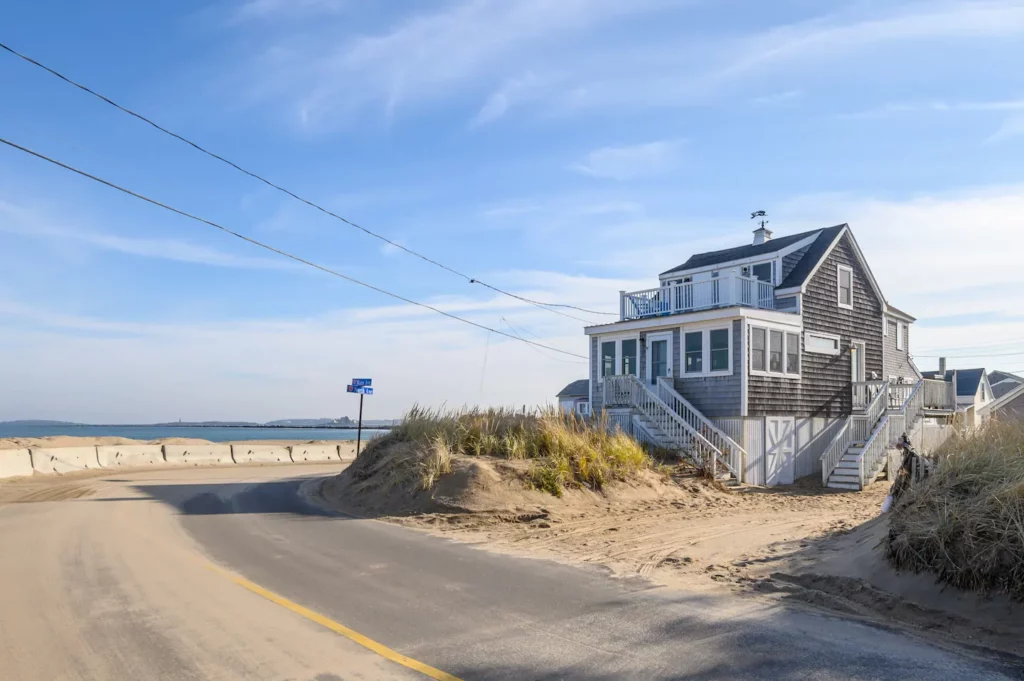 That's it, I'm fully impressed with the kitchen's opulence. That huge ocean vista from those windows! Wow.
This single-family home near the coast has everything you could possibly need and then some. Yes, there are wonderful outdoor areas where you may sip wine and watch those infamous sunsets.
2. Cliff-Perched Cottage with Private Hiking Trails – Machiasport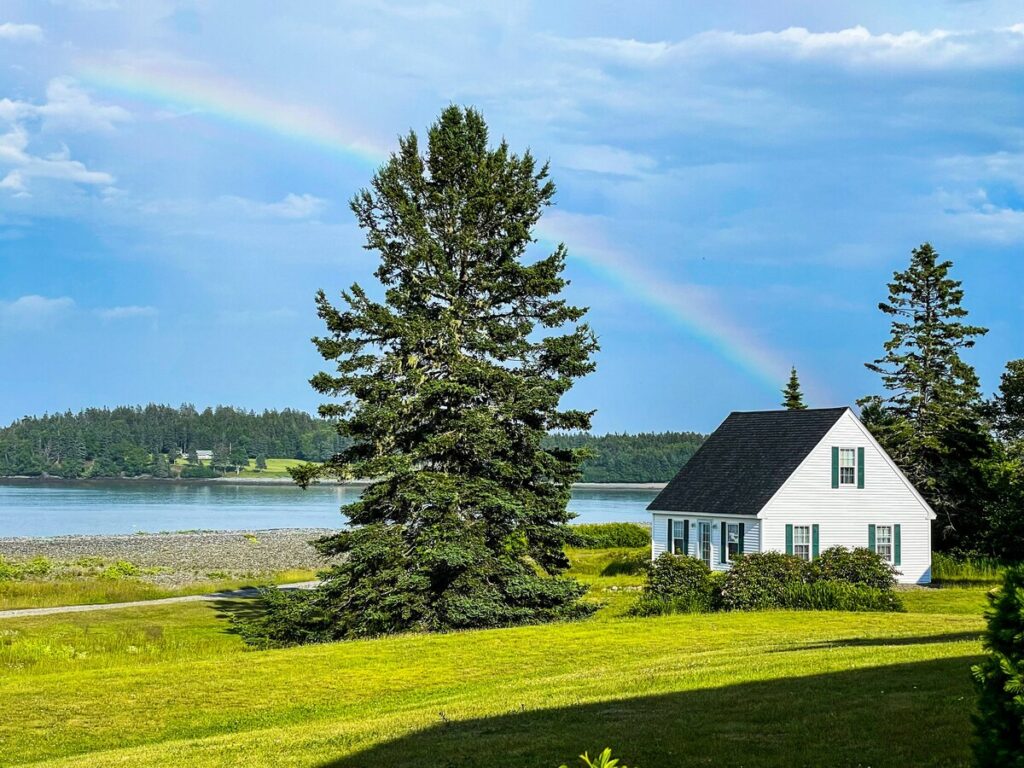 This spectacular beachfront home, created by a sea captain, is unquestionably stunning. The inside is bright with many white accents and is more modern than many homes in Maine.
It's straightforward but intriguing. In addition to providing the best views of the cove, floor to ceiling windows let in natural light.
The visitor has access to an abundance of forest and hiking trails.
3. Stunning Beachfront Home With Amazing Ocean Views & Beachside Porch – Wells Beach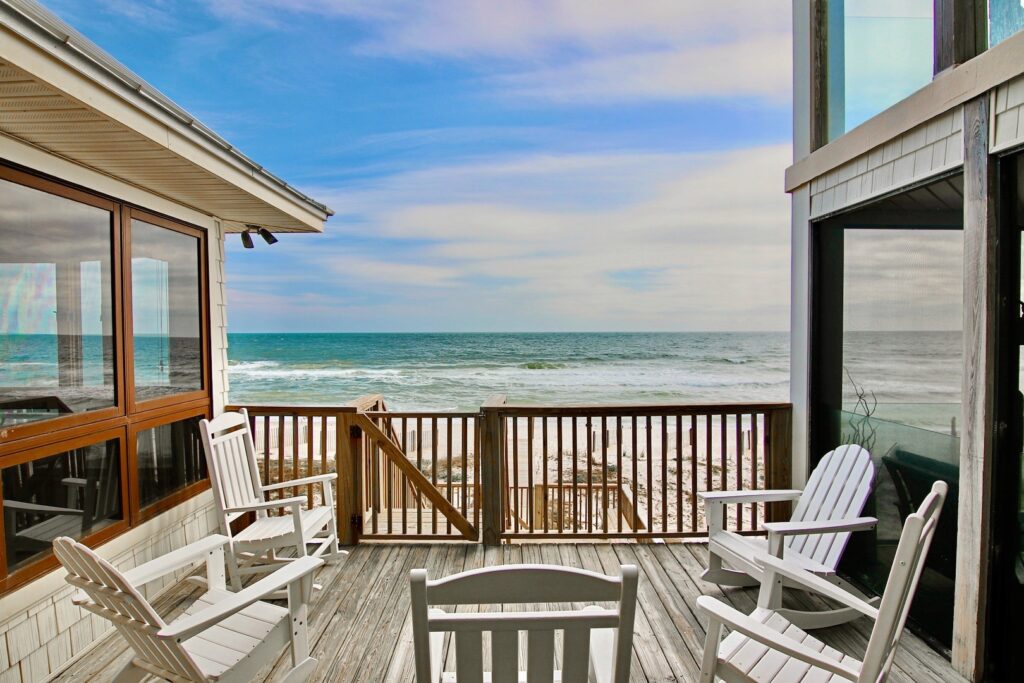 This three-bedroom beach house, which is situated directly on Wells Beach, provides 180-degree views of the ocean from both its balcony and living room.
The family-friendly home is situated directly on the sand, so you can fill up with a lunch prepared in the well-stocked kitchen before heading outdoors for a stroll along the shoreline.
4. Stunning Waterfront Home Within National Park – Mount Desert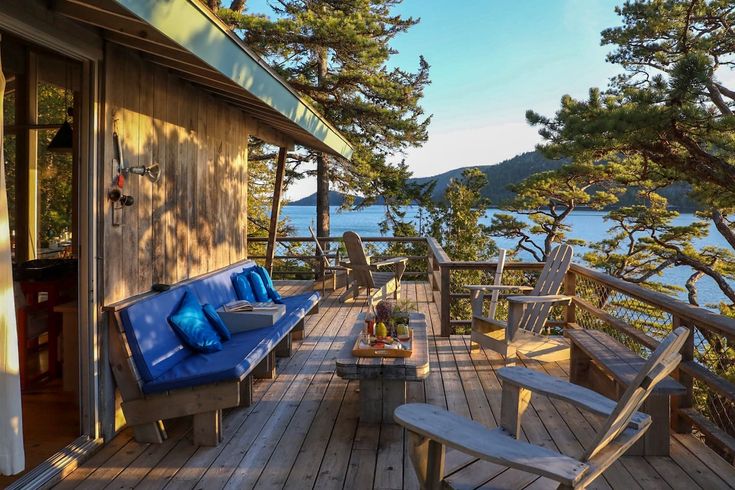 Even within the boundaries of Acadia National Park, you may lodge in style! The house is very stunning, feeling open and connected to nature.
The iceberg includes plenty of sea views, a special fireplace, and cute bunking nooks. We could write a full article about this one property, considering everything Acadia itself had to offer.
5. Ocean Views, Private Beach, Close to Portland – Cape Elizabeth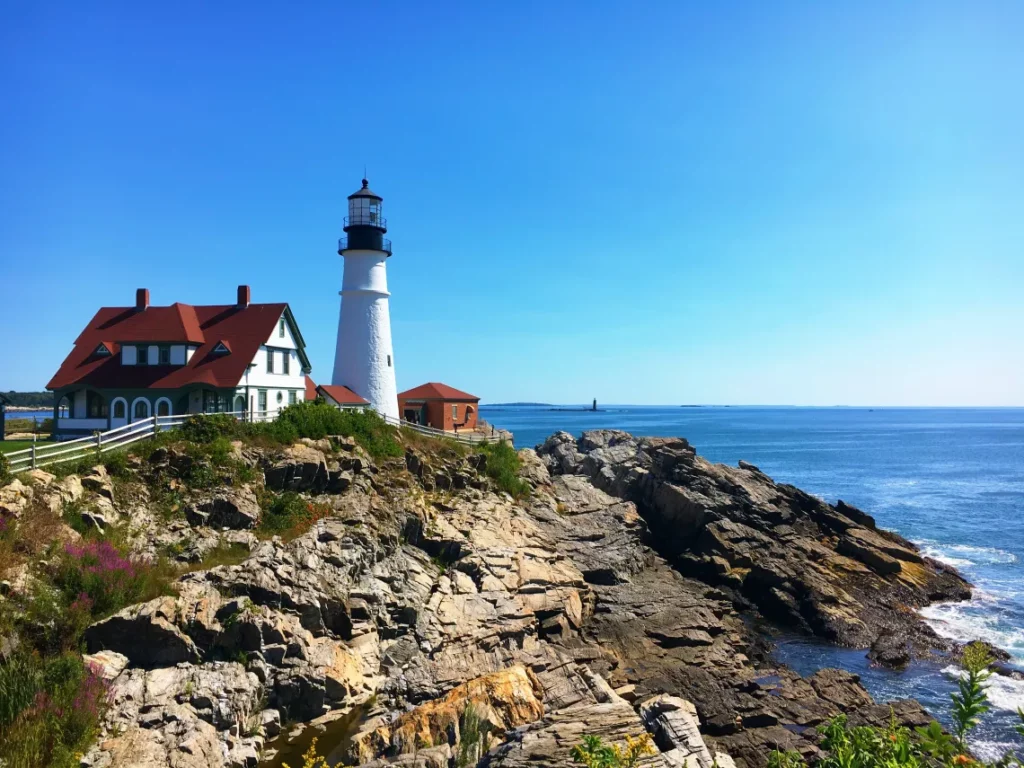 All of the aesthetics—fresh, farmhouse, and coastal—have been combined in one amazing location nearby dynamic Portland.
There has been no luxury amenity overlooked, and guests will experience ultimate luxury. Cape Elizabeth offers that typical aqua water along with a lovely, rocky shoreline.
It's truly a hideaway, and it's priceless.
6. Oceanfront Cottage, Maine Midcoast, Indian Point – Georgetown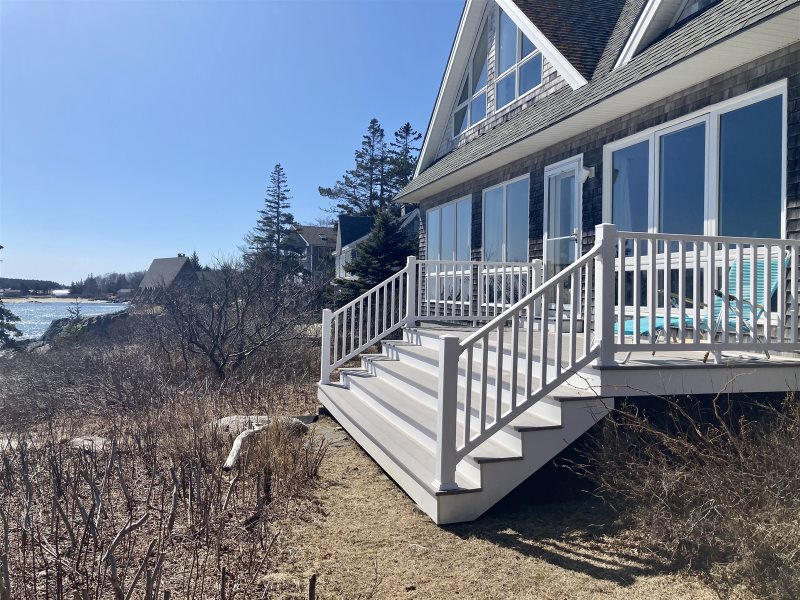 Time travel to the straightforward design of an ancient Maine home. Staying here is immersing in many different ways because it is sturdy, full of charm, and has great porch views.
It is one of the best-reviewed rentals in Georgetown because of the attractive brick fireplace and rich woods that tie everything together.
7. Oceanfront with Stunning Views & Private Deck – Saco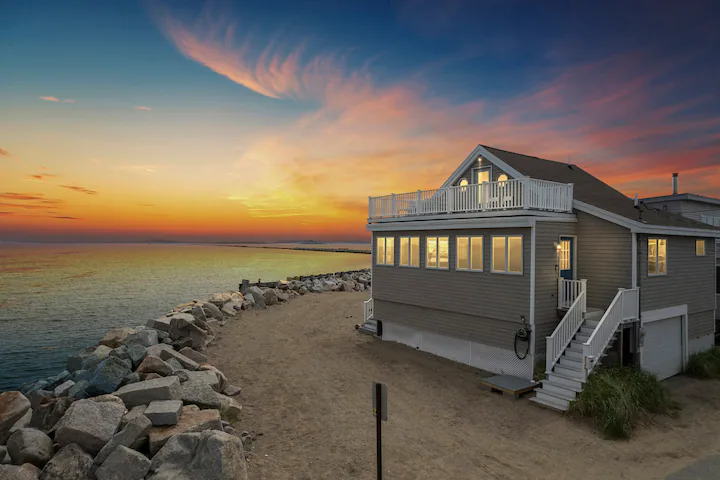 Incredibly close to the water, this two-bedroom beach cottage provides breathtaking vistas of the coast.
It is located near Camp Ellis, a short distance from Old Orchard Beach and thirty minutes from Portland. The best part is that it has a deck outside where you can take in the stunning ocean views.
8. Water's Edge – Oceanfront Home with Water and Acadia Mountain Views – Hancock Point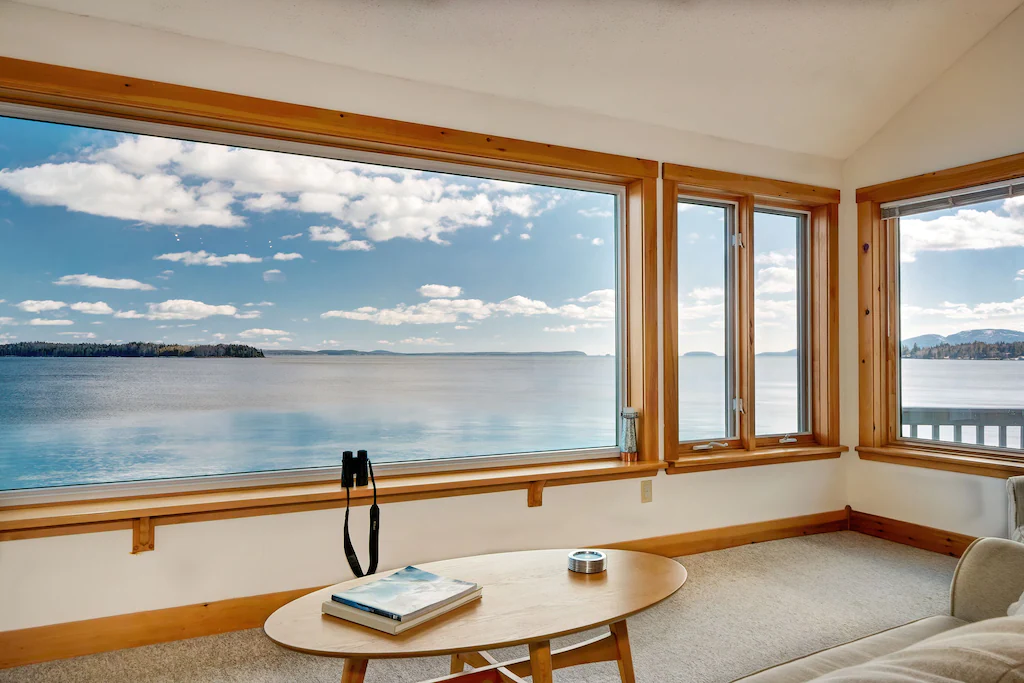 We adore that this home is close to Schoodic Peninsula, which is a part of Mount Desert Island that is less well-known. The tranquilly and natural beauty of this location are just unbeatable.
Large windows let in a lot of sunlight and provide stunning views of the ocean, making the house feel warm and inviting.
Every day will be wonderfully special, whether you choose to sit on one of the benches and chairs looking out at the horizon or stroll down the wooden stairs to launch a kayak.
9. Beachfront Oceanfront Luxury Home – Phippsburg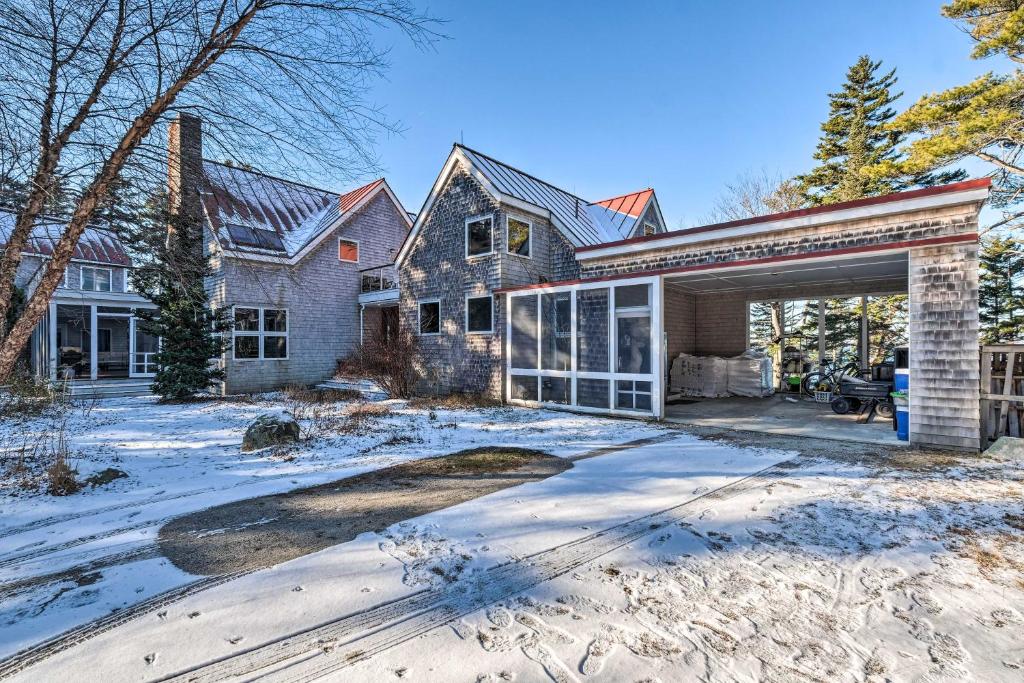 This beachside home's five bedrooms may accommodate up to 12 guests. Top activities include walking to Fox Island at low tide along the sandbar to collect seashells and admiring the ocean vistas from the lighthouses on Seguin and Pond Island.
The seaside gem is placed on a secluded property and suitable for two to three families.
10. Private Boardwalk to Ocean, Balcony – Lubec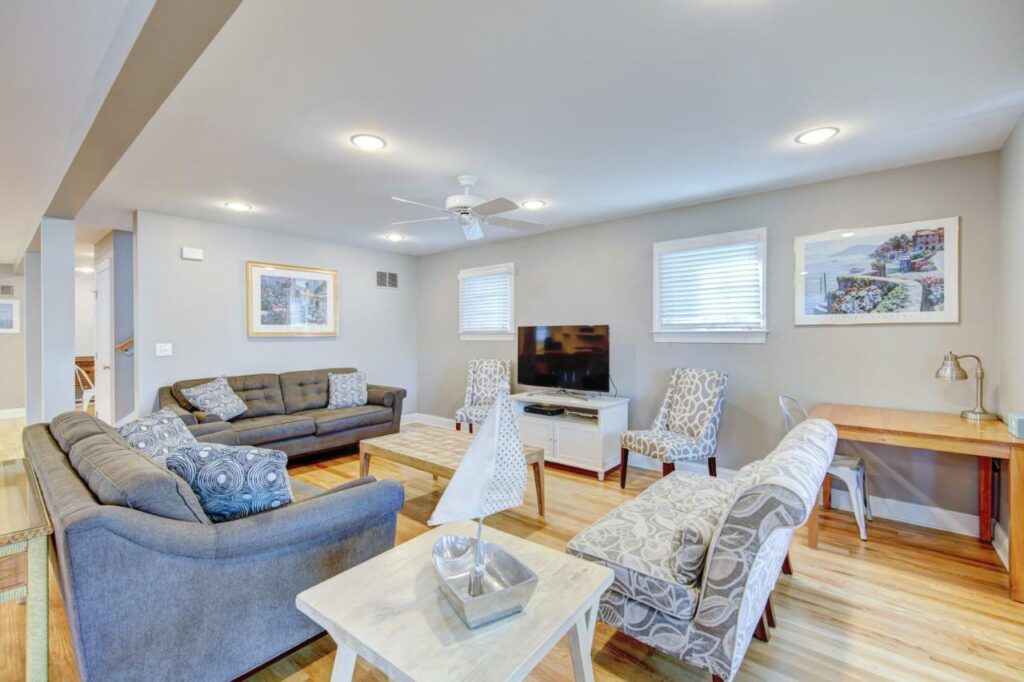 This cottage has been a part of the area for close to 100 years, almost at the Easternmost Point of the United States. Visitors will experience the coast's true flavour thanks to its impeccable preservation.
The private walkway that leads to the salty sea is surrounded by a fascinatingly lush birdwatching habitat, along with organic gardens and wildflowers.
11. Bliss Beach House with Huge Ocean View Rooftop Deck – Old Orchard Beach
This six-bedroom home features the biggest rooftop terrace in Old Orchard, making it ideal for large gatherings and family getaways.
Enjoy your morning coffee on the wraparound porches before taking a trip to the beach or grilling outside on the furnished deck and soaking up the sun.
12. Exquisite Seaside Cottage on Somes Sound – Mount Desert
The finest place to take in Acadia National Park's tranquilly is from an ultra-private cottage. Stay in the spacious, minimalistic house instead of the congested hiking routes.
The master bedroom, which is a great place for a romantic getaway, has wooden ceilings that have a cheery appeal thanks to the bright wood.
We could certainly picture ourselves waking up like this every morning as we made our way to a private yoga platform closer to the lake.
As you execute the ideal downward dog, allow the surrounding tall trees and seaside waves to embrace you.
13. Incredible Location with Beach & Ocean Panoramic Views – Ogunquit
There may not be much of a beach at some of our oceanfront properties, instead there are rocks and a dock that juts out into the ocean.
However, this multi-bedroom house is situated right on a wide, sandy beach, making it ideal for family vacations.
Create sandcastles, observe the incoming waves, or place a chair directly in the surf to take in the sunset. For children, getting to the water is also considerably simpler.
The house has an appealing design that is both modern and classic, regardless of the season.
14. Higgins Beach Beach Home – Scarborough
This three-bedroom beachfront rental offers a chef's kitchen, wide windows, and a custom-designed contemporary home with stunning sunrise and sunset views.
You will have access to a porch grill area, an outdoor gas fire pit, two separate offices and a gas fireplace in the living room while still being only a few steps from the ocean.
15. 1 Bedroom Cabin, 50 Feet From Beach – Old Orchard Beach
At this charming one-bedroom house, beach lovers may take in the seven miles of beautiful coastline.
You are less than a mile from the busy centre of Old Orchard Beach and only a 30-second stroll from one of Maine's most stunning beaches.
16. Brand New Scandinavian Cottage: Oceanfront + Dock – Harpswell
This newly constructed cottage, which also has a boathouse, exudes the simple, elegant simplicity of Scandinavian architecture.
Most of the time, only one member of the host's family can use the guests' mostly private dock. You will therefore receive seclusion at one of Maine's most stunning oceanfront sites.
While lounging on the balcony, indulge in traditional pastries and morning coffee, of course made in the Scandinavian light roast style.
Enjoy the lush green lawn as you stroll over it, which perfectly complements the coastline waters' navy hue.
17. Boathouse Cabin on Ocean's Edge – Lincolnville
The cabin, which is decorated with lobster buoys, is situated directly on the edge of the water on a Lincolnville property.
The residence, which is technically a "glamping" site, is brand new and has exquisite interiors and vaulted ceilings. A little distance away, on the porch of the main house, is a hot tub.
18. Acadia Oceanfront Camp, Near Bar Harbor – Hancock
Maine's version of a "camp" is not what some people may expect. Put aside any memories of camping and peeing under trees.
This "camp" is actually the cosiest cottage, complete with solid wood construction, furnishings, and spacious living areas. You may spend days kayaking because you are so close to the ocean.
18 Stunning Oceanfront Vacation Rentals in Maine 2023 – Newshub360.net
Related Post

Credit: www.Newshub360.net