The 10 Texas Hotels with Lazy Rivers 2023: Hotels that have lazy rivers provide guests a level of relaxation and amusement that is incomparable to that of a standard hotel pool. You may discover a variety of enticing hotels in Texas.
Many of these hotels have extravagant swimming pools with meandering lanes that are ideal for lounging in a floatie while allowing the soothing, cold waves to ease away all of your worries.
It is the optimal approach to rejoice in the fact that one is on vacation and to take advantage of the sunshine.
The following are some of the best hotels in Texas that have lazy rivers, and they range from family-friendly to romantic escapes.
Texas hotels with Lazy Rivers 2023
1. Marriott Marquis Houston – Houston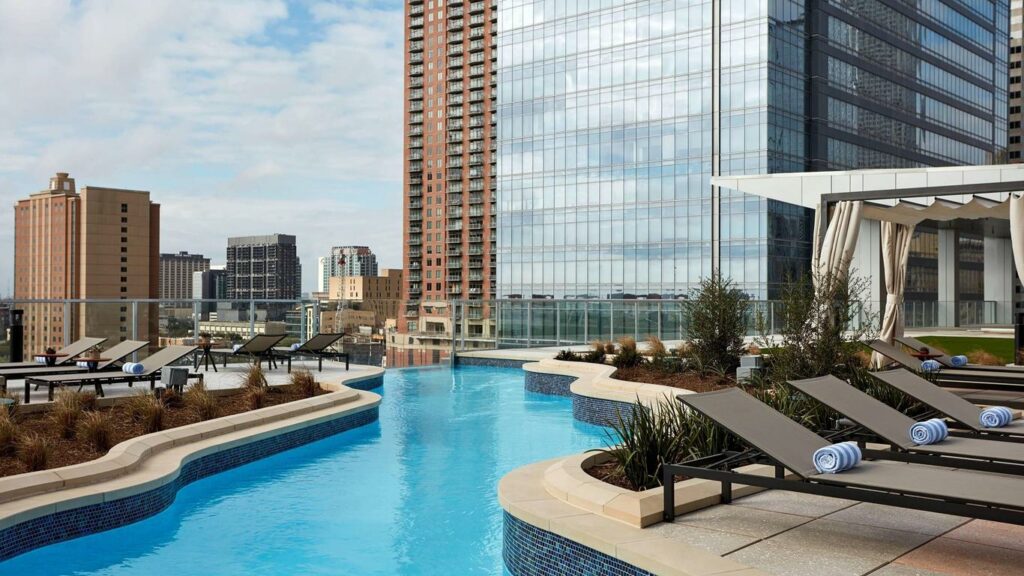 The Marriott Marquis Houston, which can be found in the city's central business district, boasts a convenient location and is connected to the George R. Brown Convention Center through a skywalk.
Additionally, it boasts the world's largest Texas-shaped rooftop lazy river, making it one of the most recognizable hotel pools in the state of Texas.
When you consider that this hotel also features an infinity pool, a spa that offers a complete range of services, and a number of different eating establishments, it is easy to see why it is considered one of the best in Texas.
Grab a drink at the hotel's rooftop bar, where you can also listen to live music while lounging in one of the hotel's lounge chairs, floating in the hotel's lazy river, or soaking in the whirlpool.
2. Hyatt Regency Lost Pines Resort and Spa – Cedar Creek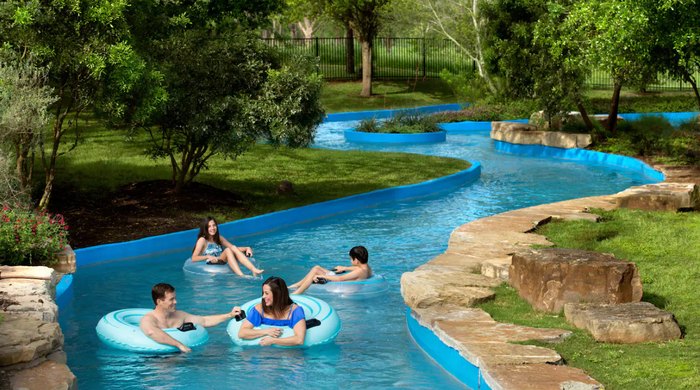 The Hyatt Regency Lost Pines Resort and Spa is considered to be among the top family-friendly resorts in the state of Texas. It is situated on 405 acres along the Lower Colorado River.
Only twenty minutes away from Austin-Bergstrom International Airport, the resort in the Austin Hill country provides everything you need for the ideal summer vacation and is located in the heart of the Texas Hill Country.
You may arrange an experience with Renegade Trailhead on a horseback riding expedition or tee off from the award-winning 18-hole golf course, but the actual attraction is the temperature-controlled pool with a lazy river.
Other activities include golfing and horseback riding. After that, you may cool off with a pint of craft beer at Shellers Barrelhouse Bar or a scoop of ice cream at McDade's Coffee Emporium & Ice Cream Saloon.
3. JW Marriott San Antonio Hill Country Resort – San Antonio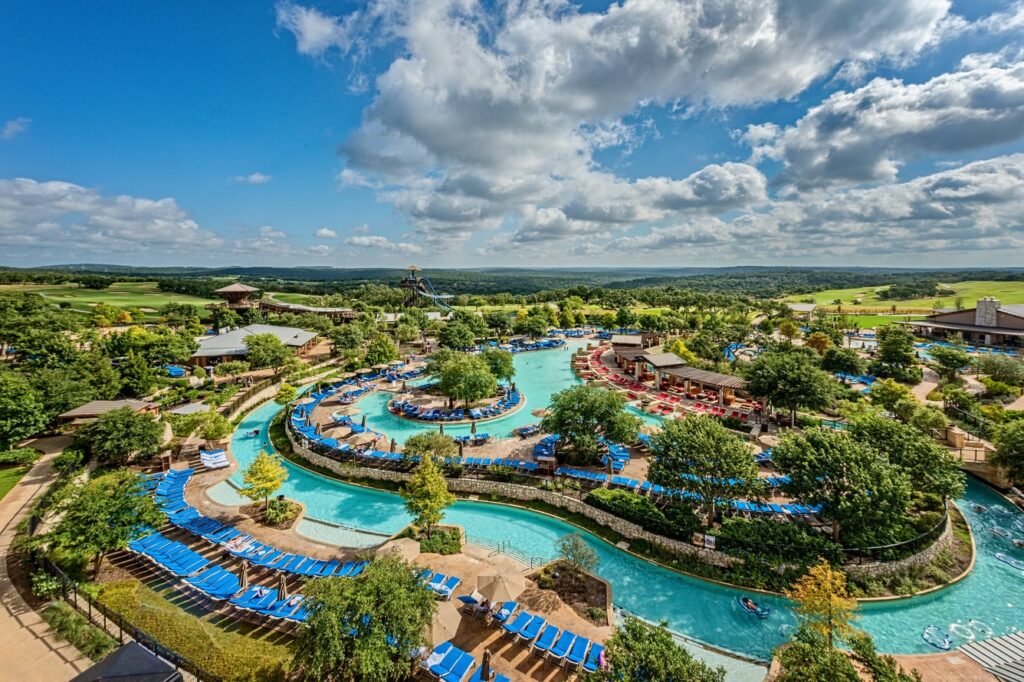 The JW Marriott San Antonio Hill Country Resort is a luxurious refuge that is set among 600 acres of oak-covered hills. It is regarded as one of the best resorts in the state of Texas.
The River Bluff Water Experience water park spans 9 acres and features a 1,100-foot lazy river, making this the ideal vacation spot for anyone who enjoy spending time in or around water.
After relaxing in the warm rays of the sun all day, you may choose to refuel at one of the hotel's many restaurants or have a massage at the high-end spa.
The breathtaking scenery of the Texas Hill Country may be seen from several of this hotel's spacious rooms.
In addition to that, this resort is conveniently located near a number of the area's most popular tourist destinations, including SeaWorld, the Shops at La Cantera, the Natural Bridge Caverns, and Six Flags Fiesta Texas.
Texas Hotels with Lazy Rivers
4. Margaritaville Lake Resort, Lake Conroe – Montgomery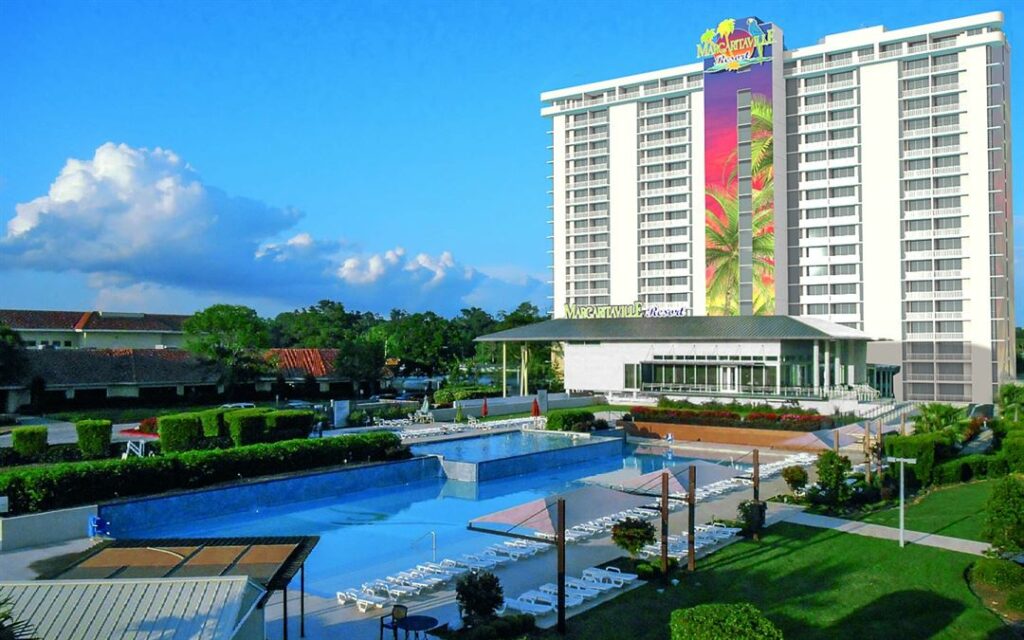 The Margaritaville Lake Resort in Lake Conroe is the ideal summer getaway for families, as it was created to provide the highest possible level of both fun and relaxation.
This beachfront paradise will make you feel as though you've been transported to the tropics, including a tantalizing array of amenities such as a luxury spa, tennis courts, and the Jolly Mon Indoor Water Park as the highlight of the property's offerings.
You can have the feeling that you're on vacation when you go down one of the slides, float down the lazy river, or create a splash with the water jets at the splash pad.
All of these activities are available at this location. If relaxation is what you're looking for, you can get it by lying down on the private beach or going for a swim in one of the resort's five pools, which include a kidding pool and an infinity pool.
5. Hyatt Regency Hill Country Resort & Spa – San Antonio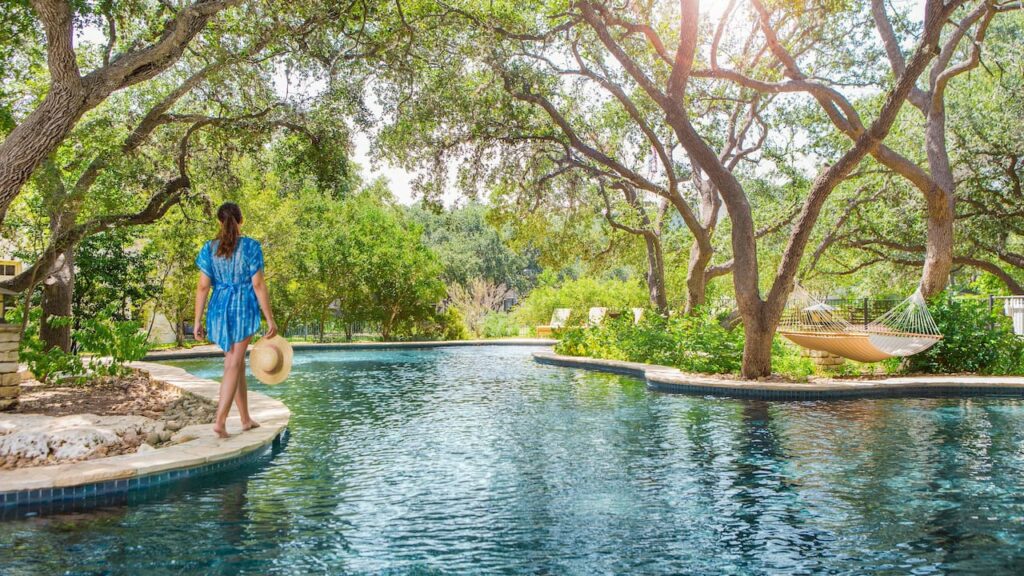 The Hyatt Regency Hill Country Resort & Spa is about 20 minutes away from the downtown Riverwalk, and it is conveniently located just adjacent to SeaWorld.
It features a five-acre water park that is equipped with a Flowrider wave machine and a lazy river, making it the ideal combination of contemporary conveniences with genuine Texas friendliness.
Traditional dishes from the Lone Star State may be found at the acclaimed Antler's Lodge, while more casual fare can be found at Papa Ed's Pool Bar and Grill.
In addition, there is a luxurious spa, an enticing choice of guest rooms and suites, and a championship golf course with 27 holes.
It is widely regarded as one of the finest hotels in the Hill Country of Texas.
6. Hilton Anatole – Dallas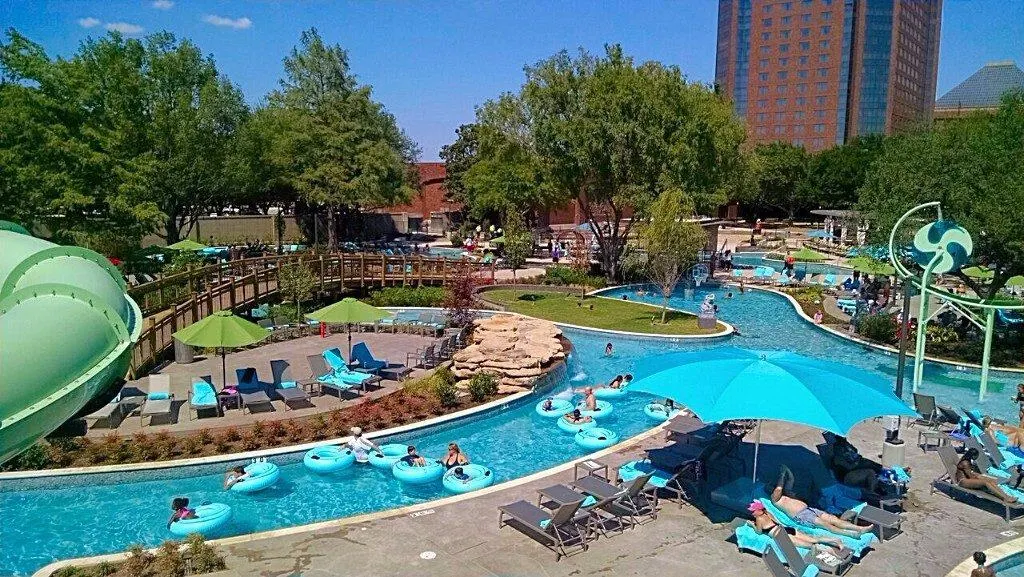 The spectacular indoor and outdoor amenities of the Hilton Anatole, which is located on 45 acres and is located just to the north of downtown Dallas, are spread out throughout the hotel's Design District neighborhood.
Families are going to have a great time at the JadeWaters resort pool complex, which contains a kids splash zone, two slides that are 180 feet long, a leisure pool, and a lazy river.
You are treated with several eating options, and the Verandah Club & Spa provides parents who wish to be pampered with full-service health club and spa amenities.
You have your choice of chic rooms or magnificent suites, each of which comes equipped with high-definition televisions, wireless internet access, and cozy mattresses.
You'll find that the local eateries, museums, and art galleries, as well as the Uptown and Downtown areas, are all quite convenient to go to from your accommodation.
Texas Hotels with Lazy Rivers
7. Gaylord Texan Resort and Convention Center – Grapevine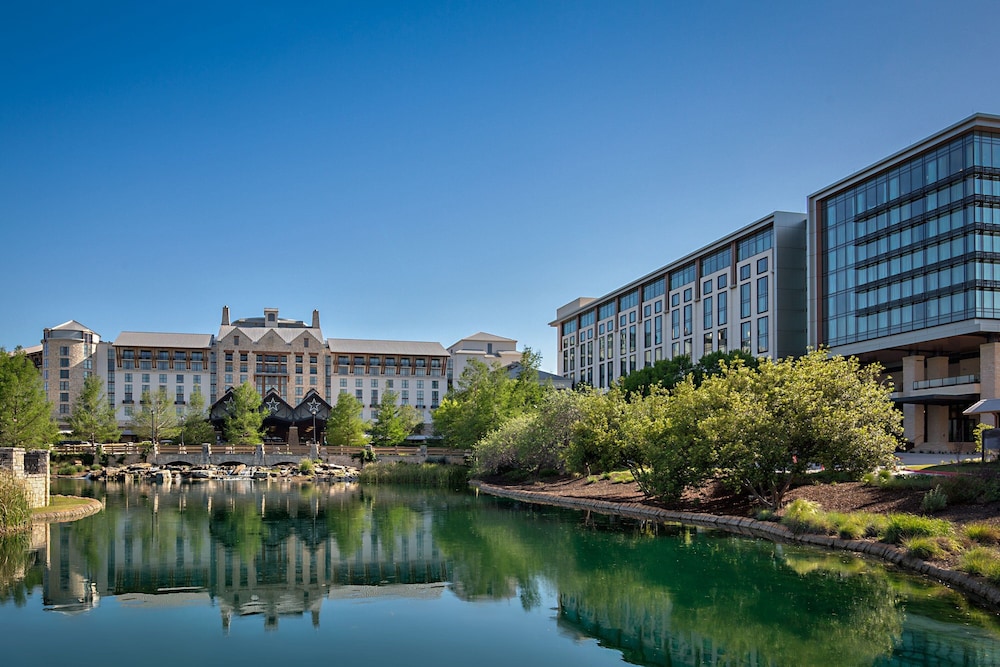 The Gaylord Texan Resort and Convention Center is a well-liked hotel in Texas that features its very own indoor water park.
It is located on the banks of the picturesque Lake Grapevine. It has an outstanding array of family-friendly activities and entertainment, such as its 10-acre Paradise Springs Water Park, to keep the entire family happy and occupied.
The family lagoon is 6,000 square feet in size and has a gigantic water playhouse with many levels, a lazy river that is 600 feet long, and four twisting water slides that will keep the children happy for hours on end.
The hotel also features many award-winning restaurants, bars, and a luxurious spa in addition to its lovely interior garden atriums.
You are close to the LEGOLAND Discovery Center, Historic Downtown Grapevine, and the water sports on Lake Grapevine, all of which are excellent options if you want to go exploring.
8. Hyatt Residence Club San Antonio, Wild Oak Ranch – San Antonio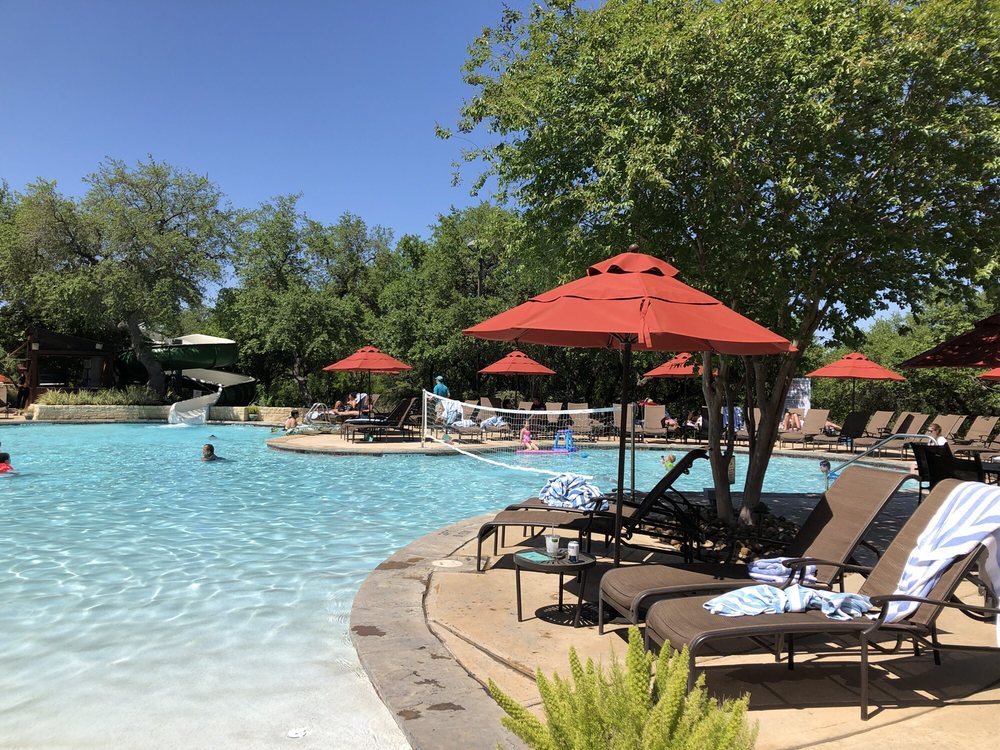 The Hyatt Residence Club San Antonio, Wild Oak Ranch is located in the picturesque Hill Country of Texas and has classic ranch architecture.
It has 39 acres of landscape and natural paths, in addition to exciting amenities that are family-friendly, such as an indoor/outdoor pool area with water slides, spas, an 800 foot-long lazy river, and cabanas.
The Wildflower Pavilion features a fire pit where guests may relax, J.B.'s Poolside Restaurant serves authentic Texas cuisine, and The Icehouse serves as the resort's general shop where guests can purchase snacks and beverages.
There is enough space to accommodate groups of any size, with floor plans ranging from studios to three-bedroom apartments, each of which has a fully furnished kitchen and a private balcony.
9. The Woodlands Resort – The Woodlands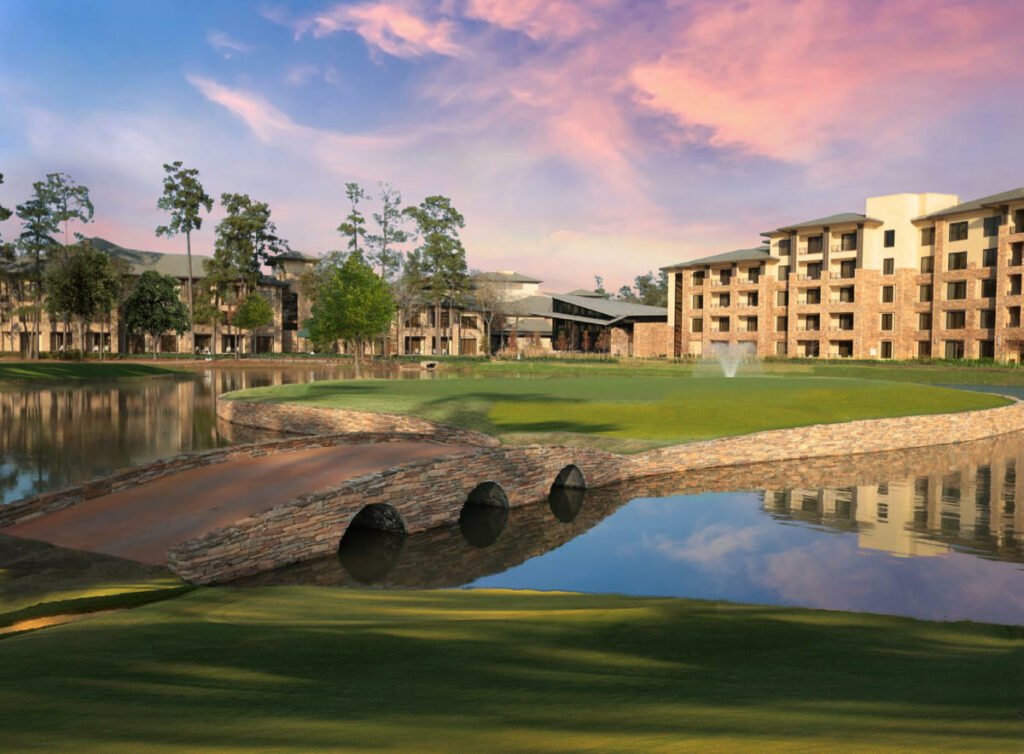 The Woodlands Resort is only 50 kilometers from Houston, yet it seems like a world apart from the hustle and bustle of the huge metropolis because to its 350 acres of verdant terrain.
The Forest Oasis water park is a popular destination throughout the year due to the poolside waterscape that includes a water waterslide, a lazy river that is 1,005 feet long, a lagoon-style pool, and a tower that is 30 feet tall.
During the colder months, the temperature of the waterfall pool and slide is raised to more than 85 degrees.
Staying in one of the easy-access pool walkout rooms will allow you to get the most out of your time spent by the pool.
These rooms are located on the ground floor and give direct access to the water park and the lazy river. In addition to its other amenities, this hotel features both a golf course and a high-end spa.
10. Great Wolf Lodge – Grapevine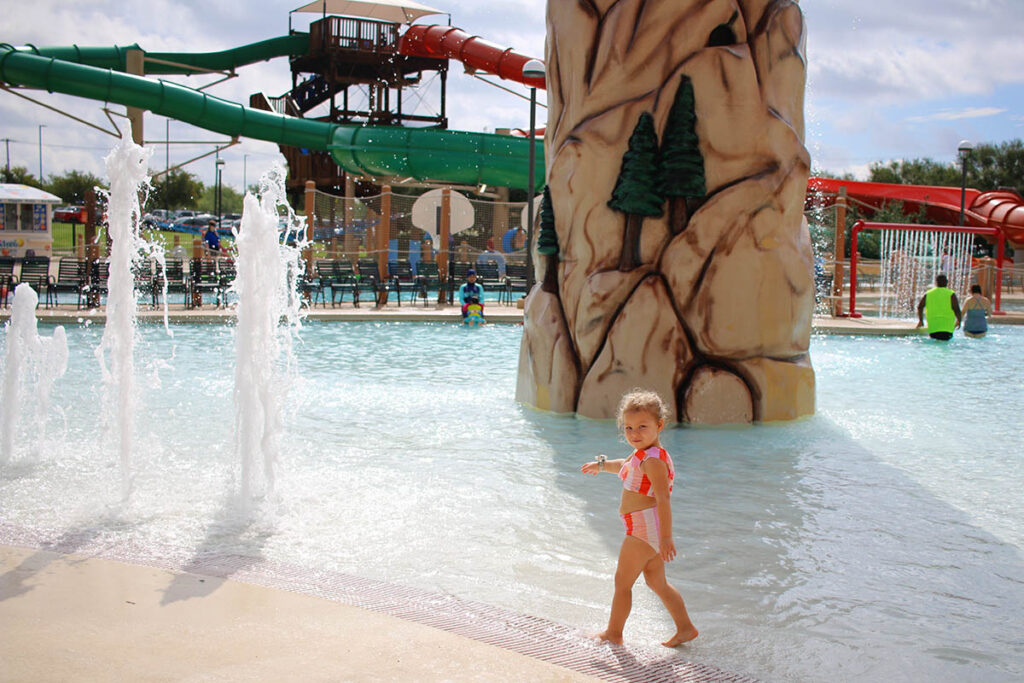 The Great Wolf Lodge is a holiday destination par excellence for families thanks to its world-class water park, which is renowned for its exciting water slides, tandem tube rides, a four-story interactive treehouse, and a lazy river.
Even the youngest guests may get in on the action thanks to spray elements that have been specifically intended for children.
The on-site eateries provide a variety of meals suitable for families, such as the giant pizzas served at Hungry As A Wolf, and parents can pick up a pick-me-up beverage at the Starbucks that is also located on-site.
Themed suites will pique the interest of the whole family, beginning with the Kid Cabin Suite, which features bunk beds and a sleeping room designed in the style of a log cabin.
10 Texas Hotels with Lazy Rivers 2023 –Newshub360.net
Related Post
Credit : www.Newshub360.net