The 15 Best Spa Resorts in Florida 2023: Feel like you may benefit from a day at the spa? You may get treated from head to toe at one of Florida's many five-star resorts, many of which include their own spas.
Best Spa Resorts in Florida 2023
1. Eau Palm Beach Resort & Spa, Palm Beach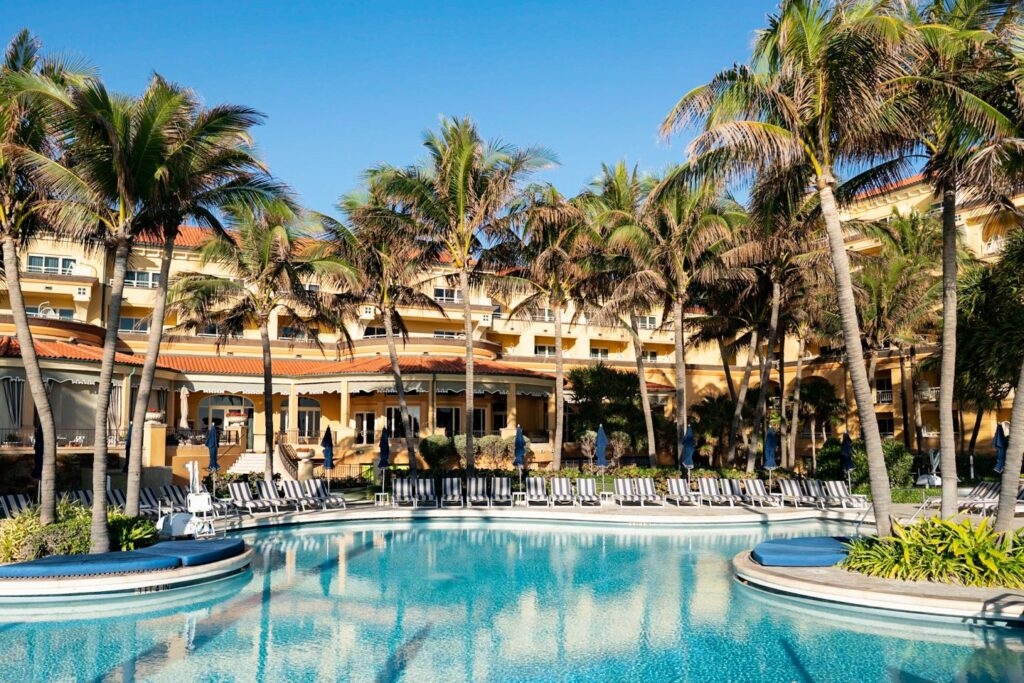 The spa at the Eau Palm Beach Resort & Spa is a place to go to experience the height of opulence and pure delight. The relaxing space at the Forbes Five-Star spa spans 42,000 square feet and is a veritable oasis.
The opulent hideaway is comprised of private villas, water gardens, and treatment rooms with a high level of comfort.
Treat yourself to a specialty massage while sipping on free-flowing sparkling and making a stop at the Wishing Well while you're here.
You may take use of the Scrub & Polish Bars, bath lounges, saunas, steam rooms, and enormous Jacuzzis in addition to the private garden villas that come equipped with outdoor showers, bathtubs, and sitting places.
Key Amenities:
Private garden villas with outdoor showers and bathtubs
Candle-lit Wishing Well and lounging areas
Hair and nail salon, bath lounge, saunas, steam room and Jacuzzis
2. Naples Grande Beach Resort, Naples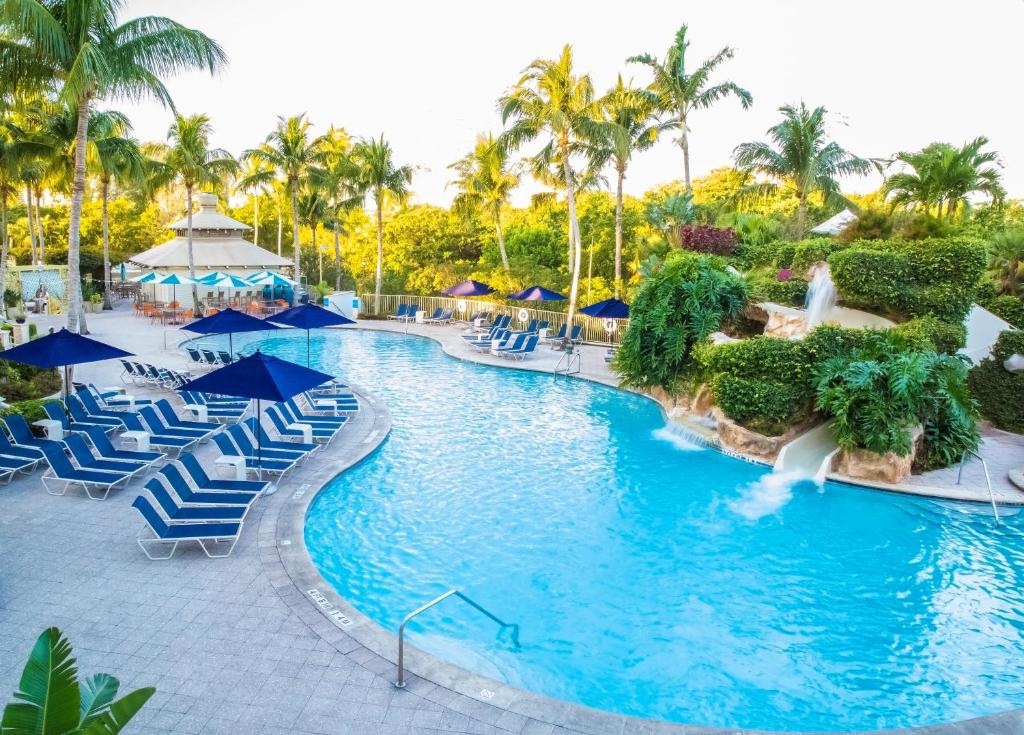 The Naples Grande Beach Resort's spa is a one-of-a-kind, indoor-outdoor paradise in Naples that is widely regarded as one of the best hotels in Florida for couples.
Here, you are certain to experience a state of serenity throughout your visit. The spa features a sundeck, a meditation area that is one of a kind, a quiet pool, and plenty more.
You may pick from revitalizing treatments like a Fijian Coconut Scrub, a Wellness Detox Body Wrap, and Firming Facials here, all of which will help you attain the inner calm that you have been striving for.
Non-traditional treatments, such as the Saltwater Float Tank, the Cryotherapy Tank, and the infrared sauna, make use of the cutting-edge equipment at the spa, and spa-goers who are looking for something a little bit different will like these treatments.
Key Amenities:
All-natural and organic indoor/outdoor day spa
Tranquility pool, sundeck and meditation lounge
Saltwater float tank cryotherapy and infrared sauna
3. Acqualina Resort, Sunny Isles Beach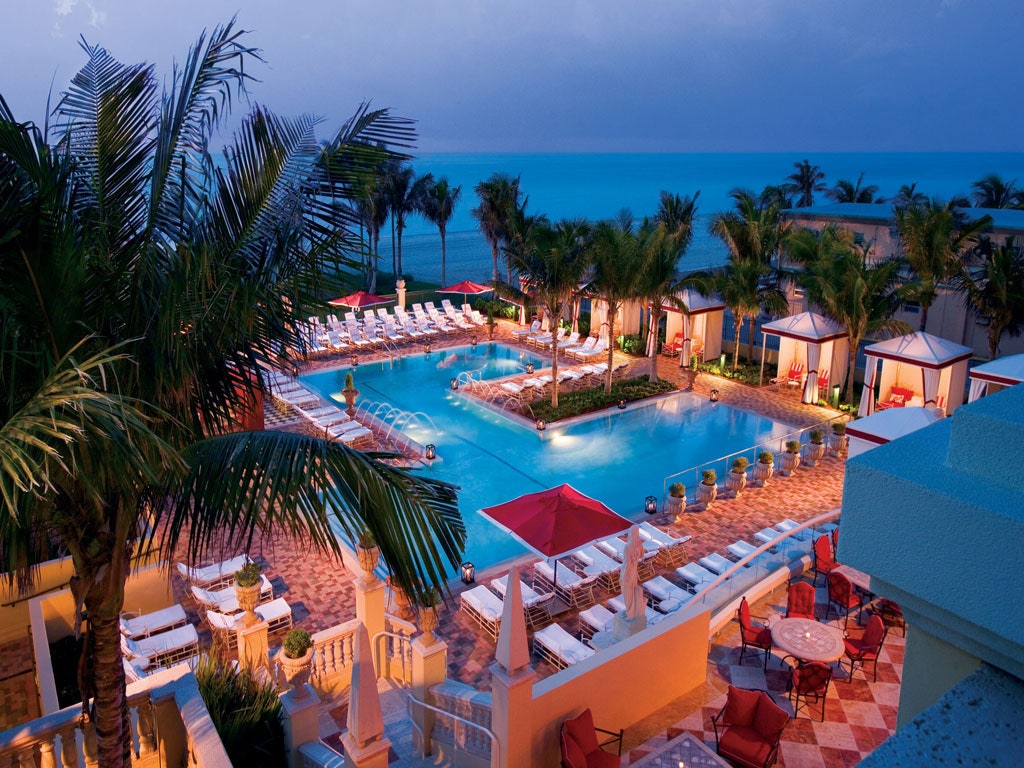 This 20,000 square foot, two-story sanctuary is truly a 5-star spa, and it gives visitors with a breathtaking view of the seaside as well as an even more amazing heated jet pool with a Roman cascade.
The spa at Acqualina Resort is equipped to provide you with a revitalizing heat and water experience via its Experience Shower as well as its heated jet pool should you be seeking for such a combination.
The Himalayan Salt Wall and outdoor spa swimming pool are two of the other attractions that are offered. It takes place in one of the most luxurious beachside hotels that Florida has to offer.
Key Amenities:
Heated jet pool with Roman waterfall
Himalayan Salt Wall and outdoor swimming pool
Yoga and wellness services
4. LaPlaya Beach & Golf Resort, Naples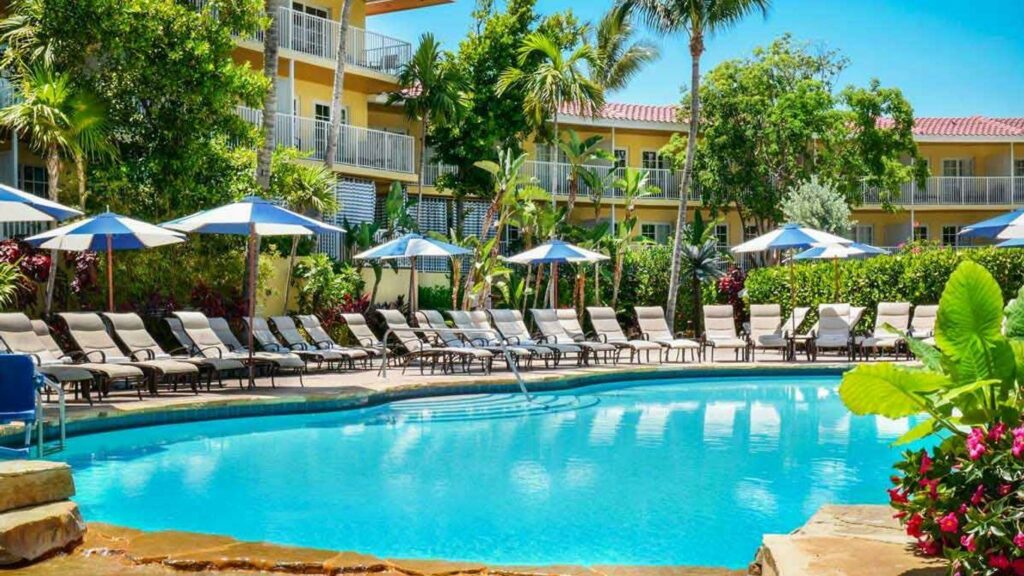 The stunning LaPlaya Beach & Golf Resort in Naples, Florida, is a lovely luxury resort that is set just between the Gulf of Mexico and Vanderbilt Bay.
This resort is known as one of the best beachfront hotels on Florida's Gulf Coast. This seaside retreat is not only the only resort in Naples with exclusive access to the beach, but it also has a SpaTerre that is 4,500 square feet in size and provides salon and spa services.
You can make the most of your time at SpaTerre by taking advantage of one of the wellness packages that are available to guests.
These packages include benefits such as yoga mats, personal trainers, and calming spa treatments like massages.
You might also choose to spend the day outside and take advantage of the hotel's beach butler service, private poolside cabanas with a cold towel and sorbet service, and the BALEENnaples restaurant and poolside Tiki Bar. BALEENnaples is one of the best restaurants in Naples.
Key Amenities:
Private beach access and golf course
Salon and spa with massages, facials, body treatments and facials
Morning yoga and personal trainers
Best Spa Resorts in Florida
5. Carillon Miami Wellness Resort, Miami Beach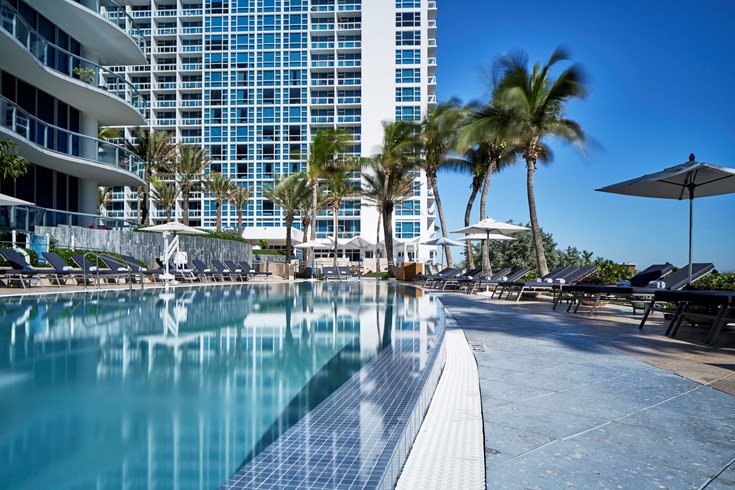 The views of the ocean from The Spa at Carillon Miami Wellness Resort, which is widely considered to be among the greatest spas in Florida, are truly magnificent.
The detox wraps, beachside facials, and detox mud-ssages that are offered at this top-tier luxury resort in Miami are among the spa packages and trademark spa treatments that are the resort's primary focus.
There are many different types of wellness services available, including anti-aging cosmetic surgeries, eastern medicine and acupuncture, and cryotherapies. These are in addition to skincare, global rituals, and Ayurvedic treatments.
Key Amenities:
Cupping, hydrotherapy cryotherapy, massages, wraps and facials
Comprehensive wellness retreats available
Fitness center, hair and beauty salon on-site
6. The Boca Raton, Boca Raton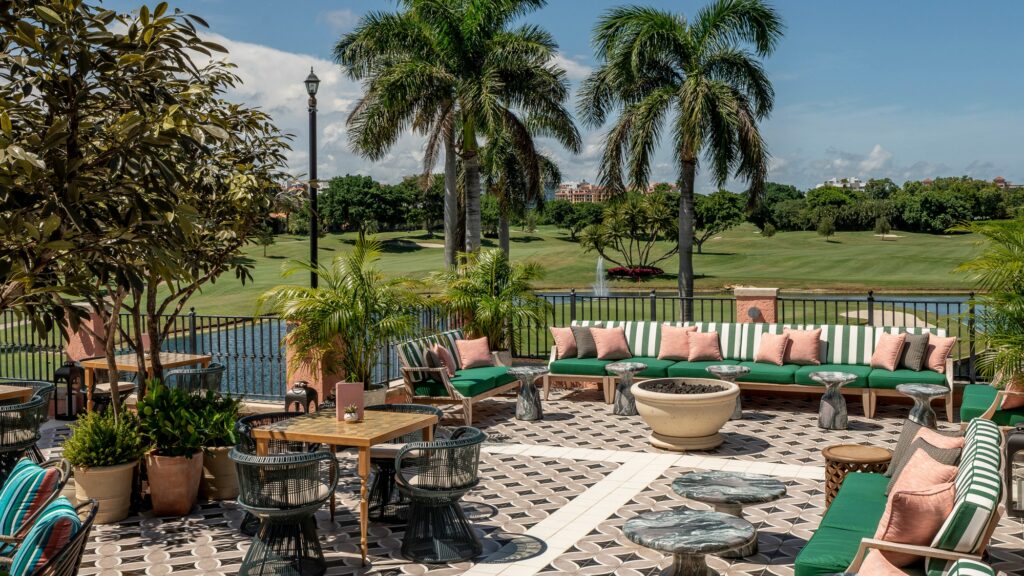 Condé Nast Traveler previously ranked the spa at the Boca Raton Resort as the best in the whole world. It is the kind of luxurious retreat that only comes along once in a lifetime.
The atmosphere is established with Moroccan lamps, mosaic tiles, and intricate mosaics, all of which are modeled after the architecture of the Alhambra in Spain.
Indulge yourself with one of our unique treatments, such as the Citrus Surrender Body Ritual or the Swedish-Thai Massage, all of which are certain to make you feel like a completely different person after receiving them.
Key Amenities:
Modeled after Alhambra in Spain with elaborate mosaics
Courtyard with gardens, waterfall whirlpools and private spa pool
Reiki, Ayuverdic Collection, massages, facials and ritual baths
7. The Ritz-Carlton Orlando, Grande Lakes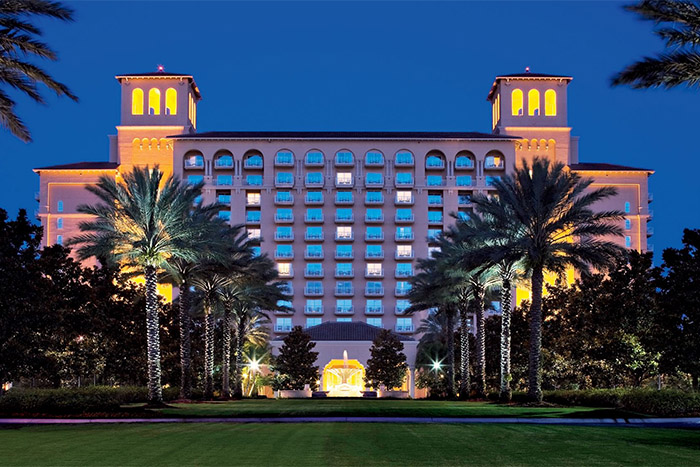 The Ritz-Carlton in Orlando features a wellness spa that is inspired by nature and has a Spanish-Mediterranean design. The spa is stretched out over 40,000 square feet.
The spa of one of the most luxurious resorts in Orlando is a destination in and of itself. It has a total of 40 treatment rooms, in addition to a full salon and a barbershop.
In addition to indulging in luxurious body treatments, you can unwind in the spa's outdoor lap pool and refuel with nutritious fare at Vitale, the spa's on-site restaurant.
You may choose from a variety of different spa experiences, like as massages and body treatments that make use of CBD and herbs harvested from the organic garden at the resort.
In addition to citrus from nearby orchards and other homegrown ingredients, the honey produced by the spa's resident bees is included into a number of the spa's body and face treatments.
Key Amenities:
Nature-inspired wellness spa with massages and body treatments
Full salon and barber shop
Outdoor lap pool and healthy spa cafe
8. The Palms Hotel & Spa, Miami Beach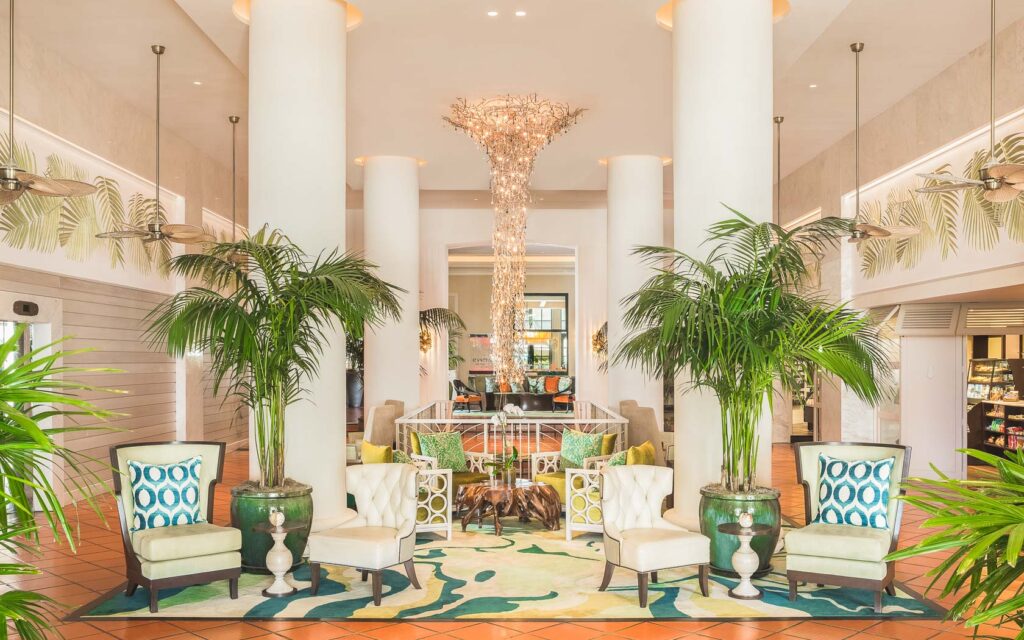 The healing spa at The Palms Hotel & Spa draws inspiration from the comprehensive Ayurvedic wellness practices that are practiced there.
Experience the tranquility of the setting while being treated from head to toe with services like as tropical island specialty massages, foot scrubs that moisturize, and chakra balancing massages.
Wellness and environmentally conscious business methods are at the core of the beachfront hotel's concept, making it a beach retreat that is both appealing and relaxing.
After your treatment, stop by The Restaurant at The Palms for some natural gourmet food, locally grown wines, and inventive cocktails, or go to the Tiki Bar poolside for some light fare.
Key Amenities:
Influenced by holistic Ayurvedic wellness rituals
Chakra-balanced massages, skincare, body treatments and more
Access to pool and beach amenities with certain services
Best Spa Resorts in Florida
9. The Don CeSar, St. Pete Beach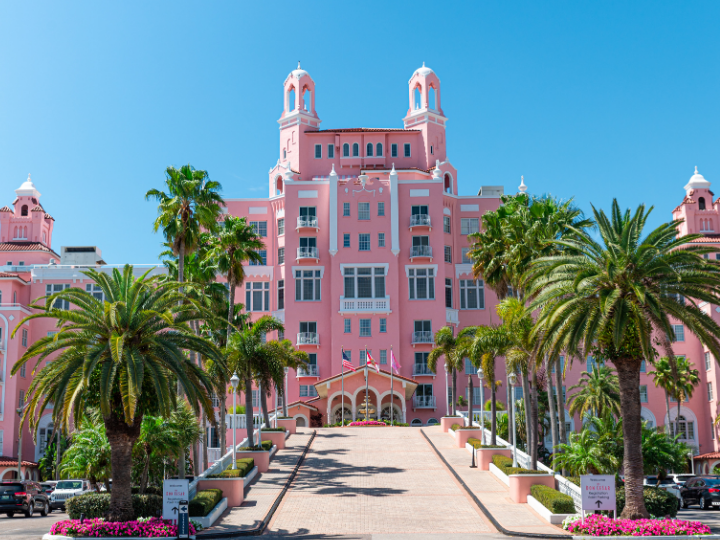 The Don CeSar, often known as the "Pink Palace," is widely regarded as one of the most famous oceanfront hotels in Florida.
The opulent spa has 16 treatment rooms, a full-service salon, and a rooftop terrace with a view of the Gulf of Mexico, all of which contribute to a sense of calm and well-being for guests.
There are steam rooms with aromatherapy and whirlpool tubs available for use within the spa. The hotel's luxurious rooms provide breathtaking views of nearby St. Pete Beach.
Key Amenities:
Full-service spa and salon with rooftop terrace
Whirlpool baths and aroma-infused steam room
Access to private seaside Whisper Lounge
10. Omni Amelia Island Resort, Fernandina Beach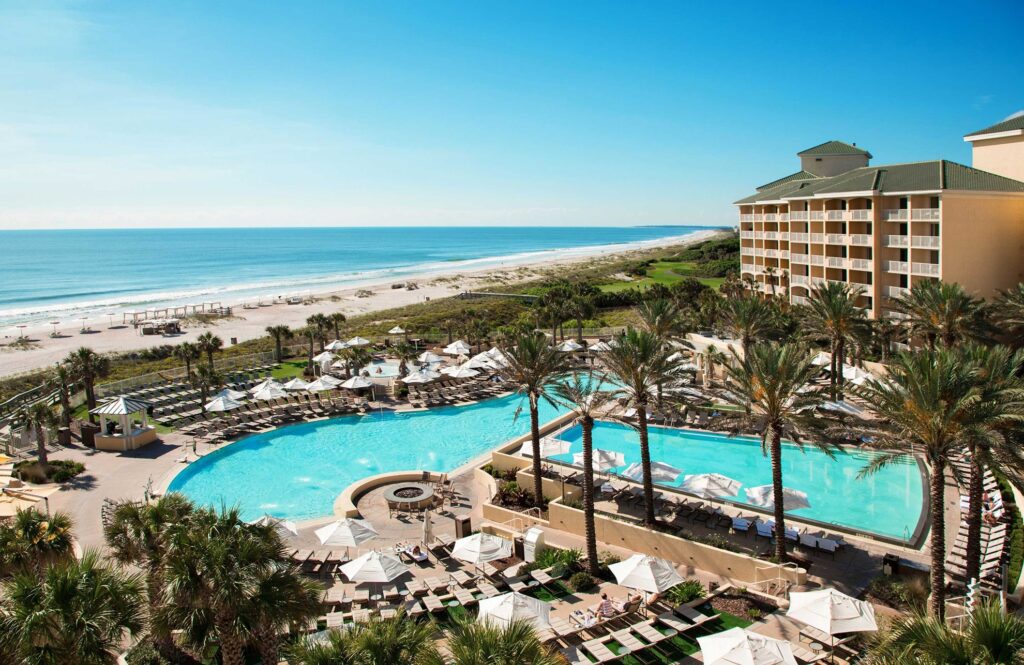 The Omni Amelia Island Resort features a high-end spa that takes its design cues from mother nature and is situated on 1,350 wooded acres at the end of a barrier island.
The spa has over twenty treatment rooms and offers trademark treatments such as couple's massages and Reiki healing procedures.
The treatment rooms open out into a peaceful meditation garden. In addition to its stunning oceanfront accommodations, this hotel includes world-class resort pools, championship golf, and an adults-only pool with an infinity edge.
Key Amenities:
Luxury spa with a meditation garden and steam showers
Men's and women's facial and body treatments
Full-service hair and nail salon
11. South Seas Island Resort, Captiva
The South Seas Island Resort is a huge oceanfront property on Captiva Island that features a lengthy list of facilities that are ideal for a romantic trip.
The resort is known as one of the most popular hotels in Florida for couples. It features 18 swimming pools, water slides, and a golf course, in addition to a nature center and a spa that offers comprehensive services.
Visit the ice cream store, the tiki bar, and the many on-site eateries before embarking on a romantic cruise around Cayo Costa National Park, Cabbage Key, and Useppa Islands.Alternatively, join a private sunset boat and go shelling and watching dolphins.
Before retiring to your condo, beach villa, or cottage, if unwinding is on your agenda, take advantage of the spa's massage services or the lagoon pool's hot tub by indulging in some well-deserved pampering.
12. Ocean Key Resort & Spa, Key West
You can tell that Ocean Key Resort & Spa is situated in a desirable area of Key West simply by looking at its address, which is "Zero Duval Street."
Its island boutique spa is a private oasis that mixes Eastern health with native oils and herbs for a variety of unusual treatments.
The facility is located near to the historic Mallory Square. After you have indulged in a Thai body ritual or a Balinese spa treatment, allow yourself to be treated with a Key Lime Margarita spa pedicure.
At this five-star beachfront hotel in Key West, you can relax in one of the stunning rooms or suites with waterfront views overlooking the Gulf of Mexico, indulge in waterfront dining at one of the many restaurants, and take part in the nightly celebration of the setting sun in Mallory Square, which is adjacent to the hotel.
Key Amenities:
Island boutique spa influenced by Eastern wellness with indigenous oils and herbs
Exotic Balinese treatments and Thai body rituals
Fitness center and ritual bath
Best Spa Resorts in Florida
13. Little Palm Island Resort & Spa, Little Torch Key
The Little Palm Island Resort & Spa, which just reopened after undergoing extensive renovations over the course of several years, is now known for its amazing level of service as well as its luxurious accommodations.
Its luxurious spa has a strong emphasis on health and wellness, offering services such as a Four Hands Massage and CBD therapies made with macadamia nut oil and organic vanilla as part of its menu of treatments. The Best Spa Resorts in Florida.
On the property's four-acre island paradise, where the spa is located, there are a total of only 30 rooms, each with their own private decks, gardens, pools, and access to the beach.
Key Amenities:
Private decks, gardens, pools and beach access
Massage, sound therapy, global rituals, bath experiences, facials and more
Fitness center with yoga offerings
14. Fontainebleau Miami Beach, Miami Beach
This exquisite spa at Fontainebleau Miami Beach is the epitome of opulent escape, earning the title of "most beautiful spa in America" from Martha Stewart.
The spa is located in the hotel. Mineral pools, massage-jet showers, and eucalyptus steam tubs may be found on both levels of the spa, which has a breathtaking view of the ocean.
A hammam bath, body cleanses, and deep massages with CBD and lavender are all available for your enjoyment here.
Choose instead to indulge in a full-body Abhyanga massage using scented oils that have been blended with herbs.
Key Amenities:
Mineral pools, massage-jet showers and eucalyptus steam baths
Ayurvedic rituals, massage and body therapies
Hair and nail salon
15. The Henderson Beach Resort & Spa, Destin
The Henderson Beach Resort & Spa, which can be found on the beautiful white sands of Destin's beach, provides guests with a one-of-a-kind opportunity to improve their health.
It also has a full-service salon in addition to its 11 individual treatment rooms, as well as an immersive shower, whirlpool tub, and Himalayan Salt suite.
This hotel's oceanfront accommodations provide sweeping panorama and sunset views of the Gulf of Mexico, while a selection of specifically built spa suites come complete with their very own private spa elevators.
Staying in the Spa Guest Room, which features a soaking tub with claw feet, will provide you with the utmost level of relaxation.
You may choose to spend your days lounging by the pool or going to the private beach to participate in a variety of enjoyable water-based activities.
Key Amenities:
Experiential shower, whirlpool tub and Himalayan Salt suite
Spa guest room with claw-foot soaking tub
Massage, skincare treatments and full-service salon
15 Best Spa Resorts in Florida 2023 –Newshub360.net
Related Post
Credit : www.Newshub360.net