The 7 Myrtle Beach Resorts with Water Parks 2023: Every year, the famous beach town of Myrtle Beach, South Carolina, takes home a slew of honors in recognition of its status as a leading vacation spot that caters for families.
Not only is it well-known for the stunning beaches that go on for miles and miles, but it is also famous for the overwhelming number of activities and attractions that can be enjoyed there, such as shopping, concerts, live events, restaurants, nightlife, amusement parks, and more.
Because the city is home to some of the most feature-rich hotels and resorts in the surrounding region, you won't even need to go out of your hotel if you don't want to in order to have a good time!
Those who have a passion for water activities, in particular, will want to check out these Myrtle Beach resorts that come complete with their very own water parks!
7 Myrtle Beach Resorts with Water Parks 2023
1. Captain's Quarters Resort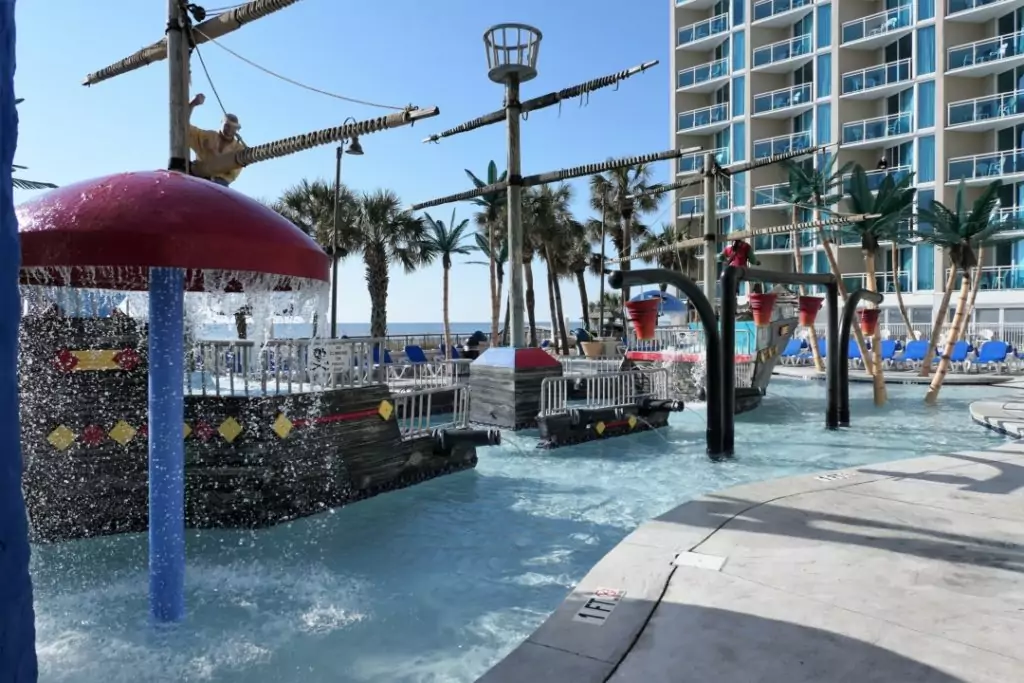 Guests of the beachfront Captain's Quarters Resort in Myrtle Beach can choose from a wide range of lodging types and sizes, including efficiency apartments and spacious suites.
But the variety of services and facilities that are available to visitors is what truly sets this resort apart from others. To begin, guests have access to a variety of on-site eating options, including a breakfast buffet and a bar located by the pool.
In addition, there is Level 6, which is a 2,000 square foot entertainment center with a snack bar, a bowling alley with 20 lanes, and arcade games.
The on-site waterpark, which features indoor and outdoor pools, five whirlpools, a lagoon, and both an indoor and outdoor lazy river, is nevertheless the true delight, and it is especially enjoyable during the summer months when you are staying there.
Key Amenities:
Shipwreck Lagoon water play area
2,000-square-foot entertainment center
Indoor and outdoor pools, water features and lazy river
2. Dunes Village Resort (Myrtle Beach Resorts with Water Parks)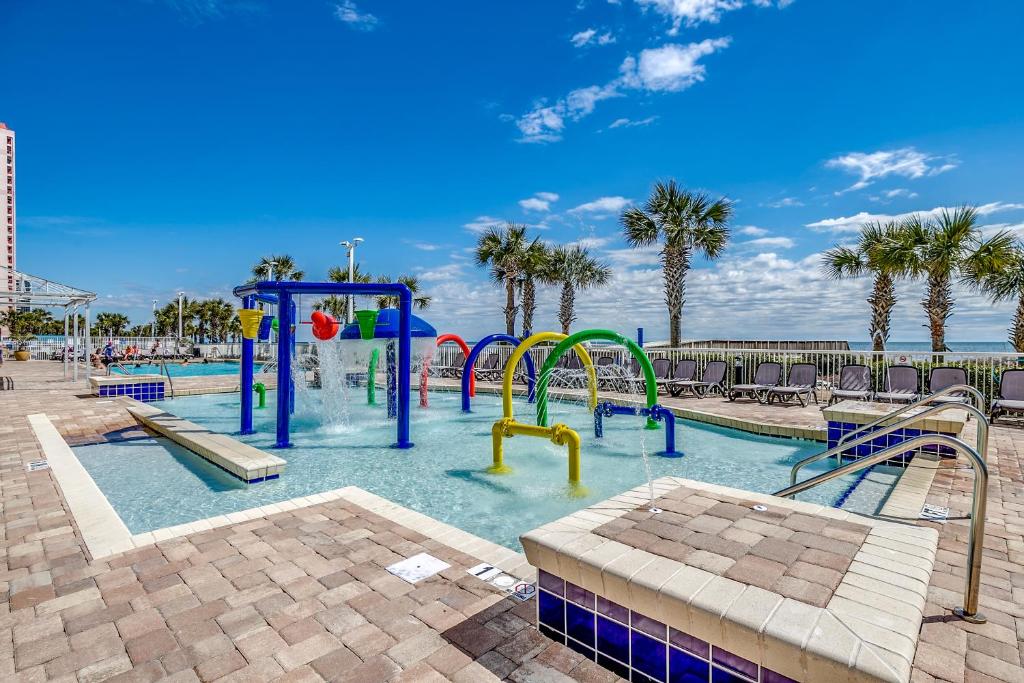 The indoor waterpark at the Dunes Village Resort is the largest one that has ever been constructed at an oceanfront resort in Myrtle Beach, South Carolina.
In fact, this resort features not one but two indoor waterparks, one in each of the towers that make up the complex.
There are several water attractions designed specifically for children, such as the Silly Submarine and waterfall buckets. In addition, there are other water attractions designed specifically for adults, such as three whirlpools, two water slides, and an outdoor lazy river.
Or, mom and dad may get a little treatment at the on-site spa while the kids have fun participating in one of the Kid's Club activities such as pool games, treasure hunts, or arts and crafts.
After that, the entire family may unwind and enjoy a meal together at the Captain's Café, which is located on the property.
Key Amenities:
Indoor waterparks in each resort tower
Whirlpools, water slides and outdoor lazy river
Kid's Club activities like pool games or treasure hunts
3. Landmark Resort
The Landmark Resort, which is likewise situated directly on the beachfront, provides guests with a wide range of diverse lodging options. These include rooms, efficiencies, suites, and penthouses, in addition to a quite extensive selection of other facilities.
On-site eating may be accomplished in a variety of ways, including a breakfast buffet, a bar and grill, an ice cream store, a pizzeria, a pool bar, and a coffee bar that serves Starbucks coffee.All of these establishments are located within the hotel.
The best part is that the hotel recently renovated its on-site water park, expanding its size to 9,800 square feet and adding three waterslides that are each 40 feet tall, a kids' slide with a lion motif, an area for children to play in the water called Splash Landing, and a mushroom fall.
Key Amenities:
H2Oasis Water Park exclusive to hotel guests
40-foot slides and kids water play area
Indoor pool, hot tubs and lazy river
4. The Caribbean Resort and Villas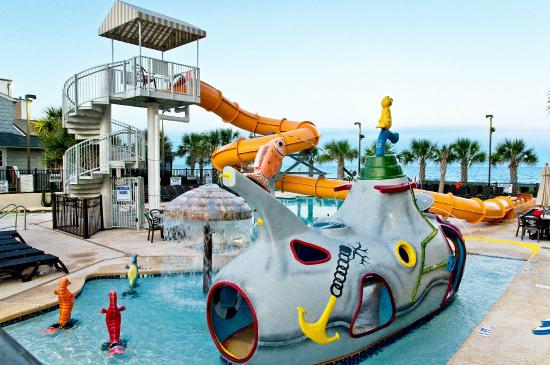 The Caribbean Resort and Villas has been a fan favorite in Myrtle Beach for more than four decades. It is comprised of a number of distinct buildings, each of which offers a varied variety of rooms for guests to stay in.
Guests have their choice of beachfront and oceanview guest rooms and condominiums, or they may choose to stay in the Chelsea Villas, which are located just across Ocean Boulevard and provide a more private and peaceful environment.
The true delight, however, is in the excellent amenities that are provided here. These include a full-service spa, a gaming room, outdoor lawn games, an on-site restaurant, an oceanfront tiki bar, and even an on-site Starbucks and Ben & Jerry's Ice Cream shop!
The beachfront water park of the resort has more than 14 swimming pools, water slides, a 200-foot outdoor lazy river, an interior lazy river, and both indoor and outdoor hot tubs. In addition, there is a lazy river that is indoors.
Key Amenities:
Oceanfront water park with 14 pools and water slides
Indoor/outdoor lazy rivers and hot tubs
Full-service spa and game room for kids
5. North Shore Hotel – Oceanfront Myrtle Beach Lodging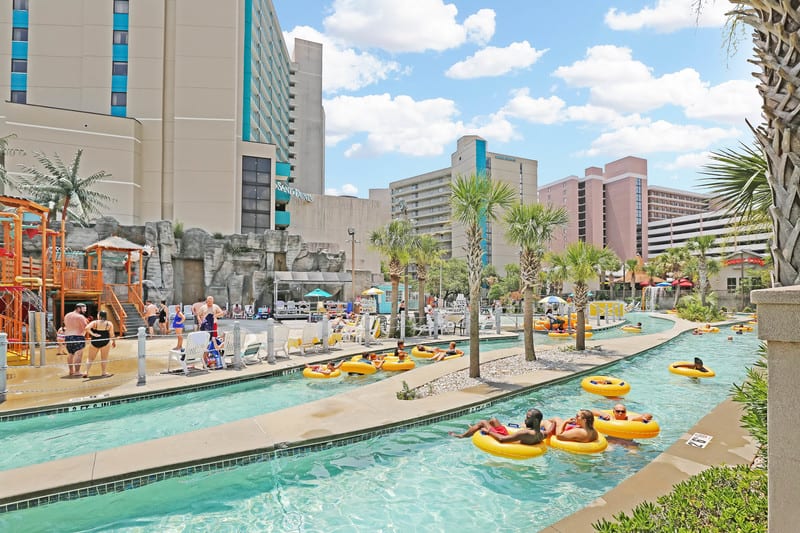 The North Shore Hotel in Myrtle Beach, South Carolina, features one of the largest outdoor waterparks along the Grand Strand in the area. It's just like going to a theme park, except you don't have to worry about finding space or standing in line for hours.
There are many different types of water attractions available, such as slides, waterfall pools, a lazy river, a bubble pool, and even an underwater treehouse for the younger children to enjoy.
In addition, visitors may make use of the on-site nail salon, gift shop, convenience store, and indoor pool, and then settle in for a delectable meal at one of the on-site restaurants including Beachfront Kitchen & Bar & Pizza Shanty. Other on-site amenities include a gift shop and a convenience store.
Key Amenities:
Aquatic treehouse, slides, bubble pool and lazy river
Family Fun Zone arcade and mini-golf
On-site nail salon offering body and skin services
6. Crown Reef Beach Resort and Waterpark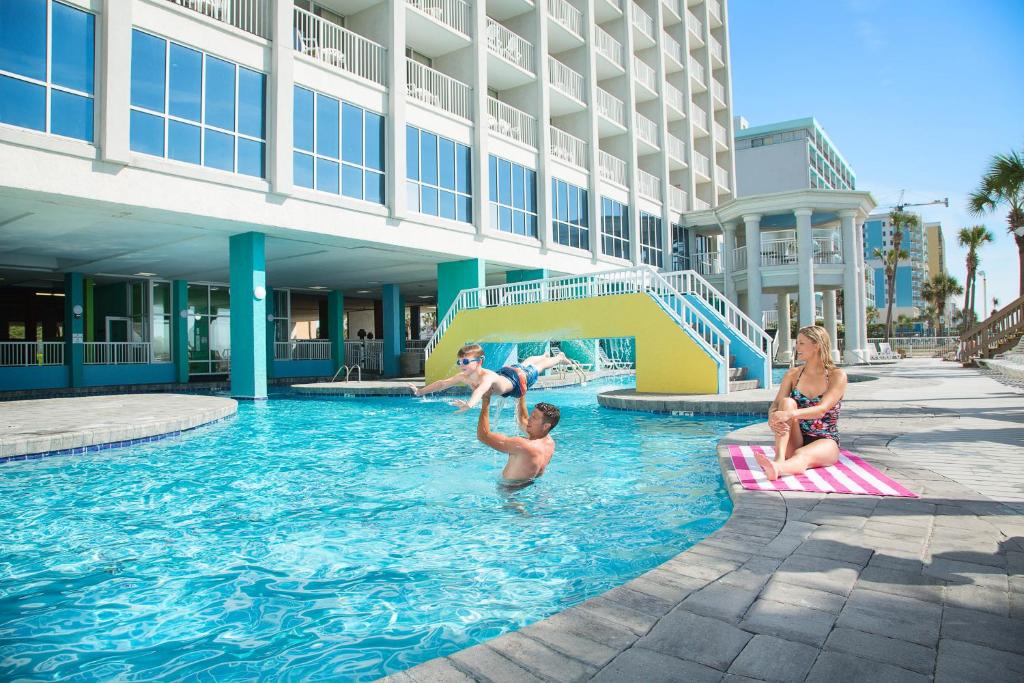 The waterpark at the Crown Reef Resort in Myrtle Beach, which is open throughout the year and has a two-person tube slide that is 278 feet long, a single-person slide that is 302 feet long, and even a slide that is eight feet tall for the youngsters, has helped the hotel earn a spot on USA Today's list of the 10 Best Hotels For Water Fun.
In addition, there are a number of swimming pools, a children's play area that includes Salty's Splash House and the Silly Sub, shaded whirlpools, a sundeck that is four stories high, and the Myrtle Beach area's longest beachfront lazy river.
Your entire family will have all they need and even more! And this is in addition to the other amenities that the resort offers, such as a restaurant with a view of the beach, a coffee bar, an ice cream store, and a coin-free arcade called Game On! with a variety of activities including video games, air hockey, and more.
Key Amenities:
Year-round waterpark with tube slides, splash house and kids play area
Longest oceanfront lazy river in Myrtle Beach
Coinless arcade
7. Compass Cove Oceanfront Resort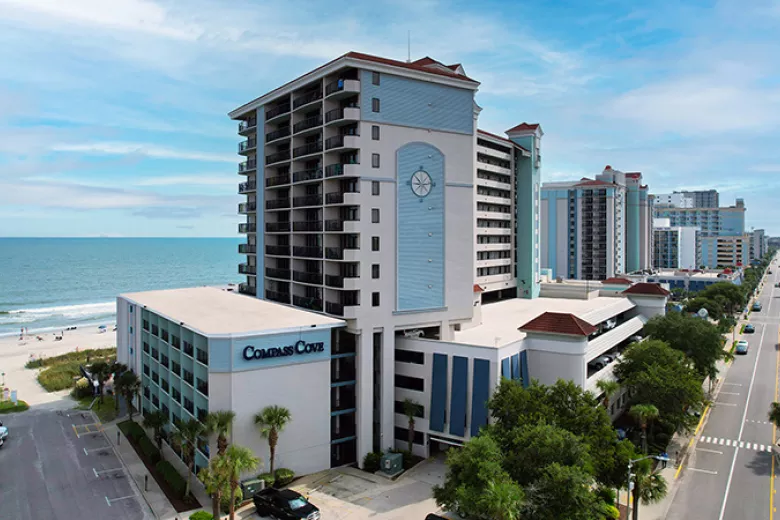 Condos at the Compass Cove Oceanfront Resort range in size from one to three bedrooms, and all have ocean views, flat-screen TVs, and complimentary DVD rentals.
In addition, guests have access to restaurants, a gift shop, laundry facilities, outdoor lawn games, and the enormous waterpark that the resort provides, which has a total of twenty-two different water attractions.
There are a total of six swimming pools (both indoor and outdoor), five child-sized pools, two water slides, three hot tubs, and three lazy rivers (both indoor and outdoor).
Key Amenities:
Waterpark with water slides and lazy rivers
Kiddie pools and six indoor/outdoor pools
Condos with oceanfront views and access to laundry facilities
7 Myrtle Beach Resorts with Water Parks 2023 – Newshub360.net
Related Post

Credit : www.Newshub360.net