The 11 Best Lazy Rivers in Arizona to Cool Off in This Summer 2023: Laziness may have a bad name, but on a day when the temperature is soaring in Arizona, it might be a welcome relief.
To beat the heat in Arizona, residents and visitors alike head to hotels, which often have enticing swimming pools and exciting water parks, rather than the state's lack of an oceanfront position and the beaches that come with it.
As a result, you should embrace your inner idleness and endure the scorching sun of summer since Arizona is home to some of the country's best lazy rivers.
11 Best Lazy Rivers in Arizona to Cool Off in This Summer 2023
1. JW Marriott Tucson Starr Pass Resort & Spa, Tucson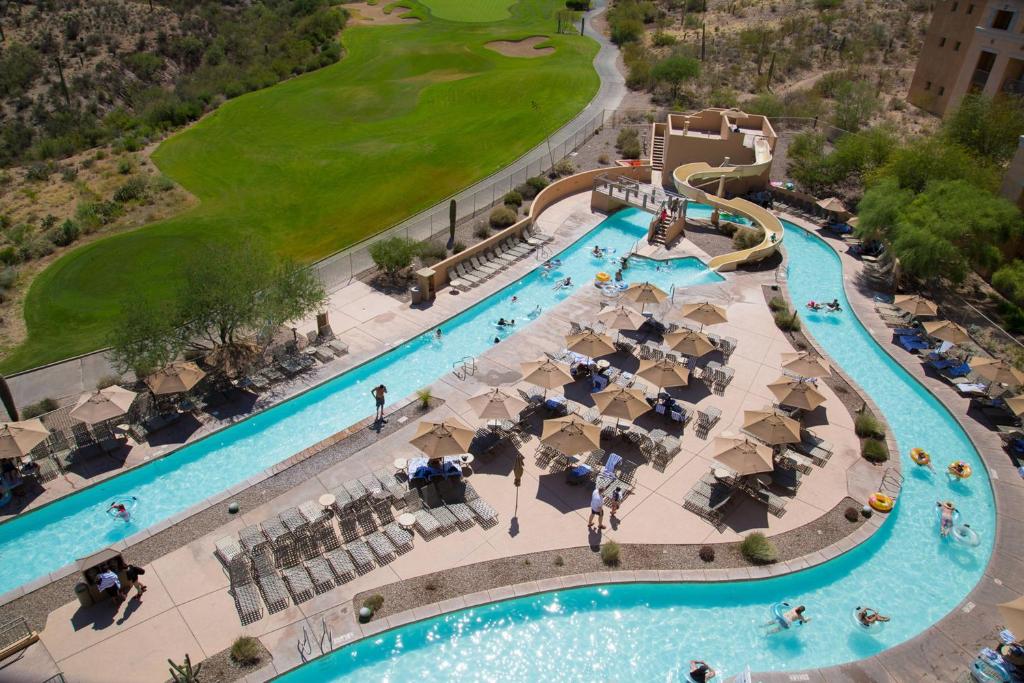 The JW Marriott Tucson Starr Pass Resort & Spa is regarded as one of the best hotels in Tucson because of the large part to the presence of a lazy river.
In general, in addition to its luxurious suites and big rooms, the resort features a swimming pool with many levels, a lazy river, and a water slide.
The evening tequila toasts and the ability to walk and bike paths that start right at the resort are two of the things that guests who stay here like the most.
You may also get a room with a view of the lazy river, which will provide you with a pleasant and festive view. These rooms come with either one king bed or two queen beds.
2. Hilton Phoenix Resort at the Peak, Phoenix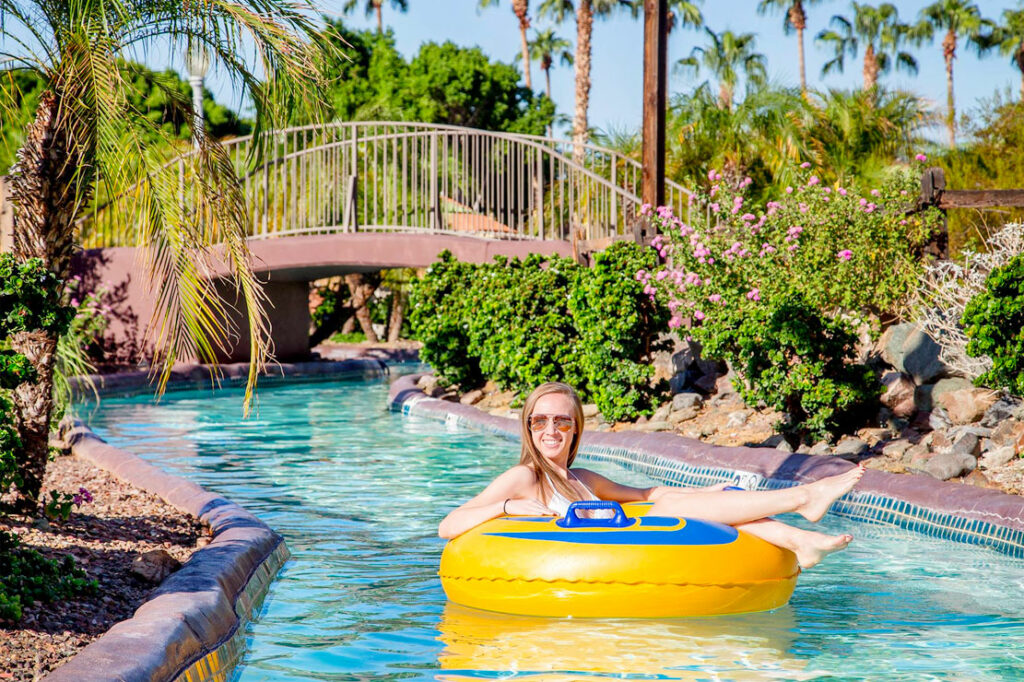 When it comes to summertime fun in Phoenix, there is no shortage of must-see destinations, but the water park at the Hilton Phoenix Resort at Peak River Ranch tops them all.
In addition to a water slide that is 130 feet long and a whole water park that spans four acres, it features a lazy river that is half a mile long where you can sit in a tube and relax.
In addition, there is a children's activity camp on site, in addition to the 18-hole mini-golf course and four tennis courts that are available to keep you engaged during your stay.
The one-room suites, one-bedroom casitas, and two-bedroom casitas are all available for you to choose from so that you may enjoy this lazy river for yourself.
The resort is located near to Scottsdale as well as the airport, and it is next to the Phoenix North Mountain Preserves.
3. Arizona Grand Resort & Spa, Phoenix
The Arizona Grand Resort & Spa is a premier resort in the Phoenix area that features both a water park and a lazy river.
The Oasis water park is designated for resort guests (with limited availability for non-resort visitors), and it has a river that is ideal for tubing in addition to a large wave pool, an eight-story tower with three water slides, and a hot tub that can accommodate 25 people.
The only active river in the Valley that is suitable for side-by-side inner tubing on two inner tubes is the Zuni River, which is the name given to this slow-moving river.
Best Lazy Rivers in Arizona to Cool Off in This Summer
4. The Westin Kierland Resort & Spa, Scottsdale
The Westin Kierland Resort & Spa, which is considered to be one of the greatest resorts in the United States to have a lazy river, also provides its guests with a fantastic chance to relax and keep cool with its winding 900-foot lazy river.
The water park at the resort also features a slide that is 100 feet long called the Kierland FlowRider as well as a splash pad for children.
The lazy river here is only closed when the forecast calls for temperatures of 60 degrees or below, which isn't likely to happen during the scorching Arizona summer.
Adults also have the option of unwinding in the Aguamiel Pool, which is a calm pool reserved exclusively for adults and is available around the clock. When you stay here, you will be right in the middle of "New Scottsdale."
5. JW Marriott Phoenix Desert Ridge Resort & Spa, Phoenix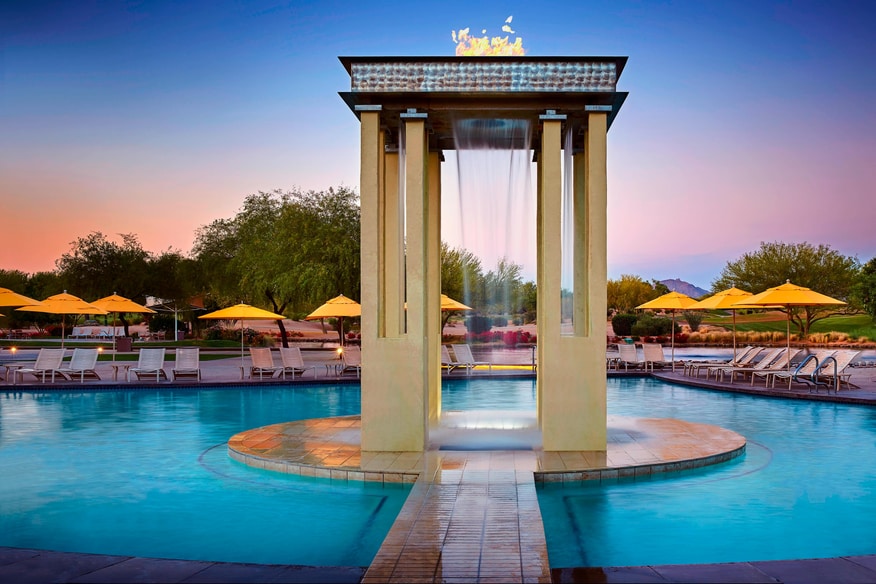 If you are only going to be able to visit one lazy river this summer, we recommend that you make it to the one that is located at the JW Marriott Phoenix Desert Ridge Resort & Spa in Phoenix.
The resort's gorgeous grounds are encircled by a meandering river, which offers guests the ideal opportunity to unwind in the fresh air.
The AquaRidge WaterPark will reopen to the public after undergoing significant renovations, and in addition to that, customers will have access to four more pools.
This resort is great for people who appreciate being in the water because it has water slides and a splash area for children.
6. Phoenix Marriott Resort Tempe at The Buttes, Tempe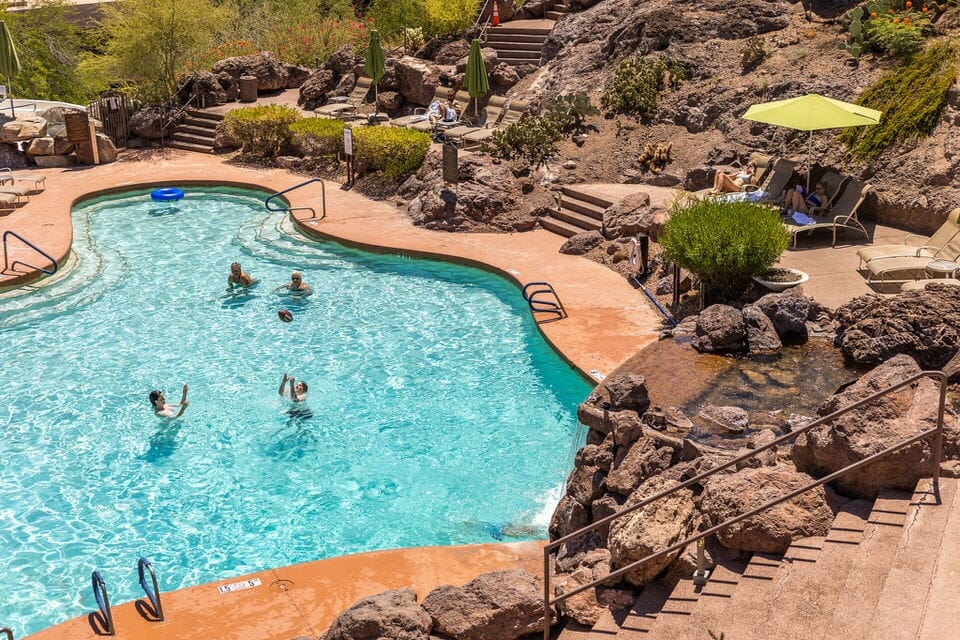 The Phoenix Marriott Resort Tempe at The Buttes features a pleasant small lazy river tunnel that connects the resort's two pools, making it the ideal place to unwind and take it easy while you're in the water.
This is a fantastic water feature in a first-rate resort, despite the fact that its "river" is not as lengthy as the rivers at some of the other resort pools included on this list.
In addition to hiking paths, this location features two pools with gin-clear water and a water slide, as well as four tennis courts and two beach volleyball courts.
Take some time to unwind in the water while taking in the breathtaking vistas of the hillside butte and the desert sunsets. The Phoenix Sky Harbor International Airport is about five kilometers (three miles) away from this hotel.
Best Lazy Rivers in Arizona to Cool Off in This Summer
7. Great Wolf Lodge, Scottsdale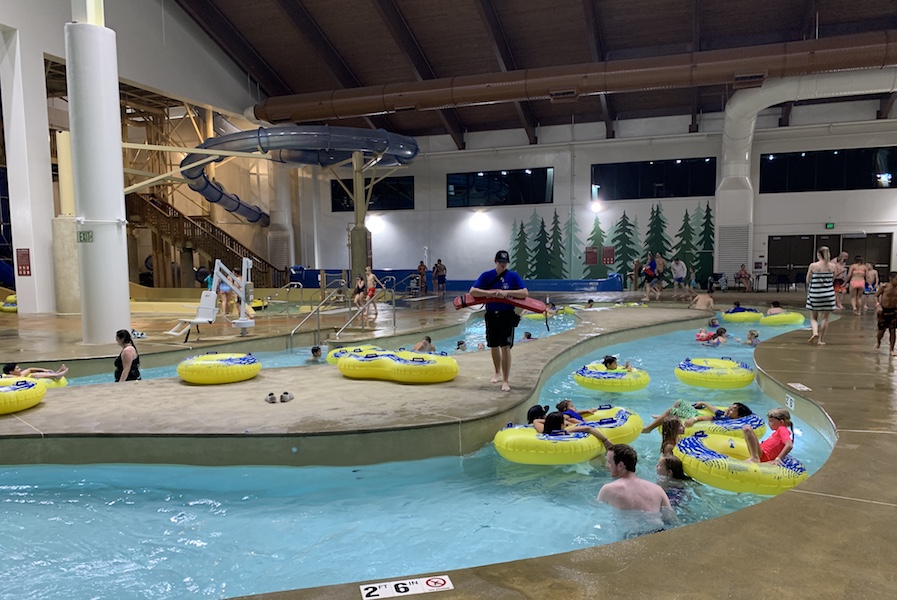 At the Great Wolf Lodge in Scottsdale, Arizona, the lazy river is known as Crooked Creek, and going for a float down it is an enjoyable activity that the whole family may participate in together.
You have the option of either floating in a tube or getting out of it to swim or stroll in the river at this point. The water is around three feet deep.
Being able to float along with the calm river for as long as you'd want to is a very pleasant experience. Due to safety concerns, visitors are only allowed to move in the same direction as the water current, and activities like as jogging, rough play, and diving are prohibited.
In addition, you are not permitted to bring any kind of food or drink with you while you are in the lazy river or on its perimeter.
A multi-story treehouse, a wave pool, water slides, and a separate hot tub area only for adults are some of the other exciting water park elements that can be found at the resort.
8. JW Marriott Scottsdale Camelback Inn Resort & Spa, Scottsdale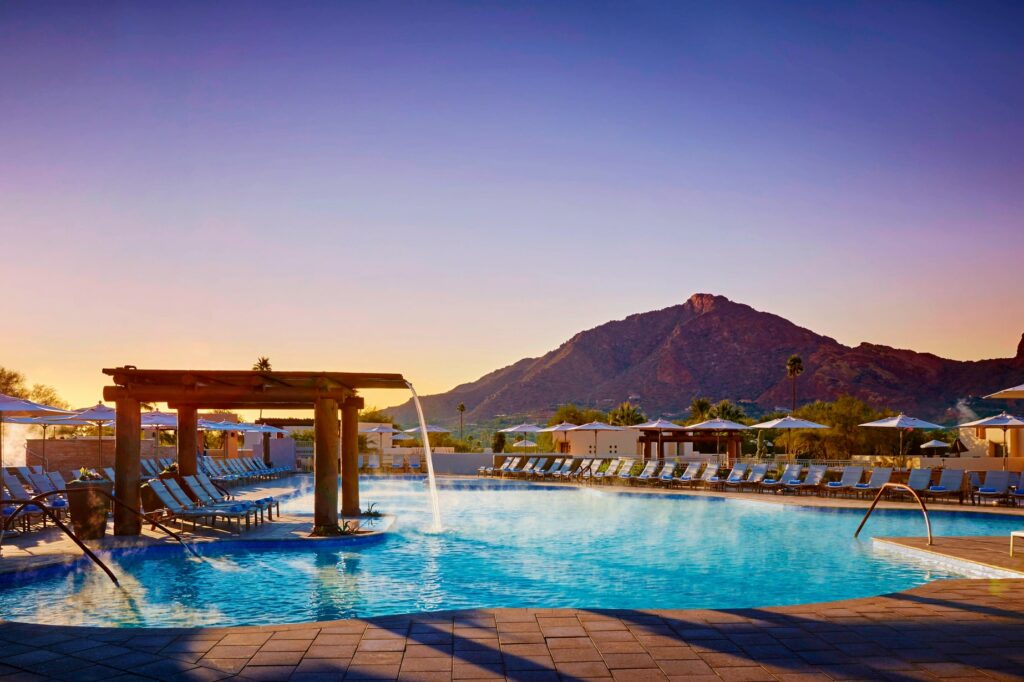 Although it is not strictly speaking a "river," the JW Marriott Scottsdale Camelback Inn Resort & Spa features a lazy river that is located right adjacent to the swimming pool, in addition to a fantastic bar.
This luxurious resort in Paradise Valley, which has won several awards, is the ideal place to go for a round of golf or a day at the spa
.The outdoor pools are heated, there is a lap pool in the spa that is 32,000 square feet in size, and some of the large casitas and suites have their very own private pools. This is a wonderful spot to kick back, relax, and take in the breathtaking views of the desert.
The resort provides easy access to garden terraces, desert paths, and beautiful gardens, in addition to offering a complimentary shuttle service to both of its championship golf courses, each of which has 18 holes.
9. Waylon's Water World, Yuma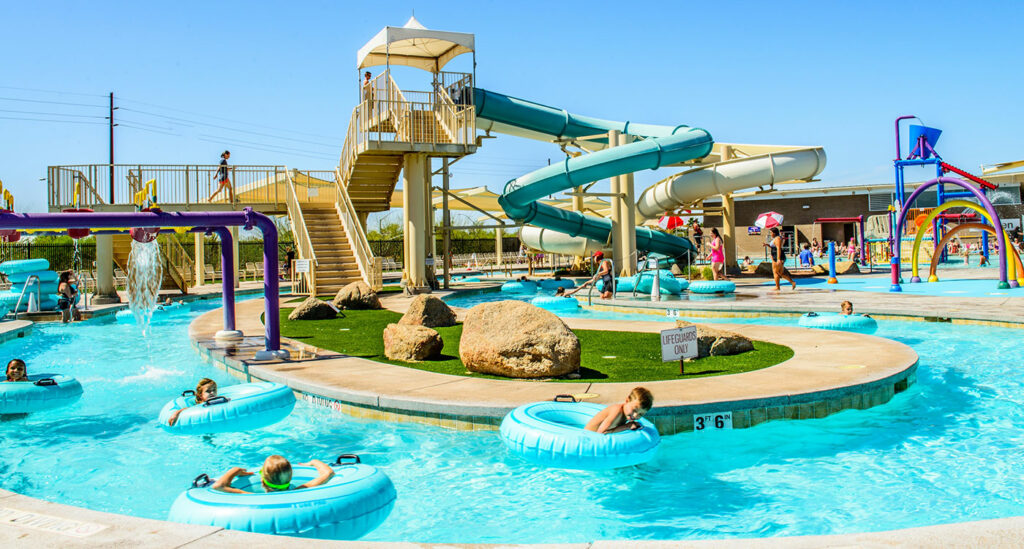 Even though this lazy river isn't located within a resort like the others on this list, it nevertheless merits a mention due to its great location in Yuma, Arizona, which is known for its high temperatures and abundant sunshine.
There are approximately 15 water slides and pools at Waylon's Water World, and they are intended to accommodate both children and adults.
A refreshing way to beat the heat on a scorching summer day is to take a float down the 850-foot-long lazy river that is featured at the water park. You may relax on a transparent tube while enjoying a drink in utter enjoyment.
Younger children will like the Big Bowl, Mat Racer, and Syd's Zone, which are all exciting water attractions here.
In addition, there is a play area specifically designed for toddlers, a snack store, tables with umbrellas to provide some shade, and private cabanas that may be rented out.
10. Chandler Aquatics, Chandler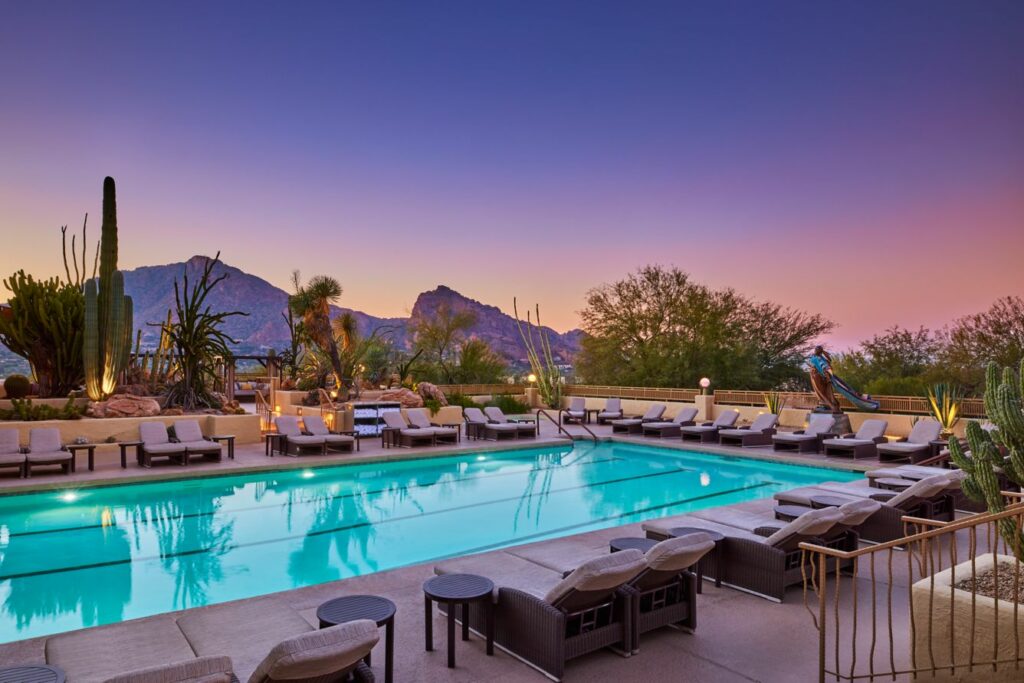 Chandler Aquatics was recognized by Aquatics International as deserving of the Best of Aquatics Award for the work it did in the community to raise awareness about the dangers of drowning during the month of May.
Not only is it risk-free to swim here, but it's also a lot of fun thanks to the lazy river, the spray and splash pads, and the excellent programs that are offered here.
You may enjoy the lazy river by floating on an inner tube and then checking out some of the programs that are provided, such as the aquafit courses, the lap swim hours, the adult group practice, and the year-round swim lessons that are held in the heated pool.
11. Golfland Sunsplash, Mesa
You may go to Golfland Sunsplash, which features a bunch of fun activities, like a lazy river, when you're searching for something to do in the area.
Because there are more than 30 rides and attractions on the premises, this location in Arizona is highly sought after for hosting events such as birthday parties and team building activities in addition to providing a great deal of entertainment for families.
Mesa, which is just on the outskirts of Phoenix, is where you'll find it. You won't only find a lazy river here; there's also mini-golf, an arcade, laser tag, bumper boats, a splash pad, water slides, a wave pool, and plenty more.
11 Best Lazy Rivers in Arizona to Cool Off in This Summer 2023 – Newshub360.net
Related Post
Credit : www.Newshub360.net