The 15 Most Romantic Couples Resorts in the Caribbean 2023: Even just imagining a vacation to a tropical destination in the Caribbean could bring on emotions of contentment.
The islands are perfect for couples who are searching for a romantic trip with clean white sands, swaying palm trees, and possibly a five-star hotel with an infinity pool that looks out over the sparkling blue waters of the ocean.
You may ensure that your vacation will be one of the most memorable of your life by reserving a room at one of these fantastic resorts designed just for couples.
15 Most Romantic Couples Resorts in the Caribbean 2023
1. Half Moon – Montego Bay, Jamaica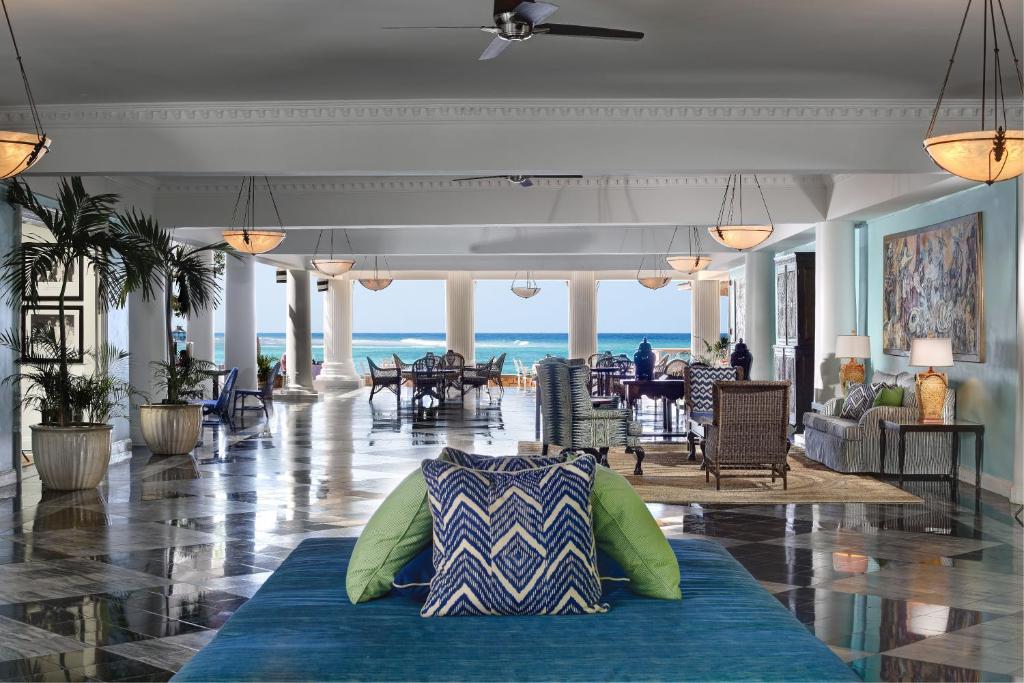 The Half Moon is renowned for its delicate luxury, which has attracted a large number of VIP guests, including Queen Elizabeth and 50 Cent.
It is situated on two beautiful beaches and lush tropical gardens, and it provides guests with a broad variety of services, such as a kids' club, various pools, a big fitness center, multiple restaurants, and more.
There are a variety of activities available, such as golfing, windsurfing, kayaking, swimming with dolphins, and horseback riding on the beach.
The multi-bedroom villas come complete with their very own kitchen and butler, and the rooms all have their own private balconies with views of the ocean, the pool, or the garden.
Key Amenities:
Famed for understated luxury
Pool, massive gym and a kids' club
Rooms with private balconies
Multi-room villas come with cook and butler
2. Spice Island Beach Resort, Grenada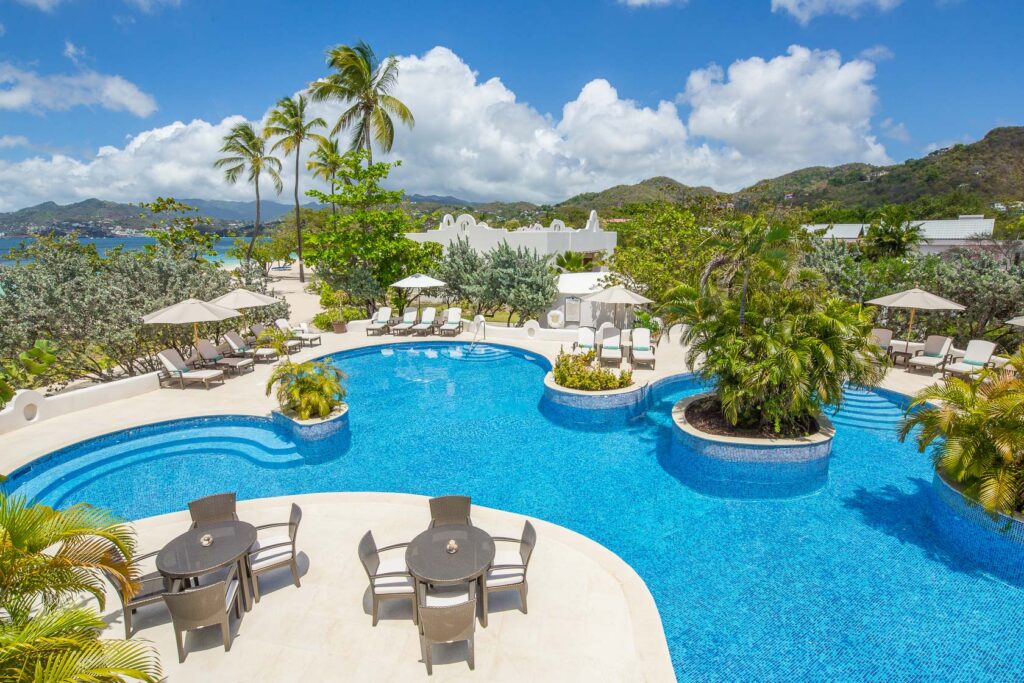 Spice Island Beach Resort is consistently regarded as one of the greatest resorts in the world and is widely considered to be among the best all-inclusive Caribbean resorts for couples.
The resort is encircled by thriving tropical gardens. The beachfront suites are situated on a stretch of pristine white sand beach that is bordered by turquoise seas that are incredibly transparent and perfect for swimming.
Seagrape Suites, the hotel's specialty accommodations, are distinguished by huge patios with private gardens and whirlpool tubs that look out over the ocean.
Each of them comes with a double hammock where you and a companion may view the beautiful sunsets of the Caribbean. The prices include all of the following activities at no additional cost: kayaking, snorkeling, tennis, cycling, and golf green fees.
Dishes prepared using regional flavors and ingredients are featured at meals, which are served al fresco in eating spaces.
Key Amenities:
One of best all-inclusive Caribbean resorts for couples
Signature suites feature whirlpool tubs, patios and hammocks
Kayaking, snorkeling, tennis, cycling and golf included in rates
3. Calabash Cove Resort & Spa, St. Lucia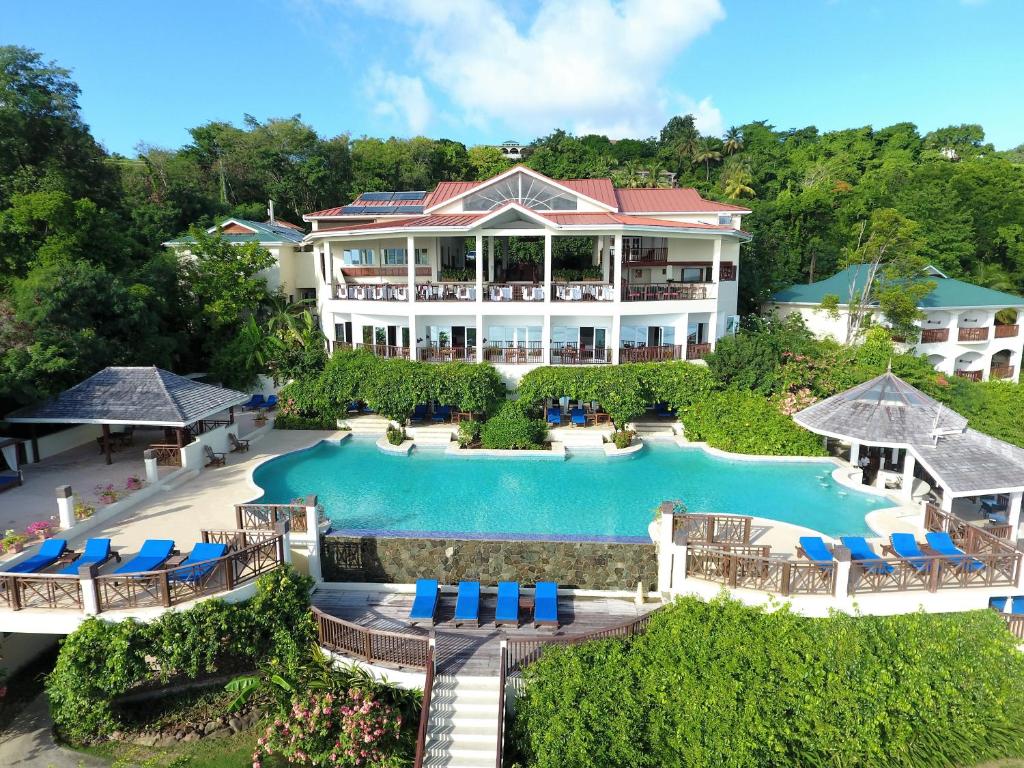 The premium Calabash Cove Resort & Spa is a boutique resort that caters only to adults and is located on a hillside overlooking Bonaire Bay.
It is considered to be one of the best all-inclusive resorts in the world since it provides breathtaking panoramas of the Caribbean from virtually every angle, such as from the private balconies of the guest rooms, the stunning infinity pool, the open-air restaurant, and even the library.
If you book a Sunset Junior Suite with a view of Mosaic Beach, you will have access to a private hot tub. If you book a Swim-Up Junior Suite, you will have access to a lanai that connects to the pool.
Windsong, the on-site restaurant, provides dishes that are influenced by Asian cuisine, while the spa has treatments that make use of local products.
Key Amenities:
A top all-inclusive resort worldwide
Adults-only escape with private room balconies
Spectacular infinity pool and library
Open-air restaurant with Asian-inspired cuisine
Most Romantic Couples Resorts in the Caribbean
4. Hermitage Bay, Antigua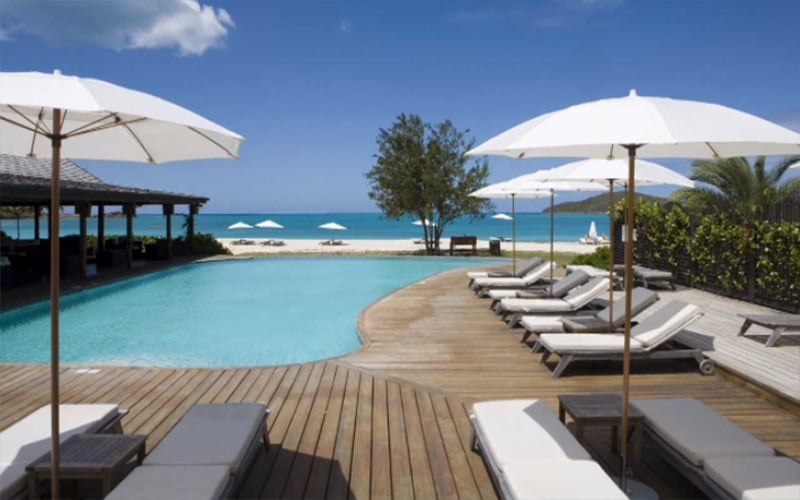 Hermitage Bay, located in Antigua, is one of the most well-known resorts in the world because to its barefoot luxury. A luxury resort with five stars and twenty-five bungalows scattered around vibrant tropical gardens and in front of a beach with white sand.
Couples may look forward to celebrating the end of a fantastic day with a glass of exquisite Champagne while viewing vivid sunsets from the comfort of their own private infinity plunge pool and enjoying in Garden Spa treatments informed by ancient Eastern notions of chakra.
Classes like Pilates, meditation, and yoga, as well as activities such as snorkeling, windsurfing, and kayaking, are all included in the all-inclusive prices.
In addition to the three meals and an afternoon snack that are provided each day, guests will also get premium-brand beverages and house wine.
Key Amenities:
World-renowned for barefoot luxury
5-star resort with all-inclusive rates
Garden cottages boast private infinity plunge pools
Chakra-influenced spa treatments and healing rituals
5. COMO Parrot Cay, Turks and Caicos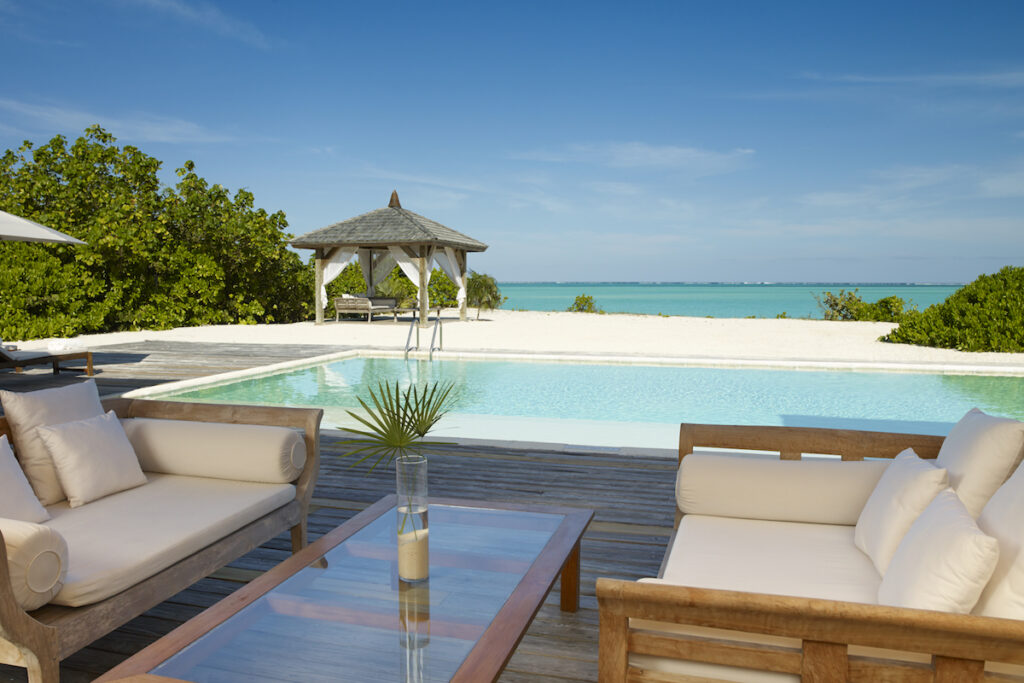 Couples looking for the utmost in privacy and intimacy will find it impossible to be reached except by boat at the COMO Parrot Cay resort in Turks & Caicos.
Enjoy your stay on this ultra-luxurious private island in Turks and Caicos by taking advantage of this resort's all-inclusive amenities.
It is located on three miles of immaculate white dunes and has a total land area of one thousand acres. It contains homes designed in the Balinese style and a stunning pool with an infinity edge.
In addition to its beach vistas and sumptuous treatments, the world-famous spa features a yoga pavilion, a Pilates class, and an in-house Ayurvedic doctor.
The majority of a restaurant's produce is produced in an organic manner on-site, which allows the establishment to provide patrons nutritious and delectable cuisine.
Key Amenities:
Ultra-lux private island paradise
Balinese-style villas along white sand beach
World-class spa with ocean view
In-house Ayurvedic doctor, Pilates studio and yoga pavilion
6. Petit St. Vincent Resort, St. Vincent and the Grenadines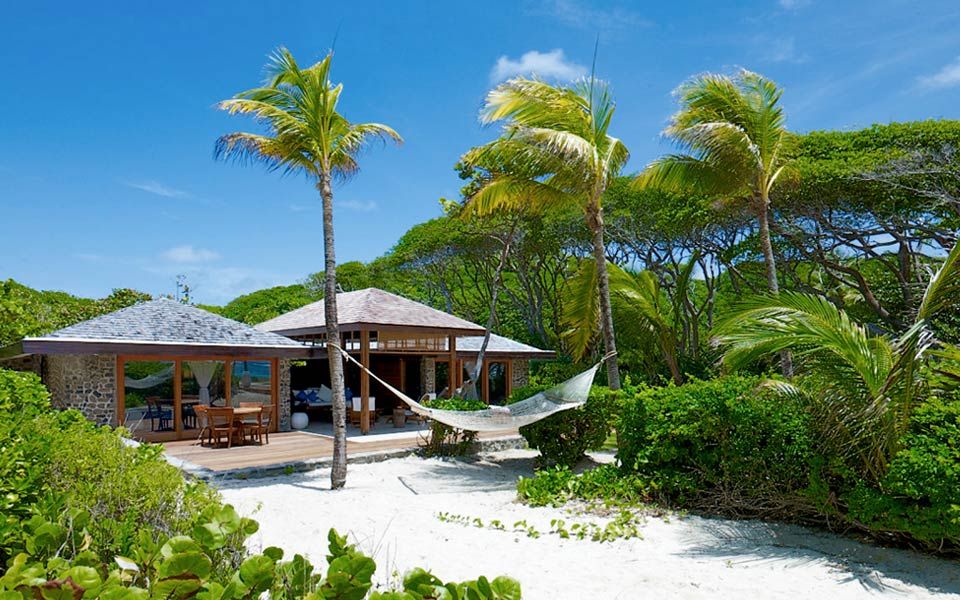 The Petit St. Vincent Resort, which is considered to be one of the finest private island resorts in the world, features two miles' worth of alluring sands and is located in an area where the only sounds you are likely to hear are the voices of birds and the splashing of waves along the coast.
When you have a request of any kind, all you have to do is put a letter in your mailbox and raise a yellow flag to get staff's attention.
Cottages on steep bluffs and beachside villas are both available; however, none of them have telephones, Internet access, or televisions.
This is done on purpose to facilitate uninterrupted time for guests to bond with one another. You'll also discover a wide variety of activities to partake in, such as a selection of sailing trips to visit neighboring islands.
Key Amenities:
One of world's best private island resorts
Elevated bluff cottages or beachfront villas
Absence of connectivity to relax without distraction
Sailing excursions to explore nearby islands
Most Romantic Couples Resorts in the Caribbean
7. St. Lucia's Jade Mountain (Jade Mountain)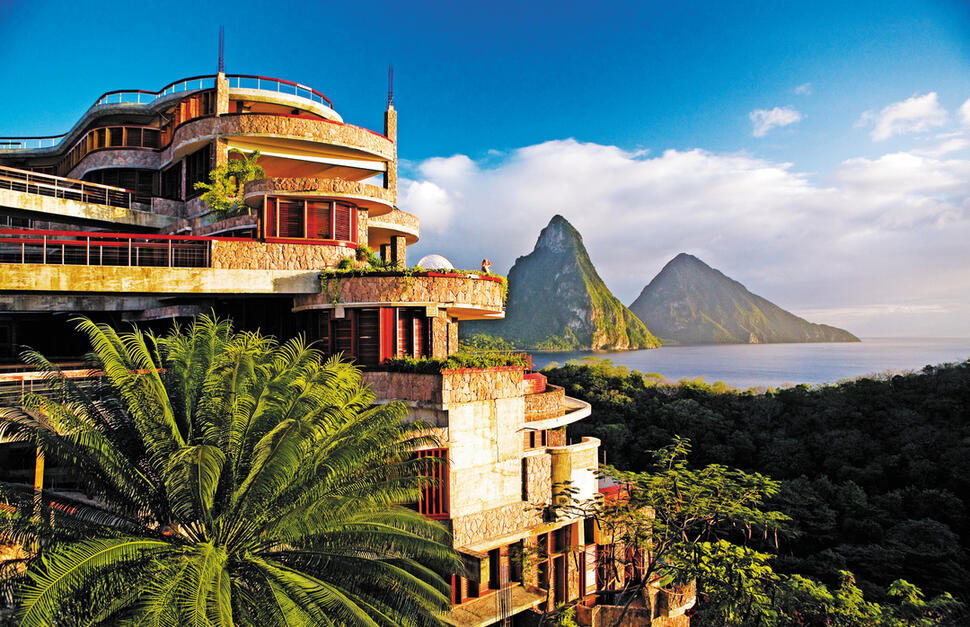 A getaway to Jade Mountain, which is reserved exclusively for adults, is consistently ranked among the most romantic hotels and resorts for adults in the world.
The expansive suites at this hotel look out over the Caribbean and the Pitons and come equipped with amenities such as canopy beds, elevated Jacuzzi spas, and private infinity pools (with the exception of the most basic accommodation).
In addition, each one comes with a specialized butler. The all-inclusive package includes the award-winning cuisine that is prepared using ingredients that are sustainably harvested from the adjacent plantation.
You may also look forward to enjoying revitalizing spa treatments, invigorating beverages, lively music, and amazing views of the night sky from the observation deck, all of which are included in your stay.
Key Amenities:
Among world's most romantic adults-only spots
Huge suites feature canopy beds and infinity pools
Organically-sourced award-winning cuisine
8. Cocobay Resort, Antigua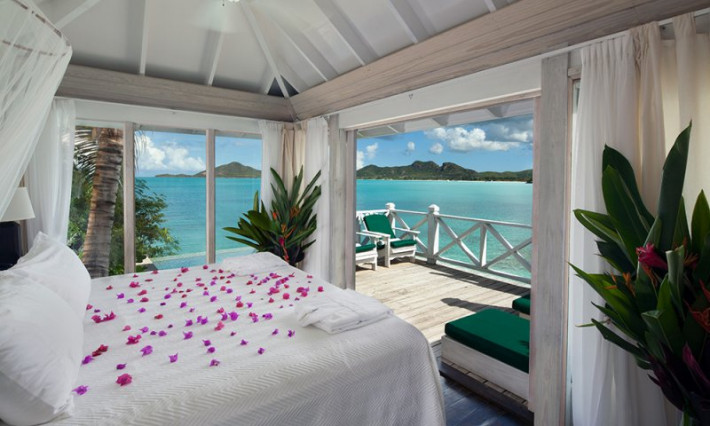 Cocobay is one of the greatest all-inclusive resorts for couples traveling on a budget. It is located on a cliff overlooking the Caribbean and features distinct cottage-style rooms decorated in pastel colors.
Each room has an own balcony furnished with hammocks and Adirondack chairs. In the upgraded accommodations, you may choose between an outdoor clawfoot tub or a private plunge pool.
The resort features a private, romantic ambiance with loads of local charms, as well as three white sandy beaches and access to non-motorized sports, nature walks, yoga, and fitness classes.
In addition, the property includes two big and two little infinity pools, all with beautiful sea views.
Key Amenities:
Ideal option for budget-friendly couples
Secluded, romantic atmosphere and local charm
Cottage-style rooms have furnished balconies
Three white sandy beaches
9. The Caves Hotel, Jamaica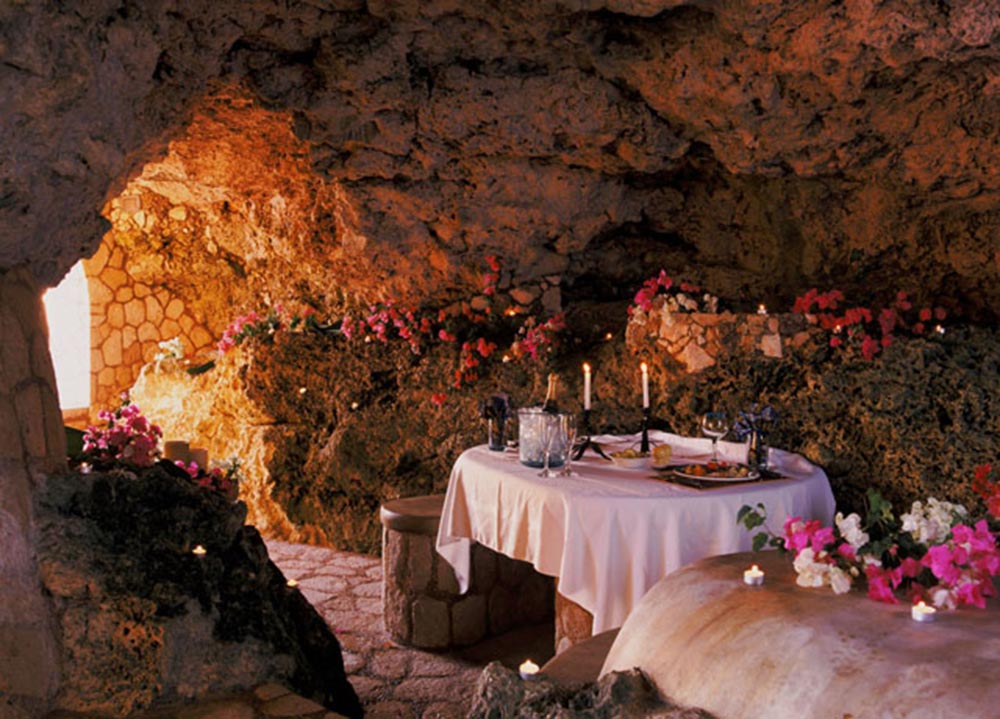 It is common knowledge that The Caves is home to one of the most romantic vacation spots in all of Jamaica.
It is an adults-only resort with individual cottages and suites that are set apart from one another and are tucked amid magnificent seaside cliffs and beautiful garden walkways with stairways going down to the water.
As well as snorkeling and kayaking, guests may take use of the on-site Aveda mini-spa, which features a saltwater pool and a hot tub that gaze out over the Caribbean. In addition to that, you may sign up for cliff-jumping lessons or cookery workshops.
The all-inclusive prices include delectable meals that are prepared using fresh, regional ingredients and are either served in open-air dining spaces or delivered to guests' rooms.
Key Amenities:
Adults-only oasis with private cottages and suites
Aveda mini-spa, hot tub and saltwater pool
Cliff-jumping sessions, cooking classes offered
All-inclusive rates include fresh food in open-air eateries
Most Romantic Couples Resorts in the Caribbean
10. Sugar Beach, A Viceroy Resort, St. Lucia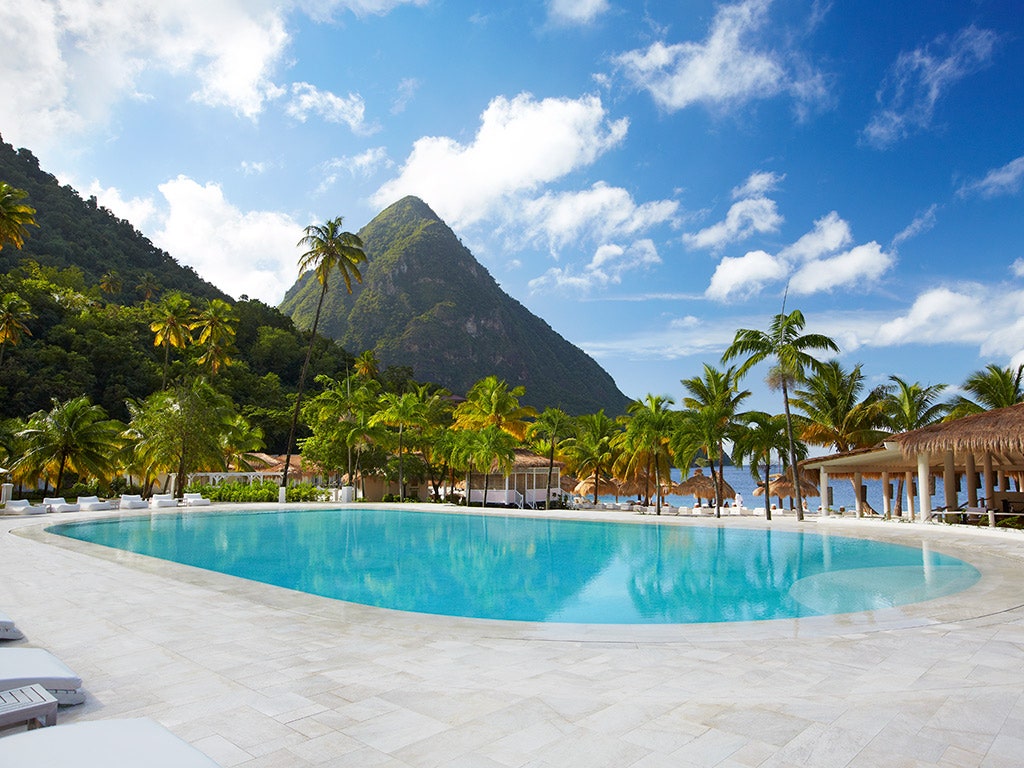 Sugar Beach is nestled between the Pitons on a stunning stretch of white sand beach, making it a prime candidate for the title of being St. Lucia's most desirable location.
The romantic rooms each have their own private terraces, plunge pools, butler service, and room service that is available around the clock.
You have your choice of roomy cottages and villas, each of which comes with a living room and huge bathrooms, some of which even have outdoor showers and hot tubs. The facility has the Tree House Spa, which is considered to be the best spa on the island.
It also provides free water sports and land activities, in addition to several eating options, such as a beachside restaurant that serves sushi and wood-fired pizza and a fine dining restaurant that specializes in French-Caribbean cuisine.
Key Amenities:
Private decks, plunge pools in best location in St. Lucia
Tree House Spa is top spa on the island
Free water sports and land activities
Casual beachfront eatery and fine dining restaurant
11. Wymara Resort and Villas – Grace Bay Beach, Providenciales, Turks and Caicos
The Wymara Resort & Villas can be situated on Grace Bay Beach, which is where paradise can be found. The instant you enter into the grounds of the resort, it helps light that flame and transports you to another world.
Because there are never-ending vistas of the ocean, the majority of the activities and attractions here are centered on the water.
It features a breathtaking infinity pool that is 7,000 square feet in size and has island pods and chaise loungers. This pool is located just steps away from the beach and is bordered with cabanas that look out over the gorgeous blue ocean.
Take use of the free clear bottom kayaks and snorkeling equipment, or go scuba diving for the afternoon if you're feeling adventurous.
You'll discover two dining options, including the elegant Indigo, which is influenced by Caribbean cuisine and serves dishes made with fresh, seasonal ingredients as well as seafood that is caught sustainably.
The spa provides massages for couples.There is a wide variety of lodging available, from standard hotel rooms to luxury suites and villas.
Key Amenities:
Infinity pool with chaise loungers and island pods
Complimentary clear bottom kayaks and snorkeling gear
Couples massages at on-site spa
12. Hotel le Toiny – St. Barth's
Nestled on a hillside on St. Barth's, an island noted for having an atmosphere reminiscent of Europe, you'll find Hotel le Toiny, a luxury resort with just 22 rooms.
It is widely considered to be one of the most romantic and exclusive estates in the world, and it features panoramic views of the ocean that can be seen from a variety of vantage points.
Indulge in spa treatments while taking in breathtaking views of the Caribbean, and look forward to feasting on French-Caribbean cuisine at one of the island's finest restaurants.
Each suite has a living area that is more than 1,000 square feet and a big, private pool with an infinity edge.
Key Amenities:
One of world's most exclusive properties
Spa treatments with panoramic view of Caribbean
French-Caribbean fare at one of St. Barth's best eateries
Spacious suites with private infinity pools
13. Dorado Beach, a Ritz-Carlton Reserve – Dorado, Puerto Rico
An premium private estate resort with a secluded setting, Dorado Beach, a Ritz-Carlton Reserve is situated on the northern coast of Puerto Rico and features two miles of private beachfront.
The property is managed by Ritz-Carlton. The rooms and suites are all located directly on the white dunes, and some of them have private plunge pools or rooftop terraces to take in the stunning views.
There are three golf courses, an 11-mile nature walk, various gourmet restaurants, and even a five-acre spa where guests may have a body wrap or massage in a beautiful treehouse treatment room.
Key Amenities:
2 miles of private beaches in remote hideaway
Plunge pools or rooftop balconies with rooms and suites
Three golf courses and 11-mile nature trail
Massive spa complete with a therapy room in a treehouse
14. Zoetry Agua Punta Cana – Dominican Republic
The Zoetry Agua Punta Cana is widely regarded as one of the top resorts in Punta Cana for romantic getaways.
It is an all-inclusive property that features a private atmosphere as well as a lovely stretch of uncrowded white sand beach that is perfect for recreation and relaxation.
Included in the price are activities that do not use motorized vehicles, such as non-motorized water sports, horseback riding on the beach, limitless gourmet meals, top-shelf alcoholic drinks, and laundry service.
To begin your pleasant stay, you will also be treated to a complimentary 20-minute massage. The opulent spa features a hydrotherapy circuit, and if you rent a suite, you'll have your very own personal butler to attend to your every need.
The Oceanfront Suites include an unobstructed view of the water, and some of them also provide direct access to the hotel's swimming pool.
Key Amenities:
All-inclusive sanctuary with secluded feel
Non-motorized sports, horseback riding and more included
Complimentary 20-minute massage to kick off stay
Hydrotherapy circuit in lavish spa
15. Turtle Inn – Placencia, Belize
The Turtle Inn, which is owned by Francis Ford Coppola, is nestled away between the forest and the beach and has a style that is reminiscent of both Bali and the Caribbean.
The peaceful environment has houses designed in the colonial style with thatched roofs and individual patios and gardens; some of the villas even have outdoor baths.
Kitchens, private pools, and butler service are available in the most luxurious accommodation choices.
Spend your days zipping over a zip line, paddleboarding, going on an adventure in a canoe, snorkeling with whale sharks, diving with stingrays near the world's second-largest reef, or visiting an organic farm.
You can do all of these things near the world's second-largest reef. Following that, make your way to the spa for a luxurious treatment.
The Mare Restaurant is located on the water's edge and serves both contemporary and classic preparations of Italian cuisine.
Key Amenities:
Tranquil inn tucked between jungle and beach
Colonial-style cottages with patios and gardens
Sumptuous treatments at on-site spa
15 Most Romantic Couples Resorts in the Caribbean 2023 – Newshub360.net
Related Post
Credit : www.Newshub360.net