The Coolest Beach Airbnbs in Puerto Rico 2023: Puerto Rico is a great option for a Caribbean vacation without the hassle of renewing your passport.
It offers everything you could possibly want in a vacation destination—and then some—with spectacular natural beauty, a fascinating history, delectable cuisine, and picture-perfect beaches.
Staying by the beach is one of the finest ways to take advantage of it, and these Airbnbs all meet the bill with options ranging from luxurious to reasonably priced.
19 Coolest Beach Airbnbs in Puerto Rico 2023
1. La Casita Ocean Front House – Aguada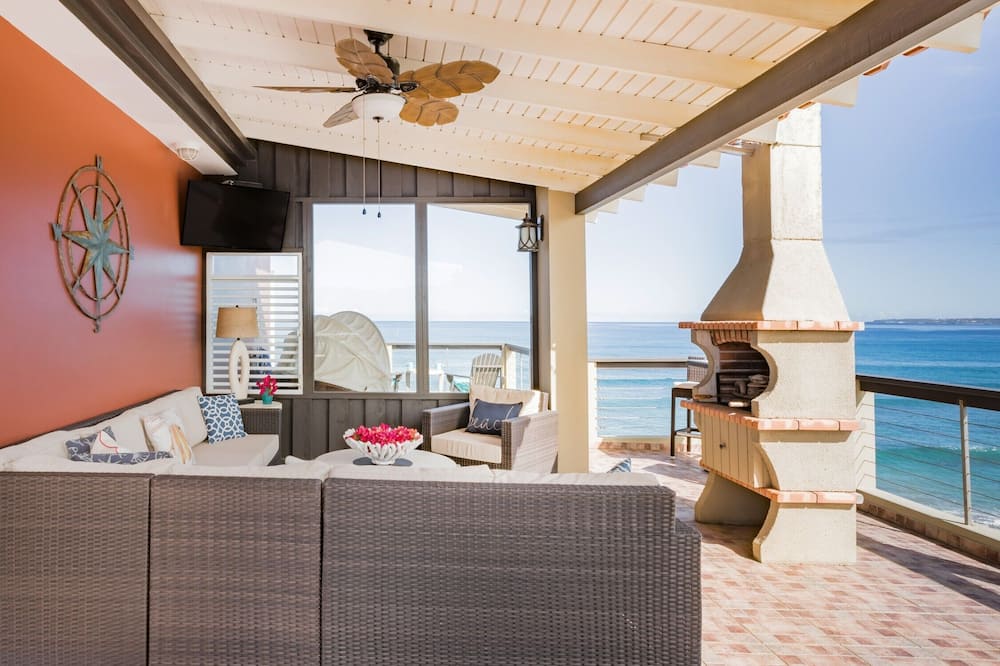 This stunning beach house has maintained its historic charm while providing everything you need for an amazing visit. It is situated on a half-acre of coastal property with great sea and sunset views.
The doors, windows, and tiles are still the same as when it was constructed more than 50 years ago, but in 2014 a second story and contemporary amenities were added.
Three bedrooms, each with air conditioning, can sleep up to six people. There is a full kitchen, a TV, Wi-Fi, a washer/dryer, and the living and dining areas are outdoors.
---
2. Villa Despasito – Camuy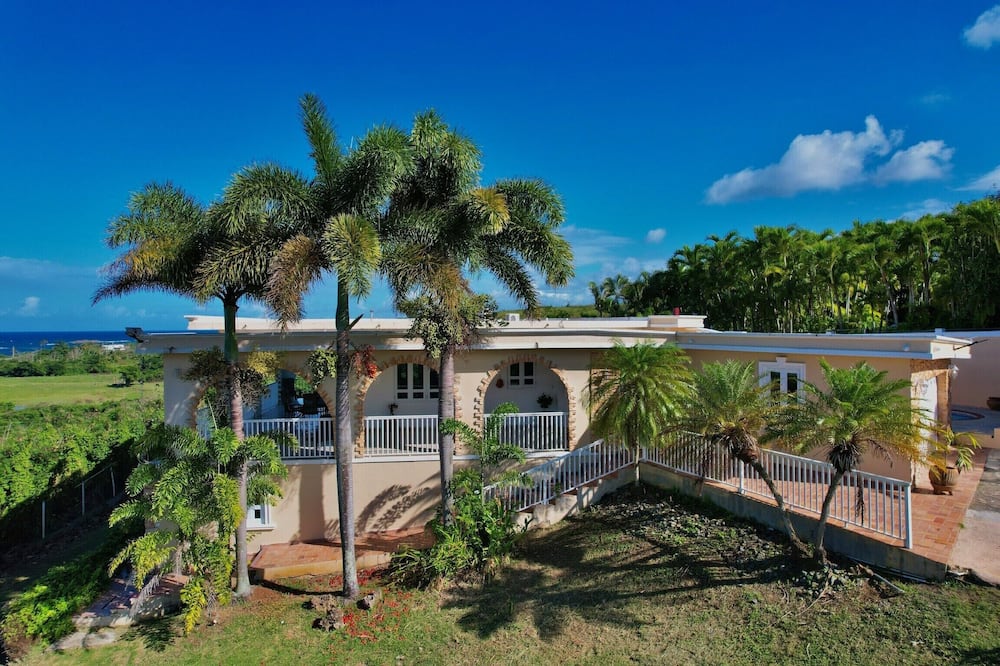 Villa Despacito is well situated for surfers at Los Almendros Beach, a well-known surfing hotspot, in a peaceful setting just a two-minute stroll from the open ocean.
Although it is not a bathing location, swimming can be enjoyed at Penon Amador beach, which is only a short drive away.
The villa can accommodate eight people in its main house and apartment, both of which you will have exclusive use of. You will enjoy a full kitchen, a washer/dryer, a swimming pool that is not heated, and a gas grill.
---
3. Treehouse with a Floating Deck, Steps from the Beach – San Juan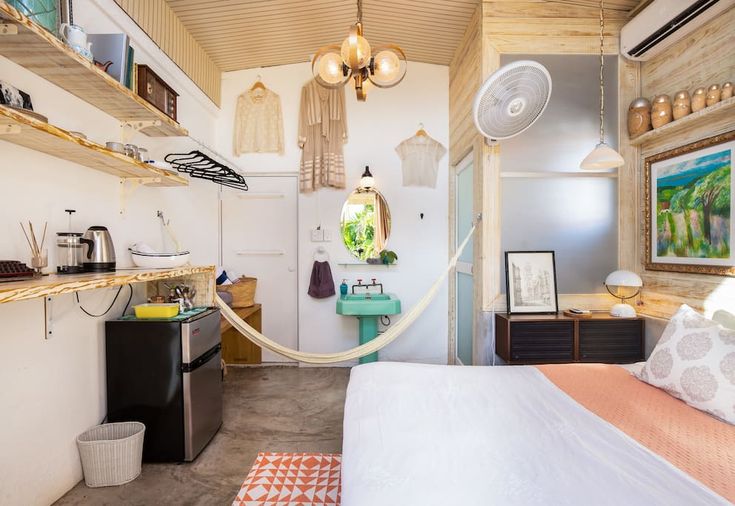 The Parque neighborhood's Parque Treehouse offers a distinctive stay with a variety of designs, as well as a convenient position just steps from the beach and close to San Juan's leading tourist attractions.
The studio suite, which is a cross between a beach cottage and a treehouse and sleeps two, is ideal for a romantic getaway.
It's warm and intimate, but thanks to an outdoor terrace with furniture and a hammock, it seems even larger.
A hot water outdoor shower is also available. It has a refrigerator, a kettle, and a shared outdoor kitchen where you may have scrumptious breakfasts that are included in the price.
---
4. Punta Flamenco Luxury Beach Villa – Flamenco, Culebra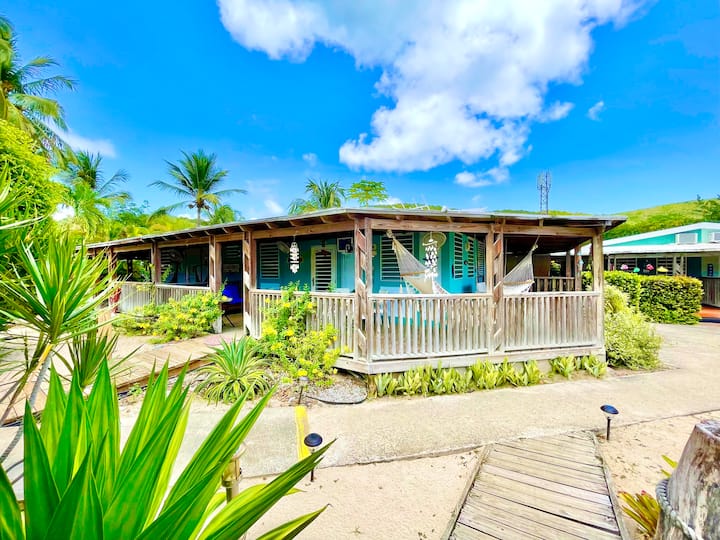 This secluded villa is situated at the end of Flamenco Beach, one of Puerto Rico's most beautiful stretches and top tourist destinations.
It has a wood patio that looks out over the immaculate white sands and is furnished with day beds, shady umbrellas, and a space for dining alfresco.
Additionally, you'll have access to a heated infinity pool with a waterfall and lighting effects, which you'll probably use quite a bit. Kayaks, paddleboards, and other beach and water sports equipment are also supplied.
---
5. Villa Cecilia – Arecibo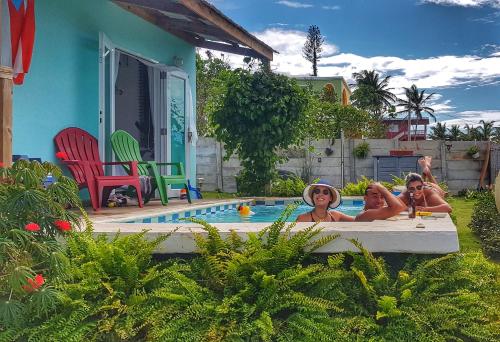 The colorful blue-painted home has a rooftop patio with an inflatable Jacuzzi tub, hammocks, and hanging swing seats that are perfect for admiring the Caribbean Sea's unending turquoise waves.
The property has a terrace with a little pool in the front. When you're not taking advantage of it all, you may visit a variety of surrounding attractions, such as restaurants, the world's largest radio telescope, the tranquil rock pools in Indian Cave, and surfing beaches.
---
6. Rincón Beachfront Retreat – Rincon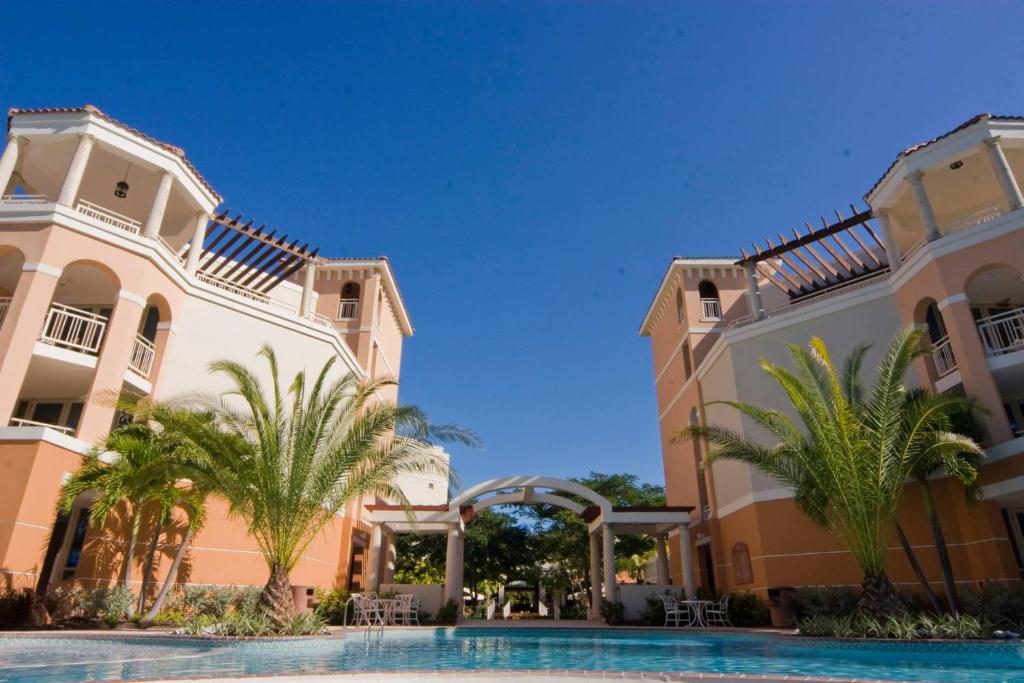 This beachfront home is minutes away from bars, restaurants, and convenience stores and is close to some of Rincon's greatest swimming beaches.
It is housed in a private gated community with 24-hour access to swimming pools, laundry facilities, and a gym. The exquisitely designed apartment sleeps four people and is perfect for a small family because it has several kid-friendly features including toys, a cradle, and outlet covers.
There are many contemporary conveniences available, like free Wi-Fi, a Smart TV with cable, Netflix, and a DVD player.
---
7. Punta Aloe, Ocean Front Villa – Culebra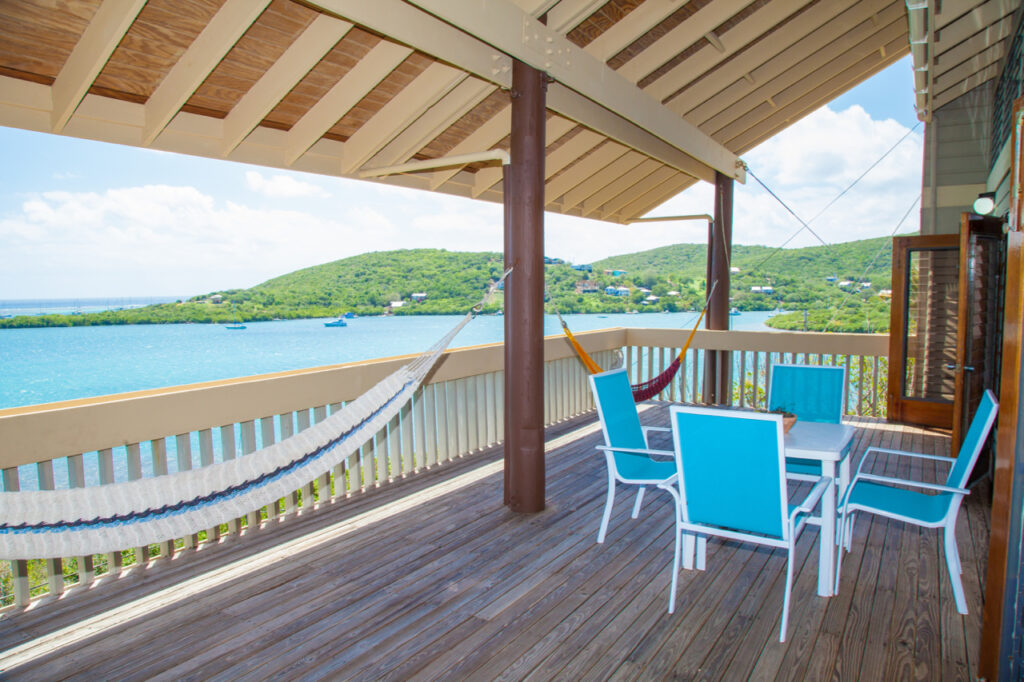 This oceanfront property is situated on unspoiled Culebra and has a wide outdoor terrace for relaxing with a breath-taking view and the constant sea wind.
It is only a few steps from the beach. Additionally, it's a terrific location for yoga and dining. There are numerous decks that offer wonderful outside areas for amazing stargazing or to simply watch the boats go by.
With three bedrooms, 10 beds, and all the standard amenities including a kitchen, cable TV, and Wi-Fi, it can accommodate up to 15 people.
---
8. The Nest at Crash Boat, Only Waterfront on Beach – Aguadilla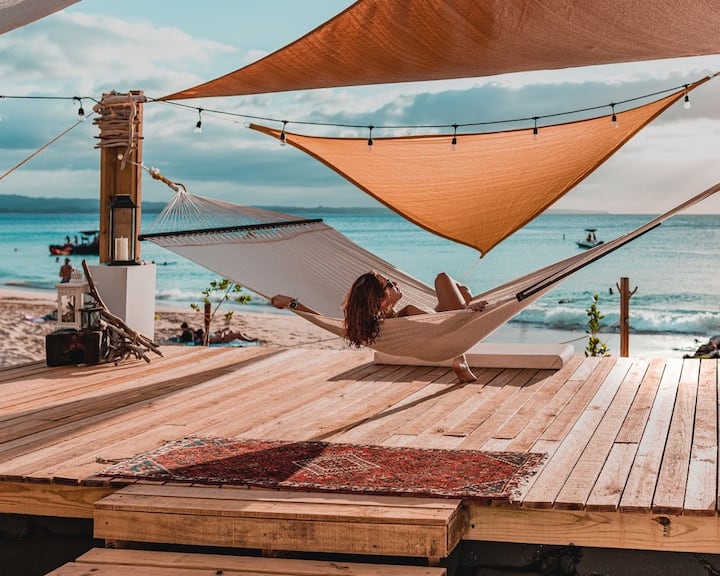 This studio apartment for two is the only upscale beachfront residence on Crash Boat Beach and is perfect for honeymooners. You can walk from your bed to the snorkeling-friendly ocean in less than 20 steps.
There is a beachside deck with a covered hammock perfect for naps or just sitting with a view, as well as a space for sunbathing, for when you want to unwind.
You can take a shower in the outdoor garden shower after spending the day on the beach. Along with a barbecue and a full kitchen, you'll also have access to beach towels and snorkeling supplies.
---
9. MikaLuka Beachhouse with Private Pool & Beachfront – Guayama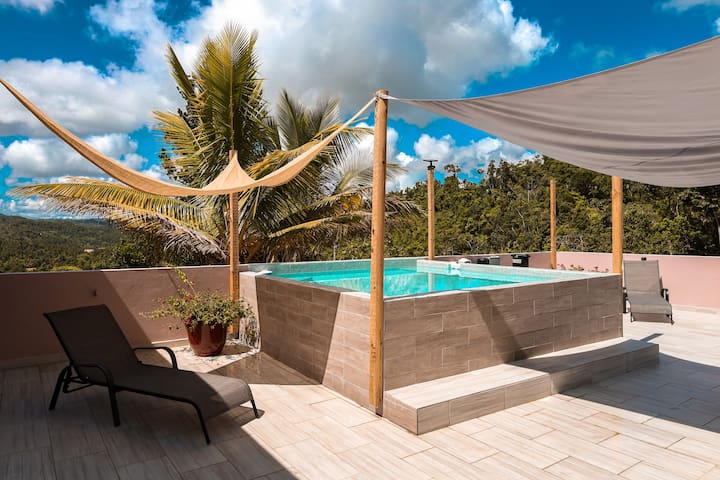 A luxurious beachside home with a private pool is called MikaLuka. Only a one-hour drive from the San Juan Airport, this cozy retreat with one bedroom for four guests is tucked away in a tropical paradise with breathtaking beach, ocean, dawn, and sunset views.
Wi-Fi, a TV with Roku, a kitchen, and a BBQ area are all included. It is in an excellent location because you can stroll to a number of restaurants and a little harbor where you can take a cruise around the water.
---
10. Romantic Beachfront Getaway Penthouse with Hot Tub – Fajardo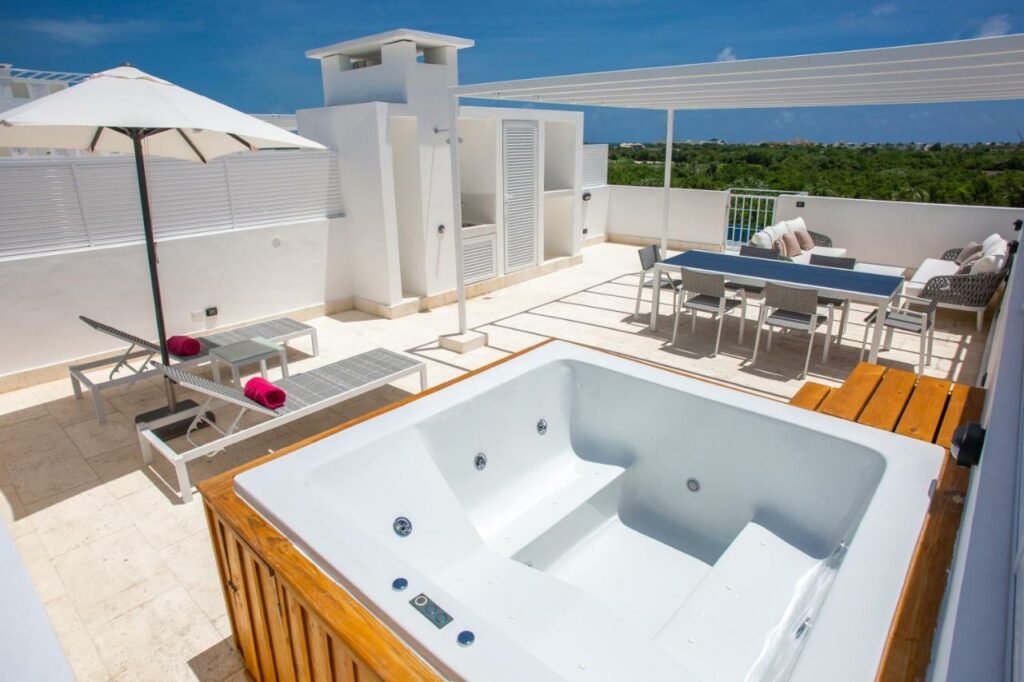 This romantic retreat has it all and is situated in a national park close to numerous well-known sites, including Seven Seas Beach, Laguna Grande, Cayo Icacos, and Isla Palominos.
It is a three-bedroom penthouse with a hot tub and a sizable private patio with an ocean view, sleeping up to six people.
There will be everything you need, including a fully functional kitchen, a washer, a dryer, and beach supplies like an umbrella, beach chairs, coolers, and even boogie boards.
In addition, the property features a lovely swimming pool for when you want to escape the beach and the sea.
---
11. Idyllic Beachfront Penthouse with Private Plunge Pool – Rincon
In this penthouse, the top unit of a three-unit building, you may wake up to views of the sea from your bed and then have your morning coffee while taking in the view of an infinite expanse of blue from the wraparound terrace.
Along with a full kitchen, Wi-Fi, TV, washer/dryer, and a furnished, covered indoor/outdoor space for dining alfresco, there is a built-in barbecue for cookouts.
The exclusive plunge pool with an infinity edge and easy access to the sand are further highlights.
---
12. Cozy Private Oceanfront Beach House – Rincon
Direct ocean views, complete solitude, and private beach access are all features of this coastal property. Steps from your door, enjoy swimming, snorkeling, whale watching, or simply soaking up the sun.
Enjoy the breathtaking vistas while keeping a watch out for the diverse local species, including iguanas, various tropical birds, and an abundance of marine life.
With indoor and outdoor living areas, a full kitchen, and a Smart TV with Netflix, the one-bedroom apartment for two is the perfect getaway for honeymooners or couples.
---
13. Quintas Del Mar Beach House – Aguada
This two-bedroom property for six people has a beachfront patio that gives the impression that you are right on the water and is located away from the tourist throng close to some of the most stunning beaches on Puerto Rico's west side.
You may reach the sand by going down a few stairs. The waves are right outside the door for surfers.
The Rincón town, where there are numerous little stores and restaurants, is less than ten minutes away by car, but you have a fully furnished kitchen to prepare your own meals, as well as Wi-Fi, TV, and a washer/dryer.
---
14. Playera Beach House – Aguada
The one-bedroom Playera Beach House is the perfect getaway for couples looking for plenty of peace and romance.
It comes with private beach access and an infinity pool with a view of the ocean, making it the ideal place to take a dip and enjoy the beautiful sunsets.
Being just a 10-minute drive from Rincon, you'll have access to more than three miles of sandy beach as well as all the necessities, such air conditioning, Wi-Fi, and a full kitchen.
---
15. Paradise and Romance: Casa Estrella – Vieques
The ferry, lovely beaches, and restaurants are all within easy walking distance of Casa Estrella, a charming two-bedroom house.
You may enjoy a breathtaking sea view by opening the living room's doors to the terrace or from the furnished roof deck, which is a great place to watch the sun set.
By the time you check out, you might feel like Jello due to the calming atmosphere created by the sounds of the waves and the Coqui frogs.
It comes equipped with everything you could possibly need for a relaxing stay, including a full kitchen, barbecue, Wi-Fi, TV, and washer/dryer.
---
16. Ta-Vera Oasis – Aquadilla
This incredible rental is a two-family home with two completely independent sections that each sleep up to seven people, making it the perfect choice for multiple families or a big group of friends.
It is directly on Tamarindo Beach, where you will be surrounded by stunning scenery, including breathtaking sunsets over the water.
You'll be near to Paseo Marino, the promenade with some of the best restaurants on the west coast, as well as swimming and snorkeling among vivid coral reefs.
Additionally, it includes all the necessities, such as a TV, Wi-Fi, a full kitchen, and a BBQ grill. Additionally offered are beach umbrellas, beach towels, and snorkeling equipment.
---
17. Oceanfront 2 Bedroom Condo in Mar Chiquita – Manati
Visit this oceanfront Airbnb for a stunning ocean view, cozy living areas, and cutting-edge facilities. The two-bedroom house has a deck and a private oceanfront patio with a BBQ.
It is quiet and remote. It is located in an exclusive, private neighborhood just a few steps from the well-known and gorgeous Mar Chiquita Beach. Every angle of the Airbnb offers views of the sun.
---
18. Astonishing Beachfront Apartment at La Pared Beach – Luquillo
The La Pared beach is only 20 steps away from this beachfront property, which is also close to several other East Puerto Rico attractions like Bio Bay and the Kioskos of Luquillo.
It is a first-floor apartment with two bedrooms that can sleep six people, a full kitchen, a spacious living area, and a flat-screen Smart TV with Roku and premium channels.
Enjoy resting and barbecuing outdoors on the roomy terrace. There are a lot of fantastic nearby restaurants that you can choose from when you wish to eat out.
---
19. Latitud 18 – Rincon
This lovely, private oceanfront villa offers a tranquil haven for up to six visitors to savor a piece of paradise just ten minutes from Rincon's main square.
It is perfect for families because it has a Pack 'n' Play, kid-friendly games, and puzzles, as well as indoor entertainment like a 55″ 4k TV with 3,200 channels, including HBO, Showtime, Cinemax, and more, as well as free and fast Wi-Fi.
You'll get a separate entrance, a private patio, a full kitchen, and more. The decks upstairs and downstairs, which include an oceanfront sun deck with comfortable lounge seats for relaxing and taking in the breathtaking ocean views, as well as beach equipment and an outdoor dining table and chairs for six people, are further attractions.
19 Coolest Beach Airbnbs in Puerto Rico 2023 – Newshub360.net
Related Post

Credit: www.Newshub360.net