The 13 Best Couples Resorts in Hawaii 2023: When it comes to choosing a location for a romantic vacation, Hawaii is an obvious choice due to the wonderful tropical beauty that the state possesses, which includes everything from verdant vegetation and waterfalls to paradisiacal beaches surrounded by azure oceans.
You may believe that any of the resorts in this area would provide for an excellent environment for romance, but the truth is that there are some that perform a far better job than others.
If you want to take the vacation of your dreams with the person you love, you'll want to find something that goes above and beyond your expectations.
The possibilities shown here are certain to give the kind of escape you've been seeking for all along.
13 Best Couples Resorts in Hawaii 2023
1. Hana-Maui Resort – Hana, Maui
The Hana-Maui Resort is a Hyatt resort that is located on Maui's east coast and overlooks Hana Bay. It was formerly known as the Travaasa Hana.
You'll find lots of options for being alone and isolation, which will make it simple for you to leave your stress behind at this resort, which is one of the most popular destinations in the world for couples.
The magnificent rooms are purposefully equipped with no televisions, radios, or clocks. This is done so that guests may disconnect from the mayhem of the outside world and focus on rekindling their relationships with one another.
It has two gorgeous pools, a yoga pavilion, and a wellness center, in addition to its opulent spa, which offers treatments both indoors and out.
The staff would be delighted to make arrangements for a variety of activities, such as surfing and visits to farms that specialize in tropical fruits.
2. Montage Kapalua Bay – Kapalua, Maui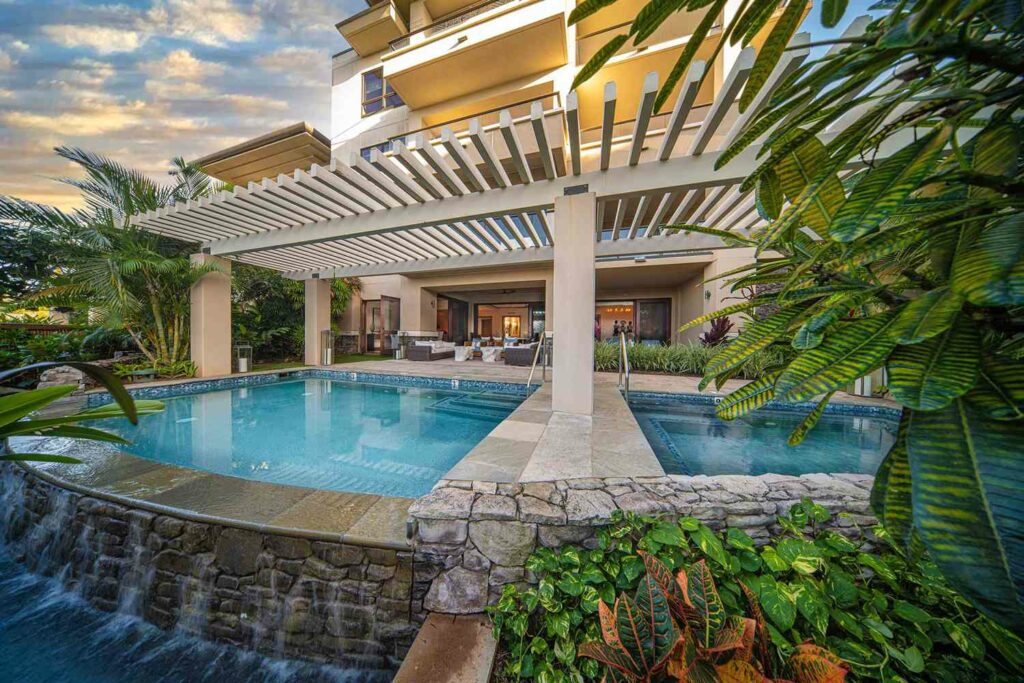 Montage Kapalua Bay is a stunning property that spans 24 acres and features residential-style accommodations that range from one to four bedrooms.
The resort also features a plethora of activities and romantic experiences, some of which include intimate dinners on the beach, helicopter excursions, snorkeling, and zip-lining.
Every property at the resort features its own private entrance to the breathtaking three-tiered pool that overlooks the beach, a lanai with a view of the ocean, extra-large flat-screen televisions, each with their own DVD player, a full kitchen, and a washer and dryer.
If you don't feel like cooking your own meals, there are a number of restaurants and pubs on-site for you to choose from.
3. Grand Hyatt Kauai Resort & Spa – Koloa, Kauai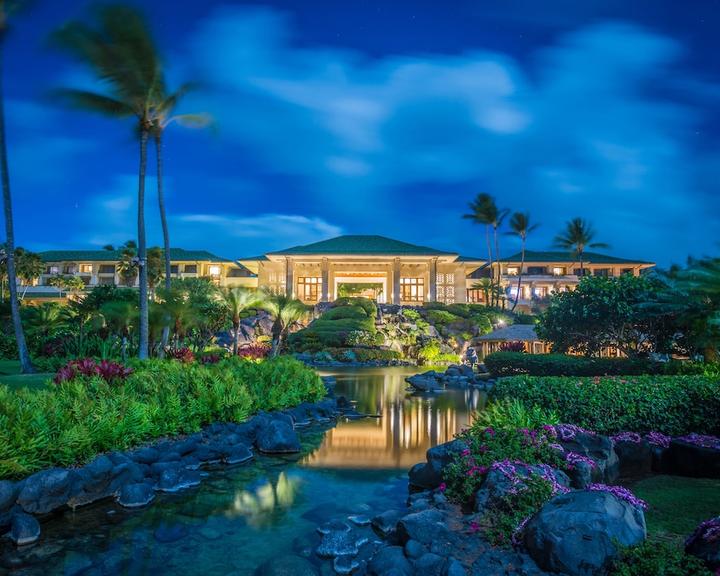 The Grand Hyatt Kauai Resort offers one of the most opulent stays in a stunning location with ocean views, tropical gardens, and sand-bottomed pools. The resort is situated along white sandy beaches on the south side of Kauai.
The Anara Spa is guaranteed to melt away every last bit of tension, and the hotel's dining options include anything from Hawaiian to Italian cuisine at a number of exceptional restaurants, in addition to room service that is available around the clock.
This venue also plays home to traditional luaus. There is a vast range of facilities available in the rooms, including private balconies, some of which have views of the ocean.
Best Couples Resorts in Hawaii
4. Four Seasons Resort Lanai – Lanai City, Lanai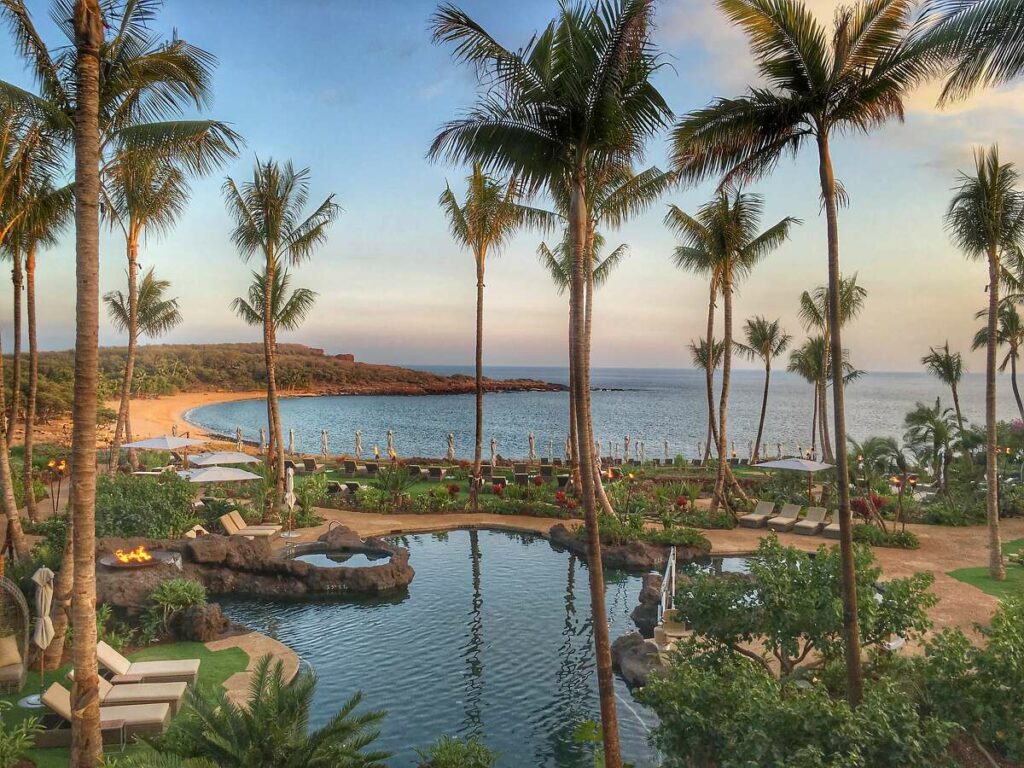 On what is generally considered to be Hawaii's last untouched island, the Four Seasons Resort on Lanai provides guests with a tranquil beachside shelter in a private setting.
When staying in one of our vast and spacious rooms, which range in size from 1,200 to 4,000 square feet, you will get the distinct impression that you are on your very own private island.
They come with a variety of opulent luxuries, including as opulent bathrooms, flat-screen televisions measuring 75 inches, and alongside iPads for placing room service orders.
It is also possible to participate in a wide variety of activities and excursions, such as going on off-road adventures in a Jeep to discover secluded areas of the island where you won't see another person for kilometers.
5. Koloa Landing Resort at Poipu – Koloa, Kauai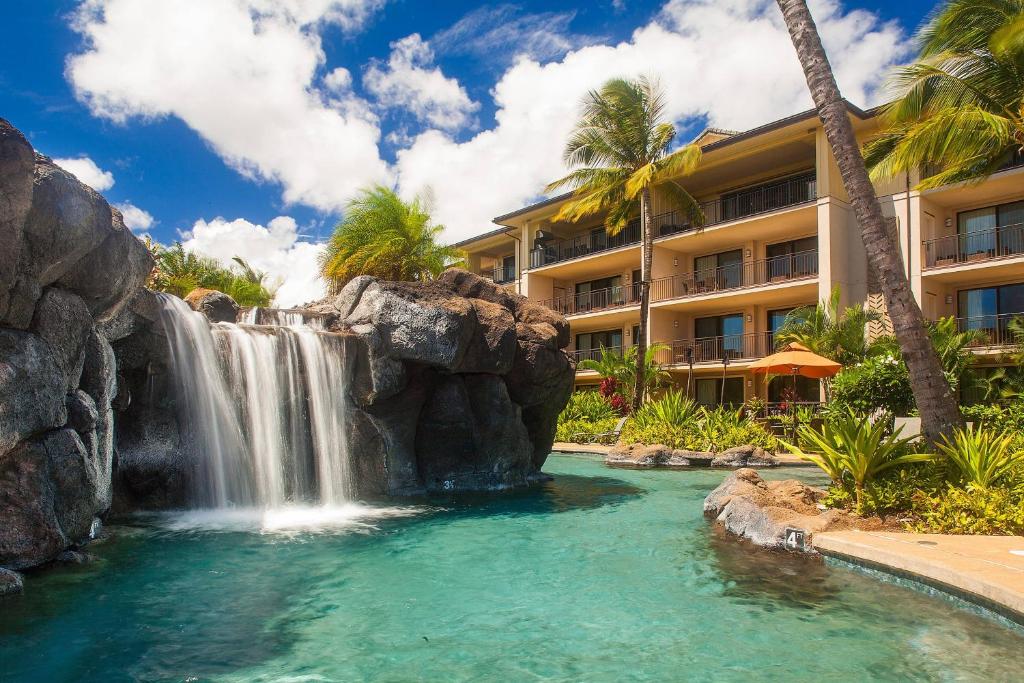 One of Hawaii's most gorgeous luxury resorts, Koloa Landing features villa-style accommodations that are among the most roomy in the state.
These accommodations range in size from one-bedroom apartments with 1,300 square feet of living space to four-bedroom penthouses with 3,600 square feet of living space. Each unit features a sizable, private lanai in addition to a kitchen, dining, and living room.
The grounds have three swimming pools, one of which is a 13,000-square-foot lagoon pool with a poolside bar, restaurant, and a variety of activities ranging from volleyball to snorkeling.
6. Andaz Maui at Wailea Resort – Wailea, Maui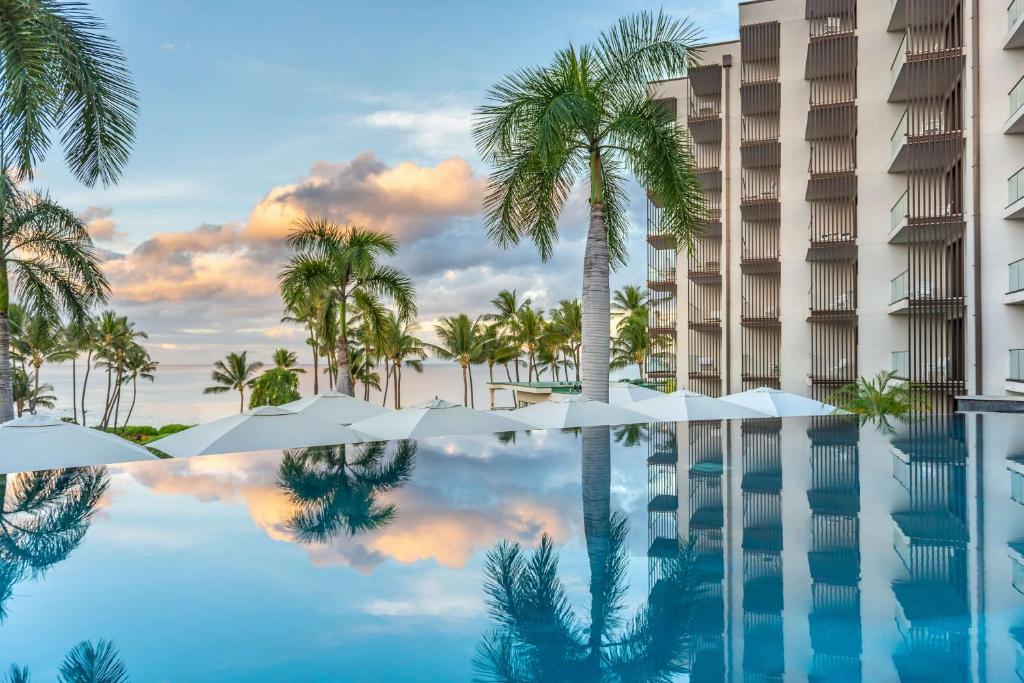 The Andaz Maui at Wailea Resort features breathtaking scenery, both naturally occurring and created by humans, that is perfect for Instagramming.
In addition to giving access to Mokapu Beach, it features a four-tiered infinity pool, the highest of which gives a breathtaking panorama of the coastline. Lessons in surfing, canoeing, paddleboarding, and kayaking are all offered right there on the premises.
You will be able to take use of the plunge pool, steam room, and sauna in addition to the peace pool when you purchase treatments at the opulent spa and salon spa.
In addition to a farm-to-table bistro and a Japanese restaurant, the hotel features two lounges offering handcrafted drinks to assist guests get into the spirit of the tropical setting.
Each room features an own balcony with seating, a 40-inch flat-screen television, and a minibar that is supplied with free non-alcoholic beverages and snacks. Some rooms also provide views of the beach.
Best Couples Resorts in Hawaii
7. Turtle Bay Resort – Kahuku, Oahu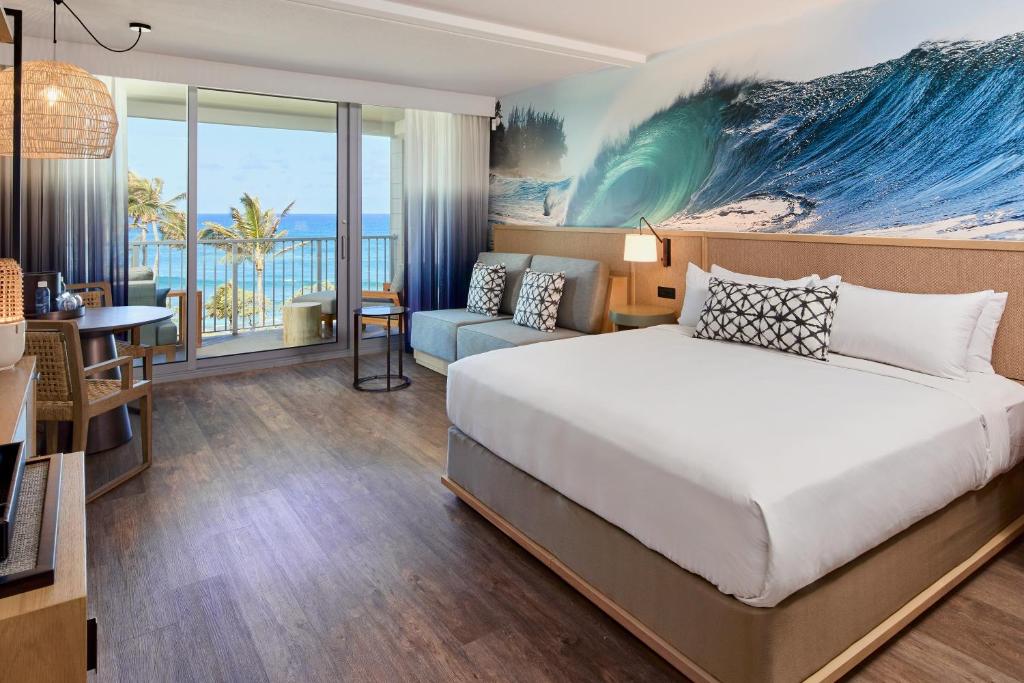 In addition to its magnificent location along Oahu's North Shore, the Turtle Bay Resort has a wealth of activities that are perfect for romantic getaways for couples. Additionally, it is the only resort in the area from where guests can observe both the dawn and the sunset.
In addition, there are romance packages available, which include unique activities such as a romantic picnic for two, a couples coconut lava shell massage, and a bottle of champagne for the two of you to share together.
You have your pick of a number of different lodging types, including regular rooms, beach cottages, and ultra-luxurious villas, all of which provide breathtaking vistas of the ocean.
All of the rooms include complimentary Wi-Fi, flat-screen televisions, and coffeemakers, and the majority of them have lanai doors that open into patios.
You can expect to have a good time exploring the area by canoe, kayak, or moped, and there are also routes for equestrian riding, hiking, and bicycling.
There are two swimming pools with ocean views, two hot tubs, a spa, as well as several restaurants and bars spread out around the grounds of the resort.
8. The Westin Princeville Ocean Resort – Princeville, Kauai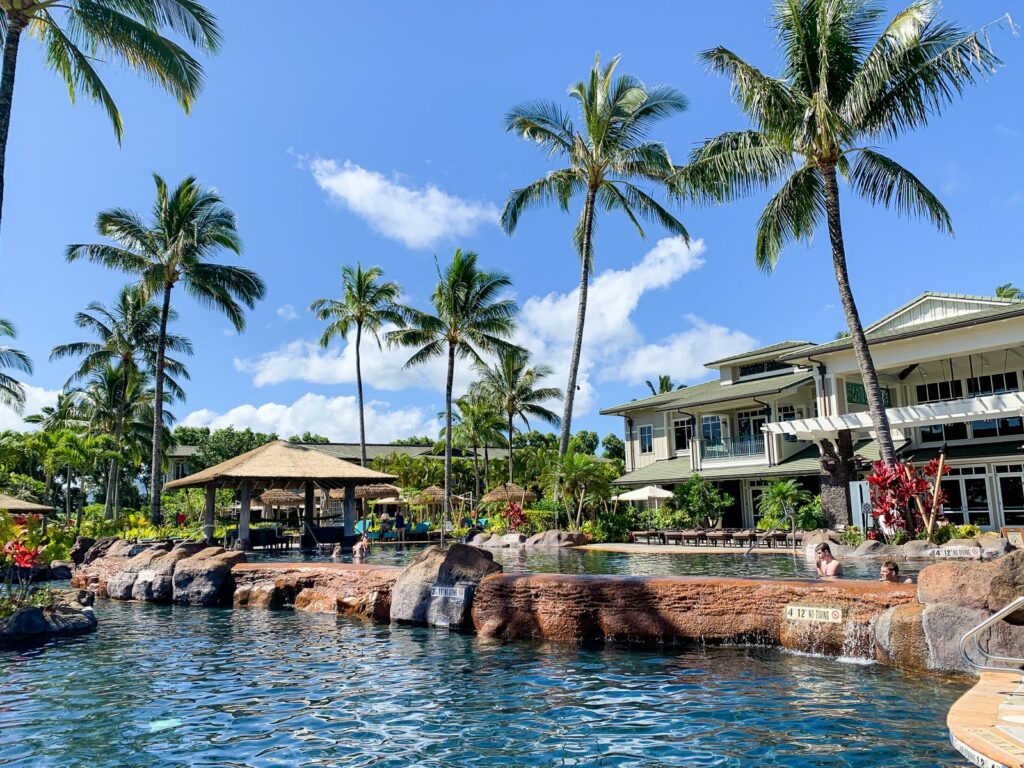 On the calm north coast of Kauai is where you'll find the Westin Princeville Ocean Resort. It's close by the Kilauea Lighthouse, which is a scenic landmark.
The "villas" at this cliffside resort on 20 acres each have one bedroom, a suite-style layout, and come equipped with practically full kitchens, luxurious bathrooms, and washers and dryers.
There is a lively main pool with a waterslide, but there are other quiet pools that are nestled away for a more intimate swim experience.
The stylish Makana Terrace is one of the best dining alternatives for couples, while the Princeville Bar, which provides fantastic views to enjoy with drinks, is one of the best dining options for couples.
At the spa, you may participate in rituals together that combine getting a massage and exfoliating your body.
9. Fairmont Orchid – Puako, Hawaii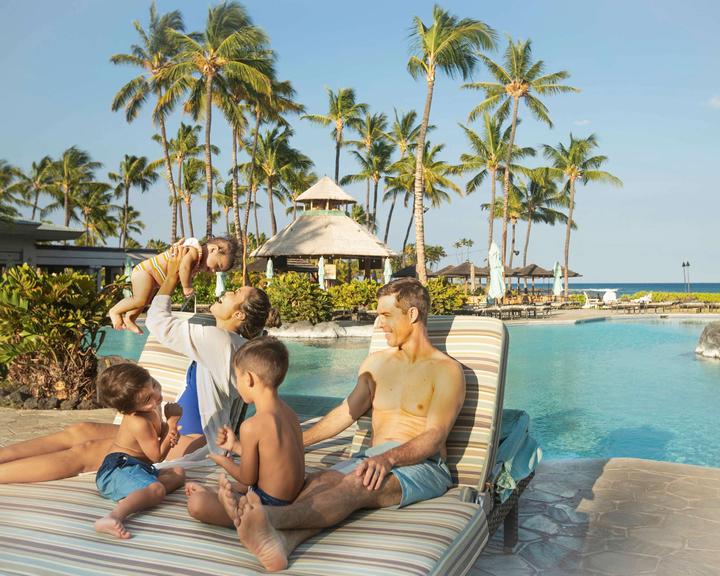 On the Big Island, you'll find the opulent and romantic Fairmont Orchid, which has a beachfront location. The amenities include a huge oceanfront pool, a private beach with a beach bar, watersports including snorkeling and paddle boarding, and a private beach.
The highlight of the experience may be the open-air Spa Without Walls, which is centered around a cascading waterfall and features treatment rooms that are exposed to the air and provide views of the ocean.
There are a total of six restaurants, one of which is called Brown's Beach House and offers dinners with regional Hawaiian cuisine in addition to private dining on the beach and live music.
All of the rooms and suites come equipped with complimentary Wi-Fi, mini refrigerators, Keurig coffeemakers, and flat-screen televisions measuring 42 inches.
Best Couples Resorts in Hawaii
10. Mauna Kea Beach Hotel – Puako, Hawaii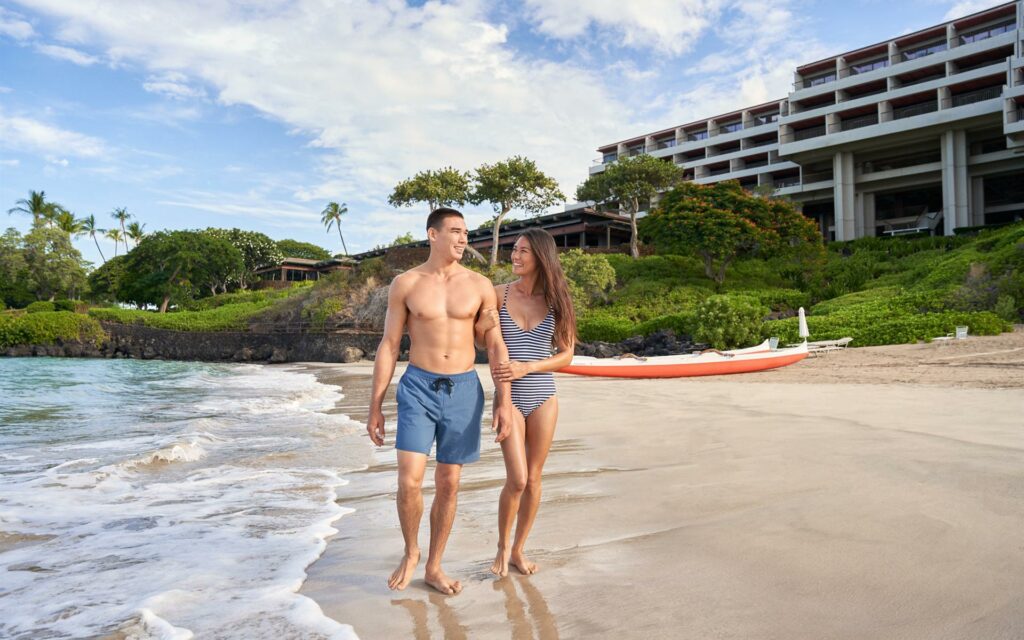 The historic Mauna Kea Beach Hotel is located on a stunning crescent-shaped stretch of coastline, and the beach runs the whole length of the property. The beach is surrounded on all sides by beautifully planted hills.
On-site activities include swimming and other water sports, watching manta rays, and participating in regular Hawaiian cultural events. There is a wonderful spa and a little pool in addition to a tennis facility, an 18-hole golf course, and facilities for playing tennis.
There are various restaurants that provide food with an island-inspired flavor profile, and each accommodation features a wide veranda.
Luaus can be enjoyed on a weekly basis as well. Each of the rooms and suites comes with its own private furnished balcony, some of which provide breathtaking views of the ocean.
11. The Surfjack Hotel & Swim Club – Honolulu, Oahu
The Surfjack Hotel, widely regarded as one of the finest accommodations in Honolulu, has, over the course of its history, played host to a large number of prominent figures, such as Mark Zuckerberg and the Obama family.
It boasts a trendy throwback style, a swim club with great drinks and movie premieres, and a restaurant that is led by award-winning chef and native of Oahu Ed Kenney.
The hotel is located in the center of Waikiki. The vintage-style rooms are all outstanding, with conventional facilities like as Wi-Fi, minifridges, flat-screen TVs, and designer toiletries.
However, the mid-century penthouse suite, which features a wide outside terrace with a skyline view and is ideal for resting, is perhaps the finest option.
12. Four Seasons Resort Hualalai – Kailua-Kona, Hawaii
The luxury beachfront Four Seasons Resort Hualalai on the Big Island features lush, beautifully manicured grounds with seven pools, one of which is an infinity pool that is perfect for Instagram, a full-service spa with a garden, and wellness therapies, like Reiki, that are available for guests to enjoy.
A beachside restaurant, a steakhouse, and a sushi lounge are some of the high-quality eating alternatives that are waiting for you. The activity of snorkeling, which often features eagle rays as well as green turtles, is quite popular.
For those who enjoy golfing, there is a course with 18 holes to choose from. All of the rooms and suites in the bungalow design come equipped with a spacious soaking tub, an outdoor shower, and an outside sitting space that is fully furnished.
In addition, it is simple to get to the world-famous Volcanoes National Park and the beaches with black sand from this location.
13. Wailea Beach Resort – Wailea, Maui
The Wailea Beach Resort is a breathtaking resort that is quite popular with newlyweds and can be found along the beaches of Wailea Beach.
It features a number of swimming pools, including one that is reserved exclusively for adults, as well as two beachfront pools that include hot tubs and cabanas.
It is particularly noteworthy that there are a variety of eating alternatives available, one of which is the trademark restaurant known as Humble Market Kitchin, which serves Hawaiian-inspired food that emphasizes the use of fresh ingredients.
There is a coffee shop that serves smoothies made with locally grown vegetables and cold-pressed juices, as well as a food truck that serves poke bowls and other popular dishes from the area.
The Te Au Moana Luau performance is a trademark event that provides guests with the opportunity to participate in the dancing routines performed by the cast. Each accommodation features either an outside patio or balcony, the majority of which offer a view of the sea.