The 11 Luxury Resorts in Puerto Rico 2023: There are a lot of reasons to go to Puerto Rico, such as the excellent coffee, delicious food, and gorgeous beaches. Salsa dancing and snorkeling are among popular activities in Puerto Rico.
If you want to have a holiday that you can never forget while spending it in the lap of luxury in this stunning archipelago in the northeastern Caribbean, one of these spectacular luxury resorts in Puerto Rico will serve as the ideal home base for your trip.
11 Luxury Resorts in Puerto Rico 2023
1. The St. Regis Bahia Beach Resort, Rio Grande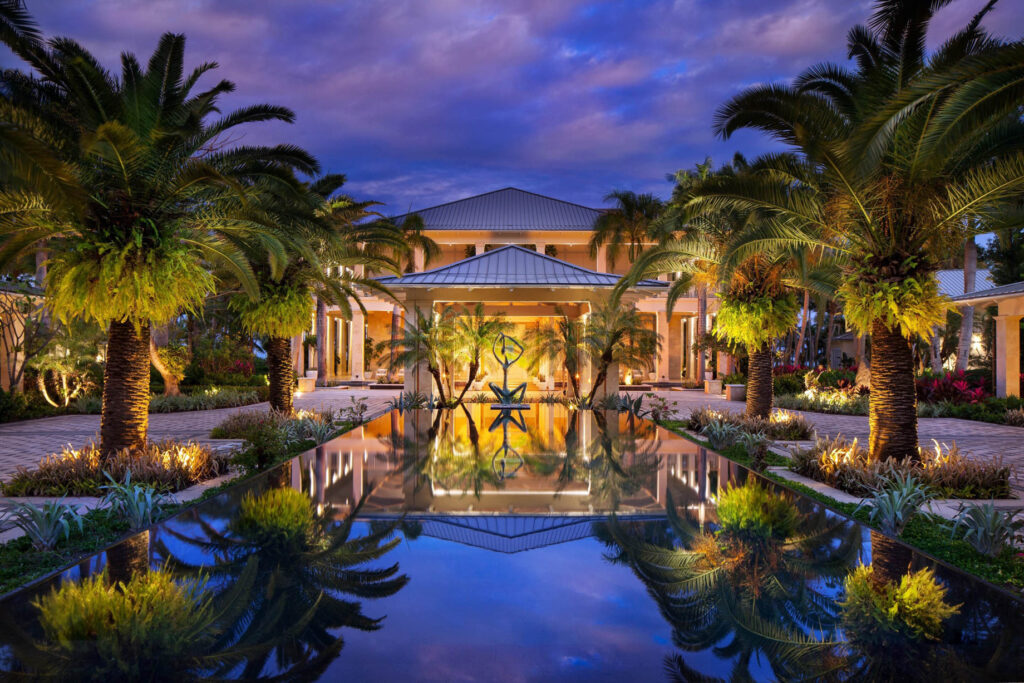 The five-star St. Regis resort along Bahia's powdery shoreline in northeastern Puerto Rico boasts top-notch amenities along with spectacular views and beach access.
The resort is located at the foot of the El Yunque National Forest along the edge of the glistening sea in a romantic Caribbean coconut plantation setting.
The enormous guest rooms come complete with wooden beams that have been exposed, bathrooms that are both roomy and up to date, and vast terraces that are fully furnished and lead out to breathtaking views of the ocean.
Enjoy playing a round of golf, sitting by the pool that overlooks the ocean, indulging in a personalized massage at the spa that offers a complete range of services, and dining at Paros Restaurant, which serves Greek and Mediterranean cuisine.
Key Amenities:
Secluded, private beach and nature sanctuary
St. Regis Butler service
On-site, full-service spa
2. Wyndham Grand Rio Mar Golf & Beach Resort, Rio Grande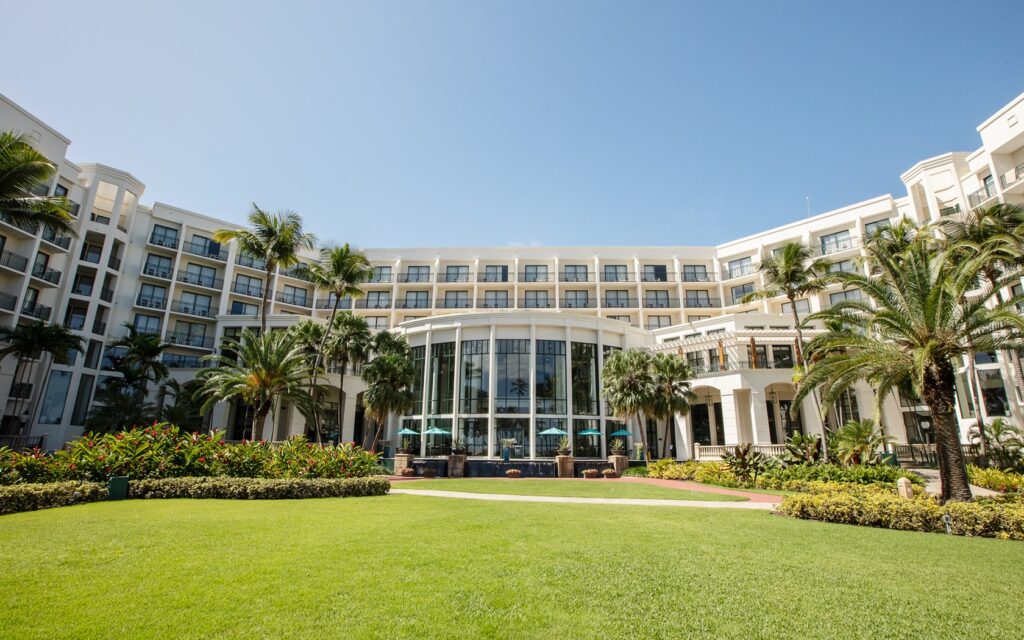 The enormous and family-friendly Wyndham Grand Rio Mar Beach Resort and Spa is situated on an amazing 500-acre beachside paradise overlooking the Atlantic Ocean. The resort's accommodations are particularly large, and the resort caters to families.
The hotel provides its guests with shuttle and transportation services, which make it simple for them to get out and discover other parts of Puerto Rico, such as Old San Juan, historical forts, and the famed bioluminescent bay.
This is despite the fact that the hotel offers a calm haven away from the city. The resort features various restaurants serving a wide variety of cuisines, as well as two championship golf courses, oceanside pools, an on-site diving facility, a water sports center, a luxurious spa, and a casino that spans 7,000 square feet. Additionally, the resort features oceanfront pools.
Key Amenities:
Several on-site restaurants with unique cuisines
Two championship golf courses with award-winning clubhouse
Entertainment options ranging from a casino to a dive center
3. Fairmont El San Juan Hotel, Carolina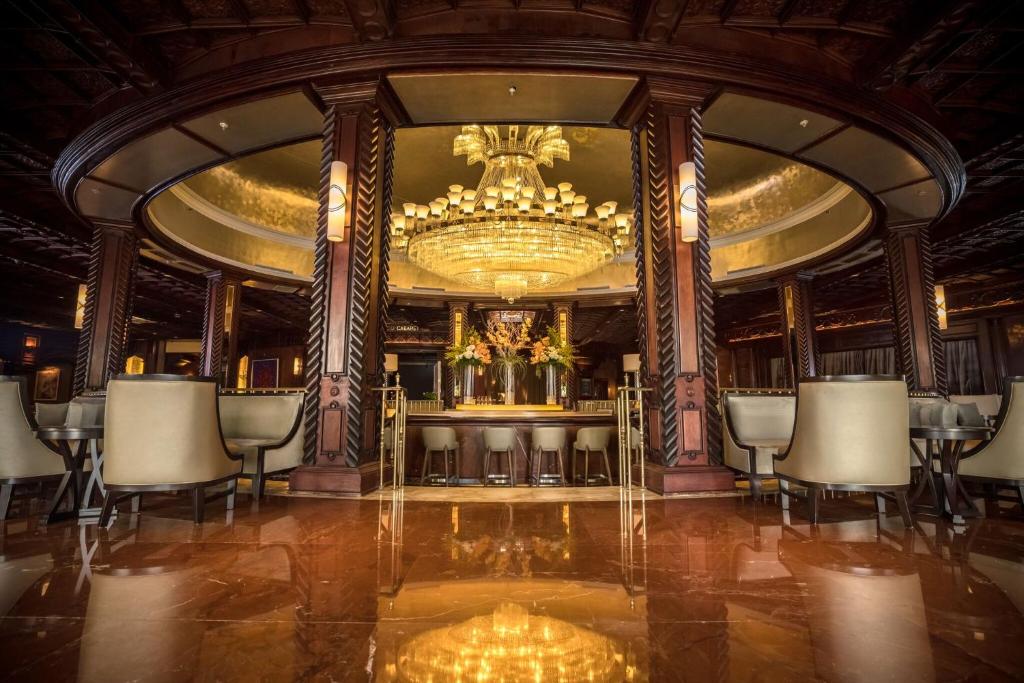 The Fairmont El San Juan Hotel features a lively and laid-back party atmosphere coupled with a magnificent setting on one of San Juan's quietest, cleanest, and biggest beaches.
This beach is located in the center of the Isla Verde region and is just a five-minute drive from the airport. In addition to a casino of world-class caliber, guests may take use of the resort's outdoor pools, which include an Olympic-sized free-form pool with a swim-up bar.
Although you can do anything here, from paragliding to taking a ride on a catamaran, the best things to do are sunbathe and play in the waves.
After dark, you may have a bite to eat at any one of the many restaurants located on the premises, and then dance the night away in any one of the hotel's pubs, lounges, or nightclubs, all of which include live music and entertainment.
The rooms are trendy, with vibrant tropical elements and modern details, and mirror the laid-back vibe of the beach.
Key Amenities:
Convenient location to the airport in heart of Isla Verde district
Four pools with private cabanas and a swim-up bar
Lively atmosphere with casino, nightclub and themed bars
Luxury Resorts in Puerto Rico
4. Condado Vanderbilt Hotel, San Juan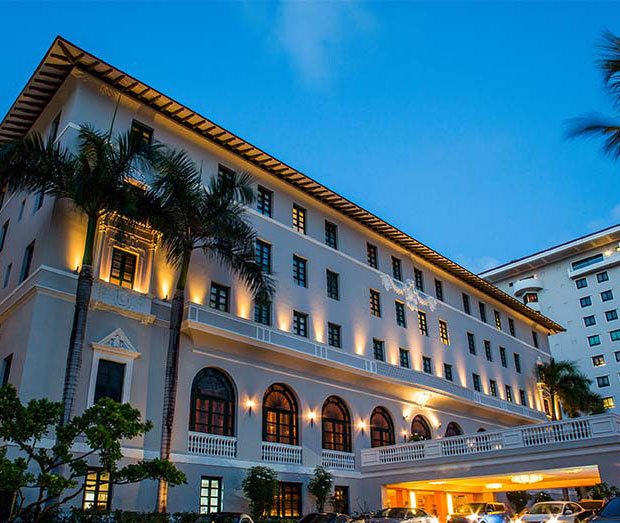 The Condado Vanderbilt Hotel is widely regarded as one of the finest examples of a private beach hotel anywhere in the world. It is a beachfront property that dates back to the early 20th century and features spectacular architecture inspired by the Spanish renaissance style.
Since 1919, the Condado Vanderbilt has catered to the needs of discerning tourists, and after being brought back to its former splendor, it has become an esteemed landmark in San Juan that stands as a testament to the enduring beauty of elegance.
The spacious complex is well-known for its remarkable amenities, which include swimming pools, a spa that provides a full range of services, a promenade that runs down the seaside, and a private beach.
Each of the rooms and suites at the resort, which have amenities such as private balconies, ocean views, and marble bathrooms, was designed with the allure of the surrounding environment in mind.
In addition to that, it has a restaurant with excellent cuisine, a wine bar with a romantic atmosphere, a hip bar, and a cigar lounge.
Key Amenities:
Elegant design reflects the landmark's rich history
Private balconies and oceanfront views
Private Beach Club with cabanas and butlers
5. Royal Sonesta San Juan, San Juan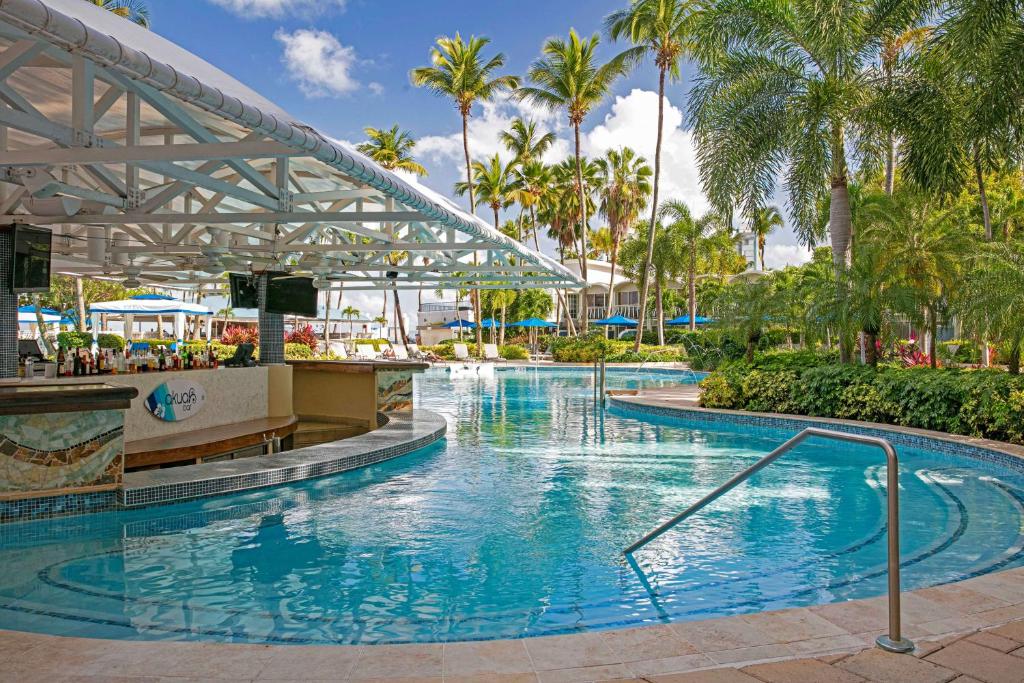 The Royal Sonesta San Juan on Isla Verde is located on two miles of San Juan's greatest beach. It is well-known for its magnificent landscaping, which includes a rock grotto area with waterfalls that overlook the ocean as well as a lagoon-style pool with a swim-up bar.
In addition, the facilities include a variety of restaurants and bars, as well as a spa that provides full service and offers an extensive menu of opulent treatments.
Guests may enjoy steak and fresh seafood at Ruth's Chris Steak House, which is located on the premises of the hotel and features newly renovated guest rooms that are furnished with Smart TVs and French-style balconies with expansive views of the city, pool, and ocean.
In addition, a wide variety of shopping, eating, and entertainment establishments are within walking distance of this property, and Old San Juan can be reached in a short car ride of about 15 minutes.
Key Amenities:
Oceanfront location on Isla Verde Beach
Full-service spa and fitness center
Lagoon-style pool with waterfalls and rock grotto
6. El Conquistador Resort, Fajardo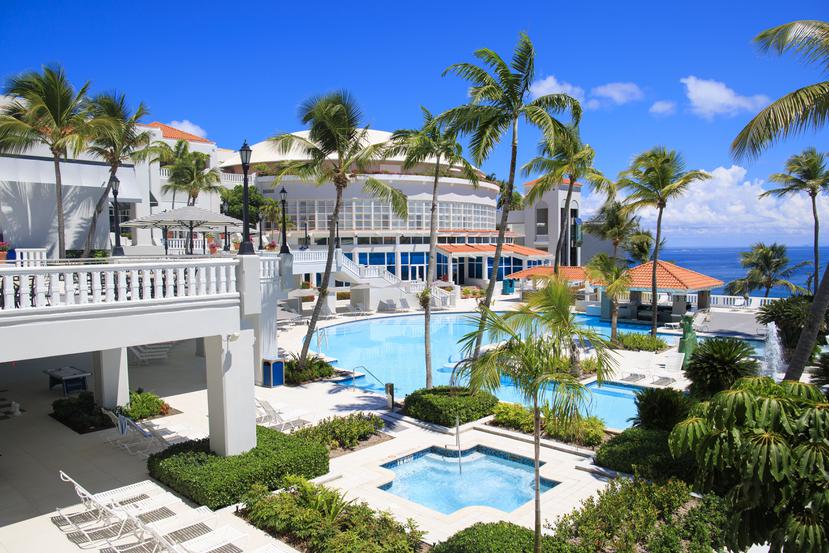 The El Conquistador Resort is a premium resort that is perched on a cliff and overlooks the ocean. Its location on the Island of Enchantment, which may be reached via a complimentary ferry, affords guests some of the most breathtaking panoramas in the Caribbean.
The remote location makes it difficult to explore other areas and venture off-site for additional dining and entertainment options; however, it is ideal for those who would like to be able to enjoy everything they need without having to leave the property as well as those who would like to enjoy an especially tranquil escape from the stress of modern life.
Key Amenities:
Remote, tranquil atmosphere on an island accessible by a free ferry
Private balcony with views of the Caribbean
Waterpark, four outdoor pools and private island to explore
Luxury Resorts in Puerto Rico
7. Dorado Beach, a Ritz-Carlton Reserve, Dorado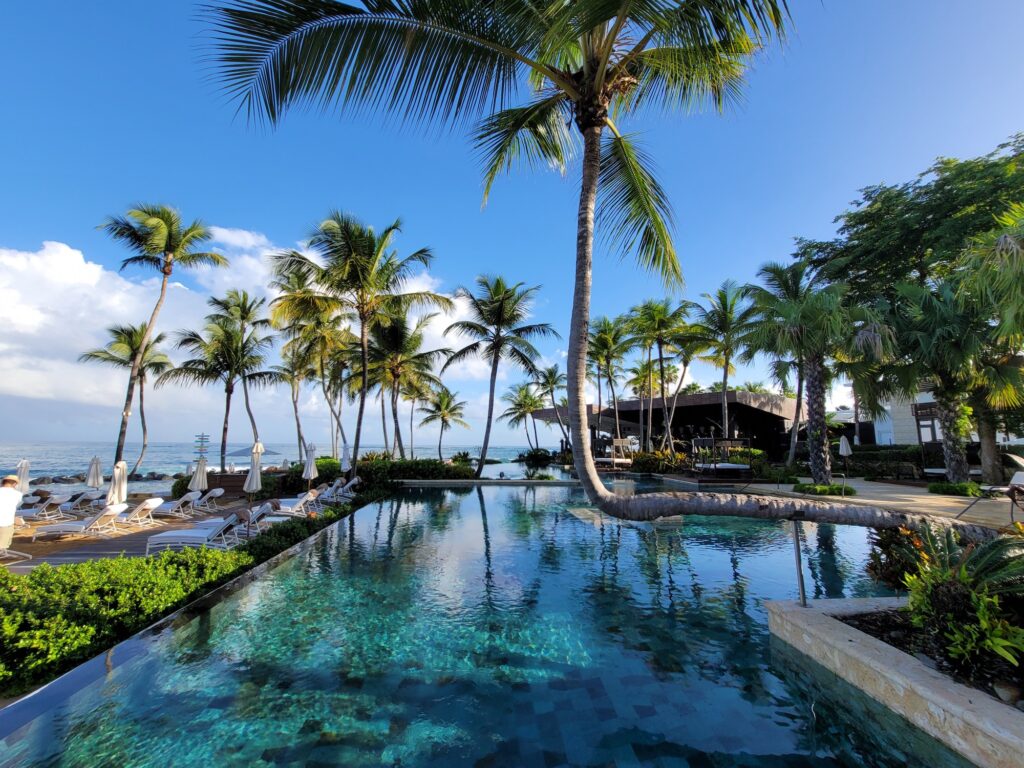 Dorado Beach was formerly a popular hangout for members of Hollywood's royal family as well as celebrities from across the world.
After undergoing extensive renovations costing several millions of dollars, this sanctuary surrounded by palm trees was turned into an elite private estate resort that, upon its opening in 2013, established a new benchmark for luxury in Puerto Rico.
Dorado Beach, a Ritz-Carlton Reserve is widely regarded as one of the most romantic destinations in all of the Caribbean. The resort is found in the town of Dorado, which is situated on the island's northern shore.
All of the rooms and suites are located right on a length of private white sand, which is part of the property's 1,400 acres worth of natural splendor.
Each of the luxurious rooms is equipped with either a private rooftop balcony or a private plunge pool. In addition, there are three golf courses on the site, as well as an 11-mile nature walk, a five-acre spa, and a number of upscale dining options.
Key Amenities:
Private beach and 11-mile nature trail
Rooftop balcony or private plunge pool with each room
Three golf courses
8. San Juan Marriott Resort and Stellaris Casino, San Juan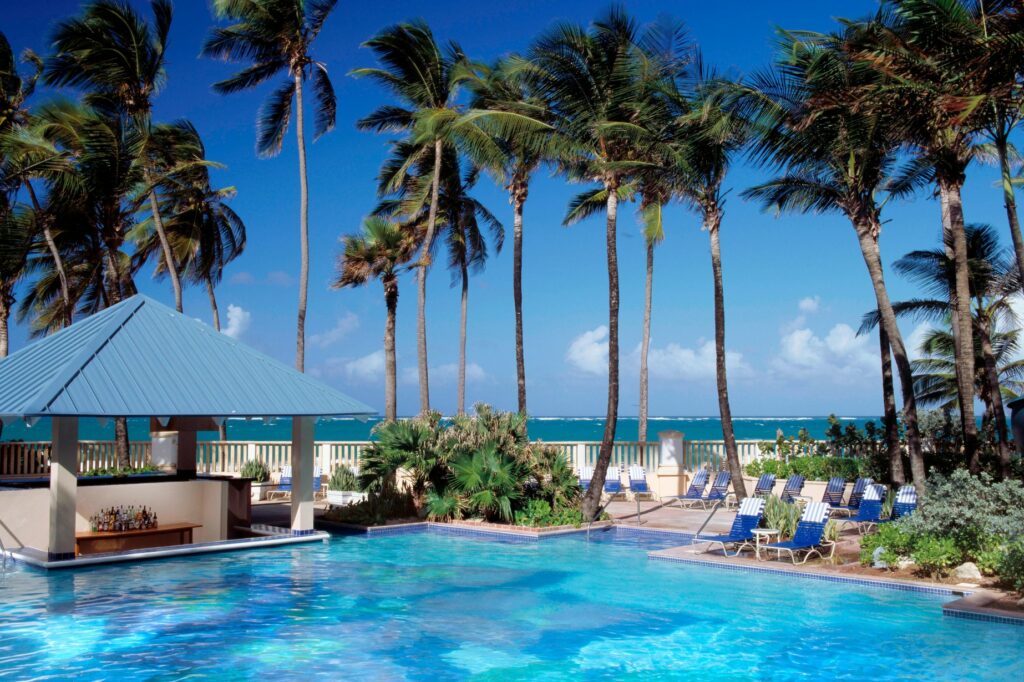 This resort offers prime shore access to the shimmering waters of San Juan and is an ideal base for experiencing many of Puerto Rico's most popular attractions, including everything from the fortifications of El Morro and San Cristobal to the Bacardi Rum distillery and the stunning natural beauty of El Yunque rainforest.
The resort is located right on the beach in Condado. The luxurious rooms and suites have high-end amenities such as flat-screen televisions, high-end toiletries, and the hotel's distinctive Revive bedding.
Take a snooze in the afternoon under one of the oceanfront palm trees or in the relaxing pool area, which comes complete with a waterslide and whirlpool.
If you would want to engage in some more strenuous activities, the resort can help you set up excursions for activities such as hiking, sailing, snorkeling, and golfing.
After that, you may treat your aching muscles to a deep tissue massage at the spa or satiate your appetite at any one of the several restaurants that are located on the premises. In the night, you may put your wagers in the casino that is located on the premises.
Key Amenities:
Oceanfront location on Condado Beach
Outdoor resort pool with waterslide and whirlpool
Entertainment options include a casino, bars and off-site excursions arranged by resort
9. La Concha Renaissance San Juan Resort – San Juan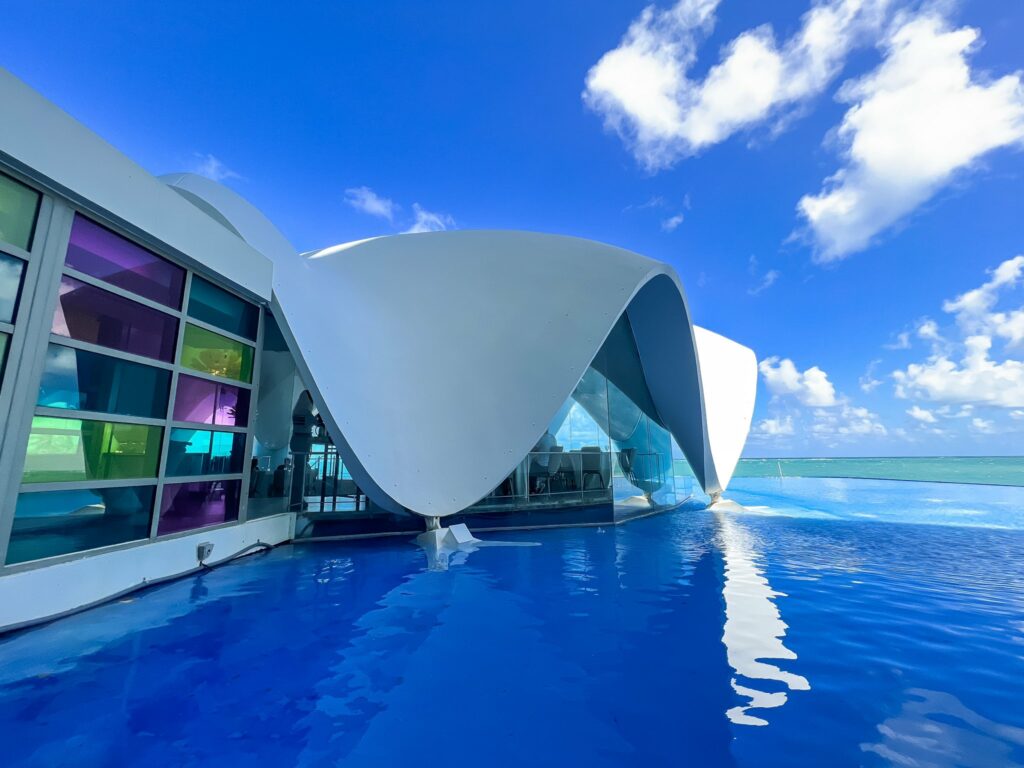 La Concha is located along the sugary sands of Condado Beach, only minutes away from Old San Juan, which is known for its historical buildings as well as its active nightlife. The hotel provides excellent views.
There are three swimming pools, one of which is an infinity pool reserved exclusively for adults, a fitness facility with panoramic views of the ocean, chic restaurants where guests may dine while staring out at the azure waters of the Caribbean, and an on-site casino.
There is a wide selection of rooms available, each of which is roomy and comes equipped with typical facilities such as flat-screen TVs, minifridges, and coffeemakers.
In addition, several of the rooms provide floor-to-ceiling ocean views and extensive balconies.
Key Amenities:
Beautiful beachfront location
Three outdoor pools, including an adults-only infinity pool
Multiple restaurants and a casino on-site
Luxury Resorts in Puerto Rico
10. Hilton Ponce Golf and Casino Resort – Ponce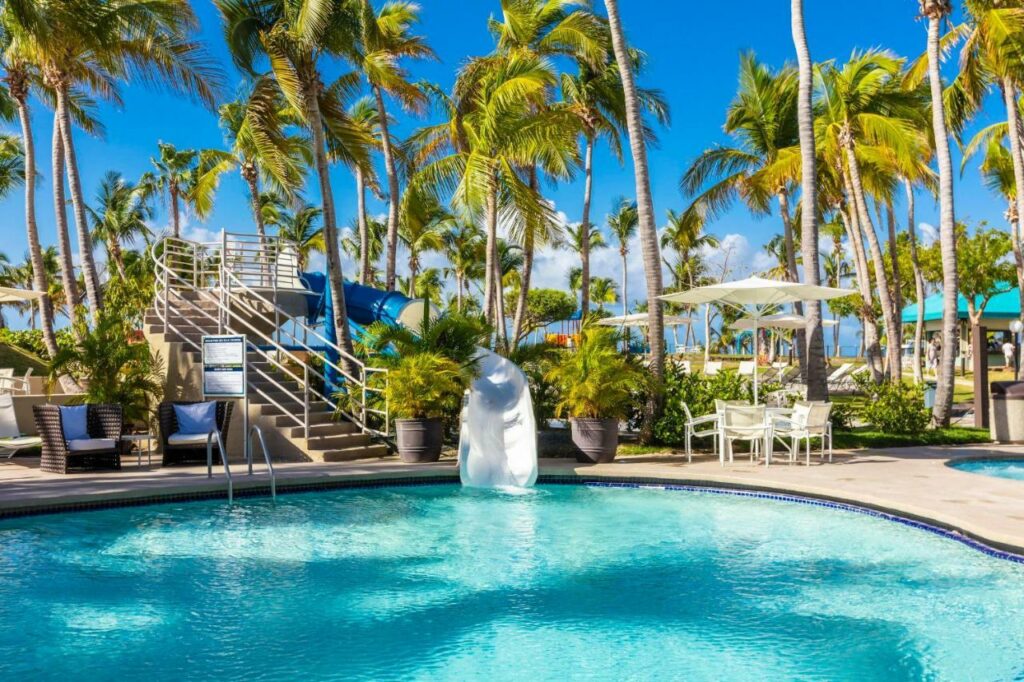 The Hilton Ponce Golf and Casino Resort is an affluent establishment that welcomes families. It features a big pool complex that is equipped with a water slide, poolside cabanas, fountains, and a swimming area that is suitable for both children and adults.
There is an adjacent 27-hole golf course at Costa Caribe, which also features a wonderful beach that guests of the Hilton may use, as well as the ability to rent water sports equipment and several activities that are geared toward children, such as an 18-hole mini-golf course and arcade games.
Costa Caribe is located right next to the Hilton. There is a bar by the pool that serves lighter fare, as well as a pizza stand and a restaurant that serves upscale cuisine.
You may also try your hand at the slot machines and table games that are available in the little casino. The rooms come with the normal assortment of conventional conveniences, but if you book a suite, you will also receive a jacuzzi tub and a furnished patio.
Key Amenities:
Sprawling pool complex with adults' and kids' swimming areas and a water slide
Access to Costa Caribe facilities next door, including a 27-hole golf course and beach
Multiple on-site dining options, from pizza to fine-dining
11. Hyatt Regency Grand Reserve Puerto Rico – Rio Grande
The expansive Hyatt Regency Grand Reserve Puerto Rico, which boasts an isolated position along Coco Beach on the island's northeastern coast, is framed against the background of the beautiful El Yungue rainforest.
It features two golf courses with 18 holes each, a full-service spa with saunas, steam rooms, and Jacuzzis, and an enormous pool designed in the form of a lagoon with a swim-up bar.
Each of the rooms is equipped with either a balcony or a patio, and the hotel offers a wide variety of dining options, ranging from Puerto Rican to Italian cuisine.
The one-bedroom apartments each have their own living areas, kitchenettes, and balconies or patios with beach views.
Key Amenities:
Lagoon-style pool with swim-up bar
Set along Coco Beach
Full-service spa with saunas, steam rooms, and Jacuzzis
11 Luxury Resorts in Puerto Rico 2023 – Newshub360.net
Related Post

Credit : www.Newshub360.net