The 8 Best Resorts in Ohio 2023: It doesn't matter if you're heading to Ohio for a quick weekend trip or a romantic vacation with your love one; you'll want a fantastic location to stay that's welcoming, cozy, and full of convenient benefits.
The state of Ohio is fortunate to have a number of wonderful resorts that are suitable for a wide range of vacationers, including families with children, couples seeking romance, and business travelers looking for all the conveniences of home.
These are our top choices for the best resorts to stay at in Ohio, and they may be found in cities, small towns, and picturesque places alike.
8 Best Resorts in Ohio 2023
1. Cherry Ridge Retreat of Hocking Hills, New Plymouth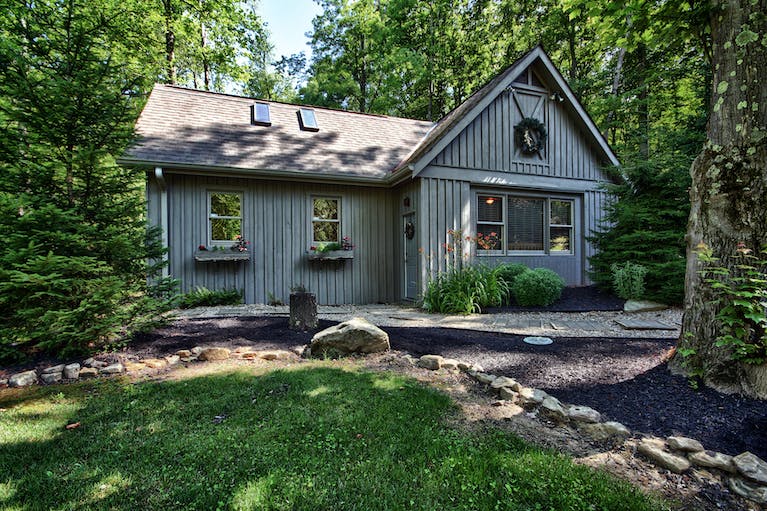 The Cherry Ridge Retreat is a magnificent and romantic location to stay with cabins located near some of the most popular day-trip attractions in Ohio.
These day-trip destinations include Old Man's Cave, Conkel's Hollow, and Cedar Falls, among others. The wooded cottages are situated on a property that spans more than 140 acres and include manicured pathways, gazebos, fishing ponds, and other areas to sit and unwind.
Each cabin is one of a kind and sits on its own private property, complete with full kitchens where you may make your meals. Each of the cabins can accommodate anywhere from two to eight people, and they are equipped with fire pits, hot tubs, and heated swimming pools.
Luxury facilities such as fluffy towels, pillow-top mattresses, and fireplaces are provided in addition to standard conveniences such as central air conditioning and heating systems, which ensure that you will always be comfortable in your accommodations.
You have the option of upgrading your stay with romance packages that contain a variety of extras such as roses, candy, and firewood.
Key Amenities:
Cabins with hot tubs, kitchens, heated pool and fire pit
Fishing ponds, gazebos and groomed trails on property
Themed packages and upgrades
2. Kelleys Island Venture Resort, Kelleys Island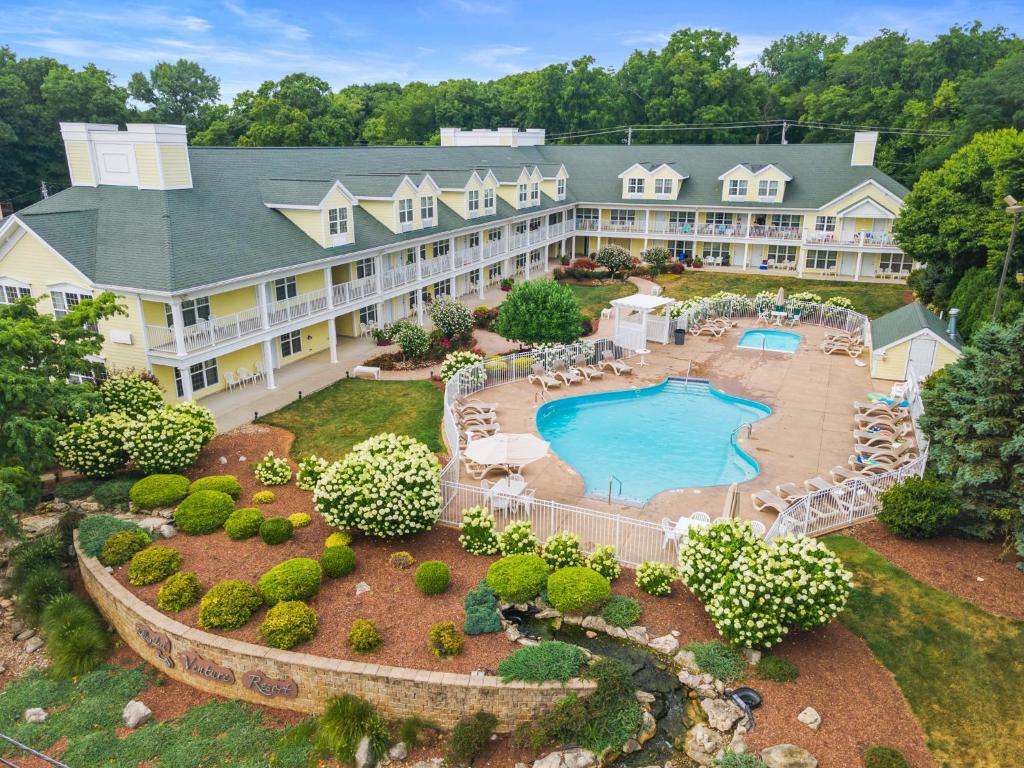 This resort on the south coast of Kelleys Island in Ohio is the perfect place to stay for a relaxing weekend break along the beautiful waters of Kelleys Island. It is the only resort hotel on the island, and it is located within walking distance of both the ferry terminals and the central business district.
Your suite will provide you with views of the lake or pool, in addition to your very own private terrace. The suites come equipped with complete coffeemakers, mini-fridges, microwaves, and flat-screen televisions.
In addition, there is a children's playground, a game area, an outdoor hot tub, a pool with treatment zones, a gaming area, and charcoal BBQ grills on the premises.
On the biggest island in the United States, located in the western basin of Lake Erie, which is also renowned as the Walleye fishing capital of the world, there is a location to stay that is really one of a kind.
To get here, you may either take the ferry with your vehicle or bicycle, or you can hire a bicycle or golf cart once you arrive.
Key Amenities:
Private patio and views of lake or pool from suites
Playground game area and outdoor hot tub
Walking distance between downtown and ferries
3. Put-in-Bay Resort, Put-in-Bay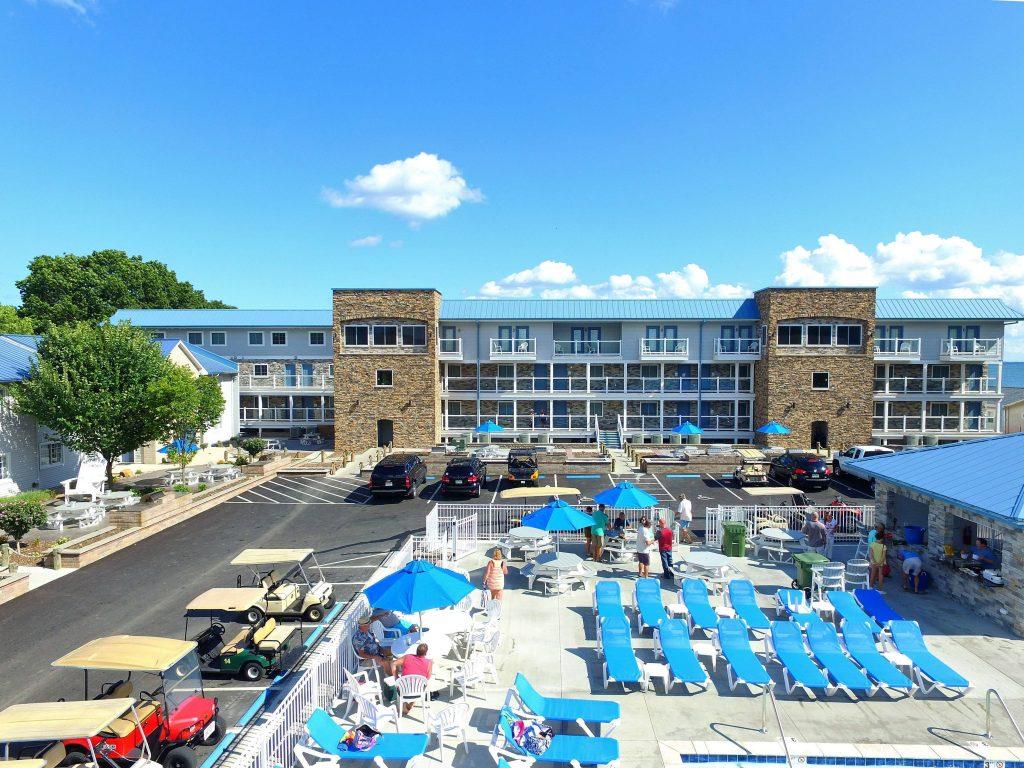 You may also consider reserving a room at the Put-in-Bay Resort & Conference Center in Ohio, which offers accommodations that are both modern and opulent.
The resort is located just one block away from the Put-in-Bay strip, which is home to many different shops and restaurants. It boasts a beautiful courtyard, a pool with a Caribbean-inspired design complete with a swim-up bar, a spacious Jacuzzi, and splash pads for the younger visitors.
You have the option of staying in a villa or a room, both of which can accommodate a maximum of 12 persons. A complimentary continental breakfast is provided every day of the week with the exception of Saturday.
In addition, there is an on-site fitness center, and the Blue Marlin Bar & Grill offers poolside dining options. Travelers here on business may take use of the hotel's five conference rooms and event venues, which together can host up to 450 guests.
Key Amenities:
Rooms and villas that can accommodate up to 12 guests
Free continental breakfast
Pool with swim-up bar, splash pad and large Jacuzzi
4. Landoll's Mohican Castle, Loudonville
There aren't many things in life that come close to matching the enchantment of spending the night in a castle, but if you find yourself in Loudonville, Ohio, you'll have the opportunity to do just that.
In addition to suites and cottages located nearby, visitors of the Landoll's Mohican Castle and the Highland Building can take advantage of the hotel's indoor pool, hot tub, sauna, and the Copper Mug Bar & Grille, which serves both food and beverages.
This resort features a spa that provides a selection of different sorts of massage, and from April through October, guests may go on daily castle excursions.
Join a haunted history tour in September and October to learn about the castle's haunted past, or embark on a ghost hunt to visit the private sections of the grounds with paranormal research equipment, which is where hauntings have been experienced, and discover more about the castle's history of being haunted.
Key Amenities:
Castle-themed suites with in-room Jacuzzis
Spa services, pool and fitness complex
Ghost walks, tours and other events
5. Salt Fork Lodge and Conference Center, Cambridge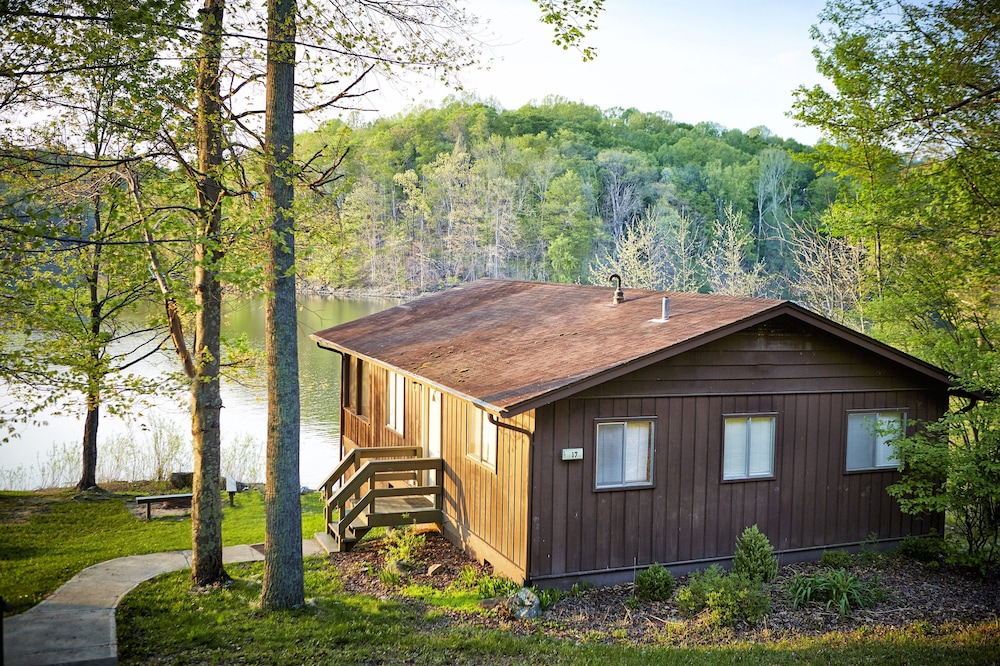 If you are also interested in having a resort experience, Ohio has a number of state parks that provide high-quality lodge accommodations.
For instance, if you stay at the Salt Fork State Park Lodge, you will have access to the state's largest inland beach, as well as 20 miles of hiking trails, a sizable swimming pool, and an abundance of sunny days.
The guest rooms at this establishment are cozy and quaint, and each one features an own balcony or patio with a view of the surrounding hills, forests, or pool area.
Choose to stay in one of the cabins that comes complete with a full kitchen, a hot tub, and a gas fireplace for an even more memorable experience. There are hotels here that are welcoming to animals, and the Sugar Tree Marina provides a wide variety of chances to rent boats.
Key Amenities:
Access to largest inland beach in state, hiking and a pool
Guest rooms with balconies and patios or cabins for rent
Pet-friendly accommodations available
6. Sawmill Creek Resort, Huron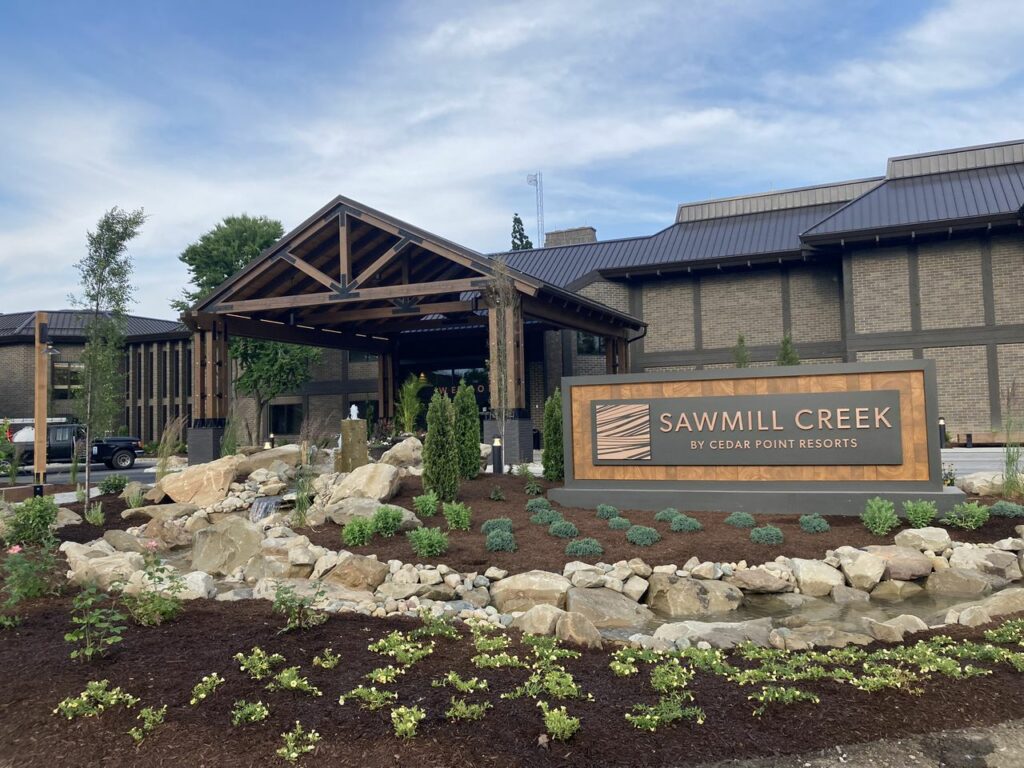 Another fantastic option in the state of Ohio is the Sawmill Creek Resort, which can be found in the Huron/Sandusky region. At this resort, you will find yourself in the midst of a variety of recreational activities, including golf, zip lining, water sports, and possibilities to go hiking.
The Firelands Festival of Lights, the Holly Jolly Community Luncheon, the pool, the basketball court, the Sheldon Marsh Nature Preserve, neighboring wine tours, bike rentals, and the shops at Sawmill Creek are some of the many enjoyable things that may be enjoyed here.
The American cuisine, deli sandwiches, and pub fare are served at the restaurants located on the premises.
Key Amenities:
Waterfront to Lake Erie with marina
On-site golf course
Hiking, water sports, zip-lining, bike rentals are more
7. Belamere Suites Hotel, Perrysburg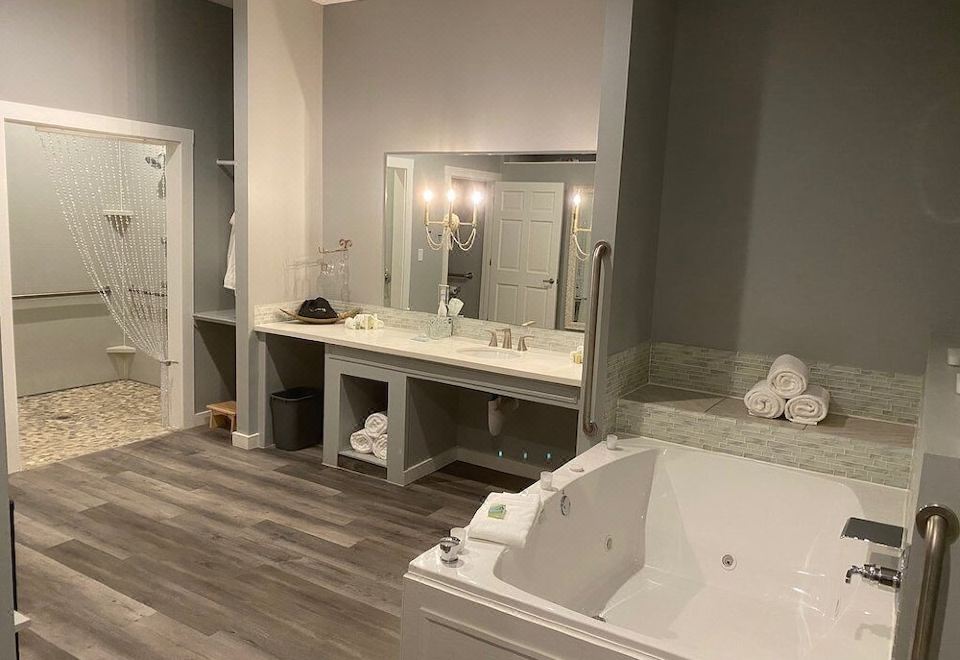 The Belamere Suites Hotel is a popular choice for loving couples looking for a luxurious resort in the state of Ohio and is another option to consider. This cozy boutique hotel features 35 rooms that are ideal for commemorating significant life events.
Amenities at the hotel include private heated swimming pools, fireplaces, walk-in showers for two, and more. Each suite comes with its own private garage for your use, in addition to a breakfast catering service sent right to your room.
Massages for couples that may be performed in the comfort of their room are another advantage, as are special packages for weddings and anniversaries.
Key Amenities:
Adults-only property with secluded suites
Private heated swimming pools, fireplaces and whirlpool tubs for two
In-room spa services
8. HideAway Country Inn, Bucyrus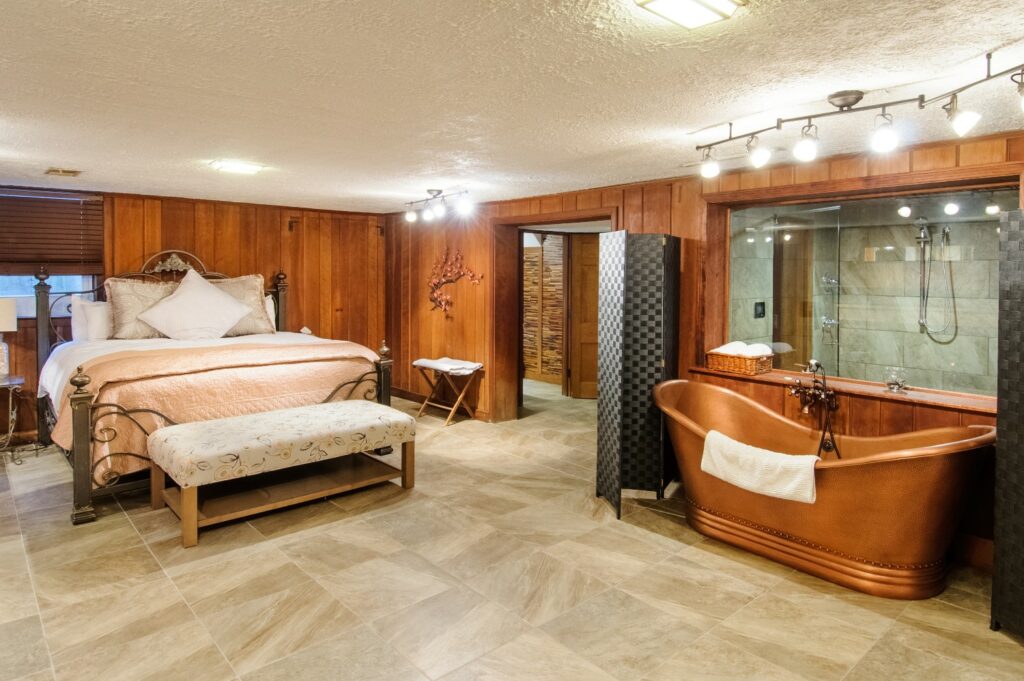 Another excellent choice for couples looking for a boutique hotel atmosphere is the HideAway Country Inn resort.
Guests may take use of the hotel's luxurious robes, private Jacuzzi suites, 1938 Restaurant for supper, and peaceful guest rooms.
This is an excellent location for a spa escape if you are interested in scheduling a massage, facial, or mani-pedi service for yourself or a friend.
Key Amenities:
Bed and breakfast style suites with private porches
Themed all-inclusive packages with dining, spa services and beverages
Farm-to-table restaurant
Best Resorts in Ohio 2023 – Newshub360.net
Related Post

Credit : www.Newshub360.net