The 15 Best Resorts in Palm Springs, California 2023: Palm Springs is an enticing location because of its perpetual sunlight, high-end spas, and upscale restaurants. It is located in the middle of the desert that covers Southern California.
Travelers are drawn to Palm Springs by the lavish facilities and fun in the sun services that the resorts in this area are known for providing.
Celebrities, weekend warriors, and golf enthusiasts are among the types of visitors who frequently visit Palm Springs.
Guests will find here the ideal place to indulge in some R&R while staying in one of the luxurious rooms, indulging in some relaxing spa treatments, and taking in the breathtaking views of the desert landscape.
Read on to learn about the greatest resorts in Palm Springs that will make you feel like a Hollywood A-lister throughout your stay. These resorts were favorites of famous travelers such as Elvis Presley and Frank Sinatra in the past.
15 Best Resorts in Palm Springs, California 2023
1. Renaissance Esmeralda Resort & Spa, Indian Wells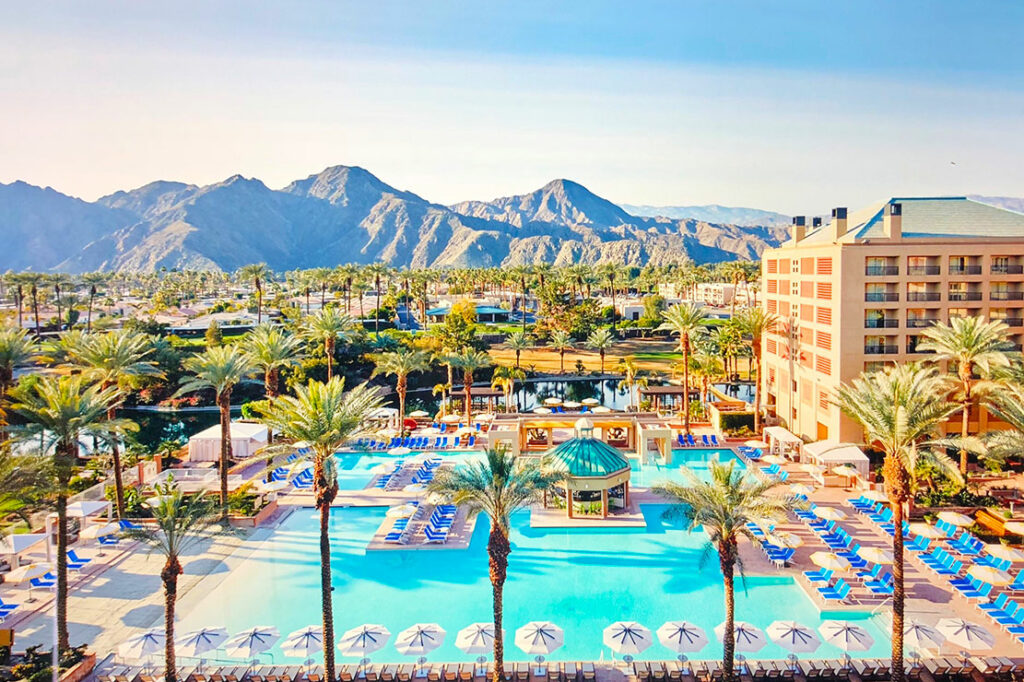 The Renaissance Esmeralda Resort & Spa in Indian Wells is widely regarded as one of the most enticing destinations in Southern California for romantic getaways for couples since it provides opulent housing in addition to a wide variety of on-site facilities and services.
The sandy beach pool is the centerpiece of the hotel, which also features an easy access to two 18-hole golf courses, a broad selection of on-site dining options, including Italian and sushi, and a stylish cocktail lounge.
At Spa Esmeralda, parents are able to take advantage of the various spa treatments while their children participate in one of the specialized programs.
You may get some rest in one of the spacious rooms that provide breathtaking views of the golf course, or you can get your blood pumping up by participating in one of the complimentary fitness sessions that are offered in the on-site gym.
It is also in close proximity to the grounds where the Coachella music festival is held.
Key Amenities:
Two 18-hole golf courses and tennis courts
Kids' programs and activities
Resort-style sandy beach pool
2. JW Marriott Desert Springs Resort and Spa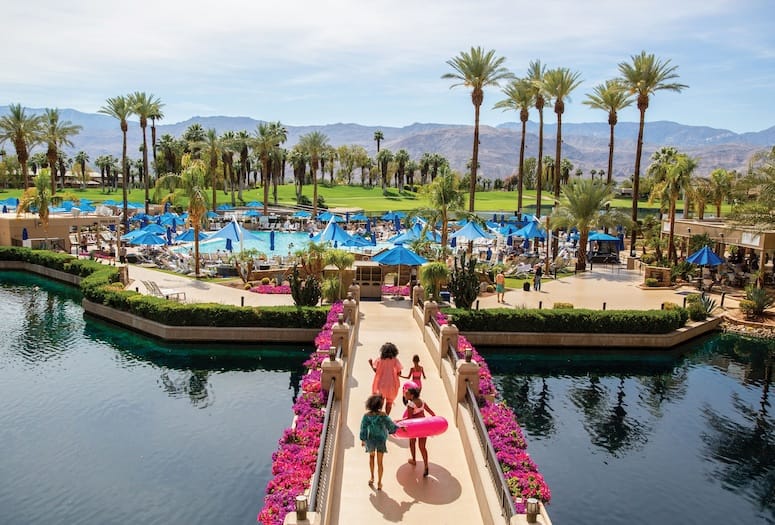 At the JW Marriott Desert Springs Resort & Spa, you would never believe that you were in the middle of a desert because the resort has a beautiful oasis with 450 acres of dense vegetation.
In this resort, visitors will be pampered with elegance that includes breathtaking lakes, swimming pools, and golf greens that surround the property and are set against a backdrop of towering mountains.
Gondolas will transport visitors around the hotel's canals, in addition to the luxurious amenities, exquisite cuisine, and state-of-the-art spa facilities that the hotel is known for. Visitors will also be able to take in the breathtaking panoramic views.
After refueling at the hotel's on-site Japanese Steakhouse or Sushi Bar, or spending the evening at the hotel's lively nightclub or bar, guests may unwind in their enormous suites, which have private balconies and windows that go all the way to the ceiling.
Key Amenities:
Gondolas ferrying guests around hotel
Nightclub and lounge
On-site pool, golf courses and spa
3. Omni Rancho Las Palmas Resort & Spa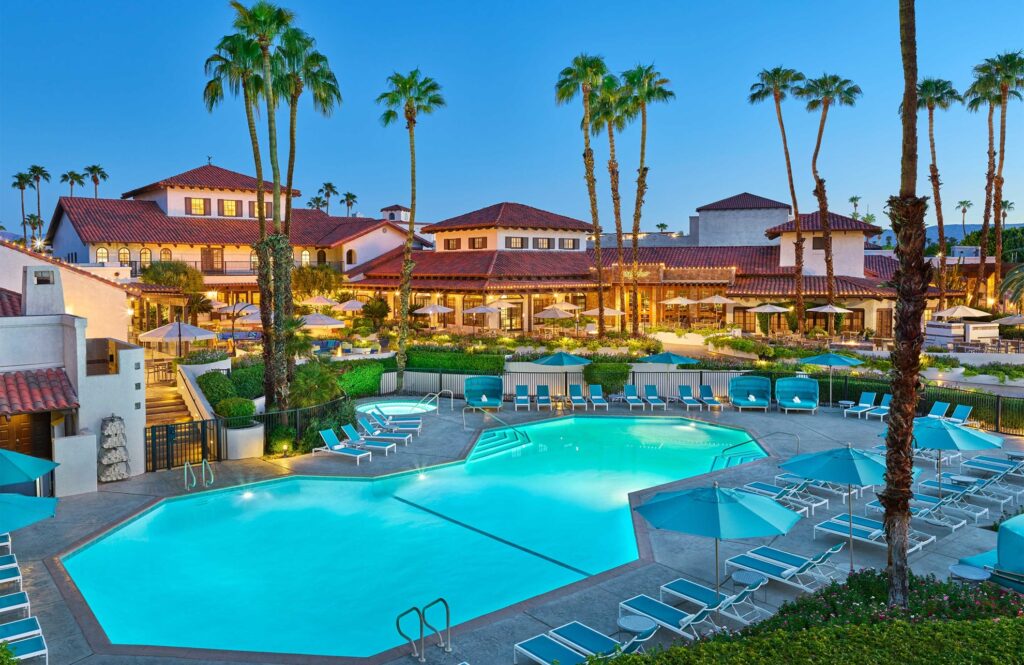 The Omni Rancho Las Palmas Resort & Spa caters to a diverse spectrum of guests because to its location at the base of the San Jacinto Mountains and its proximity to palm palms.
Guests may take use of on-site activities such as a 27-hole golf course with palm trees along the fairways, 25 tennis courts, and a 20,000-square-foot luxury spa at this establishment, which is known for its serene and unhurried atmosphere.
The accommodations, which are decorated in a Spanish style and feature superior beds, private balconies and terraces, and views of the surrounding verdant landscape, can be found in the hotel's opulent rooms and suites.
The resort is ideal for families with children since it features a two-acre water playground that is packed with exciting water features, a lazy river, and a 100-foot water slide in addition to a pool that is reserved exclusively for adults and a cliff-side hot tub.
Key Amenities:
On-site championship golf course and luxury spa
Two-acre water park, lazy river and water slide
Adults-only pool and cliff-side hot tub
4. The Ritz-Carlton, Rancho Mirage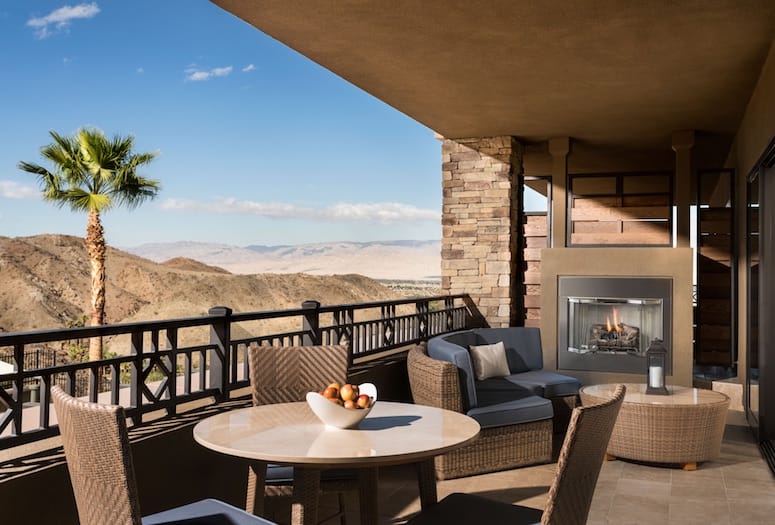 Guests at The Ritz-Carlton, Rancho Mirage may take in breathtaking views of Palm Springs, Coachella Valley, and the San Jacinto Mountains from the hotel's vantage point on a nearby hilltop.
Guests are pampered in one of the most opulent spas in the region, treated to superb dining options, and given access to the golf courses at Mission Hills; nevertheless, the highlight of the property is a quiet fire pit with a view of the valley that creates a romantic atmosphere as the sun goes down.
The luxurious 400-thread-count Frette linens can be found in the room's spacious accommodations, which also include natural-toned décor and private balconies.
The resort features a number of stunning pools for those who want to rest, as well as neighboring hiking trails for those who want to engage in more exciting activities. Guests have the option to pick their degree of activity.
Key Amenities:
Holistic on-site spa
Access to Mission Hills golf courses
Exclusive Club Lounge
5. Hyatt Regency Indian Wells Resort & Spa
The Hyatt Regency Indian Wells Resort & Spa features a never-ending roster of activities, making it an ideal destination for a vacation with the whole family.
This mega-luxury resort will keep the entire family delighted thanks to its many glistening pools, some of which are reserved exclusively for adults and feature water slides, as well as its bocce, tennis, and badminton courts, as well as its top-tier golf courses.
At the same time as their children are having fun at the Camp Hyatt kids program, parents may relax with a gentle skin tightening treatment at the Agua Serena Spa, enjoy fish tacos and burgers at the Roadrunner Cafe, or go to the namesake restaurant Lantana to take in desert views and an open kitchen.
Key Amenities:
Pools with water slides, lazy river and an adults-only section
Top-rated golf course, bocce and tennis courts
On-site spa and Kids Club
6. La Quinta Resort and Club, Curio Collection by Hilton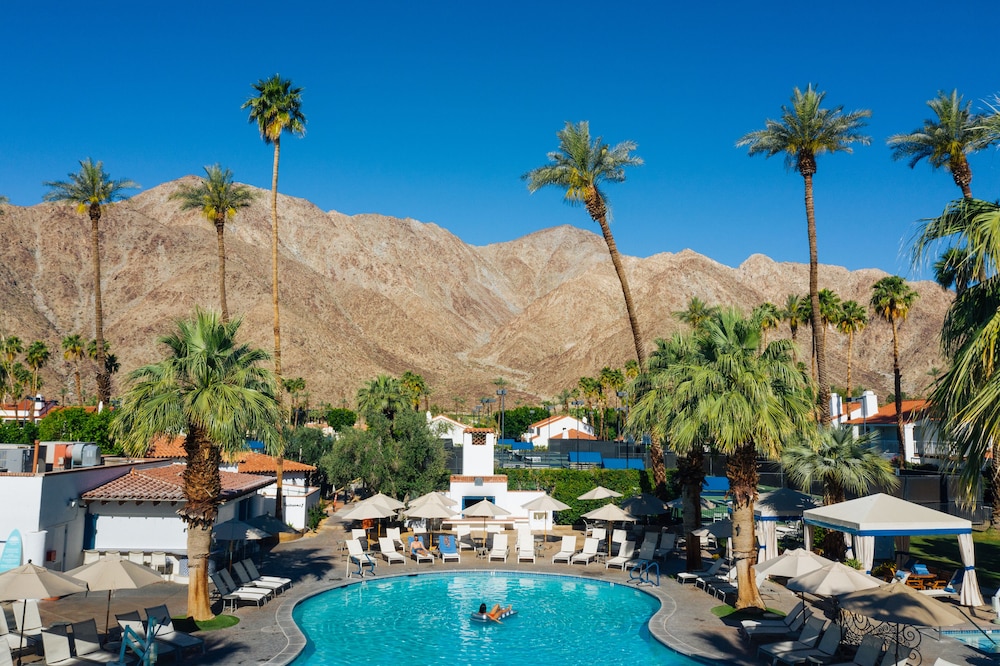 The La Quinta Resort and Club has been welcoming guests since 1926, making it a historical treasure that is ideal for a getaway holiday.
It is the oldest resort in the desert and has been known to welcome Hollywood stars such as Greta Garbo and Clark Gable. It features a magnificent background of the Santa Rosa Mountains and a collection of whitewashed casitas that are oozing with charm and a tranquil atmosphere.
The house's reputation as the epitome of luxury is cemented by the fact that it is situated on 45 manicured acres and features magnificent gardens as well as a multitude of private individual swimming pools and hot tubs scattered across the property.
Guests will have plenty to do during their stay thanks to the seven on-site restaurants and the award-winning Spa La Quinta, in addition to the property's five golf courses, on-site tennis facilities, and 41 outdoor pools.
Key Amenities:
Desert's oldest, historic resort
Gardens, 41 outdoor pools and hot tubs
Five championship golf courses, tennis and pickleball courts
7. Agua Caliente Casino, Resort & Spa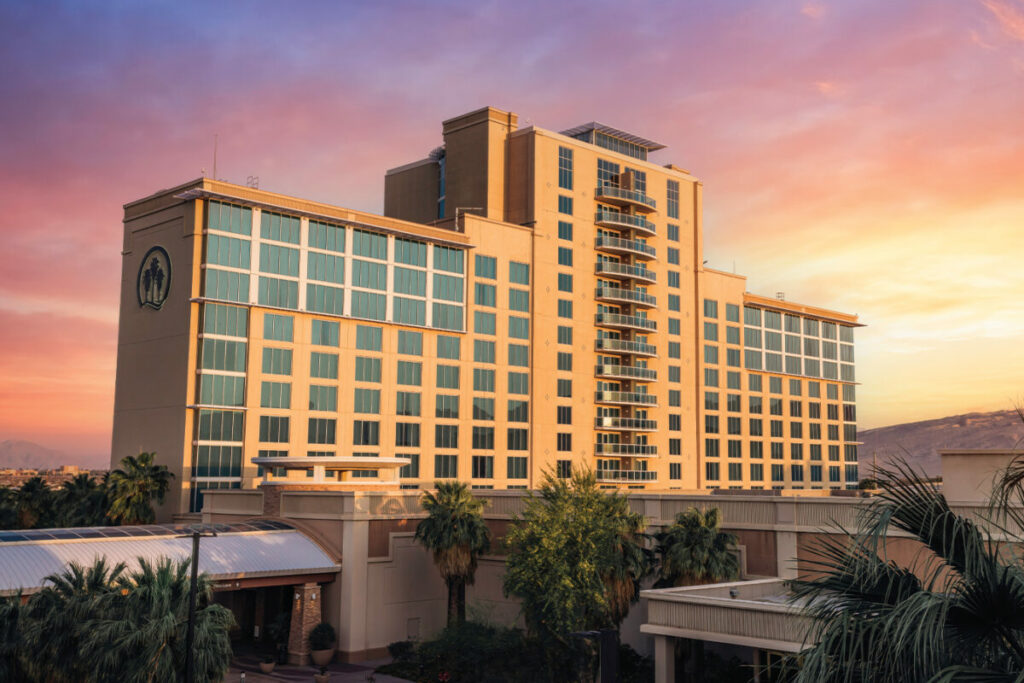 The Agua Caliente Casino, Resort & Spa is surely one that seeks to please, and it is the ideal spot for a weekend trip from Los Angeles.
The flashy, fast-paced casino at this big luxury resort serves as the resort's focal point and offers an unending number of diversions to keep guests entertained.
A wide variety of on-site entertainment venues, a spa that provides complete services, and different outdoor pools provide visitors with a plethora of options from which to choose while deciding how to spend their day.
After an eventful day, visitors will be happy to return to their large rooms, which include marble baths and gorgeous wall-to-wall windows that look out into the surrounding mountains.
After indulging in some delectable cuisine at The Steakhouse, guests may watch the most recent game at 360 Sports or relax with a drink at the poolside bar.
Key Amenities:
Casino and on-site entertainment venues
Multiple outdoor pools with cabanas
On-site, full-service spa
8. Westin Mission Hills Golf Resort & Spa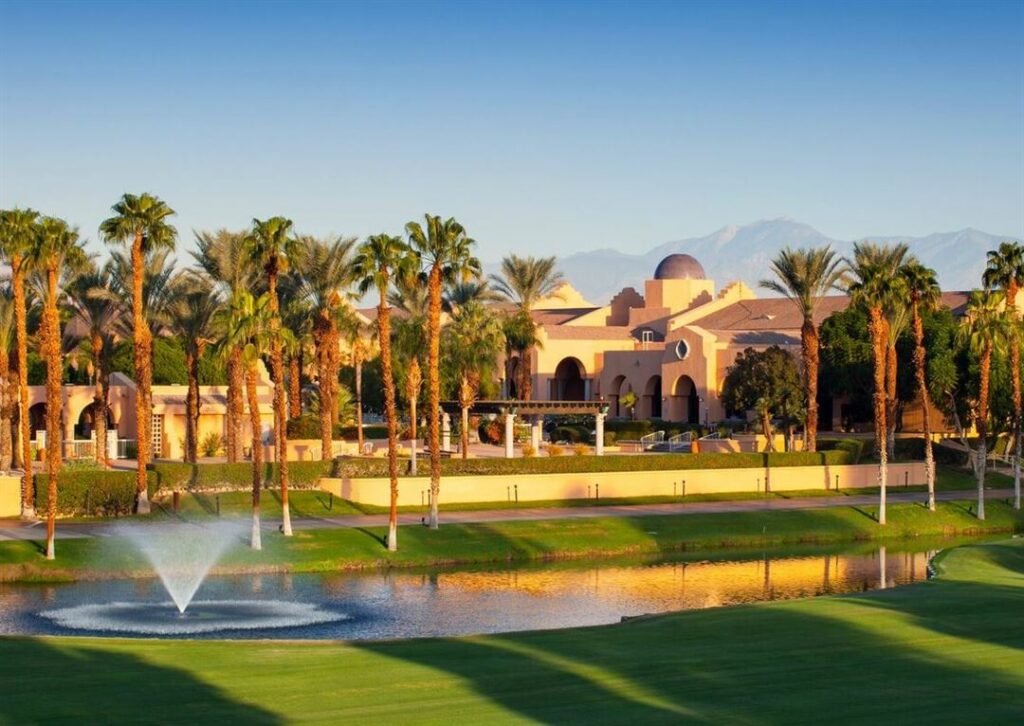 The Westin Mission Hills Golf Resort & Spa is a large complex with beautiful landscapes and buildings reminiscent of the Mediterranean culture.
It is an ideal jewel that is nested in the desert. The children are thrilled by waterslides, while the championship golf course is every golfer's fantasy come true.
The restaurant Pinzimini, which serves Italian food with a Tuscan-inspired menu, is able to keep visitors well-fed, and the spa, which provides a comprehensive variety of treatments, massages, and yoga classes, gives you the opportunity to discover your ultimate serenity.
Before retiring to the charming accommodations, which vary from Traditional Resort View to Luxury Suites, guests may unwind at the fireside lounge and sip beverages while taking in the breathtaking views of the surrounding area.
Key Amenities:
Championship golf course
Outdoor pool with dual waterslides
On-site spa and yoga classes
9. The Saguaro Palm Springs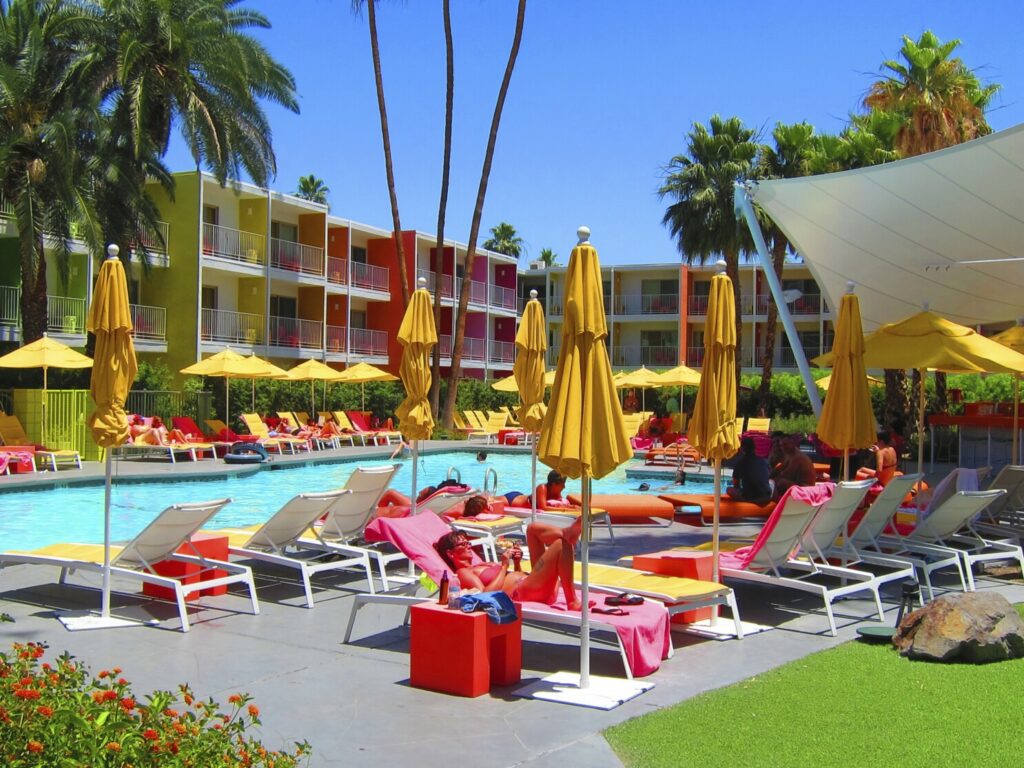 The Saguaro features a color scheme that is reminiscent of a Skittles rainbow and was inspired by the native wildflowers of the area.
If you are searching for a bright and joyful environment that is guaranteed to enhance your mood, you should visit this establishment.
When you factor in the region's average of 350 sunny days each year, you can understand why this spot is ideal for escaping the doldrums of winter.
The guest rooms are designed in a riot of vivid hues and contain handcrafted Mexican furnishings. The pool in the courtyard is ringed by blindingly orange umbrellas, and the backdrop for the entire scene is the towering San Jacinto Mountains.
Enjoy fresh fruit margaritas, happy hours, and Taco Tuesday nights at the hotel's on-site restaurant El Jefe, or get your day started with a vibrant breakfast at Rocco's Electric.
This unusual hotel is a throwback to the sort of motels that were popular in the 1970s. You may get facials and massages at the Saguaro Spa, join up for a yoga class, or ride a desert cruiser bike to see the surrounding region.
Key Amenities:
Courtyard pool with cabanas and daybeds
On-site spa offering facials, massages and yoga
Desert cruiser bikes available
10. Margaritaville Resort Palm Springs
The Margaritaville Resort Palm Springs is a casual-luxury resort that is located just minutes from downtown Palm Springs, making it an ideal destination for a vacation in the city.
The luxurious resort features spacious rooms where guests can stretch out and relax, as well as an on-site spa where guests may re-energize with various types of body treatments such as massages and facials.
Take a swim in one of the two resort pools, hire a cabana or daybed for some added relaxation, and then make use of the complimentary bike rentals to go on a tour of the surrounding region on two wheels.
A retail store, pet-friendly accommodations, complementary coffee and water bottles in each room, and the ability to dine and shop without leaving the hotel are some of the other enticing amenities offered on-site.
You will be spoiled for choice with the variety of dining establishments available, such as the coastal specialties served at JWB Bar & Grill, the poolside margaritas served at 5 o'Clock Somewhere Bar, and the coffee and quick bites served at Joe Merchant's Coffee & Provisions.
Key Amenities:
Two resort pools
Complimentary bike rentals and in-room coffee
On-site spa
11. Colony Palms Hotel, Palm Springs
When it first opened its doors in 1936 under the name Colonial House, the Colony Palms rapidly established itself as a popular lodging option, attracting guests such as a young Frank Sinatra and Elizabeth Taylor.It served as a shelter for the old Hollywood jet set in addition to the worldwide jet set.
After undergoing a comprehensive renovation in 2007, which paid attention to its historic history while still giving off a young feel, it continues to give a great deal of charm and elegance by decorating with black-and-white old movie star portraits, as well as rich woods, brilliantly colorful mosaic and textiles.
The guestrooms and suites provide breathtaking vistas of the surrounding mountains, and the bathrooms have fluffy white towels, trademark bathrooms, and marble countertops to help create an ambience reminiscent of a luxury spa.
Many of them also feature fireplaces and Jacuzzi spas in their rooms. The rooms open out to a central courtyard that has a pool, and they provide lots of seclusion thanks to the beautiful vegetation that surrounds the courtyard.
Key Amenities:
Adults-only 18 and older
Guestrooms and suites with whirlpool tubs and fireplaces
On-site spa, central courtyard with pool and foliage for privacy
12. Parker Palm Springs
The Parker is a hotel in Palm Springs that is known for its iconic pool scene, its sensual cafe, and its vast spa, all of which attract a fashionable and international clientele, including A-list celebrities.
Barbra Streisand, Heather Locklear, and Kelsey Grammar were among the celebrities that visited what was once known as the Merv Griffin's Resort Hotel & Givenchy Spa because of the privacy that the property's white walls and lush bushes provided.
In addition to the luxurious spa, it includes a riot of color and over-the-top art blended with two pools, fire pits, and a colorful desert garden.
Norma's is an appealing restaurant with an open-air terrace that serves deliciously fresh cuisine from California.
The rooms are bright and provide a laid-back Diversity with antique wall hangings, hairy Moroccan carpets, and four-poster beds among other features.
Key Amenities:
Two outdoor pools and desert garden
Open-air terrace restaurant and bars
On-site spa
13. Hotel Zoso
The contemporary rooms and suites at Hotel Zoso come equipped with private balconies and patios, many of which provide views of the pool and the San Jacinto Mountains.
In addition to allowing guests to bring their pets on vacation with them, this hotel features room service, and guests will enjoy the locally sourced cuisine served in The Kitchen, which is located on the premises.
You may wash it down with a beverage from the lobby bar or relax in the sun in a private cabana once you've had your meal. The Palm Springs Aerial Tramway may be found throughout the surrounding area.
Key Amenities:
Pet-friendly rooms and suites with private balconies
Pool with private cabanas
On-site nightclub and lounge
14. Miramonte Indian Wells Resort & Spa, Indian Wells
The Miramonte property & Spa is a Mediterranean-inspired property that offers a ton of flair and luxury against an incredible background of the Santa Rosa Mountains. It is located in the heart of Palm Springs Valley in the scenic town of Indian Wells.
A particularly serene ambiance is created by the combination of romantic architecture, Italian fountains, and quiet plazas nestled among 11 acres of olive trees, citrus orchards, herb gardens, and rose gardens.
The opulent guest rooms are housed in villas with red-tiled roofs, and many of them include a private patio or balcony with views of the meticulously maintained gardens.
Hammocks and reading nooks are tucked away in hidden areas of the villas as well. Outstanding cuisine, a sumptuous spa, two shimmering pools, whirlpools, and a fitness facility that is open around the clock are just some of the many options available for activities.
Only a few minutes separate you from championship golf courses.
Key Amenities:
Two pools, whirlpools and 24/7 fitness center
On-site spa and dining on olive grove patio
Access to championship golf course at adjacent resort
15. Avalon Hotel and Bungalows
The Avalon Hotel and Bungalows is a desert getaway that has accommodations in the manner of Spain.
They include romantic flats as well as private villas.
Recharge your batteries at Chi Chi Restaurant with freshly pressed juice, salads, burgers, and big supper plates after beginning the day by relaxing in a cabana on a comfortable lounger or indulging in a spa treatment that will make you feel pampered.
When you're feeling low on energy, head to the fitness facility for some time in the sauna or steam room, or sign up for a yoga session.
Key Amenities:
Spanish-style studios and private villas
Three pools and on-site spa
Fitness center with steam room and sauna
15 Best Resorts in Palm Springs, California 2023 – Newshub360.net
Related Post
Credit : www.Newshub360.net