The 13 Best Cabin Rentals in Pennsylvania 2023: One of the most attractive aspects of Pennsylvania as a location for vacation cabin rentals is the state's abundance of spared natural beauty and serene settings.
There are vacation rentals here that range from the most basic to the most extravagant, ensuring that there is a suitable option for everybody looking for some time away.
13 Best Cabin Rentals in Pennsylvania 2023
1. Secluded Cabin in the Woods – Centerville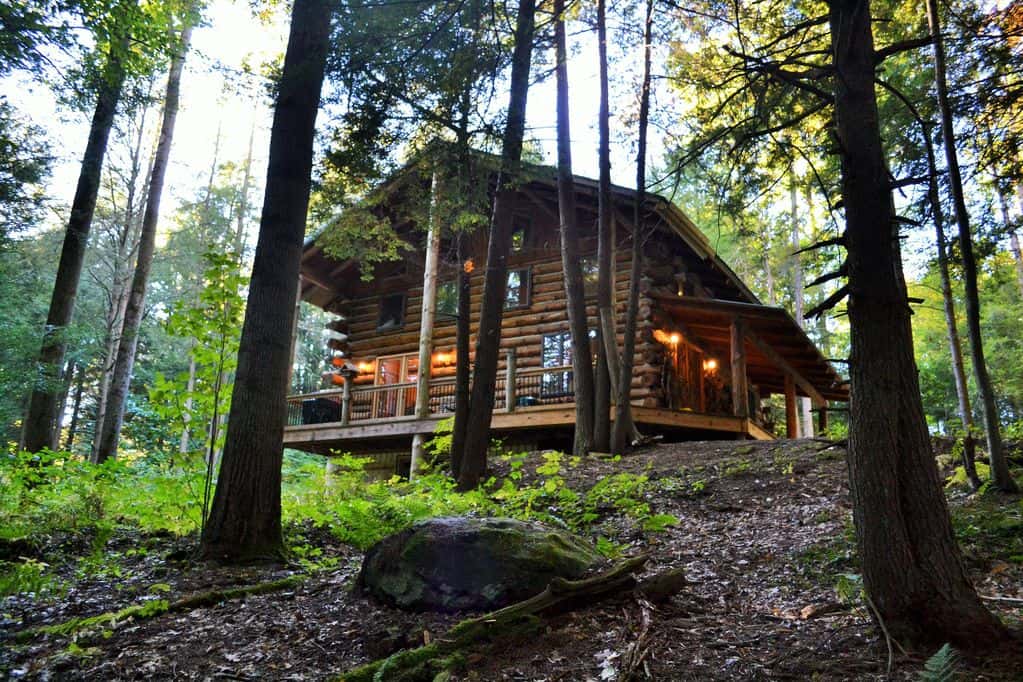 This Vrbo cabin has a total living space of 1,600 square feet and is now available for rent. On a private setting of 28 acres with rolling hills in Northwestern Pennsylvania, this house has three bedrooms and two bathrooms, and it can accommodate a total of eight people.
If you hire this cabin, the main bedroom will provide you with a queen-size bed and a walk-in closet. Additionally, there is a loft in this cabin, from which you will have the opportunity to see local animals.
You can reach Tionesta Lake or Canadohta Lake in less half an hour, and you'll be able to reach Erie in under an hour as well.
There are also facilities for doing laundry, a hot tub, internet access, and guests are allowed to bring their pets with them.
2. Lumberjack Cabin – Blanchard
The Lumberjack Cabin is a well-liked choice on Airbnb for vacationers who wish to remain in close proximity to Bald Eagle State Park. It offers Wi-Fi, TV streaming services, and DVDs in addition to having sleeping space for four people.
Guests who choose to stay here will have access to a contemporary toilet with a flushing mechanism, a stand-up shower, a fire pit located nearby the cabin, and a wonderful front porch for unwinding on.
When it comes to places to sleep, there is a bedroom with a double bed as well as a living area with a couch bed.
The cottage is located in a natural neighborhood, close to a number of other cabins and residences. In this location, you will also be around 20 minutes away from Interstate 80.
3. Deer Path Cabin – Ringtown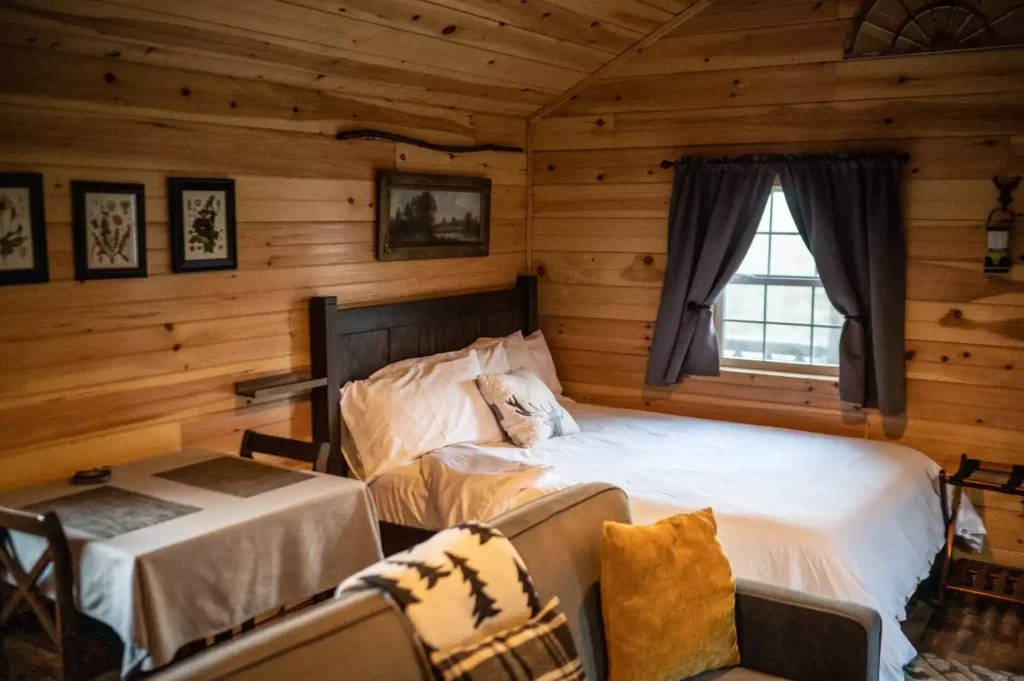 The Deer Path Cabin provides guests with a luxurious camping experience that is complete with all of the conveniences and amenities found in a typical house. This makes it an excellent location for unwinding and relaxing.
It is a completely off-grid cottage that gets its power from solar panels and has Wi-Fi, a smart TV with streaming services, a fire pit, a front porch, and stunning starry night skies.
You'll be close to the Yuengling Brewery as well as a number of parks where you may go hiking. This cottage may be found on the property of the host and is situated on the same piece of land as the main home.
The bathroom is equipped with a basin and a composting toilet, and there is also an outdoor shower that may be used when the weather is nice.
Through a separate door, guests are also welcome to use the shower that is located in the main home. The host serves eggs from the hens and ducks that are located on the property, in addition to fruit, for breakfast.
4. Charming Chestnut Cabin in Woods – Dingmans Ferry
This one-of-a-kind cottage is on the edge of the Delaware Water Gap National Recreation Area and is only a few minutes away from a variety of outdoor activities, including canoeing, kayaking, fishing, swimming, and bicycling.
While you take pleasure in the tranquility of this hemlock forest, you may take use of the many modest cabin luxuries that are provided for you, such as a queen-size bed, a quiet office area, a full kitchen, and a bathroom with a rain shower.
It is a retreat in the wilderness that provides space for three people to sleep (since there is an additional couch bed), as well as internet access, a smart television with streaming services, a front porch, and a private rear deck.
5. 1800's Restored Log Cabin in Woods – Brecknock Township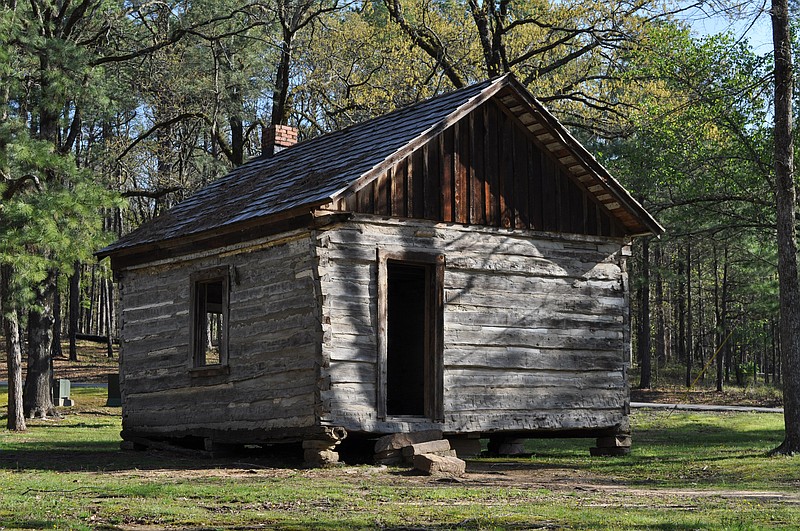 This cottage, which can be rented out through Vrbo, is the ideal location for a trip that is both romantic and restful any time of the year. It has space for two individuals to sleep, and its isolated location will help you feel refreshed and revitalized.
In this accommodation, the bedroom features a king-size bed, and the bathroom is equipped with a toilet as well as a shower. This classic cottage features a living room, cooking area, fireplace, parking, and welcomes both people and their four-legged friends.
A half-mile-long driveway will lead you to the location, which is in the heart of state game areas. Bring your fishing gear with you since there is a pond right in front of the cottage where you may fish catch-and-release style.
6. Waterfront Authentic Log Home – Tidioute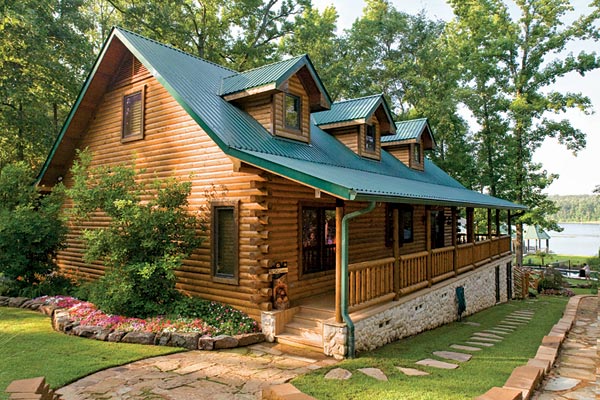 This cozy cottage features three bedrooms and one bathroom, making it an ideal option for accommodating large parties of up to eight guests.
On the banks of the Allegheny River, this gorgeous Airbnb rental house has received several positive reviews and has wonderful river views throughout the whole year.
Canoes and kayaks are at your disposal here for engaging in water-based activities, and the kitchen is stocked with everything you need to prepare delicious meals for your guests.
We are happy to have well-mannered dogs join us here. Reserving this cabin will put you in a tranquil river valley with other cottages located in the surrounding region.
Your stay will provide you with complimentary Wi-Fi, cable television, and parking at no additional cost.
7. Quaint Cabin Near Two Great PA State Parks – Benton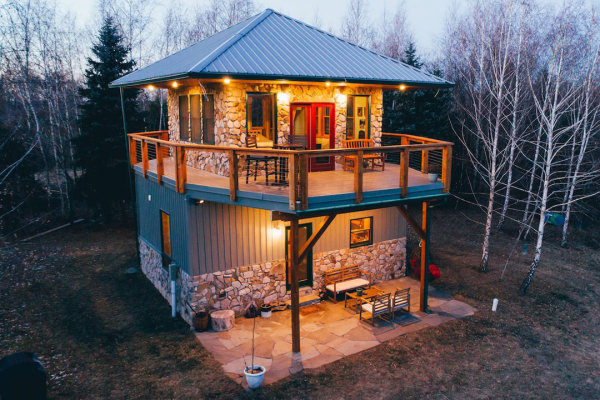 Airbnb visitors adore staying in this little cottage, which has two bedrooms, one bathroom, and can accommodate a maximum of four guests.
It has the look and feel of an old-fashioned cabin, yet it is equipped with modern conveniences such as a whirlpool tub and air conditioning.
A pack-and-play is one of the amenities offered at this rental, which caters to families. Because you will be in a more rural area, both your cellular coverage and your satellite internet connection may be unreliable at times.
Your opportunities for hiking are conveniently located next to Ricketts Glenn and Worlds End state parks.
8. Relaxing Getaway with Hot Tub in the Woods – Richfield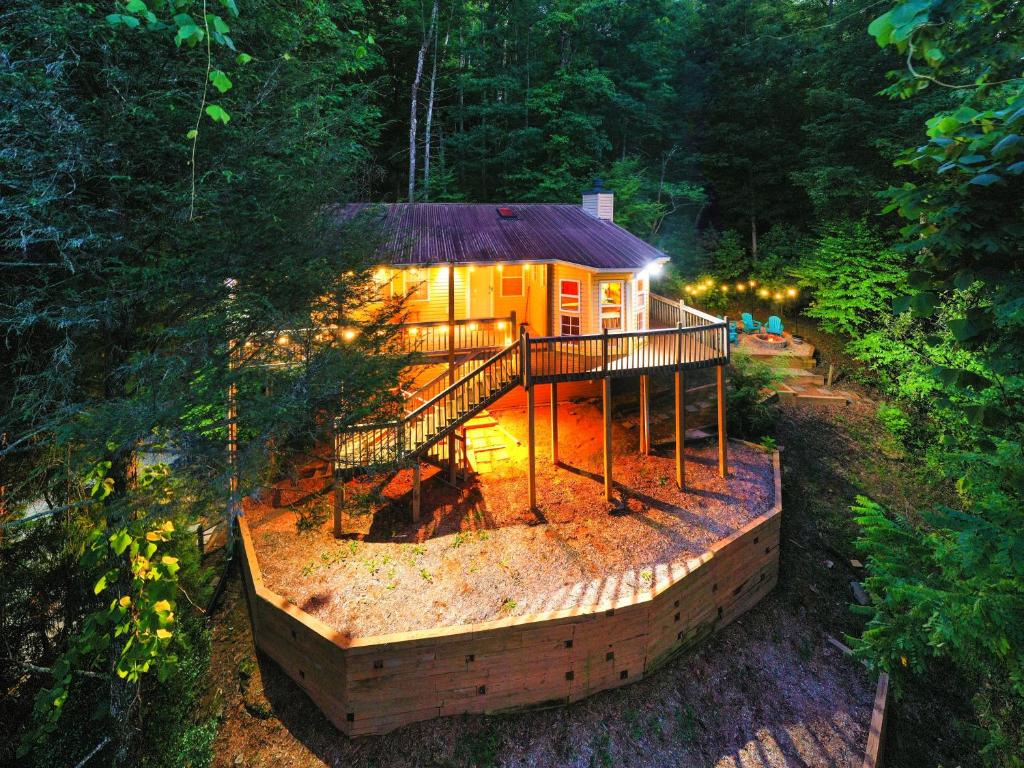 This cabin has a total area of 800 square feet and can accommodate a maximum of four guests. It is available for rent through Vrbo.
In addition to a king-size bed and two single beds, it features two separate bedrooms and a single bathroom.
When it comes to cooking meals, you'll have access to a stove/oven, refrigerator, microwave, Keurig, and toaster.
The Pennsylvania mountains are in close proximity to the cabin, as are a number of the town's facilities, including as its restaurants and golf courses.
There are also a number of amusement parks, water parks, and state parks located in the area for everyone's enjoyment.
9. Tiny Cabin in The Cove – Mifflintown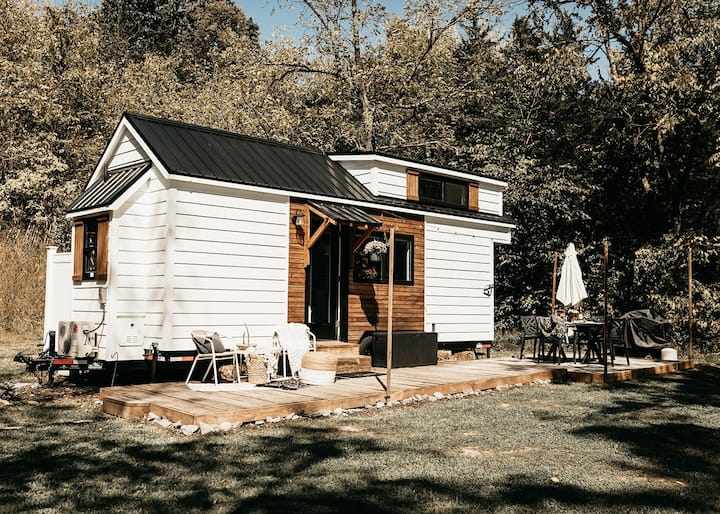 When you reserve this rental property on Airbnb, you will have the option of staying in a small house that doubles as a cabin. It has two bedrooms and one bathroom, so it can sleep up to four people comfortably.
On the other hand, this establishment does not welcome children or animals of any kind. You'll be in the middle of the woods in Central Pennsylvania, and you'll be less than a kilometer away from a stream.
Hiking, kayaking, and animal watching are all enjoyable activities that may be done here in their purest forms. Wi-Fi is accessible at this location, however the signal quality is poor, and the reception on cell phones is similarly inconsistent.
Simply bring your own food, beverages, and perhaps an additional cooler if you bring a lot of goods with you because the kitchen here has everything you could possibly need.
At this cabin, for your convenience and comfort, there are ceiling fans, space heaters, window air conditioners, and an electric fireplace.
10. Timber Top Cabin – Lock Haven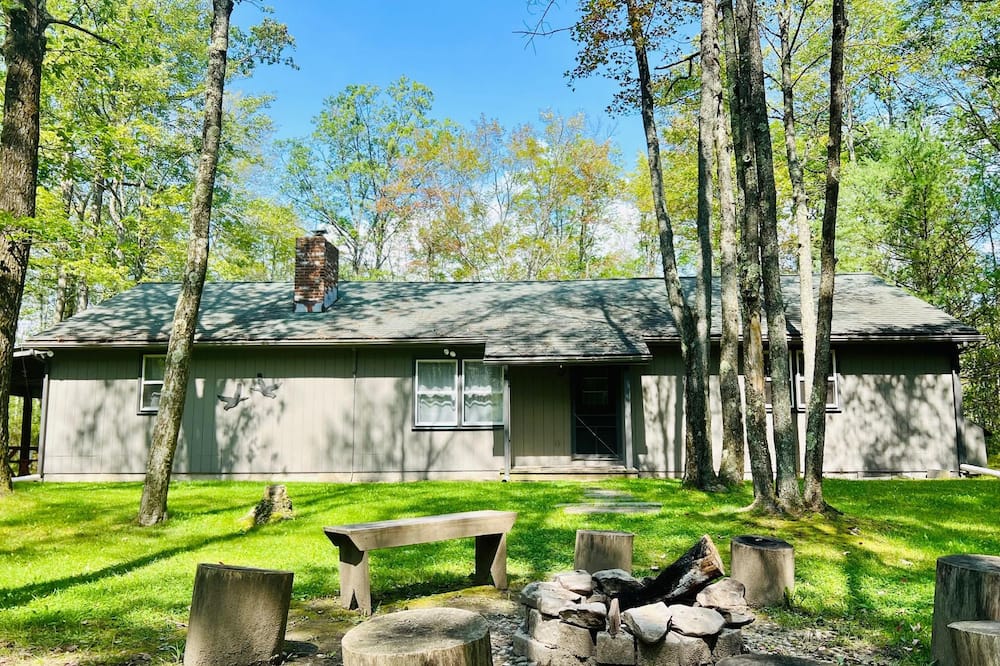 This secluded cottage is located in close proximity to state woods, making it ideal for outdoor activities like as hiking, bicycling, hunting, and fishing. The Pine Creek Rail Trail, which is a popular place for snowmobiling, can be reached in a little over ten minutes by car.
The backyard of this Airbnb cabin rental is spread out across many acres, and it is equipped with a full kitchen, a contemporary toilet with a flushing mechanism, and a stand-up shower.
The cottage includes two bedrooms and one and a half bathrooms, making it capable of accommodating five guests.
Make a reservation at this cabin to experience the hidden beauty of the Pennsylvania Wilds and to be a little off the main road while yet being in an area with many of outdoor activities to choose from.
11. Crooked Riffles Loyalsock Creek – Montoursville
There is accommodation for up to four visitors in this Airbnb cabin, which includes one bedroom and one bathroom. The cottage has received several positive reviews.
It is approximately 15 minutes from Montoursville and is located on the Loyalsock Creek. Visit this location to be near hiking trails, fishing spots, kayaking waterways, and bathing spots.
It is convenient to both the local markets and Worlds End State Park, making it an excellent choice for a family of four or two couples traveling together.
Wi-Fi, a kitchen, free parking, and a TV are all included in this rustic cabin, in addition to the two queen-size beds found in the bedroom. When you stay at this location, you'll be in a community that has a few homes and cabins nearby.
12. Charlie Camp on Kettle Creek – Cross Fork
You can enjoy some of the best trout fishing in the area if you book this Airbnb cottage, which is located on the picturesque Kettle Creek.
The cabin is equipped with a queen-size bed, a sleeper sofa, a television, a DVD player, and a stand-up shower in the bathroom.
It can accommodate a total of four guests. Please ensure that you bring your own pillows, bedding, and towels with you.
Families like the fact that the host is able to provide amenities such as a foldable travel cot, board games, and children's books and toys throughout their stay.
You'll find a basic shop close by where you can pick up supplies and groceries, in addition to a few of local restaurants where you can grab a bite to eat.
13. Scotty's Country Cottage – Mifflinburg
For a more genuine cabin experience in Pennsylvania, you have the option of renting this one that has received many positive reviews through Airbnb.
It is tucked away in the trees and has space for three people to sleep.The rental property does not accept dogs, but it does feature a living room, dining area, and complete bathroom. However, the kitchen is not fully supplied.
Lewisburg may be reached in ten minutes, while Mifflinburg can be reached in three miles. A foldable chair or two are also available for use in the outdoor area, in addition to a fire pit.
13 Best Cabin Rentals in Pennsylvania 2023 – Newshub360.net
Related Post

Credit : www.Newshub360.net