Best Hot Springs Resorts in Colorado. There aren't many places in the world where you can soak in a pool fed by hot water that bubbles up naturally from under the earth's crust.
But in the state of Colorado, there are allegedly 93 of these magic thermal springs and approximately 30 have been developed into soaking ponds  many set out in the open air with mountain views.
These magical spots have long been places of healing and peace. According to The Denver Post, Indigenous peoples called these thermal springs "medicine waters," and even today, people travel from all over the world to soak in the waters, which are naturally rich in minerals like calcium, magnesium, sodium, potassium, and lithium.
These Colorado hot springs are some of the country's best places for soaking away any worries  and aches or pains  while enjoying the fresh mountain air and stunning vistas.
Best Hot Springs Resorts in Colorado 2023
1. Strawberry Park Hot Springs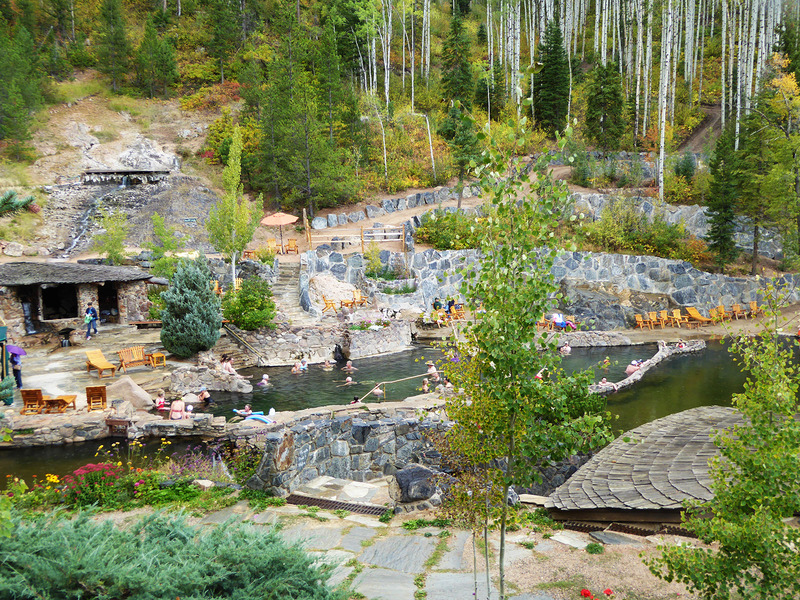 Seven miles from Steamboat, Strawberry Park Hot Springs is less developed than some of the more upscale hot springs resorts.
Hot Spring Creek water and cold river water mix to generate the hot springs pools, which is why the top soaking pools are warmer than the lower pools.
Kids under the age of 18 are not permitted after dark, and clothing is not required at Strawberry Hot Springs. Unquestionably, it ranks among the best things to do in Steamboat Springs.
2. Hot Sulphur Springs Resort & Spa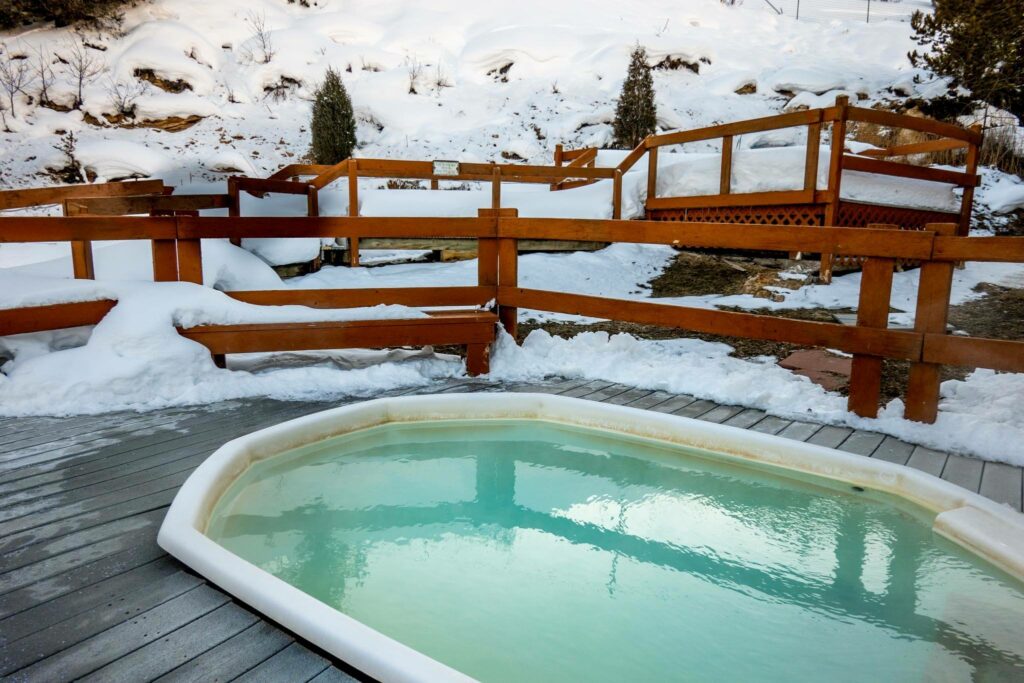 Given its proximity to Winter Park and Rocky Mountain National Park, Hot Sulphur Springs Resort is a perfect place to rest your weary muscles after a day of skiing or hiking.
A Ute tribal leader gave the resort his blessing before it opened in 1997 since the natural hot springs were originally used by the Utes.
In addition to housing, there are a number of mineral water pools with various temperatures.
3. Radium Hot Springs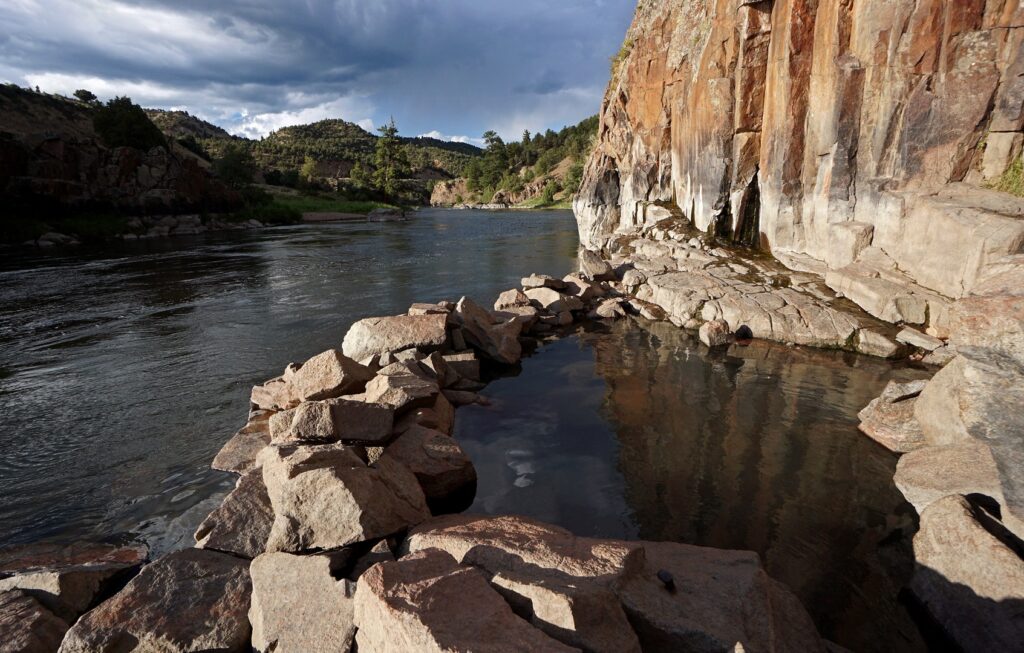 Between Kremmling and Eagle, along the Colorado River, are these hot springs accessible only by foot. Just over a mile of hiking will get you to these hot springs in Colorado, but you can also raft the river to get there.
4. Indian Hot Springs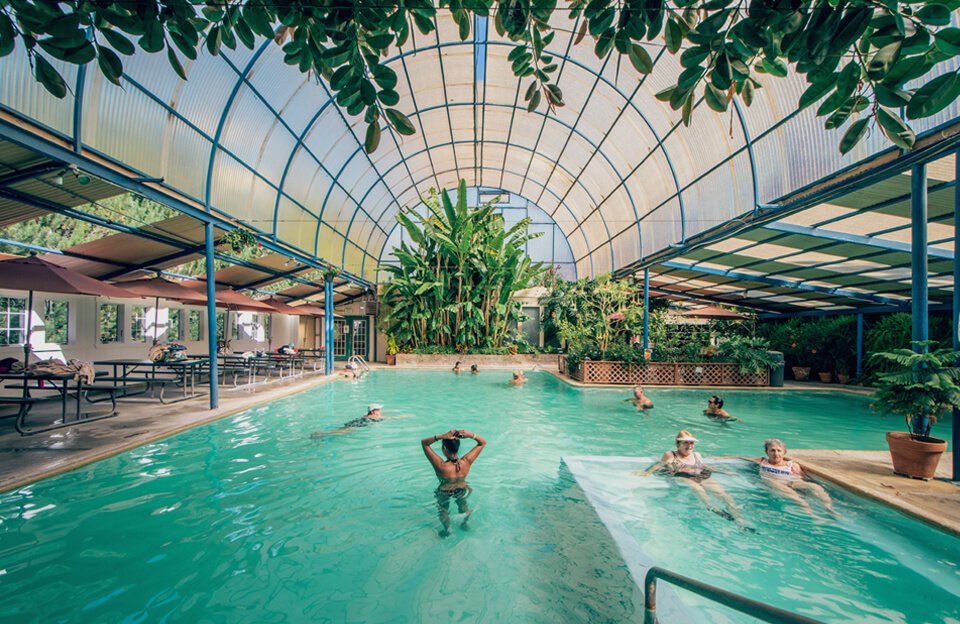 The closest hot spring to Denver is Indian Hot Springs, which isn't the most luxurious resort on this list. Because of this, it can get quite crowded, so if at all possible, visit during the week or out of season.
The majority of the facilities are kid-friendly, however if you prefer a more private experience, you can utilize a private bathroom or vapor cave.
Best Hot Springs Resorts in Colorado 2023
5. Mount Princeton Hot Springs Resort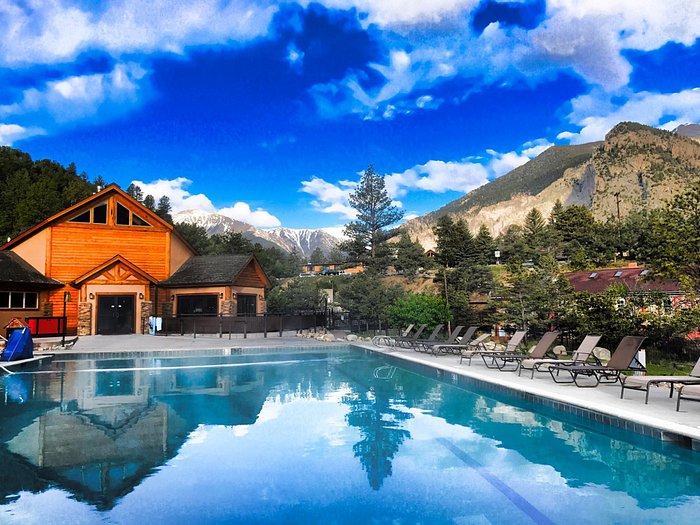 A family-friendly resort featuring hot springs by a creek, a former bathhouse, and an infinity pool is Mt. Princeton Hot Springs Resort. A 400-foot water slide that kids will adore is also available.
The spa and club are open to anybody aged 16 and up. In addition to accommodations, yoga and fitness programs, a restaurant, and a juice bar, the resort features natural hot springs.
6. Cottonwood Hot Springs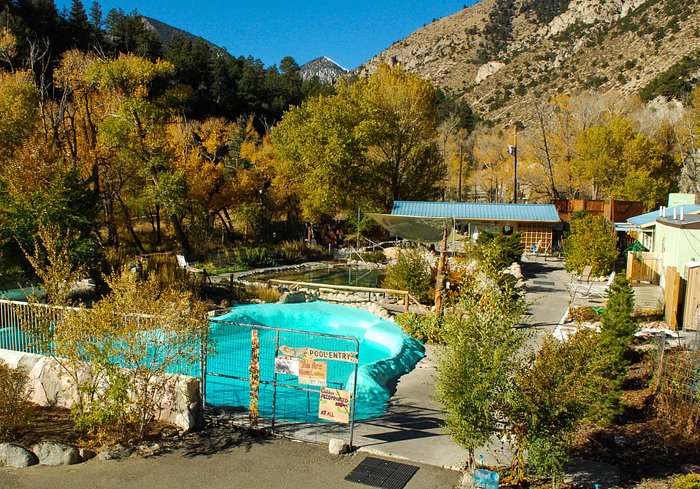 In Cottonwood Hot Springs, which is close to Buena Vista, you may enjoy views of the Collegiate Peaks while you soak. Different mineral pools have different temperatures.
There are log cabins and spa facilities available at Cottonwood Hot Springs, which also has on-site housing. The atmosphere is quiet and easygoing, generally suitable for older children but not for boisterous ones who could splash or yell, and electronics are discouraged (there is no WiFi).
7. Conundrum Hot Springs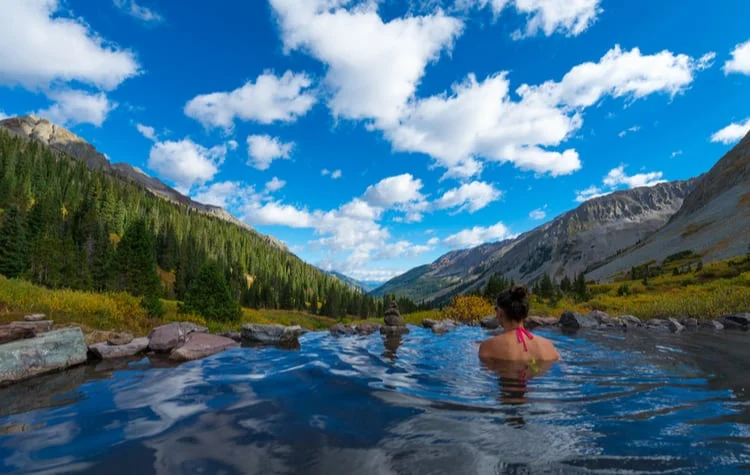 These naturally occurring hot springs in Colorado are among of the highest in North America, but getting to them is difficult. They must hike 8.5 miles to get there while in the Maroon Bells-Snowmass Wilderness. The hike is challenging and gains 2,4000 feet.
Naturally, you are rewarded with stunning mountain views and a dip in the hot springs before the arduous journey back.
8. The Springs Resort & Spa

The deepest geothermal hot springs in the world can be found at this Pagosa Springs resort. There are 25 different hot spring pools available for use, each with a different size and temperature range. Try the 108°F-boiling Lobster Pot if you want your hot springs hot!
For a special experience, you can also sit directly where the mineral-rich hot spring water meets the chilly river water. Even though some hot spring pools are only for adults, The Springs is kid-friendly.
Best Hot Springs Resorts in Colorado 2023
10. Valley View Hot Springs Pool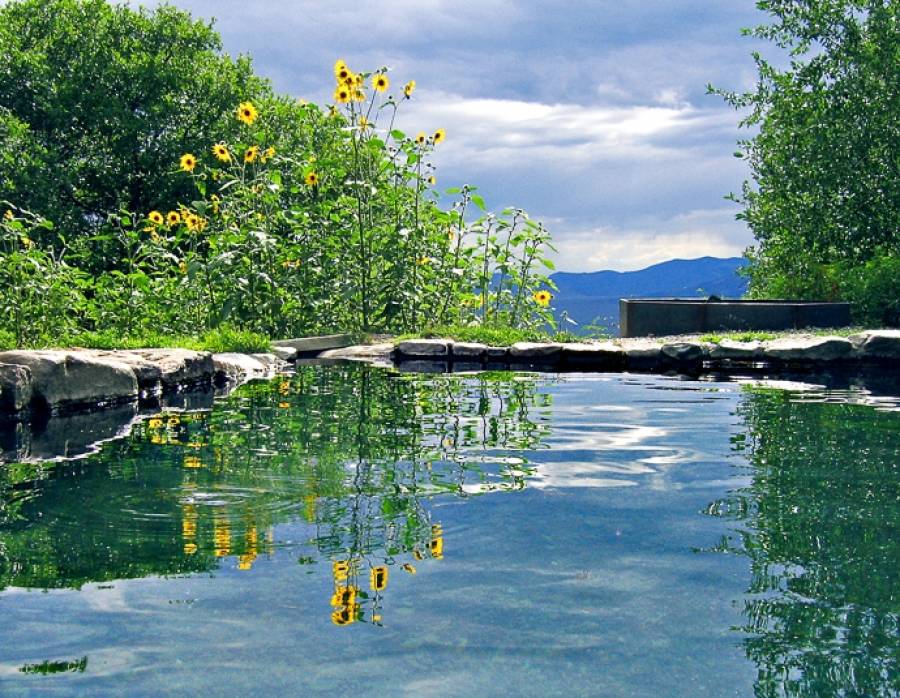 Mountain View A family-friendly, clothing-optional eco-sanctuary is Hot Springs. There are soaking ponds along hiking routes in the forest, as well as a hot tub and sauna that are geothermally and hydroelectrically heated. Happy Journey Heat Sources
The Sangre de Cristo Mountains can be seen from each hot springs tub at Joyful Journey Hot Springs, allowing you to bathe while taking in the scenery. Along with everything else, it delivers healthy meals on-site and offers yoga, spa services, and art lessons.
11. Ouray Hot Springs Pool
There are five separate pools in the compound where you can swim or soak. It also provides breathtaking views of the mountains around! These Colorado hot springs have a waterslide and separate bathing areas for adults and children.
12. Twin Peaks Lodge & Hot Springs
The heated pool at the hot spring lodge is open to visitors around-the-clock, and there is also an indoor pool just for adults and an outdoor soaking tub. The lodge also has a spa and a restaurant.
13. Durango Hot Springs Resort & Spa
A pass entitles you to use the 15 natural hot spring pools, the pool, the dry Finnish sauna, the cold plunge, and the reflexology trail. In addition, these Colorado hot springs offer spa services and concessions.
Best Hot Springs Resorts in Colorado 2023
14. Dakota Hot Springs
The only pool at this hot springs club. The water doesn't smell like sulfur since it doesn't contain any detectable amounts of sulfur or iron.
With the exception of Tuesdays, when swimming suits are needed, this club has no dress code. Children are not permitted in the facility, according to their website.
15. Glenwood Hot Springs Resort
You've undoubtedly seen the largest hot springs pool in the world while driving on I-70 to the west.
If you're traveling, the Glenwood Hot Springs Pool is a terrific place to take a rest. You can even book a pleasant weekend getaway and stay at the hotel. Family-friendly hot springs can be found in Glenwood, but there is also a spa with quieter areas.
16. Yampah Spa & Vapor Caves
Some of Colorado's best natural hot springs may be found in Glenwood Springs. This one offers spa services, stream baths, and vapor tunnels. Best Hot Springs Resorts in Colorado
17. Penny Hot Springs
It takes a trek to get to Penny Hot Springs. The best seasons to go are the summer, fall, or winter because the pools can flood in the spring due to snowmelt.
Pack in and pack out there are no amenities, restrooms, trash cans, or other services!
18. Old Town Hot Springs
Eight pools and two water slides can be found at Steamboat Springs' Old Town Hot Springs public pool. A hot springs waterfall is also available for your relaxation.
19. Dunton Hot Springs
So far, we've highlighted a few primitive hot springs with limited facilities. Despite being in a deserted part of Colorado, Dunton offers the complete opposite. This all-inclusive resort is really luxurious but also very pricey.
In the summer, go horseback riding or fly fishing; in the winter, go snowshoeing; and in some of the top hot springs in Colorado. The cost includes participation in every activity. The hot springs are only accessible to resort visitors.
20. Valley View Hot Springs, Moffat
The entire Valley View Hot Springs property is off the grid and there's a series of soaking ponds set along wilderness trails. Plus, everything is clothing optional.
A few of the natural, spring-fed pools are also perched up on the mountain with views over the valley. It is, in a word, stunning.
Best Hot Springs Resorts in Colorado 2023 :Newshub360.net
Related Post
Credit :www.Newshub360.net