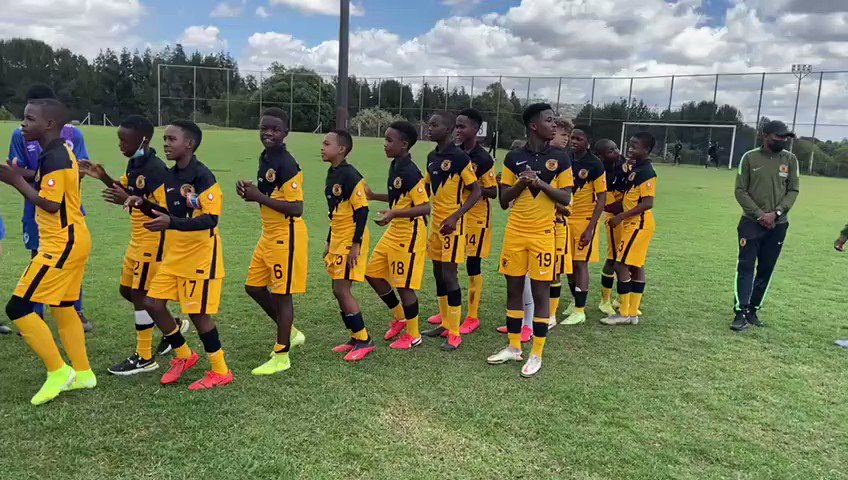 KAIZER CHIEFS SOCCER ACADEMY TRIALS
Aims and Objectives
Kaizer Chiefs Academy Trials 2023: With the use of academic education, Kaizer Chiefs Youth Development seeks to find players with exceptional football skills and help them fulfill their football desire.
To keep the club successful and to support the numerous national teams in the nation, we create top-notch players for the Kaizer Chiefs senior squad.
Overview
The Youth Development was established in the 1970s, operating out of Soweto, and then moved its headquarters to Rockville to accommodate all of the local players. The majority of its players were from Rockville and the neighboring Soweto districts when it was still known as Kaizer Chiefs Reserve side. Players like Rider Mofokeng, Wellington Manyathi, Doctor Kumalo, Brian Baloyi, Thabo Mooki, Ntsie Maphike, and Trevor Mthimkulu were all known to have come from this camp.
Some of these players are now youth development coaches, while others are still well-known figures in their own right.
Later, in the 1980s, the Reserve Side expanded to include additional youth teams, such as the under-10 and under-12 Chappies Little League, which produced players like Tshepo Molatedi, and the Toyota U21, where players like Isaac Kungoane were identified. The major goals of participating in these events were to promote Kaizer Chiefs and draw players from outside of Soweto.
In order to combine the perceptions of the two organizations and create a truly South African cooperation, Kaizer Chiefs established working relationships with Rand Afrikaanse University, one of the best institutions in South Africa.
The RAU Chiefs Development program was built on a genuine relationship that exposed football players to a facility that offered all amenities for education, psychology, and welfare in addition to being a member of a prestigious football club.
Both in the academic realm and in the world of sports, this link led to a variety of intriguing outcomes. While the following players emerged from the Academy: Jabu Pule, Kaizer Motaung Jr, Isaac Mabotsa, Thabiso Malatsi, Nhlanhla Kubeka, Nhlanhla Mathebula, Gerald Sibeko, Buti Sithole, Junior Kanye, and most recently Lucky Mzizi, several players from the Kaizer Chiefs Youth Development received certificates in sports management as well as one degree.
Other players who graduated from the academy and could not be accommodated in the senior team where loaned to other teams while some players like Patrick Thwala were sold outright.
The Youth Development used RAU infrastructure in the form of soccer fields, psychologists, physiotherapists and other facilities including accommodation.
The objective was to attract the best and promising youngsters around South Africa and this was achieved by the club's largest network of passionate supporters.
In 2003, the Youth Development was attracting a number of younger players from the ages of 12 years into the Programme. This necessitated a new approach as the schooling and the housing of these players. To achieve that, the Youth Development moved to St. Barnabas College in Bosmont which offered a one stop facility for training, schooling, boarding and lodging for our younger players.
St Barnabas College was chosen for its good academic record over the years. In the past year, the club has moved some of their players doing Grade 12 to Meadowlands High School in Soweto and their presence has elevated the standard of soccer at the school.
In 2006, the Youth Development achieved one of the major milestones when it partnered with the Gauteng Department of Education (GDE) and Central Johannesburg College to form an alliance that would allow Kaizer Chiefs Youth Development to have exclusive use of the Central Johannesburg College sporting facilities at Highveld College including soccer fields, gymnasium.
This partnership also included the moving in-house of the Youth Development players to have exclusive use of the 180 bed hostel, the kitchen and dining facilities. With this relationship, Kaizer Chiefs Youth Development will be able to reach the local communities, thus imparting football knowledge as well as other life skills to the community.
This agreement also opens all academic facilities within the control of Central Johannesburg College to Kaizer Chiefs Youth Development. These facilities include Life Skills Programme, Computer Training Facilities, Engineering (Electrical and Civil), Arts and culture, plumbing and bricklaying.
Kaizer Chiefs Youth Development is now a fully fletched academy with players from the ages of 12 to 18 years. The players who come from outside Johannesburg who were previously housed at St Barnabas and the Club House in Auckland Park have now been relocated to Highveld College resident.
The Youth Development is supported by a structure of highly qualified staff in their various disciplines starting from management, education and coaching.
---
Kaizer Chiefs Academy Administration
Vincent Williams – Manager Youth Development Programme whose overall responsibility is to oversee all activities of the Youth Development Adison Bongani Mngadi – Education Manager whose responsibility is total education responsibility within the Youth Development.
Abe Ditsego – Transport Manage and House father who is responsible for all transport logistics in the Development including responsibility for boarding and lodging of players.
Benett Mehlomakhulu – Kit Manager responsible for players kit and uniform
Joe Matebege – Kit Manager responsible for players kit and uniform
---
Kaizer Chiefs Academy Current Coaching Staff
Ryder Mofokeng
Doctor Khumalo
Ntsie Mphike
In 2006, the Youth Development and the whole soccer fraternity lost Patrick "Ace" Ntsoelengoe who was our under 15 coach at the time of his death.
The staff is constantly in touch with players looking after their welfare, schooling and medical needs. Regular interface between parents and the Development staff is encouraged thus helping bridge the gap of players being home sick. This is done in the form of formal meetings or by telephone.
---
Kaizer Chiefs Academy Youth Development Achievements
Kaizer Chiefs Youth Development players have been involved in a number of local as well as international tournaments as a team or the players being part of a National structure.
Our players were part of a group that represented South Africa in France in 1998 in an International Youth Competition in which they were knocked out by Argentine in the final. Some players were involved in the Danone Competition in France 2002 and were knocked out in the semi-final by Holland.
In June 2003 the Youth Development Under 15 team was invited to participate in The Milk Cup competition in Ireland. Our team played against most youth teams from the English Premier Division Clubs and was knocked out in the final by Maccabi Heifa from Israel.
A number of players impressed the scouts in this tournament and one of our player, Michael Nkabule has been signed by Straussberg Academy in France. In 2004, the Under 15 team won the National Nike Tournament and went to play in the International Manchester United Premier Cup in Manchester, England.
During 2004, our teams won the U15, U17 and U19 local league titles with the U13 being placed second. Earlier in 2005, the U17 competed in the Zayed International Youth Cup in Abu Dhabi. Our team came third in this competition with bronze medals.
The Kaizer Chiefs U13 Development team competed in the MDC International Youth Tournament in Seoul, Korea in June 2005 where they played against National teams from Korea, Paraguay and Japan. They were beaten in the finals by Japan National team and were awarded FIFA Fair Play Shield and Silver medals.
In June 2006, Kaizer Chiefs Youth Development U19 side competed in the Hong Kong Sevens Football tournament. This is a seven a side tournament played in Hong Kong by most of the European and Asian teams.
In August 2006 the Under-17 team was invited to compete in a U17 World Tournament in Spain. In this tournament teams from as far as South America and Europe were invited and Kaizer Chiefs was the only team from South Africa. Our performance in this tournament was excellent as Real Madrid in the quarter finals.
The Youth Academy reports their developments directly to the Kaizer Chiefs management on a regular basis and the senior team technical staff always provides the necessary support. Senior team players recovering from injuries are sometimes allowed to train with the Reserve team in the Academy as well as getting involved in playing friendly games with the Youth teams. This is used as a bridging exercise to enable the junior players to acclimatize themselves with senior players. At other times, some Development players are also allowed to train with the senior team as well as playing against the senior team.
To register for Next Released Dates Register here with Tony's Soccer School
The Kaizer Chiefs Youth Development Academy is a programme that is FREE of charge for all players across the different age-groups. We currently have five age-groups namely our under-13, under-15, under-17, under-19 and the reserve team.
Our responsibility as a football club is to set and maintain a standard of excellence at the training rounds.
We expect extremely high standards of our players, and we expect them to understand that their development starts every day that they walk through the gates of the KC Village.
The KC development houses some of its players at the state of the art KC Village in Naturena where players are under the tutelage of house fathers and mothers.
The academy team does not hold open trials as most of our players are scouted around the country, and then invited for further assessment.
---
Kaizer Chiefs Academy Trials Date
Kindly be informed that Kaizer Chiefs Youth Development Academy will have a player assessment in February 2023, for players between the ages of 11 years & 17 years ONLY.
PLEASE NOTE THAT THE FIRST GROUP OF TRIALISTS HAS ALREADY BEEN SELECTED.
For more information e-mail us: development@kaizerchiefs.com.
The academy operates five full time teams, within the structure:
1.Under-13     2.Under-15     3.Under-17     4.Under-19   5. Reserve Team
Academy players train 3- 5 days a week, with one game per week. The focus of the players development is the training that occurs throughout the week, as they train to develop as players, not in preparation for their next game. KC players train in training groups. Training groups are not organized by the year of birth, but by the players' needs and skills level.
The leagues that the development teams participate in are the SAFA Gauteng Development League – GDL, SAFA Johannesburg – SAB League and the MultiChoice Diski Challenge – MDC.
Head of Youth Development: Sundra Govinder
Development Coaches: Arthur Zwane, Sundra Govinder, Ace Khuse, Jimmy Jambo, Tshidiso Letsholonyane
Development goalkeeper coach: Rory Minnaar
Logistics: Ryder Mofokeng
Scouting Department: Technical members
Sport scientists: Tinus van Rensberg, Jamie Schultz, Leroy Fischer
Video analyst: Vaughan Coetzee
Education and Child Welfare Coordinator: Ntsie Maphike
Contact E-mail: development@kaizerchiefs.com
Kaizer Chiefs Academy Trials 2023 – Newshub360.net
Please Share on Facebook or WhatsApp Groups…Thanks
CHECK THIS OUT:
♦  Top 20 Highest Paid Footballers in South Africa 2023
♦  Top 20 Highest Paid Footballers at Mamelodi Sundowns 2023
♦  Top 20 Highest-Paid Footballers at Kaizer Chiefs [ Billiat is 2nd ]
♦   Top 20 Highest Paid Footballers at Orlando Pirates 2023
♦   Top 20 Highest Paid Footballers at Supersport United 2023
♦   Top 20 Highest Paid Footballers at Royal AM 2023
♦  Top 10 South African Footballers Who Went Broke After Retirement
♦  Top 10 Richest Football Club Owners in South Africa [ Motsepe is 2nd]
♦  Top 10 Most Expensive High Schools in South Africa 2023
♦  Top 10 Richest Football Clubs in South Africa
Credit : www.Newshub360.net