The 10 Best Beach Hotels in North Carolina 2023: There are 300 miles of barrier island beaches in North Carolina.
This means that North Carolina is the place to go if you're searching for a beach vacation for your family this summer that's a bit less about hustle and bustle and a little more about rest and relaxation.
The Tarheel State offers a wide range of sandy locations to pick from, including small beach communities and major seaside cities.
Each location has its own selection of distinctive, cosy, and reasonably priced beach hotels.
10 Best Beach Hotels in North Carolina 2023
1. The Sunset Inn – Sunset Beach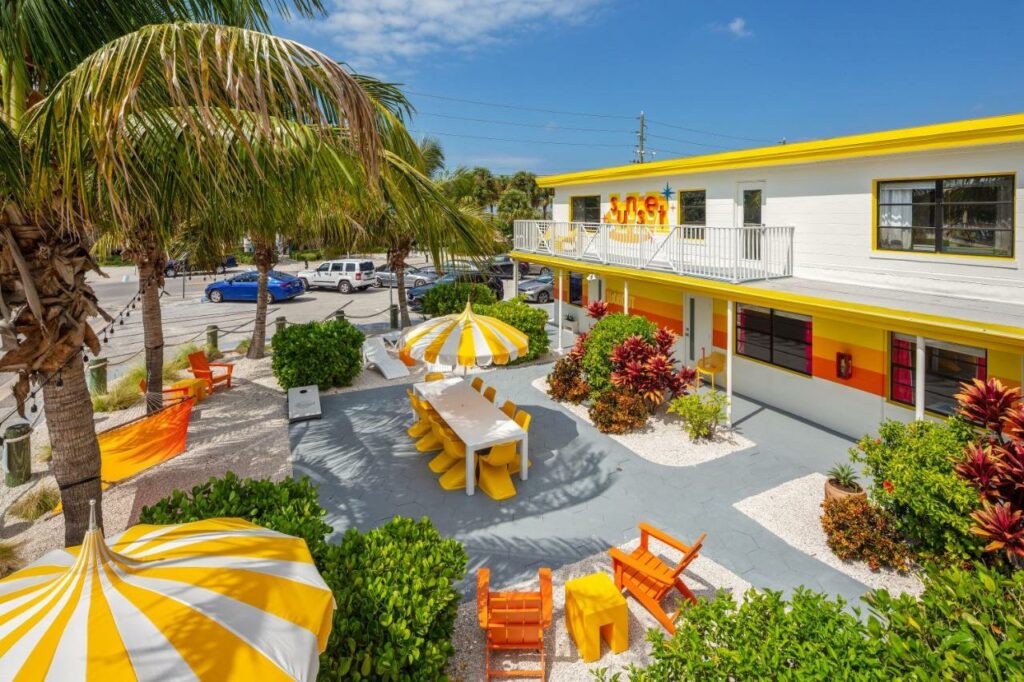 A calm beach holiday away from the hustle and bustle of the city is best experienced in Sunset Beach, a small seaside community close to Bird Island.
Because of its extensive lengths of immaculate beaches and marshes without a boardwalk or high-rise structures nearby, it was indeed designated one of the 21 Best Beaches in the World by National Geographic.
The Sunset Inn, a bed and breakfast that resembles a stately Southern estate from the 1940s, is therefore only fitting that it is one of the greatest locations to stay in Sunset Beach.
The inn provides everything you need to feel at home, from the lovely guest rooms with own screened porches, wet bars, and luxurious linens to the breakfast buffet and spacious wrap-around porches.
Key Amenities:
Guest rooms feature private screened porches, wet bars, and luxury linens
Daily breakfast buffet
Large wrap-around porches
2. Courtyard Carolina Beach Oceanfront – Carolina Beach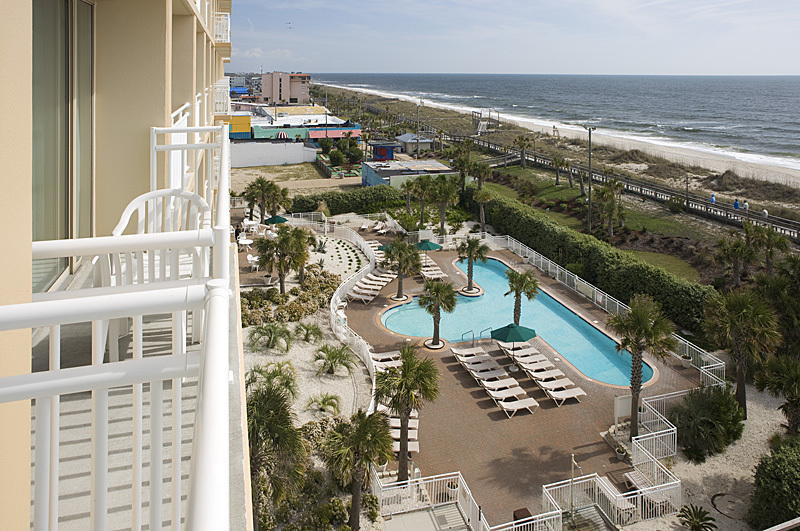 Another charming tiny beach hamlet, Carolina Beach, is situated on the other side of Wilmington.
This beach has miles of beachfront, a state park with hiking trails, an old-fashioned boardwalk with restaurants, stores, amusement park attractions, live music, and a huge Ferris wheel.
It is nostalgic and charming. If you want to be in the thick of things, the Courtyard Carolina Beach Oceanfront is the ideal spot to stay.
There are many premium features available at reasonable pricing, such as the private balconies found in the oceanfront rooms as well as The Bistro restaurant and an on-site Starbucks.
Key Amenities:
Oceanfront rooms with private balconies
Restaurant and Starbucks on the property
Easy access to the restaurants, shops, and amusement park rides of the Carolina Beach boardwalk
3. Sanderling Resort – Duck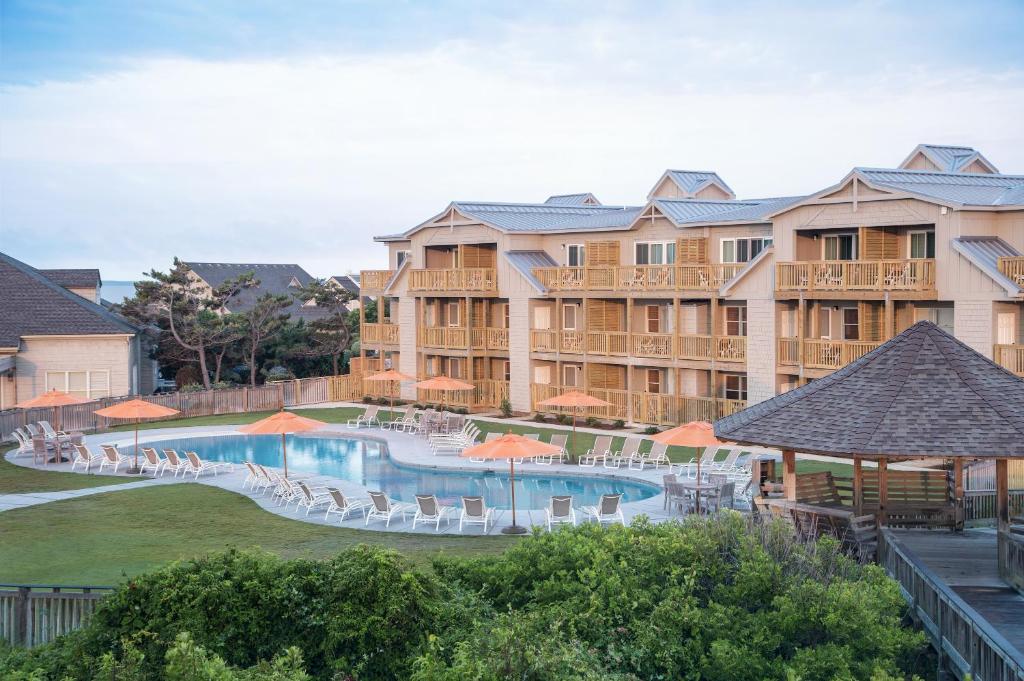 Due to its tranquil surroundings and luxurious beachside location, Duck's newly refurbished Sanderling Resort offers a beach experience that feels unique.
The resort provides elegant lodging for every price range. It is made up of roomy rooms and suites as well as five distinct vacation houses.
Private balconies or patios, views of the beach or sound, a Beach House bar, a fire pit, and a top-notch spa that offers massages, facials, and other body treatments with views of the Currituck Sound are just a few of the facilities you'll discover here.
Additionally, you'll be in Duck, the birthplace of the fabled Duck Donuts! So while you're here, make sure to stop in for a warm doughnut!
Key Amenities:
Spacious rooms, suites, and vacation homes with private balconies or patios
Beach House bar with fire pit
World-class spa with coastal-inspired massages, facials, and body treatments
4. Blockade Runner Beach Resort – Wrightsville Beach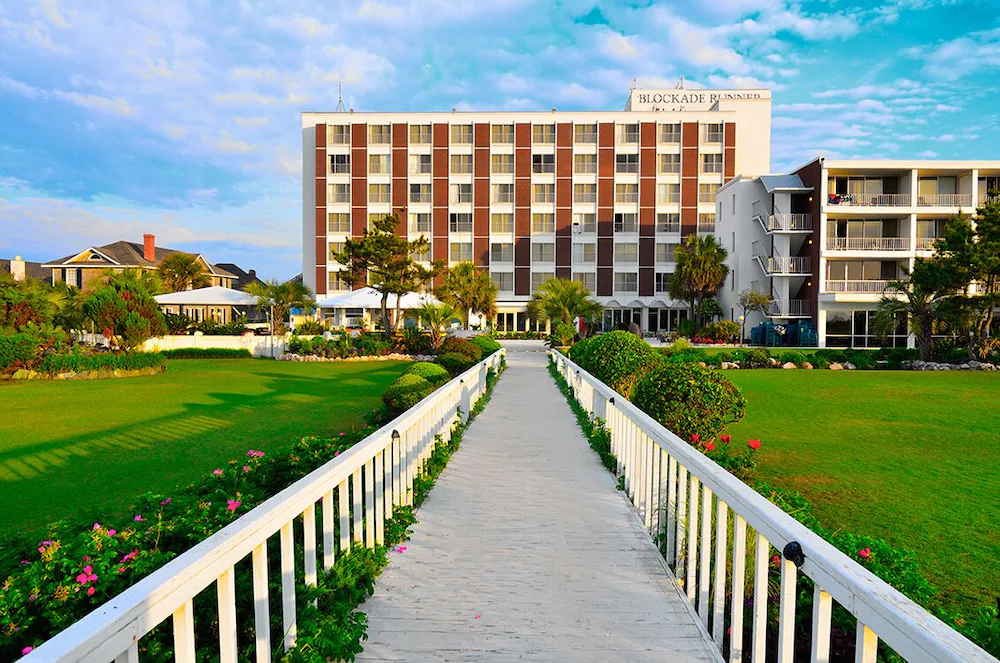 Wrightsville Beach is a charming four-mile-long island just outside of Wilmington that features charming beach house rentals, a few upscale resorts, two fishing piers (one of which has a gift shop and snack bar), a variety of delectable restaurants, adorable shops and lots of sandy beach for sunbathing.
Due to its charming boutique style and extensive list of amenities, such as a beachfront bar, an indoor/outdoor pool, sauna, hot tub, fitness centre, oceanfront dining, and the Aquarium Bar, where you can unwind with your favourite cocktail while admiring colourful fish and the hotel's lush gardens, the Blockade Runner Beach Resort has been one of the most well-liked hotels on the beach for more than 50 years.
Watch out for the bunnies that like to hang around there as well!
Key Amenities:
Oceanfront dining and beachfront bar
Indoor/outdoor swimming pool and hot tub
Access to a fully-equipped fitness center
5. Sea Ranch Resort – Kill Devil Hills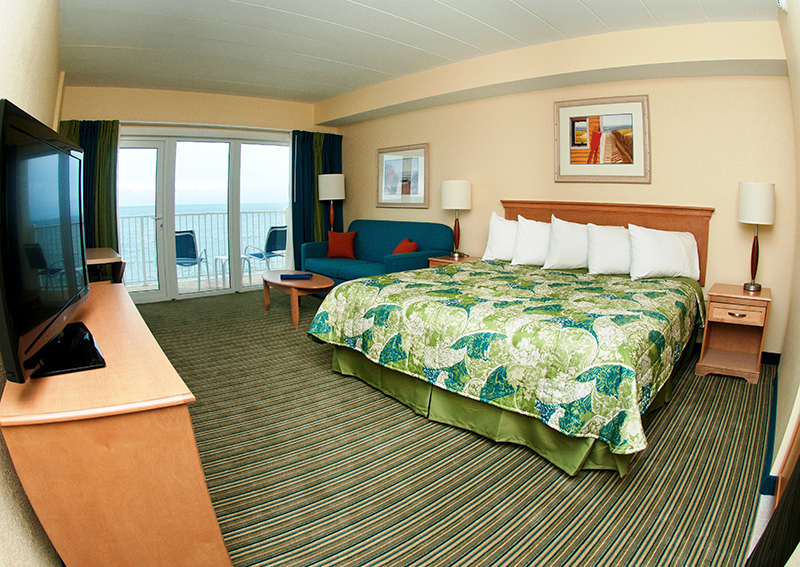 Sea Ranch Resort, one of the greatest beachside family-friendly hotels on the Outer Banks, offers oceanfront rooms with balconies as well as condo-style accommodations with full kitchens and laundry facilities.
Standard features like microwaves, minifridges, coffeemakers, and flat-screen cable TVs with HBO are included in all of them.
Activities like beach yoga, drumming lessons, and water Pilates are popular during the busy summer season in addition to spending time in the sand and the waves.
There is also a solarium-style indoor pool, a bar with indoor and outdoor seating, live music and a café that specialises in seafood and the catch of the day.
Key Amenities:
Oceanfront rooms and condo-style units with private balconies, full kitchens, and laundry rooms
Activities like yoga, drum lessons, and water Pilates
Solarium with indoor pool
On-site restaurant with indoor and outdoor seating and live music
6. Shell Island Resort – Wrightsville Beach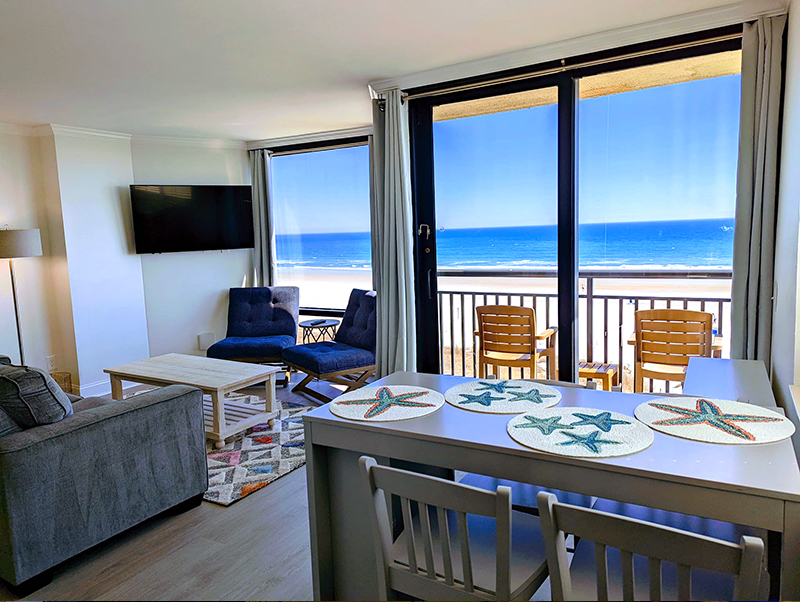 All of the suites at Shell Island Resort, which is situated in a peaceful region at the northern end of Wrightsville Beach, have ocean views.
All of them feature various rooms, a full kitchen, two flat-screen TVs, DVD players, and sliding glass doors that open to balconies where visitors may take in the sea air and the sounds of breaking waves.
Take advantage of renting kayaks, paddleboards, surfboards, and boogie boards while enjoying the expansive, sandy beach.
Aside from the on-site restaurant providing anything from seafood to steaks, there are indoor and outdoor pools, a fitness centre, and these amenities.
Key Amenities:
Ocean-view, multi-room suites with balconies
Watersports rentals, including kayaks, paddleboards, surfboards, and boogie boards
Access to indoor and outdoor pools, a fitness center, and an on-site restaurant
7. Islander Hotel & Resort – Emerald Isle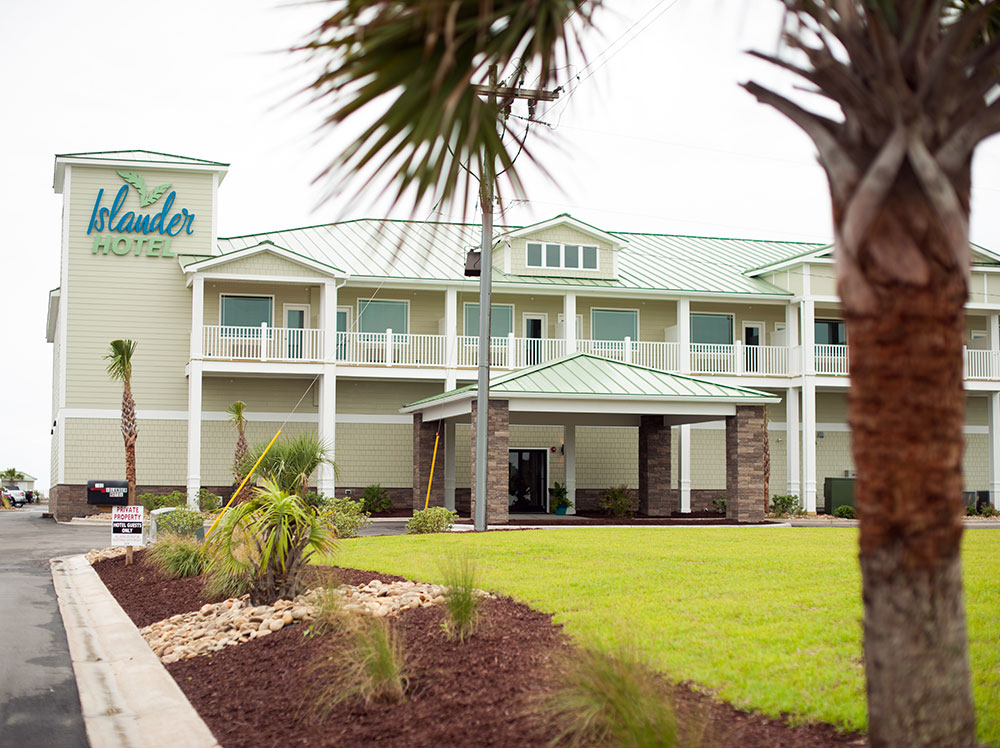 The sole oceanfront building in Emerald Isle is the Islander Hotel & Resort, which is within a 5-minute stroll from the Water Boggan of Emerald Isle water park.
You can enjoy a beachfront swimming pool with a poolside bar and cabanas while being just feet from the fine white sands of the beach.
There are volleyball courts and a picnic area with grills for cookouts. Also available are free bike rentals if you wish to go exploring.
While suites come with patios or balconies, rooms come equipped with kitchenettes and flat-screen TVs.
Key Amenities:
Beachfront swimming pool with poolside bar and cabanas
Picnic area with volleyball courts and grills for cookouts
Complimentary bike rentals
Rooms and suites featuring kitchenettes and patios or balconies
8. Golden Sands Beach Resort – Carolina Beach
The Carolina Beach-facing, five-story Golden Sands Beach Resort has immediate beach access. It is a budget-friendly, family-friendly hotel with resort-style amenities that is tidy, comfortable, and welcoming.
Although there are two swimming pools—an oceanfront outdoor pool with a whirlpool and a heated indoor pool—many consider the property's own pier, which features a tiki bar with live music on the weekends, to be the centrepiece.
Surfing instruction and standup paddleboard and kayak rentals are each available close by. The hotel is also home to a seafood restaurant that serves lunch and dinner and offers outside eating on a covered deck.
Key Amenities:
Direct beach access to Carolina Beach
Two pools, including an oceanfront outdoor pool and heated indoor pool
Private pier with a tiki bar
On-site seafood eatery with alfresco dining
9. Hilton Garden Inn Outer Banks/Kitty Hawk – Kitty Hawk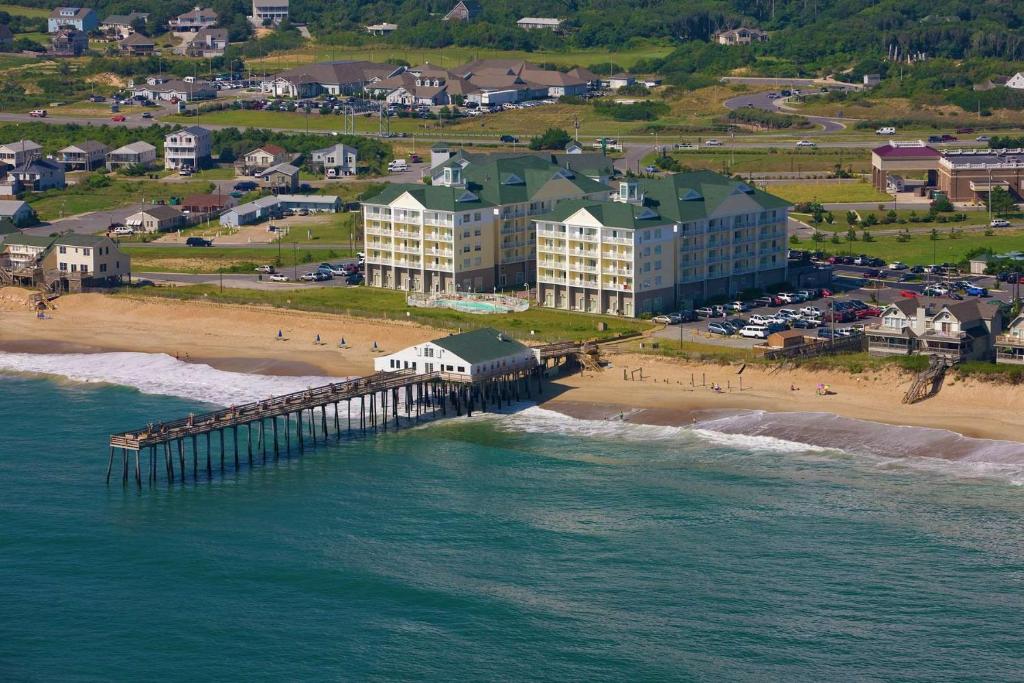 Just across the street from the Kitty Hawk Fishing Pier, the Hilton Garden Inn Outer Banks/Kitty Hawk offers suites with individual balconies that have either partial or direct ocean views.
They are all beach-themed and furnished with flat-screen TVs, microwaves, minifridges, and coffeemakers. Some also have whirlpools.
The property has everything you need for a well-rounded weekend break in North Carolina, including an indoor pool, an outdoor pool that is only open during certain seasons, and a gym with a good selection of cardio and weight training equipment.
The on-site all-day restaurant offers free cooked-to-order breakfast to guests as well.
Key Amenities:
Rooms feature private balconies, microwaves, minifridges, and coffeemakers
Multiple pools, including a seasonal outdoor pool and indoor pool
Complimentary cooked-to-order breakfast daily
Access to a gym with mix of cardio and weight training equipment
10. Sea Trail Resort Villas – Sunset Beach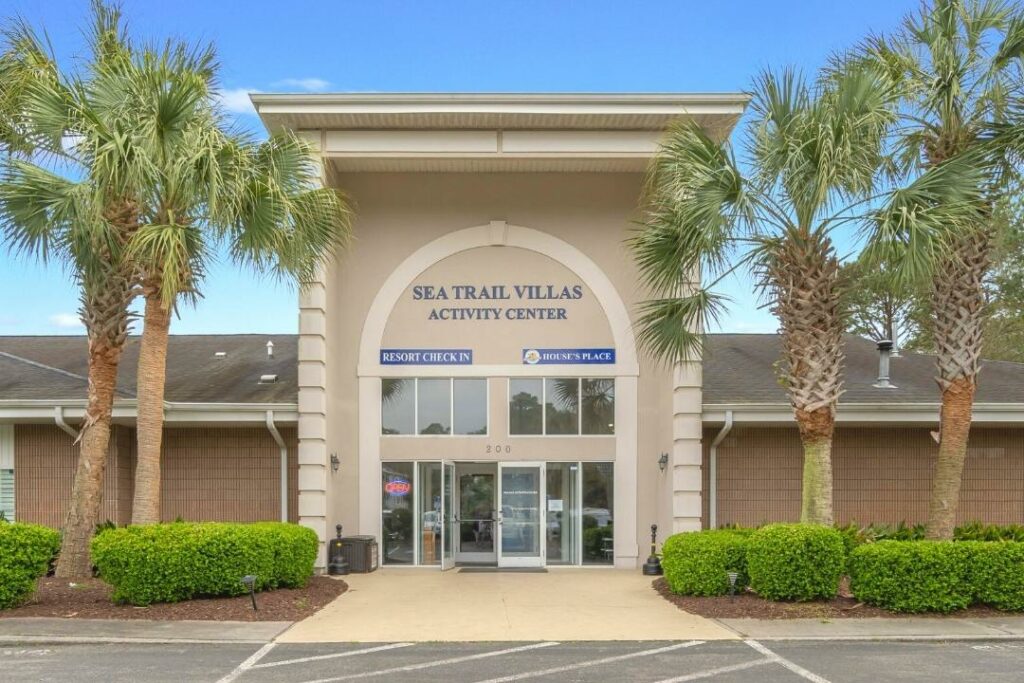 Golfers love the Sea Trail Resort Villas, which are located on 2,000 acres and are surrounded by three top-notch courses.
A five-minute drive will bring you to lovely stretches of sand, and the property has two restaurants—the upscale Magnolia's and the more casual Brassie's Pub—as well as indoor and outdoor pools, hot tubs, and two bars.
In addition to golf, a wide selection of additional activities are accessible, such as yoga, Zumba, kayaking, deep-sea fishing, and horseback riding.
Suites with kitchenettes and rental villas with complete kitchens and one to four bedrooms are available for lodging.
Key Amenities:
Multiple pools, including an indoor and outdoor pool with hot tubs
Two on-site restaurants, including one casual and one fine dining
Activities, like golf, horseback riding, and deep-sea fishing
Suites feature kitchenettes and villas feature full kitchens.
10 Best Beach Hotels in North Carolina 2023 – Newshub360.net
Related Post

Credit: www.Newshub360.net