The 18 Best Tiki Bars & Restaurants in Florida 2023: Florida is home to a variety of tiki bars and restaurants where you can enjoy a chilled drink and soak up the salty breeze while taking in the laid-back atmosphere, waterfront tables, thatched roofs, and island music.
These restaurants provide delicious seafood platters and rum cocktails with tiny paper umbrellas, making them the ideal setting for relaxing and forgetting about your concerns.
Read on to learn about some of the top tiki bars and eateries in Florida, which are tucked away on a number of lovely waterways.
18 Best Tiki Bars & Restaurants in Florida 2023
1. O'Leary's Tiki Bar & Grill, Sarasota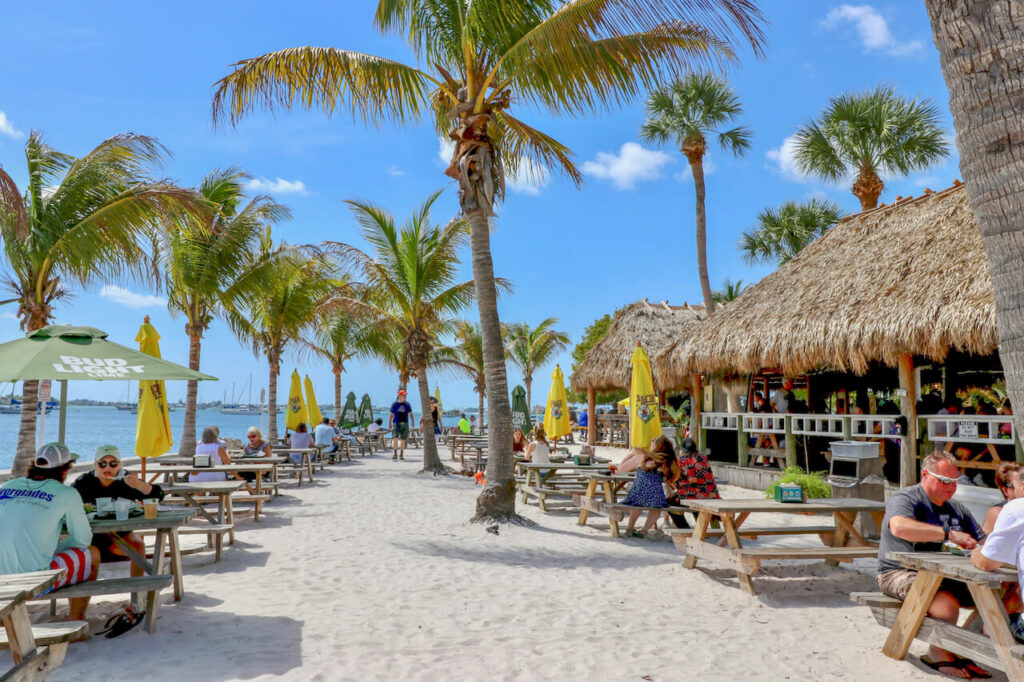 O'Leary's Tiki Bar and Grill in Downtown Sarasota is situated adjacent to a shell-lined shore and offers breathtaking views of the serene Sarasota Bay.
It is the ideal spot to unwind and relax. Popular with locals, you may sample the variety of breakfast, lunch and supper selections while relaxing at the tiki bar and listening to live music.
Popular menu items include blackened Mahi tacos, hamburgers, salads, and a Mahi Mahi sandwich, all of which go well with one of their famous frozen strawberry and mango coladas.
After that, you can visit the neighborhood's top Sarasota attractions.
2. Skipper's Dockside, Key Largo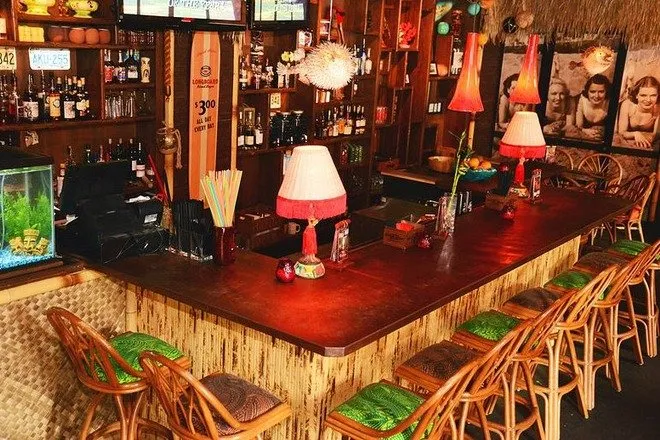 Florida's most seductive island paradise is Key Largo. The ultimate waterfront paradise may be found at Skipper's Dockside in Key Largo, which offers views of a large canal filled with boats.
This eatery and outdoor tiki bar is situated at Mile Marker 100 and has an elevated terrace from where you can see the passing dive boats and fishing excursions in the area.
Enjoy a scrumptious lunch of fish tacos, a yellowtail snapper sandwich, or grilled Florida lobster tail on a sunny afternoon, followed by a slice of homemade key lime pie and a drink from the happy hour menu.
3. Aku Aku Tiki Bar, Orlando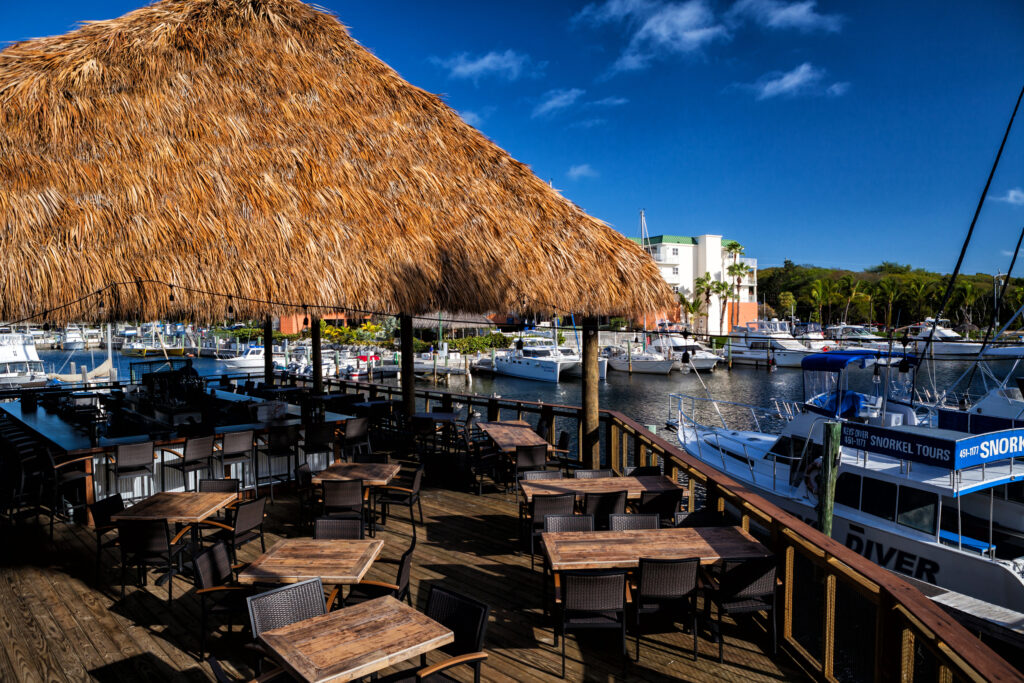 Orlando's Aku Aku Tiki Bar, a well-liked indoor tiki bar, receives special recognition for its colourful design and alluring beverage menu.
With strong rum punches served in beautifully themed glasses, tiki heads, and coconuts, you'll be whisked away to the South Seas and the Hawaiian Islands.
Enjoy a Fu Manchu with Sailor Jerry Rum or a classic Mai Tai in this cosy lounge with leaning surfboards and hanging blowfish. Other popular drinks include Volcano bowls and Singapore Slings.
4. Square Grouper Tiki Bar, Jupiter Inlet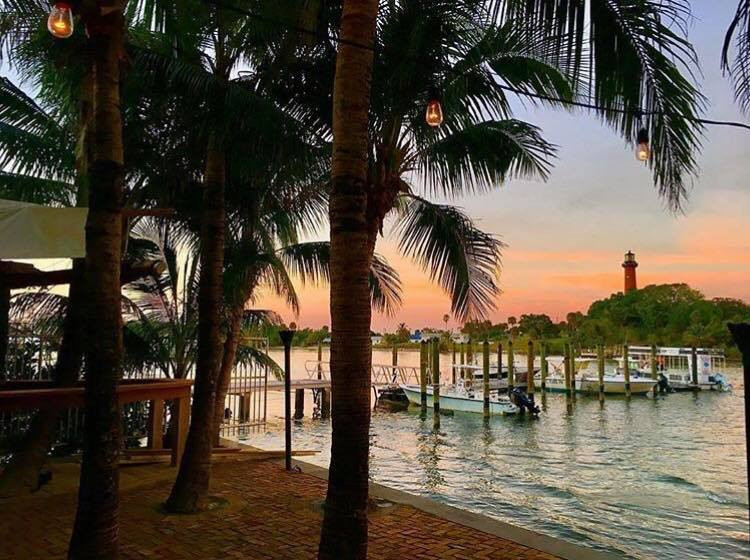 The Grand/Slam Castaways KDW, the Jupiter Billfish Fish Tournaments, and Alan Jackson's "Its Five O'clock Somewhere" video with Jimmy Buffet all took place in Jupiter Inlet's Square Grouper Tiki Bar, one of Florida's most well-known bars.
This waterfront treasure features live music seven days a week, a casual atmosphere with open tables and no dress code, live music on the stage seven days a week, and a view of the lighthouse.
5. Island Fish Co., Marathon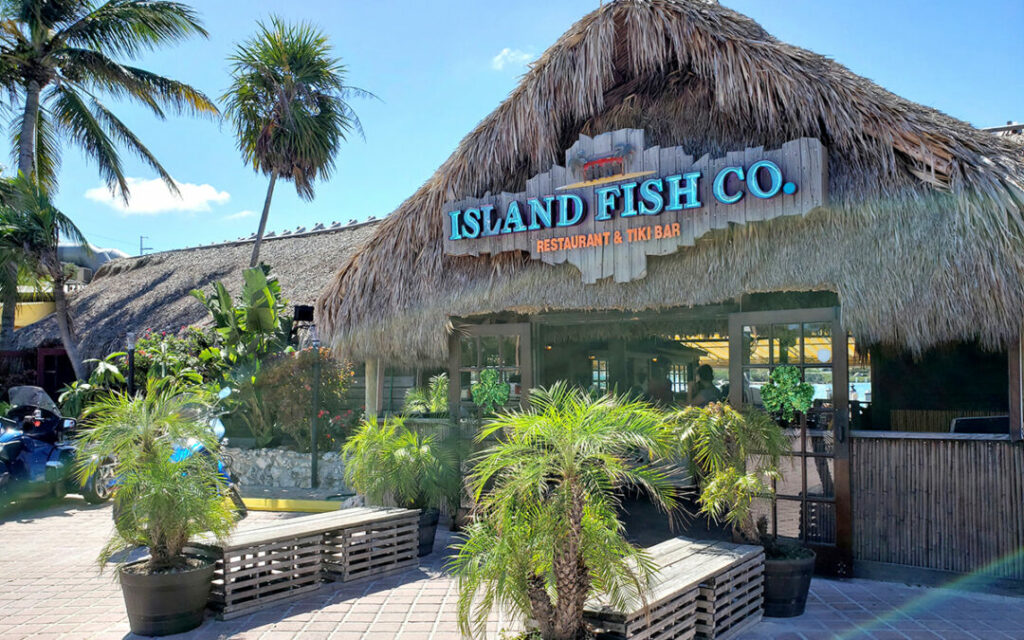 The longest tiki bar in the Florida Keys, Island Fish Company in Marathon serves guests a variety of flavor-filled oceanic feasts.
This neighbourhood favourite near Mile Marker 54 is often busy all day because to its combination of delicious seafood, beautiful sunsets, and chilled drinks.
Enjoy Stuffed Shrimp, Gulf Oysters on the Half Shell and Smoked Fish Dip before settling into a bar stool and taking in the breathtaking natural surroundings.
6. Grills Seafood Deck & Tiki Bar, Cape Canaveral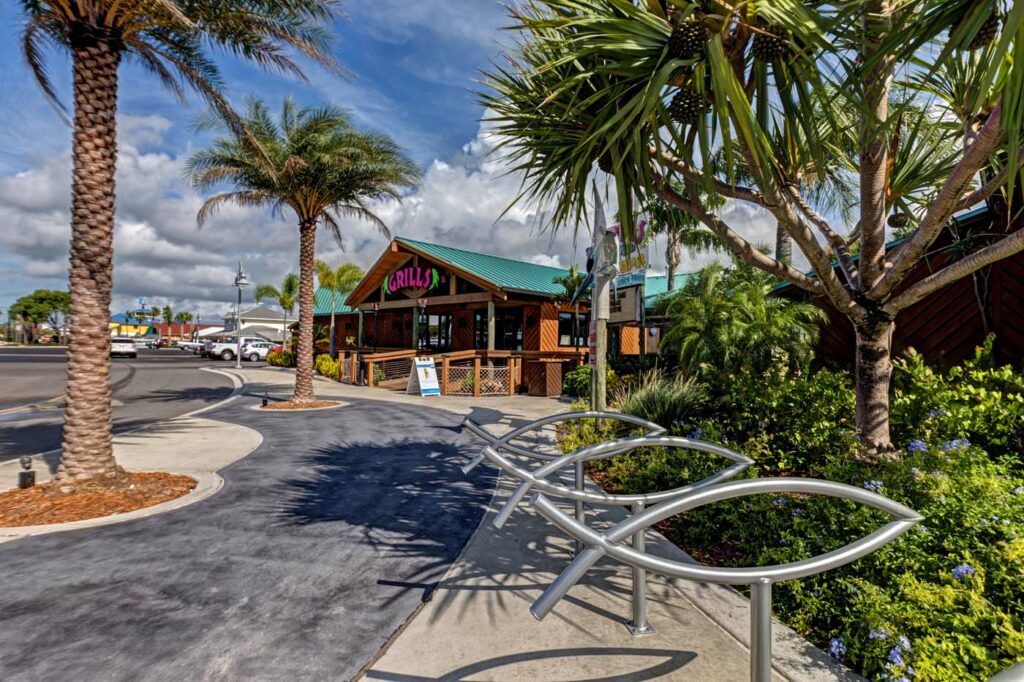 Grills Seafood Deck & Tiki Bar in Cape Canaveral is a terrific place to watch the fishing boats come in and hang their catch and the cruise ships cruising by since it has a distinctive island ambiance, live music and vibrant beverages.
Enjoy a meal of fresh seafood while treating yourself to one of their tropical speciality drinks, like as the Grills Grand Hurricane served in a memento cup or the Summer Breeze with coconut rum.
7. Hidden Treasure Tiki Bar & Grill, Port Orange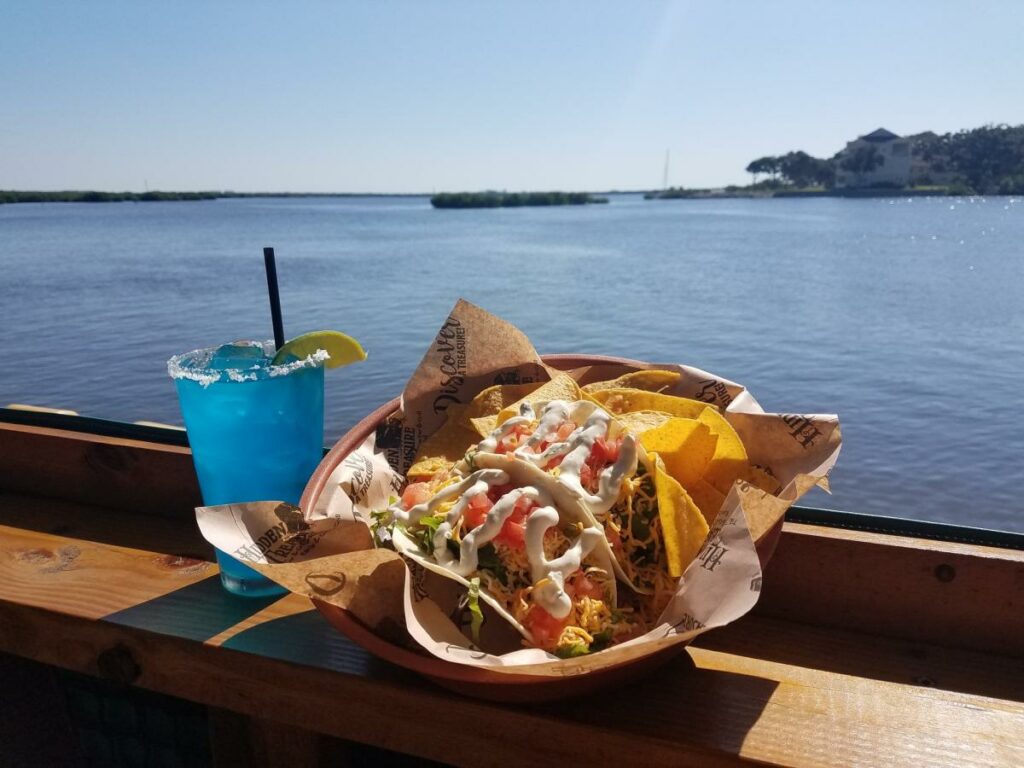 Hidden Treasure Tiki Bar & Grill, an Old Florida-style eatery in Port Orange, is situated on the lovely Rose Bay amongst centuries-old oak and palm trees.
Choose from a creative menu that includes crab stuffed portabello, seared ahi tuna, mussels, and oysters. If you're peckish, try HT's Seafood Boil in Foil, which serves a variety of seafood.
Drink a beverage like the Lighthouse Lemonade, Pirate Punch, or Tropical Booty while taking in the laid-back environment and live music.
8. Hogfish Bar & Grill, Stock Island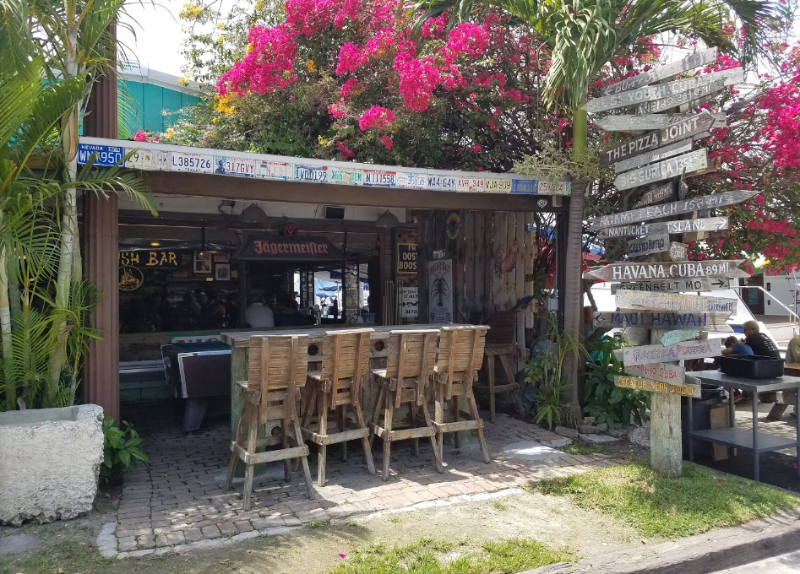 Hogfish Bar & Grill on Stock Island in the Florida Keys is the ideal place to unwind while savouring the ideal fusion of fresh seafood, potent beverages, and expansive waterfront views.
At this neighbourhood establishment, the cuisine is delivered directly from the boat to your plate. Live music, happy hour promotions, and outdoor dining make this tucked-away restaurant a hidden gem.
The restaurant is famous for its fresh, speared hogfish, which is then served on a bun.
9. Lighthouse Tiki Bar & Grill, Fort Myers Beach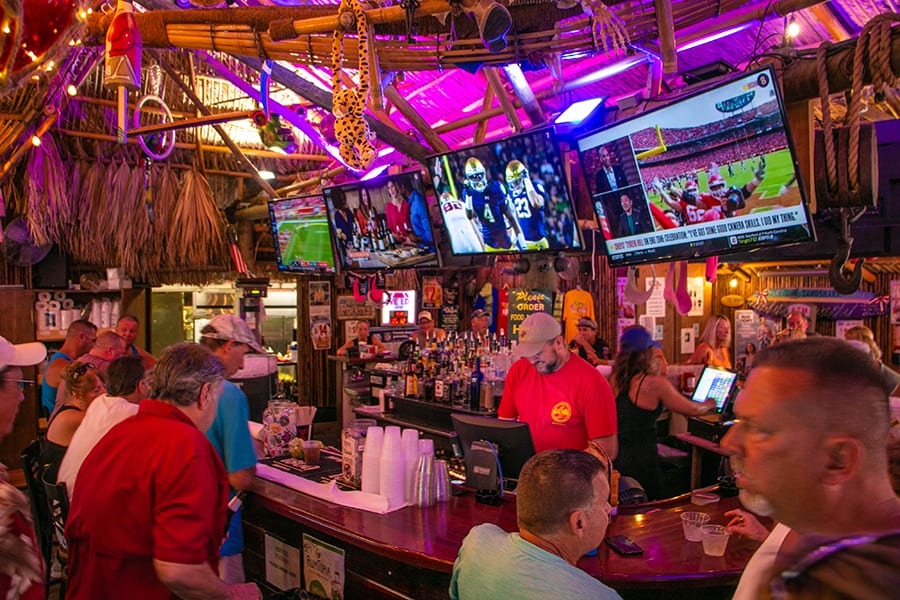 Lighthouse Tiki Bar & Grill, a tiki bar in the Lighthouse Resort Inn & Suites near Fort Myers Beach, isn't your typical hotel bar. This bustling spot is a fun location to enjoy tropical cocktails and positive vibes.
It started as a small tiki shack and has now grown into a well-known Fort Myers Beach institution. You can discover inexpensive drink specials, like as a 32 oz.
Bacardi bucket, and evening entertainment that is well-liked by both tourists and residents perched poolside beneath the palms.
10. Casey Key Fish House, Osprey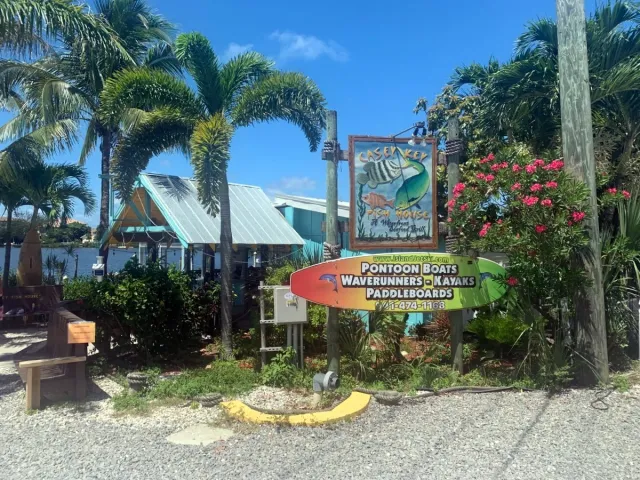 Casey Key Fish House in Osprey offers seaside dining in a relaxed setting and boasts an Old Florida atmosphere. Come here at dusk since the dining area overlooks the bay and offers fantastic views of the water from every seat.
The restaurant is accessible by vehicle, boat, and even offers on-site jet ski, paddleboard, kayak, and fishing charter rentals.
Enjoy a variety of delicious seafood dishes while listening to live music while sitting by the sandy beach.
11. Saigon Blonde, St. Pete
Saigon Blonde is a well-known tiki bar in St. Pete that draws inspiration from the 1960s. While the diversified menu offers amusing cocktails that represent the flavours of the Pacific Rim, flickering tiki totems and vibrant murals decorate its décor.
While relaxing in the tropical lounge, try the Dragon Lady, which combines vodka, cucumber, passion fruit, and lime.
Additionally, they offer other happy hour deals throughout the week, such as Saigon Sundays with Bloody Marys all day, and a Tiki Tuesday with a cocktail of the day.
12. Miami Mojito Company, Miami
The liveliest city in Florida is home to the tiny, secretive tiki bar known as Miami Mojito Company. To enjoy this hip bar, which solely serves this delectable beverage in its beach-themed surroundings, you must love mojitos.
You can take advantage of live music in addition to an outside patio with games and a comfortable lounge area. Although there are many different mojito flavours available, the mango-flavored mojito is a favourite.
Other popular flavours include passion fruit, strawberry, and blackberry.
13. Whiskey Joe's Bar & Grill, Tampa
Whisky Joe's Bar & Grill offers a 'Floribbean' menu and is well-known for its ideal medley of white sands, delectable food and cold beverages.
In addition to stunning sunset views, this tropical location offers 40+ tiki cocktails, including 14 different types of mojitos, 30 different types of margaritas, and a variety of beers on tap.
It is comparable to visiting the islands, where you will discover palapas, fire pits, and live entertainment.
14. Jack Willie's Bar, Grill & Tiki, Oldsmar
Local tiki establishment Jack Willie's establishment, Grill & Tiki serves delicious cuisine and drinks.
It is well-known for its happy hour deals during the week, as well as for the live music it hosts on its deck on the weekends and its outdoor game area.
Grab a beverage and stroll outside to relax at one of the picnic tables and take in the scenery while playing games like ring toss, Jenga and corn hole.
15. Burdines Waterfront, Marathon
Burdines Waterfront is a tiki bar and restaurant with stunning waterfront views in Marathon, one of the most well-liked beach towns in the Florida Keys.
It's the ideal after-work destination to escape from it all with friendly service, tiki-themed decor, and live music.
Enjoy the relaxed ambiance as you peruse the menu, which features filling burgers, delectable desserts, and fresh seafood.
16. Waterworks, Tallahassee
Over 25 years ago, Waterworks became a Tallahassee institution. They provide a variety of tropical goodies and are the most well-liked tiki bar and restaurant in the neighbourhood.
On Fried Chicken Night, relax with your picture-perfect cocktail while sipping on your favourite chicken dishes.
The restaurant's entertaining tiki-themed décor is the ideal location to sample their famous Hearty White Kung-Fu Punch.
17. Esotico Miami, Miami
Start the celebration in Esotico Miami, a stylish venue with a tiki-inspired, tropical vibe. It's well-known for its freshly squeezed juices and house-made mixes served in tiki mugs, as well as for its rum-centric drinks and nightly entertainment.
With the extensive selection of tropical cocktails with little umbrellas offered here, you are inundated with options.
Take advantage of the bar's relaxing atmosphere, which is brought on by its Polynesian decor and lush landscaping.
18. Tiki Docks Bar & Grill, St. Pete
Tiki Docks Bar & Grill in St. Pete offers a daily Tiki Time happy hour with your preferred tropical drinks.
This bar boasts a lively environment, live music on the weekends, a tasty cuisine with sandwiches, salads, fresh seafood specialties, and a raw bar with oysters, ahi tuna, and ceviche.
The cocktails, such as the Pina Colada-inspired Tiki-Jito, TV Mai Tai, and Puka Punch, are the main draw.
18 Best Tiki Bars & Restaurants in Florida 2023 – Newshub360.net
Related Post

Credit: www.Newshub360.net